Guide to Preparing A Monthly Meal Plan
Are you wondering how to get more organized in the kitchen?
Well, I'm sharing with you my guide to preparing a monthly meal plan. When I plan out my meals, my life just seems to be more organized.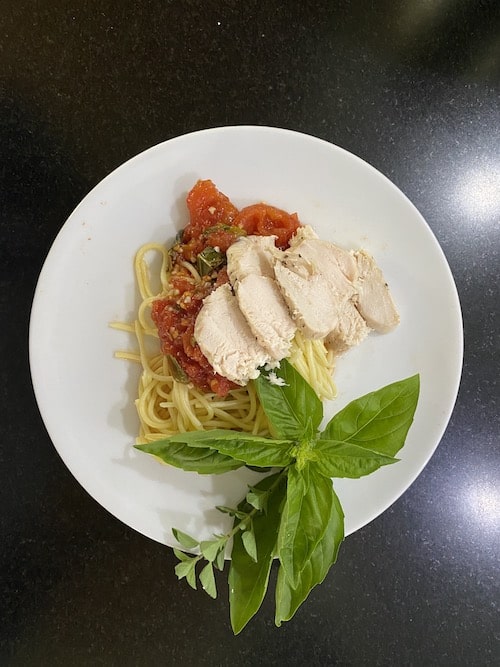 I'm a fan of organizing and being prepared and when I plan out our meals, it takes the guesswork out of "What should we have for dinner?"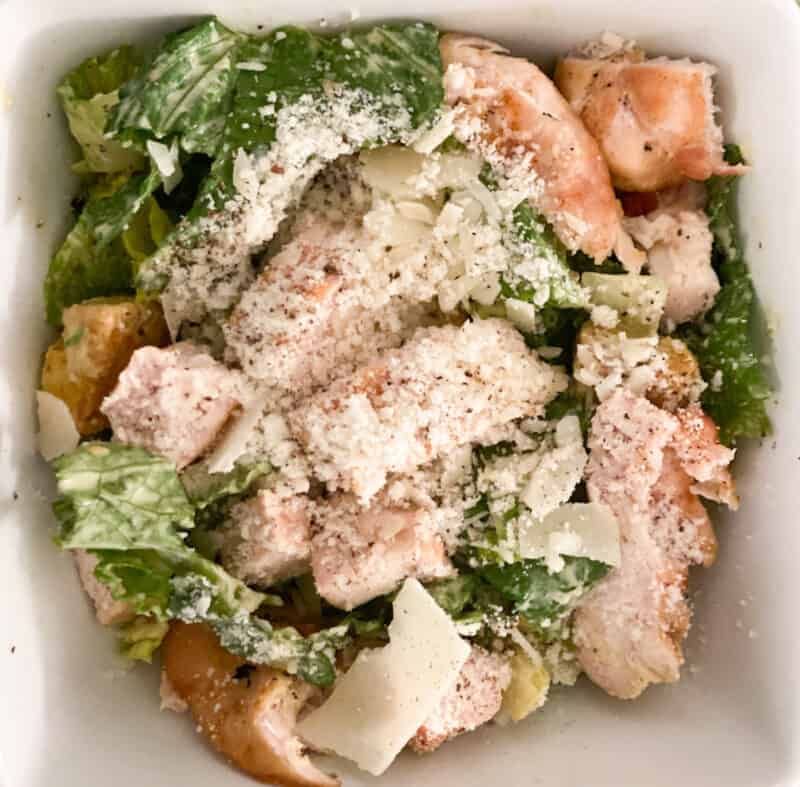 "Affiliate links are used for your convenience at no additional cost to you. Read my full disclosure here."
I typically plan one week at a time however since I'm starting the 30-Day Cleaning & Organizing Challenge with many of you, I've planned a month in advance. There are several reasons why I'm doing this:
Taking the guesswork out of what you are preparing each day
Make sure you have what you need on hand (when you pre-plan you can take advantage of sales)
Less Stress! I should have put this one first because for me knowing what I'm making makes 5:00 pm so stress-free for me.
Do you always stick to the plan? No! Some days you just can't get it together. In our house, those are called Frozen Pizza Night. For some families, it might be a take-out night or even going out to dinner night. There are just some days when life is just too busy and you can't manage dinner.
Since I am working on my 30-Day Cleaning & Organizing Challenge I decided that this month is going to be about easy 30 Minute (or less) meals. This is a great time to make use of your crock-pot, instant-pot, or air-fryer if you have one.
Meal Planning Ideas
My meal planning has a pattern to it and we typically repeat meals that we enjoy. This is the weekly idea guide that I use when I plan our meals. I also switch this up during different times of the year. In the summer we keep it more simple and add more salads. In the winter I add things like soups and stews to the line-up.
Monday – Mediterranean – For our family, it typically is a pasta dish but meatless Mondays are also an option.
Tuesday – Taco Tuesday – This is our theme and we almost always have tacos. We do however rotate with turkey, beef, fish, and shrimp.
Wednesday – Breakfast for Dinner – We have chickens so there are always plenty of eggs in our house. I'm a big fan of Frittatas. You can add many different leftovers to your mixture and help clean out the fridge.
Thursday – Loving Lemons – We love lemons and on Thursday I use a lemon-based recipe. It usually includes fish, chicken, or pork.
Friday – Fast Friday – We do something simple like sandwiches or burgers. Almost always something we can do on the grill in the warmer months. Sometimes we just do appetizers for dinner.
Saturday – Saturday Night Special – Saturday is when we either have something special or just something very easy, depending on the day's activities.
Sunday – Sunday Dinner – Both "Handy" and I were brought up in families that had a big mid-day family meal after church. In our homes, it was typically a roast. We continue that tradition but we switch it up with a whole chicken and a turkey breast. We don't always have pork or beef roasts.
Meal Planning Tip
On Monday morning I take all the items out of the freezer that I will need for the week and put them in a ceramic dish that I have in the refrigerator. This eliminates the issue of forgetting to thaw out what you need to prepare your meals.
Breakfast & Lunch Ideas
I'm keeping it really simple. I basically can eat the same thing every day. Yogurt, berries, and honey for breakfast. A salad that is full of veggies for lunch. But here are a few more ideas
Breakfast
Avocado Toast with a poached egg and/or tomato slices
Oatmeal with fruit
Hard-boiled egg, sliced avocado, and a cheese stick
Apple slices, 1/2 bagel with peanut butter
Lunch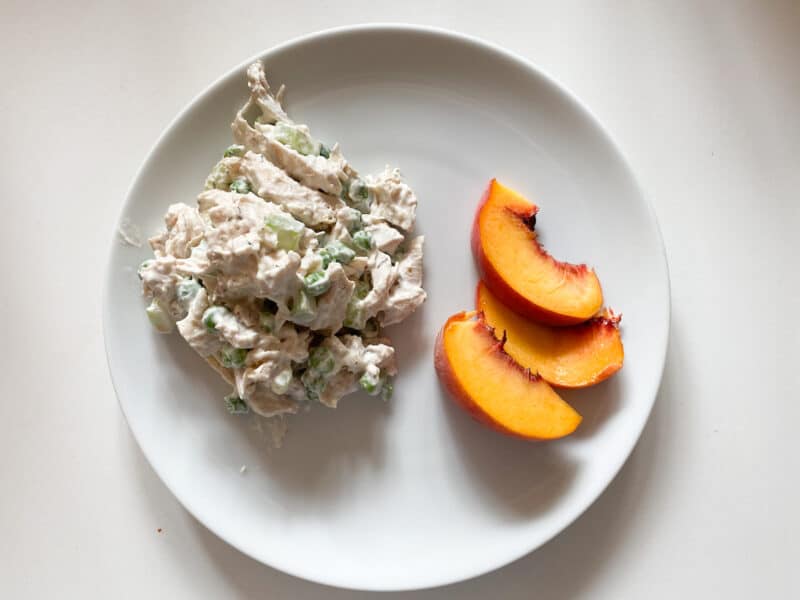 Left-overs (probably my 2nd favorite thing after a salad)
Deli Turkey rolled up, hard-boiled egg, almonds, and fresh fruit
Tuna salad on romaine lettuce
Green Salad with leftover protein from the week's meals
Guide to Preparing A Monthly Plan
While this is just my tentative meal plan for September, you should start your meal planning around the following. It also keeps your meal planning budget-friendly.
Make a list of favorite meals
Print out a blank calendar (available in my free printables)
Plan around what's in your freezer, refrigerator, and pantry
Use grocery store sale flyers as your guide (seasonal foods are typically your best bang for your buck)
Plan around things that you can use for multiple meals. The left-over beef from a roast can be beef stroganoff, stew, or soup. I always bake extra chicken so I have it available to put on my salads during the week.
Plug in things you know, pizza night, etc. For us, it's Taco Tuesday! Any holidays or nights out. Then work around them.
If you aren't already a friend of Living Large in A Small House, you can have access to this in printable form along with a blank calendar for your own planning. All you have to do is share your email address with me. Included in the library is my FREE scratch cooking checklist. You can also read about my from-scratch kitchen HERE
If you're not doing it already, I challenge you to give meal planning a try. I promise it will make evenings less stressful.
Meal Planning Recap
Again, use sale flyers from the stores where you shop, to help guide your choice. Family favorite recipes are used pretty regularly. I also use the internet. It's a great way to find new recipes. The app Paprika is one of my favorite cooking tools. I use it to store my recipes and I love its functionality. I can download most recipes from the internet as well as add my own, which I use on a regular basis. That being said, I rarely follow a recipe to the tee.
Some of our Favorites
This is the time of year when I typically have more time on my hands. I'm not gardening and preserving. I'm home a lot because of our cold weather. It's the time of year when I like to try out new recipes. Recently I made homemade Cheesy Lobster Ravioli with Tomato Sauce. It wasn't hard at all, just time-consuming. Also, so yummy!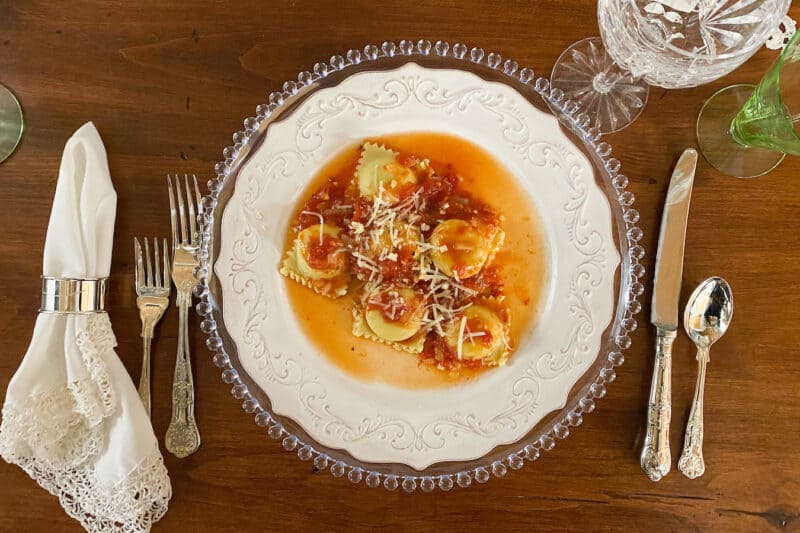 I want to leave you with this… Don't ever feel bad about substituting something and/or opting for going out for dinner or having take-out. Life is too short to stress over the small stuff. Plan your meals and relieve your stress and if you feel like you can't make something on the plan work, feel free to switch things up.
My friend Leslie over at Feet Under My Table has a really simple recipe for pot roast that looks amazing. She cooks it in her dutch oven but you could definitely use your crockpot.
I make a super easy crockpot recipe for beef sandwiches. It takes 2 minutes to put it together and it's so yummy.
Here is a really quick and easy chicken breast recipe that is kid-approved!
I hope this guide to preparing a 30-day meal plan is helpful.
If you have any questions or comments, please respond below. Is there something I wrote about or a recipe you find on the calendar that you'd like me to share with you? Please let me know and I will post it for you.
I would also love to hear from you about things at Living Large in A Small House that you would like for me to share with you.
Happy Meal Planning!
Peace,

A great way to save this article is to save it to your Pinterest boards. You can find the pin button in the top left corner of the photo below. Also, don't forget to follow me on Pinterest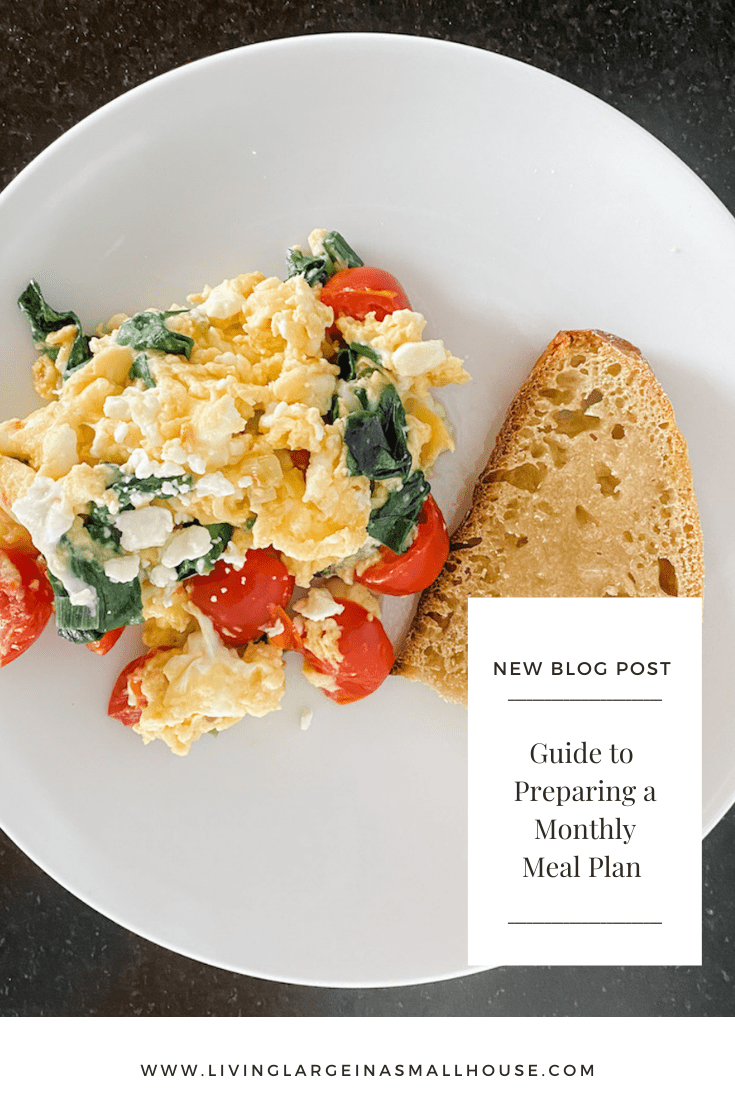 All these items are available at Target from their new Brightroom Collection