Simply Delicious Lemon Chicken
Lemon Chicken is on regular rotation on our meal plan. It is quick, easy, and simply delicious.
I have a lot of chicken recipes as we love chicken and it is a very healthy source of protein.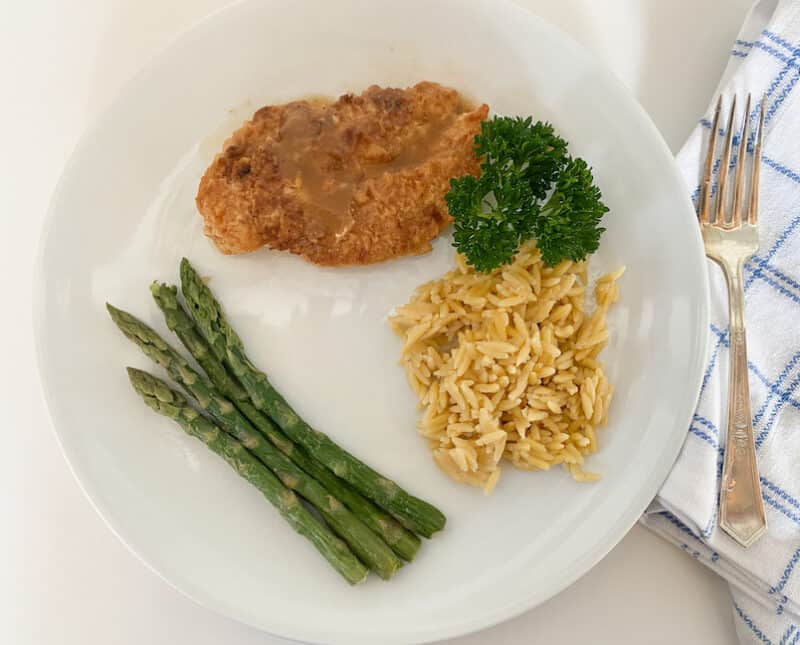 On my blog Living Large in A Small House, I may sometimes use affiliate links, which means a small commission is earned if you make a purchase via the link. The price will be the same whether you use the affiliate link or go directly to the vendor's website using a non-affiliate link. You can find my full Disclosure Policy HERE
Busy Weeknight Meal
This is a great meal for those busy weeknights when you need to get dinner on the table quickly.
I've made this recipe so often I don't even need to look at the recipe. I switch things up a bit by adding fresh thyme or fresh rosemary if I have it.
Tangy capers are also a great addition to lemon chicken. It then actually become lemon chicken piccata.

Making the Meal Fancy
This meal can easily become a great meal for company too! Just top it with some lemon slices and fresh parsley before serving.
You can also make this meal for taking to a new mom, someone who is sick or needs someone to make them a meal. It warms up beautifully in the microwave.
Cut the chicken into strips and you have fun food for kiddos.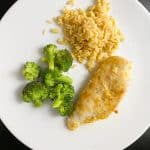 Print Recipe
Yum
Lemon Chicken
Easy, Healthy Lemon Chicken
Ingredients
2

Chicken Breasts,

cut in half lengthwise

3/4

cup

all-purpose flour,

can substitute GF Flour

1/2

tsp

pepper

1/2

tsp

salt

1

tsp

Onion powder

1

tsp

Paprika

1

egg,

whisked until well combined

1

tbsp

grapeseed oil or olive oil

1

tbsp

butter

1

cup

low-sodium chicken stock

1

fresh lemon,

cut in half
Instructions
Cut chicken breast in half lengthwise so that you have four thin breast pieces

Heat oil in large fry pan on medium heat
Coating
Squeeze juice of 1/2 lemon into the egg mixture

Mix together the flour and spices (next four ingredients)

Coat chicken breat first with egg mixture and then with flour mixture
Cooking Chicken Breast
Place coated chicken breasts in hot oil in frying pan

Brown chicken breasts on both sides (about 3 minutes per side)

Pour chicken broth over the browned chicken breasts and squeeze the juice of the other half of the lemon over the breasts, cover and lower heat to simmer

Cook chicken on low/simmer for 10 minutes until cooked to internal temperature of 150°
Yum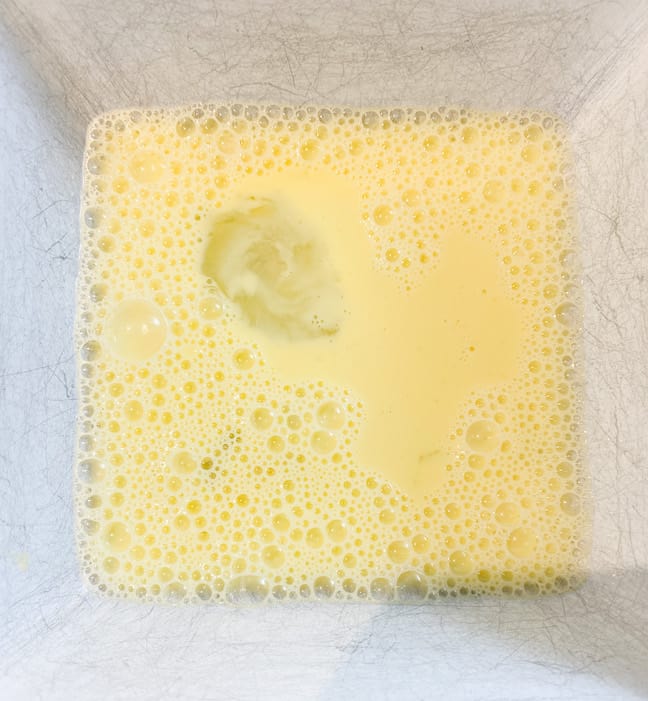 What to Serve Lemon Chicken Over
We like rice or angel hair pasta with our lemon chicken but you could also make an orzo or mashed potatoes.
Chicken Breast
White meat is the leanest choice, but even dark meat can be a good choice if you skip the skin. Both chicken and turkey give you about 25 grams of high-quality protein, along with B vitamins and selenium.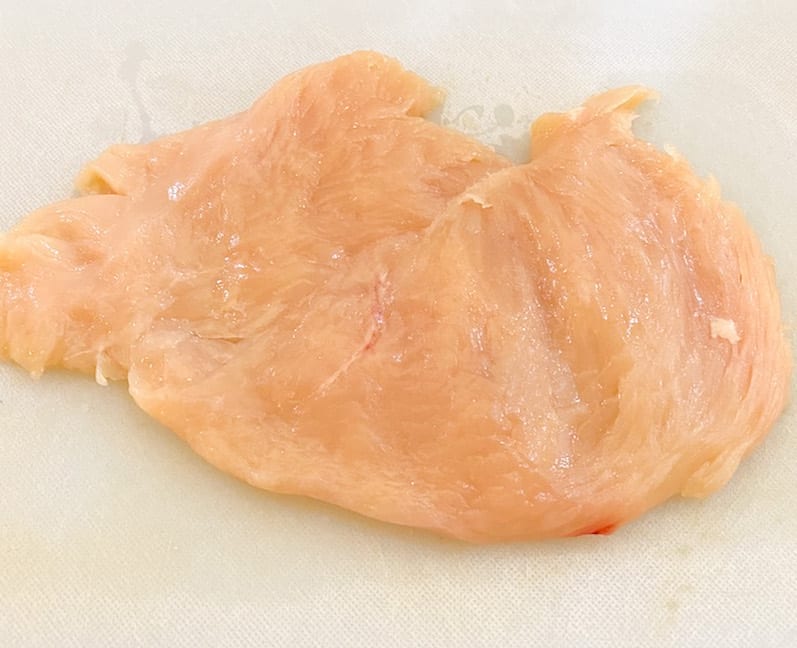 Side Dishes for Lemon Chicken
Asparagus, Green Beans, Broccoli, or Peas
Side Salad
Caesar Salad
Sour Dough Bread

Frequently Asked Questions
What is a lemon chicken sauce made of?
My lemon chicken sauce is made from the juice and scrapings of the cooked chicken, chicken broth, lemon juice, salt, and pepper. The flour mixture that I dredge the chicken breasts in helps the sauce to thicken as it cooks.
You can also add fresh or dried herbs or garlic for additional flavor. The beauty of this recipe is that it's simple so you can make it your own.
Some recipes call for a cream of chicken soup which would make it more creamy lemon chicken.
What does lemon juice do to raw chicken?
Lemon juice not only provides flavor but will help tenderize the chicken leaving it flavorful and tender.
What is Chinese lemon chicken made of?
Chinese lemon chicken is smaller bite-size pieces of boneless, skinless chicken. The chicken is battered and deep-fried. It is typically served with a sweet-sour sauce.
What to Do with Left-Overs
Store left-overs in an air-tight container and enjoy in the next day or two.
Handy doesn't eat left-overs but for me they are lunch the next day or sometime even breakfast 🙂
Enjoy!


A great way to save this recipe is to save it to your Pinterest boards. You can find the pin button in the top left corner of the photo below. Also, don't forget to follow me on Pinterest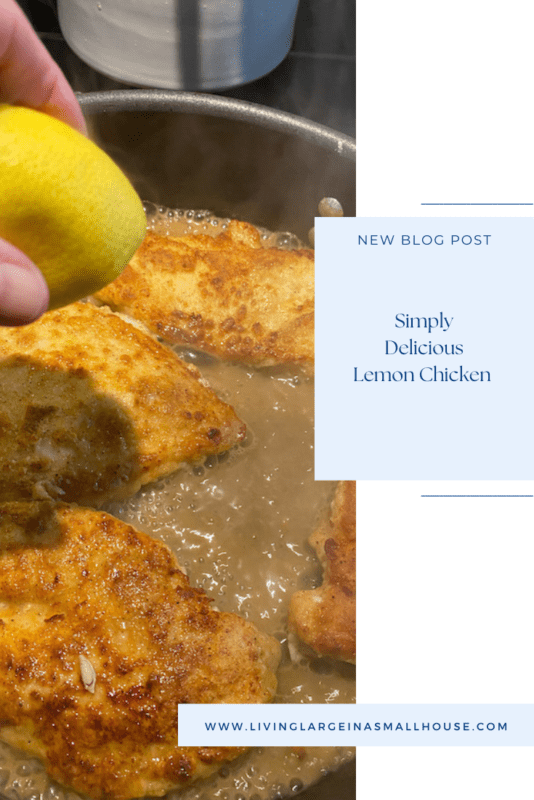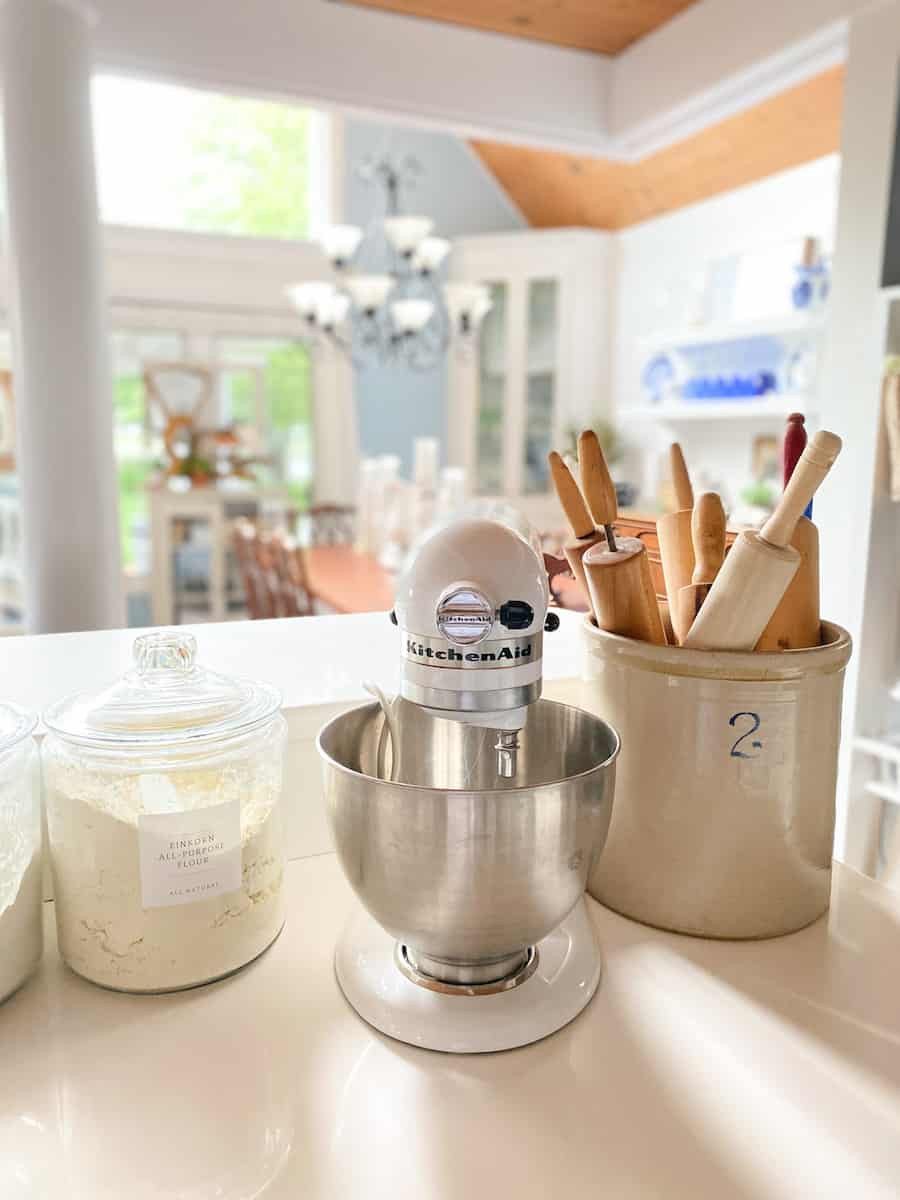 direct access to my amazon store
On Amazon
Did you know that you support my little business by purchasing through my links?? The price to you is the same but I receive a small commission on ALL the purchases you make when you shop through one of my links. I appreciate you helping Living Large in A Small House to grow!