Planning a Fun Valentine's Day
Are you planning a fun Valentine's Day? I don't go crazy with valentines decorations but I do add a bit of pink to my white sofa in my family room. Pillows and a throw are a nice cozy touch. I don't buy a lot, but I put out some Valentine's candy for "Handy". He's my sweet eater and he enjoys the love!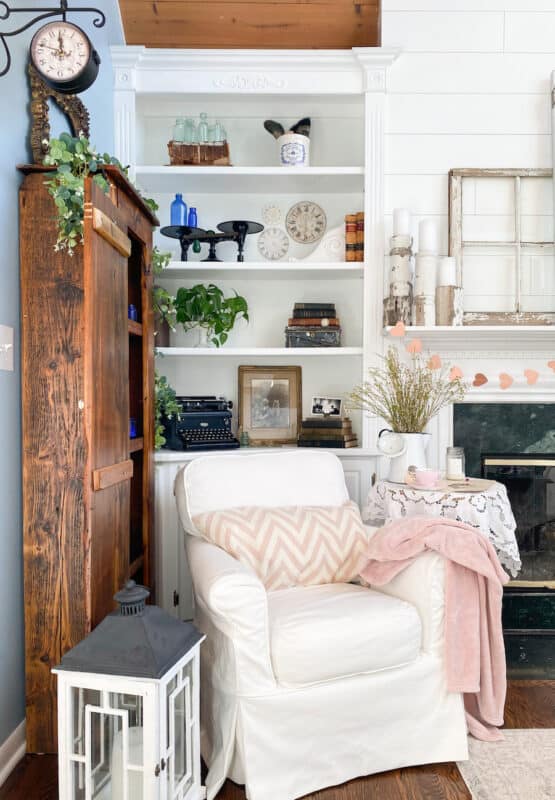 I used to do more when the kids were little. With Kenny and Annie, I always made homemade Valentines for them and I decorated the house with crafts. Emma wanted nothing to do with my homemade cards and proudly distributed her store-bought beauties. I always added in something extra–much to her chagrin. LOL.
I decided to try my hand at making a small Valentine's project this week just to see if I've still got it! My idea was to make 3-D hanging hearts, cut out from pages of an old book. Turns out the book was so old that just cutting the fragile paper was a challenge. My project turned into just some old sheet music and my cut-out hearts on my table. I'm loving this cozy little corner of my family room. It's where I sit at night and watch TV with "Handy" or read a book.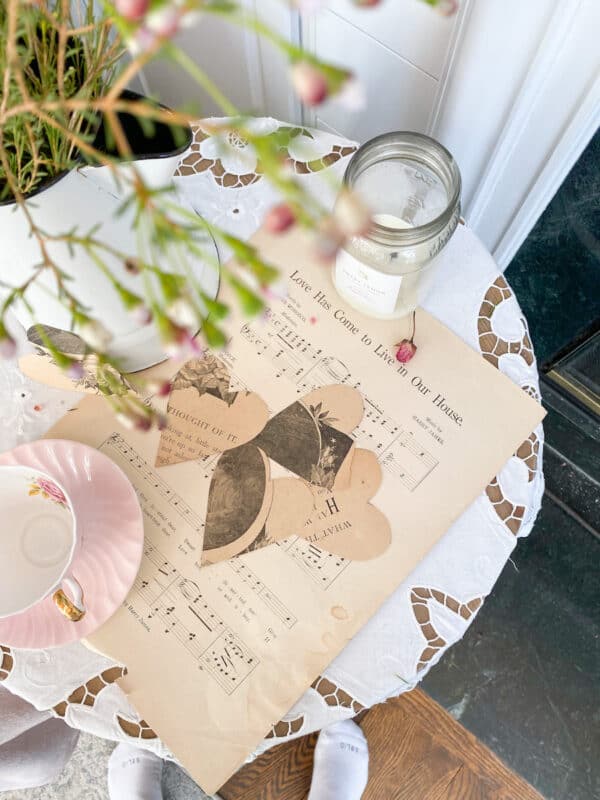 If you have kids, I think Valentine's craft and baking projects are such a fun pastime for these littles who are cooped up in the house. Pinterest has a ton of great ideas for any ability level.
I along with three of my blogger friends started a link party. What that is, is a place for bloggers to all upload their blog posts. It's a place for a ton of inspiration and this past Friday they posted a ton of Valentine's Day ideas. You can find that right HERE.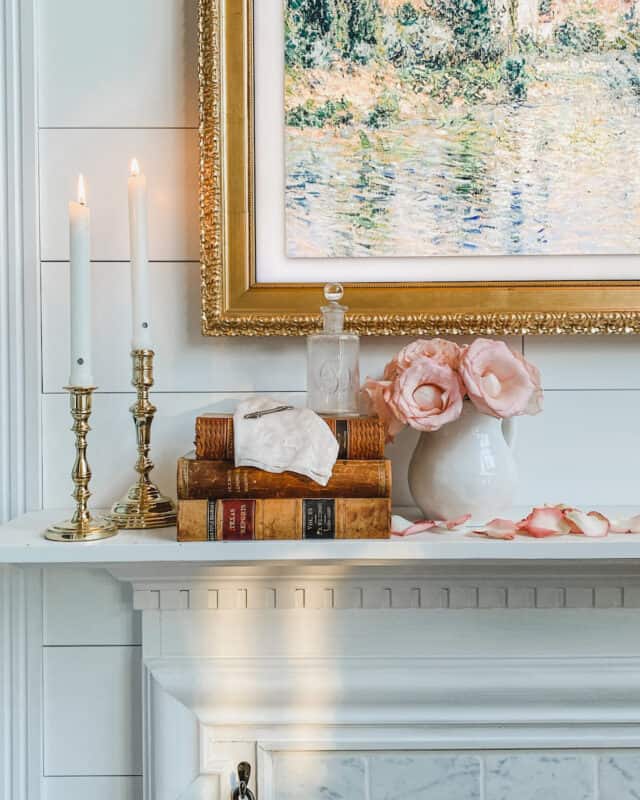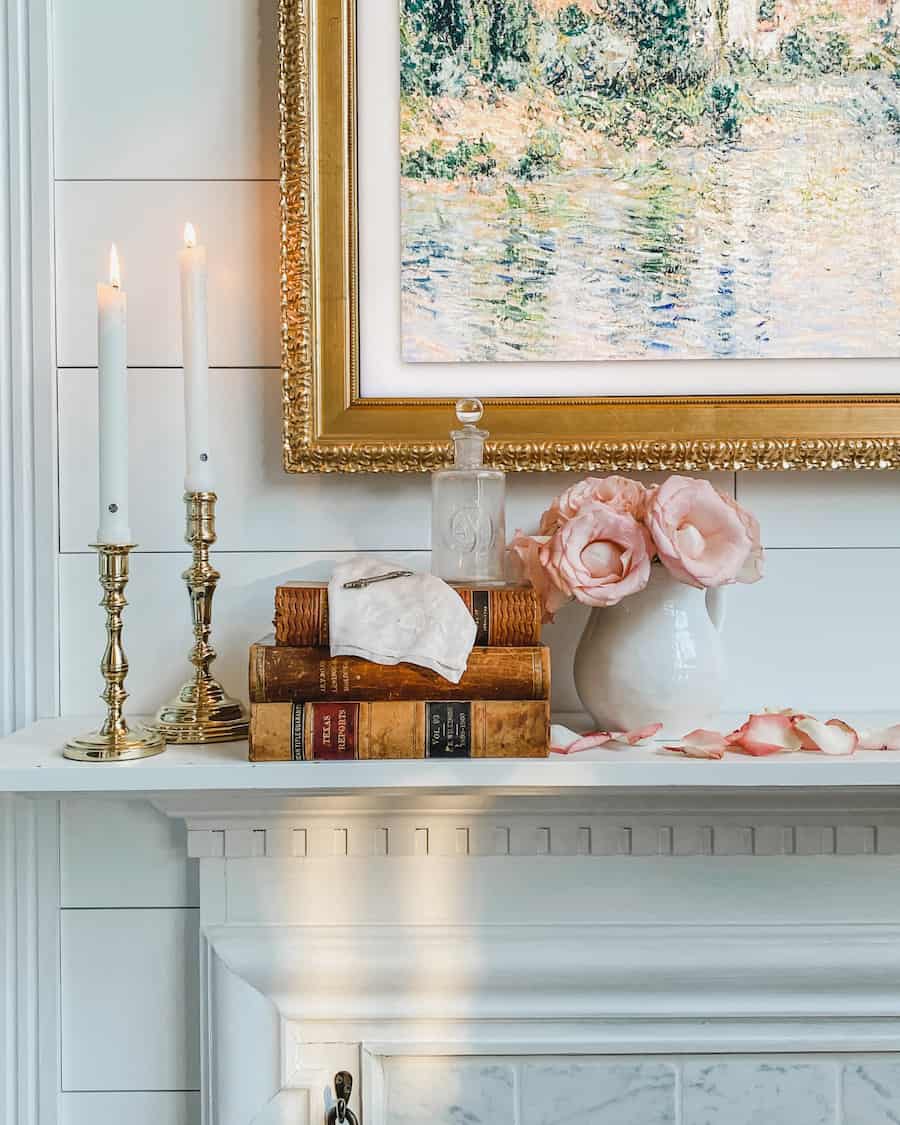 Valentine's Day Dinner Plans
Since Valentine's Day is on a Monday this year, I won't have time to prepare a complicated dinner. Salmon is an easy healthy, but also elegant dish to make for the occasion. The color of salmon also lends itself to a pretty amazing holiday meal. Salmon, along with a simple salad and herbed brown rice, will be a delicious dinner.
Print Recipe
Yum
Baked Lemon Salmon
This is a quick and healthy meal, but also so elegant that it makes a beautiful dish for a romantic dinner
Ingredients
2

salmon filets

2

tsp

grapeseed oil

2

lemons

1

tsp

Simply Organic All-Purpose Seasoning

1/2

tsp

garlic powder

salt & pepper, to taste
Instructions
Line 9 x 9 baking dish with foil (makes for an easy clean-up)

Place salmon filets, skin side down, in the dish and drizzle with oil. Using a basting brush, make sure the oil coats the top of the salmon

Squeeze the juice of a lemon on each filet (1/2 per piece)

Sprinkle with seasonings and top with slices of the second lemon

Cover with foil and bake in oven for 15 minutes or until filets are flaky
Notes
If you're not watching your caloric intake, you can also top each filet with a pat of butter.
You can also substitute seasoning with what ever you like. I sometime use Herbs de Provence or Italian Seasoning.
Yum
Print Recipe
Yum
Herbed Brown Rice
Ingredients
1

cup

uncooked brown rice

check the packaging, some brown rices need to be rinsed before use.

1/2

small

onion, diced

1

tsp

grapeseed oil

1

clove

garlic, crushed

2¼

cup

reduced-sodium chicken broth

1/2

tsp

salt

optional

1

tsp

Simply Organic All-Purpose Seasoning

1

tsp

butter

optional
Instructions
Heat oil over medium heat in medium saucepan

Add onions and saute until transparent

Add garlic and cook one more minute, stirring continually

Add rice and mix throughly with onion/garlic mixture

Add chicken broth, spices and butter. Bring to boil and stir once

Cover with a tight lid or foil, reduce heat to simmer and cook for 45 minutes

Remove from heat and let stand (covered) for 5-10 minutes longer

Fluff rice before serving
Yum
If you have more time you might want to try my Cheesy Lobster Ravioli. You can find the recipe HERE.
It's pretty easy to plan a fun Valentine's Day with very little work. Some simple pink tulips or roses can add a festive atmosphere to your home. I'm planning to set a pretty table for this special day.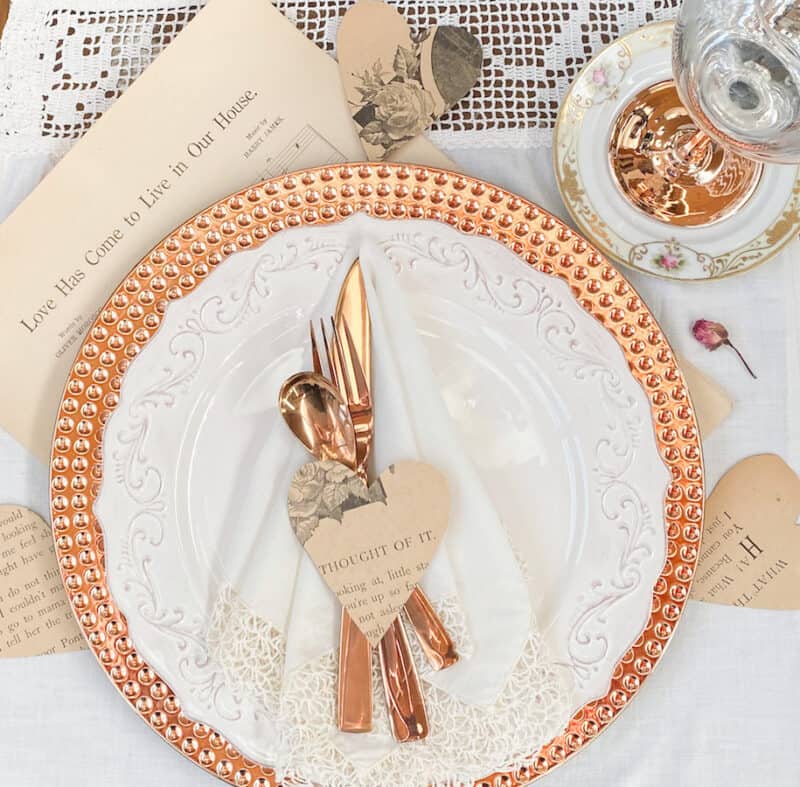 Since we are talking about romance, I have a great post about making your bedroom cozy and romantic. You can read about that HERE.
Peace,
At this time of year, I typically have my second batch of paperwhite growing. They are also a very sweet romantic flower to add interest in the winter months. Read about it HERE