Our Traditional Christmas Eve Dinner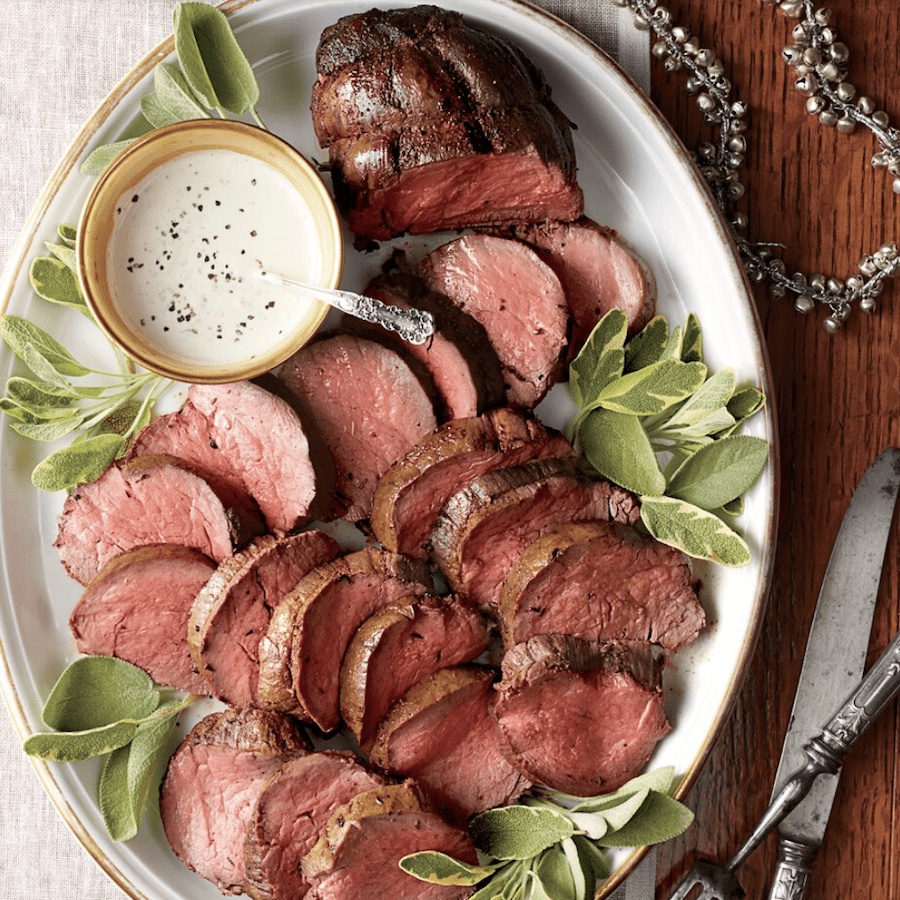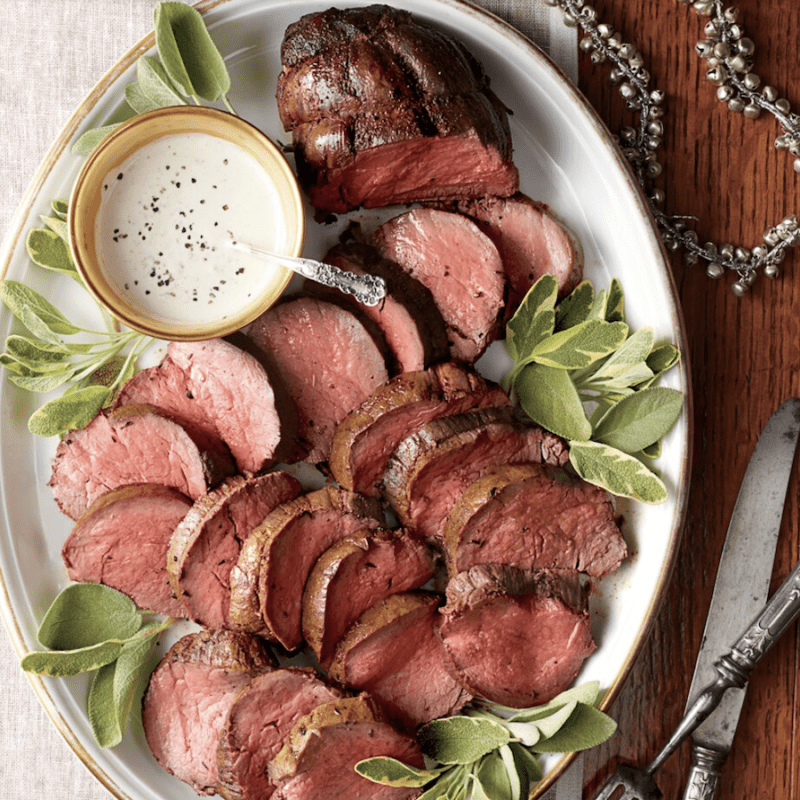 I really debated about sharing our traditional Christmas Eve Dinner Menu. I thought it would be boring and no one would care but then I thought about why people come to "Living Large in a Small House". They come here because they want to know what's going on in our lives.
So this week I have two important things to do. 1) Get prepared for Annie & Kenny to come home and stay for 5 days and 2) Put my grocery list together for the big week ahead.
I already have my weekly menu planned which includes Christmas Eve. That is when we go all out with the food. We do switch things up from time to time but basically, it's very always very similar. I've added my grocery shopping list to my FREE Printables Resource Library. If you want access to all of the wonderful printables that I have available, you need to share your email address with me. Let's be Friends!
Christmas Eve Menu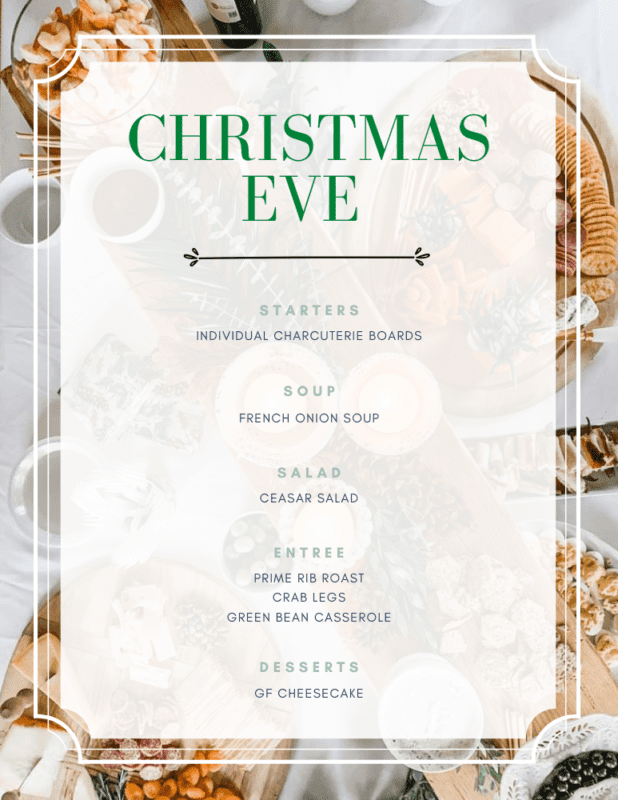 Dinner Details
We are going to start with individual charcuterie boards. I first made these for my harvest dinner that you can read about HERE.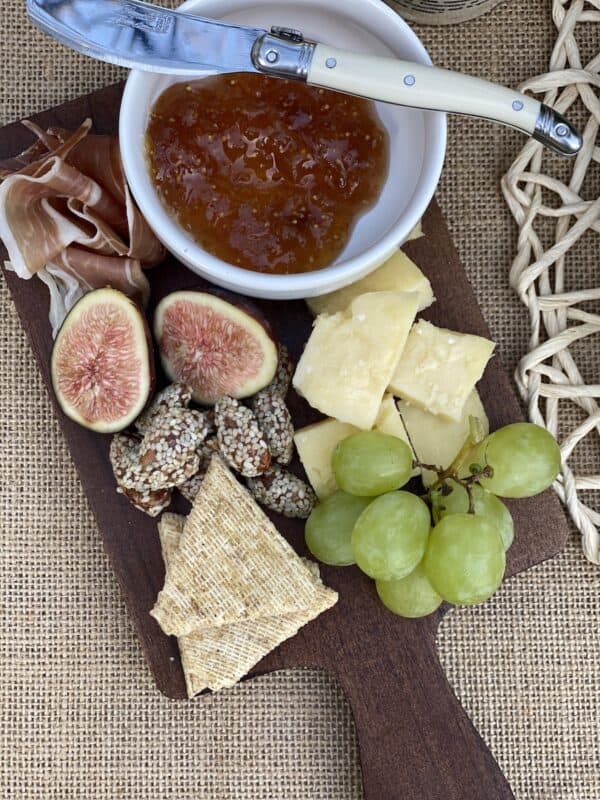 We always have beef, either a whole beef tenderloin or a prime rib roast and I always make my version of Julia Child's French Onion Soup. A make-ahead Cheesy Potato Casserole is our go-to potato choice.
My vegetable has been asparagus, bean bundles, or Brussel sprouts. However this year, we are making green bean casserole because it's Annie's favorite and she hasn't been home for Christmas Eve in a very long time. I'm also adding crab legs to the menu because Annie doesn't eat beef. I'm rounding out the meal with my classic Chicken Caesar salad, minus the chicken.
We also typically have Swedish Potato Sausage which you can read about HERE. This year will be an exception because we haven't been able to get together with my family to make it because of Covid concerns.
For dessert, I'm making a simple GF cheesecake topped with sugared berries. I'm also going to make a specialty cocktail. The one that I'm making is one that Emma and I created for our Podcast with Nathan & Philip Etters @happilyeveretter
If you want some more festive holiday cocktail ideas, you can find them by clicking the button below!
Spicy Beef Tenderloin
The Very Best Beef Tenderloin Roast Recipe – It's not really very spicy, it's just crazy tasty
Ingredients
1

cup

port wine,

(see note)

1

cup

soy sauce

1/2

cup

olive oil

1

tsp

black pepper

1

tsp

dried whole thyme

1/2

tsp

hot sauce

4

cloves

garlic,

crushed

1

bay leaf

1

5-6 pound whole beef tenderloin,

trimmed
Instructions
We order our beef tenderloin from a butcher but you can also get it from your local grocery store. If you order ahead of time, ask the butcher to trim the fat and membrane off of the tenderloin.

Typically there is a tail on the tenderloin, you should wrap that under and tie it with kitchen twine so that the roast has a more consistent size throughout.

Combine the first 8 ingredients; mix well. Place tenderloin in a large shallow dish; or 2-gallon ziplock bag. Pour the wine mixture over top, and cover tightly. Refrigerate for 8 hours, turning occasionally.

Take out of refrigerator a few hours before your going to cook to bring up to room temperature.

Uncover tenderloin; drain off and reserve marinade. Place tenderloin on a rack in a pan; insert a meat thermometer, making sure it does not touch fat. Pour reserved marinade into the bottom of the pan. Bake at 425° for 45 to 60 minutes or until the thermometer registers 140° (rare). Bake until the internal temperature is 150° for medium-rare or 160° for medium. Let rest for 10 minutes before cutting. SEE Notes
Notes
"Handy" always cooks large pieces of meat on the grill with indirect heat.  If you would like more information about how he does this, please comment and we will be happy to help you.
We also buy a really good port wine.  We think it makes a very big difference.  If you're going to spend a good amount of money on a whole tenderloin, it's worth it to splurge on the port.  Our favorite is Frontenac Port from Galena Cellars.
Yum
Cheesy Mashed Potatoes
Ingredients
10

lbs

large russet potatoes, peeled and quartered

2

pkg

8 oz. cream cheese

2

cups

shredded cheddar cheese

1

cup

sour cream

1/2

cup

butter, melted

1

cup

milk

2/3

cup

chopped onion

2

eggs

4

tsp

salt

1

tsp

pepper
Instructions
Place potatoes in a large saucepot; cover with water. Bring to a boil and cover. Cook for 20-25 minutes or until very tender; drain well – I used a colander

In a mixing bowl, mash potatoes. Add remainder of ingredients; beat until fluffy.

Transfer to a greased 2-qt., baking dish. Cover and refrigerate at this point if you're not going to bake right away.

Bring to room temperature if the potatoes have been refrigerated prior to baking

Bake at 350° for 40-45 minutes or until heated through. Sprinkle with additional cheese, if desired.
Notes
This is not a low-calorie dish and I only make it for special occasions.
Yum
Lynn's Mexican 75
This is my twist on the Mexican 75
Ingredients
1

oz.

juice from hibiscus flower jar

1

oz.

tequila

1/2

oz.

fresh lime juice

2

oz.

dry sparkling rosé

raspberry sorbet

hibiscus flower
Instructions
Combine hibiscus juice tequila and lime juice in a cocktail shaker. Fill shaker with ice, cover and shake until outside of shaker is frosty.

Pour into champagne flutes and gradually add rosé. Slip a hibiscus flower into the glass and top with a small scoop of raspberry sorbet.
Yum
If you want more Holiday Cocktails ideas, you can find them HERE.
Christmas Eve Table Setting
I really love to style my Christmas Eve table and it's never the same twice. My theme is always inspired by what I do with my tree. This year I'm using vintage blue and white china with the ribbon from the tree tied around my napkins.
I'm layering my table with clear beaded chargers, white dinner plates, and Johnson Brothers Vintage "Coaching Scenes" Salad and Dessert plate. I'm using the simple "Sterling" China with two green banded plates as my bread plates. My silver is similar to Wallace Queen but it's a little different and I can't find the exact match anywhere. The footed goblet is vintage Fostoria "Meadow Rose". My "Kincora" Waterford Crystal wine glasses are also part of my table setting.
Why Cloth Napkins?
I always use cloth napkins even if we are just having grilled cheese and tomato soup for dinner. It psychologically elevates the meal while also being environmentally friendly. I throw the cloth napkins in with my towels each week to wash. It's just so easy
I will iron them when we are having company or I'm setting a special table but typically they don't really need to be ironed if you take them out of the dryer as soon as they are done and fold them.
Christmas Day Meal Plans
Christmas Day is a lazy day for us. We watch Christmas Vacation for the 10th time and hang around a fire in our Christmas PJ's. I wish for snow on Christmas Day but we rarely get it. It seems to wait until January and then we get dumped on.
For breakfast, I usually make an egg bake if Kenny isn't with us but he'll be here this year. He eats Gluten-Free so I'm going to make a frittata with fresh fruit on the side. We usually don't eat until around 11 so it's really Brunch. Then we have an early grazing dinner of heavy appetizers. This is what I have planned
Hot Buffalo Wings
Dumplings
Cheese & Crackers
Beef, cream cheese & pickle rolls
Swedish Meatballs
direct access to all of my favorite kitchen gadgets
On Amazon
Did you know that you support my little business by purchasing through my links?? The price to you is the same but I receive a small commission on ALL the purchases you make when you shop through one of my links. I appreciate you helping Living Large in A Small House to grow!
My wish for you this holiday season is to have a beautiful day. If you're celebrating alone or with friends and family. Take out the good dishes, use a cloth napkin and enjoy the holiday meals that you have prepared.
Peace,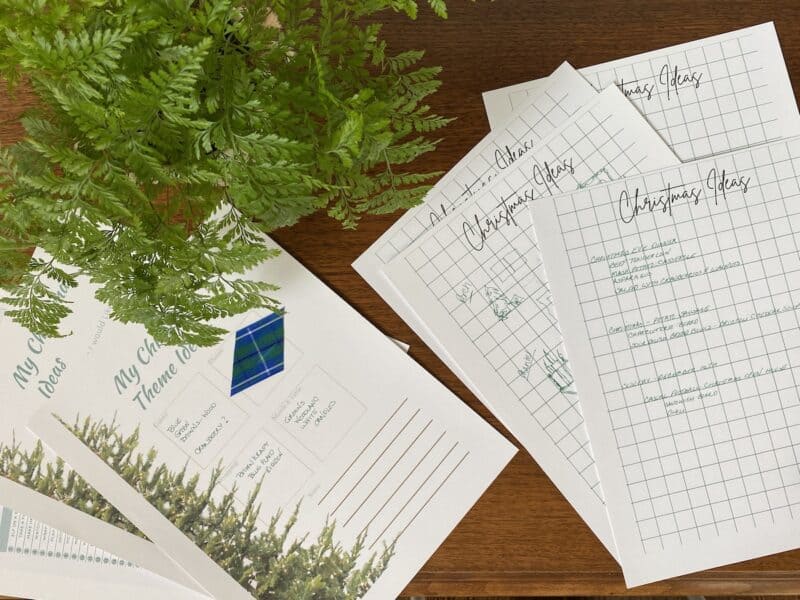 get access to all my Free printables
When you join my newsletter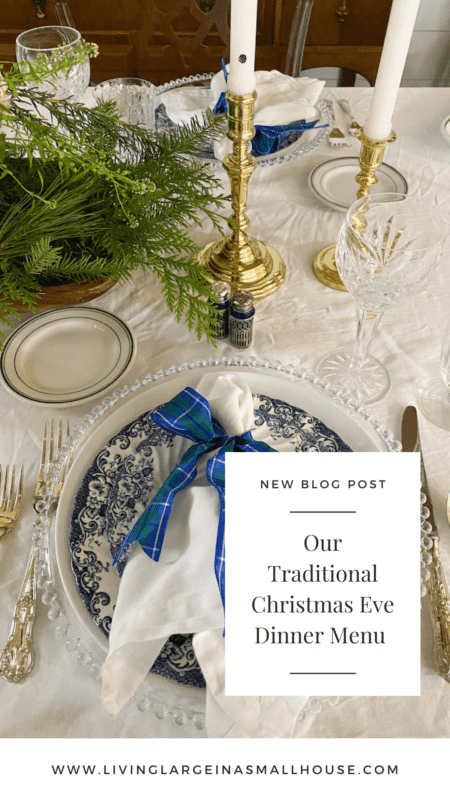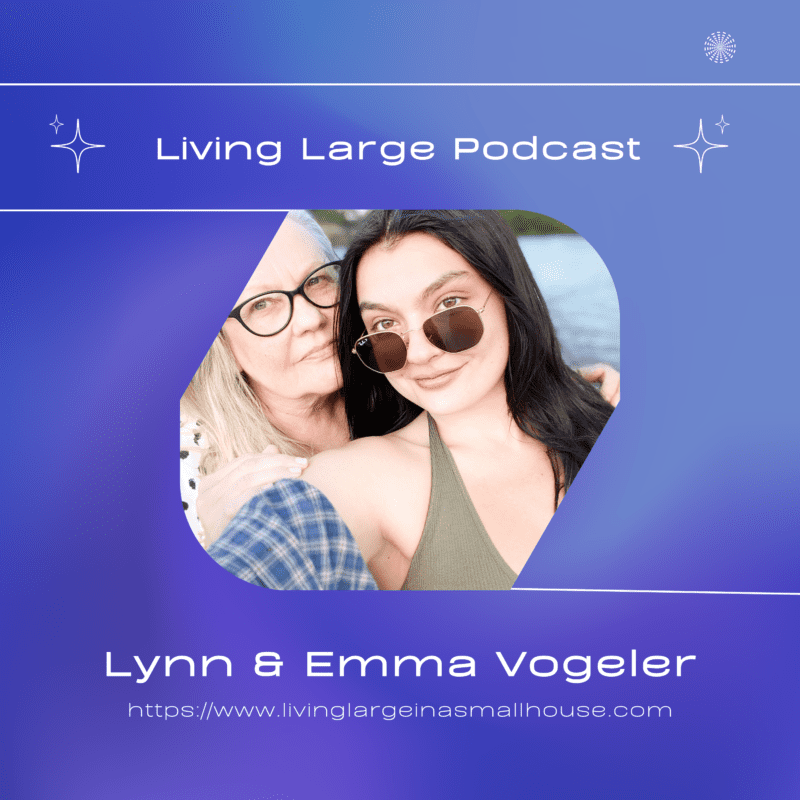 If you make a turkey for Christmas and are looking for some ideas for leftovers, you can find them HERE