What We Put on a Fall Charcuterie Board
Are you wondering what to put on a Fall Charcuterie Board?
We had guests this past weekend and so I will share what we put on our snack board!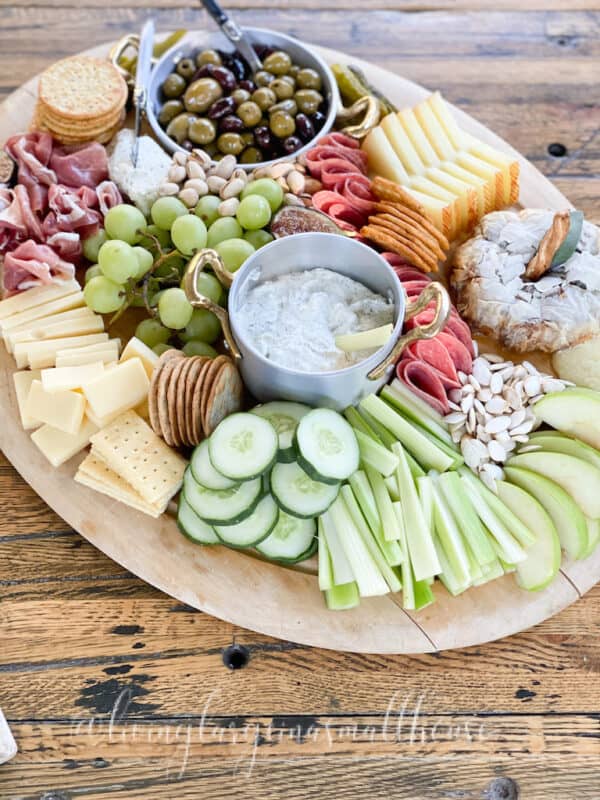 On my blog Living Large in A Small House, I may sometimes use affiliate links, which means a small commission is earned if you make a purchase via the link. The price will be the same whether you use the affiliate link or go directly to the vendor's website using a non-affiliate link. You can find my full Disclosure Policy HERE
The Evolution of an Epic Fall Charcuterie Board
This Charcuterie Board started with an idea and that idea was a white/green neutral fall Charcuterie Board.
I made a list of things that fell into this category of white and green that have fall flavors for the fall season.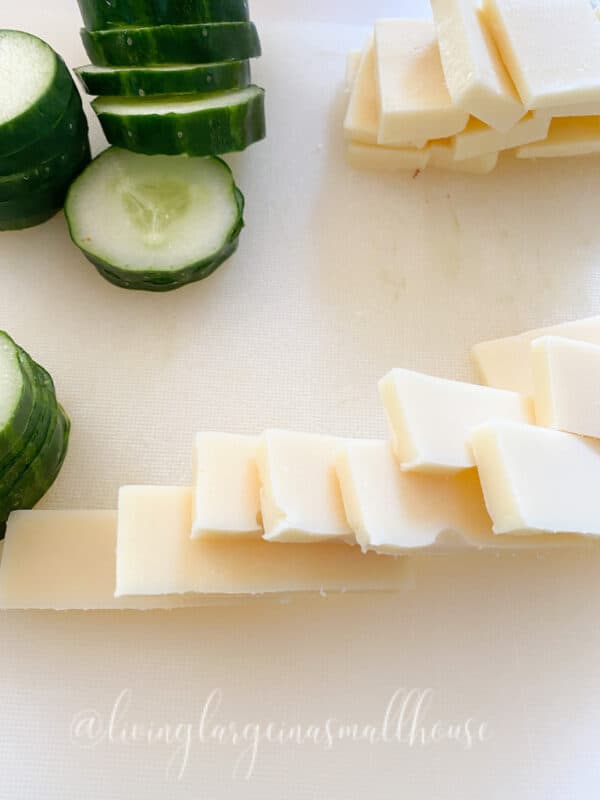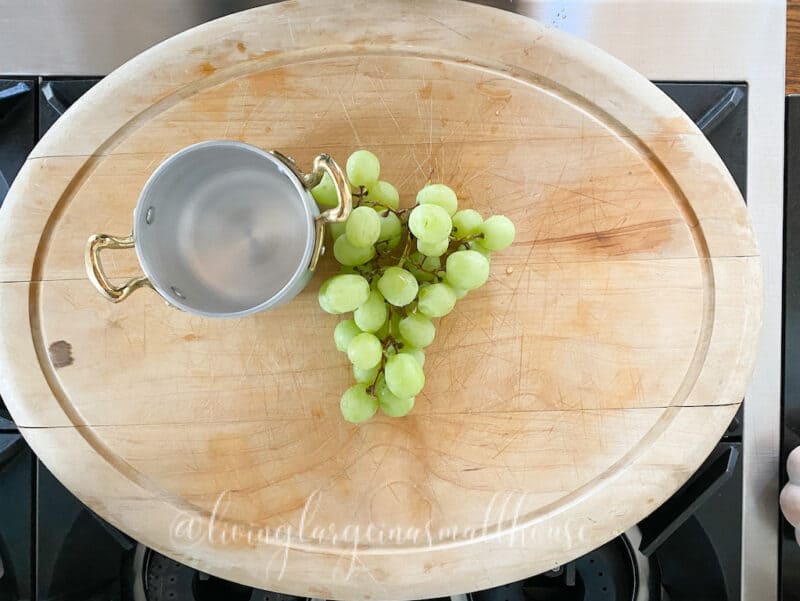 White Cheddar
Manchego Cheese
Goat Cheese Logs (Regular & Herb)
Brie Cheese
Pistachio Nuts
Pumpkin Seeds
Green Grapes
Granny Smith Apples
White Chocolate Covered Pretzels
Celery Sticks
Cucumber Slices
Dill Pickles
Green Olives
Crackers
Since I don't really know of a deli meat that is white or green (thank goodness) We had a little bit of brown on our tray.
We also wanted to add a few things that give this festive board a nice pop of color and also a show-stopper item.
Figs (Which I could only find at Trader Joe)
I want to share with you that one of my favorite stores is Aldi. You can get delicious and organic foods at half the price of my local grocery store. I have a post about Aldi HERE.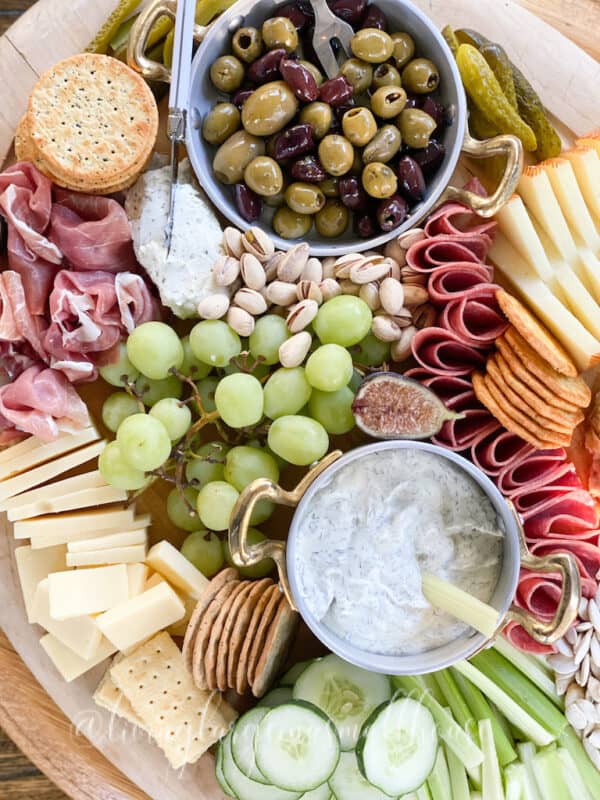 Charcuterie
Charcuterie (shar-KOO-ta-REE) is a specific term with origins reaching as far back as 15thcentury France; literally translated, it means the products of a fancy pork butcher.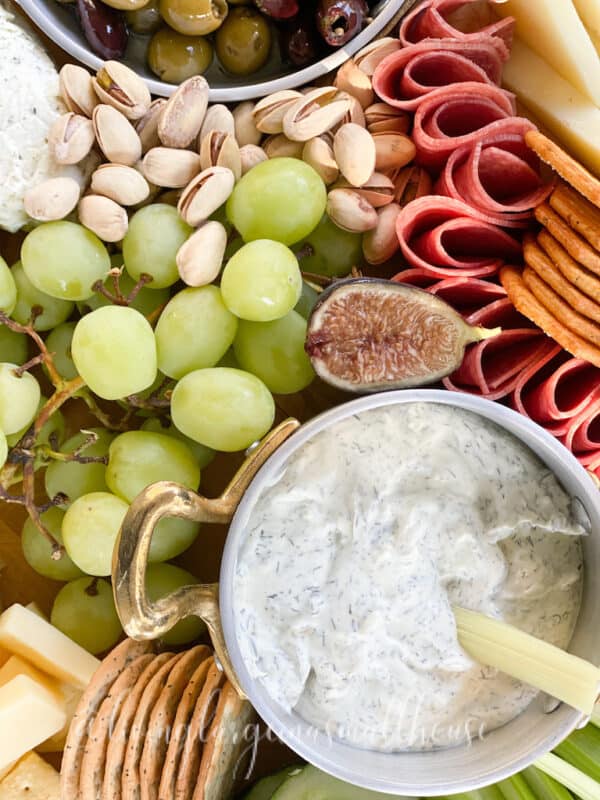 The Show Stopper
I created the cutest pumpkin with brie cheese and phyllo dough. I got new recipes from my sweet friend Nicolle from Our Tiny Nest and shared the cutest mini pumpkin brie recipe.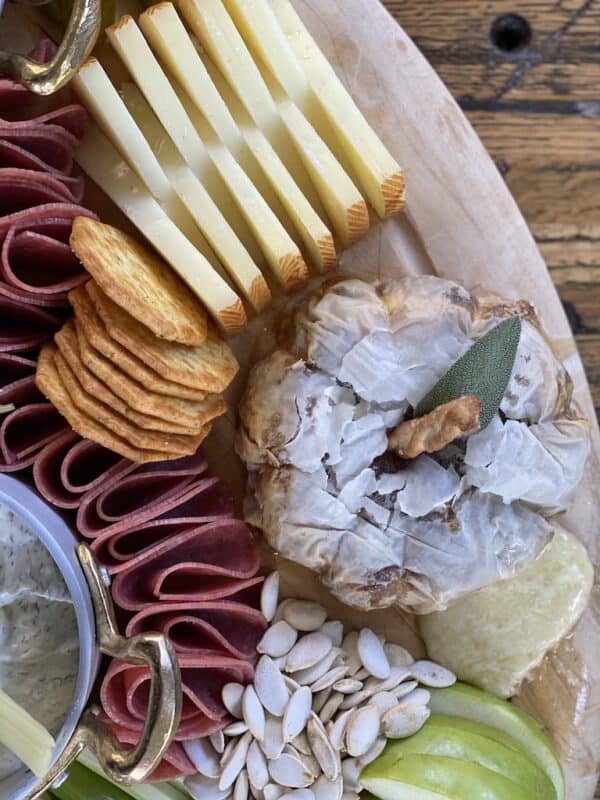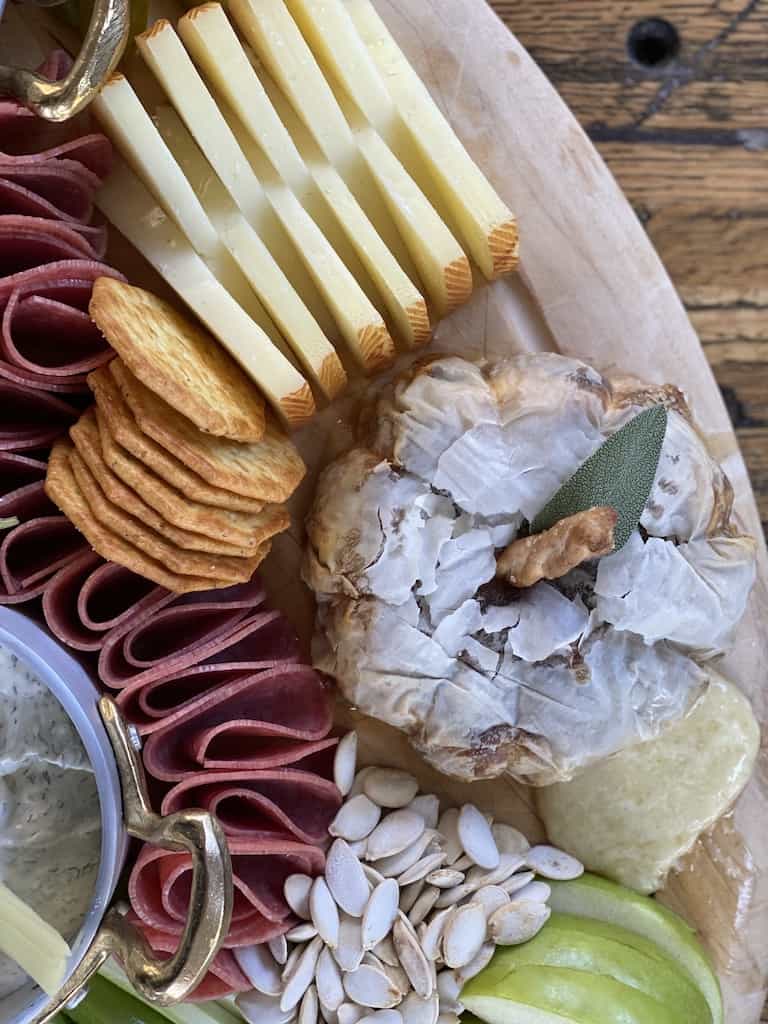 My Favorite Charcuterie Board Items
Frequently Asked Questions
Are Charcuterie Boards Seasonal?
They don't have to be but I think that's the fun of a Charcuterie Board.
They can also be themed; dessert board, breakfast board, Halloween board, Christmas Board, the possibilities are unlimited.
Google any kind of (Fill in the blank) ___________ Charcuterie Board and you will get tons of ideas.
I like to look at other boards for inspiration and then take what I like from those ideas and make my own.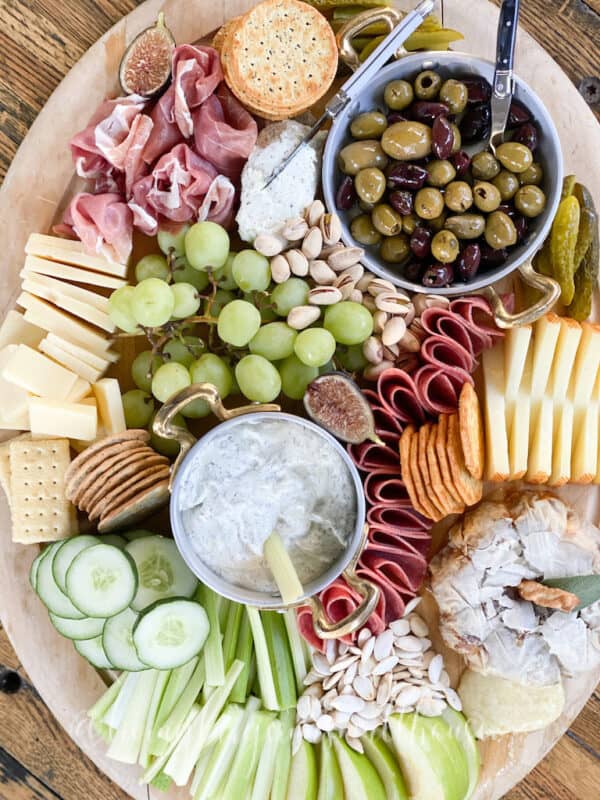 What kind of Cheeses go well Together on a Charcuterie Board?
My go-to cheeses are a couple of soft cheeses. A favorite is goat cheese and another creamy cheese is Buratta topped with olive oil. I also add a couple of hard cheeses. My go-to's are Manchego and White Cheddar.
Asiago is another great choice for hard cheese and mozzarella is a perfect soft cheese. There are also so many different types of cheeses. I can't forget swiss cheese and gouda cheese.
What is normally on a Charcuterie Board?
Since a charcuterie board is basically snacks on a large board there is no normal of what has to be on it. However, the most common items that are on a Charcuterie Board are:
Soft Cheese
Hard Cheese
Fresh Fruit (Seasonal Fruits)
Dip
Variety of Meats
Crackers
Savory Spreads
French Bread
What is the difference between a Charcuterie Board and a Grazing Board?
It depends on who you ask but here is my opinion. A Charcuterie Board is a smaller portable snack board and a grazing board is more of a table that has an abundance of food that could be a meal for many.
Other Fall Charcuterie Board Ideas
These are other great options for your fall board
Fig Spread
Bourbon Apple Butter
Apricot Jam
Candy Corn
Bosc Pears
Red Grapes
Pumpkin Hummus
Anything Pumpkin Spice 🙂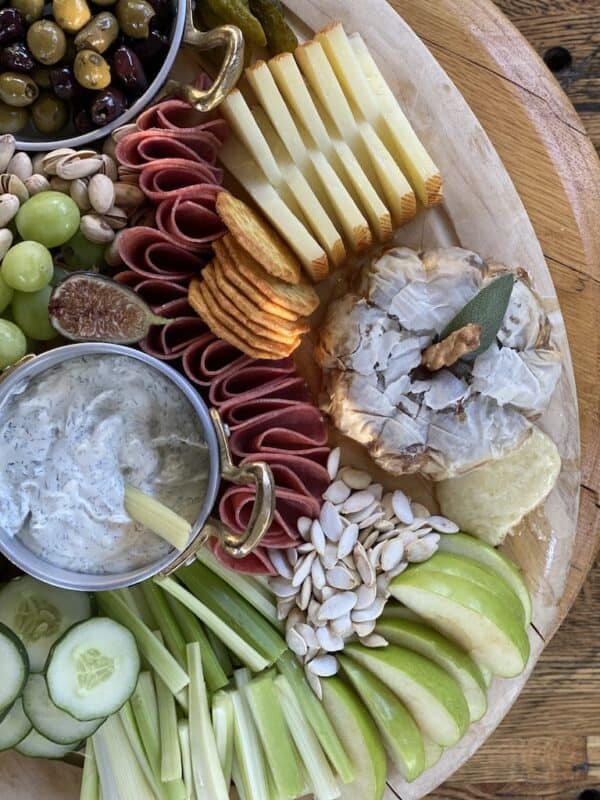 Charcuterie Board Reminders
As a last note, I wanted to share a little reminder about company and entertaining.
We do Charcuterie Boards often when we have guests over but I think it can be a fun dinner idea.
Have beverages available. We love a crisp cold white wine, like a Pinot Grigio. If you enjoy red wine I suggest Pinot Noir.
Having paper plates or small bowls and napkins in stock is something that has taken me a long time to master but now I have a well-organized supply.
Small cheese spreaders, knives, and spoons are certainly not necessary but so fun if you do have them available.
Happy Fall!
Peace,
If you're looking for other Entertaining Ideas, check out my Entertaining Series HERE

A great way to save this article is to save it to your Pinterest boards. You can find the pin button in the top left corner of the photo below. Also, don't forget to follow me on Pinterest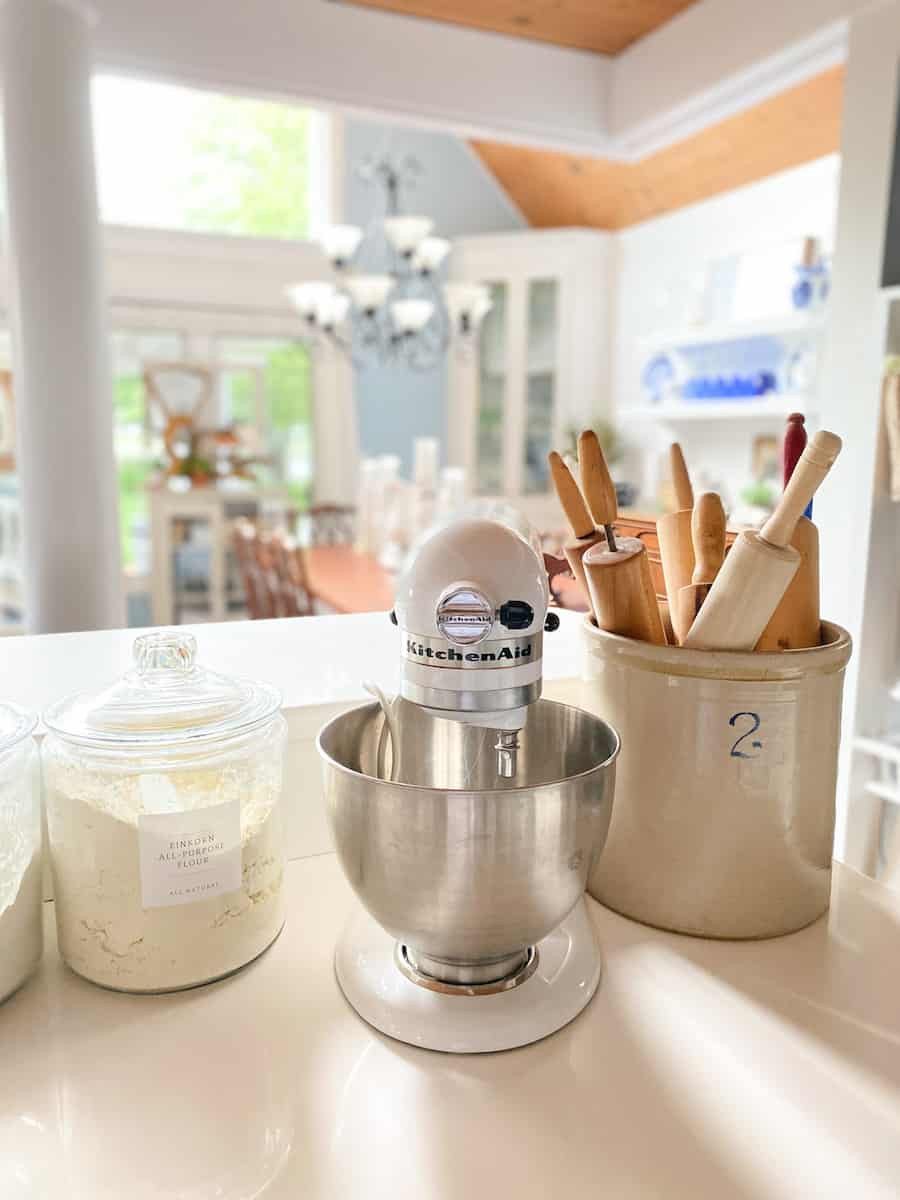 direct access to my amazon store
On Amazon
Did you know that you support my little business by purchasing through my links?? The price to you is the same but I receive a small commission on ALL the purchases you make when you shop through one of my links. I appreciate you helping Living Large in A Small House to grow!

Living Large Podcast
We are taking a two-week break. Our next Podcast will air on Monday, October 17th! You can click the button below to catch up.