How to Entertain With Ease – Part III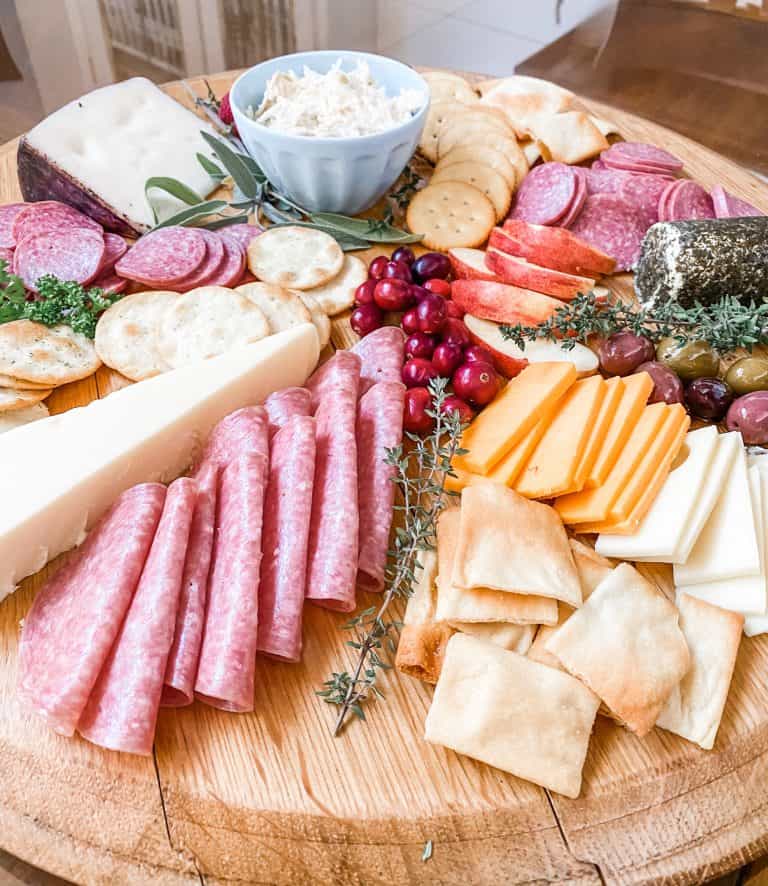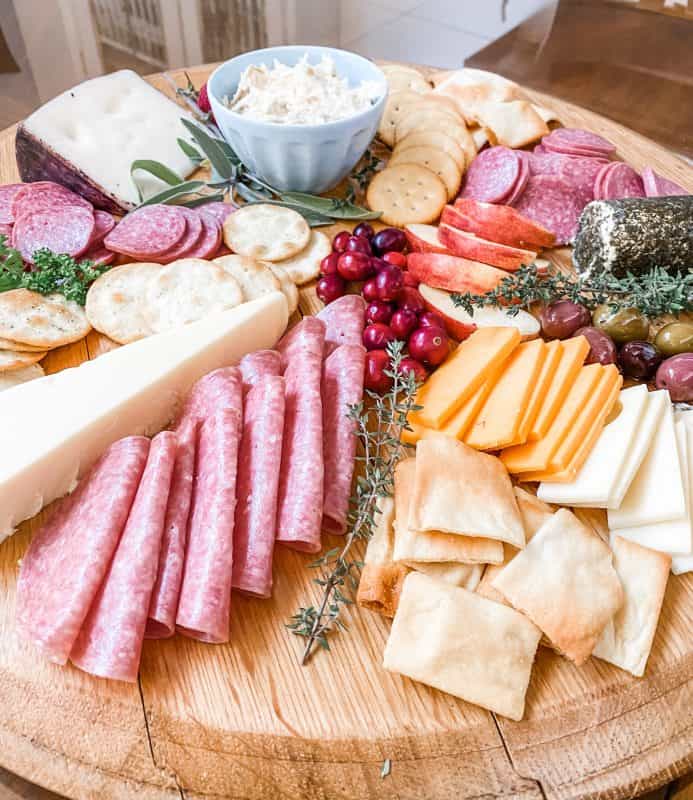 Today in Part III of How to Entertain with Ease, I'm going to chat with you about some food ideas for making entertaining easy!
Casual Entertaining Food
I always have a few items in the pantry, fridge and freezer for those "just in case" occasions. Casual entertaining should be just that, casual and the food should be easy breezy.
Popcorn is quick and easy and can store forever in the pantry
Nuts – I typically have almonds on hand at all times
Crackers – We keep crackers in our snack bin and replace them when they get a little old
Cheese – We are a cheese loving family so I almost always have bricks of cheese. Chunk cheese that is partially used, can be cut into slices, no one will be the wiser.
I always have baby carrots & celery in my fridge and I always keep an extra pack of ranch dip mix in the pantry.
Apple slices or grapes, if you have them are great to nibble on.
A frozen pizza can be both a meal or cut up into bite sizes pieces for nibbling
There is nothing wrong with chips and dip. "Handy" would be happy with just that at every single party we have ever had 🙂
Formal Entertaining Food
My idea of formal is just elevating it to a different level. Real plates and napkins instead of paper. Your food doesn't have to be terribly fussy or hard to prepare just upgraded from hot dogs & burgers to a roast or turkey. Appetizers for a cocktail party will be more extensive.
Example of a easy, make ahead dinner menu:
Marinated Flank Steak – Marinate 24 hours before and then grill right before serving
Twice Baked Potatoes – I make these sometimes a week before and freeze. Take them out the day before to thaw and then just pop in the oven to heat through
Tossed Salad – I cut up all of my veggies and chop my lettuce the day before. I then dress my salad right before serving. I use something universal like Italian dressing or Ranch.
Rolls – The Bakery is your friend here. I order my rolls so that I don't have to worry about the store not having them and I send "Handy" out the morning of to pick-up.
Dessert – Since I'm not a baker, I do the same thing as the Rolls. There is no shame in ordering your dessert from the bakery. This would also be a great dish to let someone bring, if they ask. I for one love it if someone asks if they can bring dessert because I know that this isn't my strong suit.
Appetizers – If we are having a whole dinner, I will prep everything the day before and even put it on a tray or board, cover it with plastic wrap and put it in the refrigerator. Again, if someone is offering to bring things, have them bring their favorite hors d'oeuvre.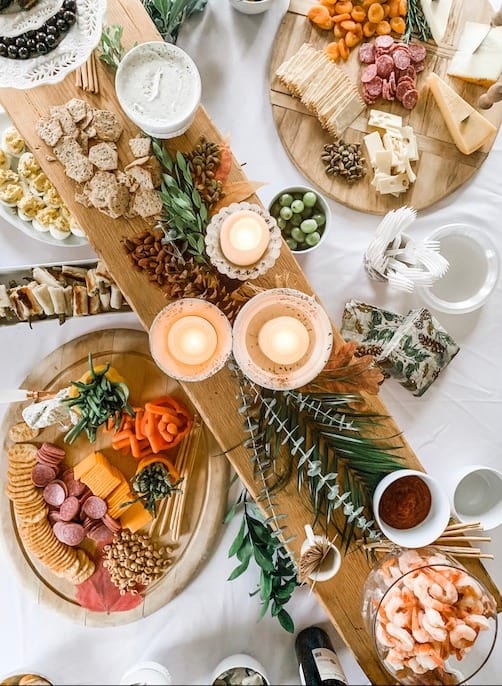 Bar & Beverage
For most events, I try to keep it simple with wine, beer, bottled water, and maybe a signature drink (Sangria, Margarita, Moscow Mule). I also will usually have some Diet Coke on hand as well. If it's a more formal event I use a guide to stock the bar. This article from Epicurious outlines what you need if you are stocking a full bar and it also calculates the number of appetizers you should have for a cocktail party.
Our local liquor store will take back any unopened bottles which is a great option. I believe Costco will also do that as well. Don't forget to have extra ice on hand. We always have coolers outside with extra ice.
Other Food Ideas for Entertaining
Make Your Own Pizza – Trader Joes has amazing pizza dough. We also love their pizza sauce – So easy! Just provide some assorted toppings
Salad Bar – Lettuce with toppings and two proteins along with a few different dressings. Add some nice crusty French bread from the bakery
Taco Bar – Super simple! Prep the meat and provide shells and different toppings. Add Corn Chips and someone can even make nachos.
Pasta Bar – Two different noodles with three sauces and a protein or two.
Chili with assorted toppings – I always make two pots one just has beans added in and then provide toppings
Large Sub Sandwiches – I put together the sandwich with meats and cheese and let everyone put their own toppings (tomato, lettuce, pickles and condiments) on themselves.
Make Your Own Sundaes – Vanilla ice cream with two different sauces and then you could go crazy with toppings (very fun for a birthday bash)
Pot Luck – So easy, everyone brings a dish to pass and you just provide the main dish. I would also do BYOB
Taste of Your Town – Order a different items from local eateries. This is so timely right now when our local restaurants are struggling to stay in business.
How to Entertain with Ease
Keep it simple
Make Things ahead of Time
Entertain for your comfort level
If asked, accept help
Always remember that your guests won't remember what you served or the spot on the floor; they will remember the good times had with friends & family.
I can't wait for things to get back to normal. My wheels are already spinning about all the people that I want to have over to my house. We also have a few weddings this summer (our daughter is getting married in June and my niece in October) so there will be lots of merriment going on at this small house!
I hope everyone had a wonderful Thanksgiving! I know lots of you had very small gatherings. Ours was just the three of us but we had an amazing day!
Peace,