Create a Gourmet Hot Dog Bar for Your Next Summer Party


Welcome to the Virtual Book Club – Culinary Version
Three other bloggers and I will share our interpretation of a different book each book on the fourth week of each month.
On Thursday we will be sharing something home decor related and on the following Saturday a culinary treat inspired by our book.

Our Virtual Book Club monthly book for June is "Father of the Bride" by Edward Streeter.
On Thursday, my post was my tips for hosting an intimate vintage backyard wedding.
Today it's all about creating a summer gourmet hot dog bar.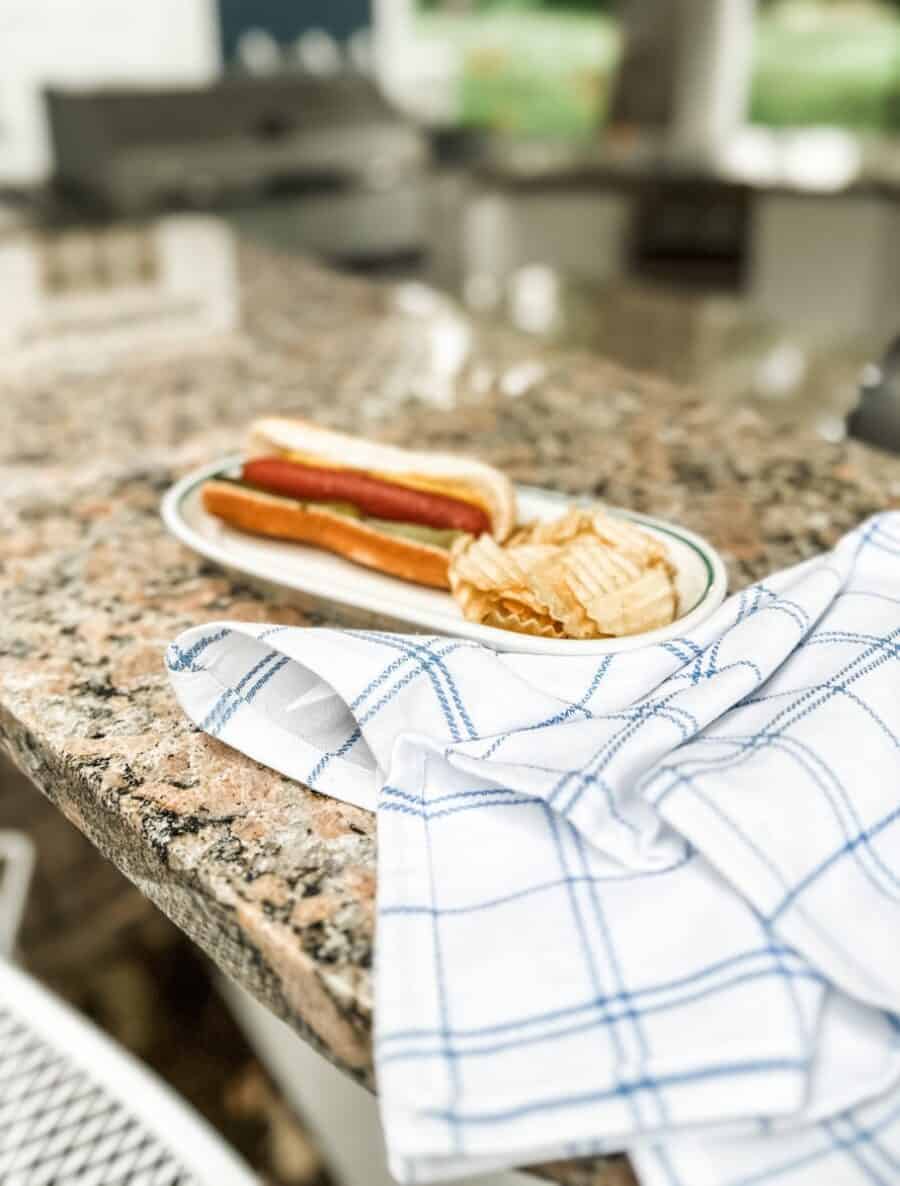 On my blog Living Large in A Small House, I may sometimes use affiliate links, which means a small commission is earned if you make a purchase via the link. The price will be the same whether you use the affiliate link or go directly to the vendor's website using a non-affiliate link. You can find my full Disclosure Policy HERE


Maybe you would rather listen to the audio version of these books! Join Audible and you can enjoy books on the go from your phone! This is a great way to read lots of books!
Or maybe you are a movie watcher, like me! Join Amazon Prime and get access to thousands of movies!
Father of the Bride the 1990 Movie
The "Father of the Bride" Movie (1991 Version) is a family favorite in our house. We've watched it more times than I can count.
We all love the part in the movie where George Stanley Banks goes nuts in the grocery store because of the hot dog buns and ends up in jail.
In homage to Steve Martin and the 1990 Movie we are creating a gourmet hot dog bar as our culinary inspiration for "Father of the Bride".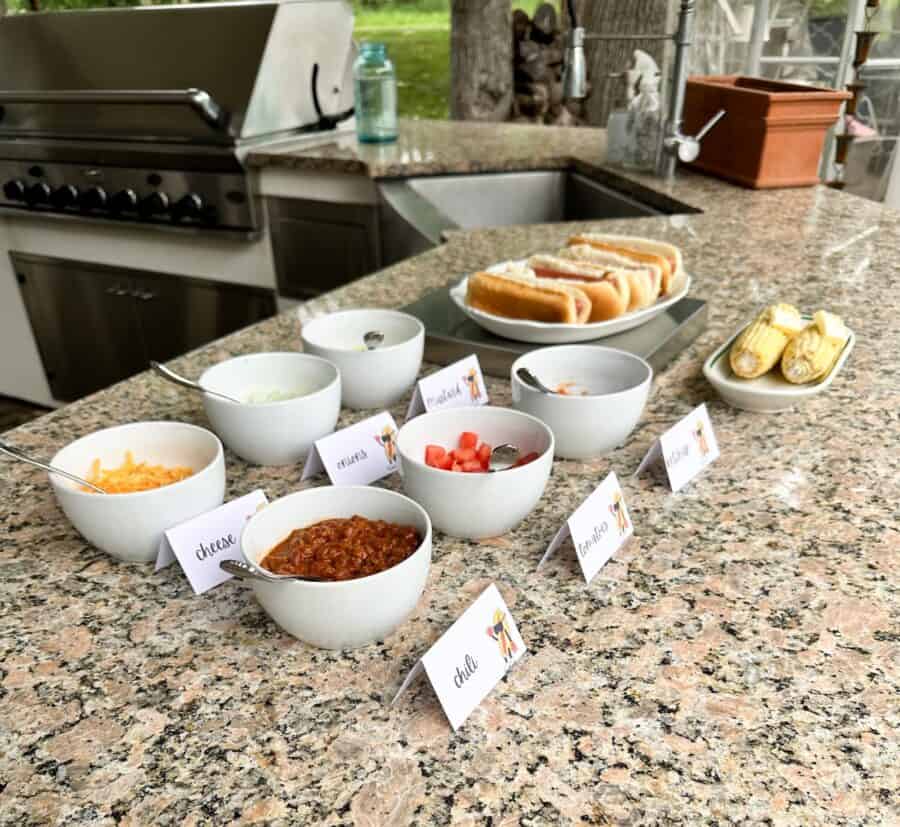 Gourmet Hot Dog Bar
Who doesn't love a good hot dog? But why settle for a plain old hot dog when you can create the ultimate gourmet hot dog bar? With a little creativity and some delicious hot dog toppings, you can turn a simple hot dog into a mouthwatering masterpiece.
First things first, let's talk about the basics. You'll need to start with quality hot dogs and hot dog buns. Don't skimp on the hot dogs – there are many different types of hot dogs. Opt for all-beef or even gourmet sausages for a more elevated experience. As for the buns, choose ones that are sturdy enough to hold all of your favorite toppings without falling apart.
Full disclosure: I absolutely love the soft wonder bread type hot dog buns!
Once you have your hot dogs and buns, it's time to start thinking about toppings. From classic condiments like ketchup and mustard to more unique options like caramelized onions and jalapeno peppers, the possibilities are endless. We'll share some of our favorite topping combinations to get you started.

What You'll Need
When it comes to building the ultimate gourmet hot dog bar, you'll need a few essential items to make sure everything goes smoothly. Here's what we recommend: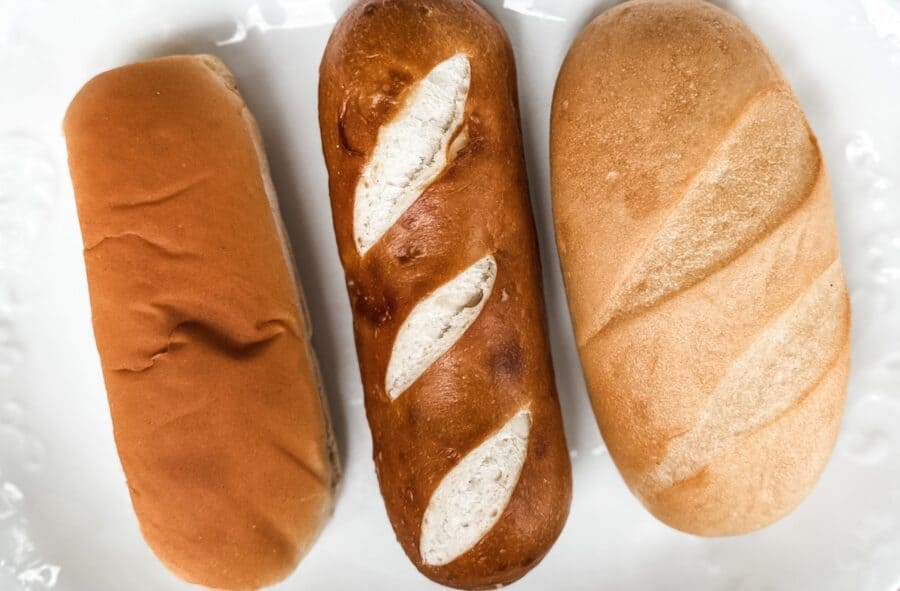 Hot Dogs
First and foremost, you'll need hot dogs. We suggest going for a high-quality, all-beef hot dog. Look for ones that are free from fillers and preservatives.
Buns
Next up, you'll need buns to hold your hot dogs. We recommend going for a soft, slightly sweet bun that can stand up to the juiciness of the hot dog without falling apart. You can also consider getting some pretzel buns and gluten-free or vegan buns for any guests with dietary restrictions.
Toppings
This is where things get fun. You'll want to offer a variety of toppings to suit everyone's tastes. Here are some ideas for your hot dog bar toppings:
Classic condiments like ketchup, yellow mustard, and relish
Gourmet mustards and mayonnaises
Pickles, both sweet and dill pickle spears
Relish both sweet pickle relish and dill relish
White Onion, both raw and caramelized perhaps also red onion
Celery Salt
Sauerkraut
Sport Peppers
Chili
Cheese, both shredded and sliced (In addition to Cheddar Cheese you could also offer pepper jack or Swiss)
Guacamole
Hot Sauce
BBQ Sauce
Bacon bits
Fried onions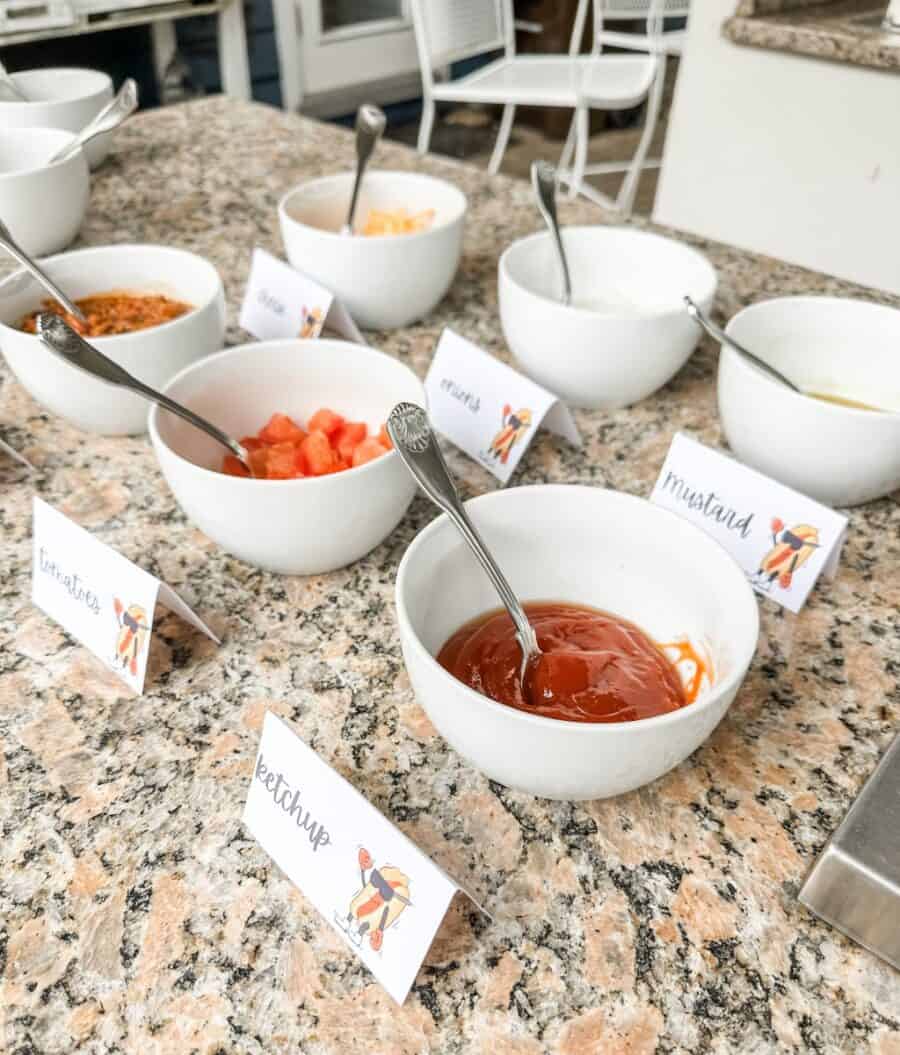 Side Dishes
To round out your hot dog bar, you'll want to offer some delicious sides. Here are some ideas:
Potato chips
Corn on the Cob
Tortilla chips
Coleslaw
Baked beans
French fries
Sweet potato fries
Drinks
Don't forget to offer some refreshing drinks to wash down all those hot dogs. We suggest having a variety of options, including:
With these essentials, you'll be well on your way to building the ultimate gourmet hot dog bar.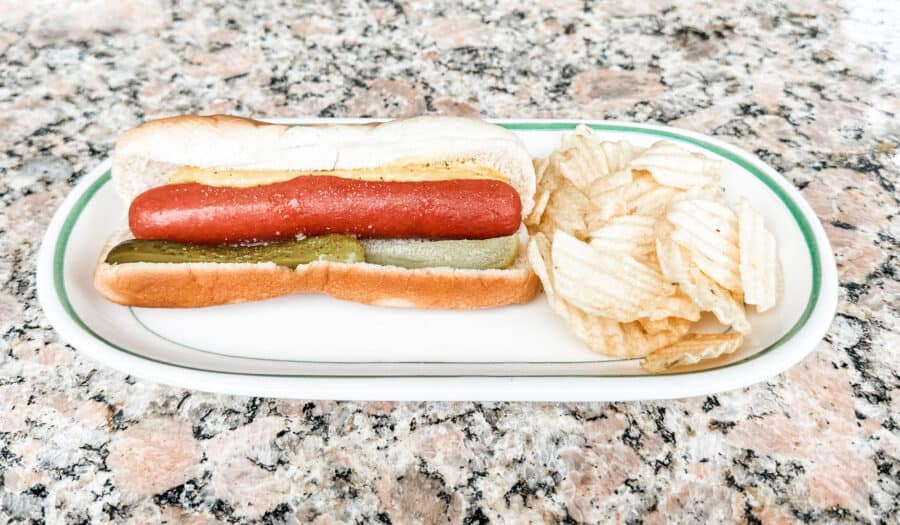 More than just a Hot Dog
You can also consider offering something other than just hot dogs. We typically offer brats and Italian sausage and even a hamburger as the topping are interchangeable.
With the different offerings, you can turn your basic hot dogs into a chili dog, a Chicago dog, an Italian dog, or even a coney dog. Your guests can make themselves many fancy hot dogs with your gourmet toppings.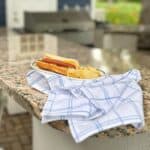 Print Recipe
Yum
Hot Dogs with Topping Bar
An easy, inexpensive summer party idea
Ingredients
Toppings
yellow mustard

ketchup

relish

pickle spears

onions

tomatoes

sport peppers
Gourmet Toppins
chili

cheese

guacamole

sourkraut

jalapeno peppers

red onions
Instructions
Top with favorite topping
Yum

Setting Up the Hot Dog Bar
Presentation
When it comes to setting up the ultimate gourmet hot dog bar, presentation is key. Here are some fun ideas for presenting your hot dog bar:
Use a tablecloth or table runner to add some elegance to the setup.
Use tiered trays or platters to display the toppings. This will make it easier for guests to see all of their options.
Label each topping with a small sign or tag. This will help guests know what they're putting on their hot dogs.
Use small bowls or ramekins for condiments like ketchup and mustard. This will keep them from getting messy and make them easier to serve.
Order of Toppings
The order in which you present the toppings on your hot dog bar is important. We want to make sure that guests can easily build their perfect hot dog without having to backtrack or search for toppings. Here's the order we recommend:
Hot dogs (of course!)
Buns (toasted or steamed)
Sauces and condiments (ketchup, mustard, relish, etc.)
Vegetables (onions, peppers, sauerkraut, etc.)
Cheeses
Meats (bacon, chili, etc.)
Other toppings (fried onions, jalapeños, etc.)
By following this order, guests can easily build their hot dog from the bottom up, without having to backtrack or search for toppings. Plus, it will keep the line moving smoothly and efficiently.
That's it for setting up the hot dog bar. With these tips, your guests will be impressed and satisfied with their gourmet hot dog creations.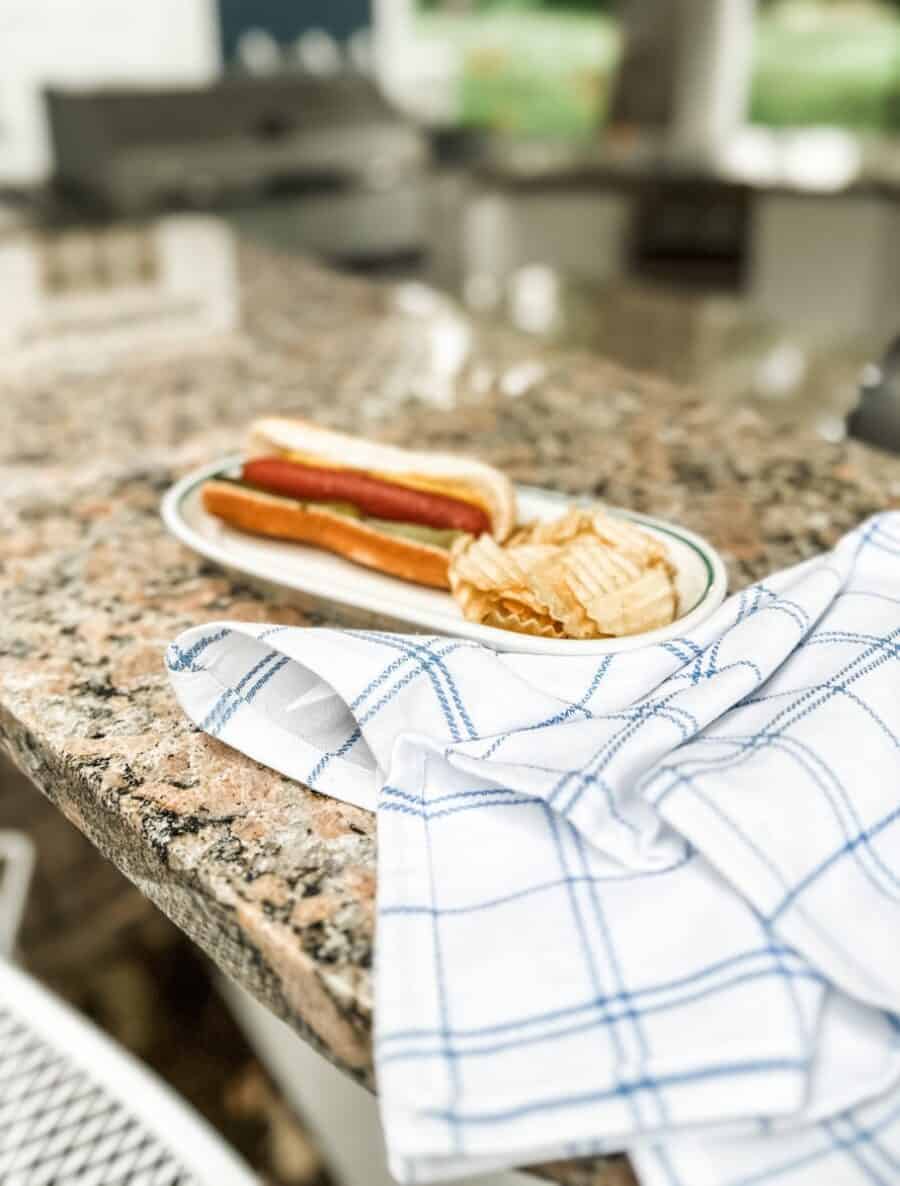 "Some big shot over at the wiener company got together with some big shot over at the bun company and decided to rip off the American public. Because they think the American public is a bunch of trusting nit-wits who will pay for everything they don't need rather than make a stink."
– Steve Martin "George Stanley Banks"
Summer Cookout
The beauty of having a make-your-own hot dog bar is that once you've put everything out for the hot dog party, your job is pretty much done. It's also a relatively inexpensive party theme as many things you might already have on hand and the rest you can pick up at your local grocery store.
It's also kid-friendly and would be perfect for birthday parties. Kids have so much fun when they create their own favorite hot dog recipes.
So whether you are celebrating the summer holidays of the Fourth of July, Labor Day, or Memorial Day or just having a fun summer bbq; it's a great way to entertain with ease while taking things to the next level with different flavors.
You can put your own spin on this and make it your own at your next gathering this summer. Enjoy!
Peace & Love,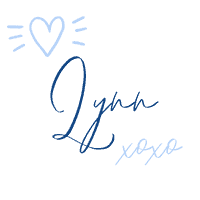 Frequently Asked Questions
How do we keep hot dogs warm for a bar setup?
We recommend using a slow cooker or a warming tray to keep hot dogs warm for your bar setup. Simply set the slow cooker or warming tray to a low temperature and place the hot dogs inside. This will ensure that they stay warm and ready to serve throughout your event.
What are some vegetarian options for a hot dog bar?
For vegetarian options, we suggest offering veggie dogs or tofu dogs as a meat-free alternative. You can also include a variety of toppings such as grilled vegetables, avocado, and different types of cheese to create delicious vegetarian hot dog options.
How can we make our hot dog bar stand out from others?
To make your hot dog bar stand out, we suggest getting creative with your toppings. Offer unique and unexpected toppings such as kimchi, bacon jam, or Sriracha mayo. You can also play around with different types of buns such as pretzel buns or brioche buns to add a gourmet touch to your hot dog bar. Additionally, consider offering themed hot dog options such as a Chicago-style dog or a chili cheese dog to add some variety to your menu.
Create a Gourmet Hot Dog Bar


Thanks for Following Along
If you enjoyed this post I hope you sign-up to be a friend of Living Large in A Small House! Then you won't miss any of the inspiration that is shared with you each week! You can also follow me on Instagram, Facebook, and YouTube. I share even more inspiration on Pinterest! You can listen to me chat on my Podcast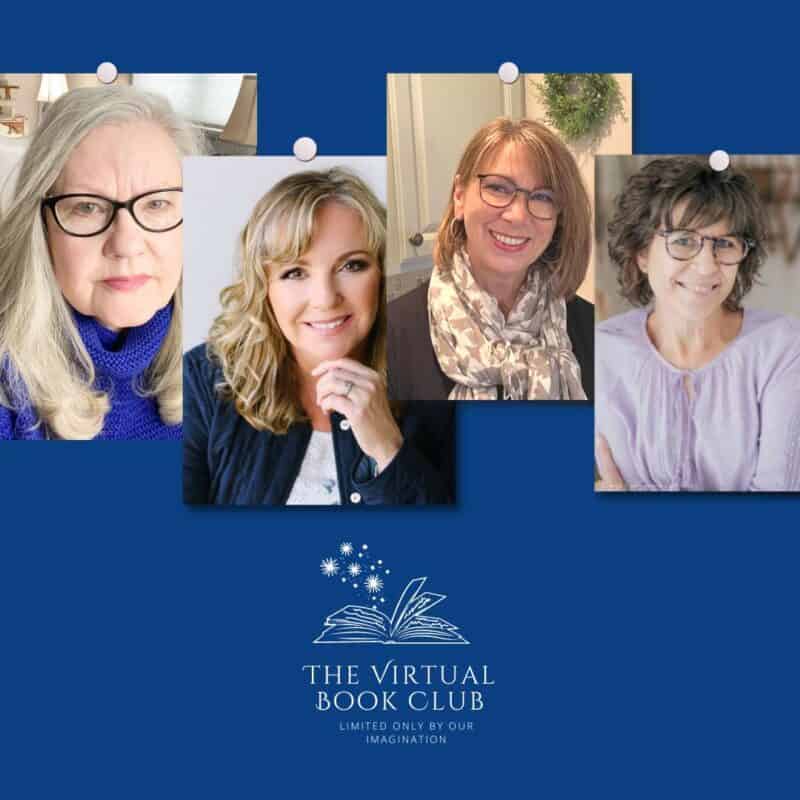 Cindy
Reinventing Delaware
Crystal
Sweet Valley Acres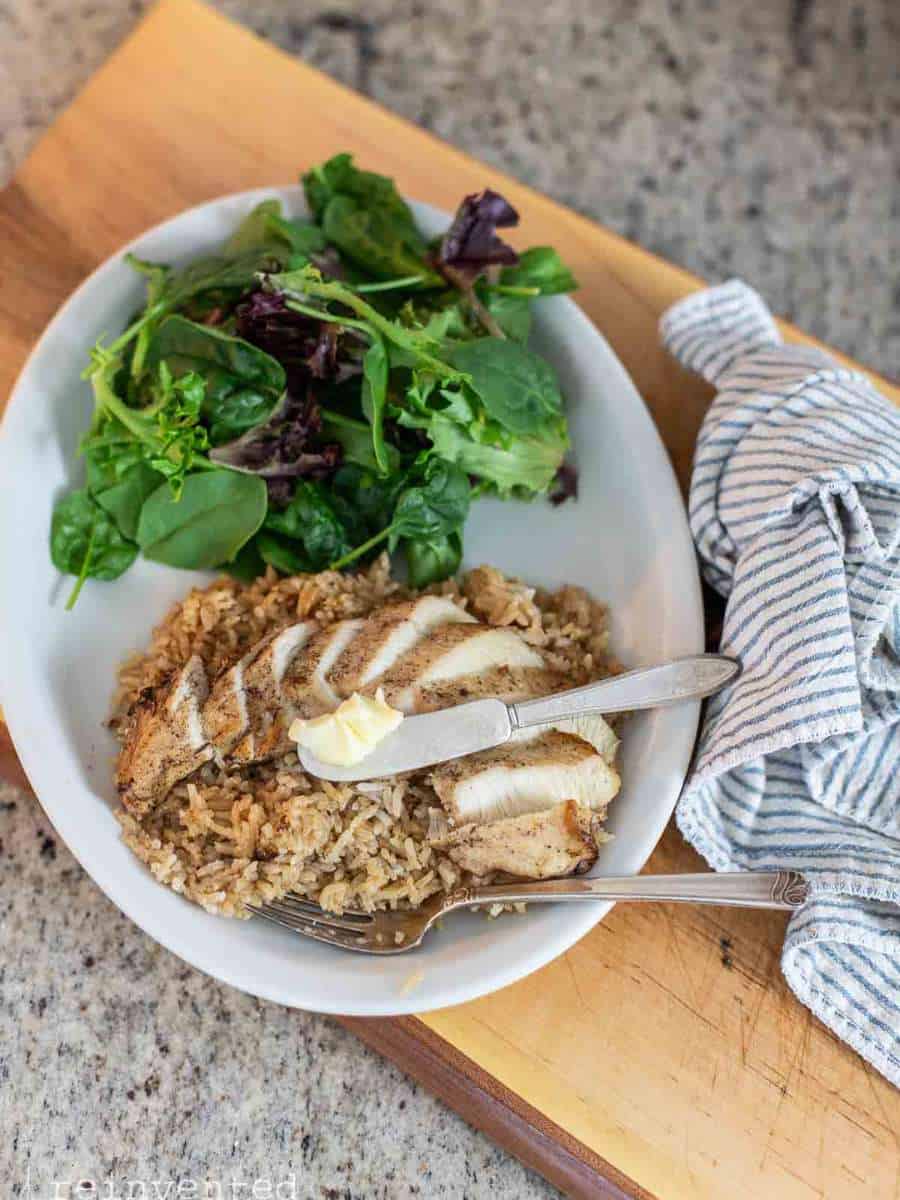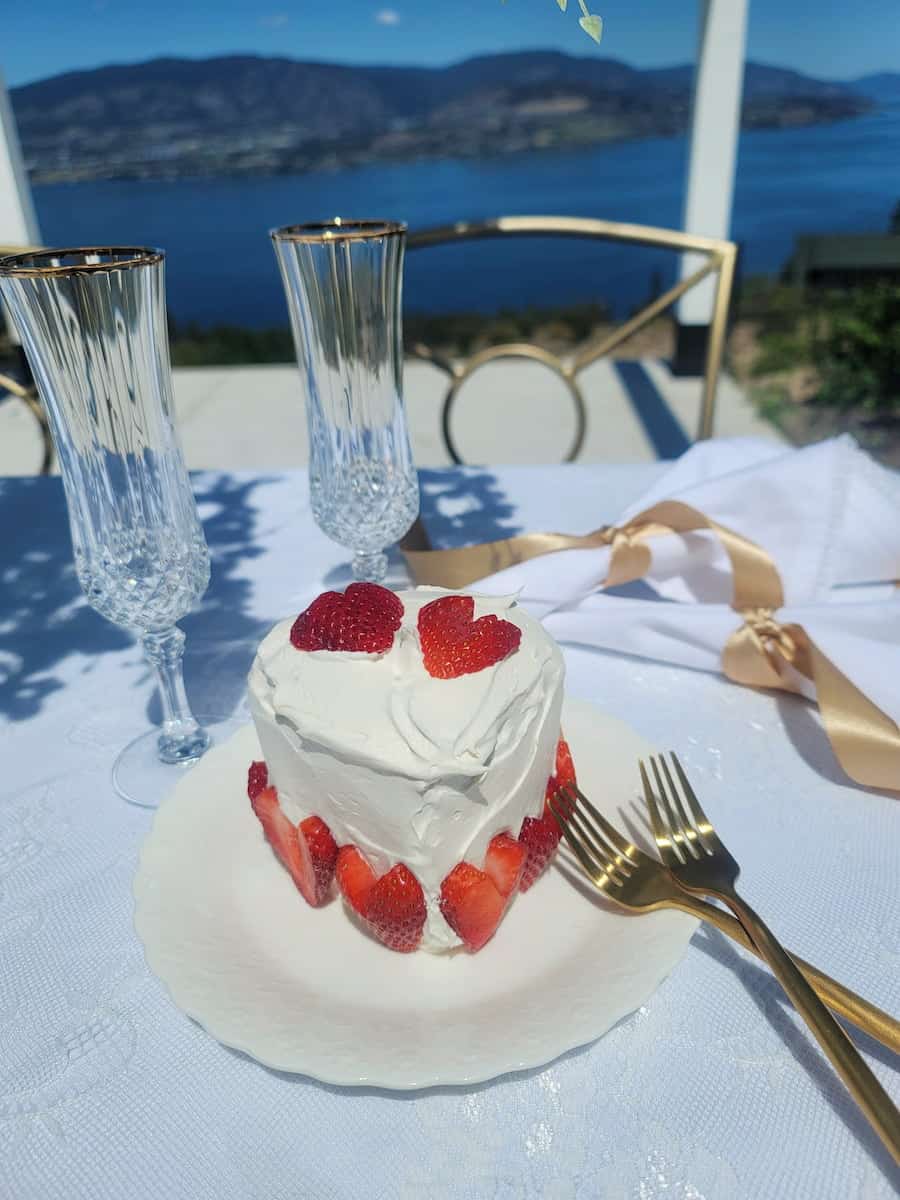 A great way to remember this article is to save it on one of your Pinterest boards. You can find the pin button in the top right corner of the photo below. Also, don't forget to follow me on Pinterest

Are you ready to start organizing?
30-Day Cleaning & Organizing
Includes:
30 Page Guide
Tips & Tricks for Successful Organizing
Reproducible Charts, Calendars & Planners, and Worksheets