4th of July Summer Salads
Are you looking for ideas for a 4th of July Summer Salads? After this last weekend of wedding festivities, I will be eating salads for the 4th of July and beyond.
We actually ate several salads in the weeks leading up to this past weekend. Chicken Caesar Salad is one of our favorites. It's a quick and easy meal. A perfect meal on a hot summer day. You can find my recipe HERE. It is easy to put together and then dress right before you serve. Omit the meat if you just want it to be a side dish.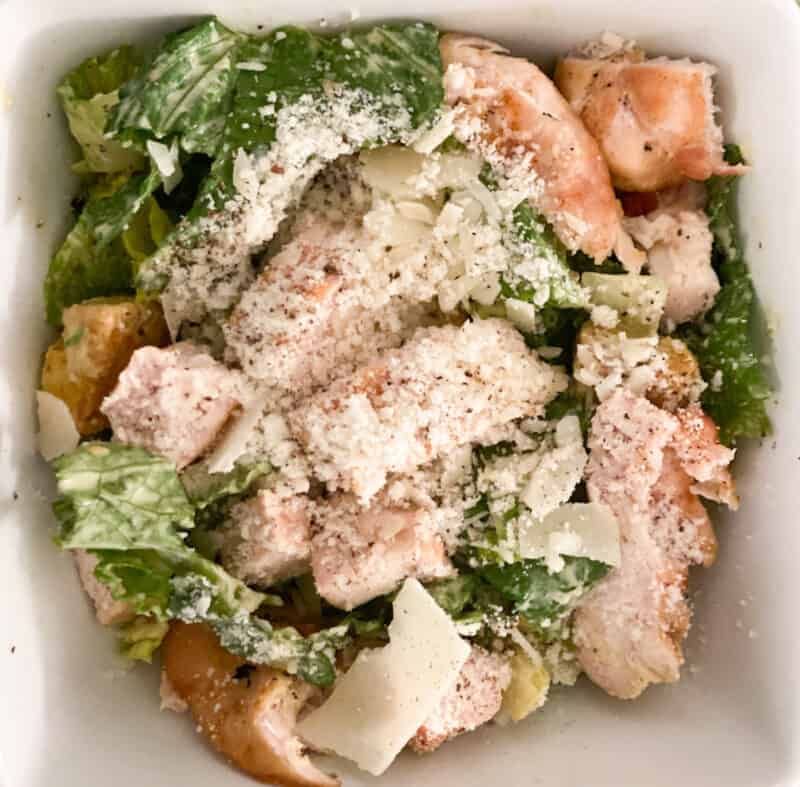 On my blog Living Large in A Small House, I may sometimes use affiliate links, which means a small commission is earned if you make a purchase via the link. The price will be the same whether you use the affiliate link or go directly to the vendor's website using a non-affiliate link. You can find my full Disclosure Policy HERE
More 4th of July Summer Salads
Shrimp, Pasta, and Peas is another salad that we love in the summer and would be perfect to take to a 4th of July get-together. Right now I have dill growing prolifically in my garden and that fresh dill is such a refreshing summer flavor and garnishes to this summer salad. Find my recipe HERE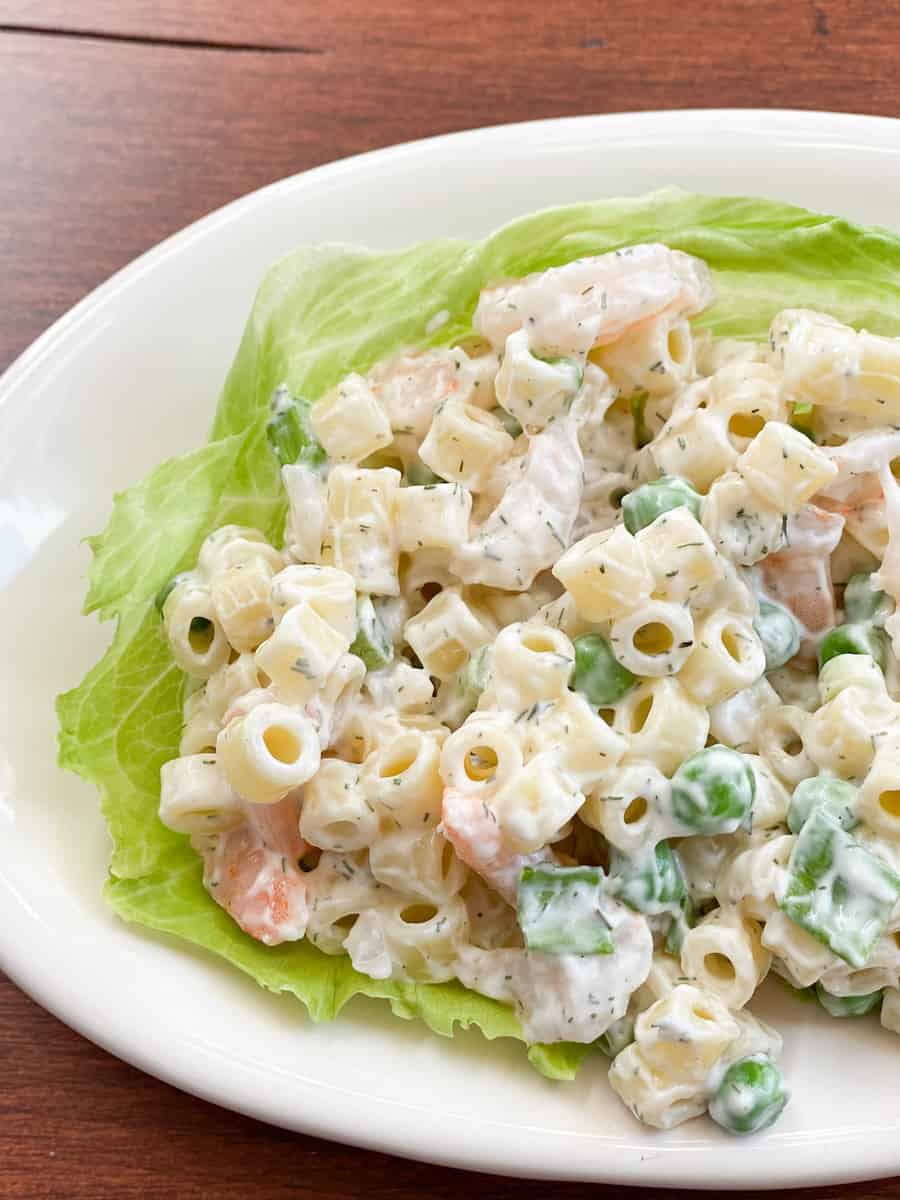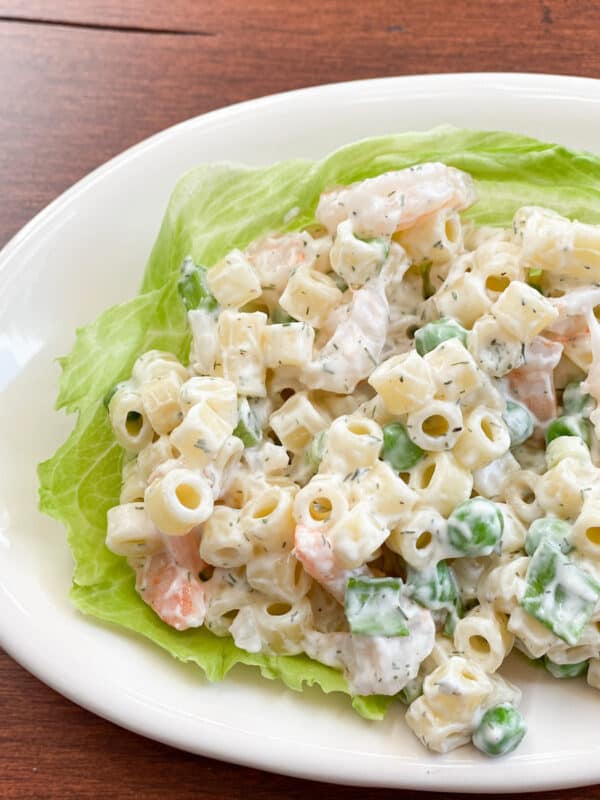 I recently posted my version of Salade Niçoise. This is a really special salad that will make a statement no matter who you are serving. Your family and friends will be impressed. You can find the recipe in this POST.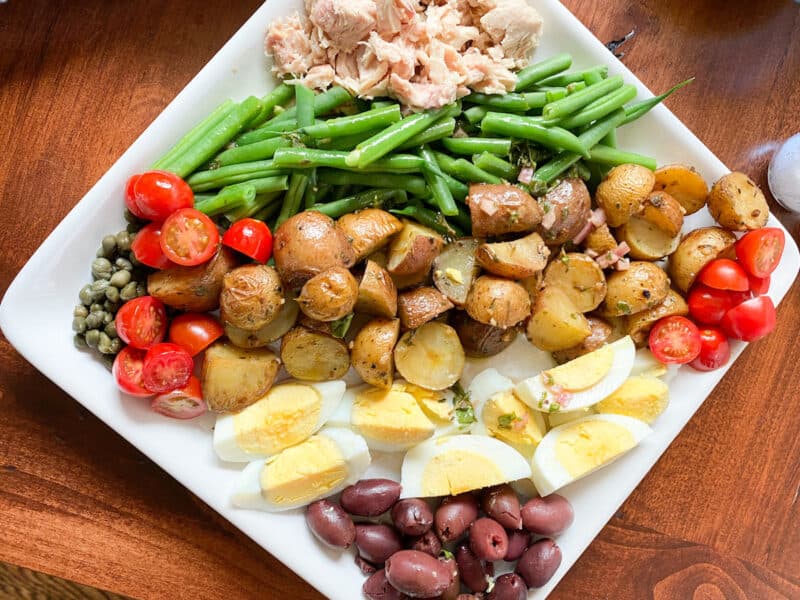 Are Salads Good For You?
Leafy green vegetables are nutrient-rich because leaves contain the light-catching, energy-converting machinery of plants. Salad greens contain Vitamin A, Vitamin C, beta-carotene, calcium, folate, fiber, and phytonutrients
Are Salads Good for You?
Using fresh leafy greens and vegetables in a salad is really good for you. What you put on it as a dressing or additional toppings can be where you need to make wise choices to keep it a healthy meal.
Healthy Salad Fixings
Homemade Dressings (Vinegar & Olive Oil) – I use lots of vinegar and very little olive oil. I've also used lemon and olive oil. Then I add my own spices (garlic and oregano are two of my favorites)
Hard-Boiled Egg
Avocado Slices
Olives
Shredded Carrots or Broccoli Slaw Mix
Tomatoes
Cucumbers
Celery
Green & Red Onions
Beets
Strawberries or Grapes
Nuts
Quinoa
Any Green Veggie
Peppers
Mushrooms
Radishes
Toppings You Should Use Sparingly or Avoid
Croutons
Shredded Cheese
Mayo-based dressings
Add a Protein
Chicken
Shrimp
Salmon
Steak
Bacon
Ham

Other Salad Ideas
I have a group of amazing blogging friends and I grabbed a few recipes from their blogs that look simply amazing.
My friend Michele from Vintage Home Design shared this Harvest Salad that you can change out ingredients depending on the season.
Renae over at Peacock Ridge Farms recently shared her Potato Salad Recipe that uses golden sweet potatoes. It sounds delicious.
It's the season for fresh tomato, onion, and cucumber salad. Stacy Ling at Stacyling.com has you covered with her refreshing salad recipe.
You can find even more of my salad recipes in my blog post 7 Fresh Fall Salads.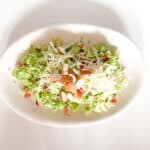 Print Recipe
Yum
Brussels Sprout, Pomegranate and Parmesan Salad
A slaw like salad. The pomegranate give this savory salad just the right amount of sweet.
Ingredients
1

pound

brussel sprouts, shredded

seeds from 1/2 pomegranate

1/4

cup

shredded parmesan cheese

1/4

cup

olive oil

3

tbsp

red wine vinegar

juice of one lemon

1

tsp

sea salt

1/4

cup

roasted slivered almonds, for garnish
Instructions
Mix all ingedients together except for the almonds

serve salad and garnish with almond slices and additional parmesan
Notes
I used my Quisinart shredding blade for my Brussel sprouts and it makes a pretty fine slaw. You can also grade with a hand grader or chop with knife to make a more coarse salad.
I personally find that the easiest way to get pomegranate seeds out of the fruit is to cut in half (equator cut) and soak it in water for a little bit. Then I manually peel the seeds out of the rind into the water. I use a fine food strainer to get any floating rind out of the water. I used 1/2 of the seeds for my salad and I plan to use the other 1/2 for a fun fall cocktail.
Yum
There is a lot of great 4th of July Summer Salad options here! I hope you find one that you enjoy.
Peace,

A great way to save this article is to save it to your Pinterest boards. You can find the pin button in the top left corner of the photo below. Also, don't forget to follow me on Pinterest