5 Fresh Fall Salads You Will Love
To go along with my picnic post from last week I'm sharing 5 fresh fall salads you will love today. When I Googled fall salad ideas for my picnic post, I came across several that are very similar to ones that I already make and love. I thought I would share them with you.
Emma makes this salad almost daily for us for lunch. Definitely one of our favorites! We still have a lot of cherry tomatoes in the garden so we are savoring that fresh out the garden taste for as long as possible.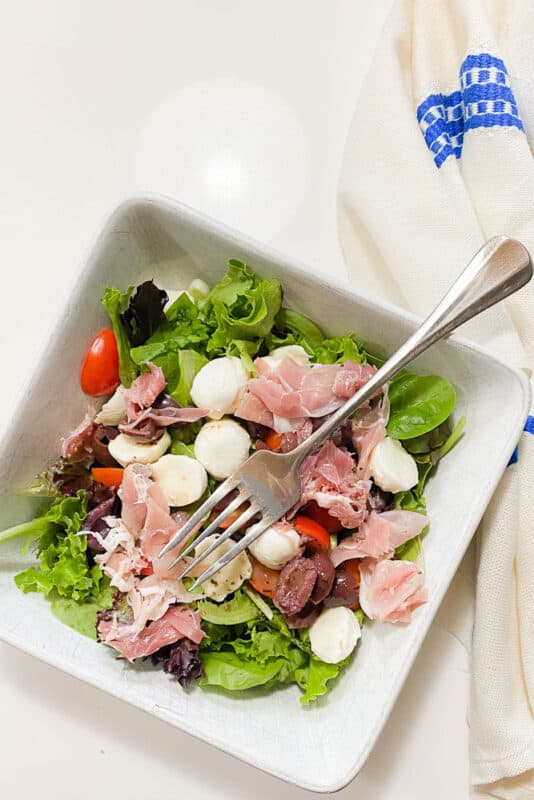 On my blog Living Large in A Small House, I may sometimes use affiliate links, which means a small commission is earned if you make a purchase via the link. The price will be the same whether you use the affiliate link or go directly to the vendor's website using a non-affiliate link. You can find my full Disclosure Policy HERE
Proscuitto Caprese Salad
Twist on Traditional Caprese Salad
Ingredients
4

cups

mixed greens

1

tbsp

fresh basil chopped fine

1/2

6 oz. pkg., of prosciutto

cut into bite sized pieces

10

Ciliegine mozzarella balls

cut in half

10

cherry tomatoes cut in half

2

tbsp

sliced kalamata olives

3

green onions, sliced very fine

bottled balsamic vinegarette dressing

I like Trader Joe's brand
Instructions
Mix the greens with all the remaining ingredients

Use as much dressing as is appropriate for you. I use 1 tablespoon.
Yum
This is one of my favorite fresh salads. It's good and it's good for you!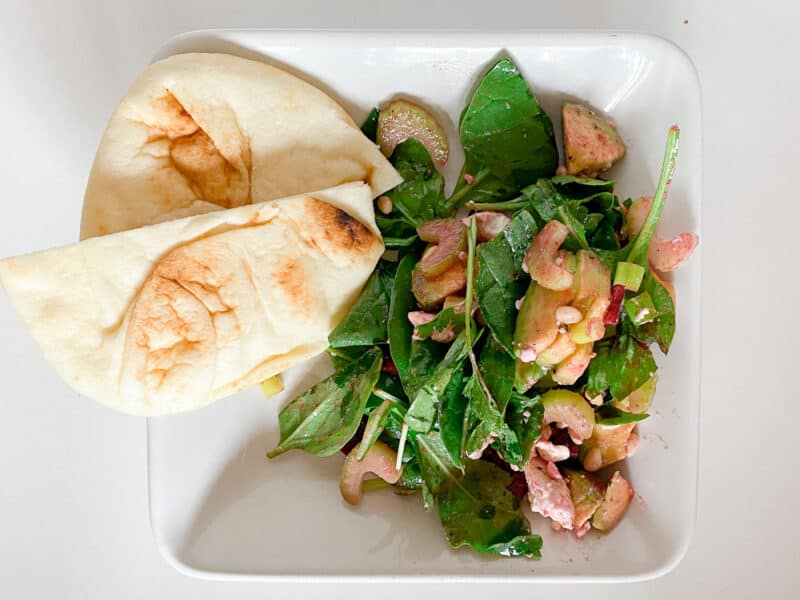 Avocado, Beet & Arugula Salad
Healthy Salad with a Fall Flair
Ingredients
4

cups

Arugula and Baby Spinach Mix

1

beets, peeled and diced

(about 3/4 cups) Be sure to wear an apron or old clothes and rubber gloves. Beets can stain your clothes and your hands

2

stalks

celery, sliced

about 3/4 cup

1

avocado, diced

3

green onions diced

1/4

cup

pine nuts

1/4

cup

reduced-fat feta cheese crumbles

2

tbsp

olive oil

1

lemon

salt and pepper
Instructions
combine the first 7 ingredients

add olive oil, juice from one lemon, and salt and pepper

toss until well coated and serve
Yum
Another salad that I love is a classic. We eat a lot of chicken in our house so there is always leftover. I will use that or purchase a rotisserie chicken from the store to make this. It's a healthier version of what I used to make.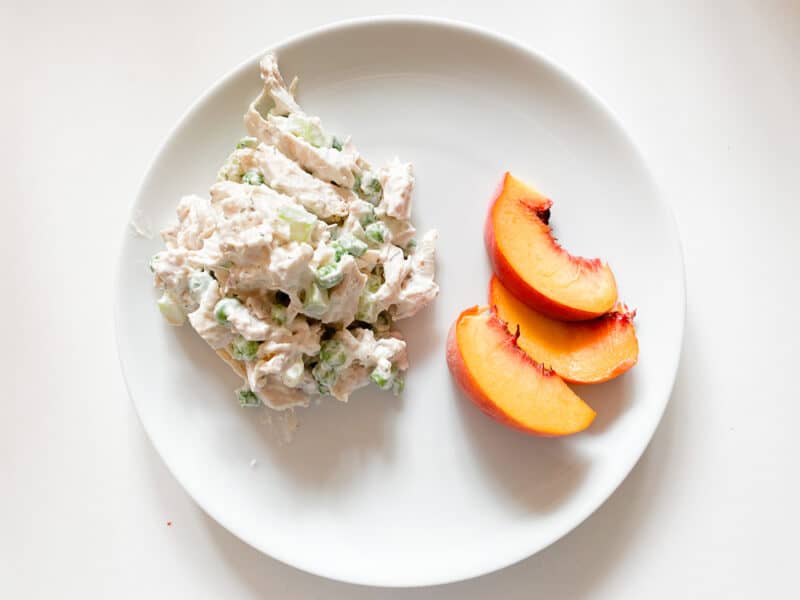 Chicken Salad
A very simple chicken salad
Ingredients
4

cups

diced cooked chicken

You can use a rotisserie chicken or two large chicken breasts baked or boiled

3

stalks celery, diced

1

cup

frozen peas, thawed

1/4

cup

plain greek yogurt

1/4

cup

mayonnaise

juice of 1/2 a lemon

1

tsp

dill weed

salt and pepper
Instructions
Mix all ingredients together
Yum
Another classic salad that can be eaten any time is Chicken Ceasar Salad. We served it at Annie's wedding and it was Tommy's Recipe. You can find that HERE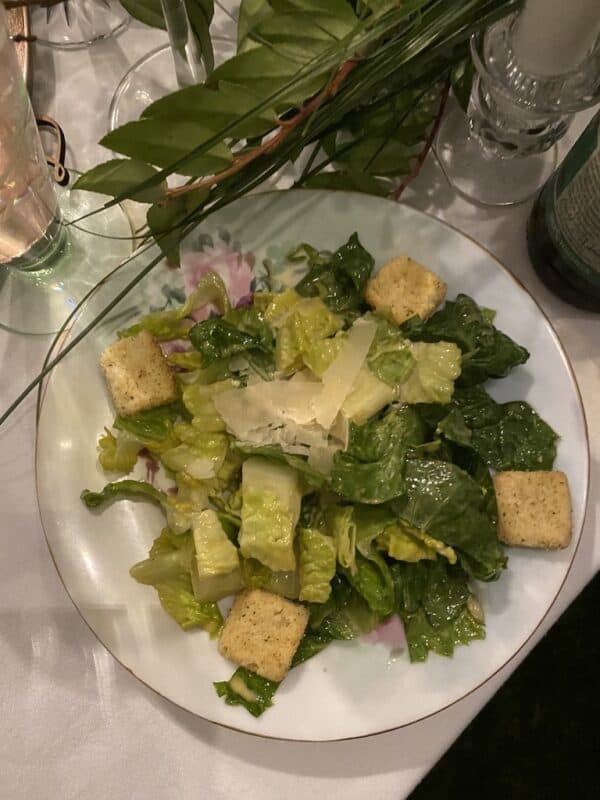 This post may contain affiliate links. That means if you click and buy, I may receive a small commission (at zero cost to you). Please see my full disclosure policy for details
The 5th salad is a new recipe for me. I grew Brussels sprouts in my garden this year and I wanted to try some of them in a salad/slaw. I love the savory/sweetness of the oil and vinegar with the pomegranate seeds. This is a recipe that I may play around with more. I'm thinking about adding celery seed and maybe a little mayo to it for a more slaw taste. It's definitely a great change for fall.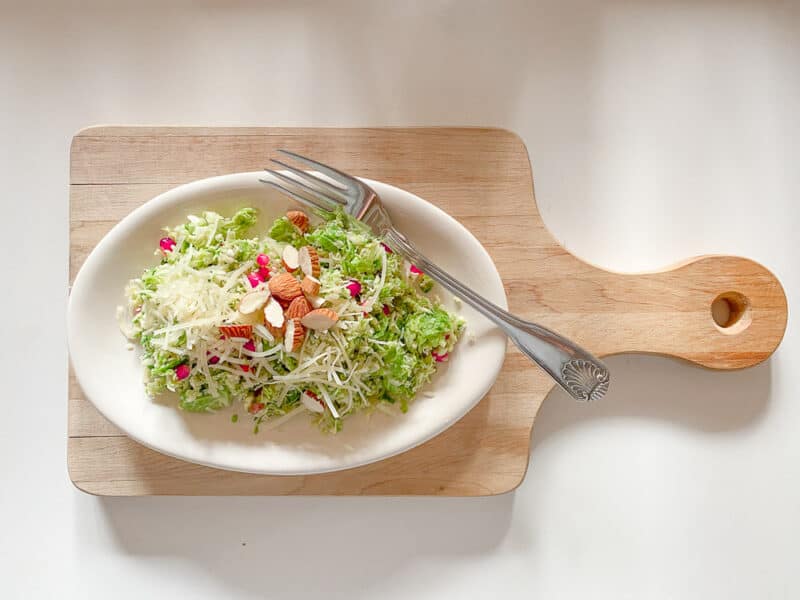 Brussels Sprout, Pomegranate and Parmesan Salad
A slaw like salad. The pomegranate give this savory salad just the right amount of sweet.
Ingredients
1

pound

brussel sprouts, shredded

seeds from 1/2 pomegranate

1/4

cup

shredded parmesan cheese

1/4

cup

olive oil

3

tbsp

red wine vinegar

juice of one lemon

1

tsp

sea salt

1/4

cup

roasted slivered almonds, for garnish
Instructions
Mix all ingedients together except for the almonds

serve salad and garnish with almond slices and additional parmesan
Notes
I used my Quisinart shredding blade for my Brussel sprouts and it makes a pretty fine slaw. You can also grade with a hand grader or chop with knife to make a more coarse salad.
I personally find that the easiest way to get pomegranate seeds out of the fruit is to cut in half (equator cut) and soak it in water for a little bit. Then I manually peel the seeds out of the rind into the water. I use a fine food strainer to get any floating rind out of the water. I used 1/2 of the seeds for my salad and I plan to use the other 1/2 for a fun fall cocktail.
Yum
Salad Wrap-Up Comments
I mention my Cuisinart in this last recipe. I have had mine for over 40 years. It is the one thing on my counter that probably gets used almost every day. It is the one appliance that is such a time saver for me that it is allowed to sit out all the time.
I hope you enjoy some of these fun salads that aren't just for summer but can become a part of your fall meals and you can also bring them to your fall picnic.
Peace and Love,
Looking for More Salad Ideas?

Pin this to your favorite board and don't forget to follow me on Pinterest