How to Make A Healthy Restaurant-Style Salsa
Are you wondering how to make a healthy restaurant-style salsa recipe? Well, mine is simple and it's the best. When your nephew calls from South Carolina for the recipe, you know you're doing something right.
Another beautiful thing about this is that it only takes a food processor or blender, a cutting board, and a knife.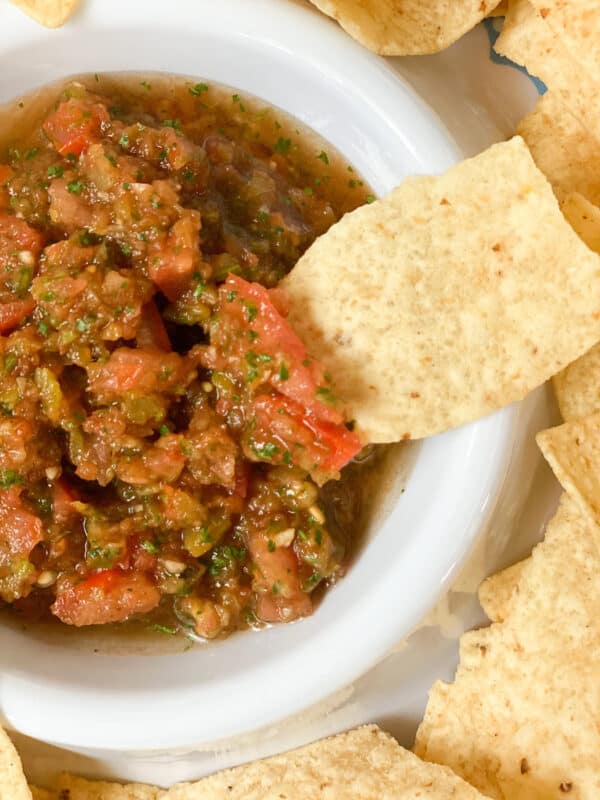 On my blog Living Large in A Small House, I may sometimes use affiliate links, which means a small commission is earned if you make a purchase via the link. The price will be the same whether you use the affiliate link or go directly to the vendor's website using a non-affiliate link. You can find my full Disclosure Policy HERE
What Makes it A Restaurant-Style Salsa
For me, restaurant-style is a salsa that is thick with some tomato chunks in it. Being able to grab a nice amount of salsa on your chip is the ticket for me. This recipe won't disappoint.
This recipe is mild by my standards and if you want hot, you have to add more jalapeno peppers. The beauty of this recipe is that once you make the base, you can add more peppers, onions, and garlic. It's totally up to you. Below there are more ideas of ingredients you can add to this recipe.
Deseed a Tomato
Cut the core of the tomato with a small paring knife in a cone shape. Then cut the tomato into quarters. With a spoon scoop out the seeds and the pulp from inside the tomato, leaving just the exterior meat.
How Long Does Salsa Last
Once you process all the ingredients, you need to let it sit at room temperature for an hour. This allows all the flavors to blend together.
By day two the flavors are more complex but it also seems to be a bit watery as the water from the tomatoes continues to release. Give it a quick stir and enjoy.
If you still have anything left over by day three it's time to toss it.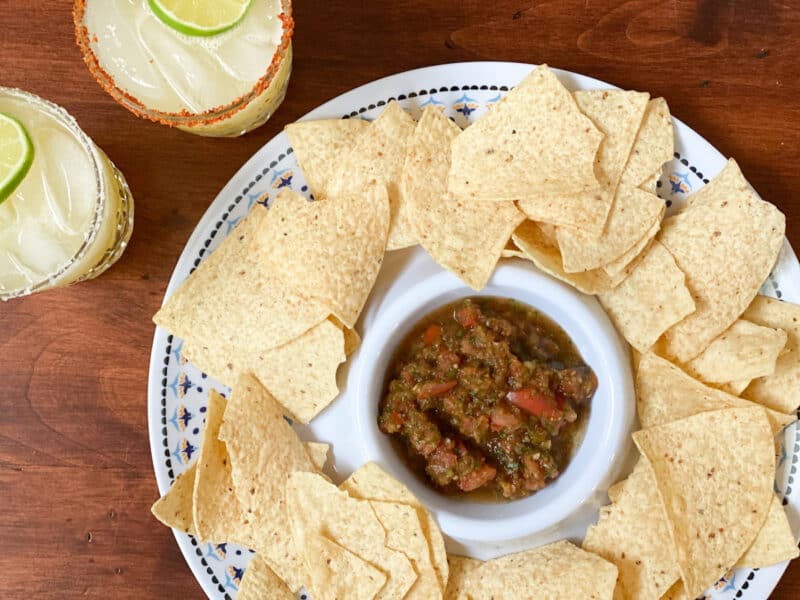 How to Make A Healthy Restaurant-Style Salsa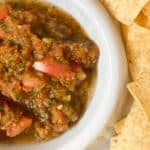 Print Recipe
Salsa
Ingredients
1

can

whole tomatoes, drain the liquid

1

large

clove of garlic

1

small

handful of cilantro

3

green onions, cut into thirds

1/2 – 1 large, seeded jalapeno

1 large tomato or 2 small, cored, and deseeded

4

oz

can of green chilies

1

tsp

olive oil

1

lime

salt and pepper
Instructions
Put first 5 ingredients in processor and process until smooth, scraping down if needed

Add the remaining ingredients and process with brief pulses until desired consistency.

Let stand at room temperature for 1 hour

Are You Wondering…Is Salsa Healthy?
This homemade restaurant-style salsa is full of healthy ingredients. Tomatoes, garlic, cilantro, peppers, green onions, healthy oil, and lime juice. All good for you foods.
This recipe is also very customizable. You can add more tomatoes if you want it chunkier. You can also add the following for different flavors
cut corn
diced mango or pineapple
green pepper
other peppers for more heat
diced avocado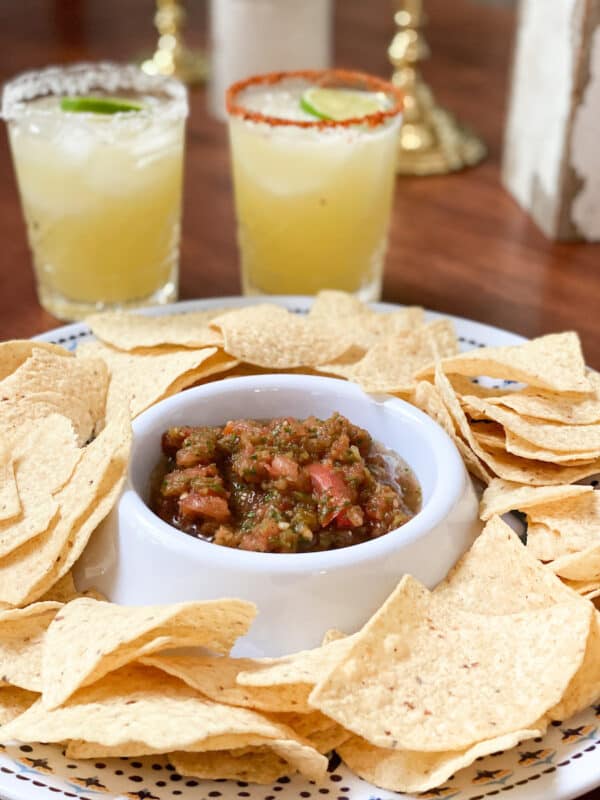 Chips and Salsa are a staple in our house for Easy Entertaining. I have a whole series of How to Entertain with Ease. You can read about it HERE.
Tuesday is almost always taco night at our house, so this will be perfect for our Tasty Tuesday Taco Night! You can find my unusual recipe for Tacos HERE
Enjoy & Peace,

A great way to save this article is to save it to your Pinterest boards. You can find the pin button in the top left corner of the photo below. Also, don't forget to follow me on Pinterest