5 Things to Make with Your Fresh Basil
I have a ton of fresh basil so I'm going to share 5 things to make with your fresh basil.
Basil is one of my favorite herbs and it is used very prevalently in Italian dishes.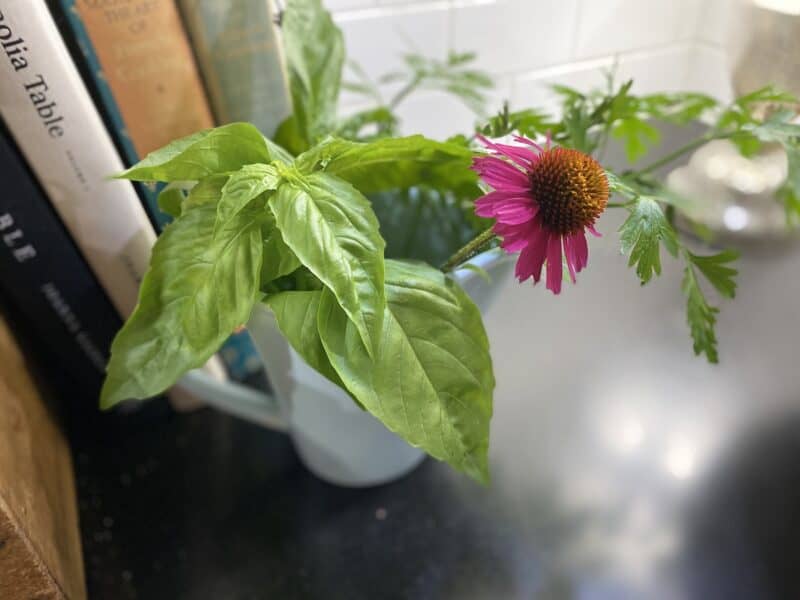 My 5 Favorite Things
Caprese Salad
Chicken with Tomato Basil Sauce – I will post my recipe on Tuesday (Simple, quick and tasty)
Topping on homemade Pizza
Pesto Sauce
I'm going to focus on Pesto because there are so many things you can do with Pesto.
French Bread Toast with Pesto Sauce – Sliced Avocado and Everything but A Bagel Seasoning
Pasta with Pesto Sauce – You can put pesto on any type of pasta. I especially like ravioli or tortellini because they are available in so many different flavors and each flavor changes the essence of the dish.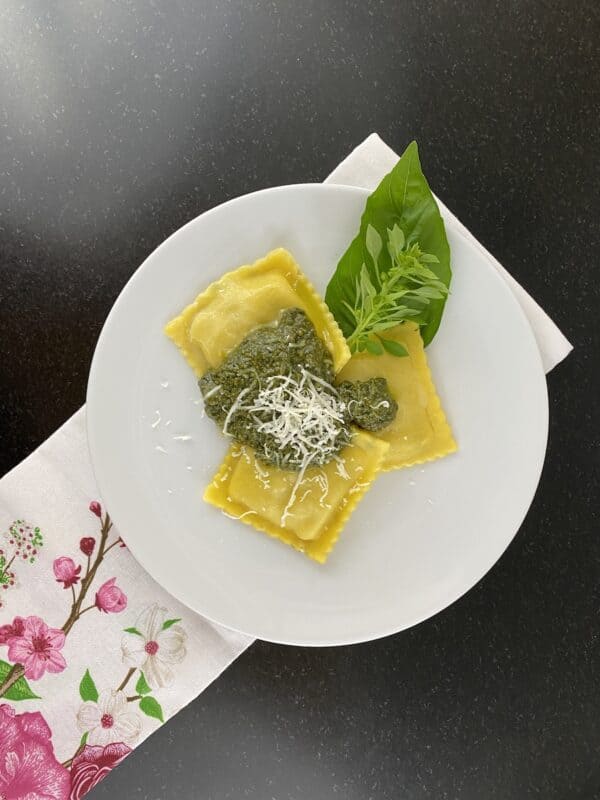 Pesto Pizza – Replace tomato pizza sauce with pesto and to with anything you like. I personally like tomato slices, garlic, and crazy enough, green olives
Pesto Salad Dressing – Mix your favorite vinegar and oil with some pesto. My favorite is red wine vinegar, avocado oil, and pesto.
Best Pesto Tip
You can freeze pesto sauce. I freeze it in ice cube trays and when it's solid I take them out of the tray and put them in a freezer bag.
You only have to take out what you need and thaw and use
One Last Basil Tip
I also freeze my basil in olive oil in ice cube trays. I then have that fresh basil taste to throw into your recipes that call for basil that your cooking in the fall and winter.
Ingredients
2

cups

packed fresh basil leaves

1/3

cup

pine nuts

1

tbsp

minced garlic

1/2

cup

grated parmesan cheese

fresh

1/2

cup

extra-virgin olive oil

1/4

tsp

sea salt

1/4

tsp

freshly ground black pepper
Instructions
Place basil and pine nuts in food processors, pulse until course

Add garlic and cheese, pulse some more, scraping down the sides with spatula

Slowly pour in the olive oil while food processor is running, until well blended and smooth; scraping down the sides with spatula. Add salt and pepper and pulse for a few more seconds.
I hope you found this post useful with my 5 things to make with your fresh basil.
Peace,