Homemade Pizza with Sourdough Starter Discard Crust
"Handy" and I enjoy homemade pizza with sourdough starter discard crust.
It will be three years this coming spring that I've had a sourdough starter in my refrigerator. When I couldn't find bread or yeast during the panic at the beginning of Covid, I like many others got resourceful.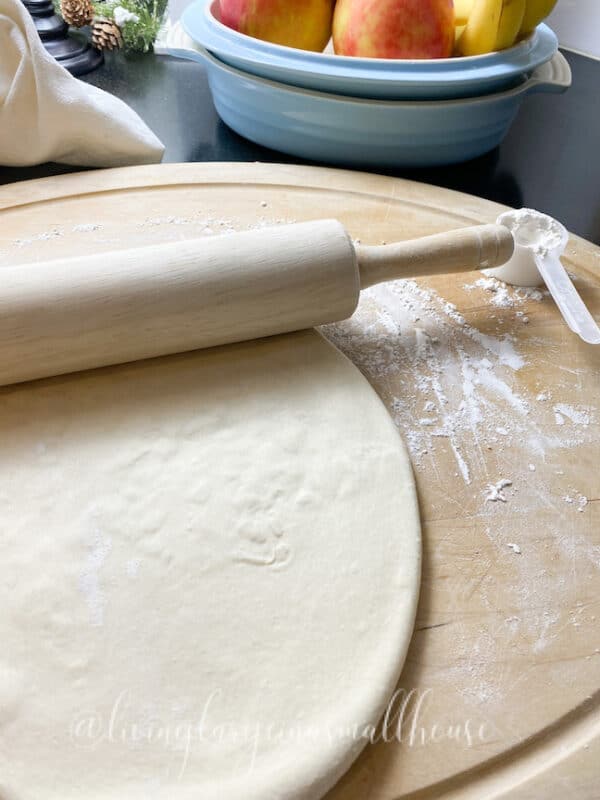 On my blog Living Large in A Small House, I may sometimes use affiliate links, which means a small commission is earned if you make a purchase via the link. The price will be the same whether you use the affiliate link or go directly to the vendor's website using a non-affiliate link. You can find my full Disclosure Policy HERE
Sourdough Bread
I typically use my starter to make bread but I found I was discarding a lot of the starter. I needed to come up with some creative ways to use this discard instead of giving it to the chickens or throwing it away.
Sourdough Starter Discard Pizza Crust Recipe
We love to make our own pizza! Whether it's for an easy Friday night meal or for a fun family pizza night when our kids are home, it is a great interactive meal.
I used to buy Trader Joe's pizza dough but learning how to make pizza dough seemed like a natural thing for me to do.
It's actually pretty easy. You just need to plan ahead as there is some rising time involved.

Making the Dough
I take my starter out of the refrigerator when it gets to room temperature, I feed it. Then I let it sit out overnight until it's a bubbly active starter. I take out what I need to make bread and put the starter back in the refrigerator.
The next morning I take my starter out and take out what I need for my pizza dough. the starter then goes back into the refrigerator.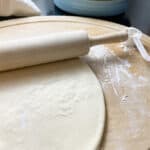 Print Recipe
Yum
Sourdough Starter Pizza Crust
Use your sourdough discard to make amazing pizza dough
Ingredients
1

cup

sourdough starter, discard

1/2

cup

warm water

2-1/2

cups

all-purpose flour

2

tsp

Redmond Real Sea Salt

1/2

tsp

active dry yeast
Instructions
If you haven't used your starter in a while, stir any hooch (dark liquid on the top) into the rest of the starter.
Dough
In a large mixing bowl of the bowl of your stand mixer add the flour

Add one 1 cup of starter into a large mixing bowl or the bowl of your stand mixer. I don't measure this precisely. My cup is typically a little heaping with the starter.

To the starter add the flour, water, salt, and yeast.

If you're using a stand mixer, mix to combine. Add more water 1 tbsp at a time if your dough is too dry. I've never had to do this but that might change depending on the flour you use.

Knead for 7 minutes using a dough whisk. The dough will form a nice ball.

If you are using a mixing bowl use a dough mixer to combine and then with your hand continue folding until it forms a dough ball. Manually knead for 7-10 minutes.

Lightly coat the inside of a large bowl with olive oil and add the ball of dough. I usually need to use my dough scraper to get it all out of the bowl. Cover the bowl with a tea towel or plastic wrap. Let the dough rise for 2-4 hours. You want to dough to almost double. It may take longer if your kitchen is cold.

I place mine on my stove top as it's typically a warmer spot in my house.
For Pizza Crust
I roll my dough out of the bowl onto a floured surface (I use a large cutting board). Then I form it back into a round and divide it into four equal pieces and shape it into disks.

Using a rolling pin I roll into four pizza crusts. You can make them thin-crust pizzas by rolling them pretty thin. Homemade dough tends to have a thicker, chewy crust.

Once your dough is rolled out, cover it and let the dough rest for about 10 minutes. If the dough starts to shrink up, use your fingers to shape it back and then recover and let rest again for 10 more minutes.

If you want a thick crust, roll out and then cover and let rise until you have your desired thickness.
Assembling Pizza
Add your sauce to the top of the pizza. Bake a thin-crust pizza for 5 minutes and a thick crust for 10 minutes. Remove from oven or grill and add toppings.

Return to oven or grill and let cook for another 5 – 8 minutes. I check my pizzas about 1/2 way through to gauge how much more time they need.
Baking & Grilling Tips
If I'm baking the pizza in a regular oven, I use a metal baking steel pizza pan, sprayed with cooking spray. If we are making them outside on the grill, we put a pizza stone on the grill to warm up and then use a pizza peel (coated with cornmeal) to slide the pizza from the peel onto the stone.
Notes
You can also put the dough in the bottom of a cast iron skillet and follow directions above.
Yum
Pizza Sauce
To keep things simple I use Trader Joe's Pizza Sauce that is in the refrigerator section. You can also use Alfredo Sauce for white pizza.

Pizza Party
A pizza party is a fun idea for both summer (cook on the grill) and winter (cook in the oven). It allows people to make their own personal pizza just the way they want it.
Pizza Toppings
I like to make a toppings bar so that everyone can put what they like on top of their own pizza.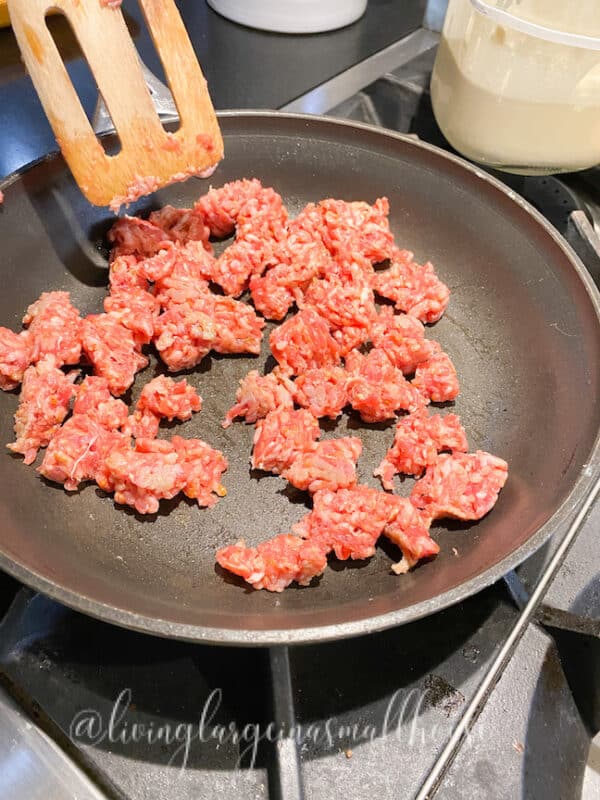 You can make larger pizzas but we like to make ours individual personal pizzas.
It has also been a time when we've experimented with things we wouldn't necessarily try on a pizza we get from a restaurant.
Some of Our Favorite Toppings
Cooked Sausage
Pepperoni
Sliced Tomatoes
Finely Diced Garlic
Fresh Basil
Italian Seasoning
Onions (regular & green)
Green or Black Olives
Spinach
Green Pepper
Mozzarella Cheese – Ball or Shredded
Shredded Cheddar

Frequently Asked Questions
Is Sourdough Pizza Crust Healthy?
Dough made with sourdough starter is healtier for you. The fermenting process makes it easier on the gut. It keeps you fuller for a longer period of time and it tends to not spike blood sugar.
How should you store sourdough starter?
You should store starter that your not actively feeding in the refrigerator.
How long can starter live in your refrigerator?
It's recommended that you feed your starter at least once a week. I find starter to be very resilient. I've had starter that I haven't touched in the refrigerator for a month and I've been able to bring it back to an active starter.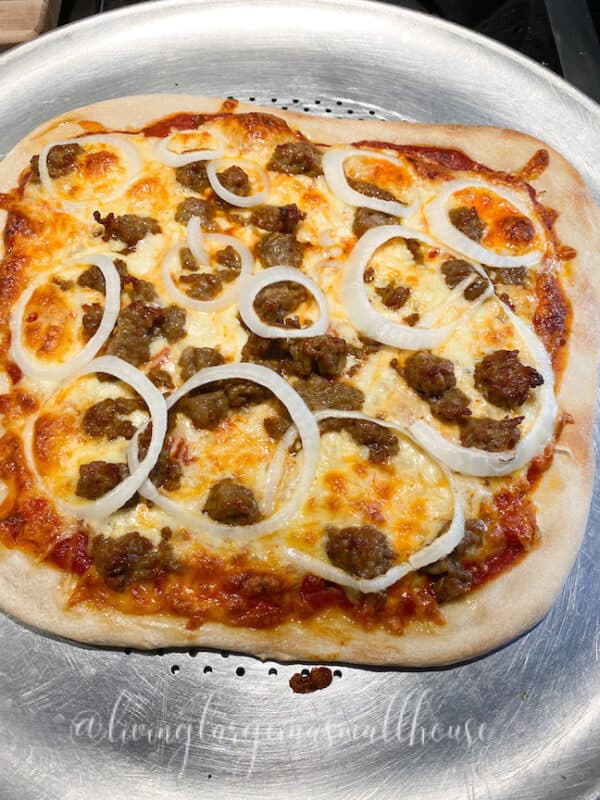 I hope you enjoy!
Peace and Love,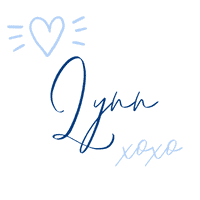 A great way to save this recipe is to save it to your Pinterest boards. You can find the pin button in the top left corner of the photo below. Also, don't forget to follow me on Pinterest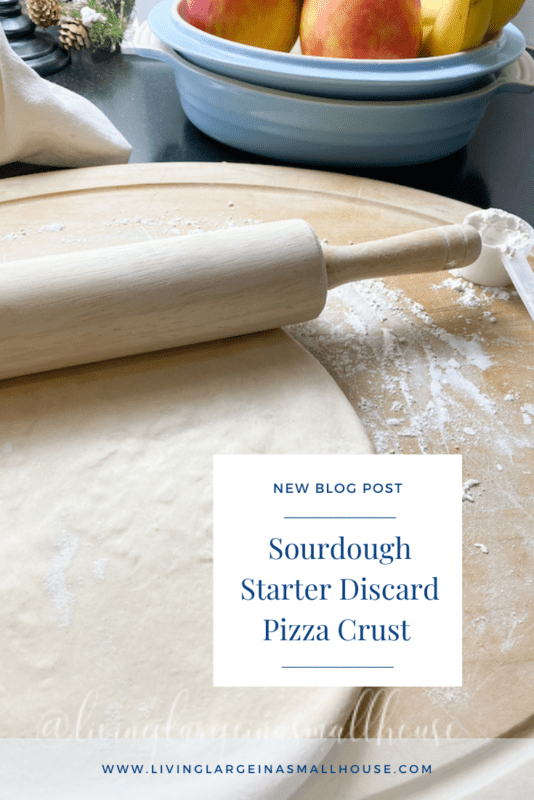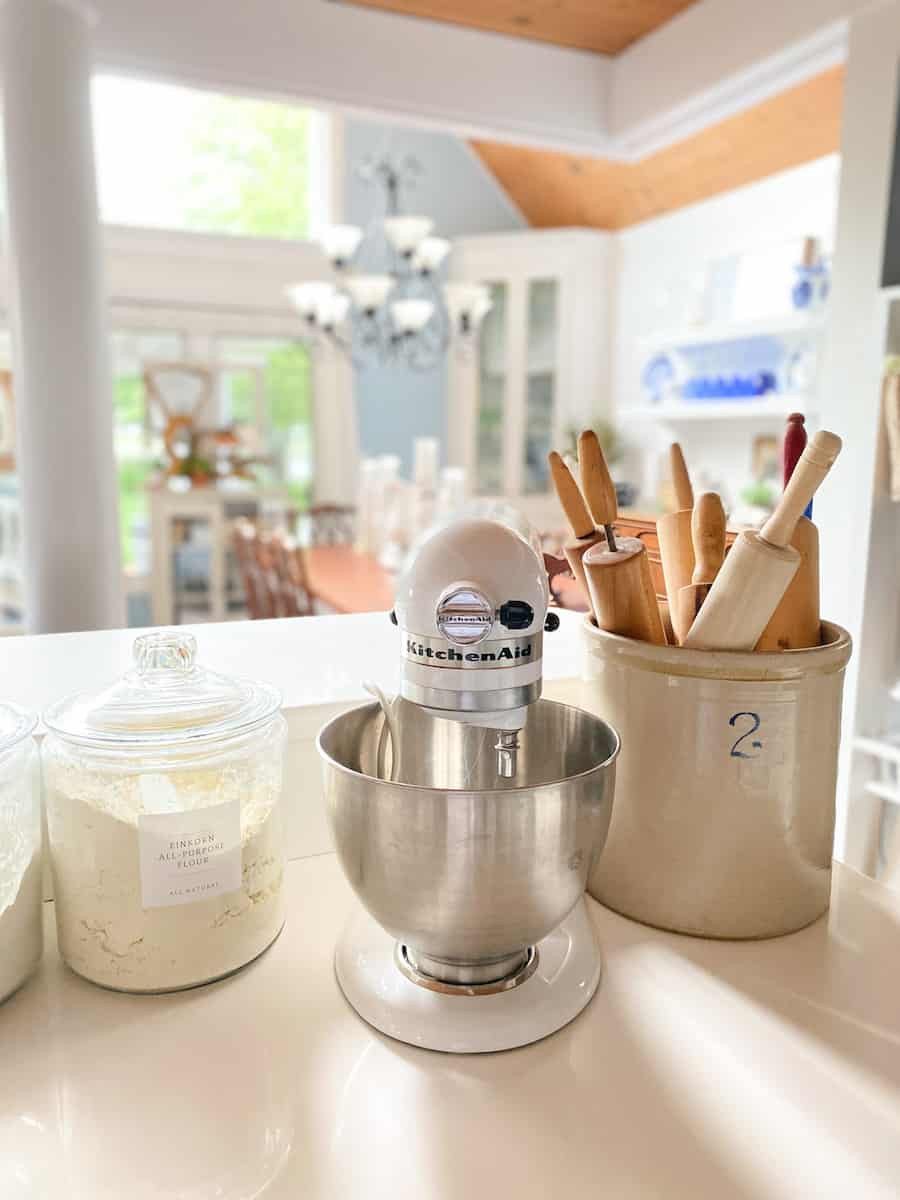 direct access to my amazon store
On Amazon
Did you know that you support my little business by purchasing through my links?? The price to you is the same but I receive a small commission on ALL the purchases you make when you shop through one of my links. I appreciate you helping Living Large in A Small House to grow!