Homemade Ricotta Cheese with a Tomato Crostini Appetizer
We had some friends over for dinner recently and I tried out a homemade ricotta cheese with tomato crostini appetizer. It was really good.
The creaminess of the whole milk ricotta cheese on top of the crostini toast and then topped with tomato salsa was the perfect appetizer for a late summer night dinner party. The tomatoes and fresh herbs came from my garden.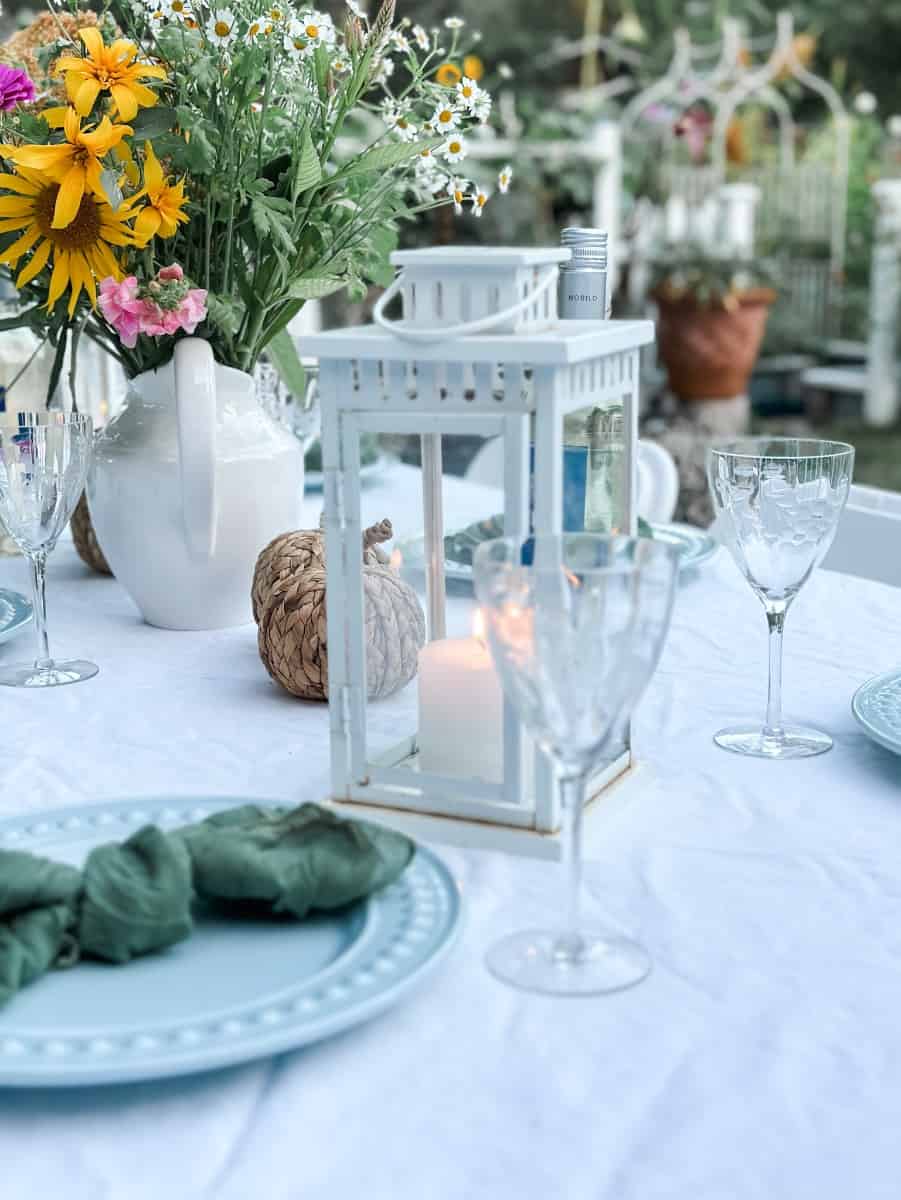 On my blog Living Large in A Small House, I may sometimes use affiliate links, which means a small commission is earned if you make a purchase via the link. The price will be the same whether you use the affiliate link or go directly to the vendor's website using a non-affiliate link. You can find my full Disclosure Policy HERE
Homemade Ricotta Cheese
Gather Your Ingredients
4 cups of whole milk
2 cups of heavy cream
1 tsp of Redmond's sea salt
3 tablespoons of white wine vinegar
Other things you will need
Cheesecloth
fine mesh strainer
bowl
Making the creamy ricotta cheese for my appetizer was so simple. I don't think I will ever buy store-bought ricotta again.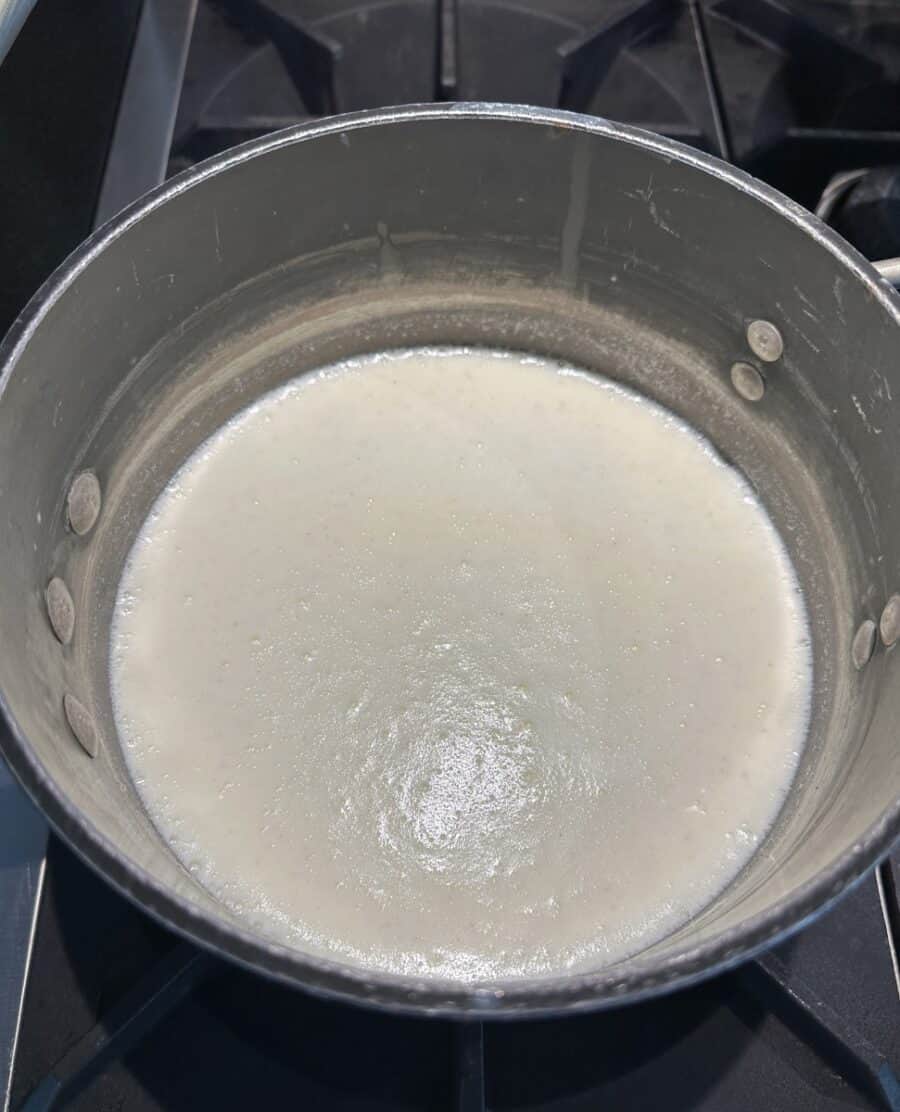 Making the Cheese
First, you need to prepare your strainer for the cheese. Cut two pieces of cheesecloth so that it will fit (with a little to spare) into the strainer. Get the cheesecloth damp. Drape each piece over the stainer and set the strainer over your bowl. I did it in my sink to avoid any messes.
You bring the milk, cream, and salt to a boil over medium-high heat. Once it is boiling you take it off the heat and add the vinegar. Let the mixture sit for 10 minutes while the milk starts to curdle in the pot. Then carefully pour the mixture into the cheesecloth-lined strainer. Now you just let it sit for 10-20 minutes. The whey will drain from the cheese into the boil. I had a quart ball jar ready to put the discards in. Whey can be used for many things so I kept it and put it in the refrigerator.
The longer you let the mixture sit the more solid your fresh ricotta will get. I let mine sit for a full 20 minutes but it was a bit more solid than I would have liked. In retrospect, I'm sure I could have added a bit of milk or cream and used a hand mixer to make it a creamy whipped ricotta dip. I also will not let it sit as long next time I make it.
It still tasted delicious!
Option:
When you use vinegar your ricotta has a bit of a tang to it. It's perfect for savory dishes like I'm using it for. If I wanted to use the ricotta cheese for a sweet recipe, I would have used lemon juice instead of vinegar for my acid.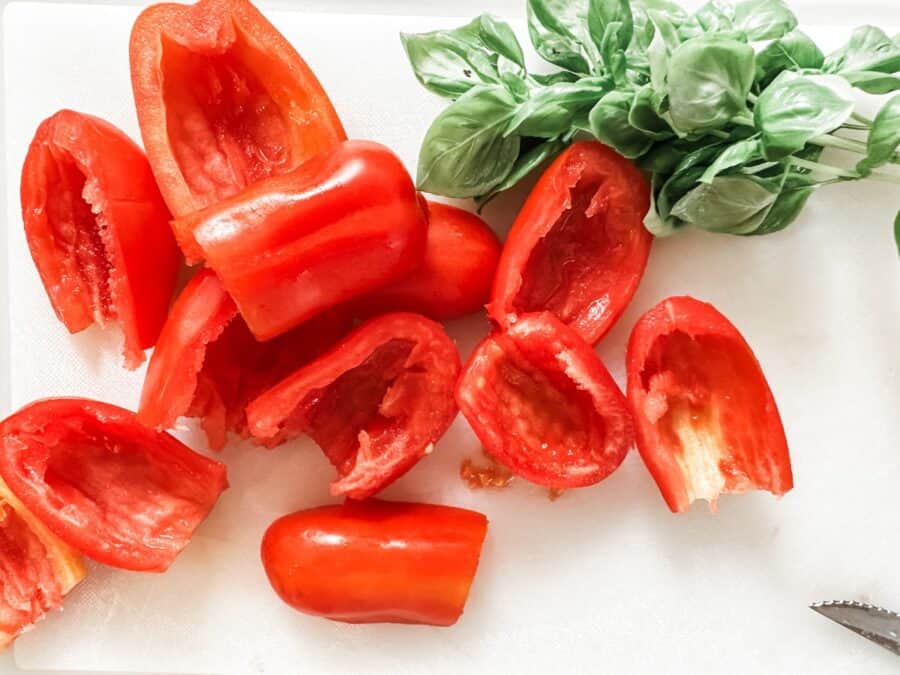 ​Tomato Salsa
While the ricotta was draining I made the tomato salsa.
Ingredients
​3 tomatoes, seeded and chopped
1 clove of garlic (you can add more if you like)
1 drizzle of olive oil
1 drizzle of balsamic vinegar
salt and black pepper
Mix all these simple ingredients together in a small bowl and let sit at room temperature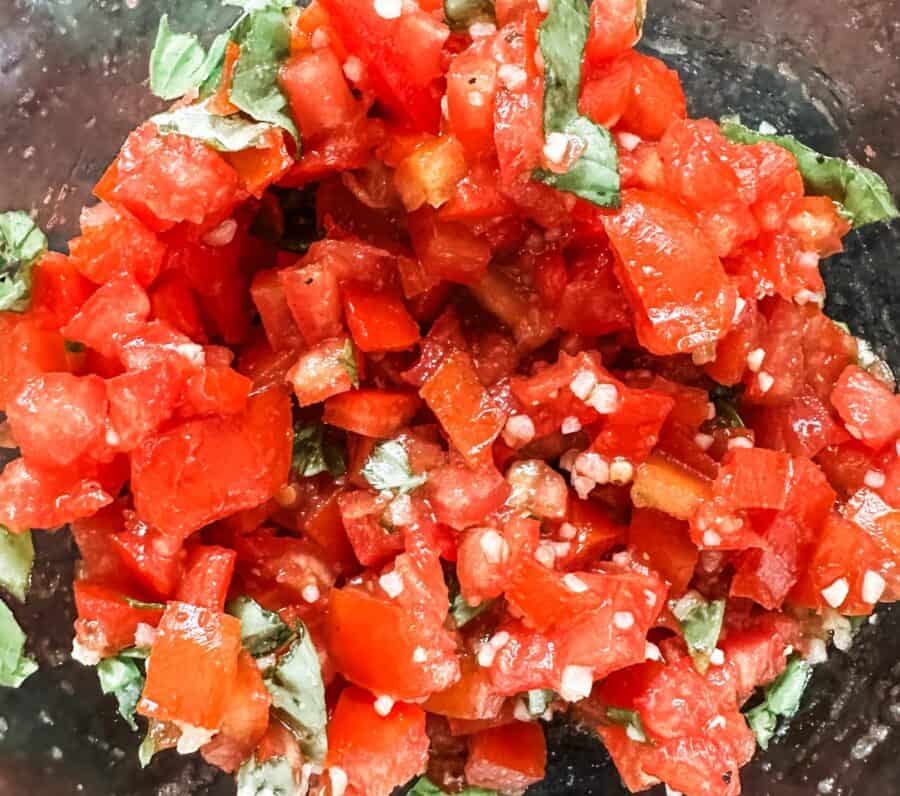 ​Prepare Crostini
Crostini is simply crusty bread cut into thin slices, brushed with extra-virgin olive oil infused with fresh garlic that is baked, broiled, or grilled.
If you want your baguette slices toasted all the way through you should bake them at 350 until golden brown. I like my French bread to be toasted on the top but softer on the inside so I put them under the broiler until the top is just golden brown. The grill would be similar to the oven-baked method.
How to make infused Olive Oil
In a small bowl add 1/2 cup of extra-virgin olive oil and 1 clove of crushed fresh garlic. Let sit at room temperature for at least 15 minutes (can be longer) before brushing the oil mixture to one side of the crusty bread slices.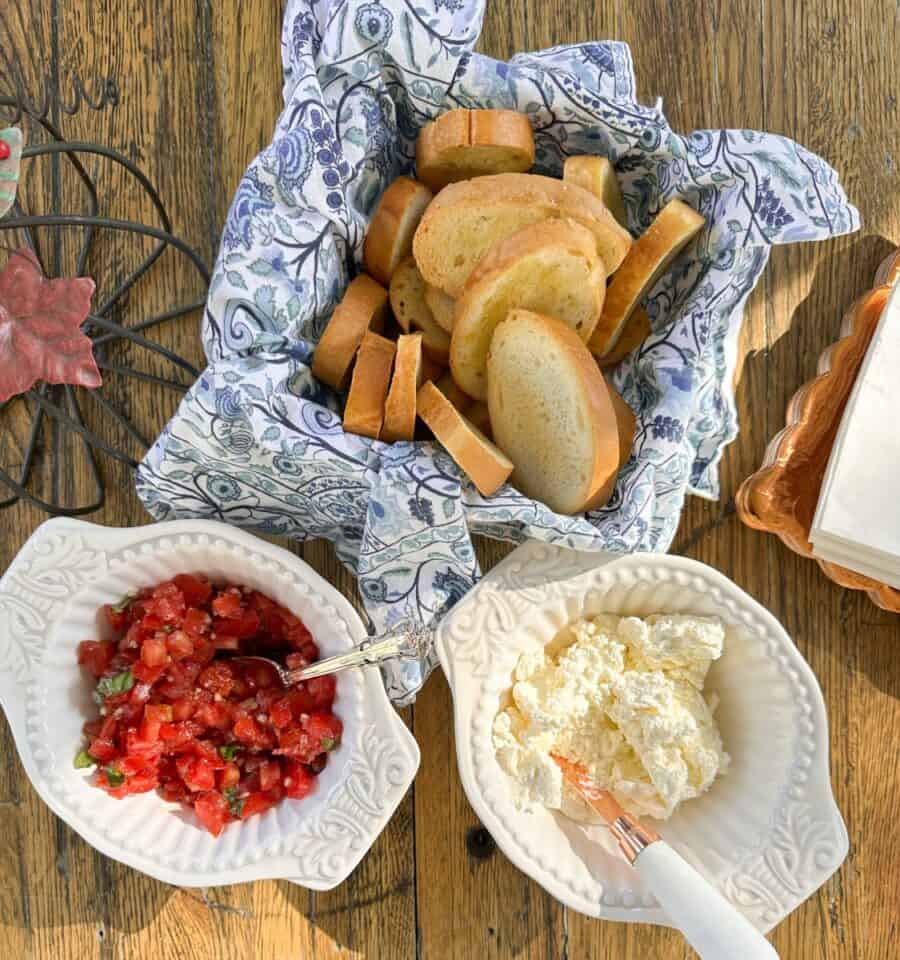 Things I Use in My Kitchen
Assembling
I served everything by itself so everyone could choose what they wanted on their toasts.
However, you could pre-assemble the crostini by spreading the ricotta cheese on each toast and topping that with a spoonful of tomato salsa. Serve these on a platter.
This recipe is very similar to tomato bruschetta just with the added soft cheese spread.
When I have dinner parties, I like to serve one great appetizer so that everyone is hungry for dinner. For cocktail parties, this crowd-pleasing appetizer would be one of many additional finger foods.
Cheese Fun Fact!
A 2018 scientific paper stated that the world's oldest cheese, dating to approximately 1200 BCE (3200 years before the present), was found in ancient Egyptian tombs. The earliest cheeses were likely quite sour and salty, similar in texture to rustic cottage cheese or feta, a crumbly, flavorful Greek cheese.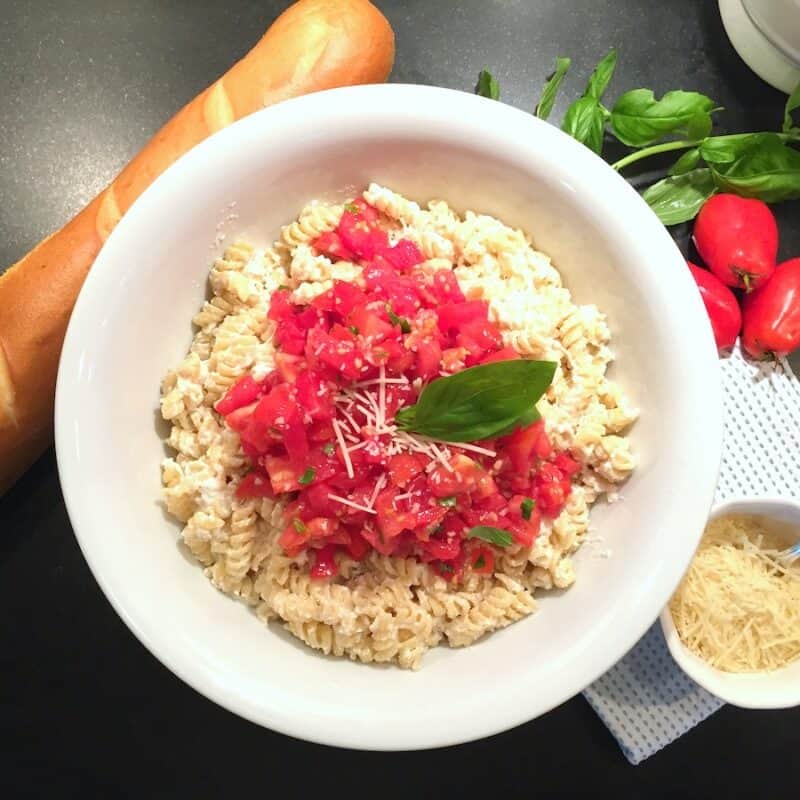 Other Ideas
Ricotta cheese is a very versatile ingredient that you can serve in several ways.
Whip the ricotta cheese with a little cream in the food processor to make a fluffy dip – Put it in a serving bowl drizzle it with olive oil and sprinkle with red pepper flakes or parmesan cheese. Serve it with cut-up fresh vegetables like green and red peppers, carrots, celery, and cucumbers.
You can also serve this cheese with pita chips or pita bread slices.
You could make the ricotta with lemon juice and then drizzle it with hot honey and top it with fresh lemon zest for a decadent dip to serve with fresh fruit.
I also use ricotta cheese in these pasta dishes: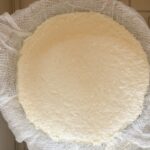 Print Recipe
Yum
Homemade Ricotta Cheese
Simple to make and so much better than store-bought
Instructions
Prep for Cheese
Cut two pieces of cheesecloth large enough to fit into your wire strainer and hang over a bit.

Dampen cheesecloth and drape over strainer and place the strainer over a bowl (I put it in my sink)
Ricotta Cheese
Add the milk and cream to the sauce pan. Stir in the salt. Bring the mixture to a full boil over medium heat, stirring occasionally.

Once the milk mixture is boiling, take off the heat and add the vinegar. Let this sit for 10 minutes to allow the milk to curdle.

Pour the curdled milk mixture into the cheesecloth lined strainer. Allow the cheese to drain. Discarding the whey (liquid from the mixture).

The longer you let the cheese drain, the thicker your ricotta will become. If you prefer a more solid cheese let it sit for the full 20 minutes. I think the sweet spot is about 15 minutes.
Nutrition
Serving:
1
cup
|
Calories:
738
kcal
|
Carbohydrates:
20
g
|
Protein:
15
g
|
Fat:
68
g
|
Saturated Fat:
43
g
|
Polyunsaturated Fat:
3
g
|
Monounsaturated Fat:
17
g
|
Cholesterol:
218
mg
|
Sodium:
943
mg
|
Potassium:
645
mg
|
Sugar:
20
g
|
Vitamin A:
2859
IU
|
Vitamin C:
1
mg
|
Calcium:
506
mg
|
Iron:
0.2
mg
Yum
Conclusion
Making my own fresh cheese seemed daunting but now that I've made ricotta and it was so easy, my next thing to try will be mozzarella cheese! I see a lot of lasagna for two in our freezer.
Peace and Love,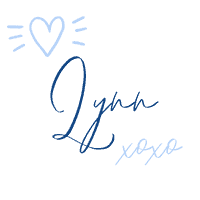 Thanks for Following Along
If you enjoyed this post I hope you sign up to be a friend of Living Large in A Small House! Then you won't miss any of the inspiration that is shared with you each week! You can also follow me on Instagram, Facebook, and YouTube. I share even more inspiration on Pinterest! You can listen to me chat on my Podcast.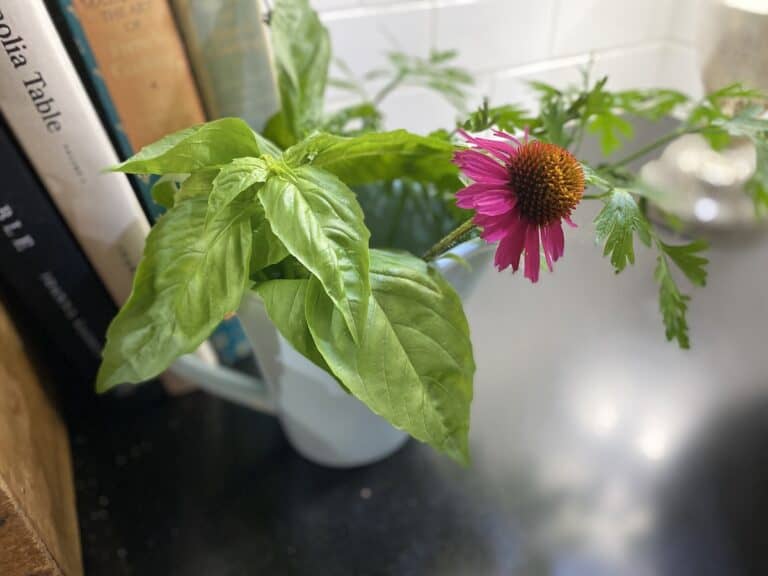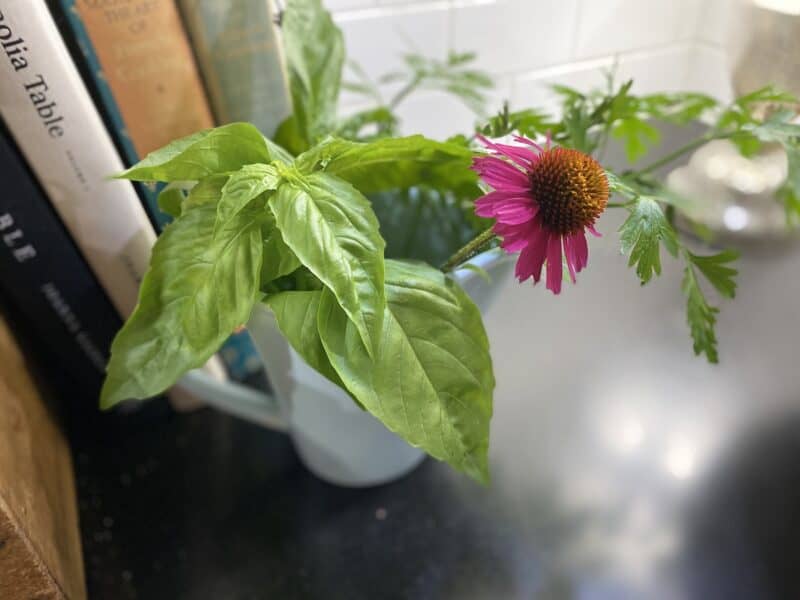 A great way to remember this recipe is to save it to your Pinterest boards. You can find the pin button in the top right corner of the photo below. Also, don't forget to follow me on Pinterest