The Best Ever Homemade Swedish Meatballs Recipe
This is by far "Handy's" favorite meal, my best-ever homemade Swedish Meatballs.
It's one of my almost-from-scratch recipes and it's not a quick meal so he doesn't get it very often.
Trust me when I tell you that even though it takes a bit of time and effort, it is completely worth it.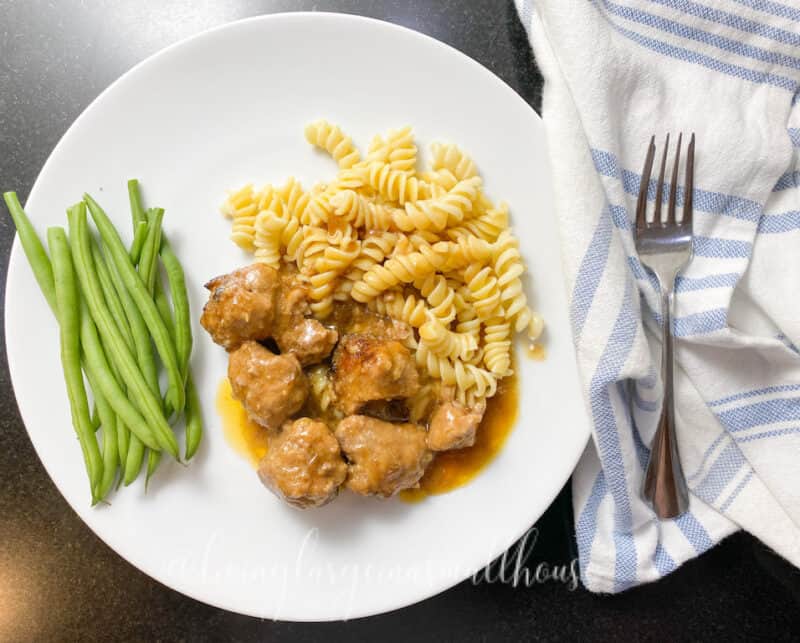 On my blog Living Large in A Small House, I may sometimes use affiliate links, which means a small commission is earned if you make a purchase via the link. The price will be the same whether you use the affiliate link or go directly to the vendor's website using a non-affiliate link. You can find my full Disclosure Policy HERE
What Makes This Recipe so Yummy
It's the combination of three different types of ground meat. I use ground beef, ground pork, and ground veal.
I know some people are opposed to ground veal but I've made it without and it's still good but not as good as it is with the veal.
The sauce is also a game-changer. It's a thick, rich cream sauce or gravy with so much flavor.
I love beef stroganoff and the gravy of this reminds me a lot of that even though it doesn't use sour cream, it has that same creamy flavor from the cream of mushroom soup.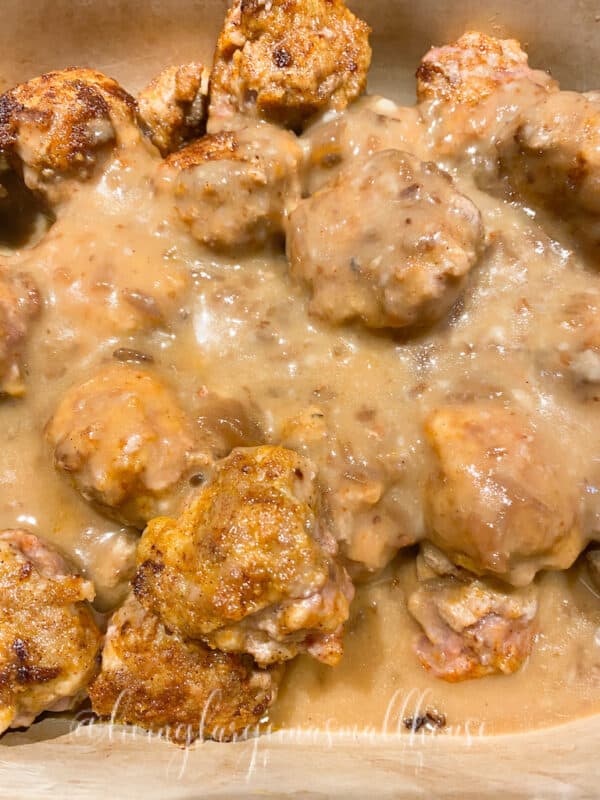 Ingredients
1

pound

ground beef

1

pound

ground pork

1

pound

ground veal

2

egg

beaten with whisk

1

tbsp

salt

3/4

tsp

pepper

1-1/2

slices

bread

pulse in food processor to make bread crumbs. If you don't have a food processor, then cut or break into very small pieces

1/4

tsp

garlic powder

1/4

tsp

sage

1/2

tsp

oregano

1/2

tsp

celery salt

3

dashes

tabasco sauce (hot sauce)

3

dashes

Worcestershire sauce

1

medium

onion, finely chopped

I pulse it in my food processor after the bread.

1

cup

flour

1

tbsp

paprika

2

tbsp

butter

1

tbsp

olive oil

1

can

french onion soup or beef broth

1

can

cream of mushroom soup
Instructions
Mix the first 14 ingredients together in a large bowl to make meatball mixture.

In a prep bowl, whisk the flour and paprika together

Heat the butter and oil in a large saute pan, large skillet, or cast iron skillet over medium heat.

Working in groups roll enough meatballs to fit in a single layer in the pan with space between them. Dredge to coat in flour mixture and place meatballs in the pan. Browning on all sides but not cooked through. Use tongs to flip the meatballs to brown all sides.

Place the browned meatballs in the large casserole dish

Continue working until all meat has been rolled, floured and browned.

Once you have all the meat in the casserole dish, add the soups to the frying pan and mix the brown bits from the bottom of the pan with the soups. It will create a creamy gravy sauce.

Pour the sauce over the meatballs into the casserole dish. Cover the dish and place it in the oven.

Cook for 1 hour with the lid on and then take the lid off and cook for 30 more minutes.
Notes
This recipe makes enough for us to have a meal and we freeze the left-over in an airtight container for one or two more meals. It thaws beautifully and then I just add a little beef broth to it and heat it in a saucepan.
I imagine you could also fry the meatballs and put them in a slow cooker on low for 6 hours. With this method, it could become an easier recipe as you could prepare the first part on the weekend and then put the meatballs and sauce in the slow cooker bowl. Refrigerator and pop it in the slow cooker in the morning for an easy weeknight dinner.
What do You Serve with Swedish Meatballs
Traditionally a Swedish Meatball is served over or with mashed potatoes.
In our house we are divided. The girls and I like it over egg noodles and "Handy" likes it over rice. I typically make both.
Swedish Meatball: Köttbullar
Different ways to use this Recipe
I've been making these meatballs for over 40 years and the original recipe was for tiny meatballs and was served in a chafing dish as an appetizer at parties.
I now make it as a main dish with a much larger meatball as Swedish Meatballs were intended.

Frequently Asked Questions
What Makes a Swedish Meatball Different?
A Swedish meatball compared to an Italian meatball is two-fold. The Swedish meatball has a creamy white sauce gravy and traditionally just salt and pepper for seasoning. Altho as I mentioned before some might argue that authentic Swedish meatballs also include allspice and nutmeg.
Italian meatballs are served with the traditional red sauce and are seasoned with basil, oregano, and garlic.
However, the base of both meatballs tends to be the same ground beef and ground pork.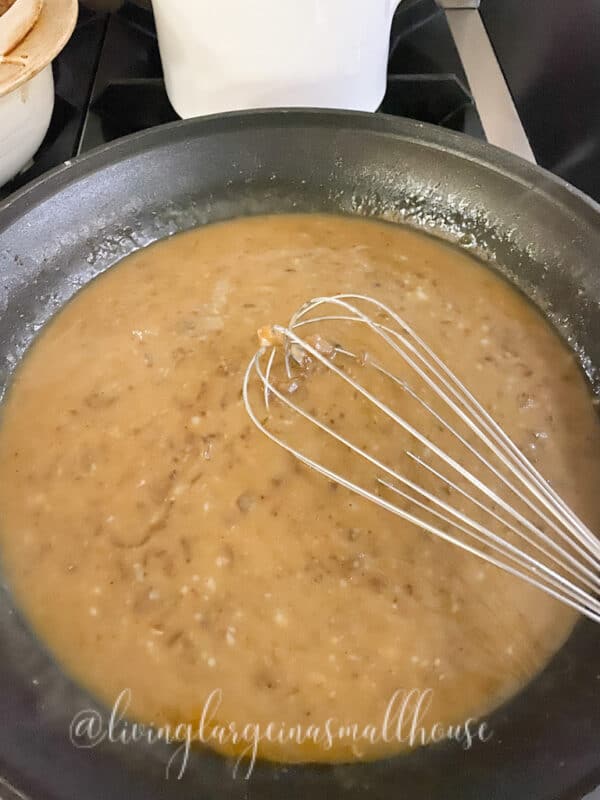 What do You Serve with a Swedish Meatball?
As I mentioned before, mashed potatoes are traditionally served with Swedish Meatballs but Lingonberry Jam is also a very famous side.
I've also heard of it being served with a pickled cucumber salad which if this Swedish girl's palette has anything to say about it would be a delicious side.
Is it Better to Bake or Pan Fry Meatballs?
From everything that I've read, it's preferable to bake the meatballs but I pan-fry them. I find the crispy pieces and the browned flour that is left over from the frying, mixed with the soup is part of the secret of the creamy sauce.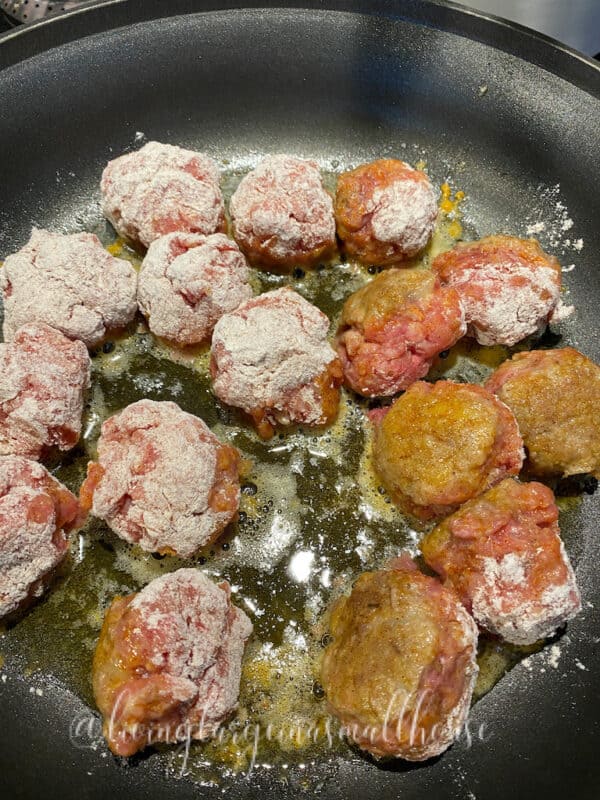 Why is IKEA is famous for its Swedish Meatballs?
IKEA was founded by Ingvar Kamprad in 1953 and came to life as a mail-order catalog business in the forested town of Älmhult, Sweden.
So it stands to reason that at an IKEA store restaurant, they would serve a dish that is one of Sweden's most famous. I personally am not a fan of IKEA Meatballs. I think mine are much better!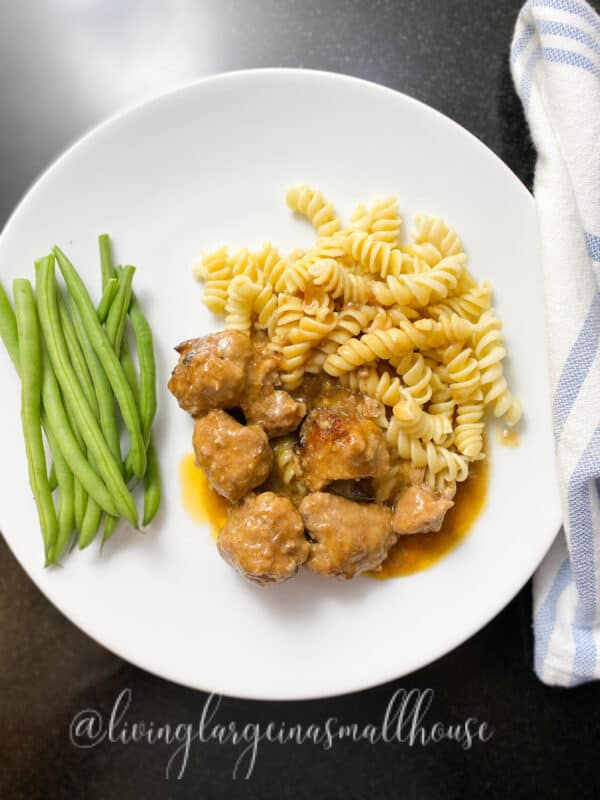 Swedish Foods
I grew up with Swedish/Finnish Traditions that are still alive in our family today.
For Christmas, we always make Swedish Potato Sausage. You can read about how we make it and get the recipe HERE.
The tradition of Lutefisk on Christmas Eve however died with my Dad. It's a boiled cod served over boiled potatoes and topped with a white cream sauce. It was awful!
Swedes are also famous for their herring which I along with my siblings really enjoy but we seem only to have it during the holidays.
They also enjoy sweets and have some very good dessert treats. I'm not a baker so my skill in this area is not good. I found THIS article about some of the things that are popular foods in Sweden that I thought was very interesting.
I hope you enjoy this great recipe. It's a favorite recipe in our family and perfect for this time of year when we are looking for great comfort food. Enjoy!
Peace,

Are you ready to start organizing?
30-Day Cleaning & Organizing
Includes:
30 Page Guide
Tips & Tricks for Successful Organizing
Reproducible Charts, Calendars & Planners, and Worksheets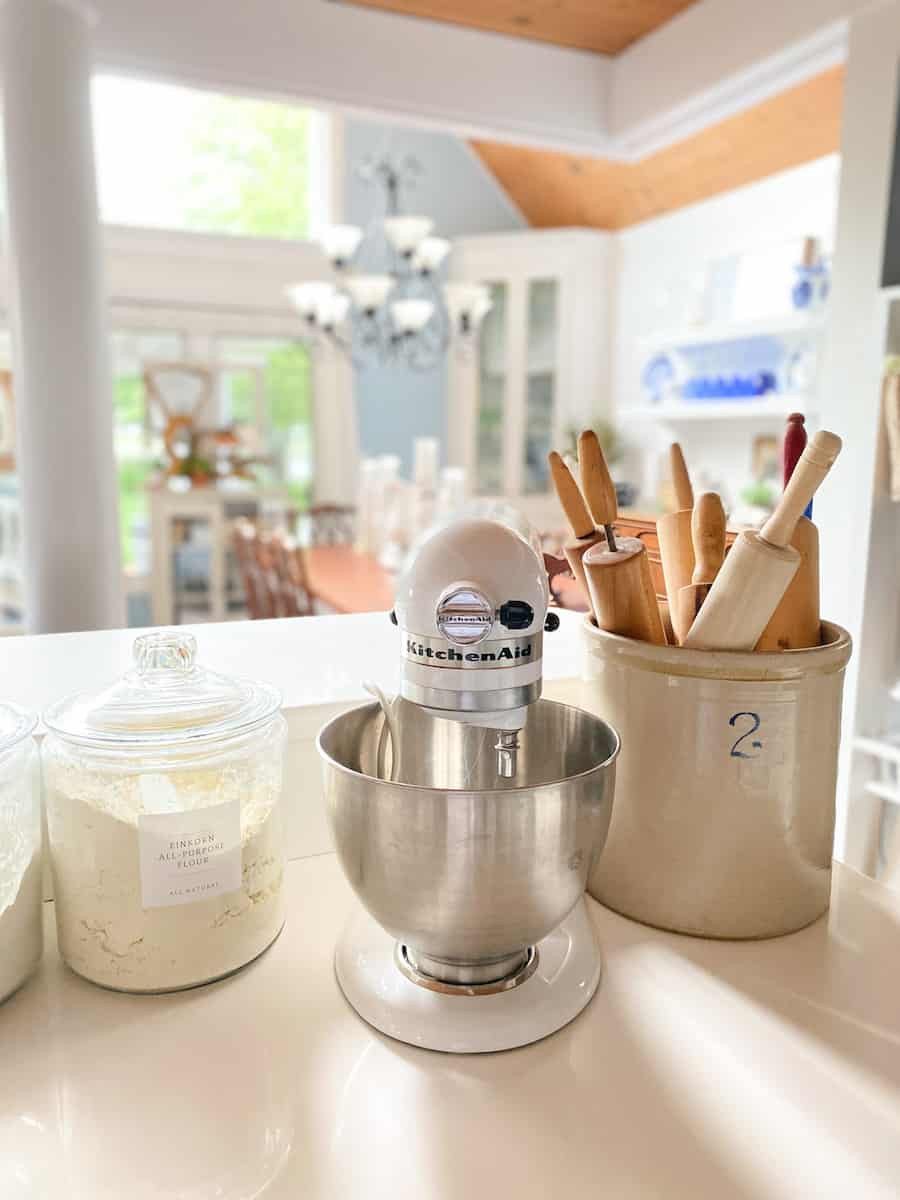 direct access to my amazon store
On Amazon
Did you know that you support my little business by purchasing through my links?? The price to you is the same but I receive a small commission on ALL the purchases you make when you shop through one of my links. I appreciate you helping Living Large in A Small House to grow!

A great way to save this Recipe is to save it to your Pinterest boards. You can find the pin button in the top left corner of the photo below. Also, don't forget to follow me on Pinterest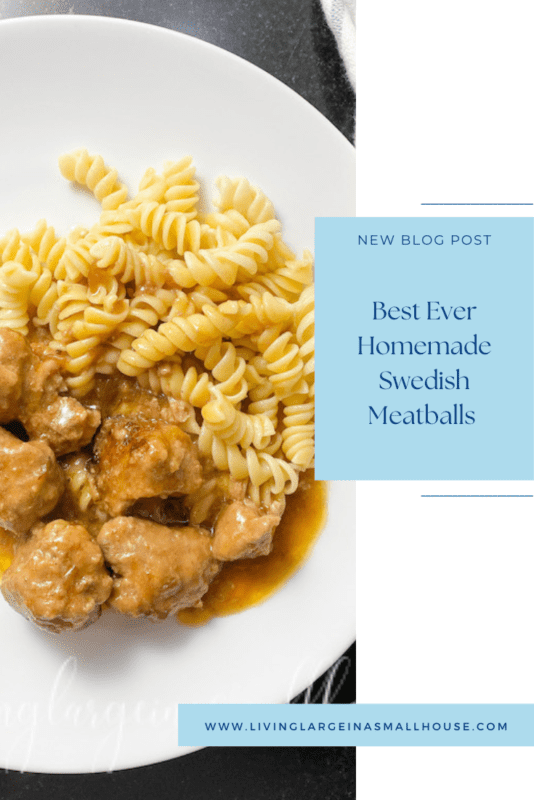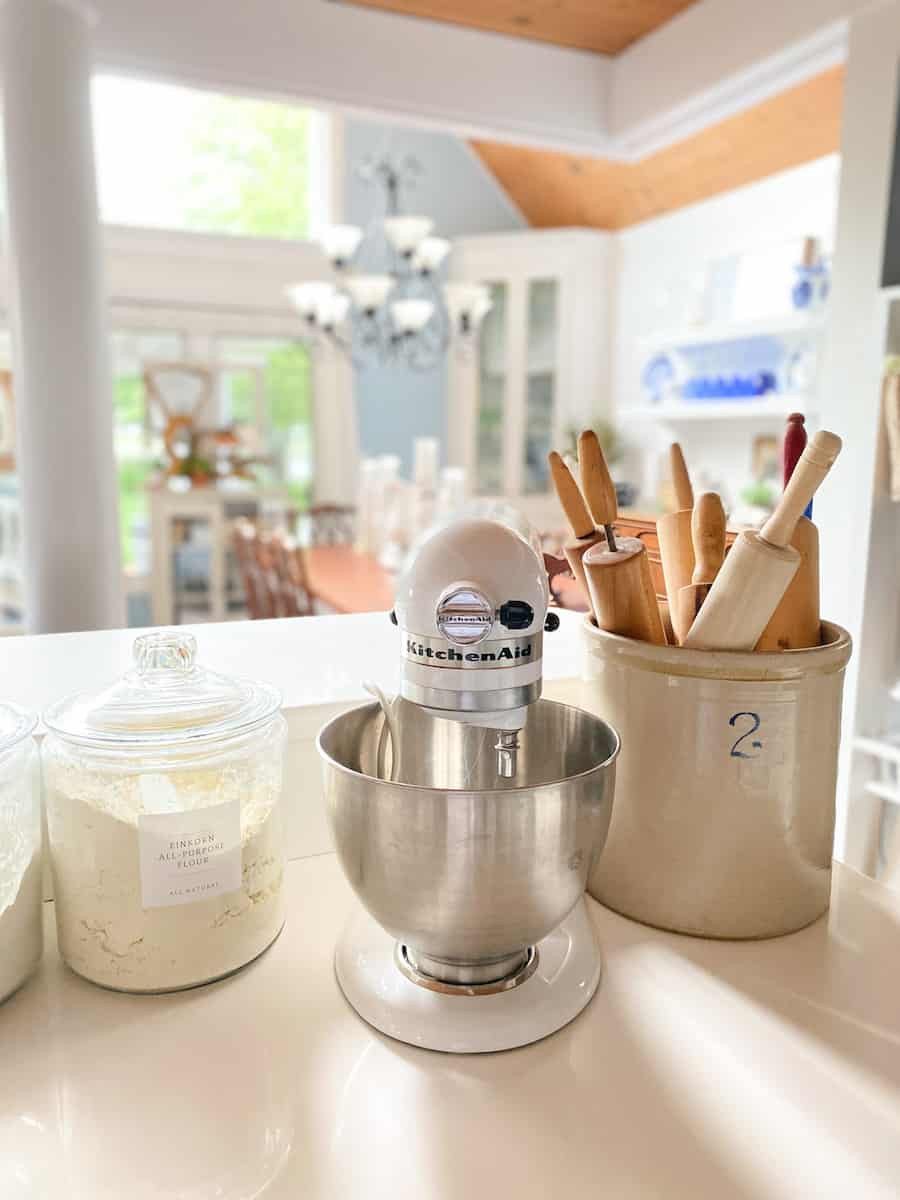 direct access to my amazon store
On Amazon
Did you know that you support my little business by purchasing through my links?? The price to you is the same but I receive a small commission on ALL the purchases you make when you shop through one of my links. I appreciate you helping Living Large in A Small House to grow!

Living Large Podcast
We are on a two-week break but will be back on Monday, October 17th with a conversation with Leslie Saeta of @my100yearoldhome and author of the book "A Home to Share". Click on the book below to get your copy before you listen to our interview.