Filet Mignon with Southwestern Sauce
We love a good steak in our house. My favorite is a filet either seared in a cast iron skillet or grilled. I also love my steak with southwestern sauce.
Handy prefers to cut his filet into thin slices cover it with horseradish sauce and grilled onions and eat it on a bakery bun.
On my blog Living Large in A Small House, I may sometimes use affiliate links, which means a small commission is earned if you make a purchase via the link. The price will be the same whether you use the affiliate link or go directly to the vendor's website using a non-affiliate link. You can find my full Disclosure Policy HERE
Southwestern Sauce
This sauce brings together the flavors of tomato (which I love), jalapeno peppers, and garlic. Butter combines all the flavors in a rich sauce.
You might think it will be spicy but it isn't really. It has just enough spiciness to create an amazing sauce.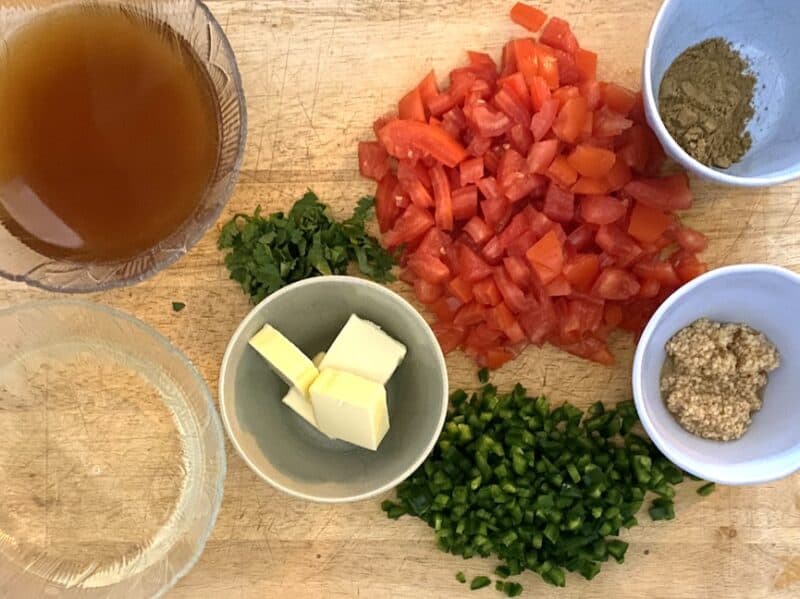 Print Recipe
Yum
Southwestern Sauce
A spicy but not hot, rich sauce
Ingredients
2

tbsp

olive oil

2

medium

jalapeno peppers, finely chopped

6

medium

garlic cloves, minced

3

tsps

cumin

1

cup

dry white wine

1

cup

beef stock

4

tomatoes, chopped

4

tbsp

chilled butter

2

tbsp

cilantro, chopped
Instructions
Saute peppers, garlic, and cumin in olive oil for one minute; increase heat to high; stir in wine, boil and cook until reduced to 1/2 cup. Add stock, and boil to reduce to 1 cup, stirring constantly.

Lower heat. Add tomatoes and cook down. Add 2 tablespoons of butter, stirring constantly until melted. Add 2 more tablespoons of butter, stirring until the sauce thickens. Remove from heat. Add cilantro
Nutrition
Calories:
202
kcal
|
Carbohydrates:
14
g
|
Protein:
3
g
|
Fat:
13
g
|
Saturated Fat:
6
g
|
Polyunsaturated Fat:
1
g
|
Monounsaturated Fat:
6
g
|
Trans Fat:
0.3
g
|
Cholesterol:
20
mg
|
Sodium:
536
mg
|
Potassium:
662
mg
|
Fiber:
3
g
|
Sugar:
7
g
|
Vitamin A:
626
IU
|
Vitamin C:
32
mg
|
Calcium:
109
mg
|
Iron:
4
mg
Yum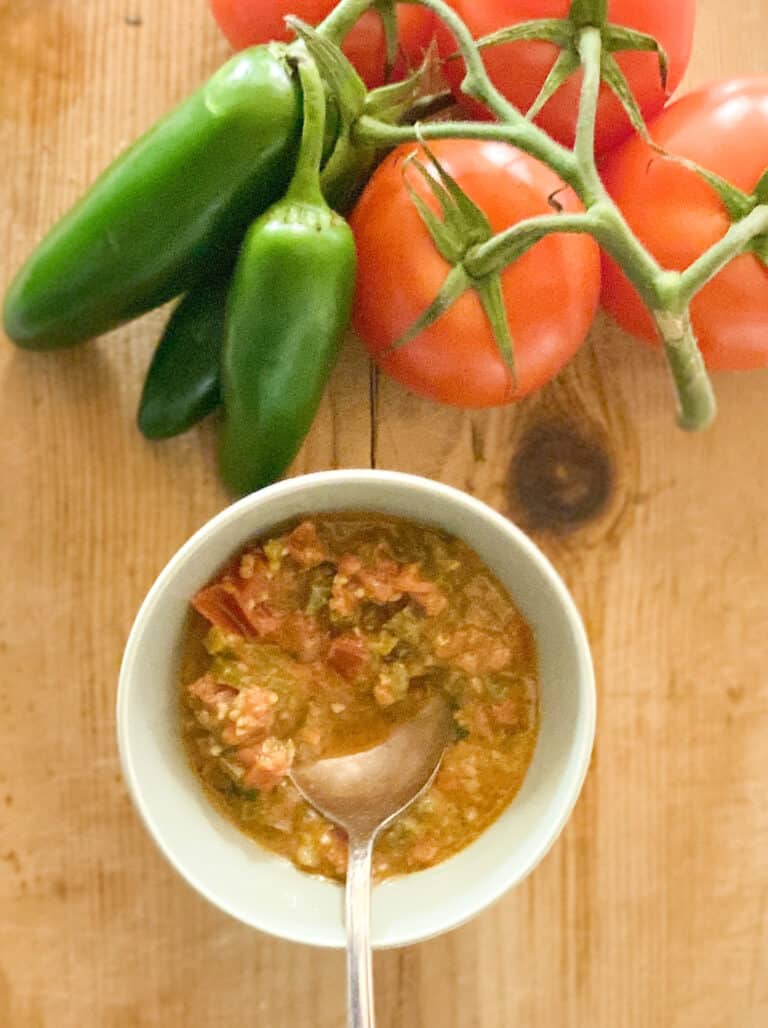 How to Cook Your Steaks
Filets are best when brought to room temperature before cooking. They really don't need anything but salt and pepper on each side.
Heat a cast iron skillet that has a coating of olive oil on high heat. Sear both sides of the steak until browned. When "Handy" is showing off for guests he also will sear the sides of steaks. Then turn the heat down to medium and let the steaks cook until the desired doneness.
We like our steak medium-rare and "Handy" can tell if it's cooked correctly by just pushing on it with his finger. I need to use a meat thermometer and I cook it until 130 degrees. Then let it sit for 5 minutes.
Rare – 130° – 135°
Medium – 135° – 145°
Medium Well – 145° – 155°
Well Done – 155° – 165°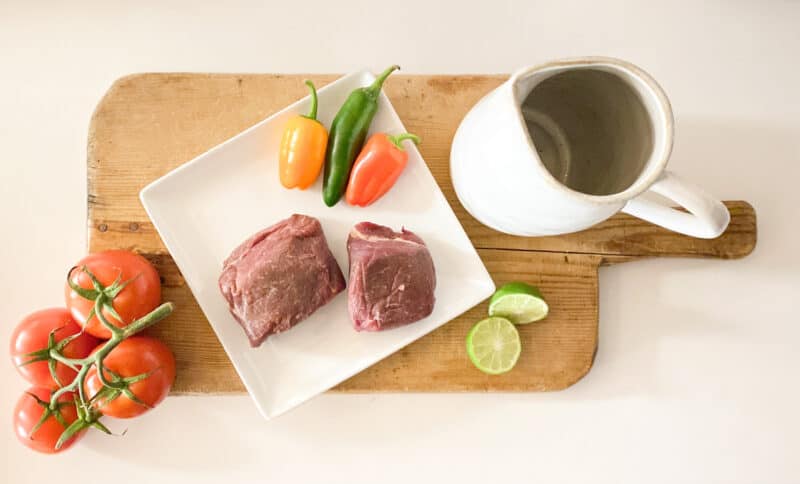 Other Steaks
While we really like a filet we also like new york strip steaks.
You can also serve this sauce over a rib-eye steak or sirloin steak. Actually, you can serve it over any kind of meat. I haven't tried it but it might be very good over a salmon steak.
Filet Mignon
Filet Mignon is cut from the tip of the Tenderloin, a delicate and tender area of the loin primal. It's also an incredibly lean part of the animal, which means you'll enjoy a fork-tender steak without much fat or connective tissue. These qualities have made Filet Mignon one of the most prized cuts of beef.
Side Dishes
If you've never tried grilled romaine, you should. It's perfect with a steak. This recipe is the one I use HERE
Another thing we love is broasted potatoes. Broasted potatoes are baby potatoes cut in half and par-boiled then tossed in olive oil and any spices you like and then bake until done and crispy brown.
I add crushed garlic, dijon mustard, Worcestershire sauce, thyme, salt, and pepper to my olive oil and then toss.

Other Favorite Steak Toppings
Sauteed Mushrooms
Sauteed Onions
Herb Butter
Horseradish Sauce
Pesto Sauce
Garlic Sauce
Parmesan Butter
Balsamic Sauce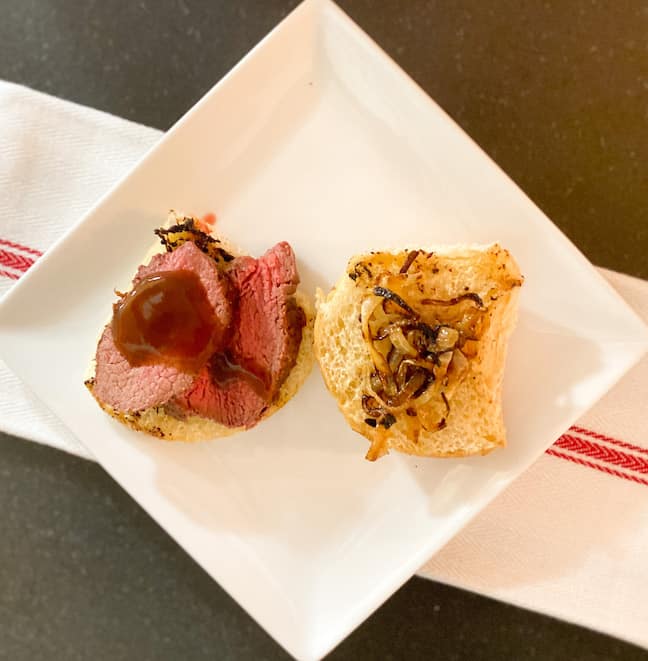 I hope this gives you some ideas to add something special to your next steak. I love all of these steak topping ideas but the southwestern sauce will always be my favorite
With Valentine's Day right around the corner, you might be planning out a special meal. I hope this helps.
Peace and Love,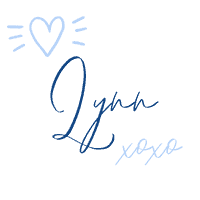 One other steak we love is flank steak. You get that recipe HERE

Thanks for Following Along
If you enjoyed this post I hope you sign up to be a friend of Living Large in A Small House! Then you won't miss any of the inspiration that is shared with you each week! You can also follow me on  Instagram, Facebook, and YouTube. I share even more inspiration on Pinterest! You can listen to me chat on my Podcast.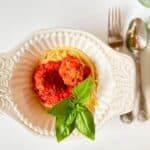 A great way to save this article is to save it to your Pinterest boards. You can find the pin button in the top right corner of the photo below. Also, don't forget to follow me on Pinterest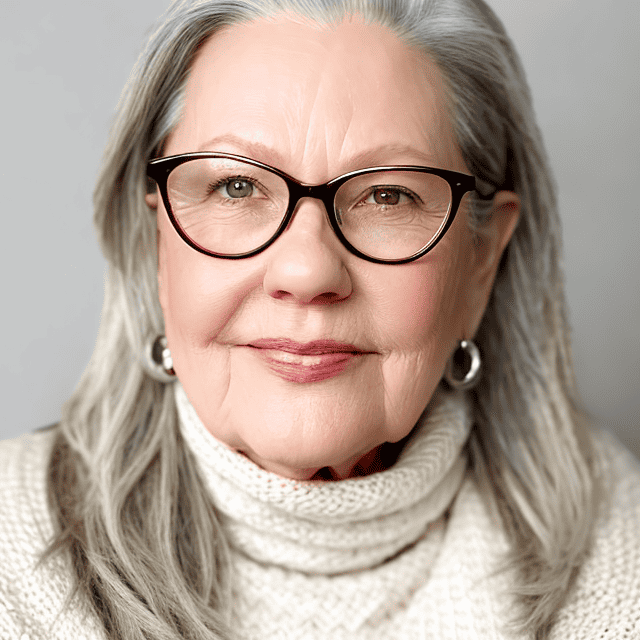 Meet Me
I'm an Interior Designer, Professional Organizer, and Party Planner who lives in the suburbs of Chicago in a 1,300 sq., ft., home with my "Handy" husband, Keith.
I'm an open book about my life on my blog. Find out more about me by tapping the button below.

living large podcast
My guest Crystal Ratzlaff was my guest this week on the podcast. She is a fellow blogger who lives in Canada and we talk about all things home and garden. We also share something we are collaborating on soon.