How to Make Cajun Butter Sauce for Seafood
Do you want to how to make cajun butter sauce for seafood? I love to serve this recipe to guests.
This is such a flavorful sauce that I've prepared with shrimp however you can make it with any fresh seafood.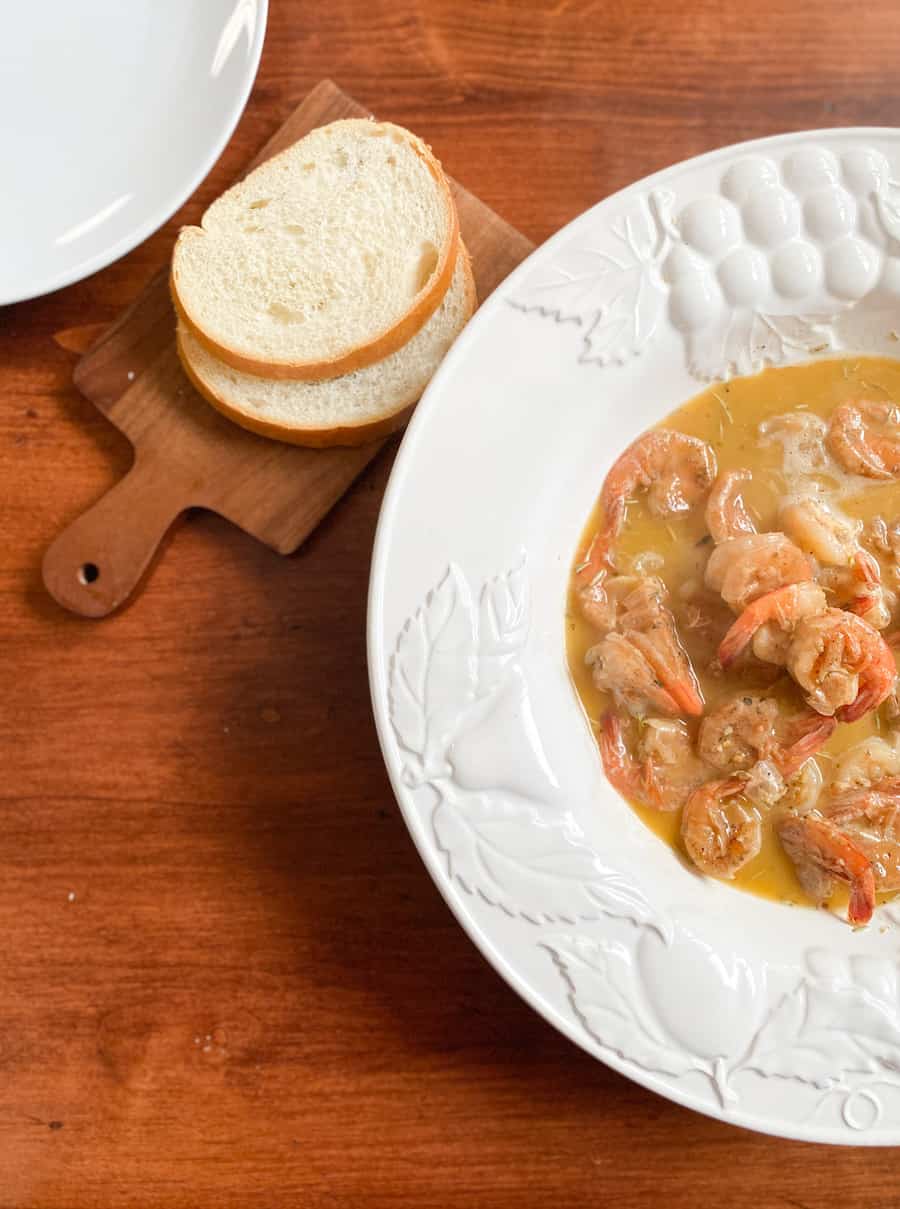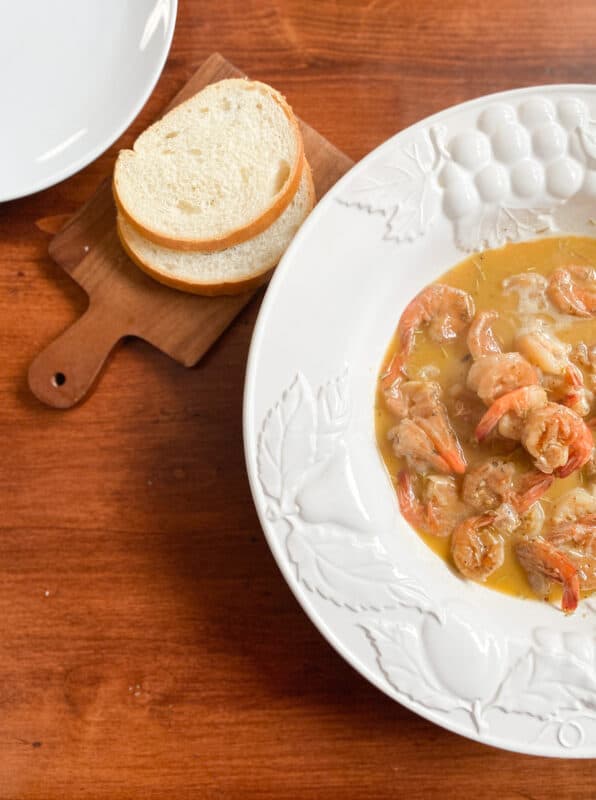 The spicy cajun garlic butter sauce can be mopped up with crusty french bread. This spicy sauce also encourages an extra sip of a cold beer or a crisp white wine.
Who doesn't love that?
Living Large in a Small House participates in affiliate advertising programs, including Amazon Service LLC Associates Program. This means that I make a small commission if you make any purchase via a link in my blog. The price is the same whether you use the affiliate link or go directly to the vendor's website. You can find my full Disclosure Policy HERE
Spicy Cajun Seafood in Rich Butter Sauce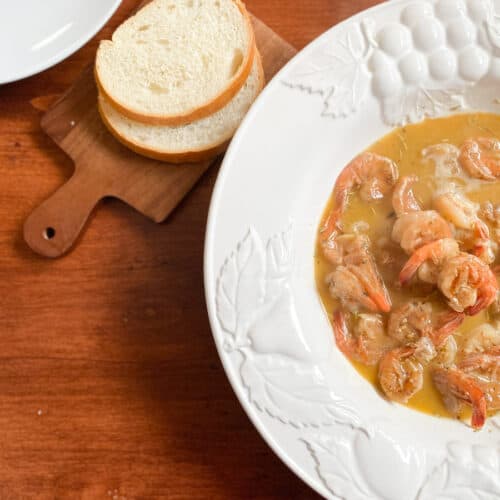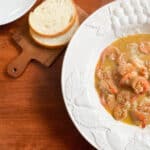 Print Recipe
Yum
Spicy Cajun Seafood in Rich Butter Sauce
Cajun Butter Garlic Sauce with Seafood
Ingredients
Homemade Cajun Seasoning Mix
1

tsp

cayenne pepper

1

tsp

black pepper

1/2

tsp

salt

1/2

tsp

crushed red pepper flakes

1/2

tsp

dried thyme leaves

1/2

tsp

dried rosemary leaves

1/2

tsp

dried oregano
Shrimp
1

lb

Seafood with Shells

I used shrimp but lobster tails are a great alternative

1-1/2

sticks

butter, divided

1 stick room temperature and the other 1/2 stick cut into 1 tbsp pieces and kept cold in the refrigerator or freezer

2

tsp

minced garlic

1

tsp

Worcestershire sauce

1/2

cup

chicken broth

1/4

cup

beer, room temperature
Instructions
Rinse the seafood in a colander with cold water and let drain.

In a small bowl combine the spice mixture ingredients.

Add 1 stick of butter, spice mixture, garlic, and Worcestershire Sauce into a large saute pan over high heat. When the butter is melted, add the shrimp and shake the pan in a back-and-forth motion instead of stirring for 2 minutes. Add the chicken broth and then the remaining butter one tbsp at a time as each melts, and continue to shake the pan back and forth for 2 more minutes total. Add the beer and shake for one more minute.

Serve the shrimp immediately in bowls with lots of French bread to dip in the sauce.

This can be served with grits, red potatoes, and/or sweet corn
Notes
You can use fresh herbs instead of dry, just double the amounts.
You can double or triple the seasoning recipe and store it in an airtight container for future use.
Yum
Why Shake Instead of Stir?
Butter contains oils that are released from the butter when it is melted.
Shaking the pan during the cooking process in a back-and-forth motion and the addition of the broth keeps the spicy butter sauce from separating and having an oily texture.
It is also very fancy if you cook for guests and they are in the kitchen when you make this meal.
The process of shaking not stirring just takes it to the next level. It's not something you normally see when cooking.
It's a little bit of lagniappe.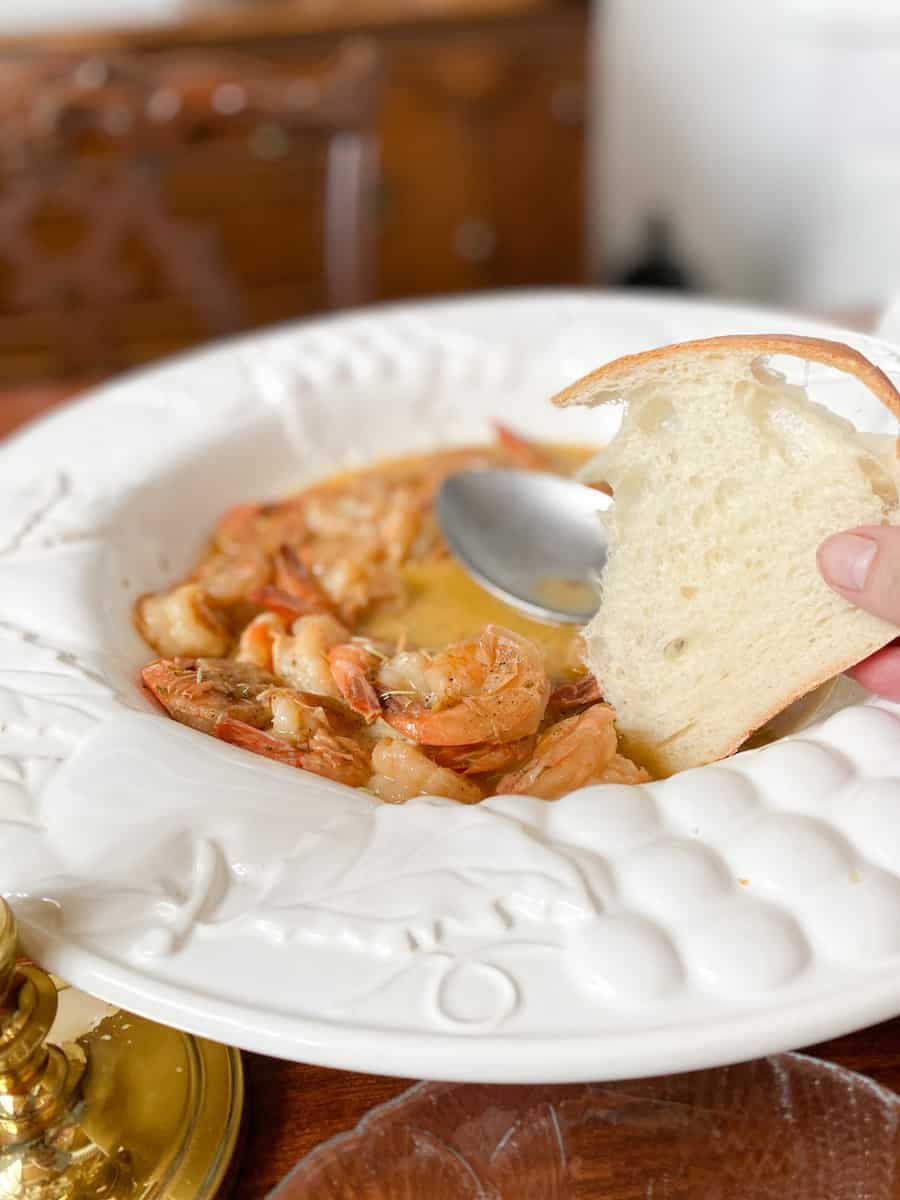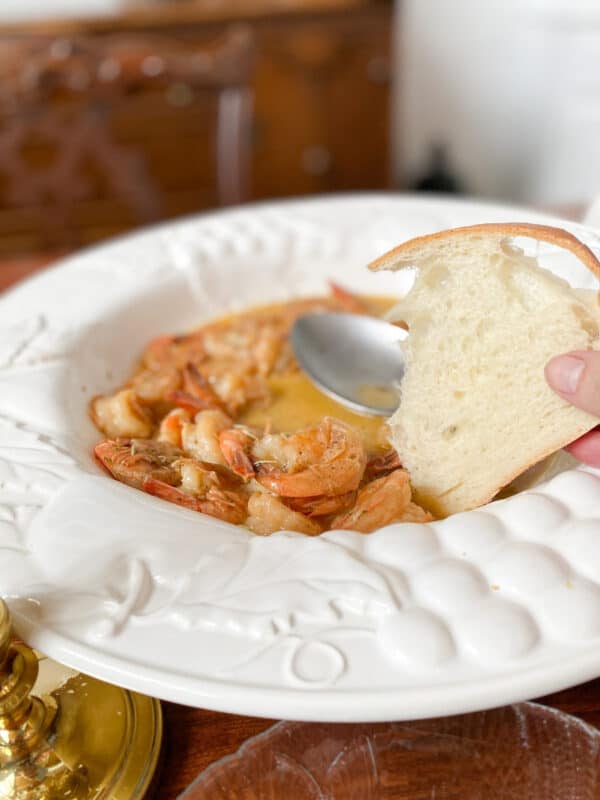 lagniappe
A Cajun word meaning "a little something extra."
How to Serve this Garlic Butter Seafood Sauce with Shrimp
You can serve the shrimp and creamy cajun sauce over grits. I use regular grits and cook per package instructions. Right before I serve I add cheddar cheese that I have grated into the grits.
This is also amazing over rice.
This would also be yummy as a cajun seafood boil. You can boil red potatoes and sweet corn and then serve the seafood and sauce over the potatoes and melted butter over the sweet corn.
Don't forget the french bread.
Dipping my bread in the delicious cajun sauce might just be the best part of the meal.

Cajun Cooking
Cajun cuisine is a style of cooking developed by the Cajun–Acadians who were brought from Acadia to Louisiana during the 18th century and who incorporated West African, French, and Spanish cooking into their meal preparation.
Using local, available ingredients is typical of cajun cooking. "Handy" would like for me to add andouille sausage to the recipe next time. That is definitely something I will try. My first thought would be to cut the sausage and fry it in a separate pan before adding it to the shrimp and sauce.
Summer Outdoor Entertaining
This is such a fun recipe for summertime outdoor entertaining. Think New Orleans Vibe!
It can be messy to eat. Peeling the shrimp with your hands and wiping your hands with lots of paper towels or napkins is part of the experience.
Being able to hose down your outdoor table and chairs after the meal is a real plus.
Save the Leftovers
If there are any leftovers, I save them. The leftover sauce and grits make a great microwave meal. Making a cajun shrimp salad is perfect for lunch the next day.
I'm a big fan of shrimp and I have several recipes that I love. My Shrimp Alfredo recipe is HERE.
I hope you enjoy this recipe as much as we do.
Peace and Love,
Thanks for Following Along
If you enjoyed this post I hope you sign-up to be a friend of Living Large in A Small House! Then you won't miss any of the inspiration that is shared with you each week! You can also follow me on Instagram, Facebook, and YouTube. I share even more inspiration on Pinterest! You can listen to me chat on my Podcast

A great way to save this article is to save it to your Pinterest boards. You can find the pin button in the top left corner of the photo below. Also, don't forget to follow me on Pinterest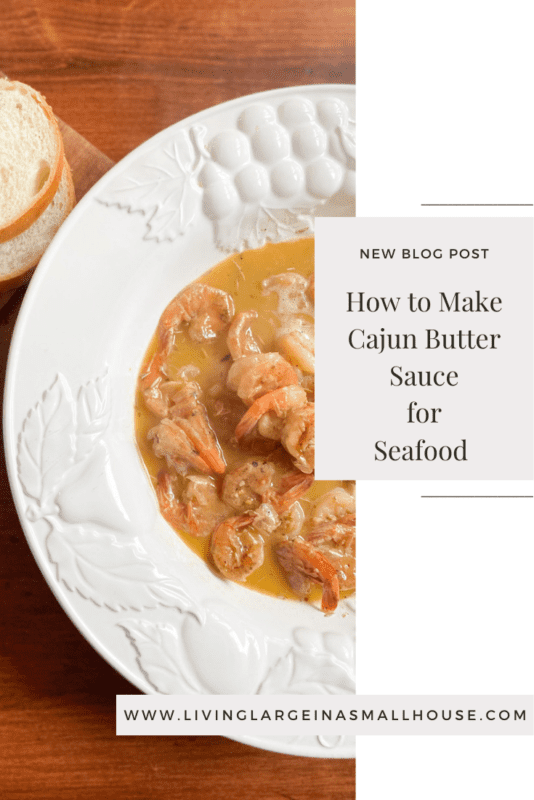 Living Large Podcast
My guest this week is the delightful Nicolle from Our Tiny Nest. You don't want to miss this fun Podcast.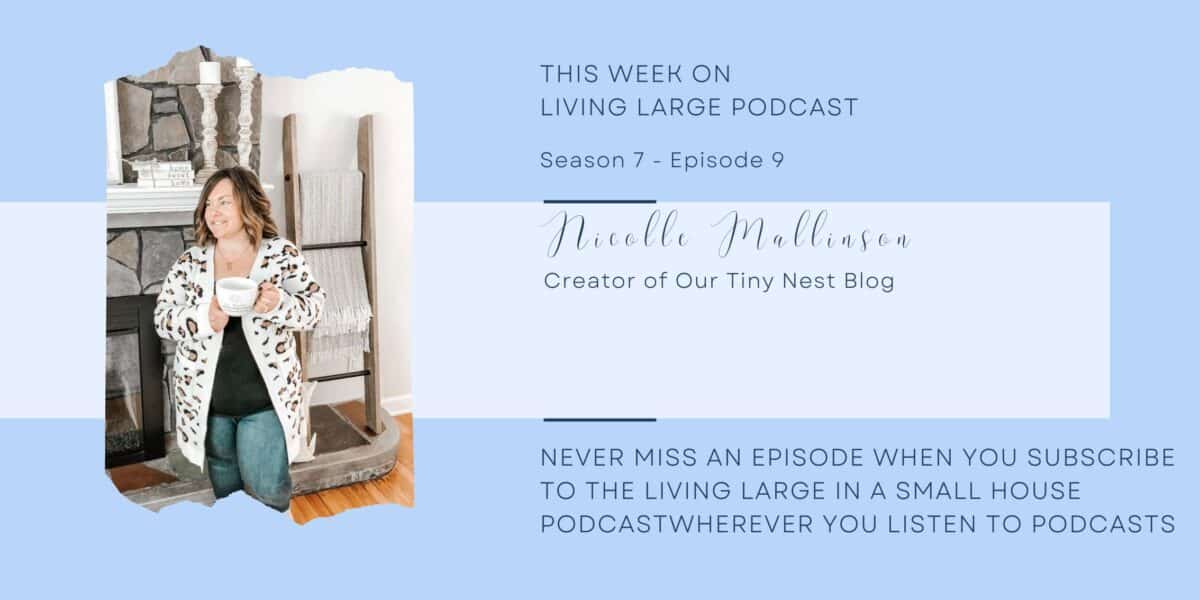 Are you ready to start organizing?
30-Day Cleaning & Organizing
Includes:
30 Page Guide
Tips & Tricks for Successful Organizing
Reproducible Charts, Calendars & Planners, and Worksheets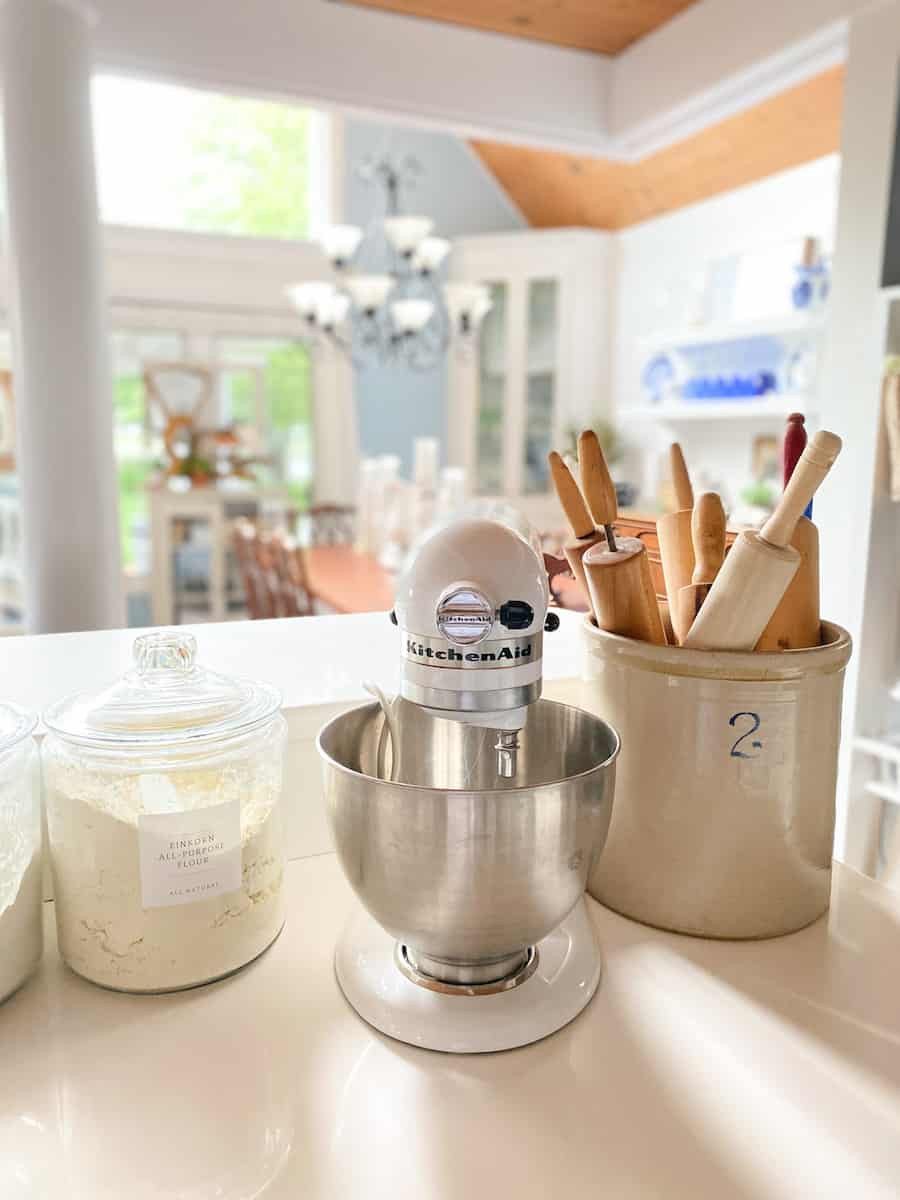 direct access to my amazon store
On Amazon
Did you know that you support my little business by purchasing through my links?? The price to you is the same but I receive a small commission on ALL the purchases you make when you shop through one of my links. I appreciate you helping Living Large in A Small House to grow!