Hi Friends – There are so many talented ladies who blog about their homes, decorating, and entertaining. Being a part of that community is such a pleasure. Several of us are sharing our fall entertaining and tablescape ideas today. If you're just coming from From House to Home – Welcome! Wanda has such a beautiful blog.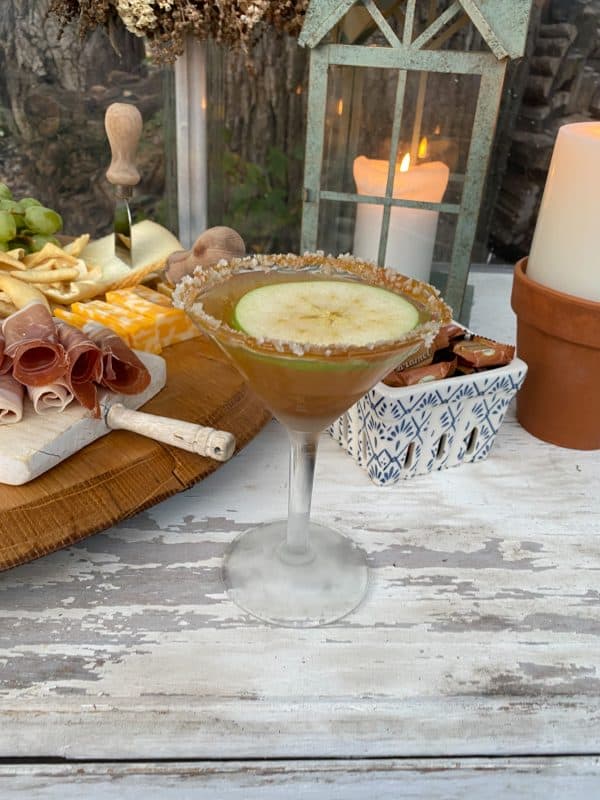 Every fall, I fall in love with the season all over again. Who doesn't love the warm, sunny days and the crisp, cool nights? I look forward to everything cozy; fires in the fireplace, soft throw blankets, sweatshirts, and snuggling under a warm quilt after a night of sleeping with the windows opened. It's the time of year when kiddos are starting a new grade in school. Football games and tailgating are in full swing. Hands down my favorite part are bringing out the crockpot and enjoying comfort foods. My favorite thing in the whole world to eat is beef stew. My Mom made it for me on every birthday even when I was a grown Mom myself. I miss my Mom like crazy for many reasons but I won't lie, I really miss her beef stew. I've never been able to make it quite the same way.
It's my oldest baby's birthday in September so we hosted a small fall gathering for him last weekend. I had so much fun preparing an autumn alfresco tablescape for the event. You don't need much when you have a great backdrop and yummy food, so I went with the less is more look.
Handy, made me this table for Thanksgiving last year. What a guy! All I have to do is ask, draw a little picture and like magic, he makes it happen. Can I just say "I'm one of the luckiest girls in the whole world"?
When your children are grown and are either living on their own or in college, your kitchen tends to stay pretty tidy. While I miss them terribly, who doesn't enjoy that!
It is also ready for fall entertaining.
Decorating my greenhouse for fall entertaining is so fun. I did it again this year and it was the perfect place to enjoy cocktails before dinner.
I don't want to keep you too long so you can head off to the next blog and enjoy what Areeba has in store for you. You can visit her beautiful blog at Mint Candy Designs.
I will however leave you with a few final pictures of my Autumn Alfresco tablescape as the sun was setting. Oh! Forgot to mention another one of my favorite fall things….the beautiful sunsets 🙂
"Autumn …the Year's Last Loveliest Smile"
William Cullen Bryant
PS – You won't want to miss my blog on Monday morning. I'll be sharing everything that has been going on at "Living Large in A Small House". You haven't heard from me for a while, for a reason!
Please Visit all these lovely blogs today
Petite Haus // From House to Home // Living Large in A Small House // Mint Candy Design

Rosemary and Thyme// Lincluden Cottage Life // Belle Bleu Interiors
Follow the Yellow Brick Home // Roots North and South // Back to the South // White Arrows Home