How to Dine Al Fresco with Fall Decor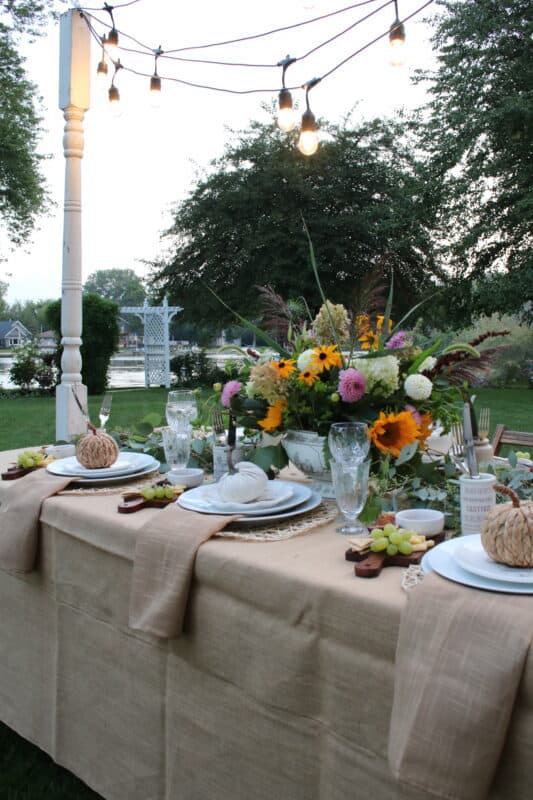 On my blog Living Large in A Small House, I may sometimes use affiliate links, which means a small commission is earned if you make a purchase via the link. The price will be the same whether you use the affiliate link or go directly to the vendor's website using a non-affiliate link. You can find my full Disclosure Policy HERE
Today Kristi from French Creek Farmhouse Blog is hosting Harvest Home Tour 2021. I am honored to be joining 29 other amazing bloggers as we share our fall decor. If you're coming from Angie's home at Postcards from the Ridge, Welcome. Don't forget to visit all the blogs in the links below.
I'm going to share with you how to dine al fresco with fall decor today.
          al fres-co 
          /al 'freskō/
adverb
          (especially with reference to eating) in the open air 
          "in the unlikely event of some sunshine you can dine alfresco"
adjective
           done or eaten in the open air "an al fresco supper"

If you've been following me for a while you know; If you're just joining from another blog, you can tell by my blog name that we live in a small house. Needless to say, we use our outdoor space to its fullest potential when we can. For us, this means living outside in the spring, summer, and fall.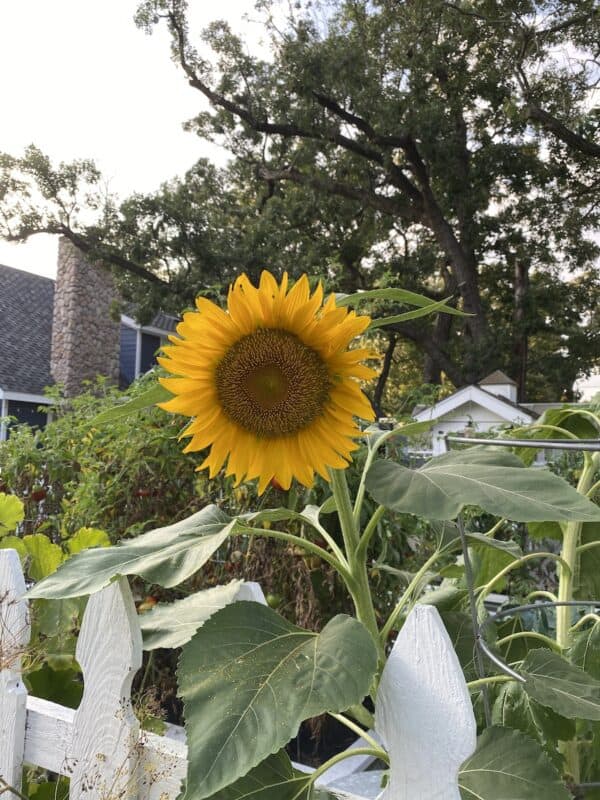 We recently hosted our daughter's wedding in our backyard so I'm reusing one of my favorite things; vintage posts strung with lights over my dining table. I first got this idea from the very talented Leslie from My 100 Year Old Home. Her dinner parties are amazing and I share her passion for entertaining and making everything pretty.
To set the stage, I moved my large harvest table, that "Handy" made, out into the yard. Put metal post holders into the ground on either end. Slipped in my posts and then attached my Edison light strings to the top; going back and forth at different levels.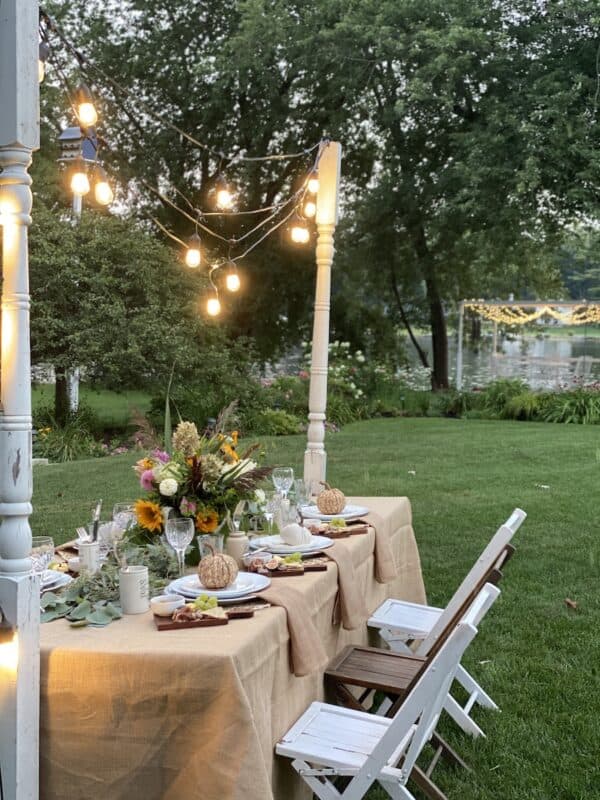 Preparing the Fall Tablescape
I had already prepared several different versions of my tablescape in my mind. Then did a few dry runs on the dining room table in the house. Using the burlap tablecloth and napkins that I got from my favorite party supply house efavormart.com was for sure part of my plan.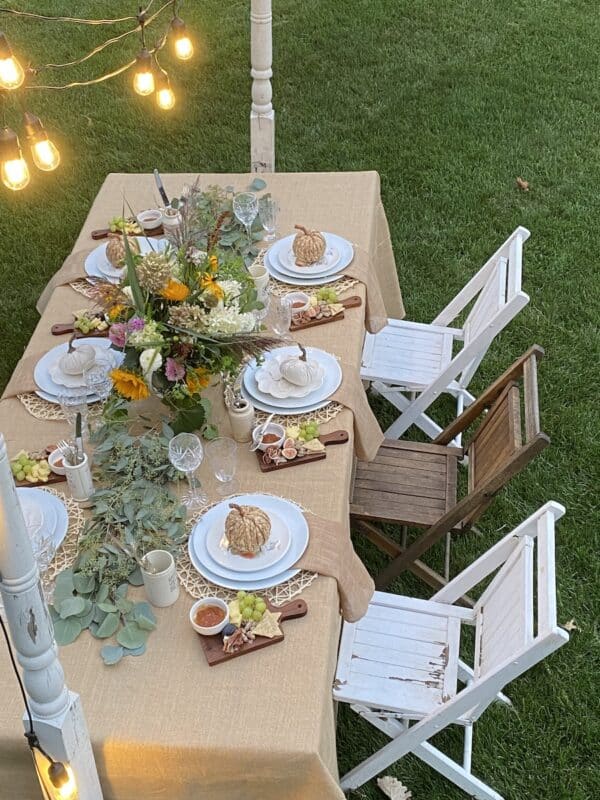 I always use a white plate as it just works with pretty much everything. With the white plate, you can just change up your salad plate and charger and have a completely different place setting. Owning a variety of salad plates is also much easier to store than completely different sets of dishes.
I played around with three different salad plates but ended up with a simple Tuscan-style plate that I bought from HomeGoods several years ago. A natural open weave placemat ended up being my favorite for this tablescape.
I have some very large white ceramic plates that I will use as chargers. I decided to keep my place settings very simple.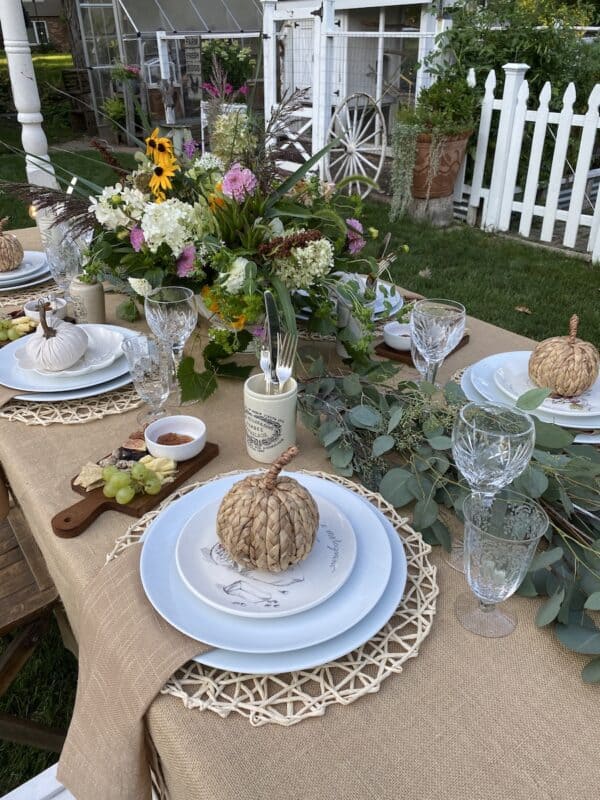 Where Tablescape Ideas Come From?
My youngest daughter and I decided to go shopping at Goodwill. I wasn't really looking for anything in particular, however, I stumbled on a very old french transferware tureen. I immediately knew that this was going to be the centerpiece for my harvest table. After paying my $4.99, I rushed out with my treasure. I knew that I had something special in my possession.
We then stopped at Target for some odds and ends. While we were there we wandered over to the home decor area. I was just snooping around to see if anything might work on my tables. To my surprise, I found the cutest woven pumpkins and decided that the last four in the store were coming home with me.
I also spotted some small cutting boards in the kitchen area and it dawned on me; how cute would it be to have individual charcuterie boards at each place setting. We are huge fans of charcuterie boards in our family so this was a fun idea for the whole family.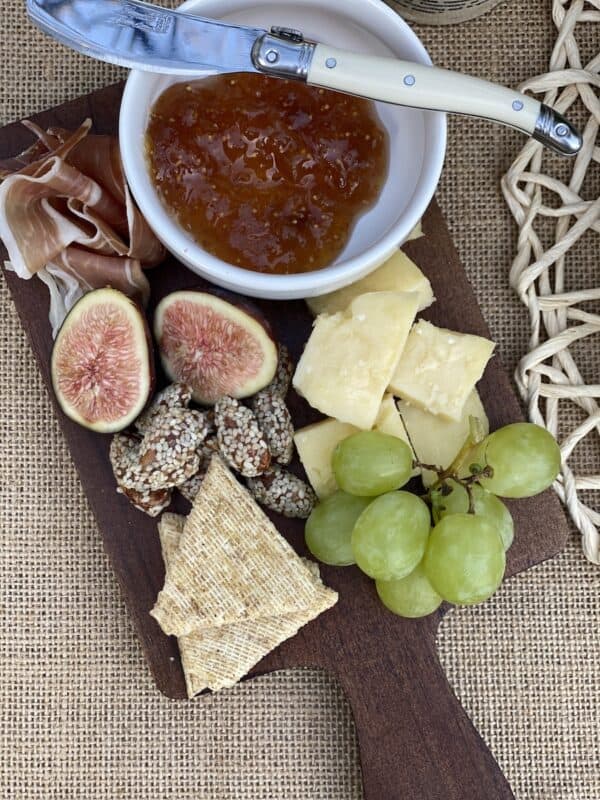 Once I had decided on the individual boards, I thought that a formal setting of flatware was just going to be too much for the table. As luck would have it a friend who I met on Instagram lives very near to me. When I happened to pass by the street where I would turn to go to her home, my car just steered itself there.
Amy is the queen of beautiful vignettes and she also sells amazing English Advertising Pots in her Etsy Store. You can find her store HERE. If you want to follow her on Instagram she is @thevintagebreadbox – I popped by her house and borrowed some of her pots to add to mine to create the perfect vessel for my silverware.
Setting the Harvest Table
The weather right now is perfect for an alfresco dinner. It cools off in the evening and starts to get dark earlier so we could enjoy the romantic lights.
Once the placemats, charger, napkin, dinner plate, salad plate, and pumpkin were layered, I added antique Fostoria goblets. I bought these goblets for Annie's wedding and I just love them. Additionally, I placed a Waterford wine glass next to each goblet.
The flatware was placed in the English Advertising pots to the left of the plate.
I arranged some fall flowers that I got from Trader Joe's and my garden, in the tureen. I then placed the arrangement in the center of the table.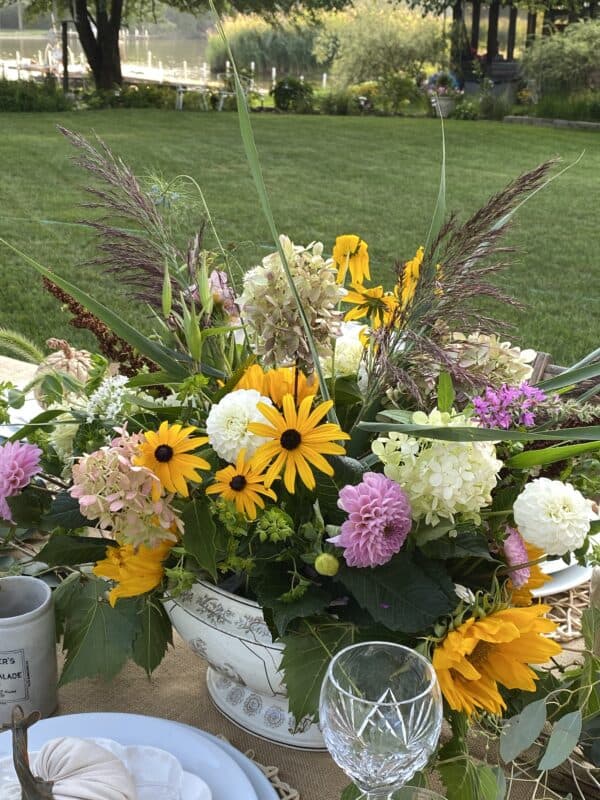 Lastly, with Emma's help, we made the cutest individual charcuterie boards and put them to the left of everyone's plate.
My two favorite things about my alfresco tablescape are my individual charcuterie boards and the English Advertising pots for holding the silverware. It just all came together.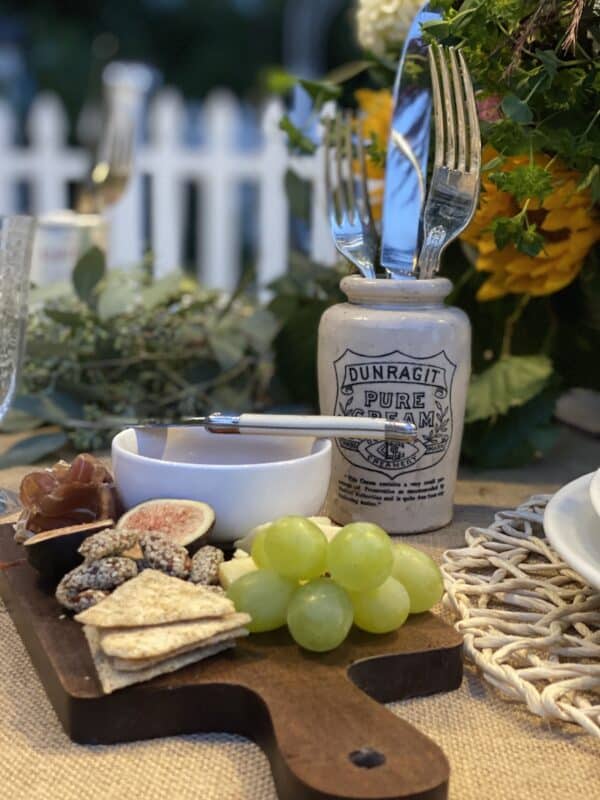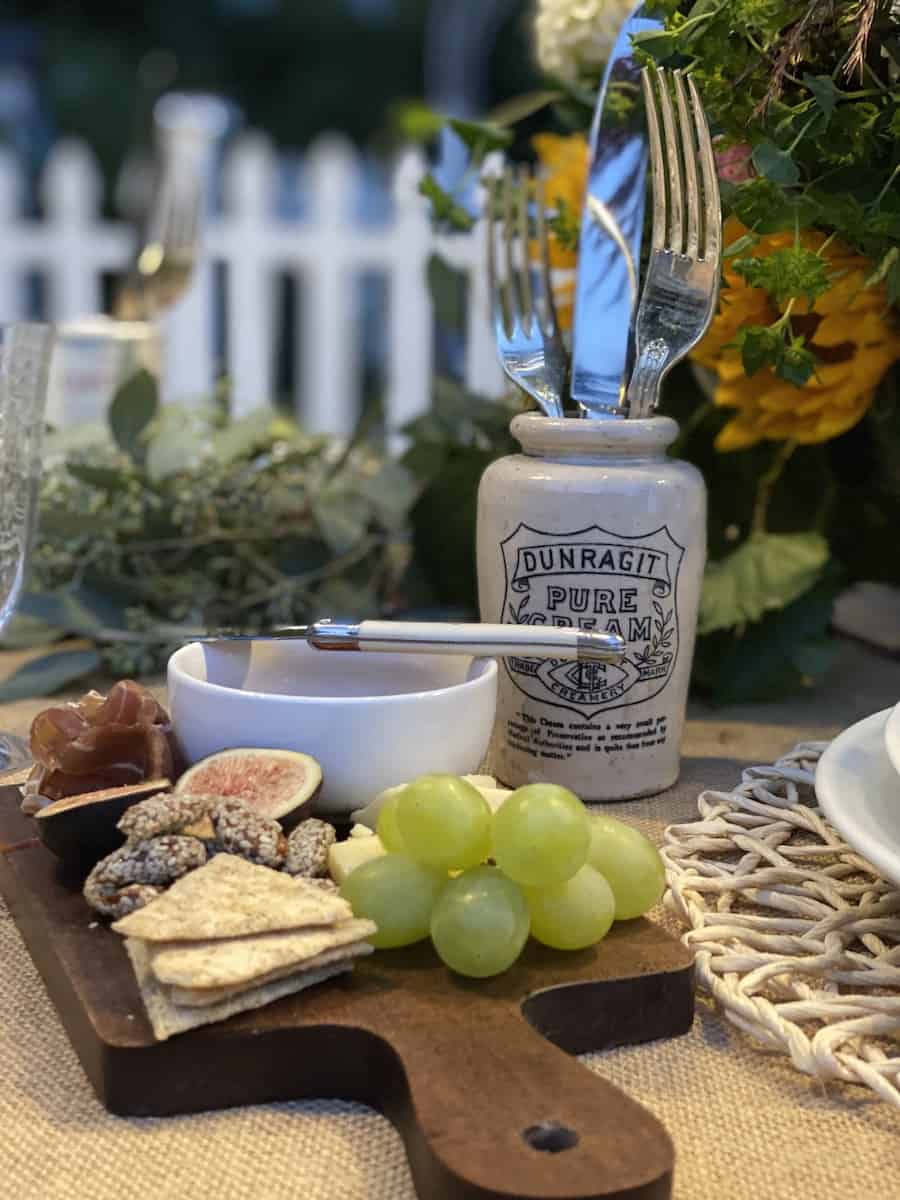 Falling in Love with Fall
When we get this beautiful fall weather in Illinois, we take full advantage of it because it seems to just last for a few weeks, and then it snows!
If you're looking for the perfect meal to go with this al fresco tablescape, you might want to check out my post on my Beef Bourguignon.
I hope you enjoyed my post on how to dine al fresco with fall decor. It was so much fun putting it together. Please stop by the other blogs to see what they are doing this fall around their homes.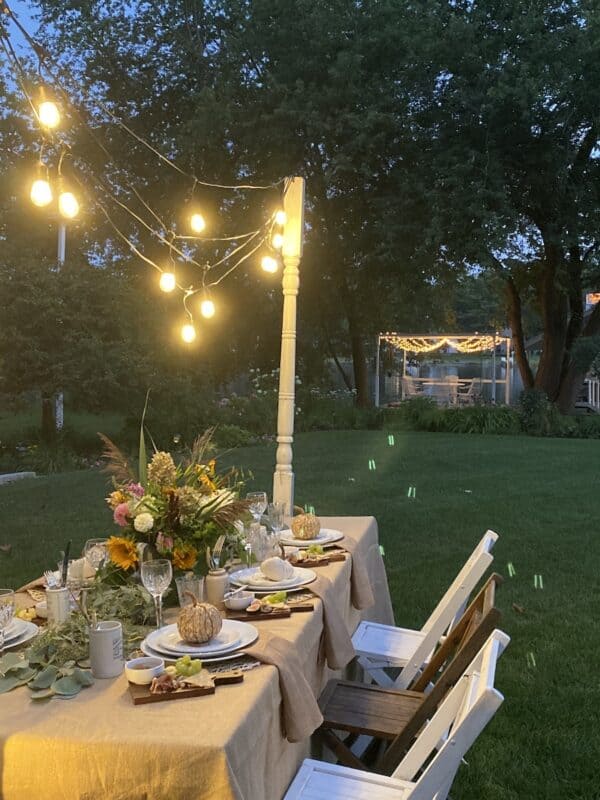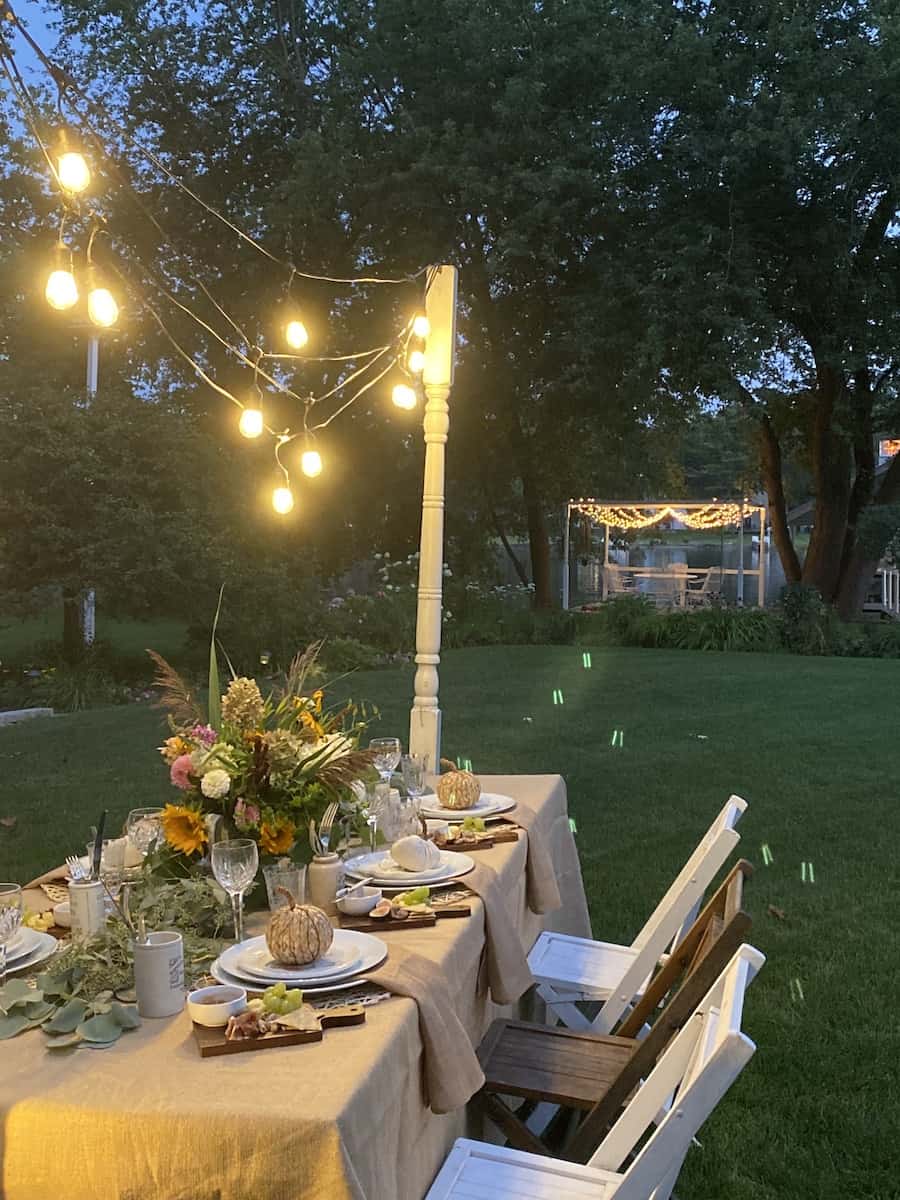 It was recently my birthday and we hosted a little dinner party. You can see my tablescape for that party HERE.
Peace,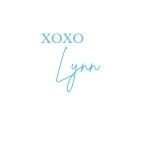 I'm thrilled to be joining in today as 30 talented bloggers bring you the best of all things home! Please continue along this inspiring Harvest Home tour, and visit the other participants in each of the following categories.