How to Make the Best Beef Bourguignon
I'm going to share with you how to make the best Beef Bourguignon. Not just any Beef Bourguignon but my version of Julia Child's Beef Bourguignon.
It's stew kind of weather in Illinois and I'm going to reshare one of my favorite fall/winter recipes.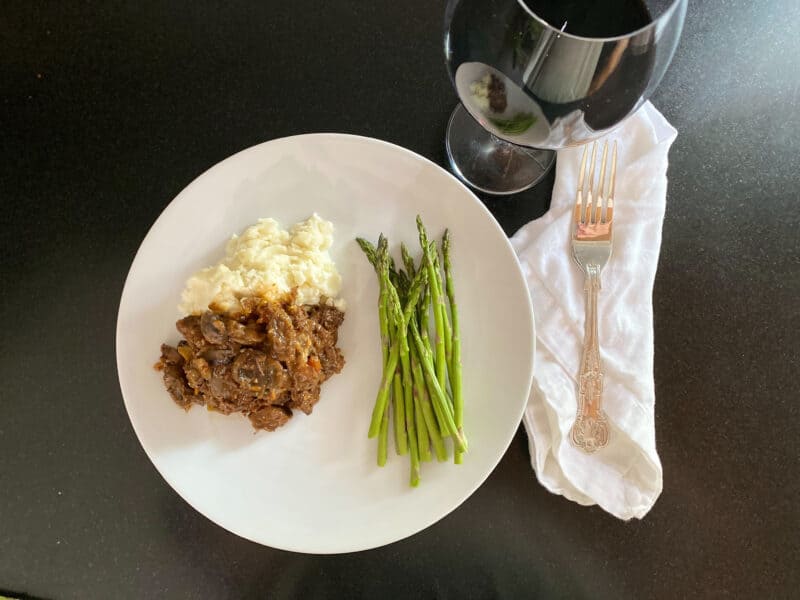 On my blog Living Large in A Small House, I may sometimes use affiliate links, which means a small commission is earned if you make a purchase via the link. The price will be the same whether you use the affiliate link or go directly to the vendor's website using a non-affiliate link. You can find my full Disclosure Policy HERE
I think it's important to add that Beef Bourguignon is nothing more than a fancy beef stew! And it's probably one of my favorite things in the whole world to eat.
When my Mom was alive she made me beef stew for my birthday almost every year. I have the pan that my Mom made it in but I don't use it. Hers tasted just a little bit better than mine and I swear it is the pan. However, I can't bring myself to use that pan. It might bring back a flood of emotions that even all these years later, I'm not ready to process. There is a good chance that I need to go talk to someone about this!! Again!!
Stew sentiment aside, I am a huge fan of Julia Child. I even own a cookbook that is signed by her.
One of my favorite movies is Julie & Julia with Meryl Streep and Amy Adams. In the movie, she "burnt the stew" (in my best Julia Child accent). The movie made my Top 7 Iconic Movie Homes. You can read about that HERE
Best time of Year to Make Beef Bourguignon
We are finally experiencing some real fall-type weather here in Illinois. The days are much cooler and the nights are downright cold. The leaves are starting to turn colors and fall. I swapped my leggy summer flowers out for fresh fall blooms. If you missed that post you can find it HERE
I recently hosted a fall al fresco dinner. This was the perfect meal to complement the beautiful outdoor setting.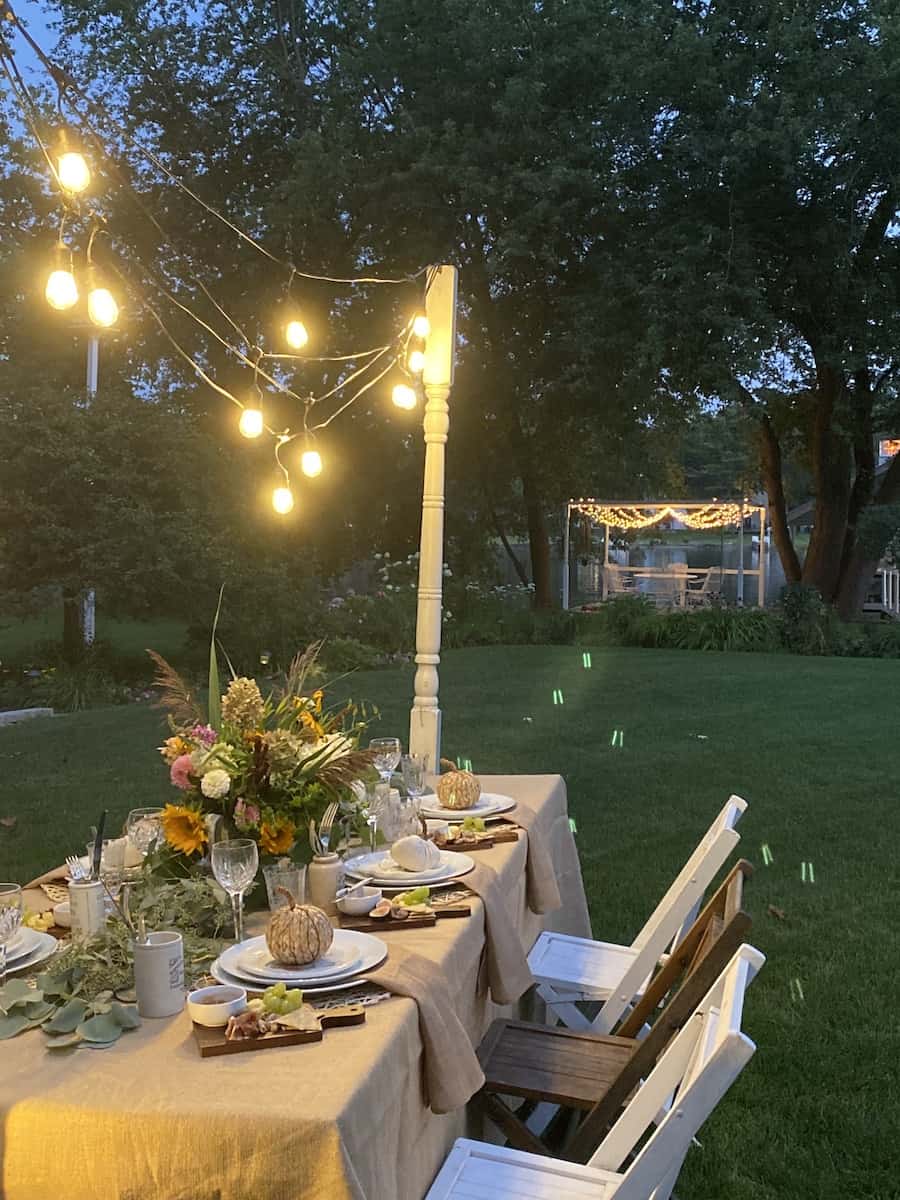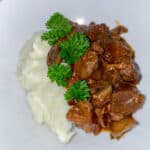 Print Recipe
Yum
Beef Bourguignon
Ingredients
2

tbsp

grapeseed oil, divided

You can use extra-virgin oil but grapeseed is better for high temperature cooking

6

strips

bacon

sliced into small pieces

3

pound

sirloin steak, cut into bite-size pieces

you can substitue brisket or chuck for sirloin

1

large

carrot

sliced into bite-sized pieces

1

large

onion, diced

6

cloves

garlic, minced

salt & pepper to taste

2

tbsp

flour

1

package

frozen pearl onions, thawed

2

cups

red wine

Merlot or other quality red wine

3

cups

beef broth

6

oz

can of tomato paste

1

pound

mushrooms, washed and quartered

2

tbsp

butter
Fresh Herb Bouquet (Wrap herbs in cheesecloth and tie)
3-4

sprigs

fresh thyme

cut up into 1" pieces

3-4

sprigs

fresh parsley

cut into 1" pieces

2

bay leaves
Instructions
Heat the 1 tablespoon of oil in your dutch oven or heavy pot. Saute the bacon over medium heat until the bacon is crispy. Removed with a slotted spoon to a bowl and set aside

Pat your meat dry with a paper towel or a clean kitchen towel before cooking. Put just enough meat in the dutch oven to cover the bottom with one layer. You will have to do this in stages. Brown the meat on all sides. Remove into the bowl with bacon and continue with the remainder of meat until done.

Add 1 tablespoon of oil to the drippings in the dutch oven or pot. Saute the carrots and onions until carrots are soft and onions are translucent. Then add 4 cloves of minced garlic and cook until fragrant. About 1 minute.

Return the beef and bacon to the dutch oven and season with salt and pepper. Sprinkle with the flour and mix well with a wooden spoon, allowing it to cook until flour is well absorbed by the mixture. About 4 minutes.

Next, add the pearl onions, wine and beef broth so that the meat is just covered. Add the tomato paste and herbs. Bring mixture to a simmer.

Cover the dutch oven and put it on the lowest rack of the oven. Simmer mixture in the oven. After about 20 minutes check to make sure that your mixture is just simmering. If it is boiling, then turn the oven down to 325/300. Your total time in the oven will be 2-3 hours or until your meat is very tender.

After done cooking, let the pan rest on stovetop while you prepare the mushrooms.

Add butter to a frypan over medium-high heat. When butter is just melted, add the mushrooms and stir continually until cooked down and browned. Add the remaining 2 cloves of garlic and cook one more minute. Season with salt and pepper.

Remove cover from Dutch oven and find herb bouquet and remove from the mixture. Skim off any fat that might be on the top. Add the mushrooms to the beef mixture. If the sauce is too thin, cook on stove top for 10 minutes or until thickened.

Salt and pepper to taste, serve immediately over mashed potatoes, rice or egg noodles. Garnish with parsley
Yum
This perfectly pairs with a slice (or two) of sourdough bread. Learn how to make it HERE
I'm so excited to add comfort foods to my meal planning. If you're not a meal planner, you might want to give it a try. If you are wondering how I meal plan? You can read about it HERE.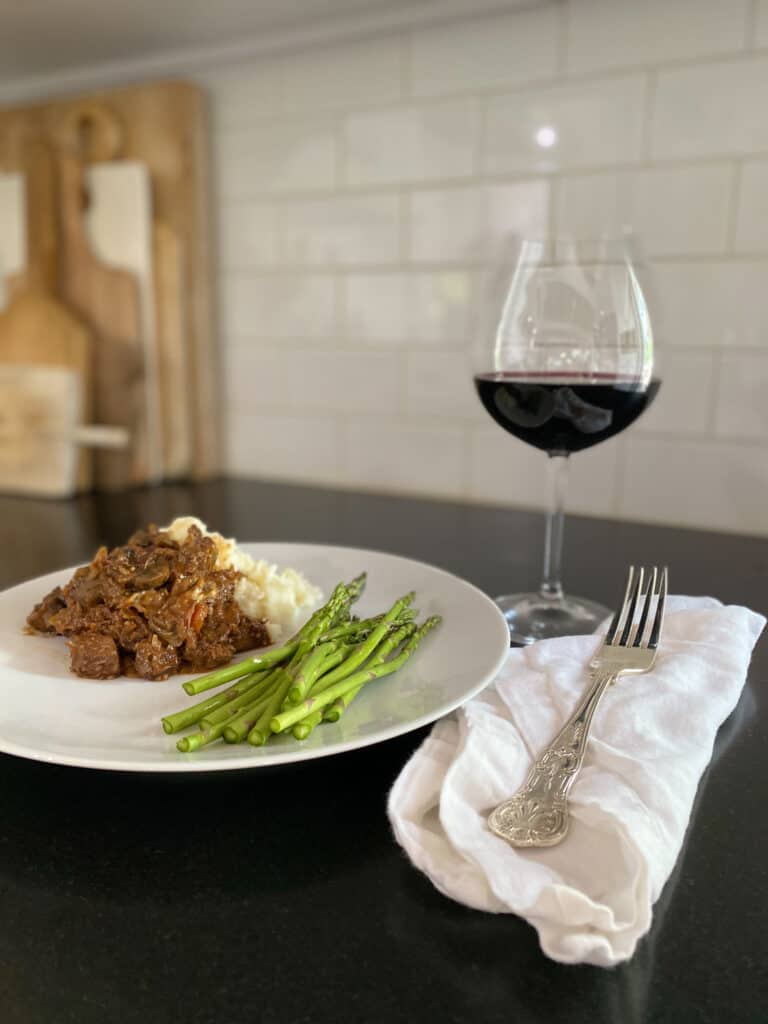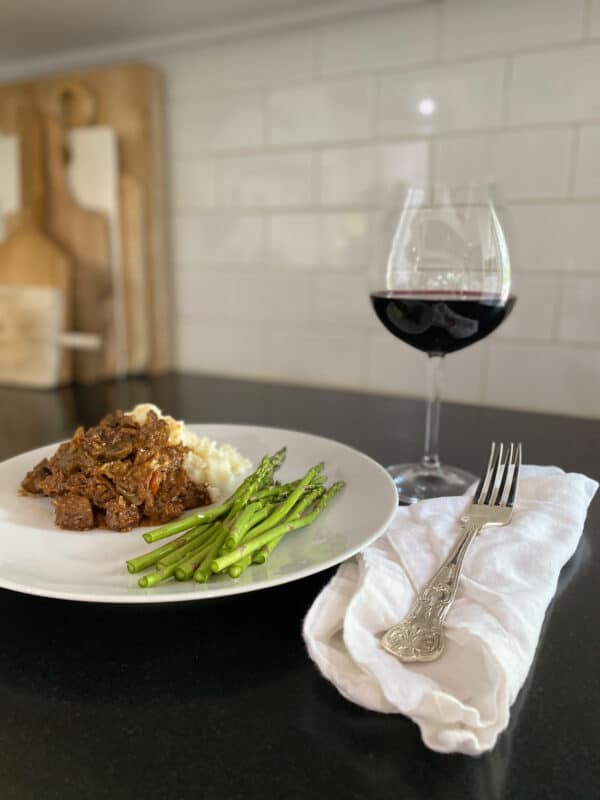 If you sign up to become a friend of Living Large in A Small House, you will have access to all of my FREE Reproducibles, which now include my Fall meal planning calendar.
While this isn't a fast meal, it's certainly worth the wait. I hope you enjoyed my recipe that shows you how to make the best beef bourguignon.
Peace my friends,
You can find my version of Julia Child's Chicken Marsala HERE

This recipe is so good, that you'll need to save it to your favorite board! Don't forget to follow me on Pinterest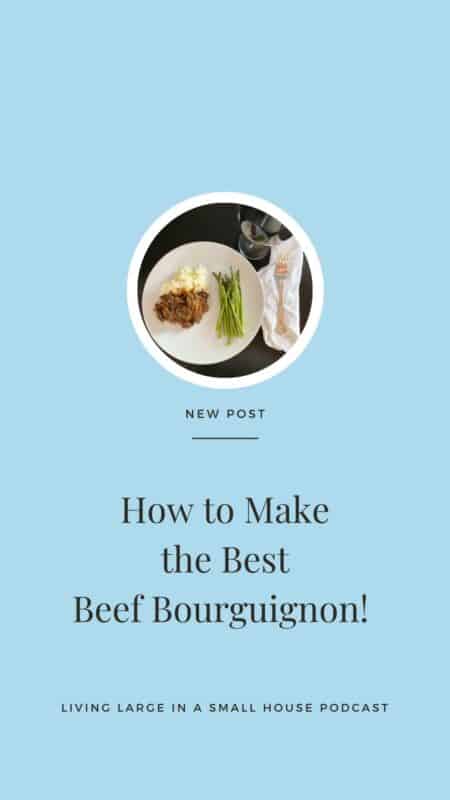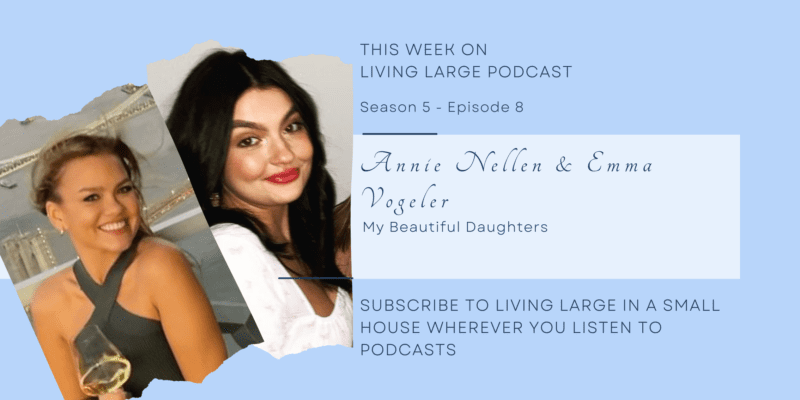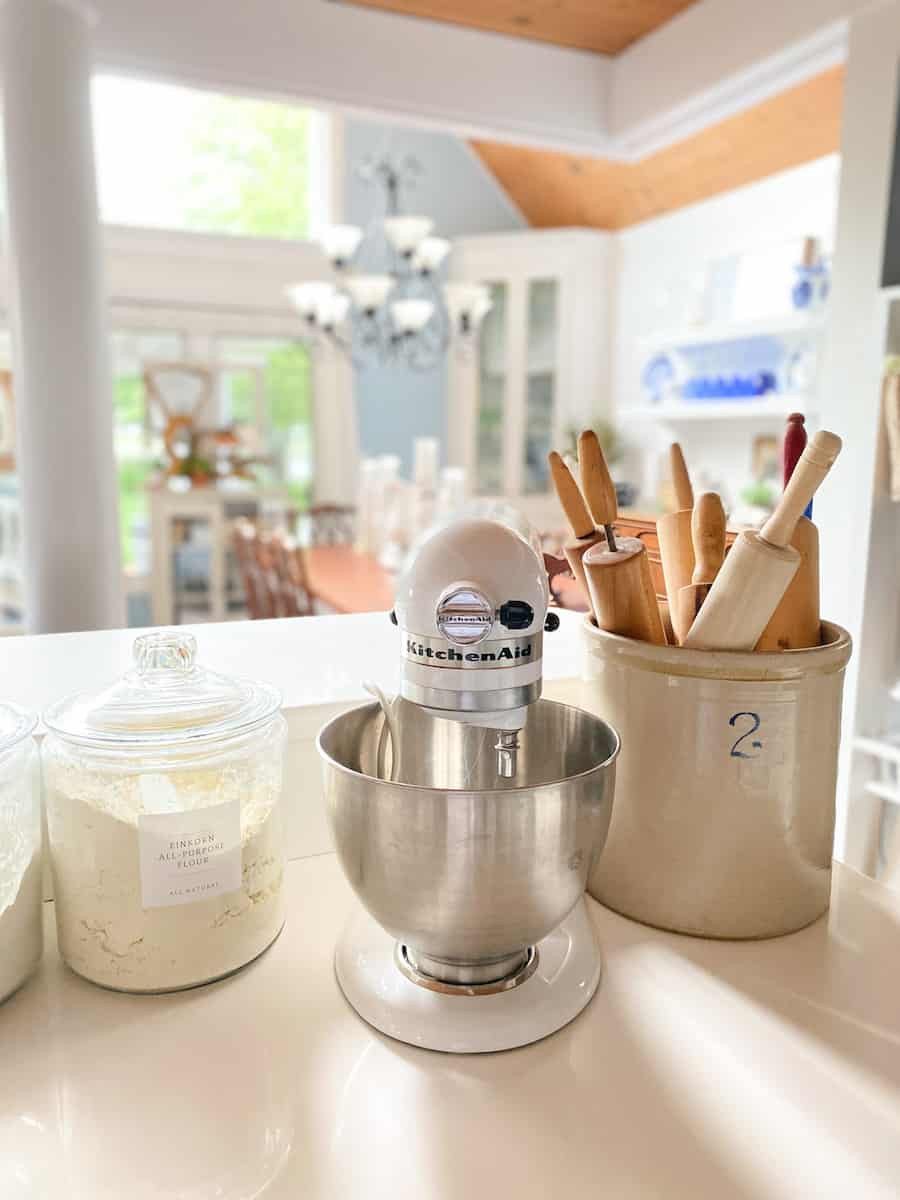 direct access to my amazon store
On Amazon
Did you know that you support my little business by purchasing through my links?? The price to you is the same but I receive a small commission on ALL the purchases you make when you shop through one of my links. I appreciate you helping Living Large in A Small House to grow!