Pasta with Burst Cherry Tomatoes Topped with Burrata Cheese
When you are cooking for a crowd pasta with burst cherry tomatoes topped with burrata cheese is perfect.
I recently made this pasta for my daughter and her friends when we were revealing the new wallpaper in their dining room. It was a big hit.
It was so good that I made it again for "Handy" the next week.
The jury is still out on how big of a fan he was but I honestly could eat it every day.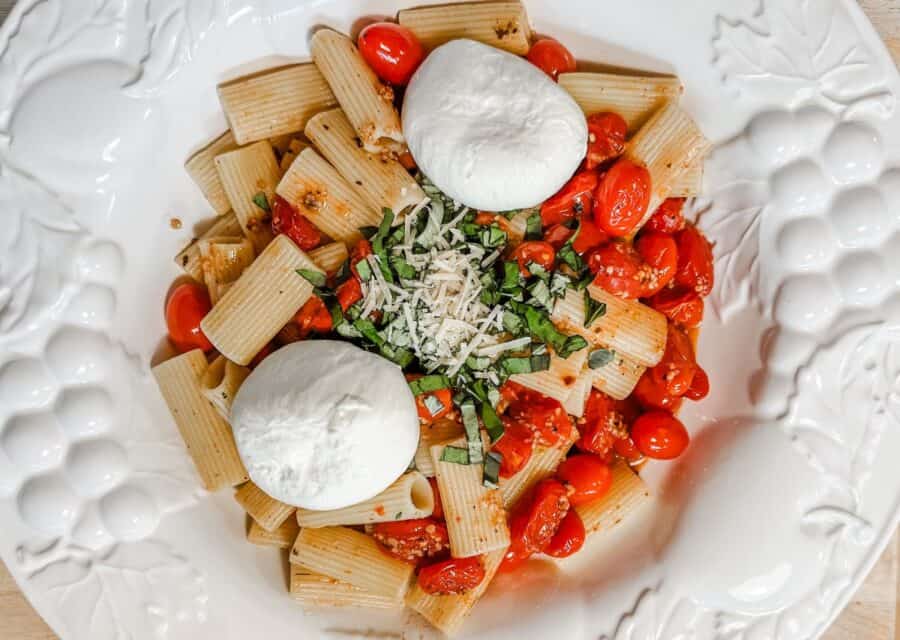 On my blog Living Large in A Small House, I may sometimes use affiliate links, which means a small commission is earned if you make a purchase via the link. The price will be the same whether you use the affiliate link or go directly to the vendor's website using a non-affiliate link. You can find my full Disclosure Policy HERE
How to Make Burst Cherry Tomato Sauce
Cherry tomatoes are the first tomatoes that I get in my garden. I have one plant and it will provide us with fresh cherry tomatoes from now until fall.
It is the time of year when I'm adding those little bright tomatoes to everything
The sauce was so easy to make. You just put some olive oil in my cast iron skillet over medium-high heat and add minced garlic, red pepper flakes, dried basil, and dried oregano. Stir it all together for about 1 minute. Then add about 2-3 cups of cherry tomatoes to the pan with the salt and pepper and turn it down to medium-low or low heat.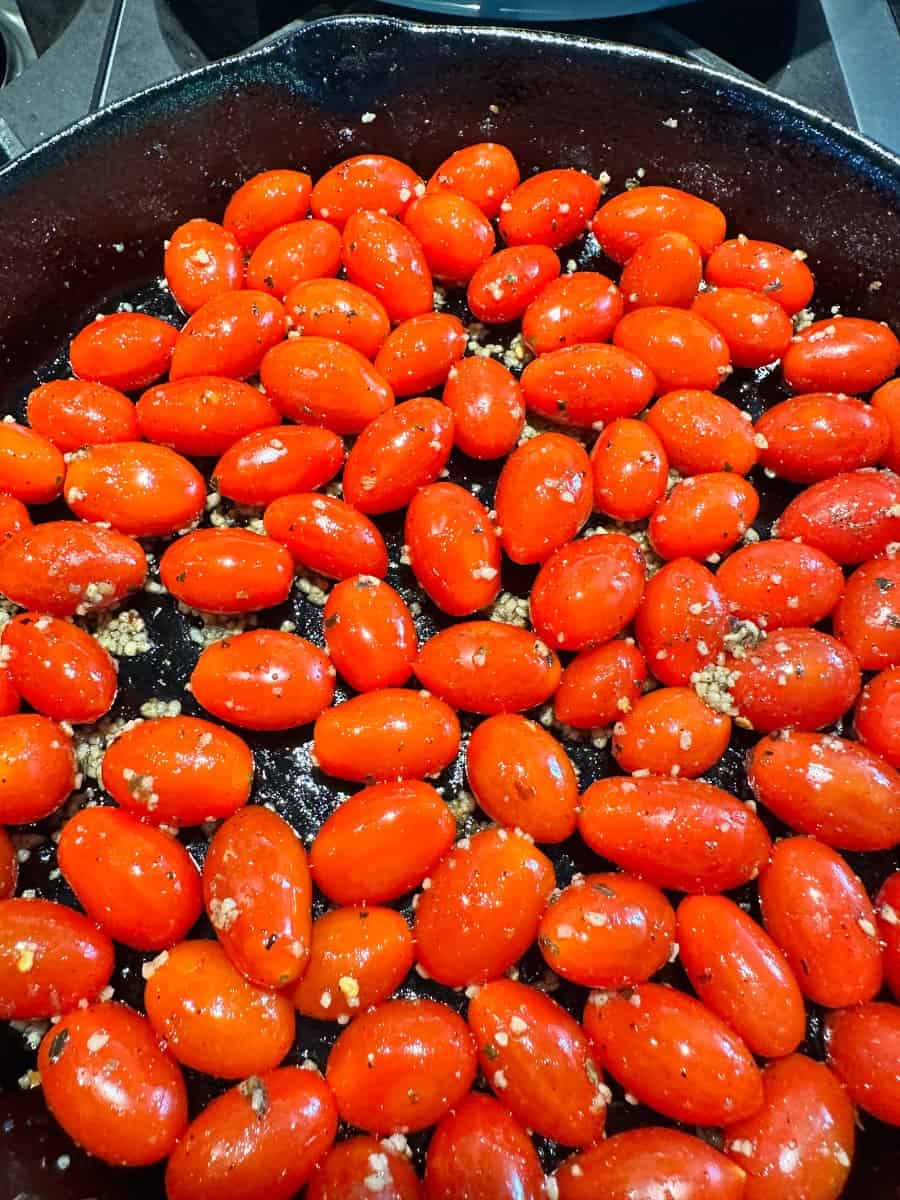 You will want to let the tomatoes cook in the large skillet for about 20 minutes until the skins burst (blistered tomatoes). Stir every few minutes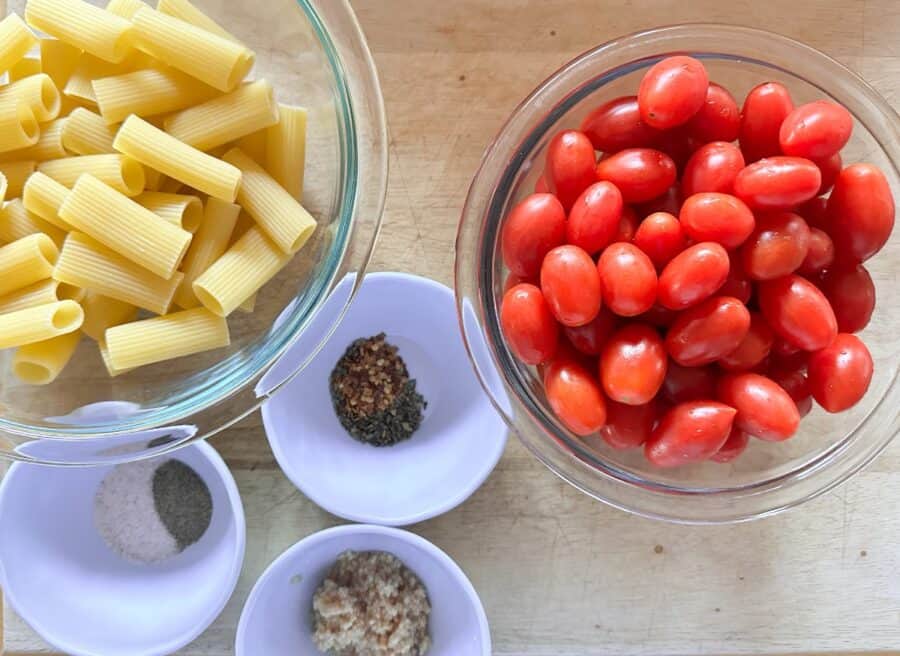 The Pasta
For this kind of recipe, I like short-shaped or tubular pasta like cavatappi, rotini, farfalle, or rigatoni. These types of kinds of pasta are great for holding a sauce.
I've found that chickpea pasta works well for this pasta if you want it to be gluten-free.
While the sauce is slowly cooking bring a large pot of salted water to a boil. I love Redmond's Real Salt but you can also use a good kosher salt. Cook the pasta according to the package directions. Some people like their pasta al dente but I like my cooked pasta to be cooked through so I always boil it for a minute or two longer than the directions.
When the pasta is done, take a cup of the pasta water out of the pot and reserve it.
Drain the pasta.
How to Chiffonade Basil
Arrange large leaves of basil, one piece on top of the other until you've made a pile. Then roll the basil into a tight tube. With a sharp knife cut the basil roll thinly.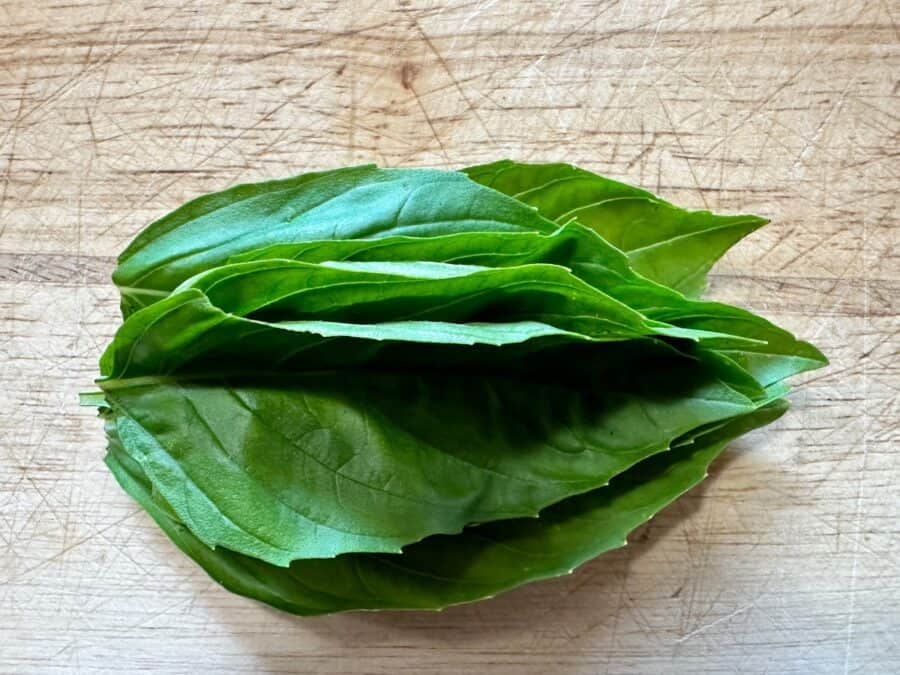 Assembling the Pasta Dish
Add the drained pasta to the roasted tomatoes and toss with a wooden spoon until well coated. At this point, if you want to have more sauce, you can add some of the reserved pasta cooking water a few tablespoons at a time until you get your desired consistency.
Take the skillet off the heat and put it into a large bowl to serve. Top the pasta with creamy burrata cheese. You can the whole ball of burrata on the top or cut it open and mix it a bit through the pasta.
If you can't find burrata cheese, fresh mozzarella cheese or ricotta cheese is also a nice compliment to this dish.
I also add fresh basil that has been chiffonade and some fresh parmesan cheese as a garnish.
This simple pasta dish is easy to make with simple ingredients and simple spices add so much flavor to the tomatoes.
This cherry tomato pasta dish will be another summer pasta that I add to my meal planning rotation.
Print Recipe
Yum
Pasta with Bursted Tomatoes Sauce and Burrata Cheese
Easy pasta recipe with a simple tomato sauce and topped with creamy burrata chees
Ingredients
1/3

cup

good quality olive oil

2

tbsp

minced garlic

1

tsp

dried basil

1

tsp

dried oregano

1/2

tsp

crushed red pepper flakes

3-4

cups

cherry tomatoes

1

tsp

Redmond Real Sea Salt

1/2

tsp

black pepper

1/2

pound

short shaped or tubular pasta

8

oz

burrata cheese

1/4

cup

fresh basil, chiffonade

fresh shredded parmesan cheese
Instructions
Tomato Sauce
Heat the olive oil in a large skillet (cast iron) over medium-high heat. Add the garlic, dried basil, dried oregano, and red pepper flakes. Stir continually for 1 minute.

Add the tomatoes to the garlic/herb mixture. Turn the heat down to low heat and stir until the tomatoes are well coated with the oil and spices. Spread so they are in a single layer. The tomatoes will need to cook for about 20 minutes. Make sure to stir the tomatoes occasionally. If the tomatoes aren't starting to burst or split after 15 minutes, turn the heat up a bit.
Pasta
While the tomatoes are roasting, bring 5-6 quarts of salted water to boil and cook the pasta per package directions

Scoop 1 cup of pasta water out of the pot before you drain and set aside.
Assembling Pasta Dish
Add the pasta to the skillet and toss with wooden spoons until the pasta is well coated with the sauce.

Put pasta in to a large bowl and top with the burrata cheese, the fresh basil and some freshly shredded parmesan cheese.
Notes
You can you less crushed red pepper flakes if you don't want it to be too spicy.
I always have additional parmesan cheese to pass with dish
Nutrition
Calories:
541
kcal
|
Carbohydrates:
49
g
|
Protein:
19
g
|
Fat:
33
g
|
Saturated Fat:
11
g
|
Polyunsaturated Fat:
2
g
|
Monounsaturated Fat:
13
g
|
Cholesterol:
40
mg
|
Sodium:
603
mg
|
Potassium:
412
mg
|
Fiber:
3
g
|
Sugar:
4
g
|
Vitamin A:
1109
IU
|
Vitamin C:
27
mg
|
Calcium:
351
mg
|
Iron:
2
mg
Yum

Adding Protein
The reason Handy wasn't so keen on the dish was that it didn't have any meat in it. You could easily add the following: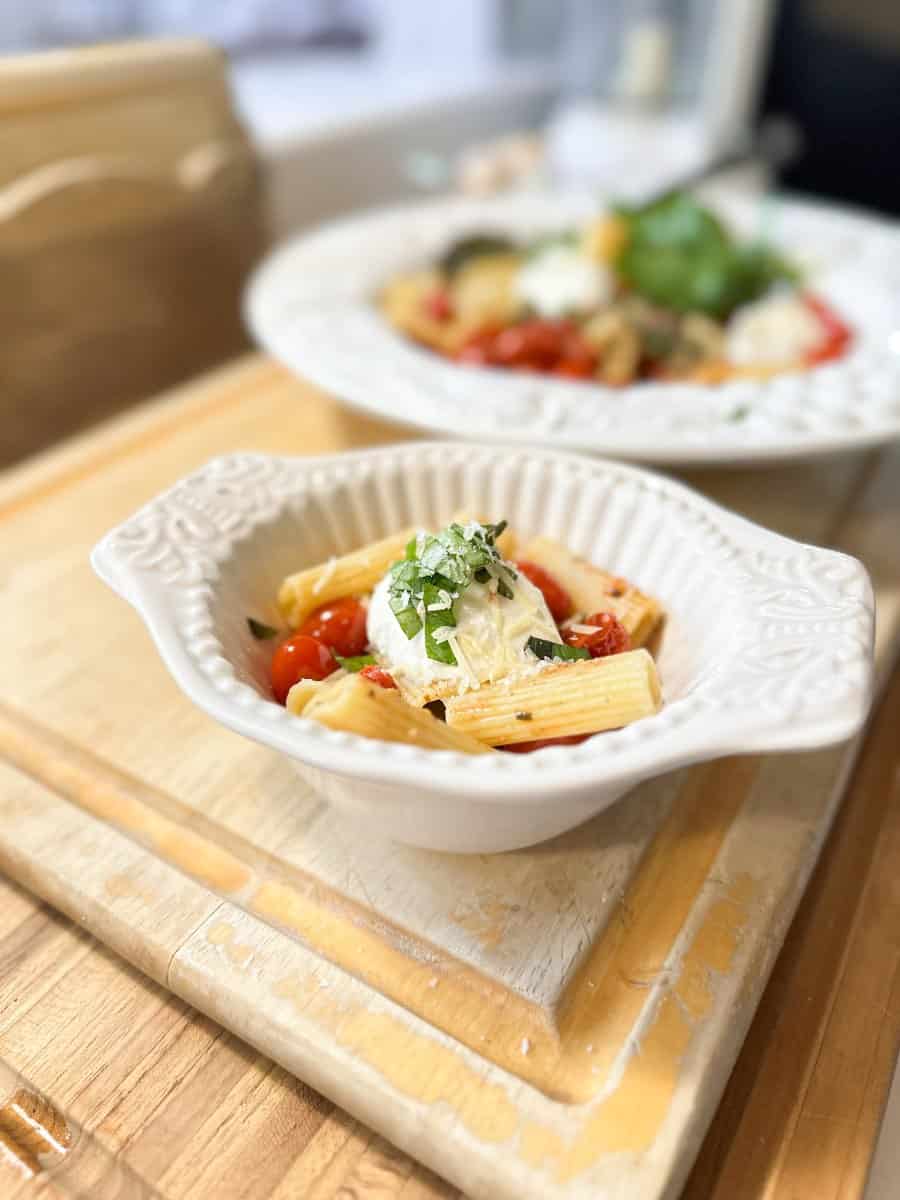 Conclusion
Serve this pasta dish with a side of garlic bread and a side salad. You've got a quick summer meal for busy weeknights.
If you have never tried burrata cheese and you enjoy cheese, you are in for a big treat.
Peace and Love,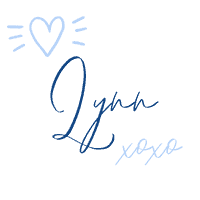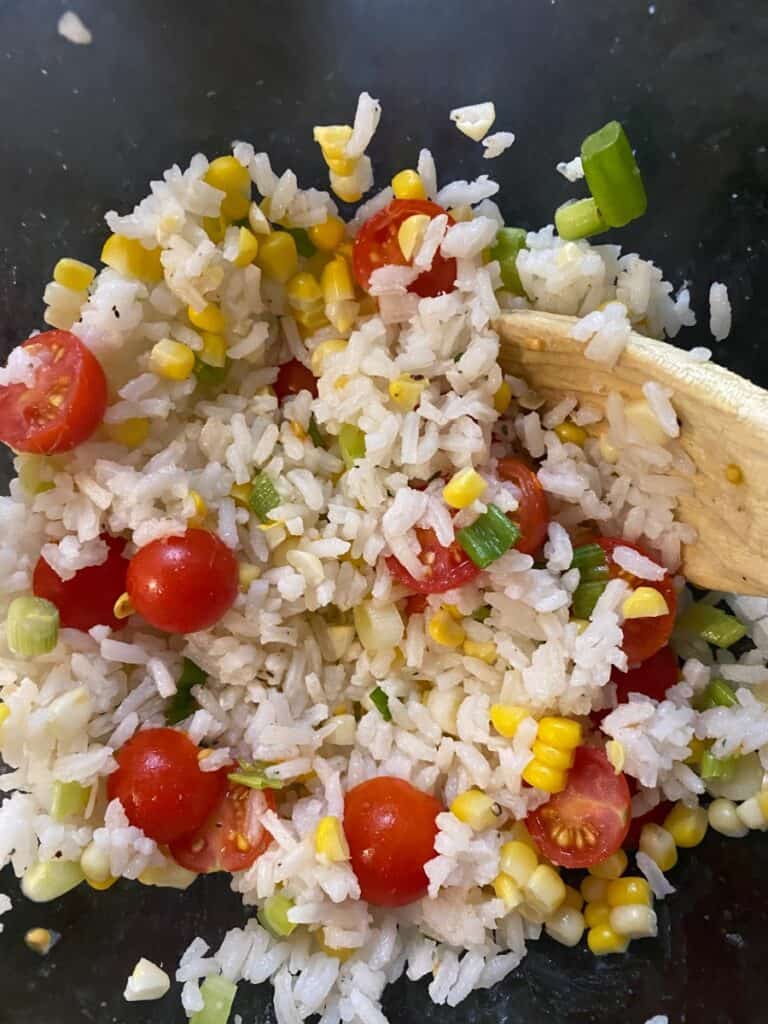 Thanks for Following Along
If you enjoyed this post I hope you sign-up to be a friend of Living Large in A Small House! Then you won't miss any of the inspiration that is shared with you each week! You can also follow me on Instagram, Facebook, and YouTube. I share even more inspiration on Pinterest! You can listen to me chat on my Podcast

A great way to save this recipe is to save it to your Pinterest boards. You can find the pin button in the top left corner of the photo below. Also, don't forget to follow me on Pinterest

Living Large Podcast
This week on my podcast I'm chatting with Katherine from Fancy Flower Girls. During Covid, she started planting flowers in her yard and it has now turned into a little business.

Are you ready to start organizing?
30-Day Cleaning & Organizing
Includes:
30 Page Guide
Tips & Tricks for Successful Organizing
Reproducible Charts, Calendars & Planners, and Worksheets