How to Make a Beautiful Birthday Tablescape
I'm going to share with you, how to make a beautiful birthday tablescape!
For me it isn't really about celebrating my birthday, it's about celebrating a wonderful meal with wonderful friends. We've invited some old friends over for my birthday and that's really all that I'm excited about.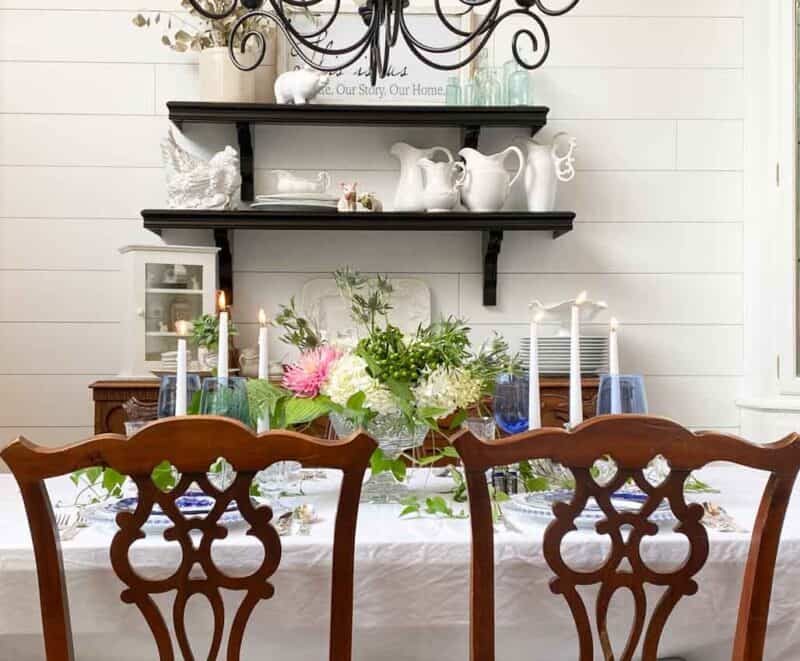 Because of Covid, we haven't seen these friends in a very long time and we are definitely missing their company.
I wanted the table to be beautiful and elegant. While I would have loved to do something outside, the heat and the bugs in late August in Illinois are crazy! It was just more comfortable inside and it gave me the flexibility to use some of my very old, very precious china.
My favorite color is blue and my friend Amy from @thevintagebreadbox turned me on to Flow Blue China a couple of years ago. I have been collecting ever since. She has a very extensive collection and she is my advisor when I find a piece, as to its value.
However, she always says "If you really love it, it's worth however much you have to pay for it". Luckily I've loved every piece I have and I have been lucky enough to get a pretty good deal on all of them.
Birthday Tablescape Flowers
I headed over to my absolute favorite place to get flowers, Trader Joe's. They get new shipments of flowers every morning and they never disappoint. At least not if I get there first thing in the morning.
For this arrangement, I just got a few filler plants as my yard is teaming with hydrangeas and dahlias. I grabbed the green hypericum (green berry plants) and the Eryngiums (blue thistle) as I knew they would add great texture and interest to my arrangement.
From home, I cut some hydrangeas, and some parsley that was going to seed and had a very interesting seed pod on top. I added in a few ferns, hosta leaves, and "Sweet Autumn" Clematis leaves to fill in the bottom.
Using a beautiful footed Waterford bowl set the stage for the elegance of the table.
Tablescape Place Settings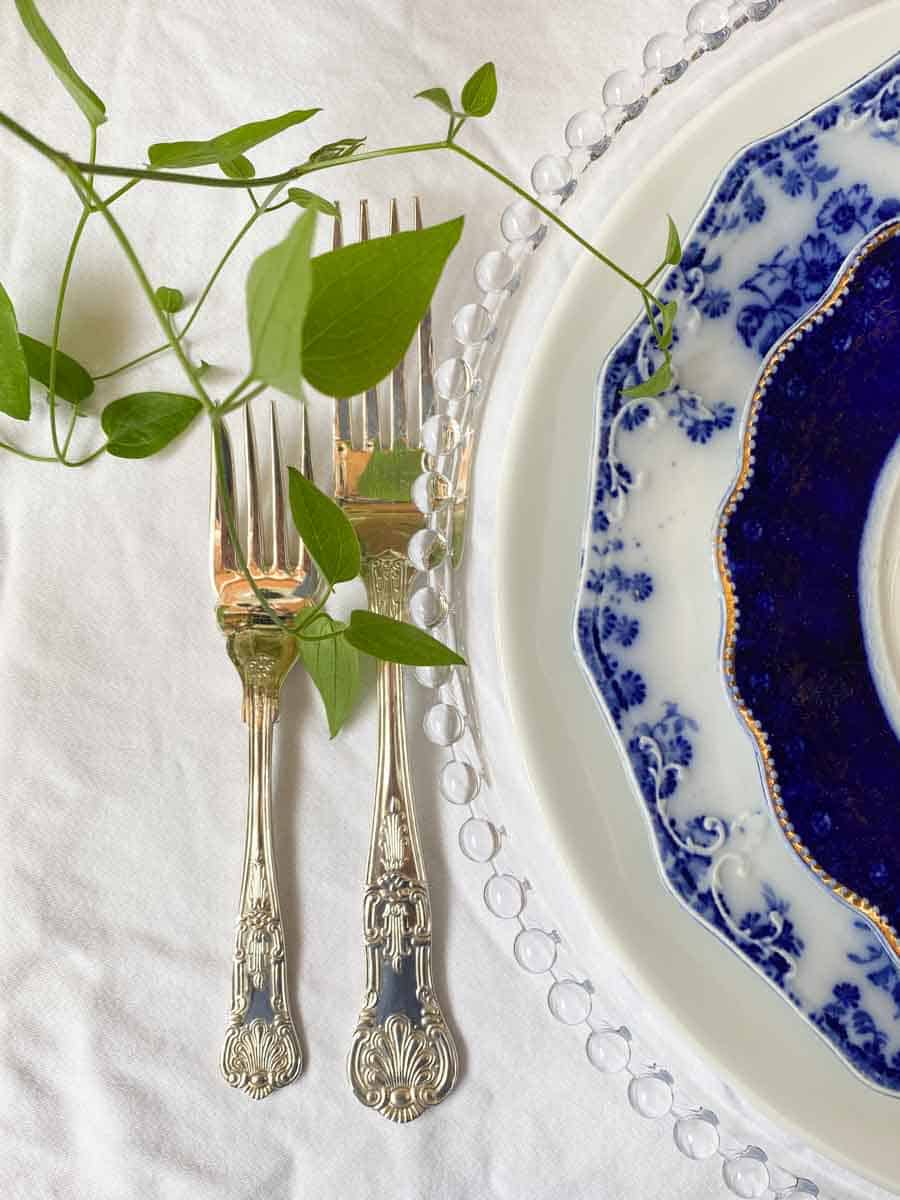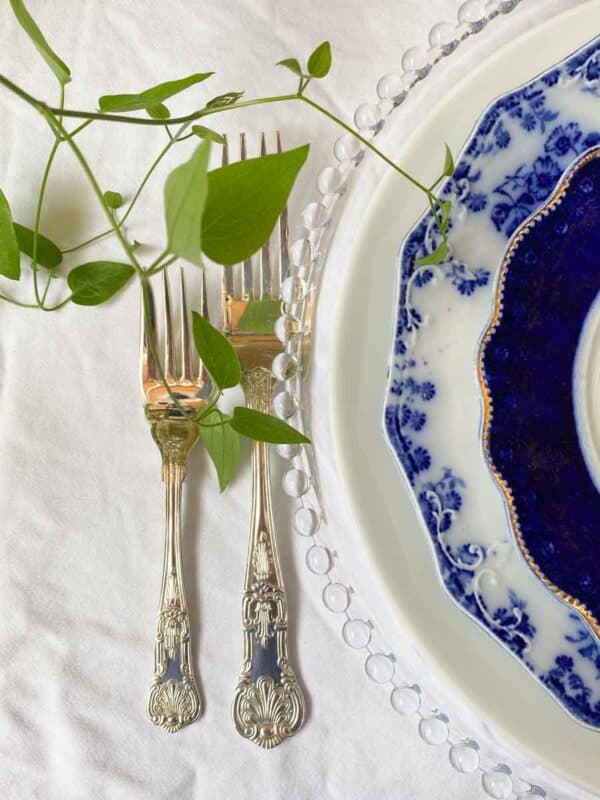 I recently purchased some hobnail chargers, specifically for this tablescape. I thought they also would add that extra sparkle to my table.
On top of the chargers are my standard white plates, then my flow blue plates. The largest that I own is only about 9″ wide so I also topped them with a salad-sized plate.
The beautiful vintage Fostoria goblets that I bought for Annie's wedding look so lovely paired with my Dollar Tree blue wine glasses. I used these for our "Big Little Lies" Finale party and also my Blue Christmas. You can see pictures of both events HERE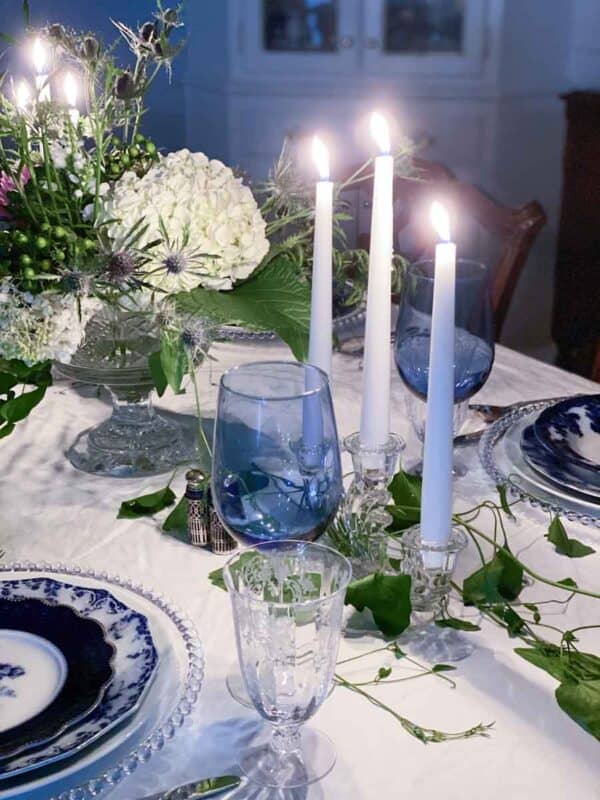 The table was beautiful and it really took on a whole different look as the sun went down. There is nothing better than Good Friends, Good Food, and Good Wine!
Cheers & Peace,