What to Make for Easter Brunch!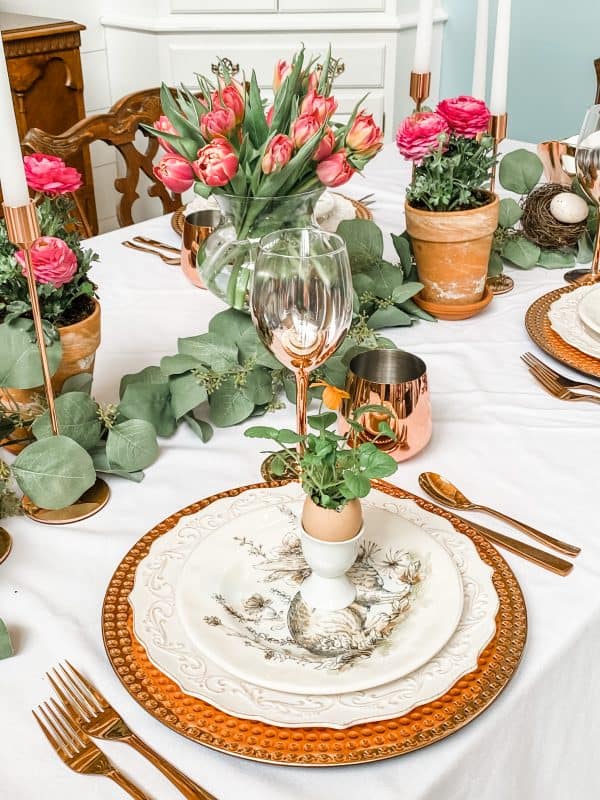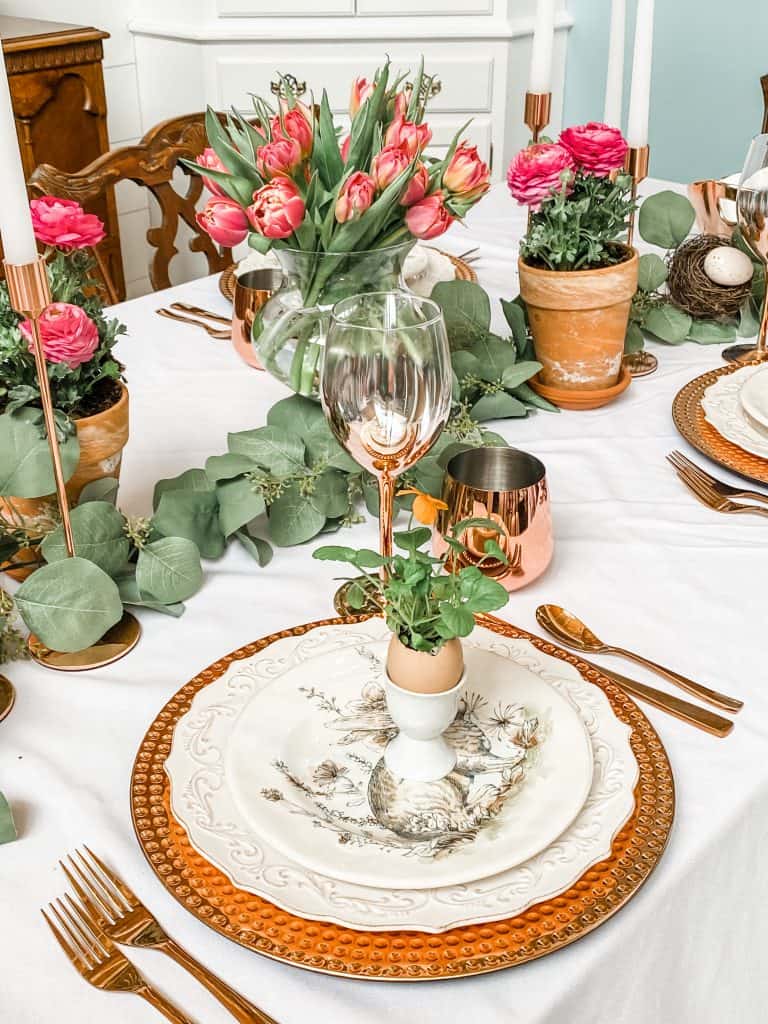 Now that my table is all set, I share with you what I've decided to make for Easter brunch. We will be having two of our three kids home for Easter and our dear friends from Wisconsin will also be joining us. We've all been lucky enough to have our vaccinations so we are finally feeling comfortable having a few guests in our house! I couldn't be more thrilled.
My friend Leslie from the blog Feet Under My Table shared a recipe for Crab Cakes. It sounded so yummy that I'm going to add that to my menu. I'm also going to have fresh fruit salad some Lemon Poppy Seed Muffins and I'll put together an egg bake for "Handy" as he's a creature of habit and doesn't like to venture out of his comfort zone for much of anything, including food.
Crab Cakes with Remoulade Sauce
Ingredients
Crab Cakes
1

lb

Imitation crab meat

1

egg

beaten

1-1/4

cups

panko bread crumbs

2

green onions

thinly sliced

3/4

cup

mayonaise

1/2

tsp

old bay seasoning

1/4

tsp

dry mustard

1/4

tsp

salt

1/4

tsp

pepper

1/4

tsp

dill weed
Remoulade Sauce
1/4

cup

mayonnaise

1/4

cup

ketchup

1

tblsp

horseradish

1

tblsp

dijon mustard
Instructions
Finely chop the imitation crab (I put it in my food processor and pulsed it until finely chopped)

Combine remaining ingredients, adding mayonnaise last and only enough to stick it together. You may need a litte more or less than measured amount

Pat together into 6 individual cakes

Place onto baking sheet that has been lined with parchment paper or foil.

Cook in oven for 25 minutes or until slightly browned. Being careful not to let them over bake as then they will become dry.
Make Sauce while cakes are baking
Mix all four ingredients together and set aside.
Notes
You can make the cakes smaller if serving as an appetizer. 
Lemon Poppy Seed Muffins
Equipment
muffin tin

muffin paper cups
Ingredients
For Muffins
3

cups

all-purpose flour

1

cup

sugar

2

tbsp

poppy seeds

1

tbsp

baking powder

1/2

tsp

baking soda

1/2

tsp

salt

1-1/2

cup

plain whole milk yogurt

2

tbsp

fresh squeezed lemon juice

1-1/2

tbsp

grated lemon zest

2

large

eggs

8

tbsp

unsalted butter, melted and cooled
For the Glaze
1/4

cup

sugar

1/4

cup

lemon juice

course sugar for sprinkling
Instructions
Adjust oven rack to middle position and pre-heat oven to 375°

Place muffin cups into the muffin pan

Whisk all dry ingredients together and set aside

In a separate bowl, whisk the yogurt, lemon juice, lemon zest and eggs until smooth

Gently fold the yogurt mixture into the dry ingredients until just combined. Fold in the melted butter. Do not overmix as that can make the muffins dense.

Using an ice cream scoop, divide the mixture evenly into the muffin cups.

Bake in oven for 20-25 minutes or until they are golden brown and a toothpick in the center comes out clean. Rotate the muffins pan 1/2 way through the baking process.
Glaze
While the muffins are baking, stir the lemon juice and sugar together in a small saucepan. Stirring until it makes a light syrup. About 3-5 minutes.

Remove baked muffins from the oven and brush the top with lemon syrup and sprinkle with coarse sugar. Let them cool for about 10 minutes before you serve.
Quick Egg Bake
Ingredients
8

pieces

bacon

1

tblsp

butter

1

tblsp

grapeseed oil

6-8

eggs

1

cup

half & half or heavy cream

1/4

tsp

salt

1/4

tsp

pepper

dash of grated nutmeg

dash of cayenne pepper

2

green onions

Finely sliced

1

cup

Guyere Cheese

I used a guyere/swiss mix

1

tbsp

fresh chives

for garnish
Instructions
Cook bacon until crispy, crumble and set aside

Put oil and butter in cast iron skillet and heat on medium heat

Whisk eggs and then add cream and whish together with spices, set aside

Put sliced green onions into melted, hot butter and stir while cooking for 1 minute

Add egg mixture to hot skillet

Add cheese and cooked bacon to egg mixture in pan and stir together

Turn heat down a bit and let cook for about 4-5 minutes. Working your way around the skillet, pull the egg from the side, letting the liquid egg mixture move to the sides. Do this twice.

Put cast iron skillet into the oven and let cook until the mixture is cooked through, about 20 – 25 minutes.

Let sit for about 3 minutes and then cut into pie shaped pieces and serve. Garnish with chives
Notes
You can add other veggies to this recipe.  I have added cherry tomatoes cut in half, spinach, asparagus, and broccoli. All of this would go into the skillet with the onions so that it can cook a bit before you cover it with egg mixture. I will cook a little longer until spinach is wilted and other vegetables are a bit more cooked if I'm adding more than green onions. 
I mixed together some fresh berries and green grapes for a healthy, refreshing fruit side dish. If you wanted to make your meal a bit more substantial, you could also bake a ham which is so traditional for Easter. I'm planning to keep it simple so that I won't have a lot to do that day while we entertain. I wrote about keeping entertaining simple a few months back and so I'm taking my own advice. See my post HERE.
So there you have it! An easy menu of what to make for Easter Brunch.
I can't wait to share this day with family and friends. I hope all of you are excited about Easter as I am.
Peace and Blessing,