How to Make a Beautiful Easter Tablescape on a Budget
I love beautiful tablescapes and I'm going to show you how to make a beautiful Easter tablescape on a budget.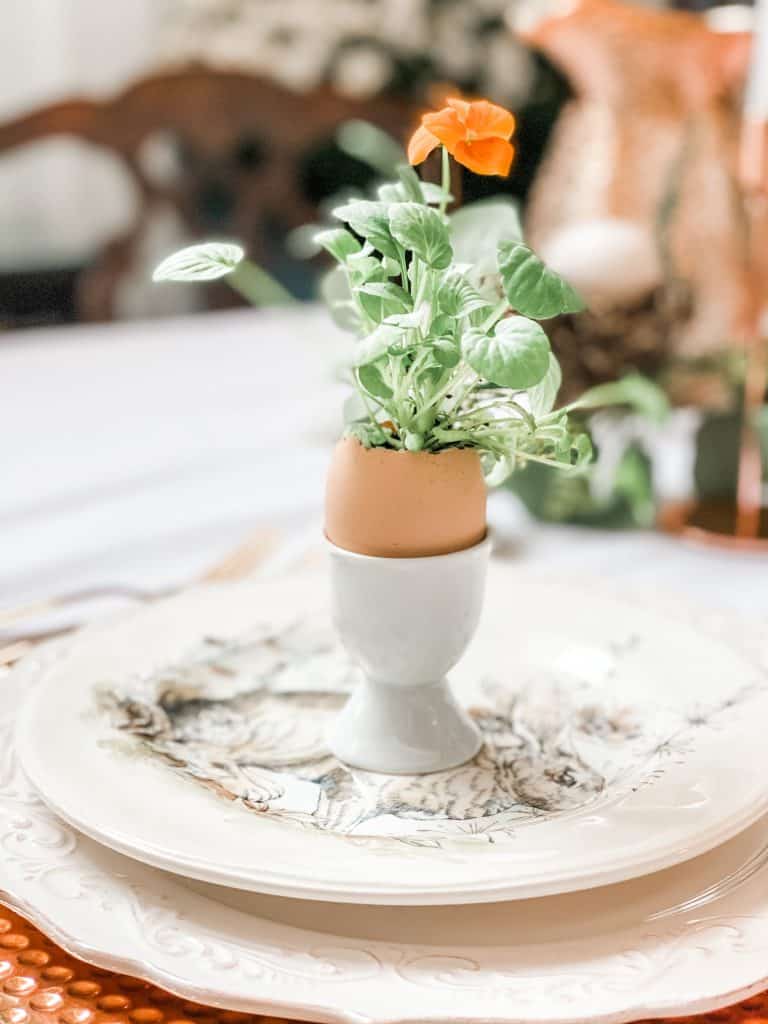 On my blog Living Large in A Small House, I may sometimes use affiliate links, which means a small commission is earned if you make a purchase via the link. The price will be the same whether you use the affiliate link or go directly to the vendor's website using a non-affiliate link. You can find my full Disclosure Policy HERE
How to Make a Beautiful Easter Tablescape
The first layer of a pretty easter tablescape is a tablecloth. I purchase my tablecloths on Amazon. They are extremely inexpensive.
They look really nice however, if they get a stain or candle wax on them, I don't feel like I'm breaking the bank to replace them. In fact, I always keep a second tablecloth on hand.
I chose to use white tablecloths but you can also find them in many different colors.
While I gravitate to more natural easter decorations, I also find joy in the pastel colors of spring and easter.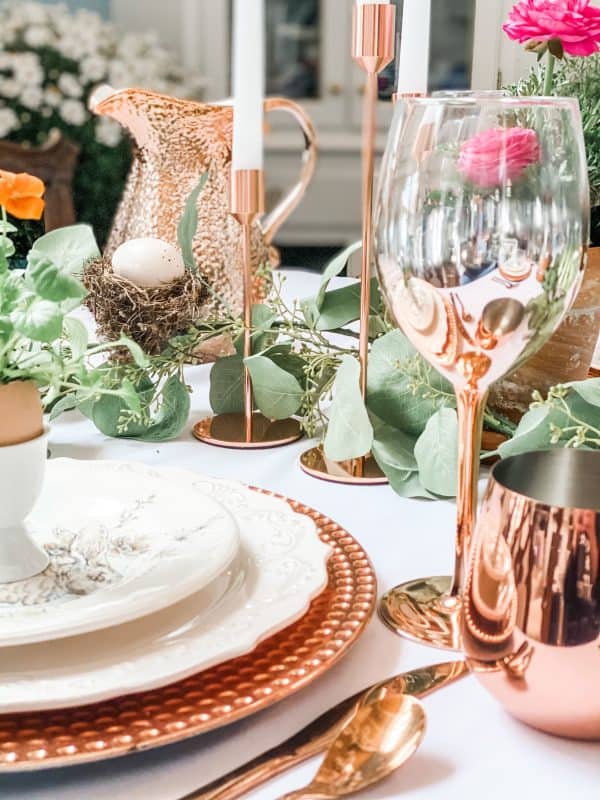 Place Settings
To start my place setting, I use a beautiful rose gold charger that I got from Dollar Tree. Order your's today for quick delivery to your closest Dollar Tree location.
I then place a white plate on top of that. I love using white plates as my base because then I can easily switch out the salad plate for any occasion. Last year for Easter, I used a plate that I got from Pier 1 several years ago.
If you don't have something like this in stock, you can easily make a great plate using Mod Podge and Dollar Tree glass plates.
You can see the plates that I've made before HERE.
For cute napkin rings, you can roll up a napkin and then fold it in half and tie it with simple twine. What cute little rabbit ears these make. You can place faux eggs in the opening and set them on your plate.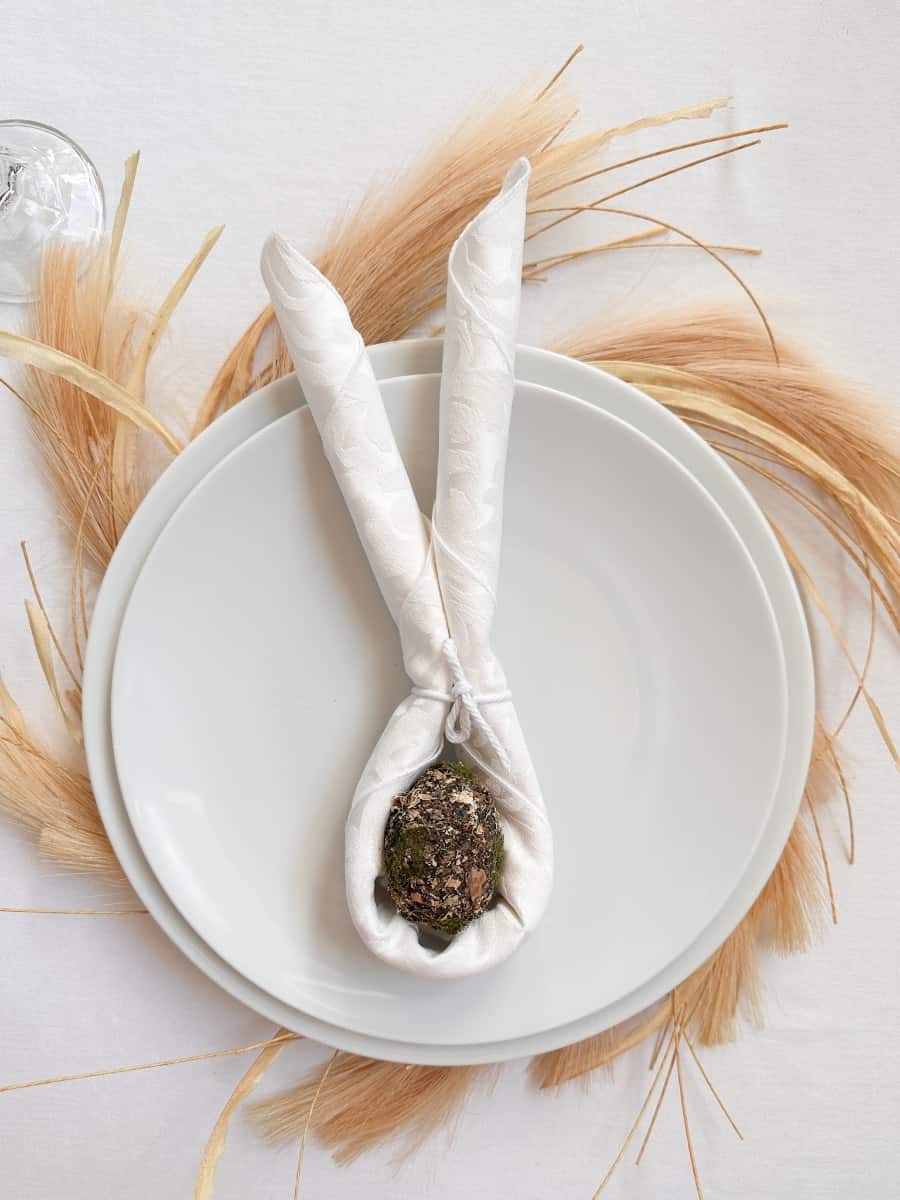 The Easter Centerpiece

Then I used my faux eucalyptus garland down the center of my table and put my Trader Joe's or grocery store flowers in glass vases.
Again, these vases are available for $1.25 at Dollar Tree. If you don't have a Dollar Tree you probably have another local dollar store. You can also find loads of vases at Goodwill or a thrift store. Another great way to display fresh flowers is to use a mason jar.
I popped some spring flowers from our local nursery into some old terra cotta pots and made the cutest little pansy holders with eggshells from our chickens and some ceramic egg cups that I got a few years back at World Market for $1.
You could also place little place cards on each egg cup plant holder so your guests will know where to sit.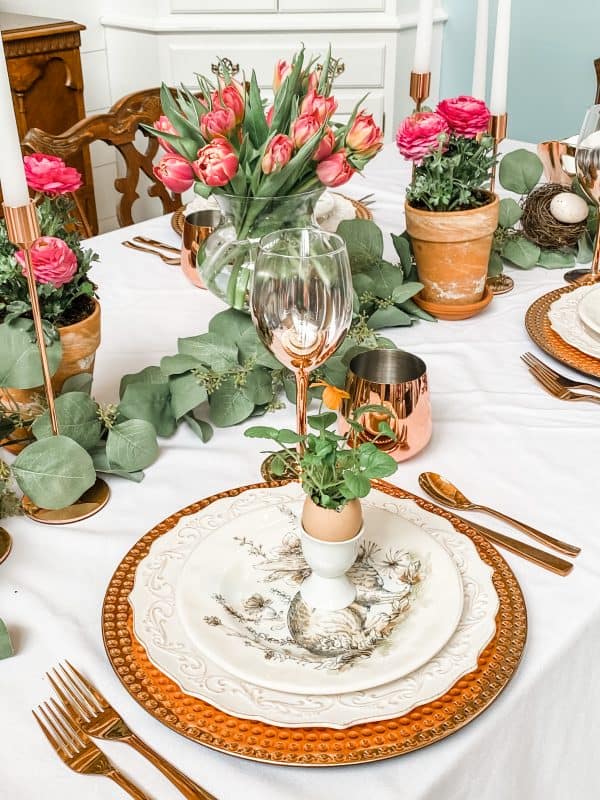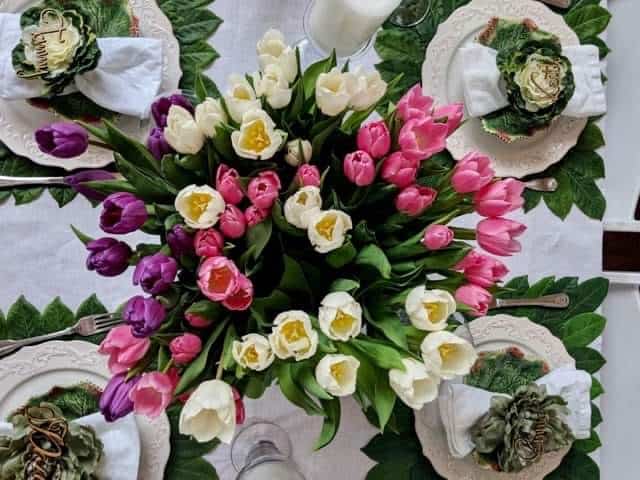 This year's Easter Plans
As I mentioned earlier I'm drawn to more natural elements so I have a few DIY projects planned.
I want to make a Spanish moss table runner for my dining room table that I can layer with my ceramic bunnies and some fresh flowers in a natural color scheme with just a little pop of color. I will use some inexpensive brown kraft paper that I always have on hand as the base for my moss runner.
I'm picturing the end result will look much like my whimsical mantelscape. It's one of my favorite easter ideas. You can find the video of it HERE. Everything I used was gathered from my greenhouse and/or was already part of my spring/easter decorations.
It reminds me of a garden party.
I'm also planning to try dying my eggs with natural dyes. My friend Wendy from WM Design House dyed eggs with blueberries and they turned out so pretty. There are so many easy DIYs for spring and easter available to make a festive easter tablescape.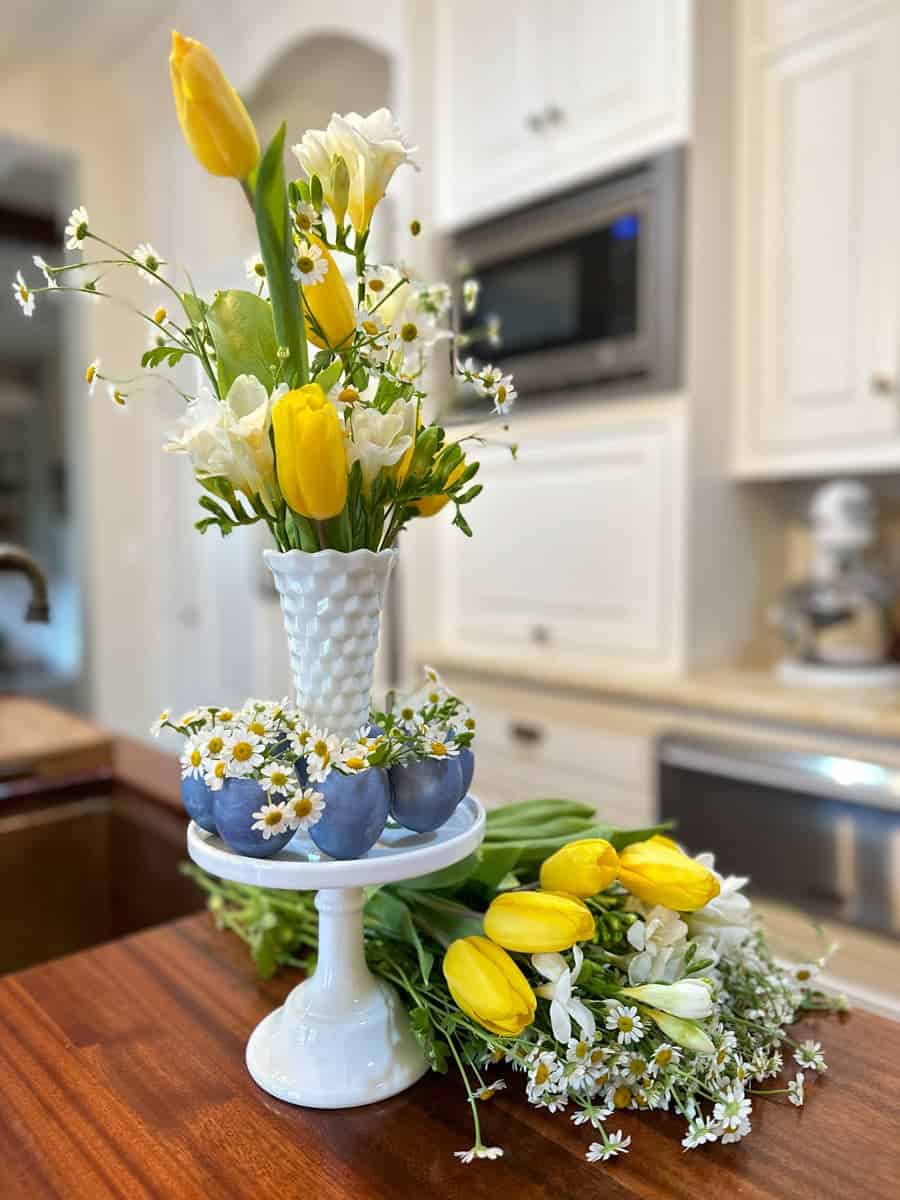 I will share more at the bottom of this post.
Only one of my kids will be home for Easter this year. Hence I'm keeping my easter decorating simple and more spring decor.
Planning Ahead
As always, if I plan ahead of time for holiday events, I can do them on a small budget, have a great time and enjoy my day. I share my tips for Stress-Free Entertaining in my entertaining series.
If you are a friend of Living Large in A Small House, you can have access to my FREE printables. In my FREE Resource Library, you will find the cutest place cards that I've created for spring. You will also find my To-Do List Printable and my Grocery Shopping List.
I can't wait to share with you my Easter brunch menu ideas and recipes for our easter gathering in my Saturday post!
Peace and Love,
Some More Great Easter Ideas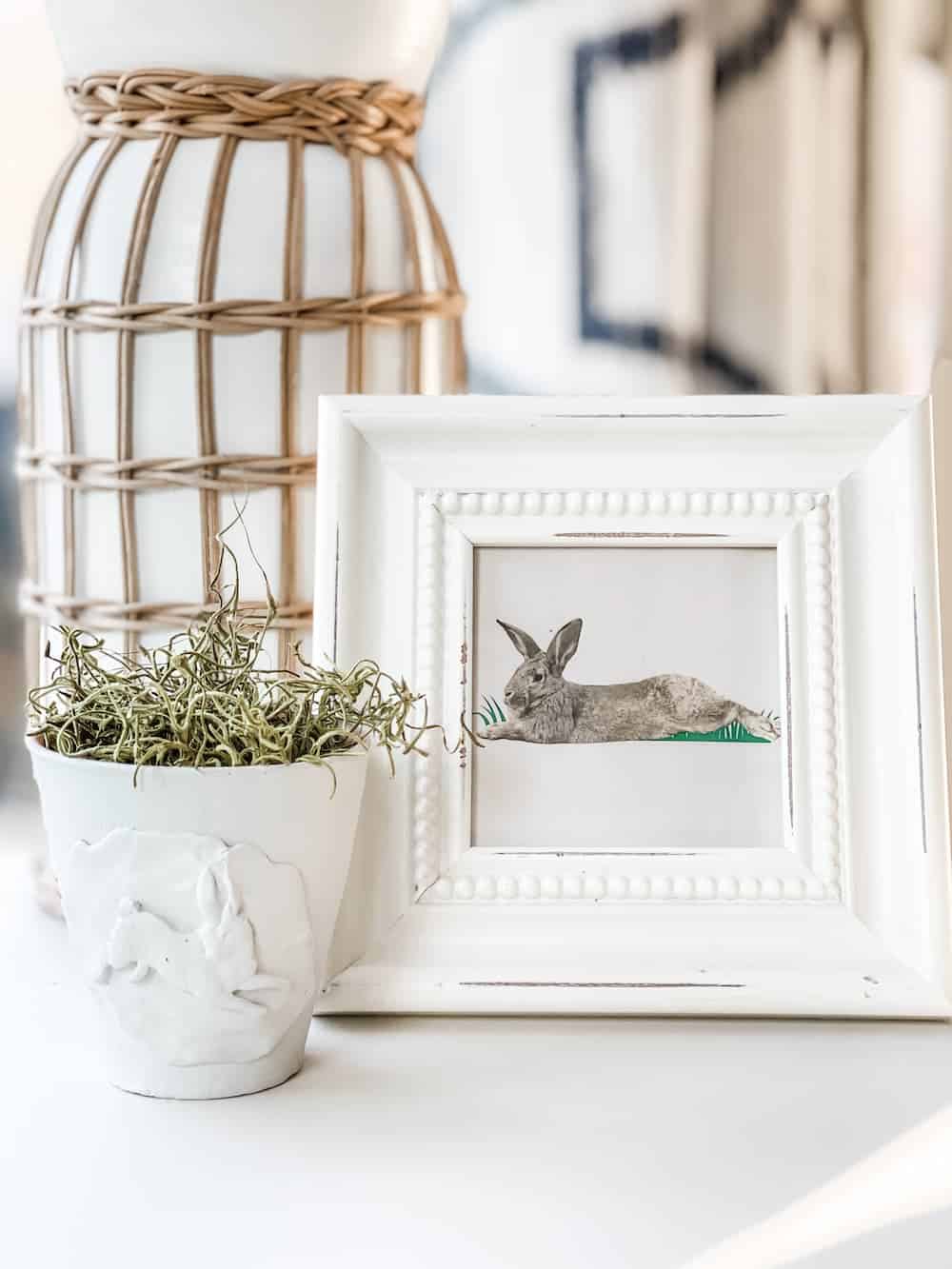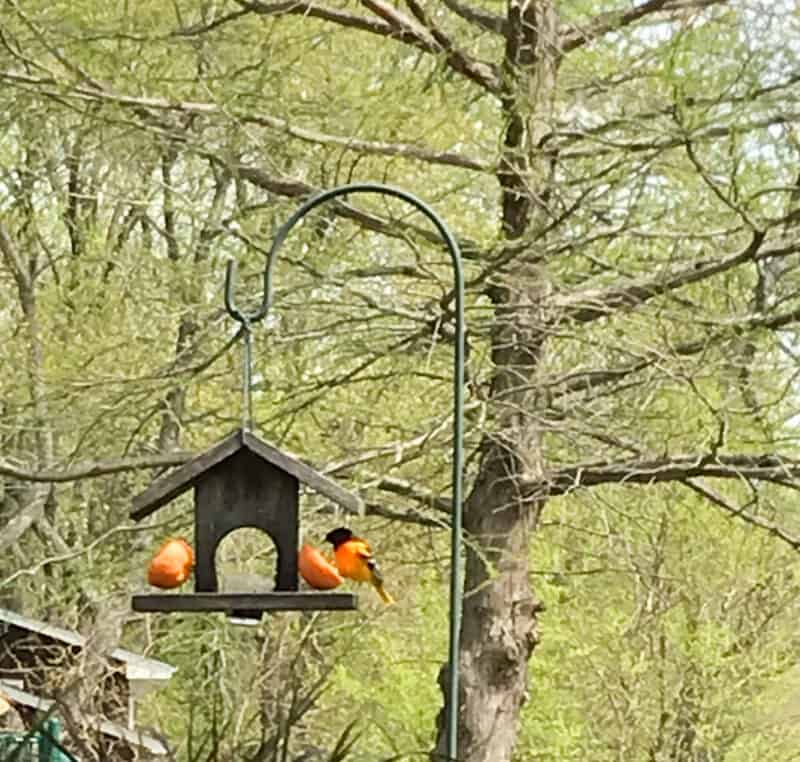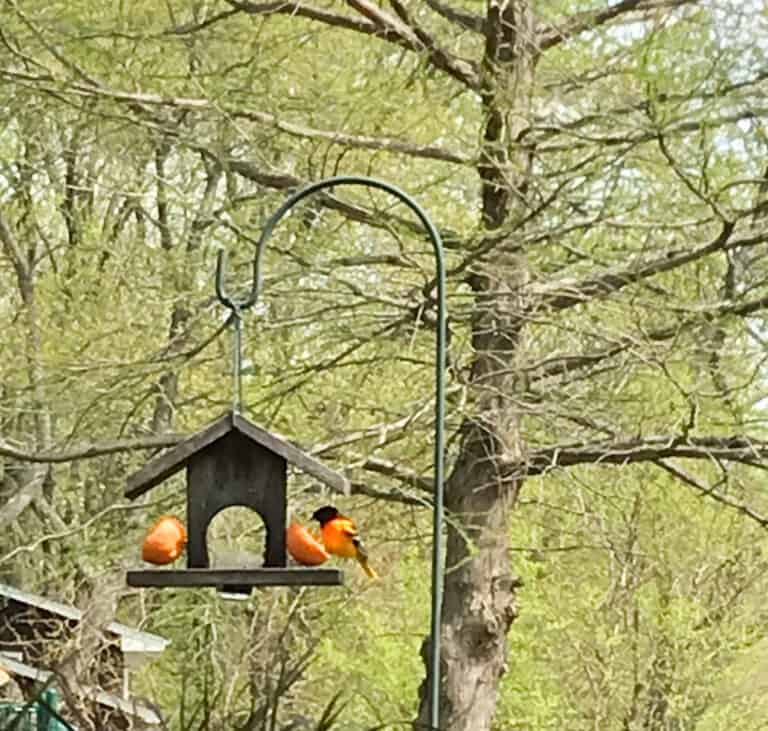 Thanks for Following Along
If you enjoyed this post I hope you sign-up to be a friend of Living Large in A Small House! Then you won't miss any of the inspiration that is shared with you each week! You can also follow me on Instagram, Facebook, and YouTube. I share even more inspiration on Pinterest! You can listen to me chat on my Podcast

A great way to remember this article is to save it on one of your Pinterest boards. You can find the pin button in the top right corner of the photo below. Also, don't forget to follow me on Pinterest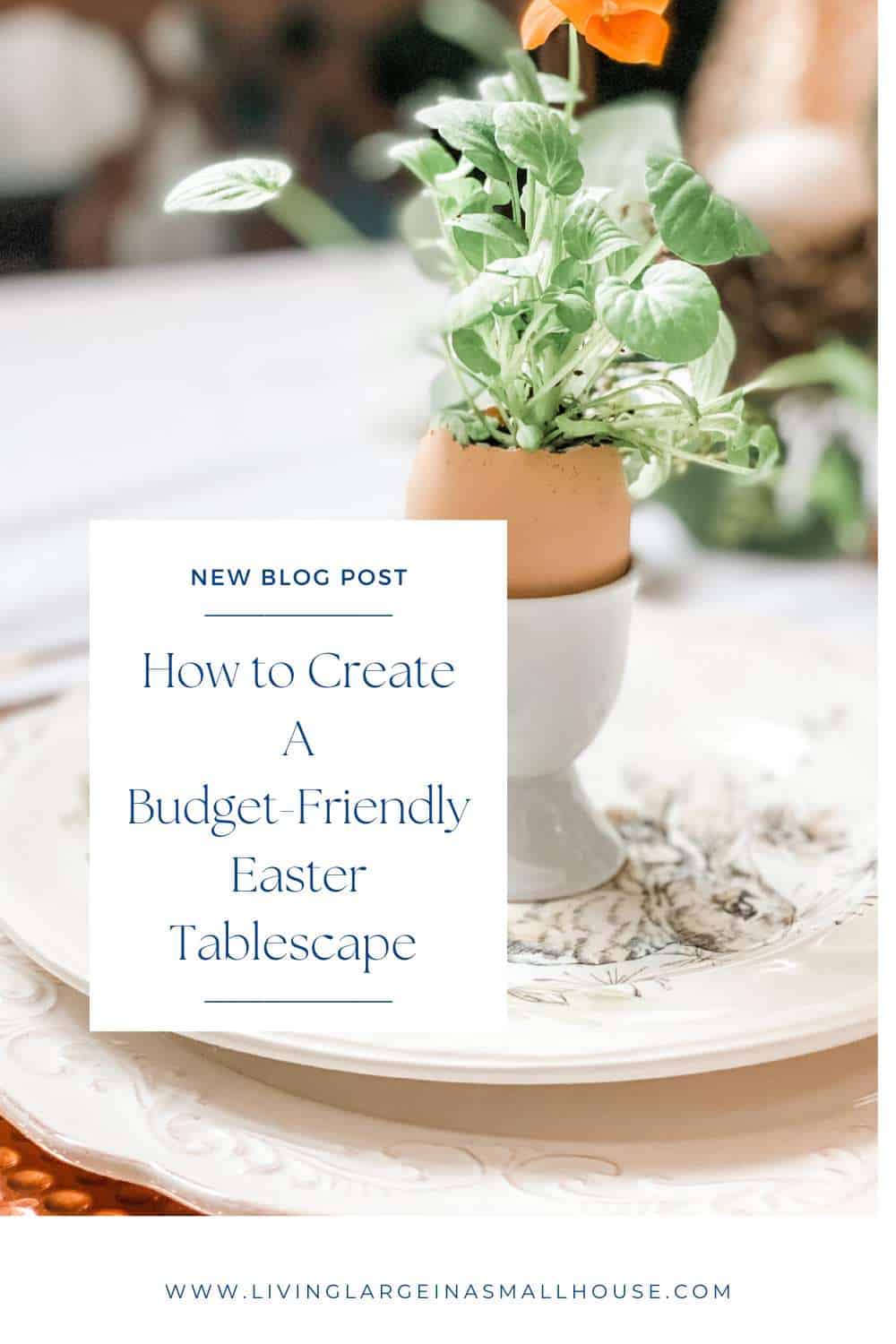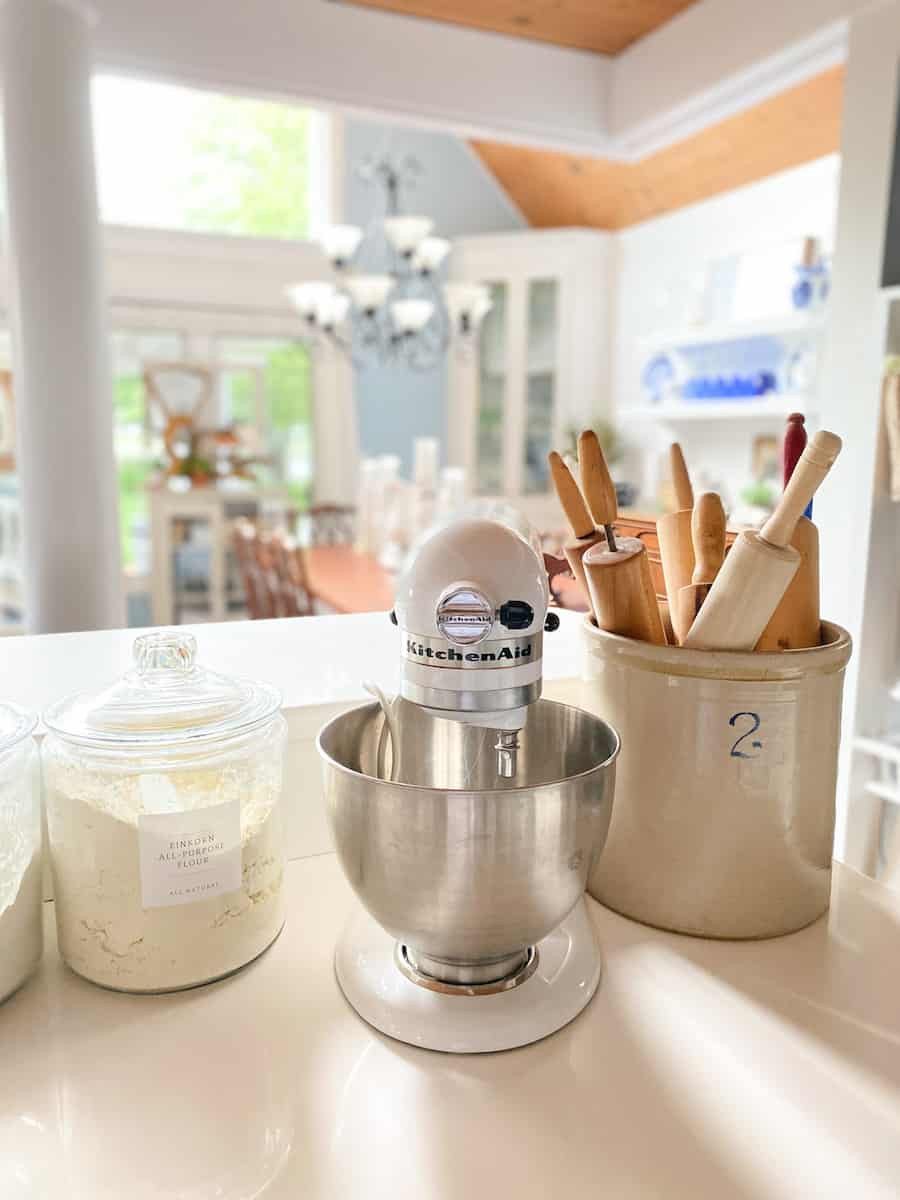 direct access to my amazon store
On Amazon
Did you know that you support my little business by purchasing through my links?? The price to you is the same but I receive a small commission on ALL the purchases you make when you shop through one of my links. I appreciate you helping Living Large in A Small House to grow!