Making a Spring Fresh Flower Arrangement
Making a spring fresh flower arrangement is quite easy.
I'm going to show you some of my easy tips for floral arrangements.
On my blog Living Large in A Small House, I may sometimes use affiliate links, which means a small commission is earned if you make a purchase via the link. The price will be the same whether you use the affiliate link or go directly to the vendor's website using a non-affiliate link. You can find my full Disclosure Policy HERE
Where to Get Fresh Flowers
I get all of my flowers either from Trader Joe's or my local grocery store. Right now both are well stocked with spring flowers.
Because we are lucky enough to have Trader Joe's that is my first stop as they tend to have the best fresh flowers at the most reasonable prices.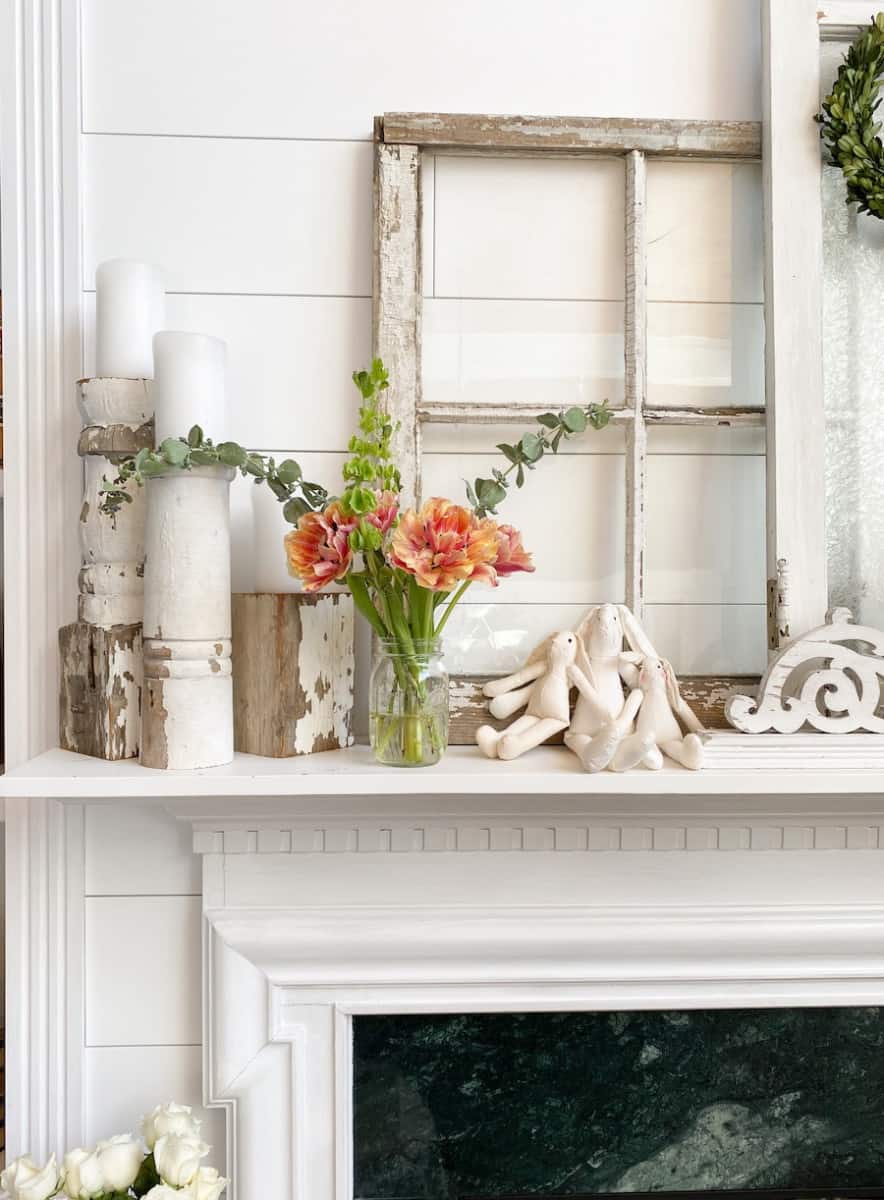 My Favorite Spring Fresh Flowers
Tulips and Daffodils are my spring go-to flowers and you don't need to know how to arrange flowers to create a great spring arrangement with them. They are great flowers that stand alone in a vase.
When I'm making a fresh spring arrangement I will typically choose seasonal flowers. Those include ranunculus, peonies, (my two favorite flowers, if I can find them), or calla lilies as my showy flowers. Then I will add spray roses, queen Anne's lace, lisianthus, tulips, and freesia as filler flowers. If you can get it in your area, lilacs, primrose, hyacinth, and azaleas are also beautiful blooms.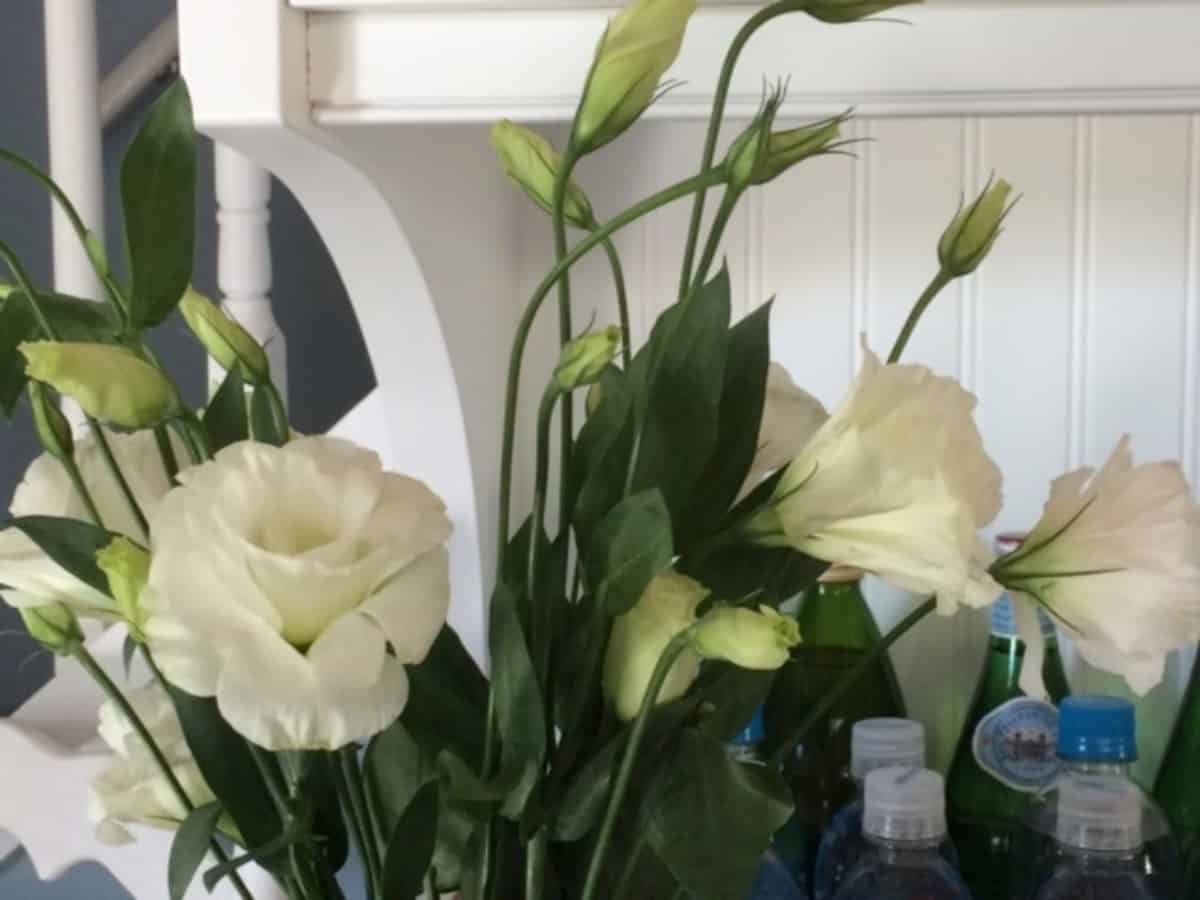 While not really a spring flower I can always find hydrangeas which are a great fill flower especially if you want white flowers in your spring flower arrangements.
For the green filling, I can always find different types of eucalyptus, including my favorite seeded and silver dollar eucalyptus. I can also typically find baby's breath and ferns. Some other good candidates for fillers would be Bells of Ireland or cress if you can find it.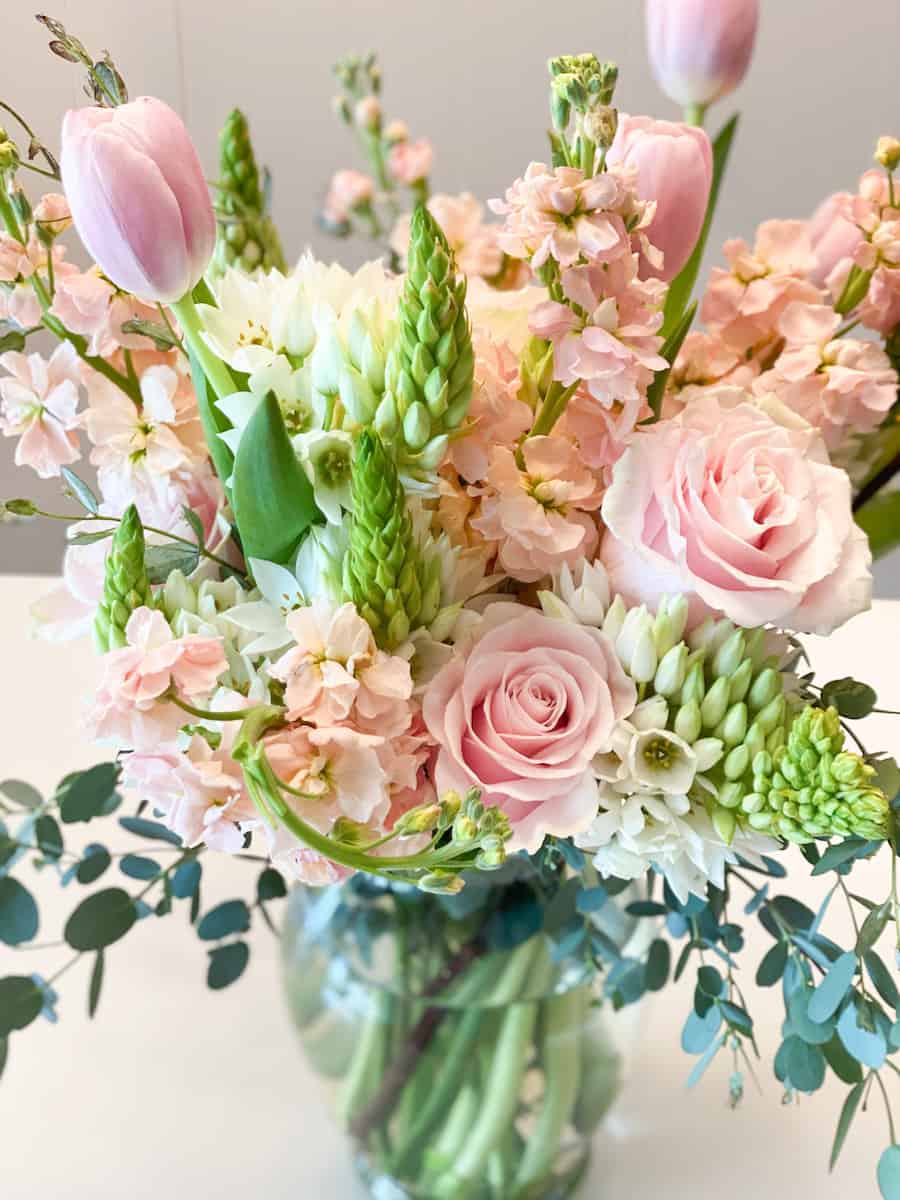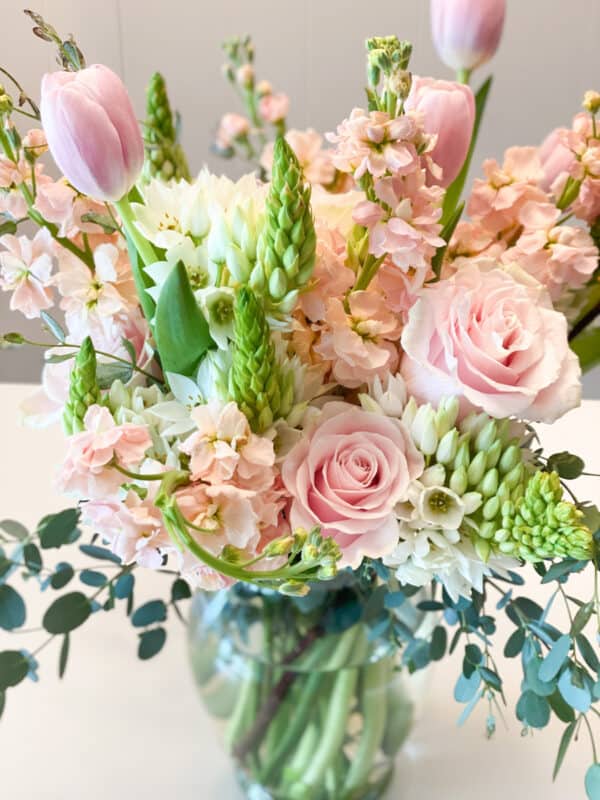 One key to having a great arrangement if possible is to have high quality flowers and ones that aren't quite bloomed yet. I also look for flowers with long stems so that even after I cut them they have a long enough stem to make a statement arrangement.
My friend Wendy from WM Design House lives near the flower market in LA and she makes the most beautiful flower arrangements. She can get every kind of seasonal bloom at the perfect time.
What to use to hold your spring arrangements?
I don't typically use a standard vase. I much prefer an ironstone pitcher or another vintage piece to use for my cut flowers. If I want a more formal full arrangement I will soak wet flower foam in warm water and use that in my vessel.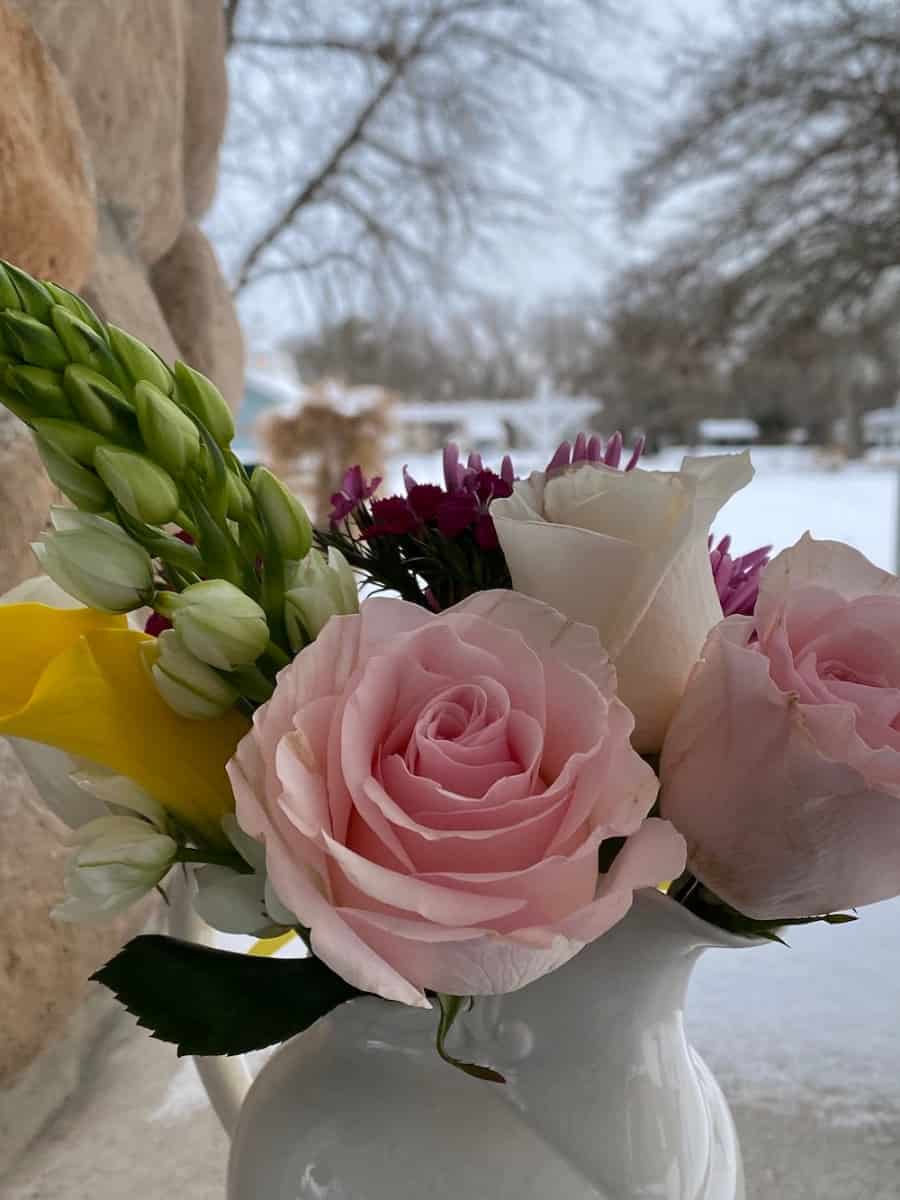 I also use chicken wire or a flower frog to give an arrangement some structure but a more natural look.
Keeping green floral tape is another tool that I use. If you make a criss-cross grid with the tape it works a lot like chicken wire or a flower frog.

Despite the forecast, live like it's spring
– Lilly Pulitzer
Making Your Arrangement
For this arrangement, I chose a vintage white and blue chamber pot.
Then I measured my wet foam to fit my vessel. I cut it with a serrated knife and put it in about 1-2 inches of water in a container. It takes about 20-30 minutes to soak up the water.
Once the foam is completely wet, I put it into my vase. Then I'm using green floral tape to make a grid which will give my flowers even more support.
Then I start arranging by adding my underlayer of greenery for a base.
After that, I add my filler flowers to start forming the shape of my arrangement. In this case, my chamber pot is round so my arrangement will take on a more round shape.
Once I have a good amount of my filler flowers in place, I will start placing my showy flowers. These are the perfect flowers that I chose to highlight the arrangement. They are the statement flowers in my spring bouquet.
In this arrangement, those flowers ended up being beautiful cottage roses. They are sometimes called cabbage roses or even country roses.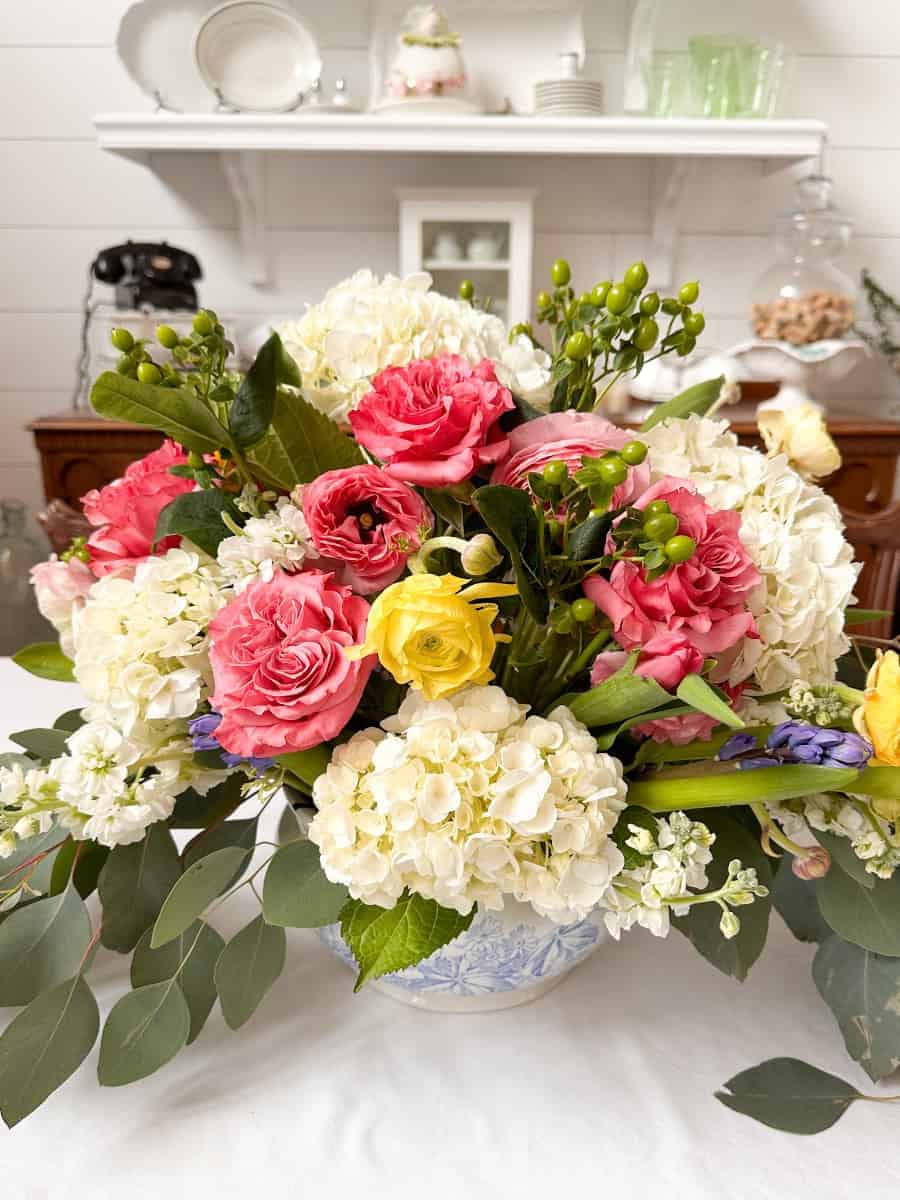 I did find some ranunculus and I was actually a little surprised. I typically don't find them until March. That being said they are kind of sad looking so I just got two bundles and I probably won't use all of them.
Once I've worked my way around the arrangement and I'm happy with the way that it looks on all sides, I will give it some water. I mix my flower food into my water and then I pour it over the wet foam so that it gets good and soaked again, making sure that there is more water all around it. I like to keep the water level at least halfway up the foam.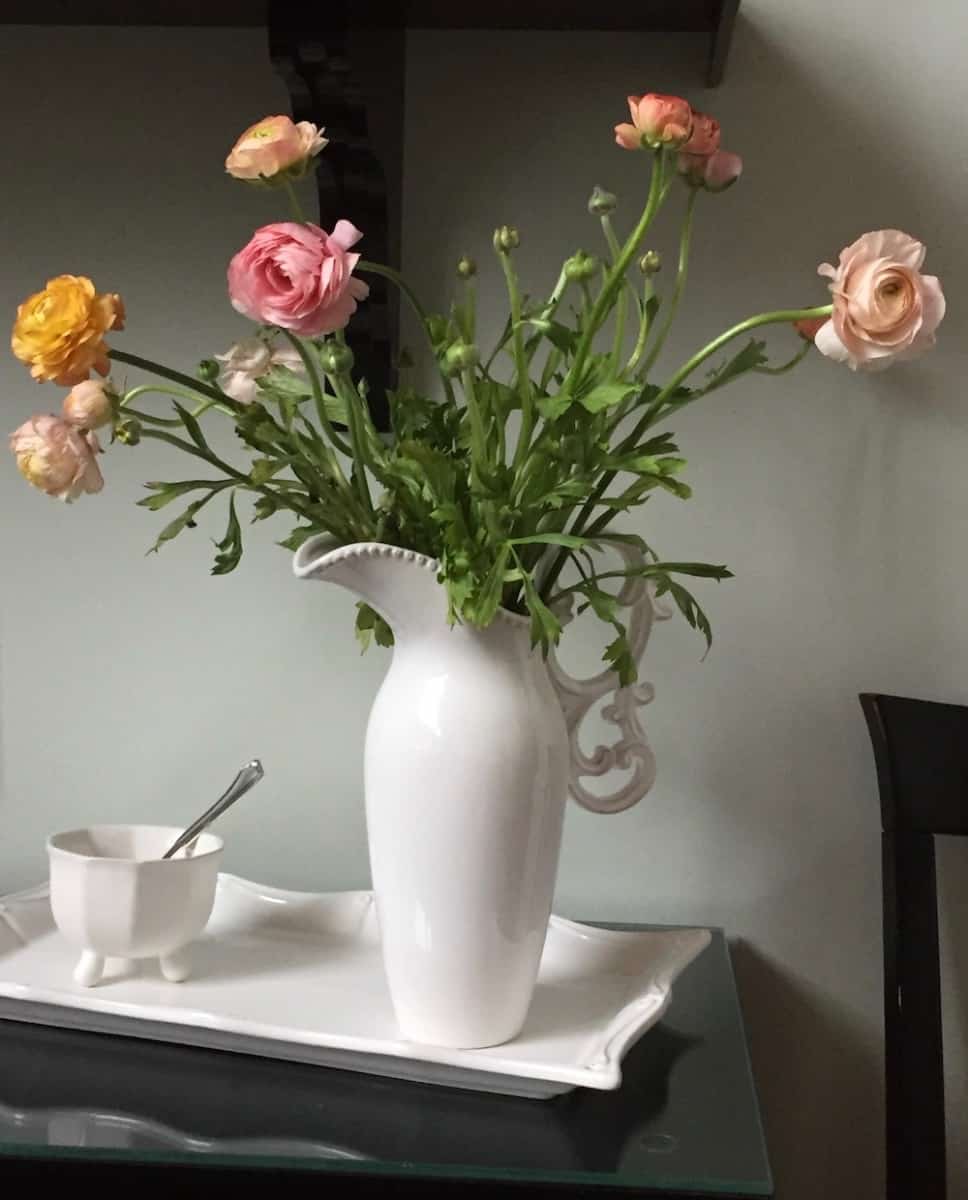 Special Occasions
In my house, we don't just have fresh flowers on special occasions but there are times when making flower arrangements or sending flowers is an especially nice gesture.
What comes to mind at this time of year are spring birthdays, mother's day flowers, Easter lilies for Easter, and then of course get well and sympathy flowers.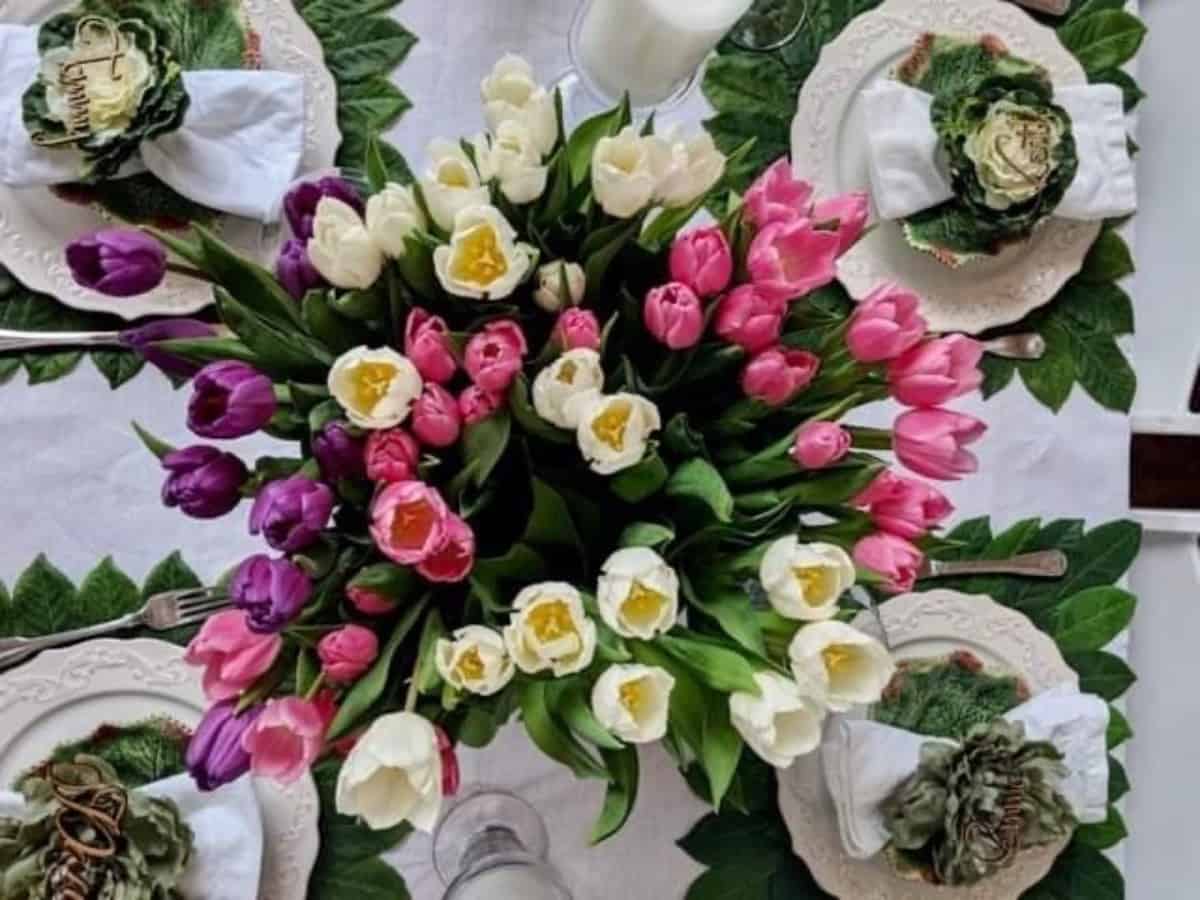 In most of these cases, I will use expert florists to arrange and deliver the flowers to the recipient's front door. You can choose the perfect custom bouquet or plant.
A good florist will have access to the best flowers and a large collection of fresh flower arrangements. It's an easy way to send beautiful flowers when you are in need of a gift.
Flowers from my Garden
After the long winter, I can hardly wait for flowers to start blooming in my yard. There is nothing like hand-arranged flowers from my own backyard garden sitting on the coffee table in the living room.
I currently have a huge selection of flowers, including sweet peas, poppies, lisianthus, calendula, mignonette, strawflowers, stock, bells of Ireland, amaranth, celosia, and lace flowers, growing from seed in my office
Flowers make a perfect gift for a special occasion and I love when I can pick them myself and hand-deliver friends fresh flower bouquets.
I have a post about May Day that you can read. What an unexpected surprise to deliver spring blooms on the first day of May to family and friends.
Wedding Flowers
I have arranged flowers for Annie's Backyard wedding and her second wedding (the party). I also helped my niece with her fall wedding flowers. What I haven't had the chance to do is spring wedding flowers for a spring wedding.
My son just recently got engaged. Something we thought would never happen and he is getting married in February 2024 in Los Angeles so maybe I'll be able to be helpful with flowers for that event. They might have to be more like Valentine's Day flowers.
In Conclusion
When I was younger, I was terrible at arranging flowers. We didn't have YouTube or really any way to learn how to do it best. I learned from trial and error.
If you're feeling uncomfortable about making a more formal arrangement, don't dismiss the beauty of placing just tulips into a vase. Some people don't like when they droop but I think that is when they are at their loveliest.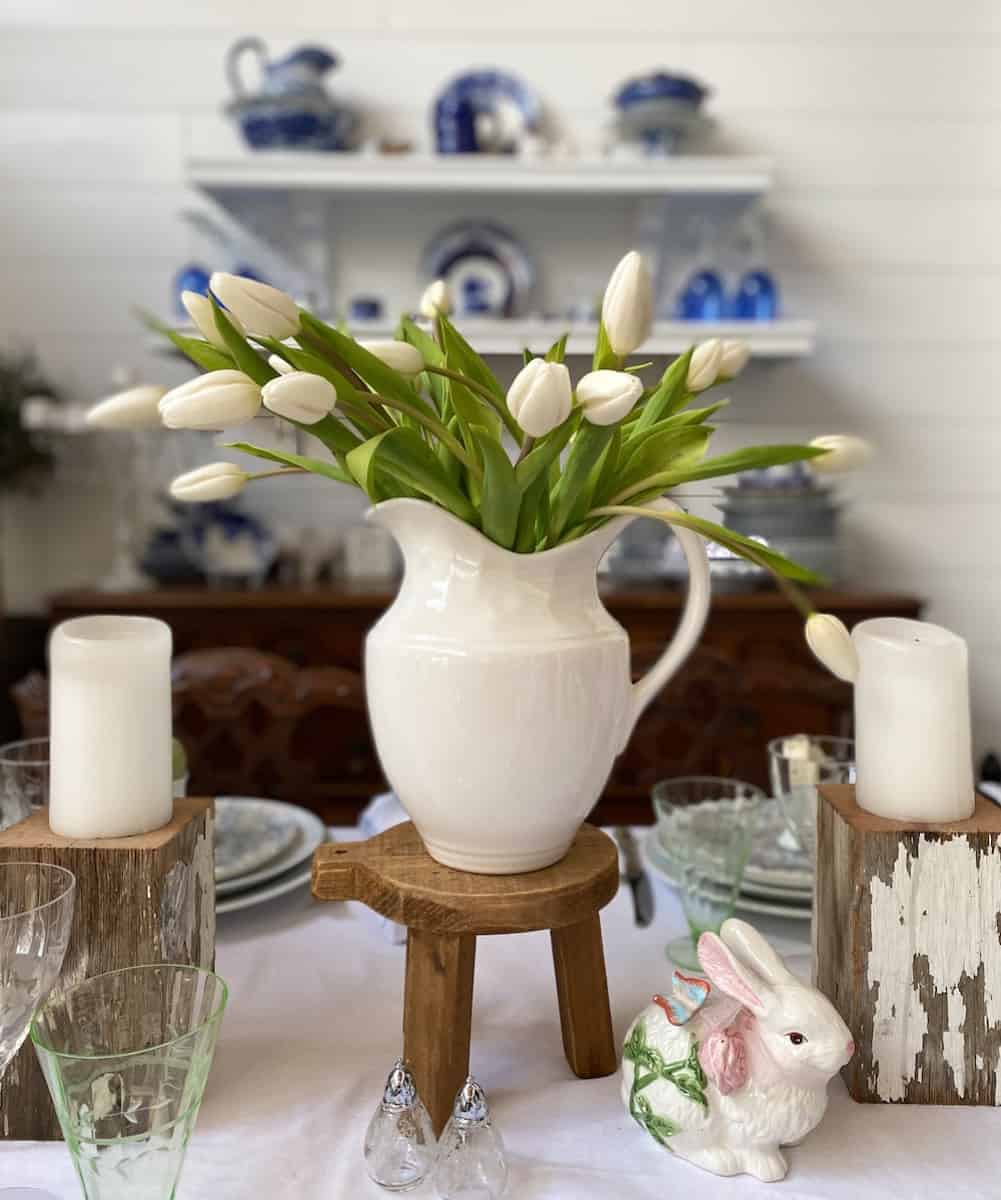 When I wasn't confident and I needed flowers for a special occasion, I did use my local florist. They are no longer in business but they made the most stunning arrangements and they weren't your standard florist presentation. They were making the more free-form nature's way arrangements before they were a thing and I loved them.
I honestly think that is when I started to perfect my own arrangements when they were no longer available. I studied the photos I had of the flowers that I got from them and started making my own.
If you've felt unsure about making a spring fresh flower arrangement, I encourage you to give it a try. By using grocery store flowers you more likely be able to practice more and have beautiful arrangements in your home more often.
Peace and Love,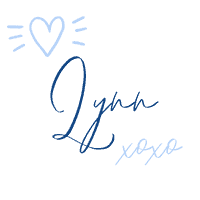 Thanks for Following Along
If you enjoyed this post I hope you sign-up to be a friend of Living Large in A Small House! Then you won't miss any of the inspiration that is shared with you each week! You can also follow me on Instagram, Facebook, and YouTube. I share even more inspiration on Pinterest! You can listen to me chat on my Podcast.


A great way to save this article is to save it to your Pinterest boards. You can find the pin button in the top right corner of the photo below. Also, don't forget to follow me on Pinterest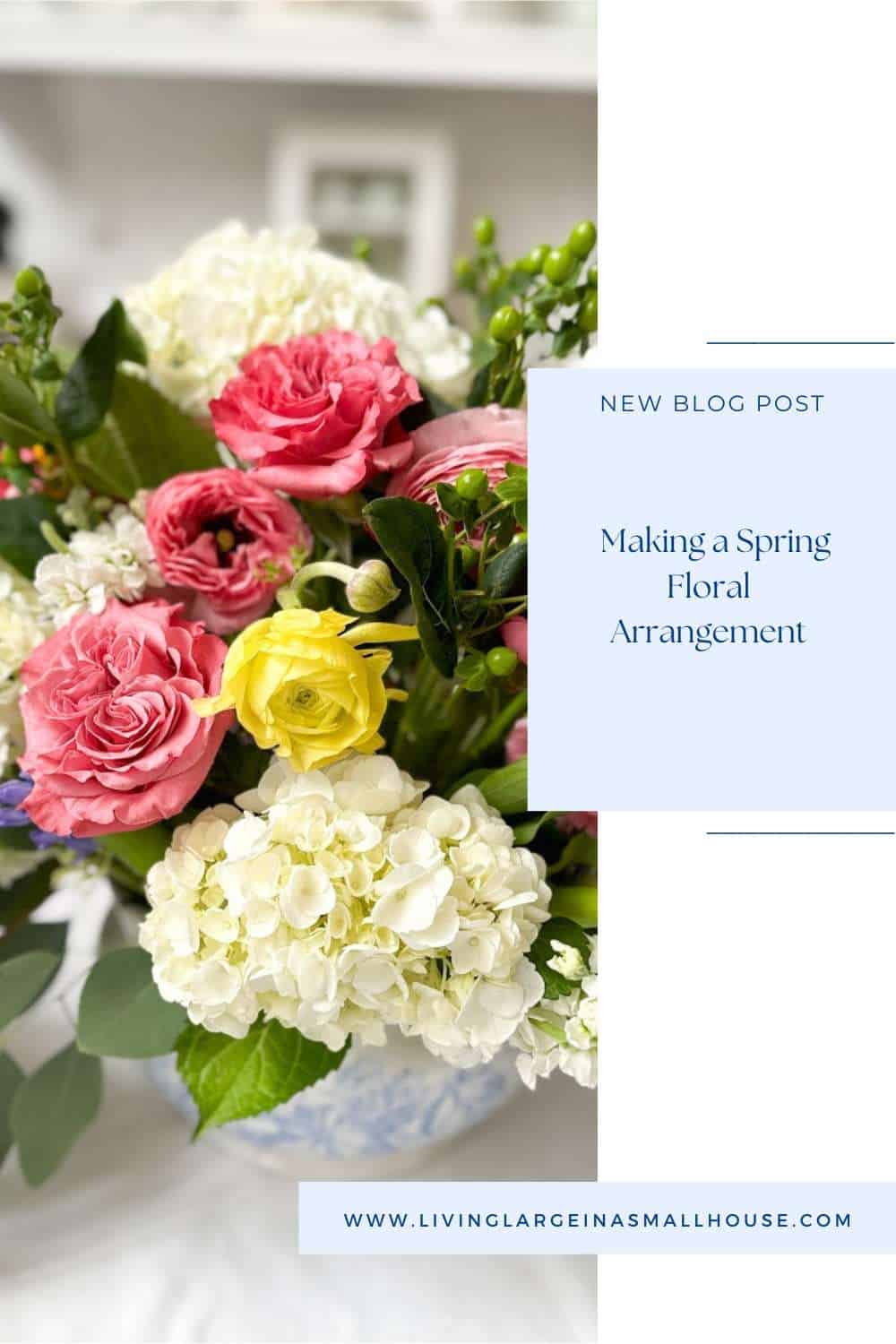 living large podcast
We laughed until we cried! What a fun podcast with my long-time friend Debbie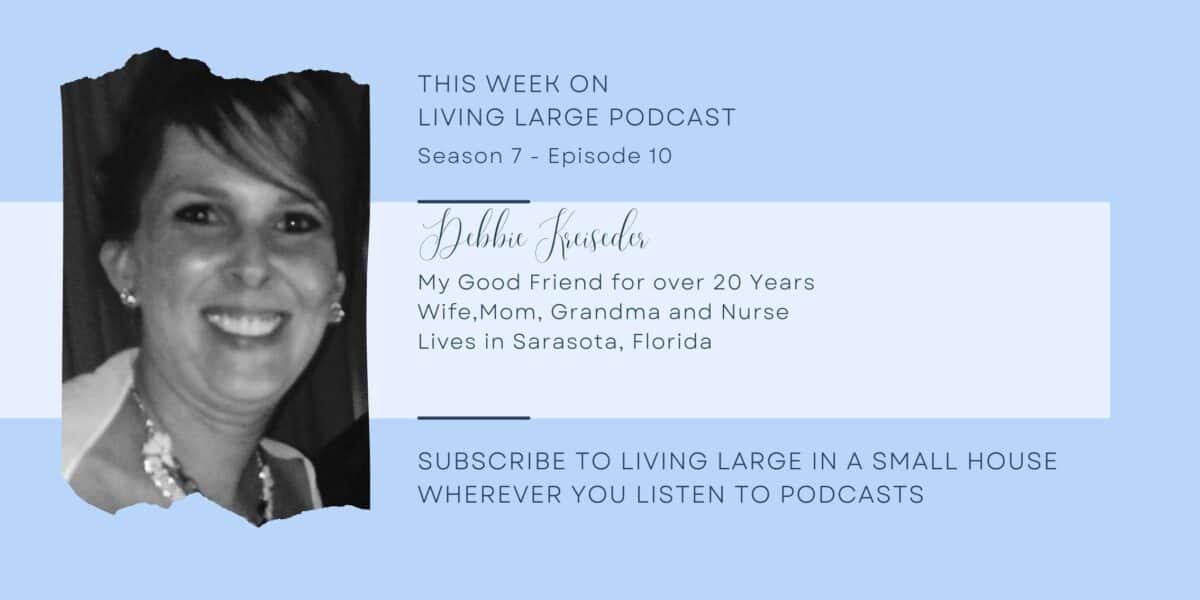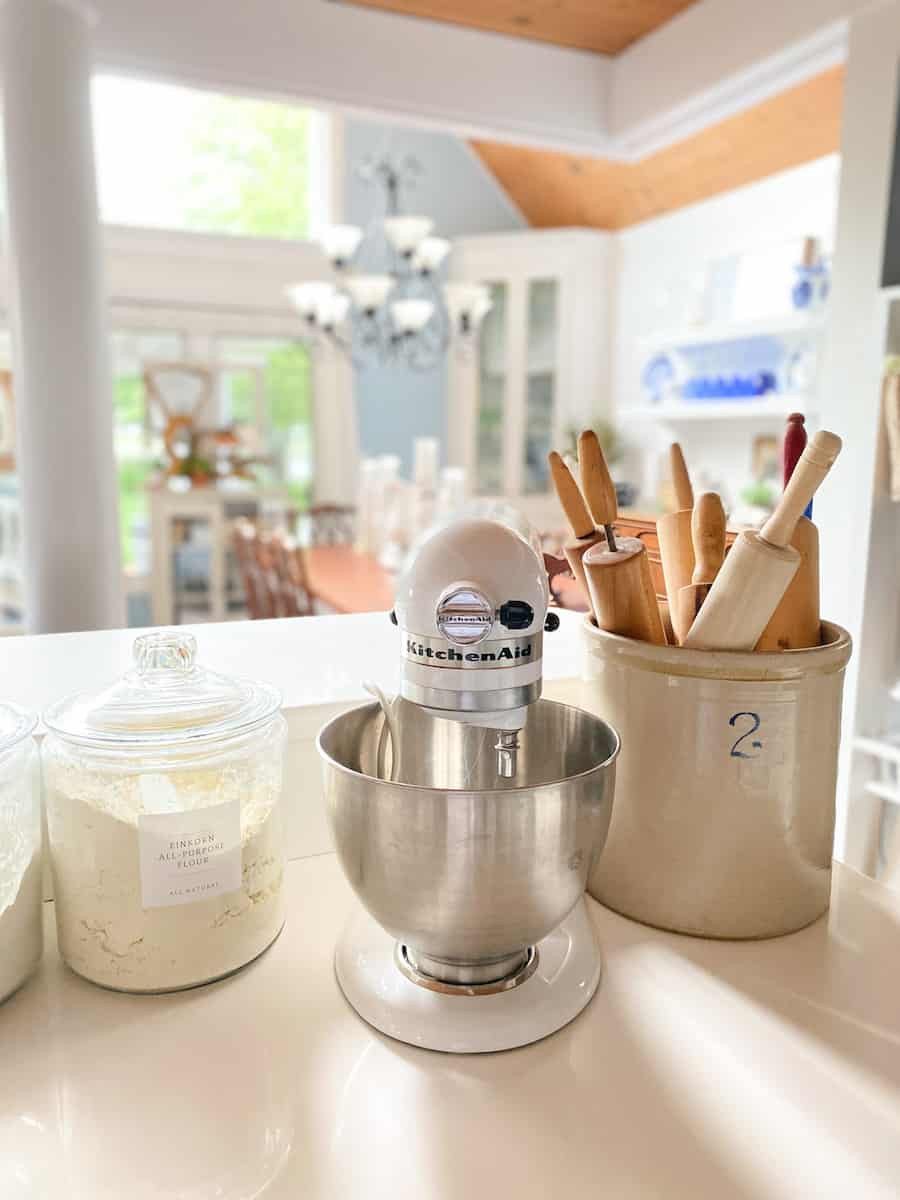 direct access to my amazon store
On Amazon
Did you know that you support my little business by purchasing through my links?? The price to you is the same but I receive a small commission on ALL the purchases you make when you shop through one of my links. I appreciate you helping Living Large in A Small House to grow!