Fall Table Inspiration from 10 Home Decor Bloggers
I'm so excited to be able to share Fall Table Inspiration from 10 home decor bloggers today.
We have so many great ideas to help you create a fun fall tablescape in your home.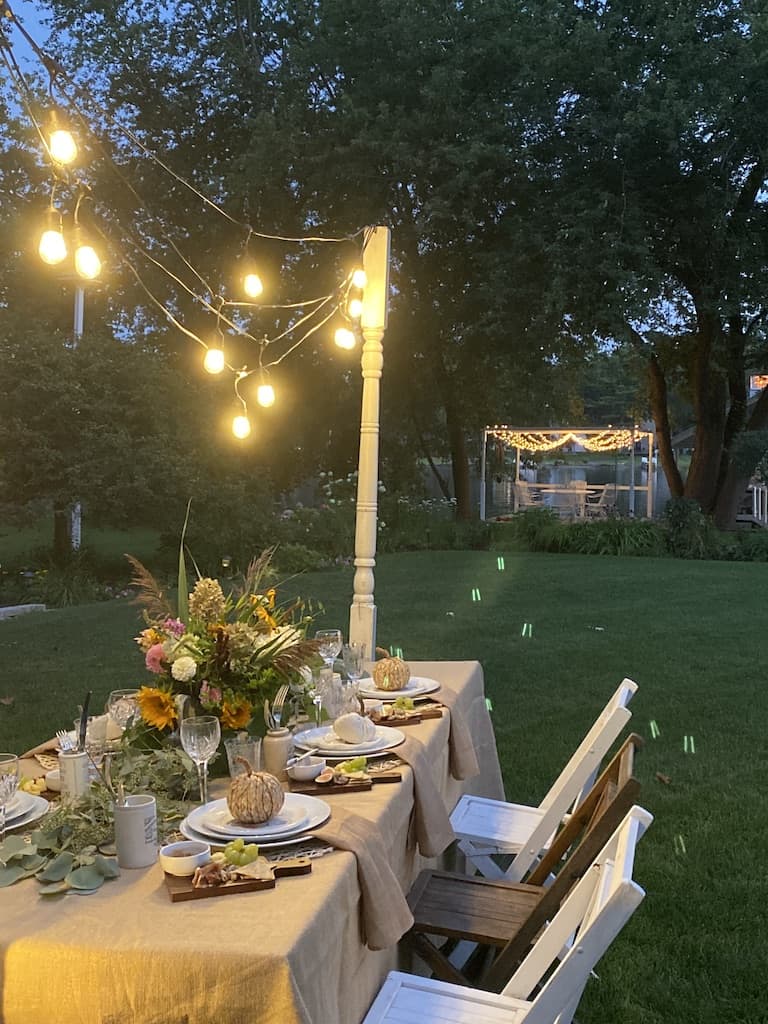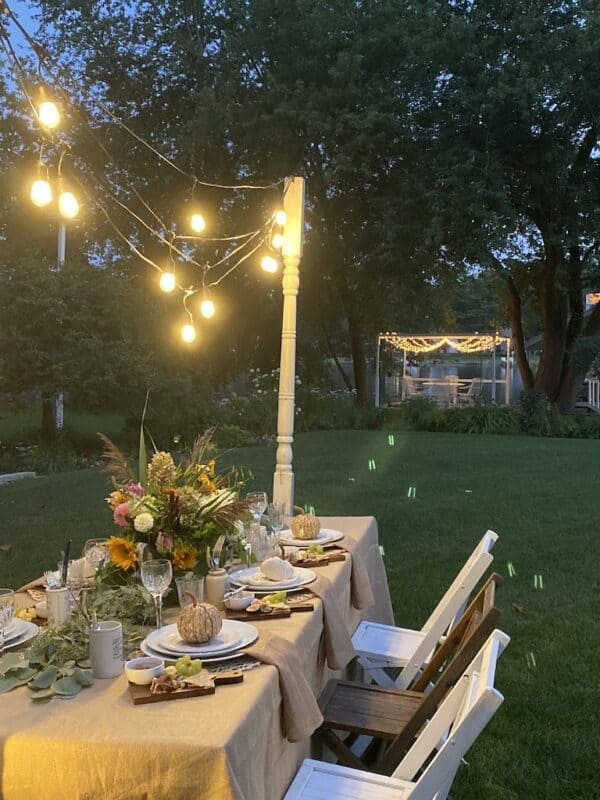 On my blog Living Large in A Small House, I may sometimes use affiliate links, which means a small commission is earned if you make a purchase via the link. The price will be the same whether you use the affiliate link or go directly to the vendor's website using a non-affiliate link. You can find my full Disclosure Policy HERE

The Best Memories are Made Gathered Around the Table
My Favorite Fall Tablescapes
One of my favorite fall tablescapes is my "Dining Alfresco with a Harvest Tablescape".
I created it the fall after Annie's Backyard Wedding when I still had fun lights strung around the yard and my gardens were so lovely.
I didn't want to waste one bit of it so we entertained outside a lot that Fall.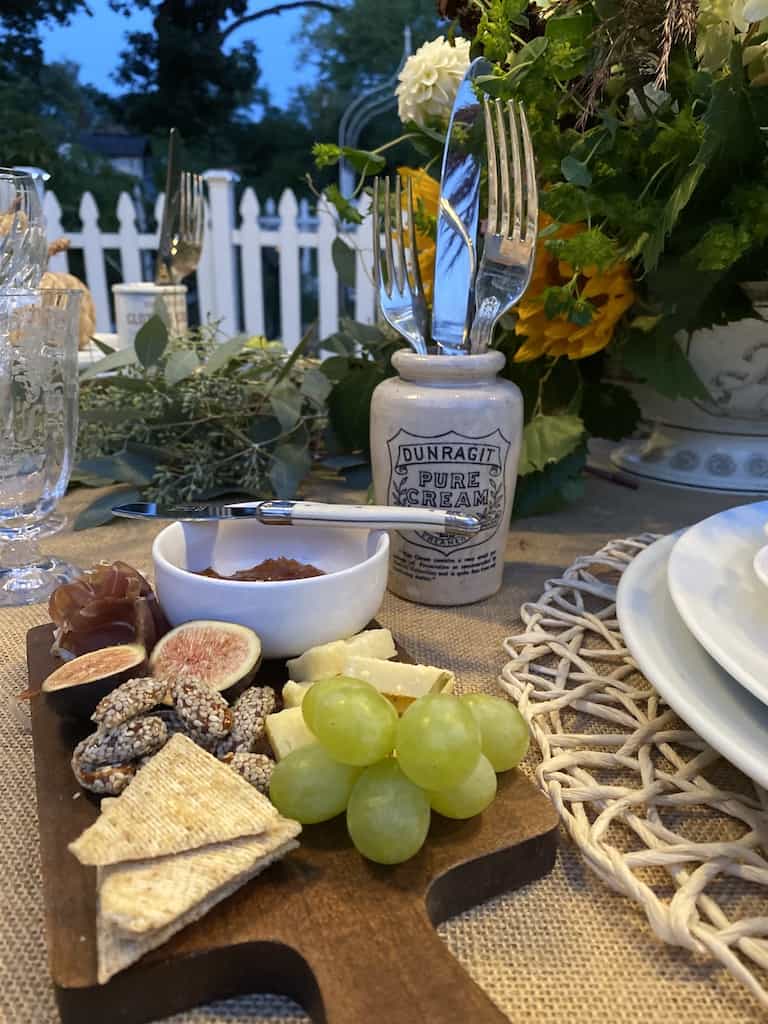 More Inspiration from 10 Home Decor Bloggers
WM DESIGN House
First up is Wendy who is our host for this fun Fall Table Share. Wendy who is the creator of WM Design House is one of the most creative people I know and she doesn't disappoint with her Fall Table Decorations
I love how she has added blue and dusty green to her tablescape.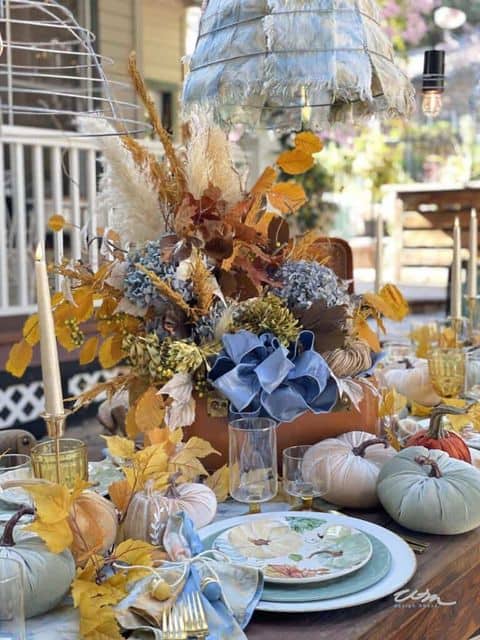 Our Tiny Nest
Nicolle from Our Tiny Nest is sharing her "Simple Fall Tablescape with Autumnal and Gold Hues". Proving that you don't have to spend a lot of money or go crazy to still have a beautiful tablescape.
Shiplap and Shells
At Shiplap and Shells it's all about bringing the outdoors in. Kim does not disappoint with her post "How to Warm up Your Fall Table Using Pumpkins and Mums".
When you are over at her blog be sure to check out her gardens. They are stunning!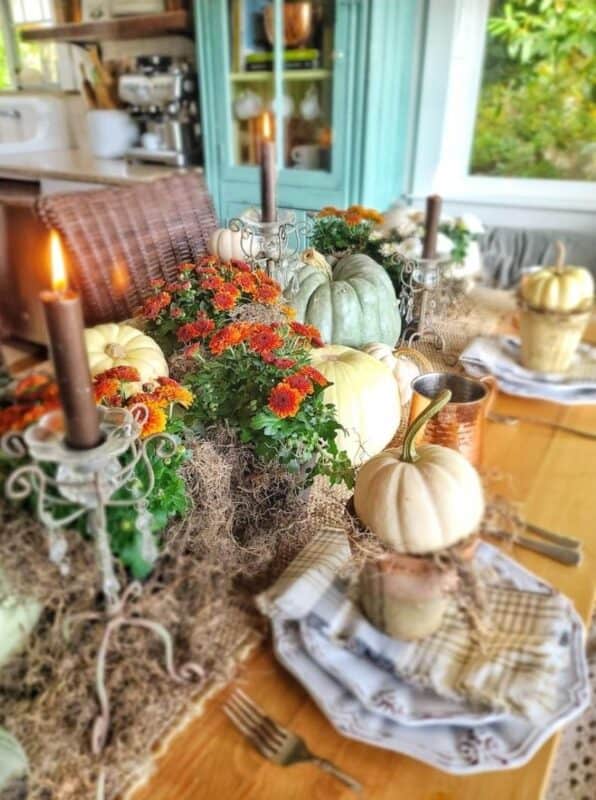 vintage home designs
Michele at Vintage Home Designs has a way of making simple and neutral look stunning. Visit her post "Easy Ideas for Creating a Simple Fall Tablescape" to see what I mean.
Her styling skills are amazing. Spend some time looking around her home and her posts.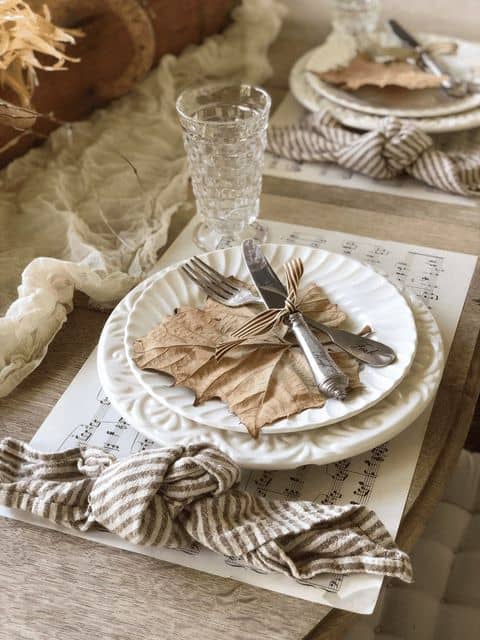 Believe It or Not, there is Even More!
Truemans Treasures
Kylie at Truemans Treasures shares with us a "Creepy Chic Halloween Tablescape".
Are you having a Halloween Party for your adult friends? This is perfect for an elegant, grown-up Halloween Dinner Party.
South house designs
You won't even believe the amazing table that Diane at South House Designs has to show you. Her Forage Fall Tablescape is stunning!
Pay close attention to her dropcloth tablecloth! So creative and what a statement!
The Tattered Pew
Kelly from The Tattered Pew is showing us all "How to Set a Casual Thanksgiving Table". She's hosting and if you are too, take a queue from her and go simple with the table.
Let's face it Thanksgiving dinner is a lot of work. Her table is beautiful and elegant without a lot of fuss.
Peacock ridge farm
Renae from Peacock Ridge Farm really has a gift. She knows how to create the most beautiful tablescapes.
Renae's creativity is bountiful. Head over to the farm to see her post "How to Create Rustic Elegance for your Fall Table"
Bricks 'N Blooms
Stacy Ling of Bricks N' Blooms is another amazing gardener. She is actually a Master Gardener. Stacy Ling has created the most inviting outdoor dining space for a fall dinner.
Her post "How to Set a Cozy Fall Harvest Dinner Table" has so much goodness to look at.
Make sure you check out her gardens when you are over at her blog.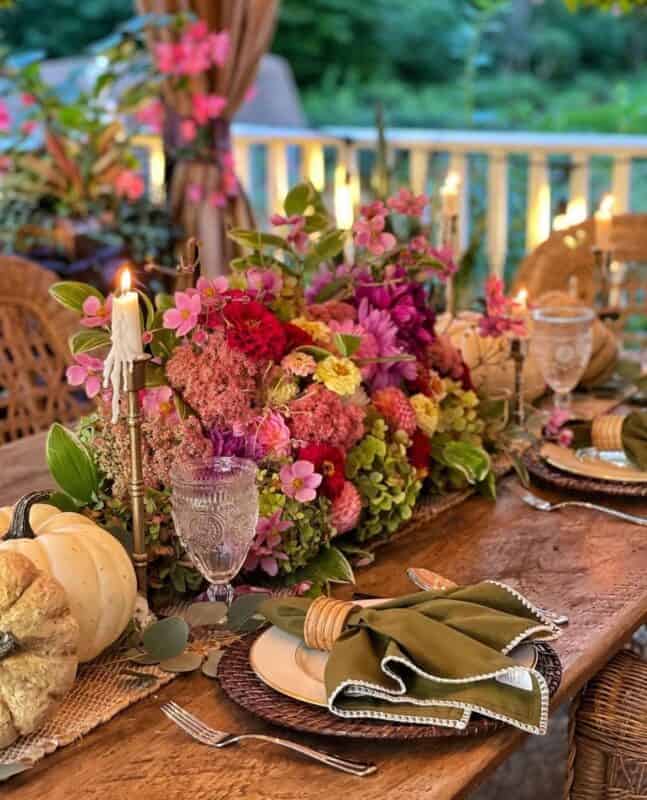 So Many Ideas
I don't know about you but my head is spinning with ideas from these talented home decor bloggers. What's your favorite?
Peace,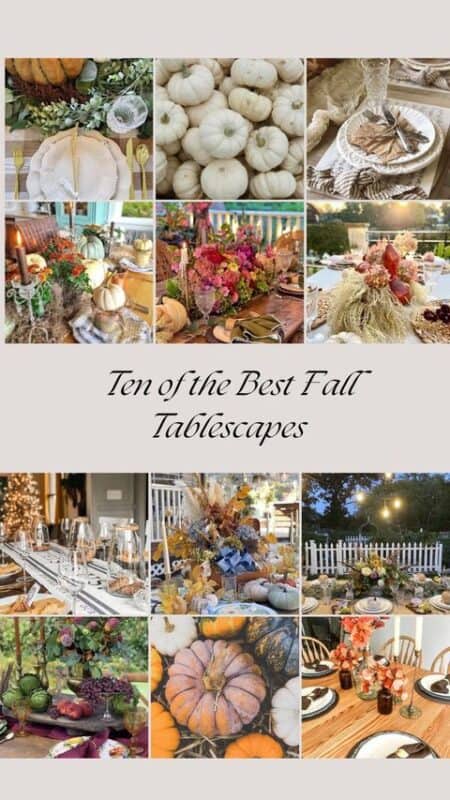 A great way to save this tablescape inspiration is to save it to your Pinterest boards. You can find the pin button in the top right corner of the photo below. Also, don't forget to follow me on Pinterest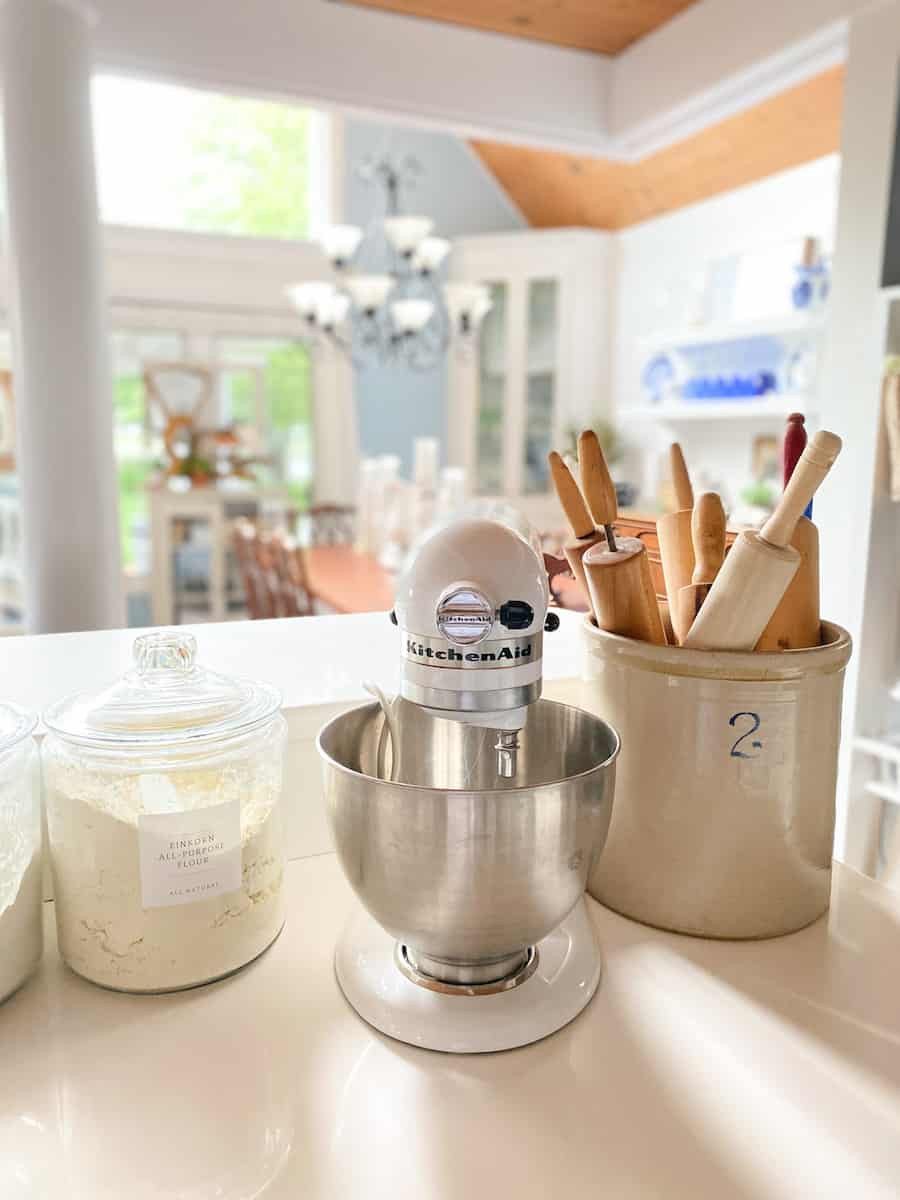 direct access to my amazon store
On Amazon
Did you know that you support my little business by purchasing through my links?? The price to you is the same but I receive a small commission on ALL the purchases you make when you shop through one of my links. I appreciate you helping Living Large in A Small House to grow!

living large podcast
You don't want to miss my guest this week! The best-selling author of "A Home to Share" and the creator of the blog "My 100 Year Old Home".