Dining Alfresco with a Harvest Tablescape
We are enjoying the last of our nice fall weather and dining alfresco with a Harvest Tablescape.
There is also something about outdoor dining that just makes the food taste better!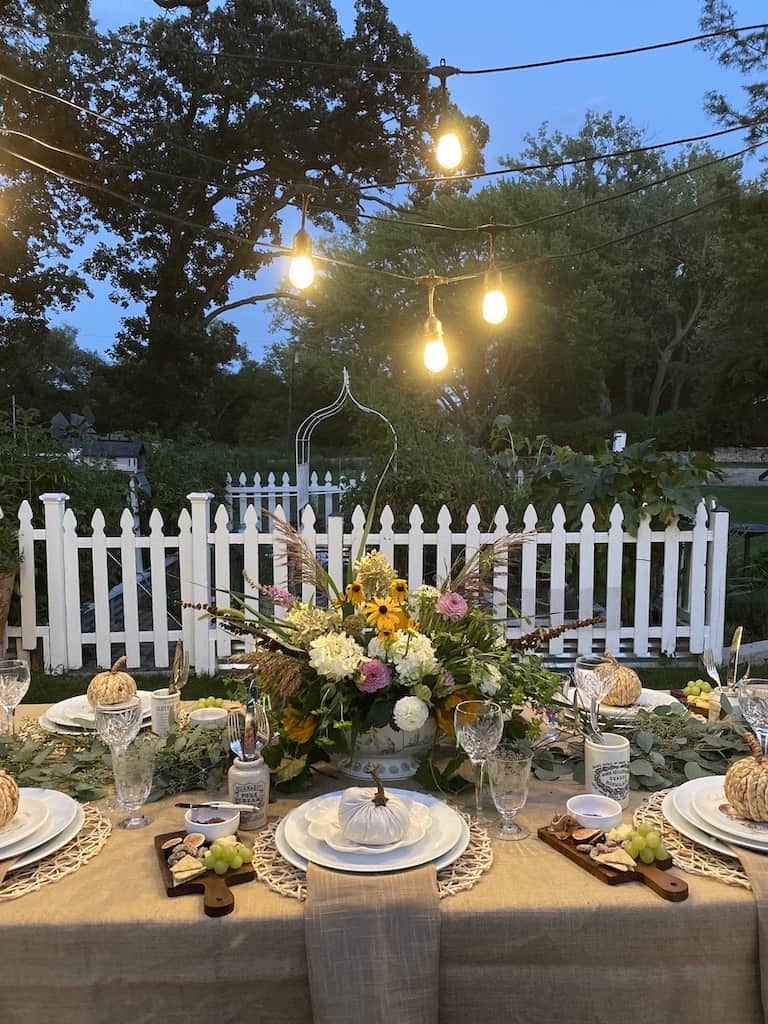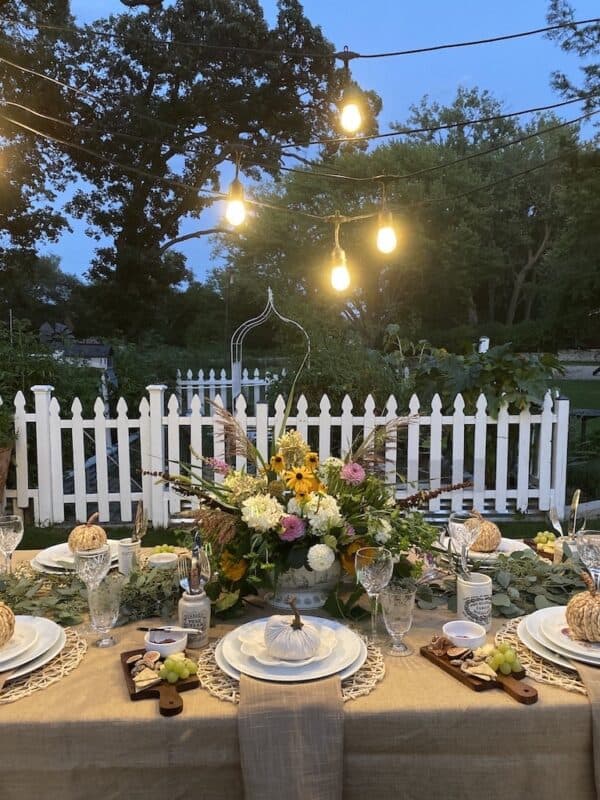 On my blog Living Large in A Small House, I may sometimes use affiliate links, including Amazon Affiliate links, which means a small commission is earned if you make a purchase via the link. The price will be the same whether you use the affiliate link or go directly to the vendor's website using a non-affiliate link. You can find my full Disclosure Policy HERE
Preparing the Fall Tablescape
Let's start by using the burlap tablecloth and napkins that I got from my favorite party supply house efavormart.com on our outdoor table.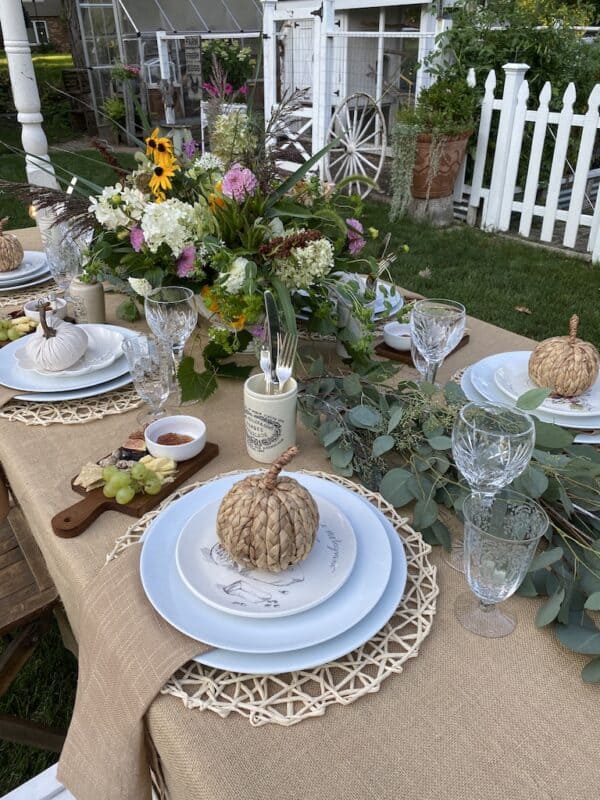 I always use a white plate as it just works with pretty much everything. With the white plates, you can just change up your salad plates and chargers and have completely different place settings. Owning a variety of salad plates is also much easier to store than completely different sets of dishes.
Once the placemats, charger, napkin, dinner plate, salad plate, and pumpkin were layered, I added antique Fostoria glassware. I bought these beautifully etched glasses for Annie's wedding and I just love them. Additionally, I placed a Waterford wine goblet in each place setting.
I topped each salad plate with faux mini pumpkins that I found at Target.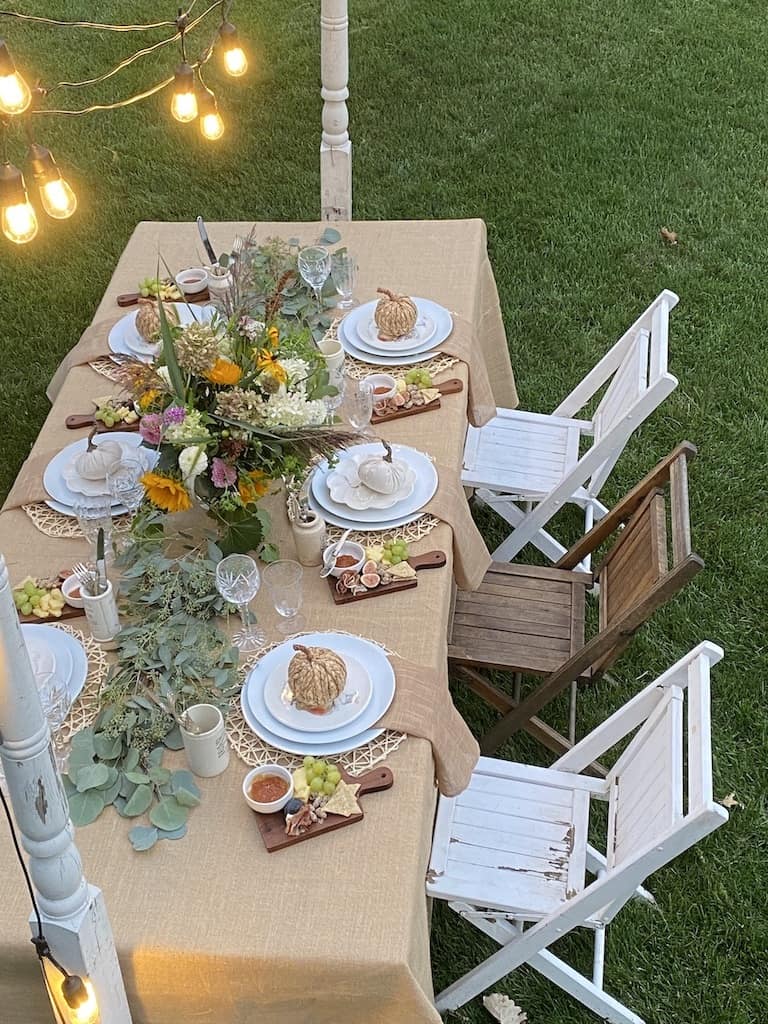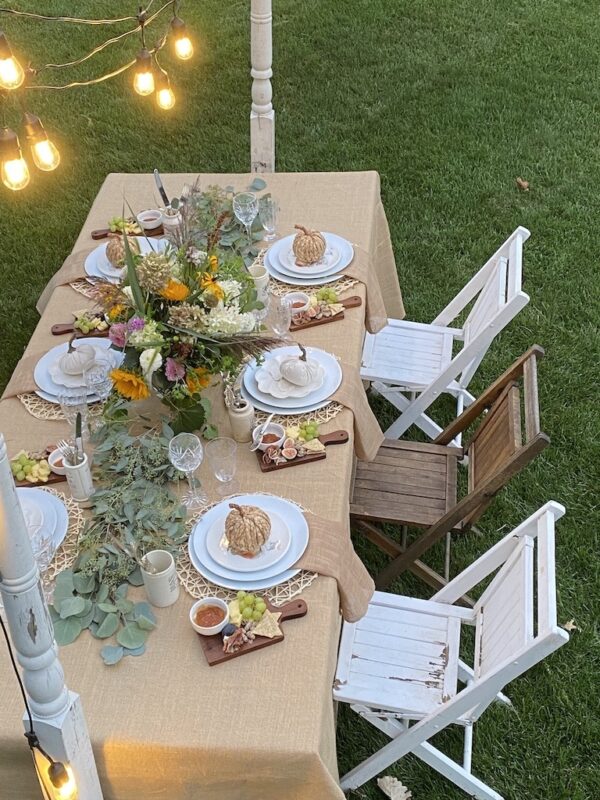 The Flower Arrangement
Finding a very old french transferware tureen at Goodwill is something that usually happens to other people but never me. When I stumbled upon this I immediately knew that this was going to be the centerpiece for my harvest table. After paying my $4.99, I rushed out with my treasure. I knew that I had something special in my possession. (Start the car….Start the car….)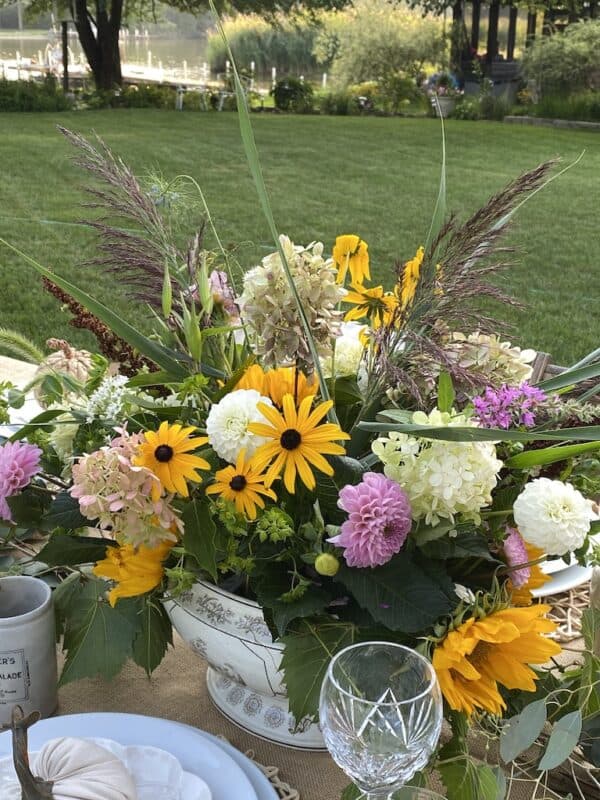 Using flowers and filler from my yard made this focal point even more special.
          al fres-co 
          /al 'freskō/
adverb
          (especially with reference to eating) in the open air 
          "in the unlikely event of some sunshine you can dine alfresco"
adjective
           done or eaten in the open air "an al fresco supper"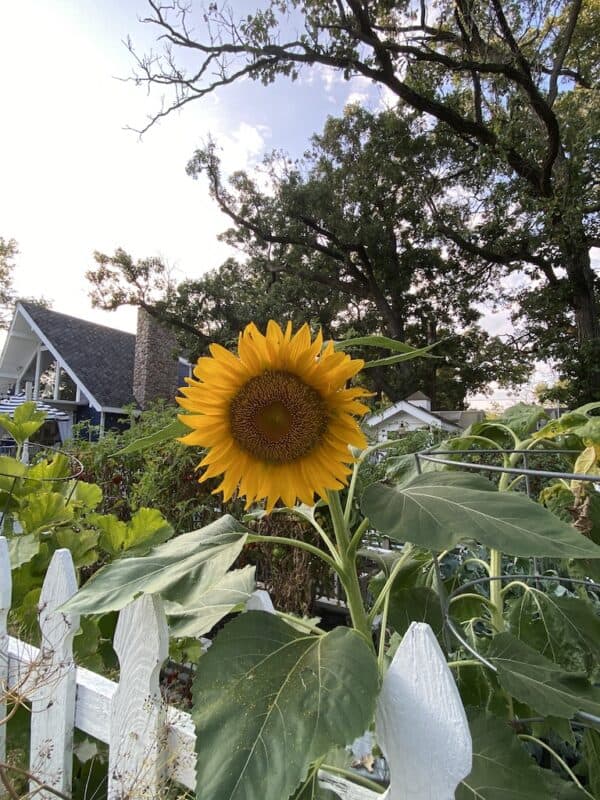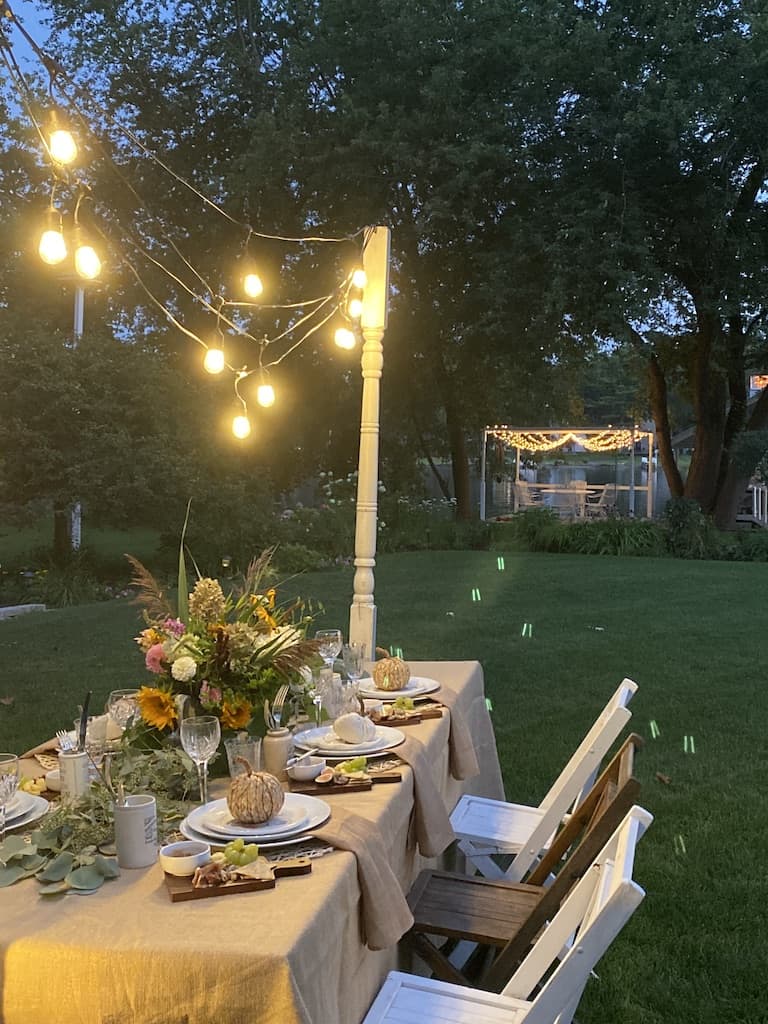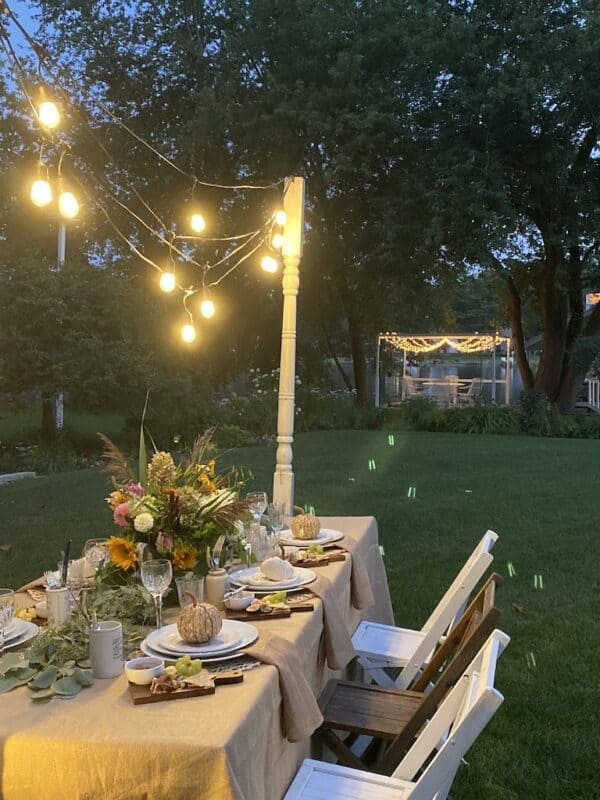 Adding The Something Special to A Table
Using some small cutting boards in the kitchen area and it dawned on me; how cute would it be to have individual charcuterie boards at each place setting? We are huge fans of charcuterie boards in our family so this was a fun idea for everyone to have their own.

Adding vintage advertising pots to the table to hold the utensils was also a very fun feature that I'm just loving. It just adds something special to this Harvest Tablescape.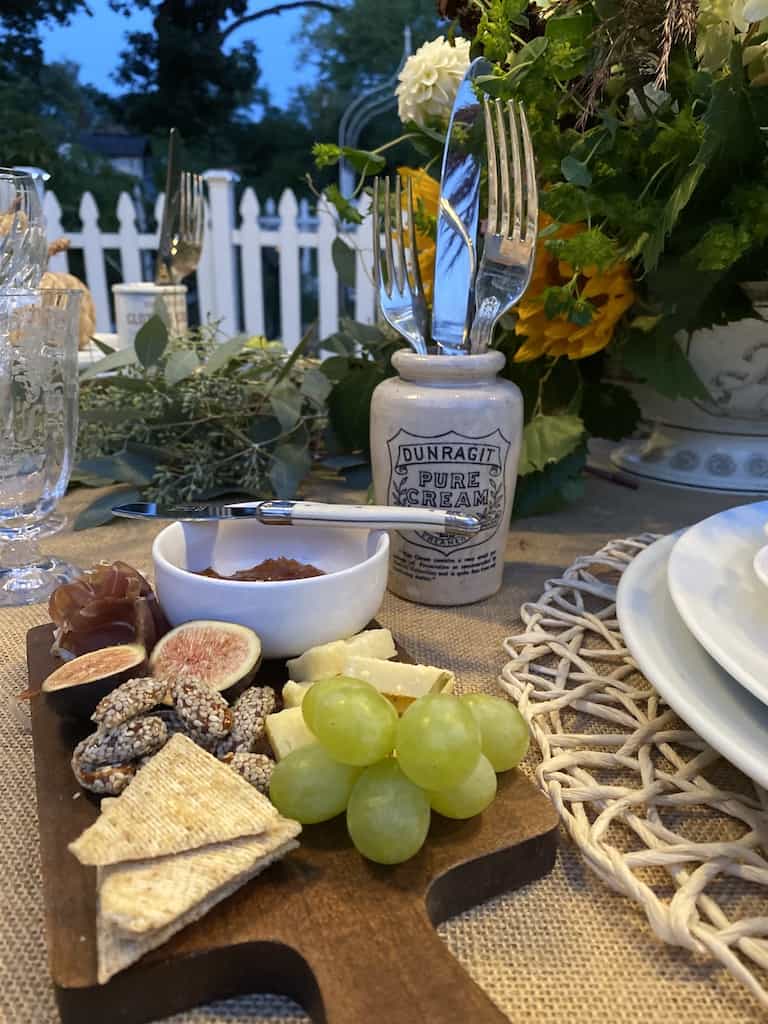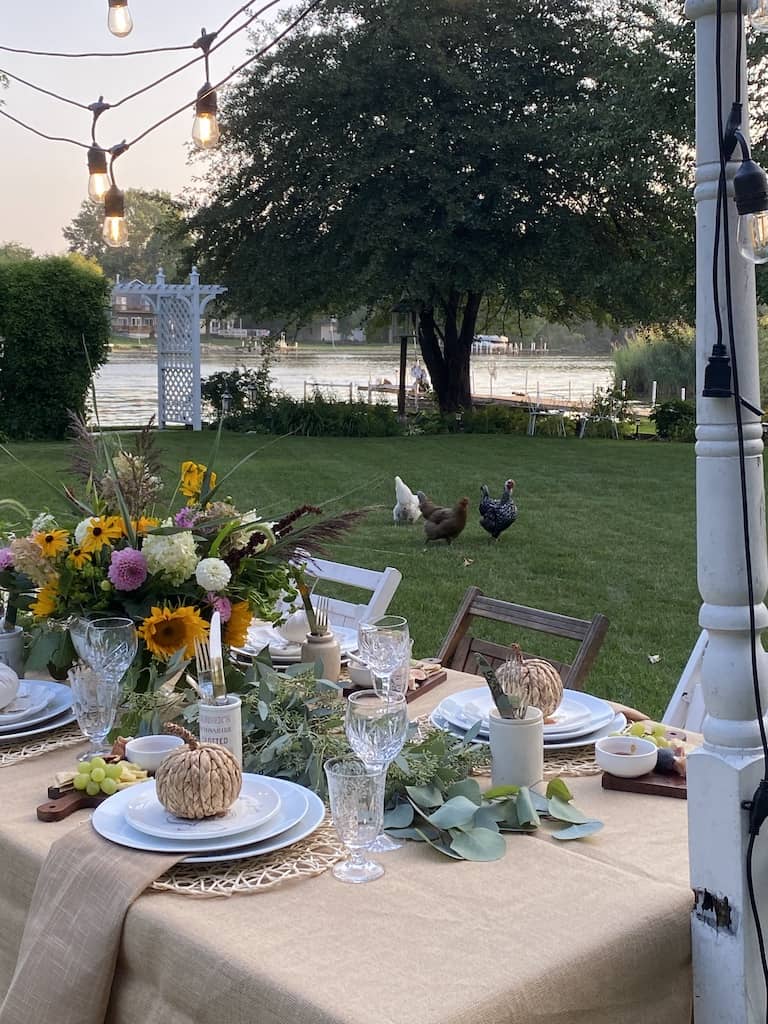 Falling in Love with Fall
When we get this beautiful fall weather in Illinois, we take full advantage of it because it seems to just last for a few weeks, and then it snows!
Al fresco dining is such a fun way to share your beautiful tablescape with family members or close friends.
If you're looking for the perfect meal to go with this al fresco tablescape, you might want to check out my post on my Beef Bourguignon.
I hope this gave you some ideas about how you can be dining alfresco with a Harvest Tablescape. It was so much fun putting it together.
Peace,
It was recently my birthday and we hosted a little dinner party. You can see my tablescape for that party HERE.

A great way to remember these tablescape ideas is to save them to your Pinterest boards. You can find the pin button in the top left corner of the photo below. Also, don't forget to follow me on Pinterest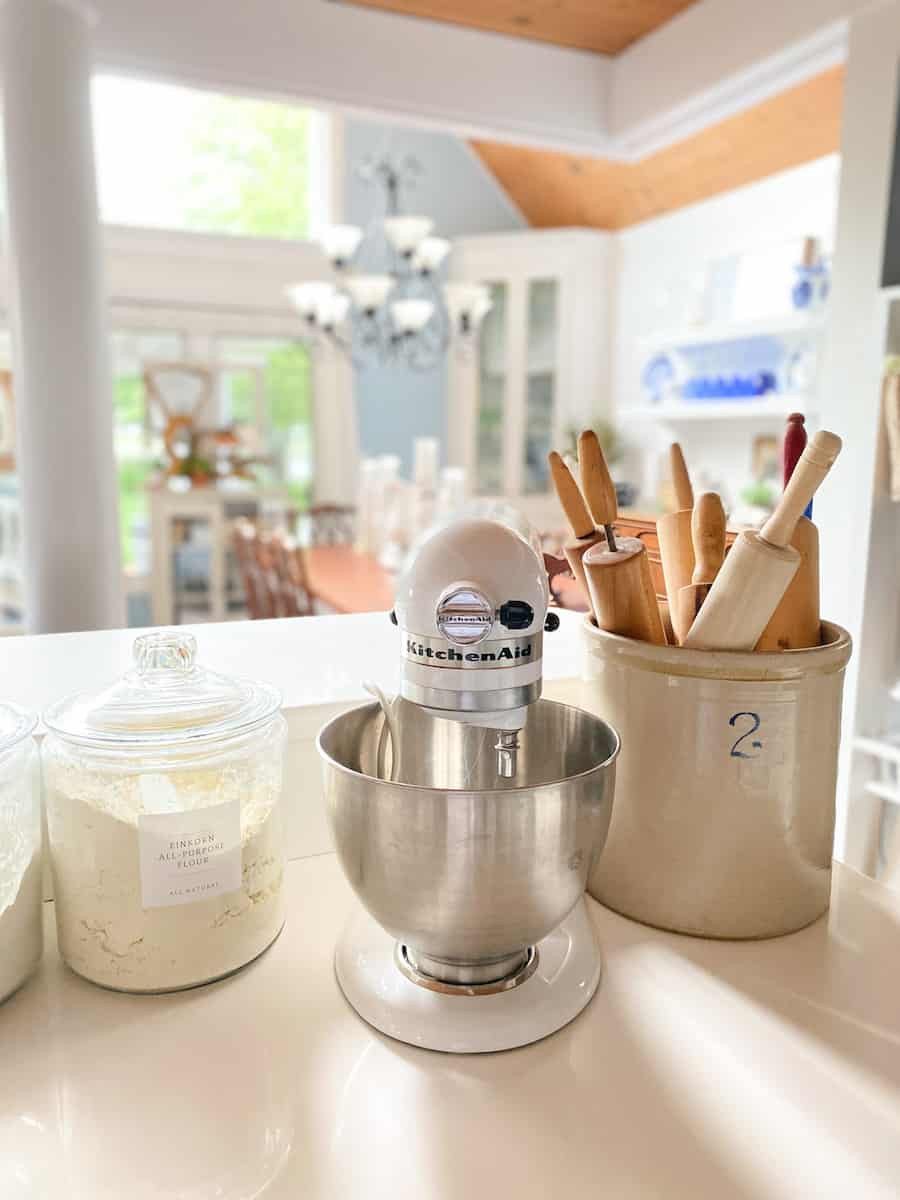 direct access to my amazon store
On Amazon
Did you know that you support my little business by purchasing through my links?? The price to you is the same but I receive a small commission on ALL the purchases you make when you shop through one of my links. I appreciate you helping Living Large in A Small House to grow!

living large podcast
You don't want to miss this week's Podcast. What a way to start out Season 6 with the best-selling author of "A Home to Share" and the creator of My 100 Year Old Home Blog; Leslie Saeta.