Using Kraft Paper for Inexpensive Gift Wrap
I have been using kraft paper for inexpensive gift wrap for some time now.
In years past I typically could only find brown craft paper however you can now find it in a variety of colors. I've also used white paper.
Today I'm going to share some great ideas to wrap a beautifully wrapped gift.
On my blog Living Large in A Small House, I may sometimes use affiliate links, which means a small commission is earned if you make a purchase via the link. The price will be the same whether you use the affiliate link or go directly to the vendor's website using a non-affiliate link. I am also an Amazon Associate. You can find my full Disclosure Policy HERE
Today you are going to see 5 unique and beautiful Christmas gift-wrapping ideas from my blogging besties as we celebrate day 4 of Christmas inspiration with you.
Inexpensive Wrapping Paper
With inexpensive brown kraft paper, you can still have beautifully wrapped Christmas presents.
Kraft paper can also be called brown craft paper and butcher paper. You can find it at Amazon, craft stores, and dollar stores. I purchase it in
Using some fun folding technics can create pockets, where you can tuck a card or pine greenery. There are also folding techniques that create the most amazing designs. Just Google "Gift Wrapping Folding"
I'm also wrapping gifts with left-over wallpaper! Talk about budget-friendly.
I haven't used traditional wrapping paper in years.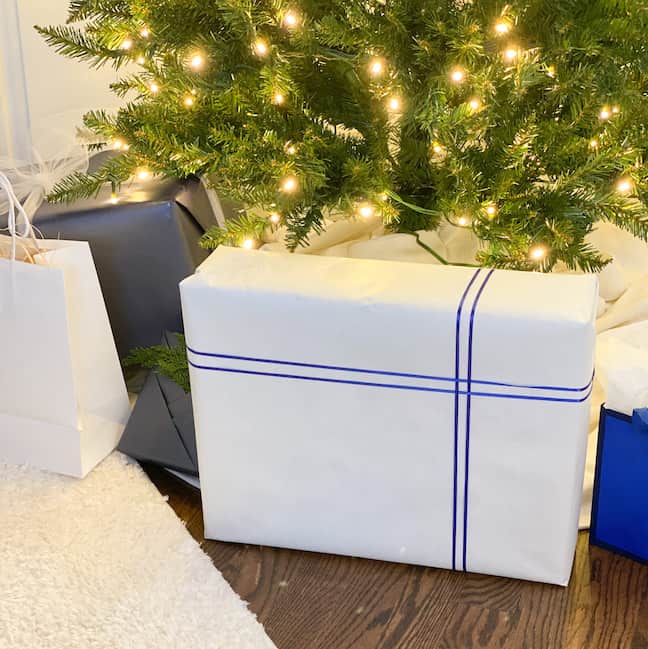 Woodland Theme
On Tuesday, I shared that I am having a woodland theme in my great room so I will be using brown paper for the gifts under that tree.
It might come as a surprise but I don't really enjoy wrapping gifts. Maybe because I put too much pressure on myself for everything to look beautiful.
Because I don't really enjoy the time it takes to wrap beautiful packages, I also use brown & white paper gift bags. Gift bags are especially good for small gifts.
Pop the small items in a simple brown paper bag, add a little tissue paper, tie some pine cones to the handle and you're done wrapping.
Blue & White Theme
This year I'm adding blue kraft paper. It has a navy side and a french blue side. Oh, the possibilities for my blue & white tree.
My One Room Challenge Room has a new Christmas tree that was gifted to me by King of Christmas.
Since this room has a bit of a country french feel, I will be decorating and wrapping it with blue and white. Getting my blue kraft paper delivered was pretty exciting.

Gift Wrapping Tip
Always turn the edges under so that you have a sharp edge at each crease.
Other Wrapping Option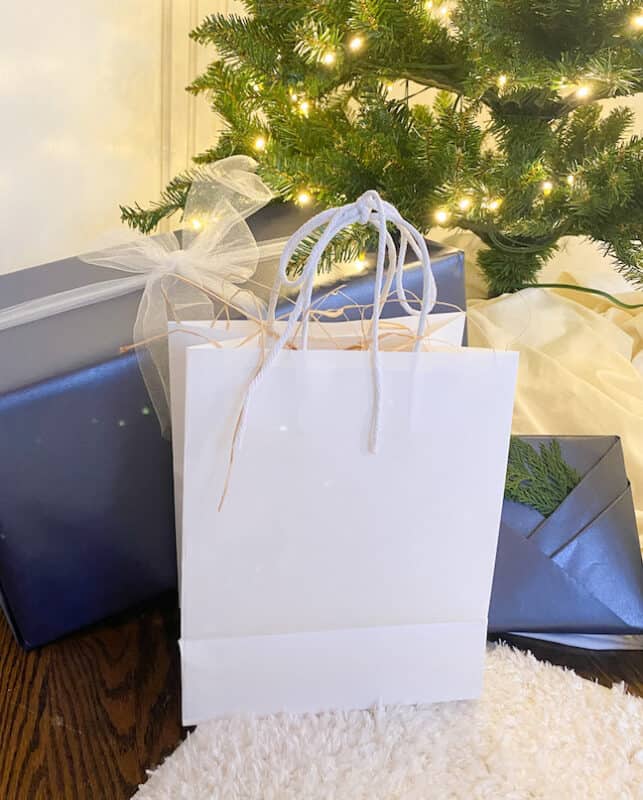 Have you thought about using brown paper grocery bags? It's not just for covering textbooks anymore. It's also free from your grocery store.
Recently I heard from a friend about how her Mom always wrapped their presents in old newspapers. It got me thinking about future creative gift-wrapping ideas and holiday themes.
And what about sheet music? How beautiful would that be!
Have you heard of furoshiki techniques? It's a Japanese method in which you wrap your package with fabric.
Wouldn't old maps be a fun gift wrap? Something you might find at local flea markets or a thrift store.

The versatility of Kraft Paper
Kraft paper isn't just for Christmas gifts.
I buy large rolls and use them all year long to wrap birthday gifts or gifts for all special occasions.
When my kids were little I used kraft paper to cover the kid's table for the holidays and added crayons and markers in a basket as my centerpiece. The kids enjoyed the kid's table well into their 20s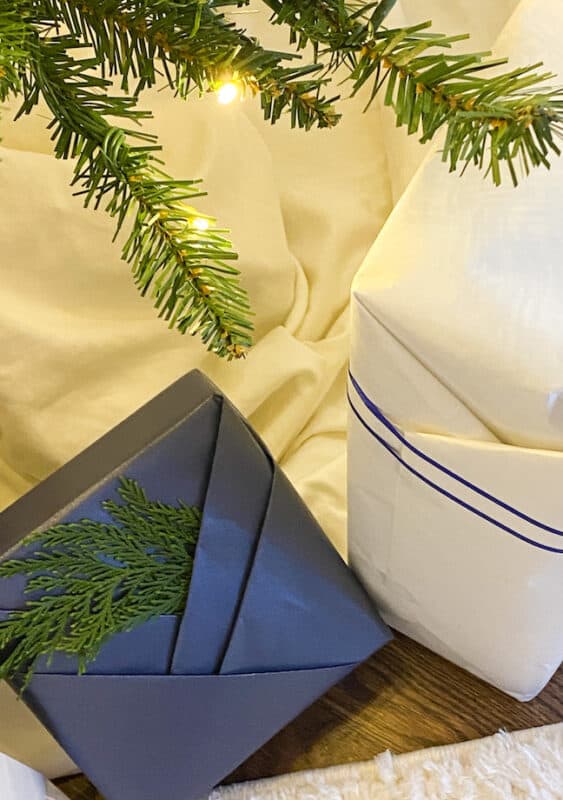 Bows, Ribbon & Gift Tags
Along with the kraft paper, I use different twine and colorful ribbon. I also love to use tulle as very pretty ribbons.
You can also get creative with gift tags. The ribbons, bows, and gift tags are the icing on a beautifully wrapped gift.
Using a Christmas cookie cutter as a stencil for a gift tag is so fun and can be a project for the kids in your life.
It's also fun to sometimes add a little something to the gift. Use a hot glue gun to add small buttons to a package for a bit of whimsy. You could also fashion paper straws into fun bows.
All the washi tape that I have and never use could be a great swap for the everyday scotch tape.
In Conclusion
It's the little personal touch that makes each gift even more special.
Don't forget to visit my friends below for more gift-wrapping ideas!
Peace and Love,
If you missed our 5 Days of Christmas – You can find it here
Thursday – Christmas Gift Wrapping
Friday – Christmas Tree Reveal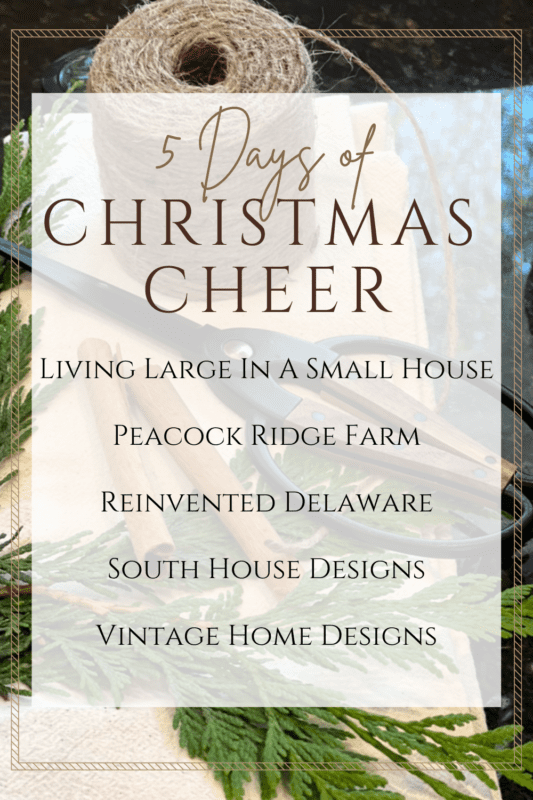 Michele from Vintage Home Designs
I'm sharing so many fun, creative and inexpensive ways to wrap your holiday gifts. By thinking outside the box and also using some things you probably already have on hand you can easily create beautiful packages to put under your tree!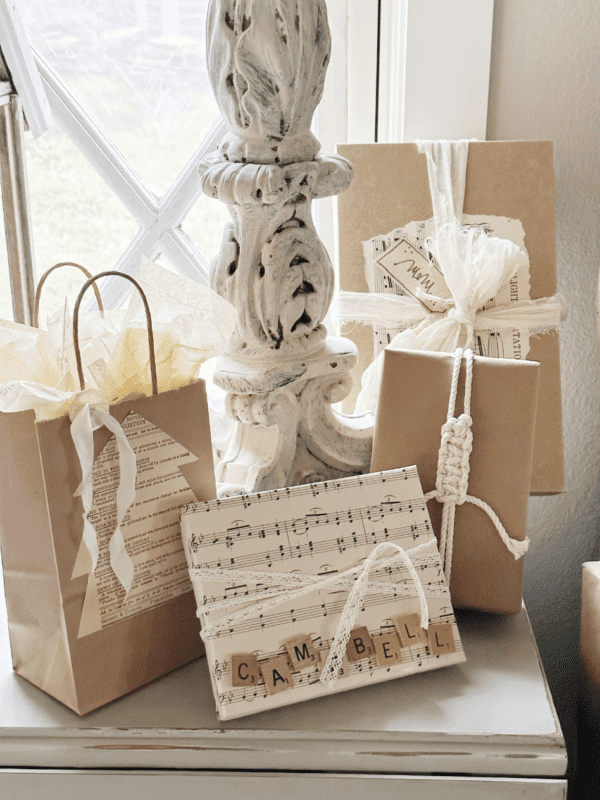 Renae from Peacock Ridge Farm
The holidays are a time for giving, and what better way to show your loved ones how much you care than by wrapping their gifts in beautiful paper and bows? If you're looking for some inspiration, check out these creative gift-wrapping ideas that will make your presents stand out from the rest. From sparkly decorations to festive ribbons, there's something here for everyone! So get started on your holiday shopping and start wrapping those presents like a pro.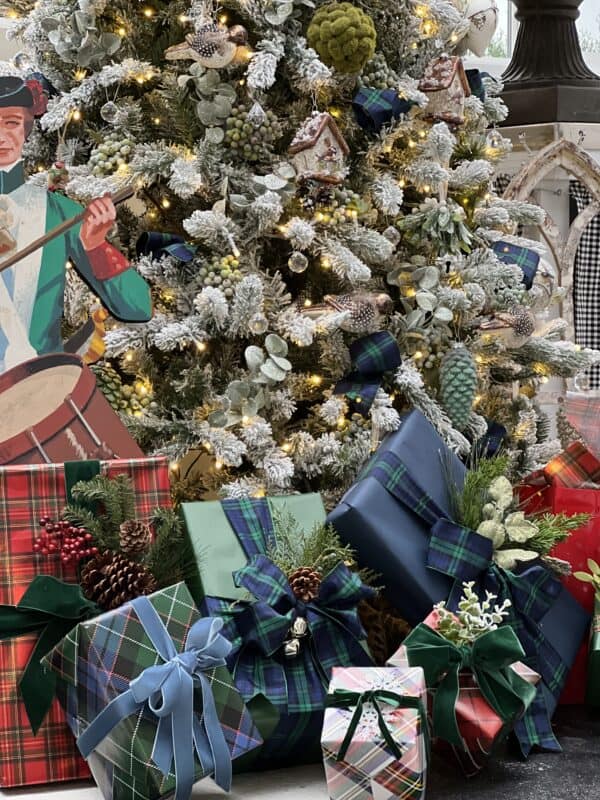 Cindy from Reinvented Delaware
Simple Christmas Gift Wrapping Ideas that are creative and won't break the bank! These easy and unique ideas are fun to create and won't take much time. Slow down and enjoy this Christmas Season!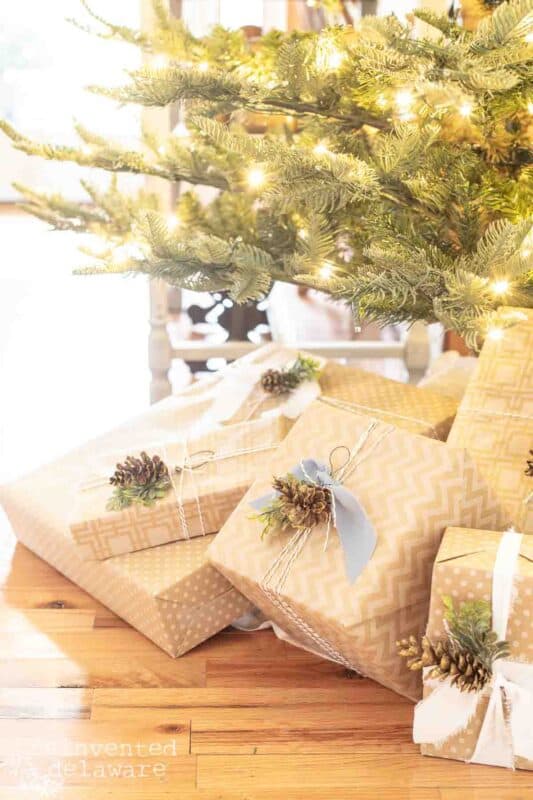 Diane from South House Designs
Here's a clever and eco-friendly embellishment to make for your gift wrapping, or use as place cards or even as ornaments for the holidays. These stars are fun to make and can be customized in so many ways! Besides, there's nothing like a great upcycle and saving money too!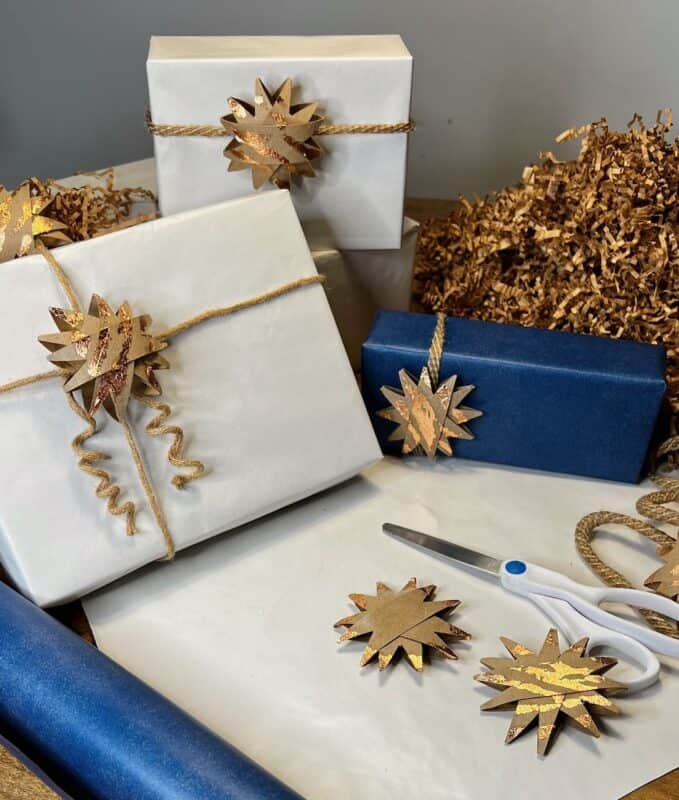 A great way to save this article is to save it to your Pinterest boards. You can find the pin button in the top left corner of the photo below. Also, don't forget to follow me on Pinterest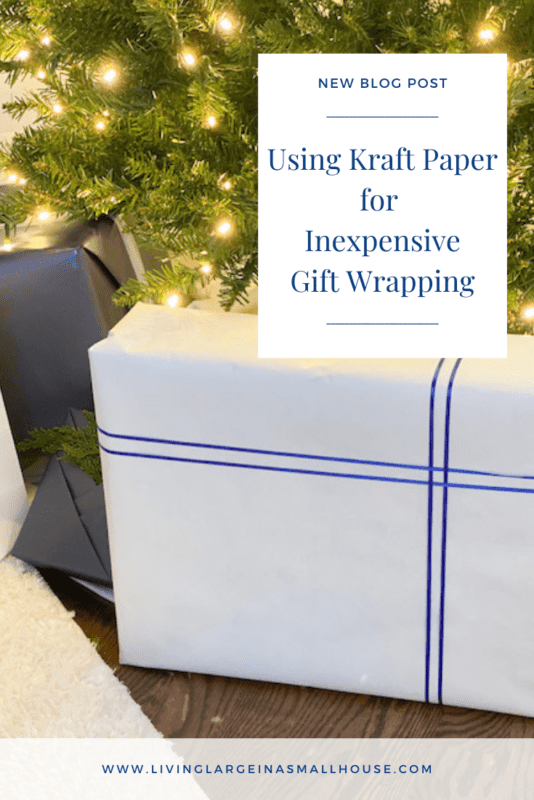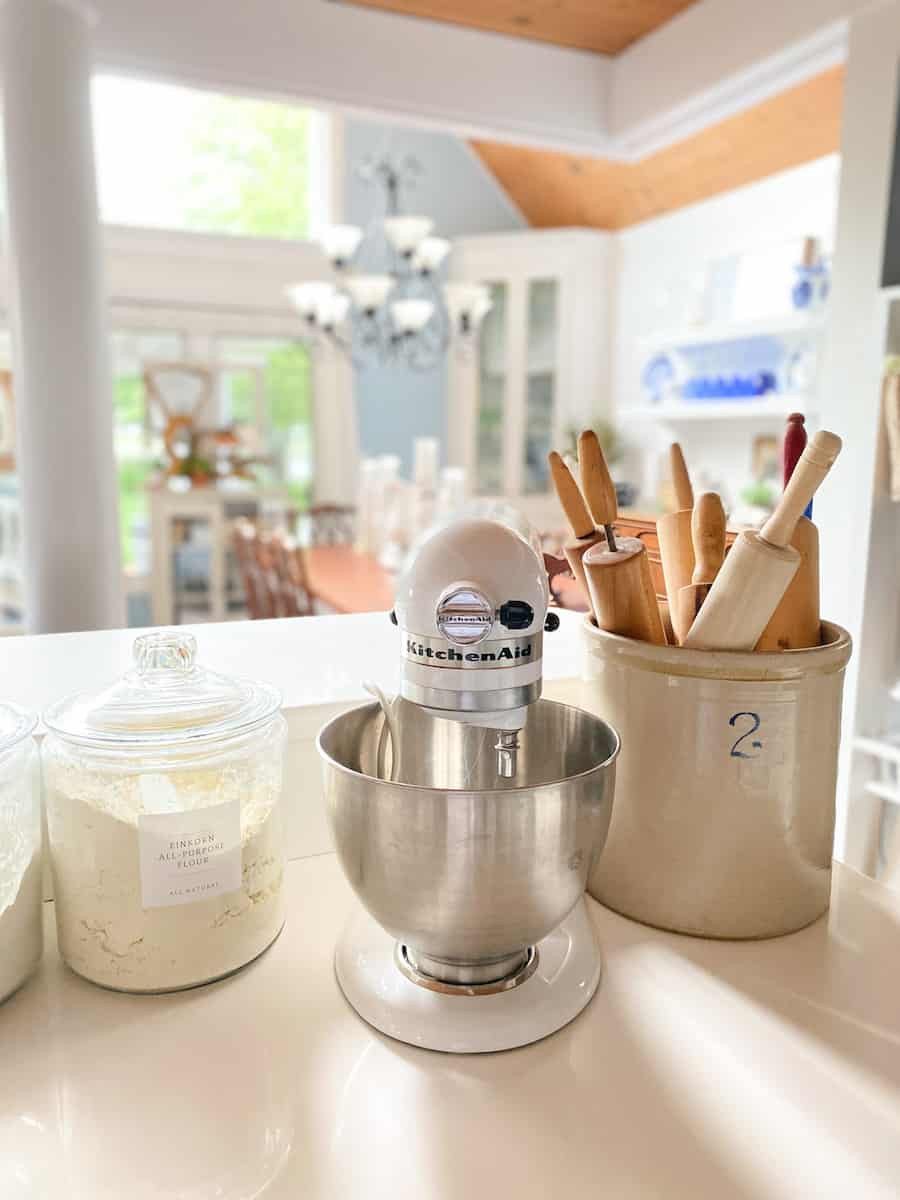 direct access to my amazon store
On Amazon
Did you know that you support my little business by purchasing through my links?? The price to you is the same but I receive a small commission on ALL the purchases you make when you shop through one of my links. I appreciate you helping Living Large in A Small House to grow!