Best Beef Roast with Roasted Veggies
Both "Handy" and I grew up in families that went to church every Sunday and then came home and had a big Sunday dinner.
It typically was roast beef with potatoes and gravy in my house.
I remember the meal was served in the late afternoon so basically Sunday lunch. Then my Mom was off duty the rest of the day. Looking back it was probably the only break she took all week.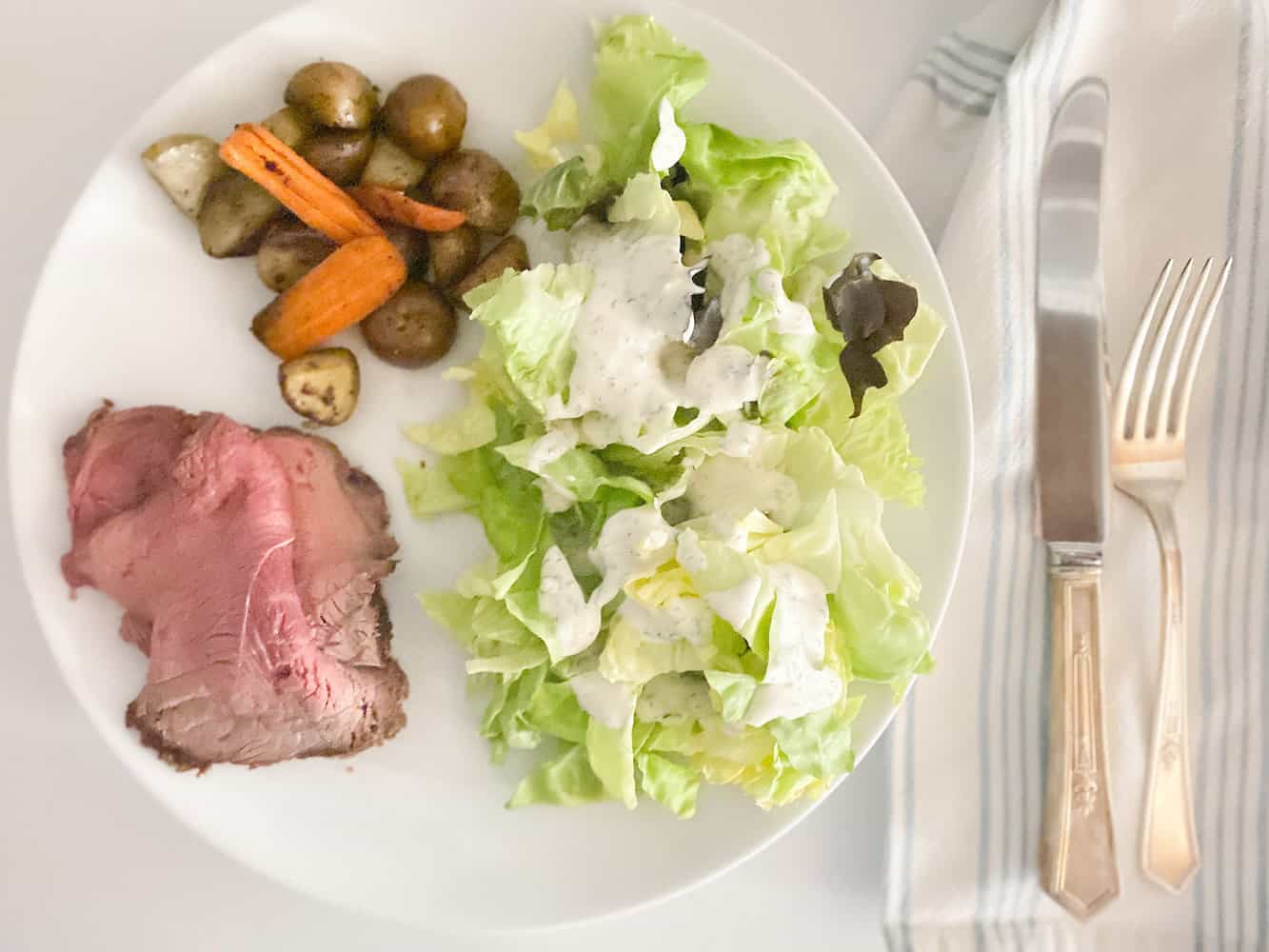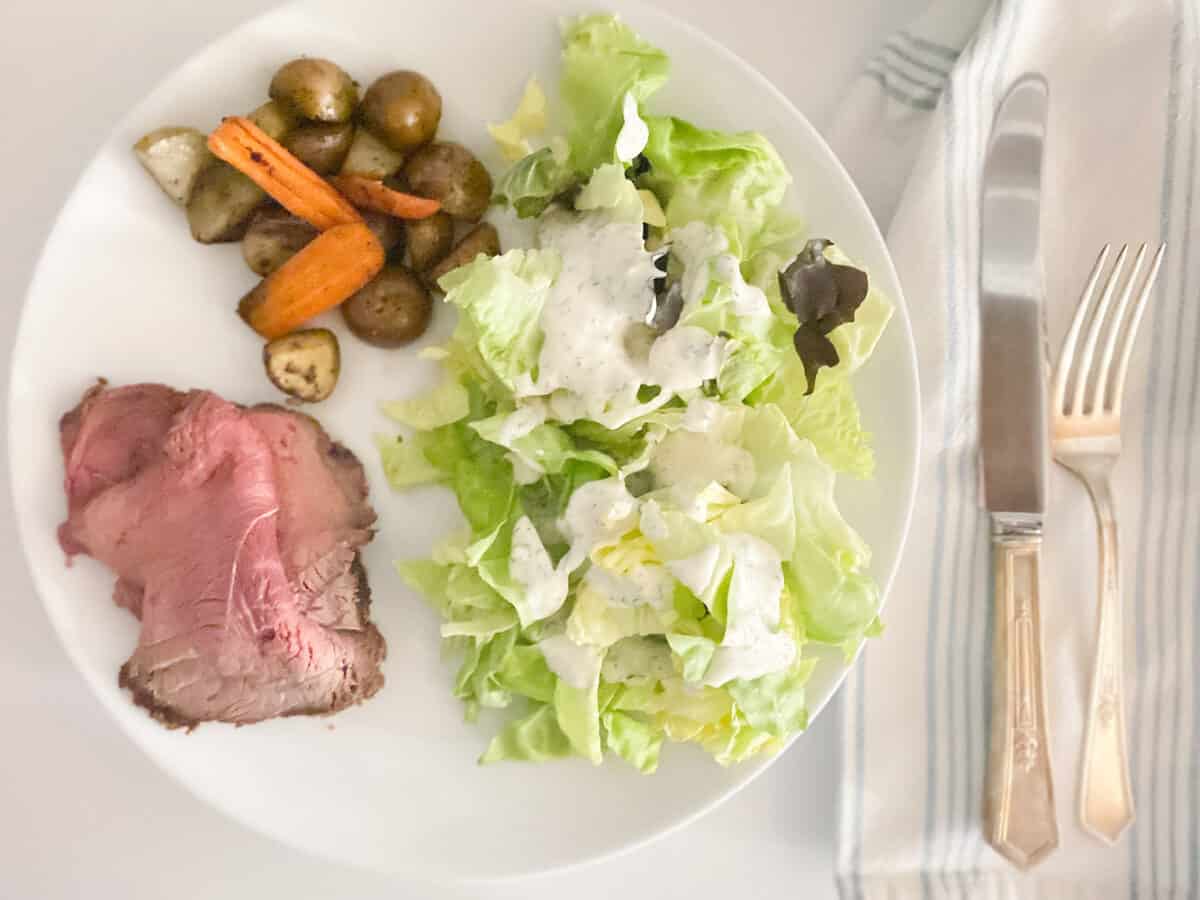 On my blog Living Large in A Small House, I may sometimes use affiliate links, which means a small commission is earned if you make a purchase via the link. The price will be the same whether you use the affiliate link or go directly to the vendor's website using a non-affiliate link. You can find my full Disclosure Policy HERE
Sunday Dinner
This tradition is something that stuck with both of us and we brought it to our family.
In our house, we switch between a roast (beef or pork) a whole roast chicken, or ribs.
Even now when our kids are gone we still like to have a big Sunday dinner. Consequently, I have leftovers to make use of during the week for another meal.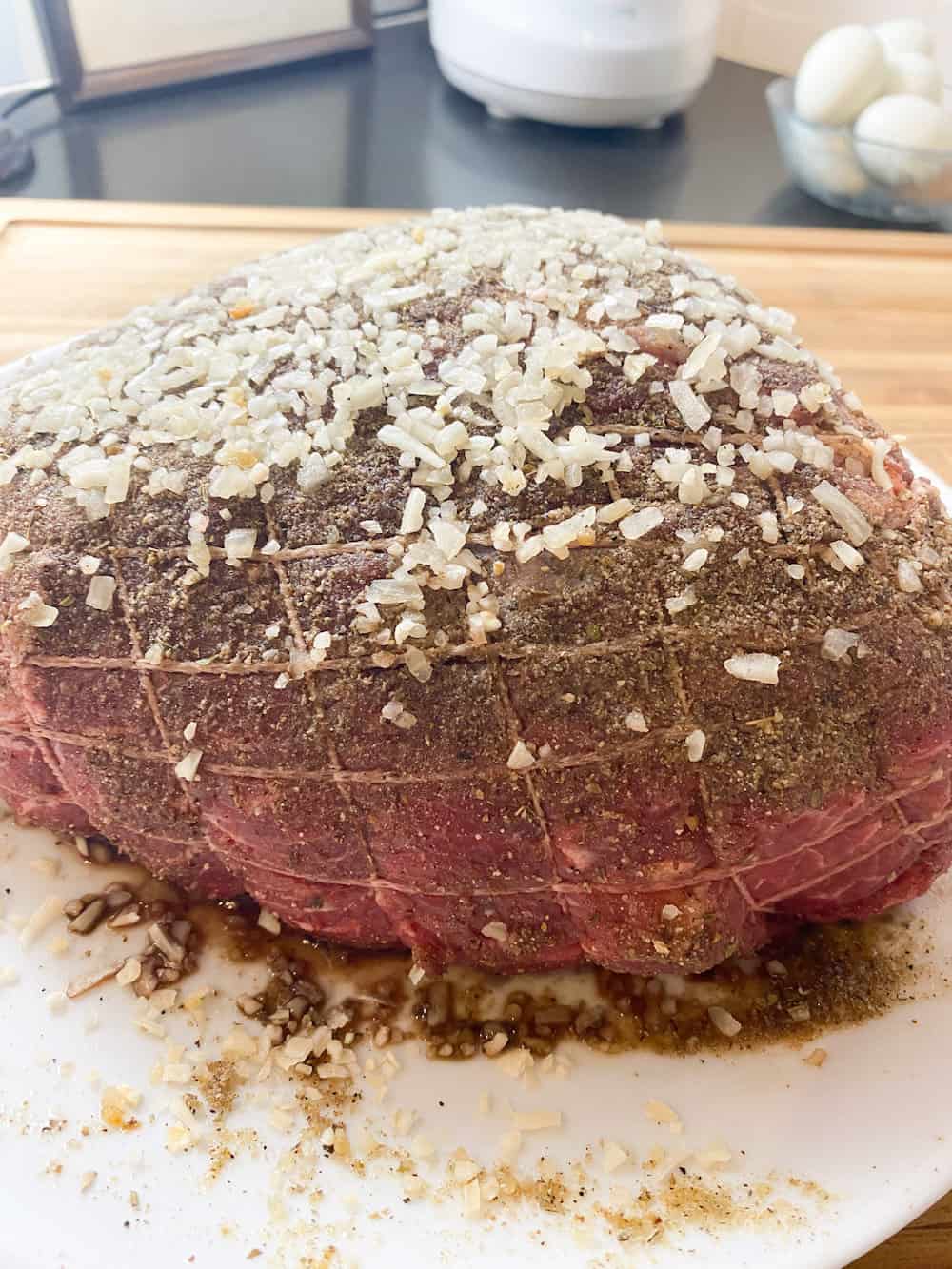 Beef Roast Cuts
The types of roast that we like are tri-tip roast, top sirloin roast, top round roast, and bottom round rump roast.
There are others that are great values and are great for slow roasting. They include sirloin tip roast, the eye of round roast, and bottom round roast.
For special occasions, we love a rib roast or a beef tenderloin roast.
Cooking the Roast
The night before, we put a rub on top of the roast and minced onions. Then it gets wrapped in plastic wrap and put in the refrigerator to sit overnight.
The next day the roast came out of the refrigerator in the afternoon to warm up to room temperature.
In a 9 x 12 roasting pan, we set the roast on a rack. In the bottom of the pan, we put some beef broth and some red wine. This moisture will steam the meat and give it even more flavor. The roast went into a 375 oven for 30 minutes. (Your cooking time will vary based on the size of your roast).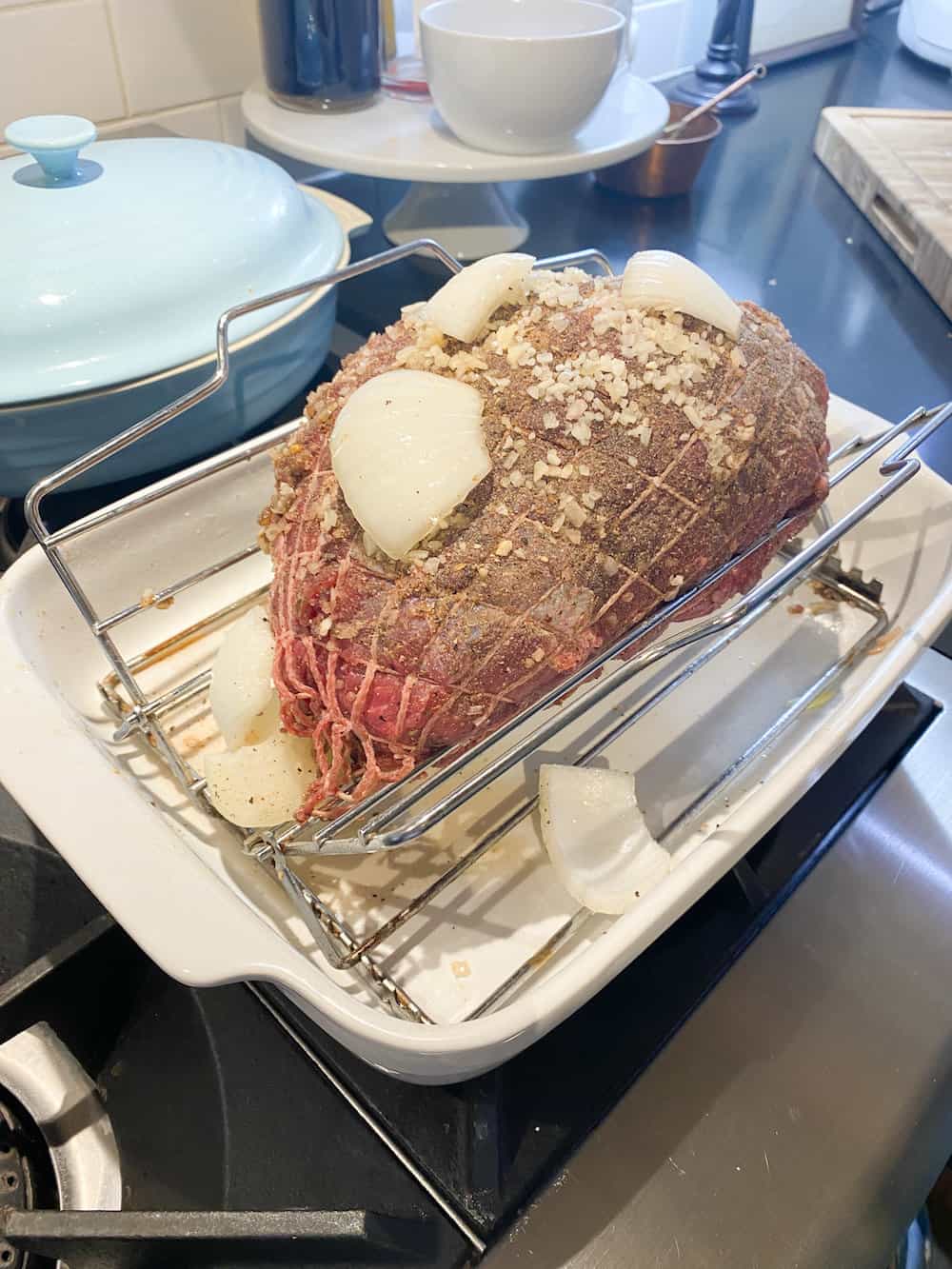 If you don't like a dark crust, you can tent the meat with foil.
Alternatively, another roasting method is to cook your roast in a dutch oven. This works well for a simple Sunday pot roast dinner. I love pot roast but "Handy" not so much.
With a pot roast, I would put olive oil in a dutch oven and brown the roast on high heat on both sides. Then lower the heat and add some broth and/or wine, cover, and put it into the 350-degree oven. In my opinion, a pot roast needs to cook a lot longer than other types of beef roasts.
Roast Vegetables
While the roast was in the oven, I cut small carrots in half, quartered potatoes with skin on, and peel an onion and quarter as well.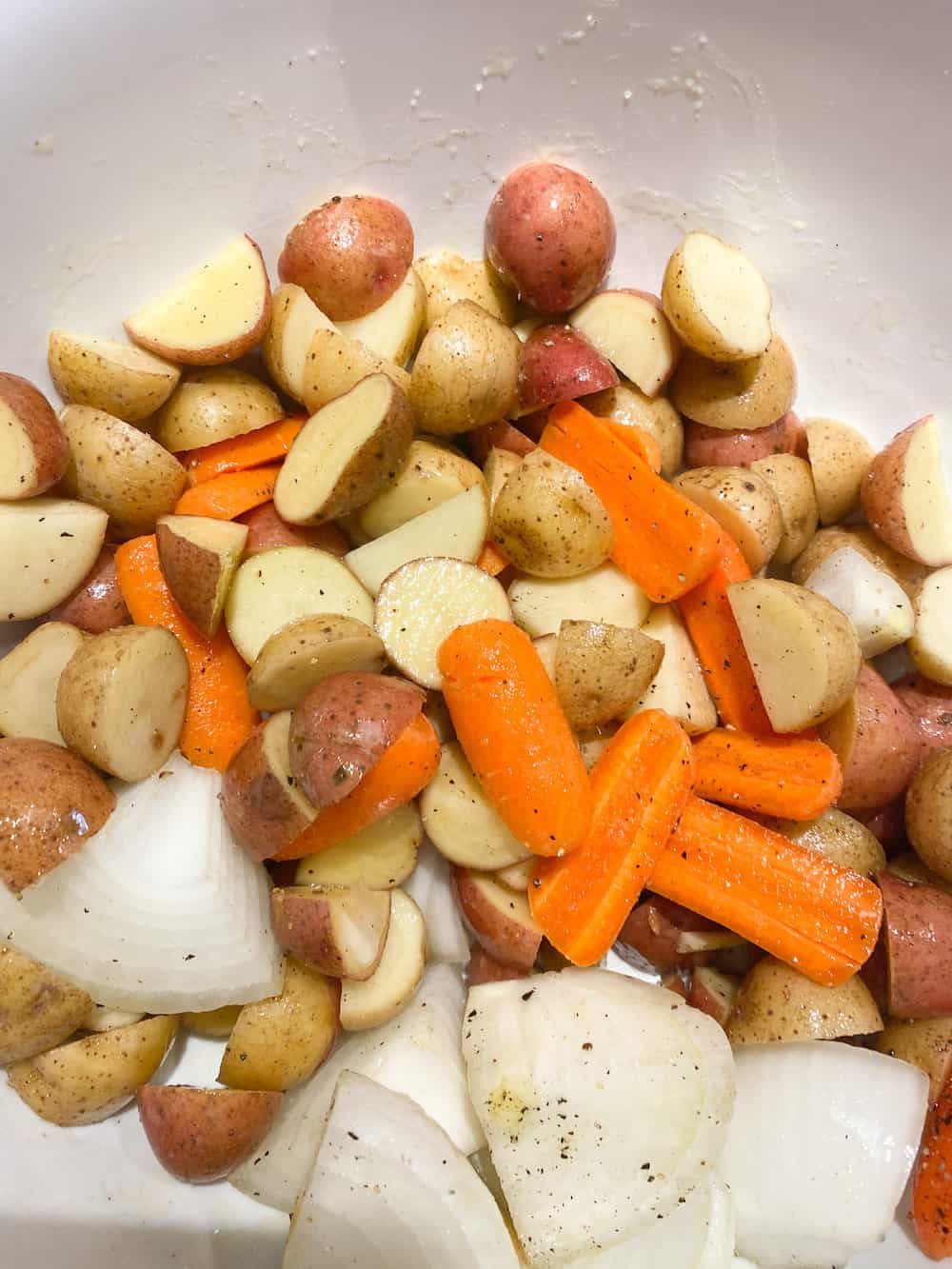 For potatoes, I typically will use whatever I have on hand. Sometimes that is russet potatoes but I prefer red potatoes, fingerling potatoes, or Yukon gold potatoes for roasting.
The same with onions, I will use a yellow, sweet, or red onion depending on what I have in my pantry.
Other options would be sweet potatoes, brussels sprouts, turnips, mushrooms, or parsnips. Any root vegetables that you like can be added to this comfort food recipe.
Some people add vegetables right at the beginning of the cooking but we don't like our vegetables to be mushy. Our preference is for golden brown vegetables and crispy roast potatoes. We like them just fork tender.
I put all of my raw vegetables into a bowl and toss them with olive oil, kosher salt, and pepper. After the roast has cooked for half an hour then we add the vegetables.
At this point when the vegetables are added is when we no longer cover our roasts.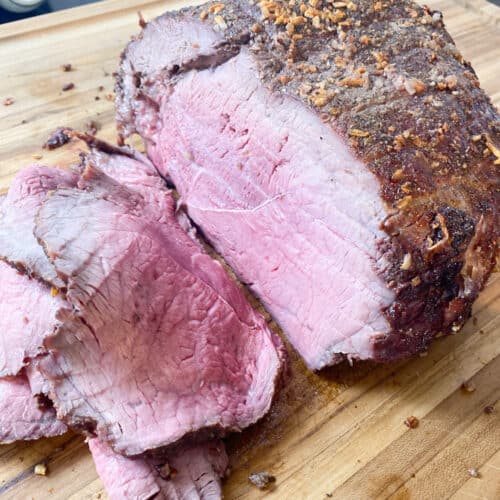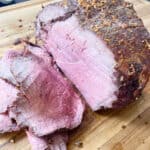 Print Recipe
Yum
Beef Roast with Roasted Vegetable
Beef Roast is a great comfort food recipe for Sunday Dinner
Ingredients
3-4

pound

beef roast

1/4

cup

rub

See Recipe Below

1

tbsp

minced onion

1

cup

beef broth

1/2

cup

red wine

3

carrots, peeled and sliced

1

pound

new potatoes washed and quartered

1

large

onion, peeled and quartered

1

tbsp

extra virgin olive oil

1

tsp

Redmond Real Sea Salt

1/2

tsp

pepper

1

tbsp

cornstarch

1/2

cup

milk

1

cup

beef broth
Instructions
Beef Rub
Cover the roast with the rub and then the minced onions, cover with plastic wrap, and put into the refrigerator for up to 24 hours.
Cooking the Roast
Take the roast out of the refrigerator and bring to room temperature (about 2 hours)

Place the roast on a meat rack in a roasting pan.

Add 1 cup of beef broth and 1/2 cup of red wine. You can also add some of the onion pieces to the broth and wine and even to the top of the roast.

Optional: If you want your veggies really cooked and soft, add them in the very beginning.

Tent foil over the roast (optional) and place in the oven for 30 minutes

After 30 minutes take the roast out of the oven and add the vegetables to the bottom of the pan.

Cook until the desired doneness

Let the roast rest for 15 minutes while you prepare gravy if desired

Use the extra cup of beef broth to deglaze the roasting pan of drippings and crackles. Pour the juice from the roasting pan into a sauce pot. Bring to a boil over medium-high heat and whisk or stir the milk/cornstarch into the drippings, continuing to stir until thickened. Add salt and pepper to taste.
Yum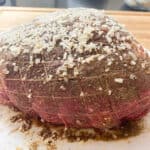 Print Recipe
Yum
Beef Roast Rub
This rub is perfect on a beef roast.
Ingredients
7

tbsp

oregano

7

tbsp

Italian seasoning

7

tbsp

Redmond Real Sea Salt

7

tbsp

pepper

7

tbsp

garlic powder

7

tbsp

McCormack Steak Seasoning

4

tbsp

onion powder

4

tbsp

celery salt
Instructions
Mix all ingredients together and store in an airtight container
Notes
This makes enough for many beef roasts
Yum
Gravy
After the roast is cooked to your desired doneness, you can take it out and let it rest on a cutting board for 10 minutes. Transfer the vegetables to a bowl.
At this point, you can make a rich gravy with the drippings from the roast. Mix 1 tablespoon of cornstarch into 1 cup of milk Pour the meat juices into a small saucepan. Heat on medium heat and slowly add the milk/cornstarch mix to the drippings. Stirring constantly until thickened. You can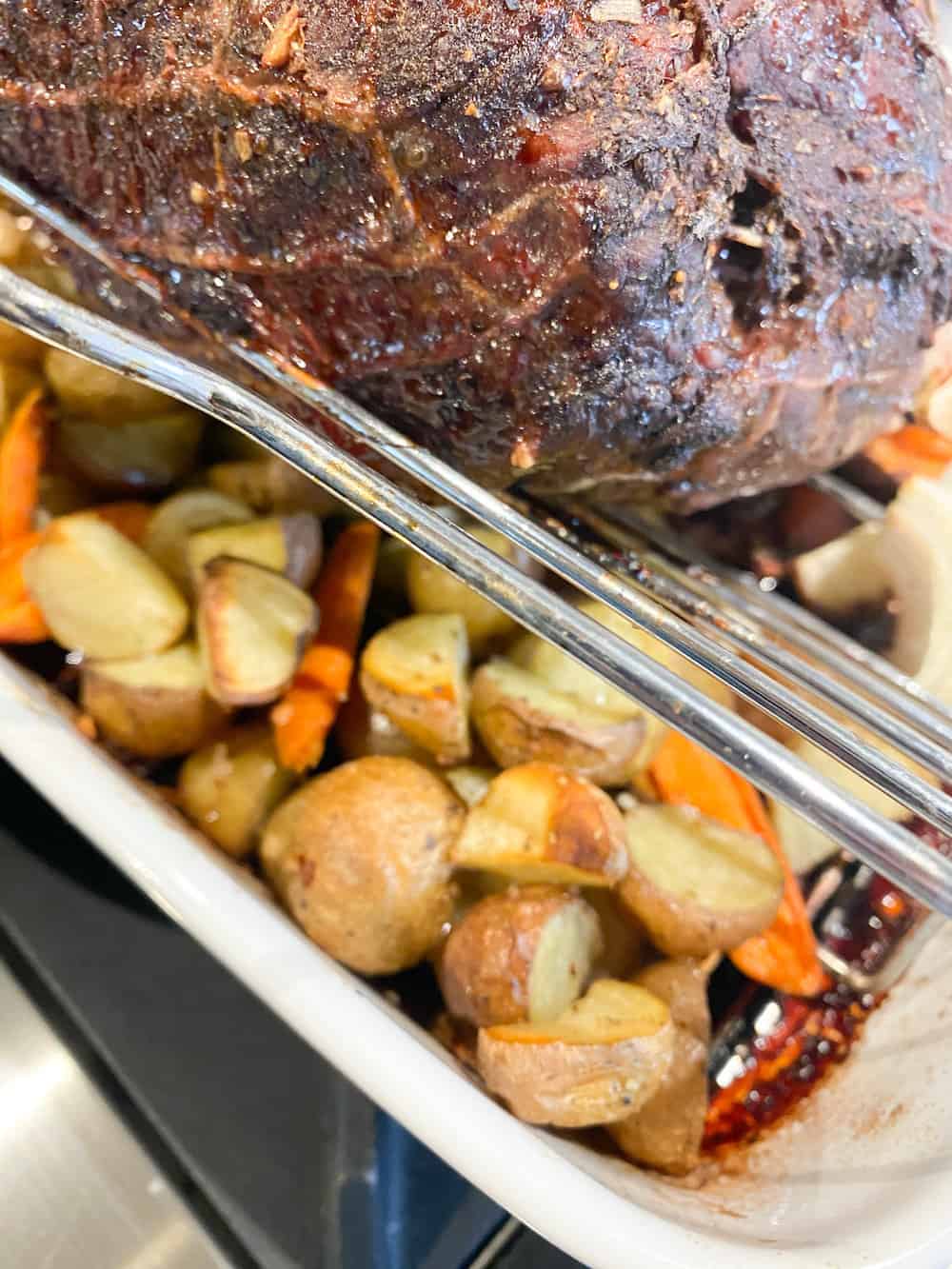 Cooking Time for a Beef Roast

Cook a roast in a 375-degree oven for 20 minutes per pound.
We remove our roast at 125 degrees internal temperature for a rare roast. Once it rests the internal temp will rise to 135 degrees. Allow your roast to cook longer if you want it more well done. You can follow the chart below.
Rare: Remove from oven at an internal temperature of 125F.
Medium Rare: Remove from oven at an internal temperature of 130F.
Medium: Remove from oven at an internal temperature of 140F.
Medium Well: Remove from oven at an internal temperature of 145F.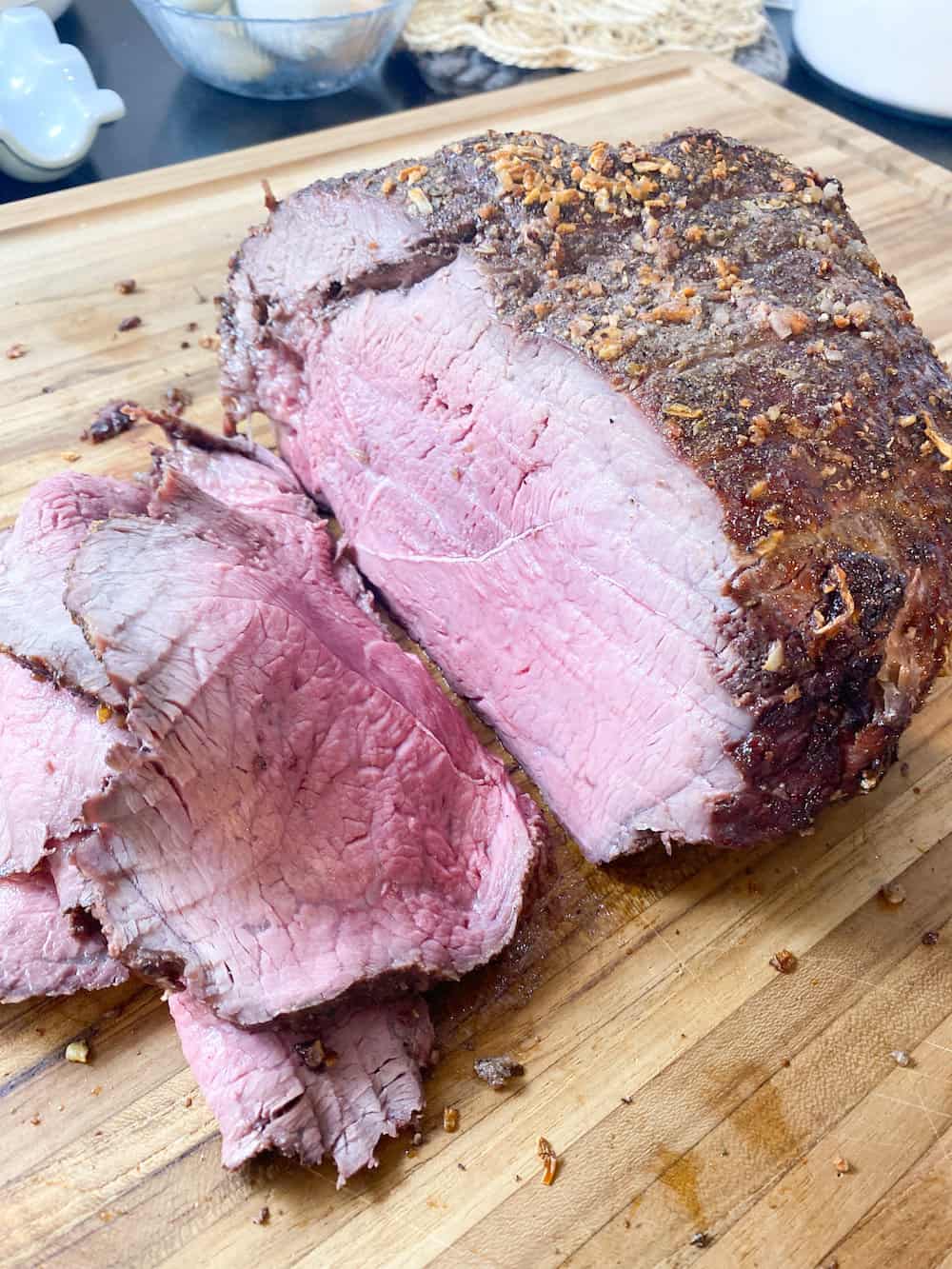 Left-Over Beef Roast
As I mentioned, we always seem to have leftovers from our Sunday dinner and I make another meal out of it during the week.
Here are some ideas
Beef Stroganoff
Hot Beef Sandwiches
Beef Fried Rice
Beef Burritos
Beef tips with onions
A beef roast is a hearty, comfort food meal that is relatively easy to master.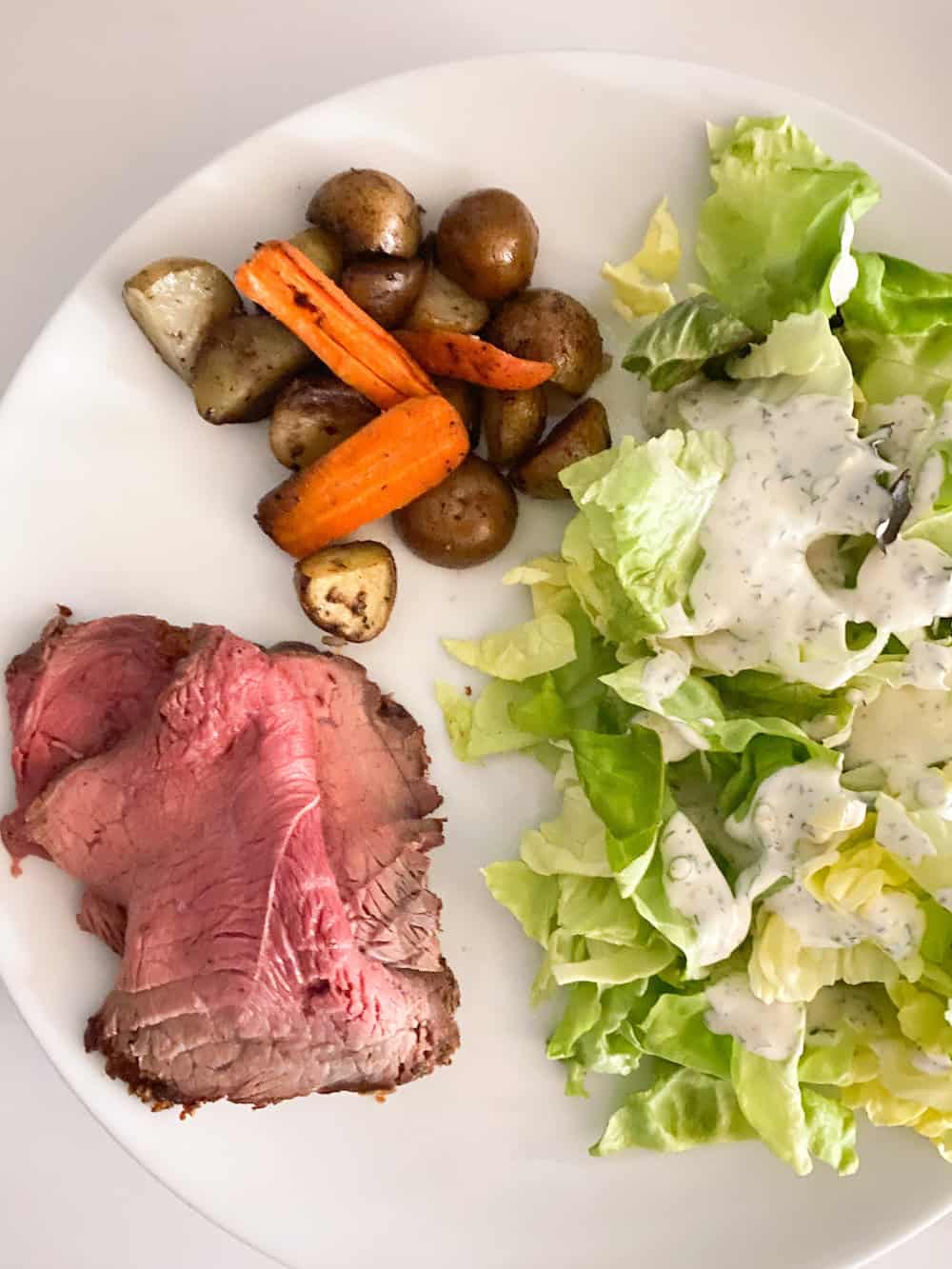 It's actually so easy that "Handy" can handle this meal all on his own!
Peace and Love,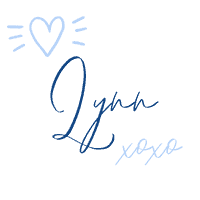 I recently accepted a collaboration with the ButcherBox and I couldn't be more excited. ButcherBox has thoughtfully sourced meats and seafood and is dedicated to doing the right thing.
If you've been here for a while, you know that I'm all about being environmentally friendly, and what I put into my body is also important to me.
When the first box gets to my door, I will be taking you along for the ride!
Thanks for Following Along
If you enjoyed this post I hope you sign-up to be a friend of Living Large in A Small House! Then you won't miss any of the inspiration that is shared with you each week! You can also follow me on Instagram, Facebook, and YouTube. I share even more inspiration on Pinterest! You can listen to me chat on my Podcast

A great way to save this recipe is to save it to your Pinterest boards. You can find the pin button in the top left corner of the photo below. Also, don't forget to follow me on Pinterest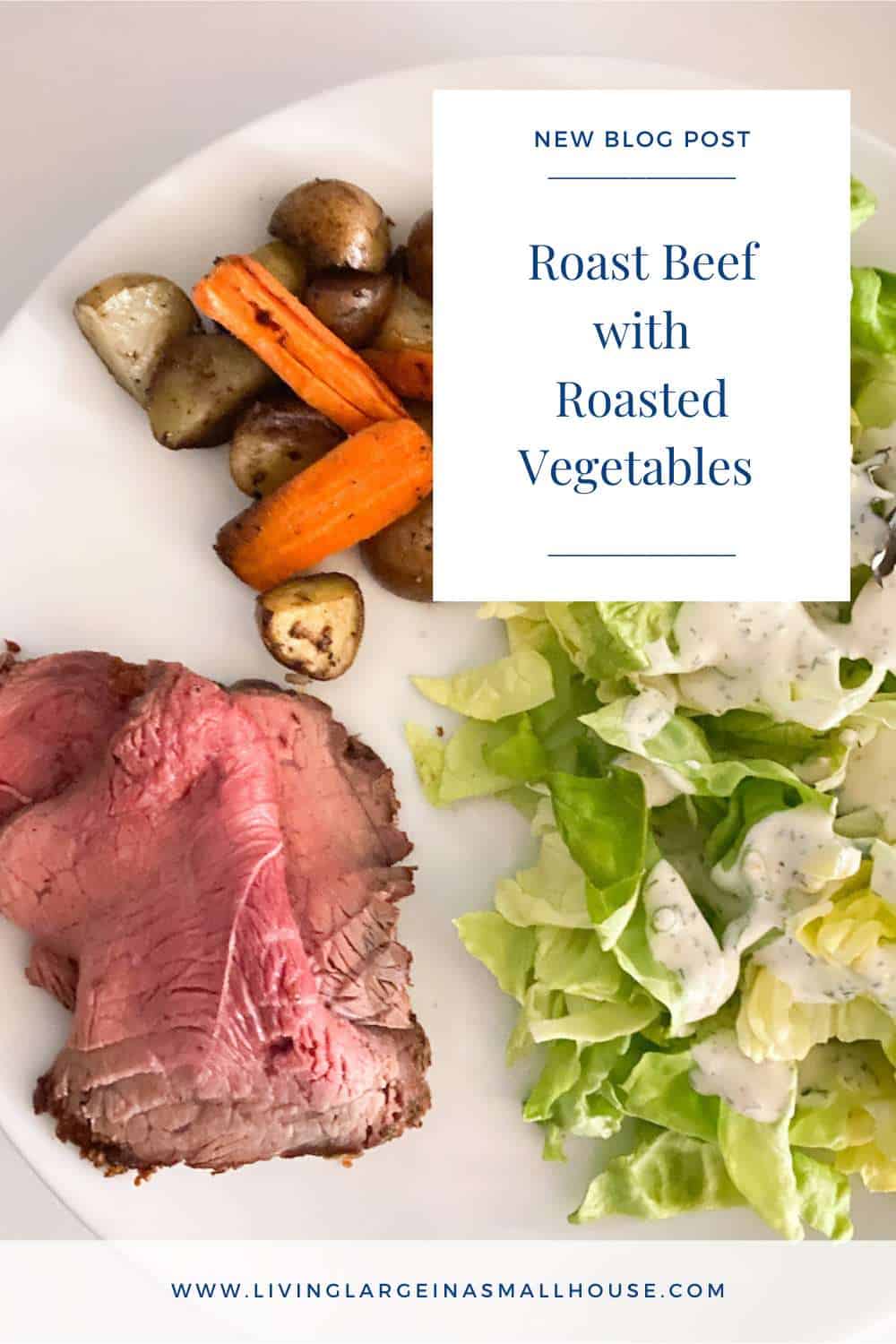 Living Large Podcast
My guest this week is the delightful Nicolle from Our Tiny Nest. You don't want to miss this fun Podcast.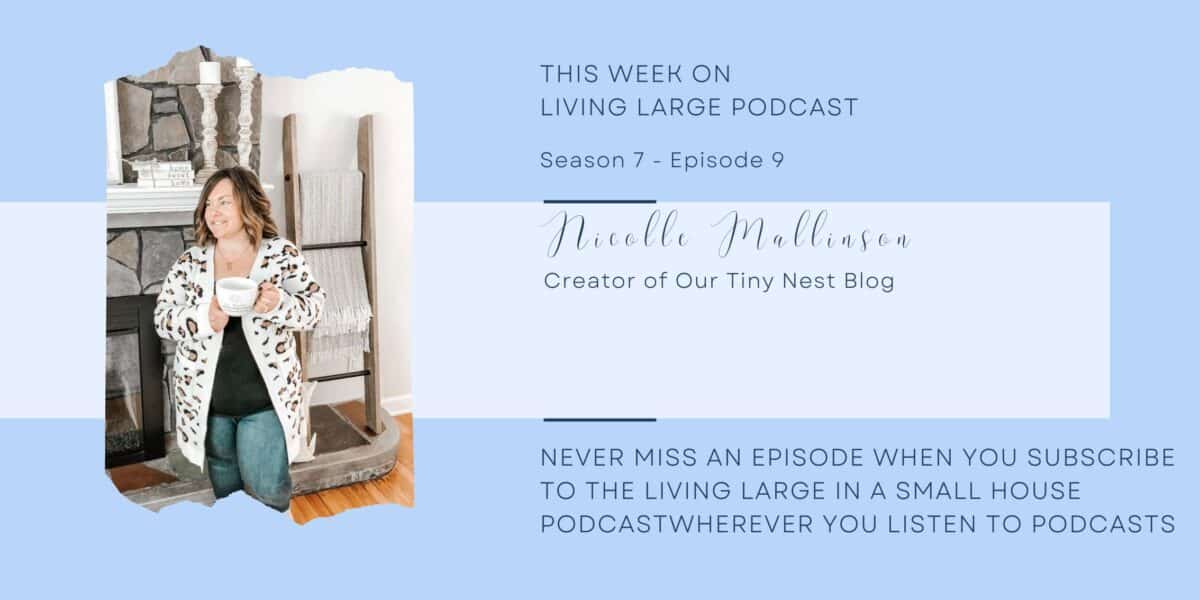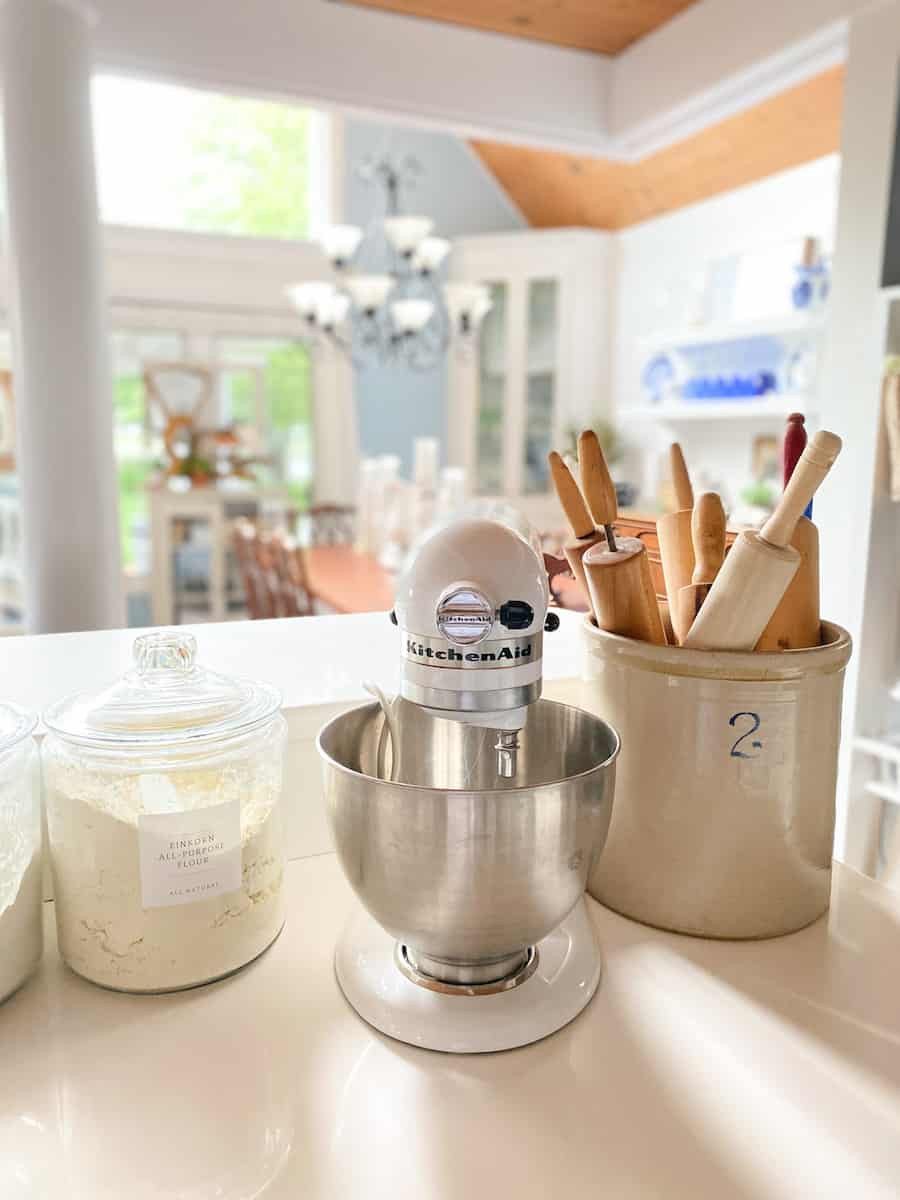 direct access to my amazon store
On Amazon
Did you know that you support my little business by purchasing through my links?? The price to you is the same but I receive a small commission on ALL the purchases you make when you shop through one of my links. I appreciate you helping Living Large in A Small House to grow!