Classic Homemade Chicken Pot Pie
It's comfort food time at our house and a classic homemade chicken pot pie is the ultimate comfort food, In my opinion.
When I have leftover chicken one of my go-to's is chicken pot pie.
Handy isn't a fan of meals where food is mixed together so when I find something that he will eat I keep it on rotation.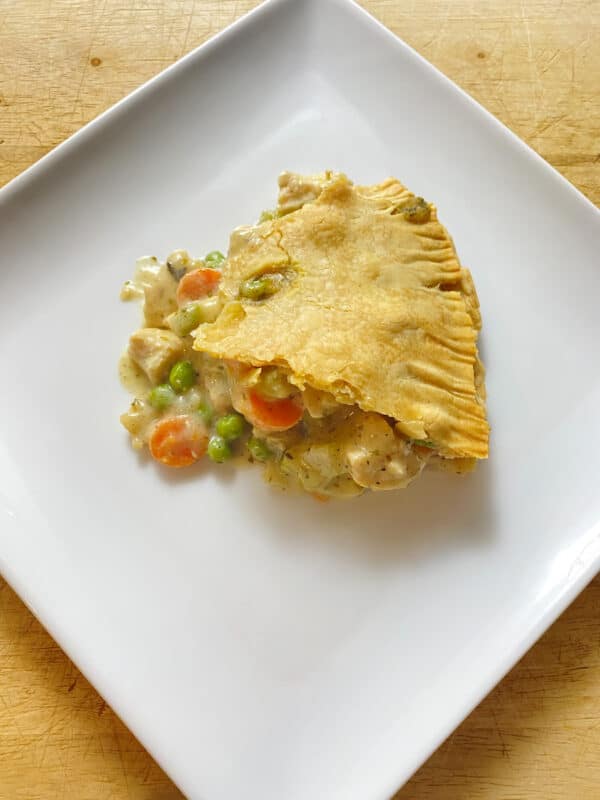 On my blog Living Large in A Small House, I may sometimes use affiliate links, which means a small commission is earned if you make a purchase via the link. The price will be the same whether you use the affiliate link or go directly to the vendor's website using a non-affiliate link. You can find my full Disclosure Policy HERE
Using Leftover Chicken for Potpie
I typically make a whole roasted chicken about once a month and when I do there is always leftover cooked chicken. Chicken is such a versatile protein and there are so many things you can do with extra chicken.
Here are a few more chicken recipes that you can make with leftover chicken.
Chicken Salad
Chicken Fried Rice
Chicken Nachos
Chicken Chili
Chicken Enchiladas
Chicken Pot Pie
Buffalo Chicken Tacos
Chicken Alfredo Pizza with Sour Dough Crust
These are also great recipes for quick meals using store-bought rotisserie chicken.
Don't have leftover chicken? Boil two chicken breasts in water for 15 minutes and then drain and dice the chicken breast when they are cool enough to work with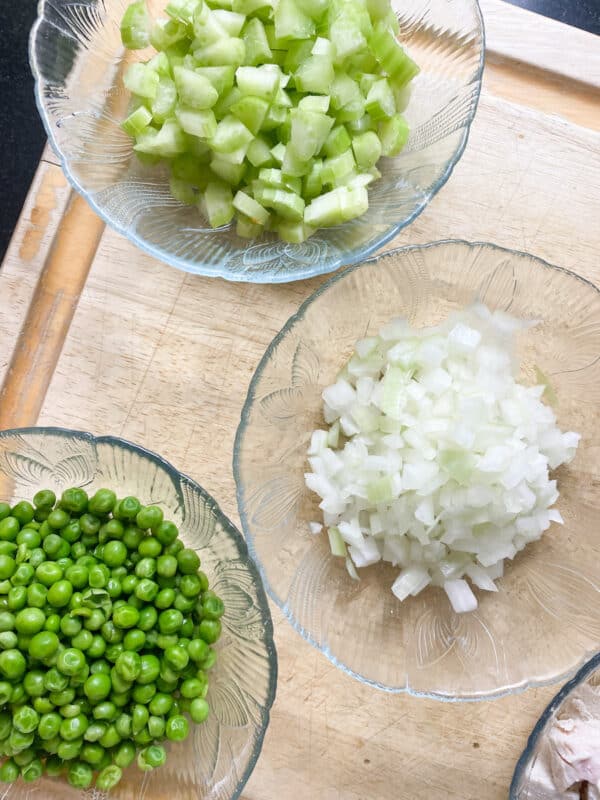 My Classic Chicken Pot Pie Recipe
To make the job easier you can dice up the carrots, and dice my celery and onions earlier in the day. Measure out the peas and let them thaw.
Sauté the onions in 1 tablespoon of butter and oil and then add the carrots and celery. Let them cook until they are starting to get tender, about 20 minutes. At this point, you can put in the peas.
Melt the last tablespoon of butter in the mixture. Add all-purpose flour to the veggies and stir in completely then add spices and the chicken broth. When the mixture thickens add chicken and the half and half. As soon as it just starts to boil, I take it off the heat.
At this point, you have a very tasty, creamy pot pie filling.
Print Recipe
Yum
Chicken Pot Pie
Homemade Chicken Pot Pie Recipe
Ingredients
1

tbsp

olive oil

2

tbsp

butter, divided

1/2

cup

diced onion (about 1/2 large onion)

3/4

cup

diced celery (about 2 large stalks)

1

cup

sliced carrots

1

cup

frozen peas, thawed

2-3

cups

cooked, diced chicken

2

tsp

Redmond Real Sea Salt

1/2

tsp

pepper

1

tsp

dried thyme

1

tsp

dried oregano

1/4

cup

celery seed or celery salt

3

tbsp

all-purpose flour

1-3/4

cup

chicken broth

3/4

cup

half & half or cream

2

9-inch pie crust or homemade pie crust
Instructions
Filling
Add 1 tbsp., butter, and olive oil to a large skillet and heat over medium-high heat

add onions and sauté for 2-3 minutes. Add carrots and celery. Cook for 15 – 20 minutes until onions are translucent and carrots and celery are getting soft. Be sure to stir often so they don't burn.

Turn the heat down to medium. Add the peas and the other tablespoon of butter. Let the butter melt. Then sprinkle the flour over the veggie mixture and stir until completely combined. Then add all of the spices and combine. Add the chicken broth stirring until it starts to thicken and gently boil.

Add the half & half or cream and chicken stirring it into the creamy sauce, and take it off the heat as soon as it has heated through.

Add the filling to the pie crust.
Pie Crust
Keep the crust frozen until ready to use. When you take the pie crust out, cut off the crimping from the first crust. Add the filling to the second crust and to the first crust.
Baking
Place the filled pie onto a baking sheet. Cover the edges of the pie with tin foil and put into the preheated oven for 40 minutes or until golden brown.
Notes
Another shortcut to make this a really easy recipe would be to use frozen mixed vegetables and you can also add frozen green beans and/or frozen corn if you want more veggies in your pie.
Yum

The Crust
A homemade crust is the best but then the process becomes more time-consuming.
Pillsbury™ Pie Crusts are very convenient store-bought pie crusts for a pot pie and they are pretty tasty. The pack that I buy comes with two crusts. I use the bottom crust for the filling and then the second crust for the top of the pie.
I cut off the crimping on the second crust and then just top the filling with the un-crimped crust.
If you want to try your hand at making your own crust, this recipe is a good one PIE CRUST and makes a lovely flaky crust. In my opinion, making a homemade pie crust is an art and takes practice. Truth be told I really haven't mastered it yet. I'm still waiting to have a crust turn out in such a way that I say "That's perfect"
There is nothing like rolling out your own dough with a rolling pin on a lightly floured surface to just the right thickness and then laying it into a pie plate, filling it with filling, and creating that beautiful lattice or pretty cut-out top crust.
When I figure out how to get the crush right, I want to try making individual pies. There are nights when Keith or I am home alone for dinner and they would be great for a single serving.
For best results brush dough with an egg wash to give it an even more beautiful lightly browned crust.
Chickens
We keep chickens in our backyard but only for their eggs. They are amazing! This is the time of year when I'm not only planning my gardens but also thinking about adding new chicks to our flock. I share what I know about chicken HERE.

Frequently Asked Questions
How do I thicken my pie sauce?

The flour in the recipe when added to the vegetables will thicken the chicken broth when you add it. You can add more flour if you like a very thick sauce but then it tends to taste pasty in my opinion and not have that creamy chicken flavor.
Should I cover the pie while it's baking?
Use strips of aluminum foil to cover crust edge so that it doesn't burn while it's baking. You will have a perfectly golden brown chicken potpie with this method.
Can you freeze leftover chicken pot pie?

This recipe makes three meals for the two of us. We eat 1/3 and then freeze the rest in an airtight container. We thaw them and reheat them in the microwave. They make a great meal for a busy night.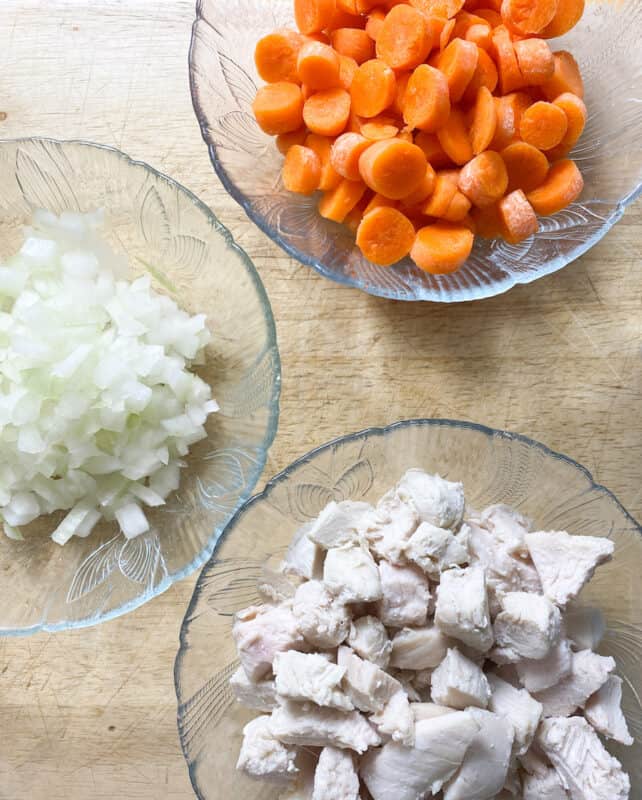 Comfort Food
Our winters are cold and right now snowy. Comfort food seems like a midwest staple.
I've added a "comfort food" category to my recipe drop-down so that the things we like to prepare in the colder months or the season when we need a meal that feels like a big hug, you can easily find them.
Peace, Love, and Pot Pie,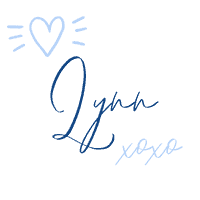 Thanks for Following Along
If you enjoyed this post I hope you sign-up to be a friend of Living Large in A Small House! Then you won't miss any of the inspiration that is shared with you each week! You can also follow me on Instagram, Facebook, and YouTube. I share even more inspiration on Pinterest! You can listen to me chat on my Podcast

A great way to save this recipe is to save it to your Pinterest boards. You can find the pin button in the top left corner of the photo below. Also, don't forget to follow me on Pinterest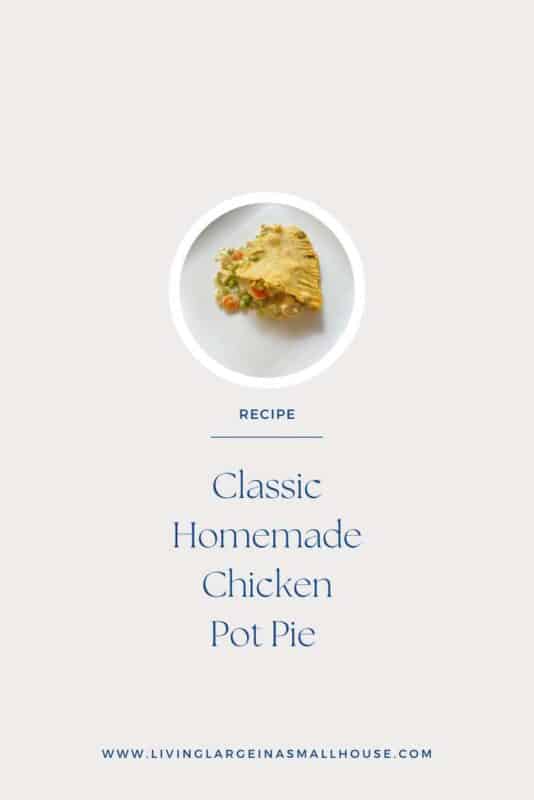 Living Large Podcast
This is a quick little podcast about what is going on at Living Large in A Small House and my plans for this year.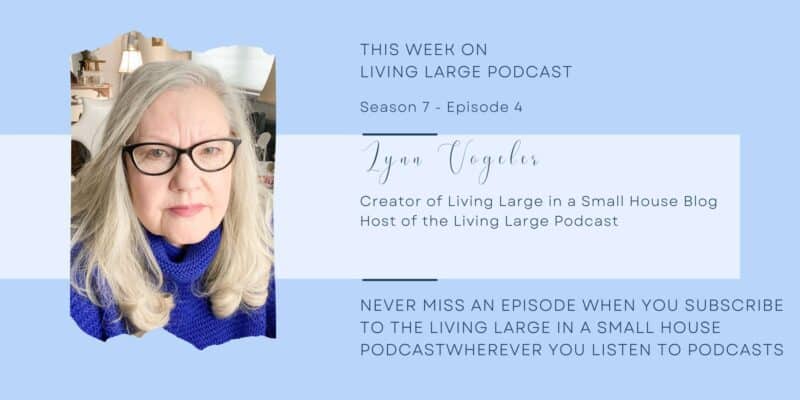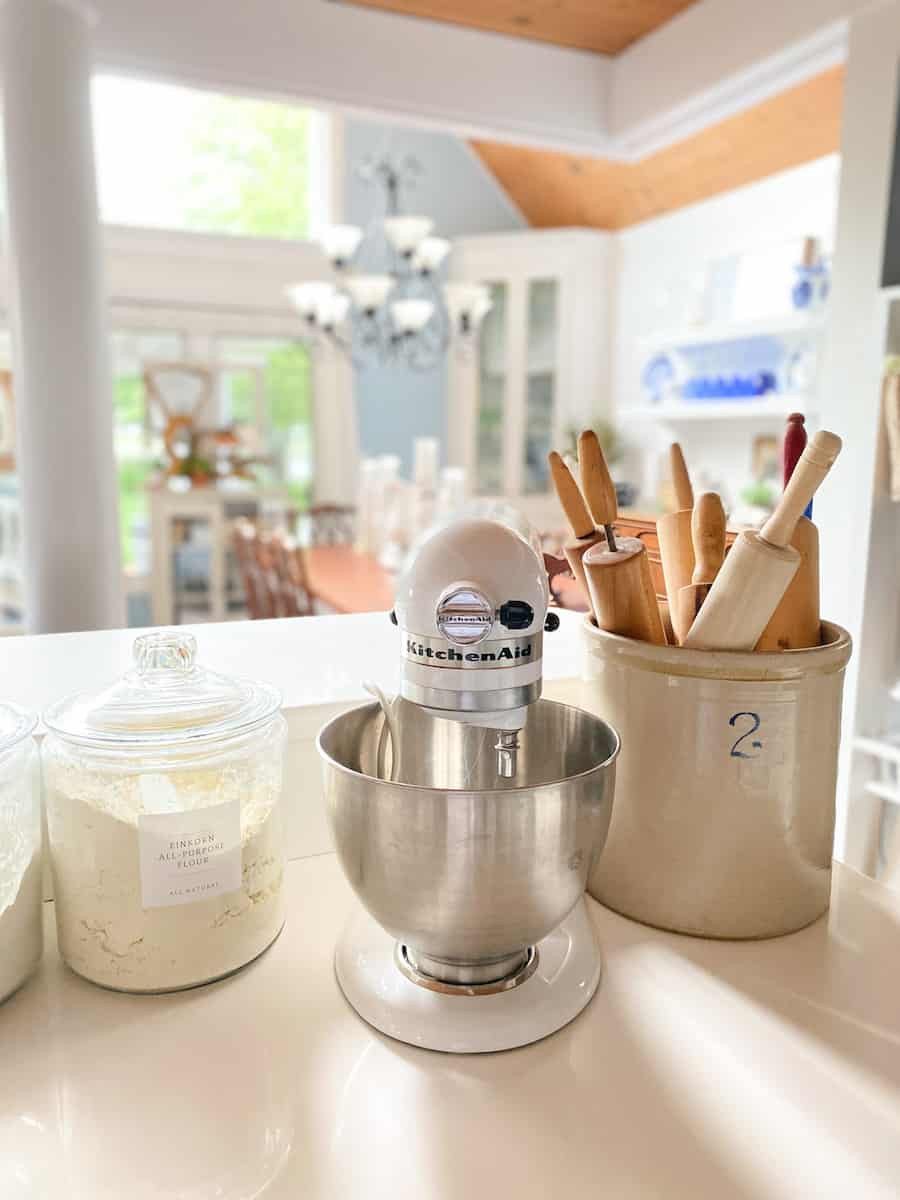 direct access to my amazon store
On Amazon
Did you know that you support my little business by purchasing through my links?? The price to you is the same but I receive a small commission on ALL the purchases you make when you shop through one of my links. I appreciate you helping Living Large in A Small House to grow!