Classic Chicken Noodle Soup with A Twist
I wasn't feeling well last week and boy was I glad I had recently made my homemade chicken noodle soup recipe.
Making enough for a meal and then some to stock the freezer can be a blessing when someone isn't feeling well.
Nothing says love and classic comfort food like a bowl of chicken noodle soup.
On my blog Living Large in A Small House, I may sometimes use affiliate links, which means a small commission is earned if you make a purchase via the link. The price will be the same whether you use the affiliate link or go directly to the vendor's website using a non-affiliate link. You can find my full Disclosure Policy HERE
Classic Chicken Noodle Soup Recipe
My soup recipe is very traditional chicken noodle soup.
To a large pot or dutch oven, I add homemade chicken stock, diced yellow onions, potatoes, celery, carrots, and spices.
Once the vegetables are cooked, I add wide egg noodles and cook until done and then I add shredded cooked chicken.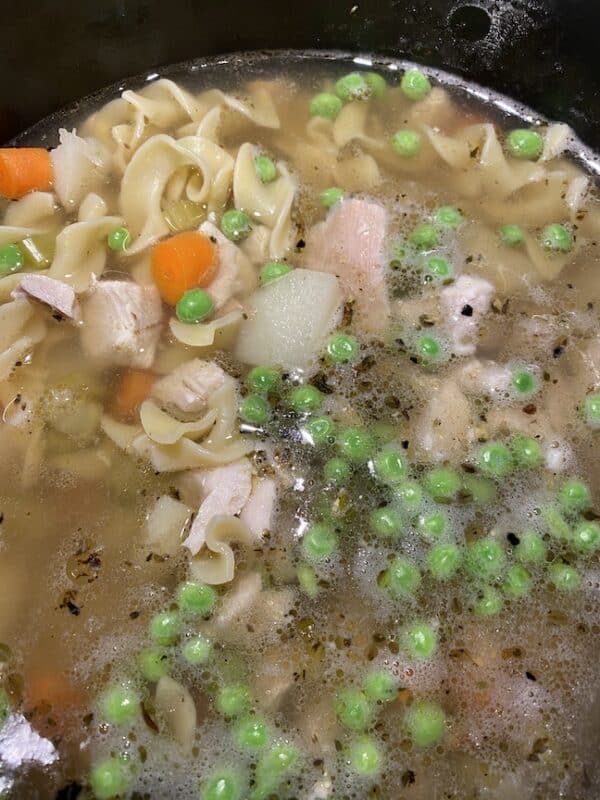 Homemade Bone Broth
While you can. use store-bought broth (and I sometimes do) You can also make homemade bone broth.
At our house, we make a whole chicken for Sunday dinner at least once a month and I don't let anything go to waste.
Chicken Soup
Chicken soup is a soup made from chicken, simmered in water, usually with various other ingredients. The classic chicken soup consists of a clear chicken broth, often with pieces of chicken or vegetables; common additions are pasta, noodles, dumplings, or grains such as rice and barley.
Any leftover chicken is saved for soups, salads, or maybe a chicken pot pie.
The carcass of the chicken goes into a large pot, it gets covered with water, and to that, I add bay leaves, and fresh herbs if I have them. If not I add dried parsley, thyme, and oregano. Additionally, I add salt and pepper and a quartered medium onion.
I typically freeze the tops and ends of my celery stalks and that also gets tossed into the stock pot. You bring the water to a boil and then let it simmer. If you start it early in the day you can let it simmer, partially covered for at least 4 hours.
For some reason, I typically don't get it started until later in the afternoon and I'll cook it for a couple of hours, let it cool and set the whole pot in our spare refrigerator overnight. Then finish it the next day. I found that leaving it sit overnights makes such a full-bodied broth so it's my favorite method for homemade stock.
I know that many people will put it in their crockpots or even their instant-pot.
Once the broth is done and cooled, I strain it into a very large bowl and throw out all the bones, cooked veggies, and herbs.
Now it's ready to be used for soup.
I also can my broth so I have it all year long in my pantry.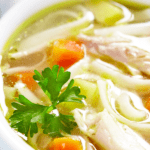 Print Recipe
Chicken Noodle Soup
Ingredients
64

oz

chicken broth

store bought or homemade

1/2

large onion diced fine

I use my Cuisinart

1

tbsp

olive oil

1-2

large

potatoes, peeled and diced

3-4

carrots, peeled and diced

3-4

stalks of celery, peeled and diced

2

cups

diced cooked chicken

1-2

cups

egg noodles

1

tbsp

salt

2

tsp

pepper

2

tsp

dried thyme

2

tsp

dried oregano

2

tsp

dried parsley
Instructions
Heat oil in a stock pot over medium heat and add onions, stirring with a wooden spoon until soft.

Add the chicken broth and bring to a boil

Add the vegetables bring back to a slow boil and cook until the vegetables are fork-tender (about 15 minutes)

Add the noodles and cook for 7-10 minutes.

Add the chicken and cook until heated through about 5 minutes
Notes
Chicken Noodle Soup is very forgiving. You can add more or less of any of the ingredients according to your taste. Honestly, I don't really use a recipe I use what I have in my refrigerator and pantry.
Add a Twist to your Chicken Soup Recipe
Soup is so versatile. You can add or take out anything that you like or don't like.
Peas
Corn
Spinach
Chopped Tomatoes
Leeks
Beans or Lentils
Fish Sauce for an Asian chicken noodle soup
Worcestershire or Soy Sauce
Half & Half or Coconut Milk for a Creamy Chicken Noodle Soup
Lemon juice and zest for a lemon chicken soup
Lime juice
Play around with herbs – Use fresh if you have them.
Dumplings
Switch out the chicken and chicken stock with beef and beef broth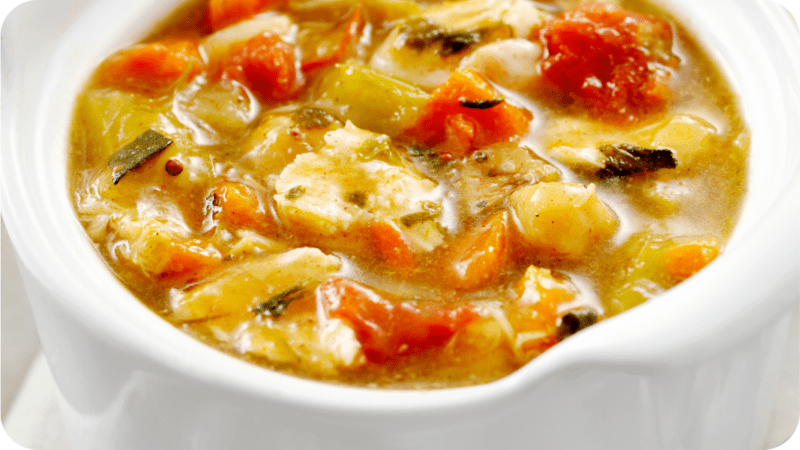 Beyond the egg noodles
You don't have to just use egg noodles in homemade chicken noodle soup.
Bow Tie Noodles
Soup Noodles
Ditalini
Ramen Noodles
Rice
Barley
Tortellini
toppings
Shredded or Grated Cheese
Rice Noodles
Soup Crackers
Tortilla Chips
Fresh Parsley or Cilantro
Avocado
Croutons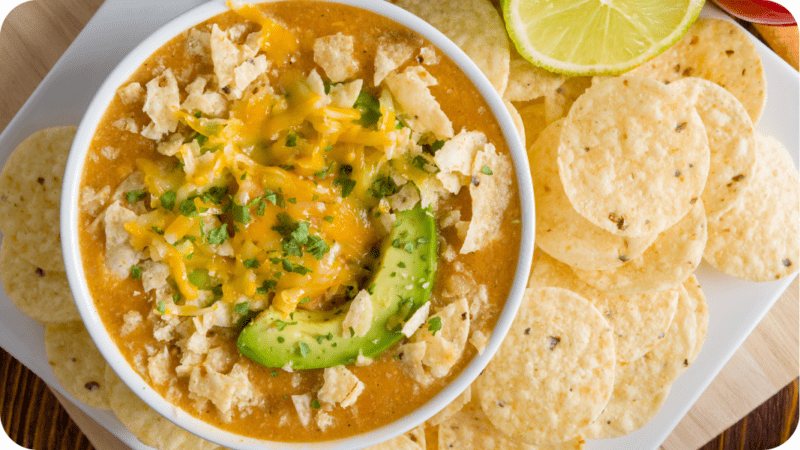 What's In My Winter Kitchen
Soup Short Cuts
Store Bought Broth
Rotisserie Chicken
Frozen Bag of Mixed Vegetables
You can have soup on the table in 20 minutes using these shortcuts and it's so much better for you than soup from a can.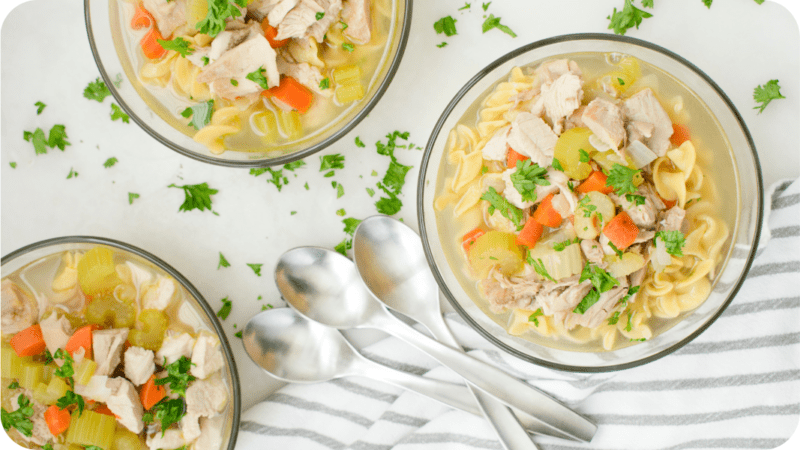 What to Have with Your Soup
The old standard of Soup and Sandwich is the first thing that comes to mind.
I also love a slice of homemade bread but you can certainly get fresh french bread from the grocery store.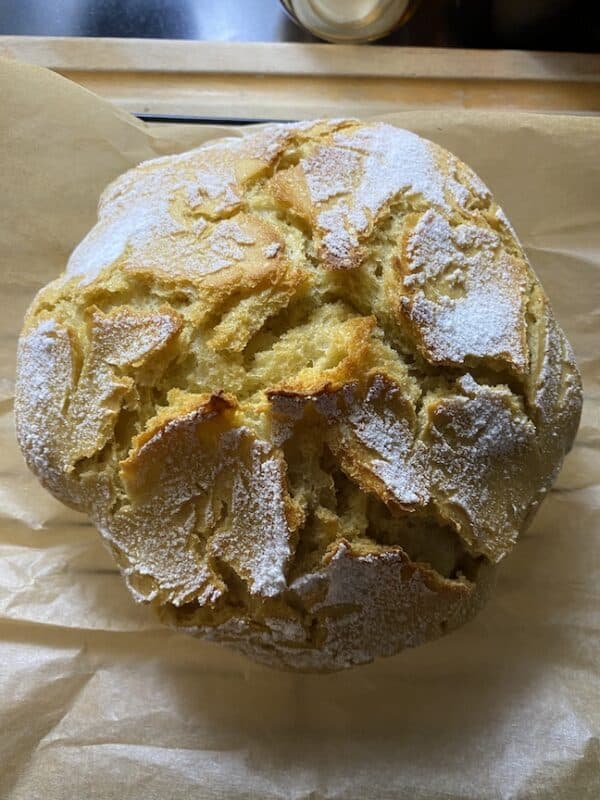 If you're interested in making sourdough bread. My recipe is HERE.
If you want something that is just as delicious and way less complicated, you can find my Artisan Bread Recipe HERE.
Peace,

A great way to save this recipe is to save it to your Pinterest boards. You can find the pin button in the top left corner of the photo below. Also, don't forget to follow me on Pinterest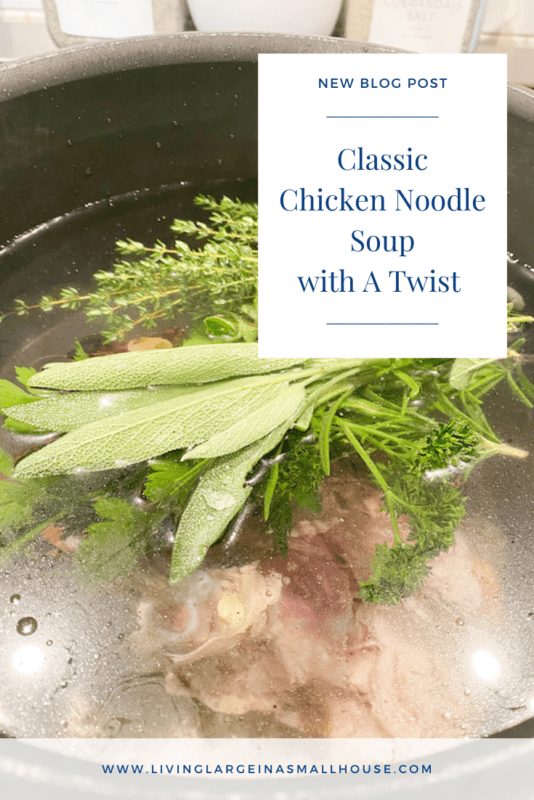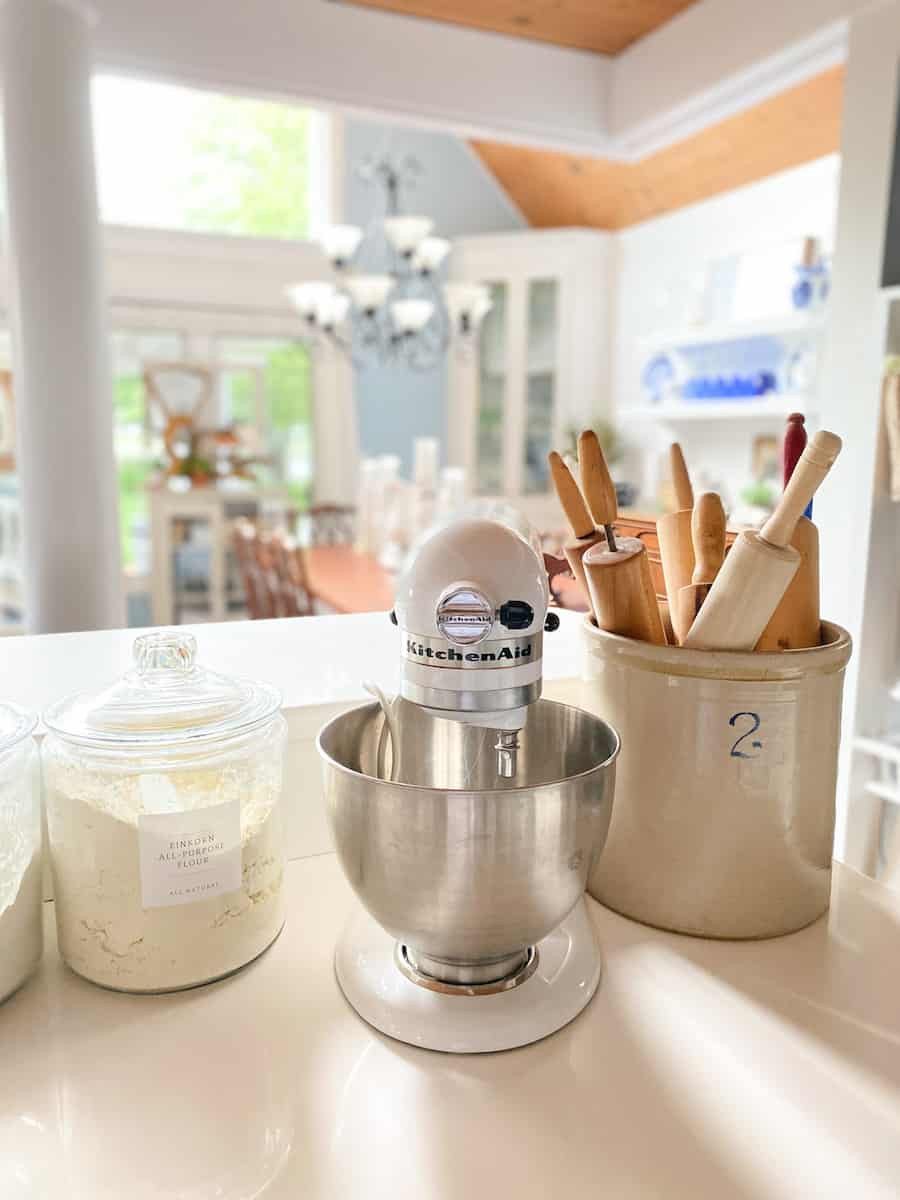 direct access to my amazon store
On Amazon
Did you know that you support my little business by purchasing through my links?? The price to you is the same but I receive a small commission on ALL the purchases you make when you shop through one of my links. I appreciate you helping Living Large in A Small House to grow!

living large podcast
"Handy" joined me on the podcast this week and we talked about our One Room Challenge Room. We also talked about the big project we are doing between Christmas and the New Year. I also shared with him (for the very first time) what new home improvement project I want to tackle in 2023.