One Room Challenge – The Reveal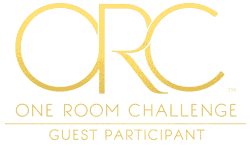 We have finally come to the end of the One Room Challenge and now is the time for the Reveal
Let's start by saying, It's my new favorite spot in the house.
Before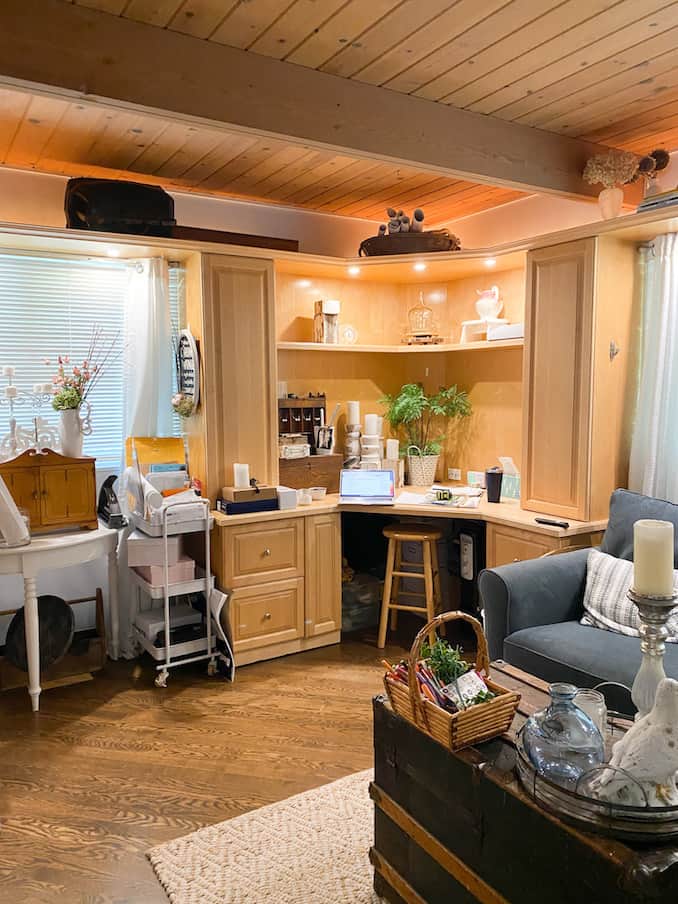 On my blog Living Large in A Small House, I may sometimes use affiliate links, which means a small commission is earned if you make a purchase via the link. The price will be the same whether you use the affiliate link or go directly to the vendor's website using a non-affiliate link. You can find my full Disclosure Policy HERE
The Room Challenges
Let's recap what we didn't like about the original space
The space had several built-in which didn't give much flexible floor space.
Being in the North-West corner of the house, the room was dark and felt cold
It needs to function as an Office/Den/Guest Room
When I didn't know what to do with something it got put in this space.
Dark Green Sleeper-Sofa which is fairly new, functional, and barely fit into the room, had to stay.
Both the windows in the room are offset from the center of the walls.
The Initial Design Plan
Remove the built-in desk
Wallpaper the room and inside the closet
Find an old dresser and desk and refinish both
Work with Boutique Rugs for a new rug
Paint the built-in bookshelves white
Replace the blinds with curtains
Buy a new chair for the room
Slipcover the sofa and make throw pillows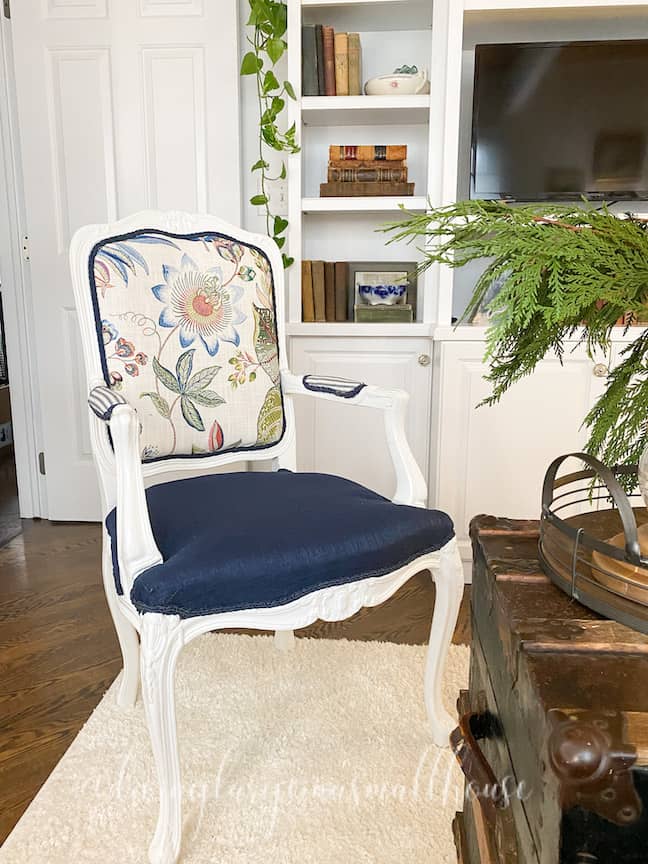 Actual Design Elements
When we removed the desk, we discovered that the hardwood floors weren't refinished so we had to add that to our plan.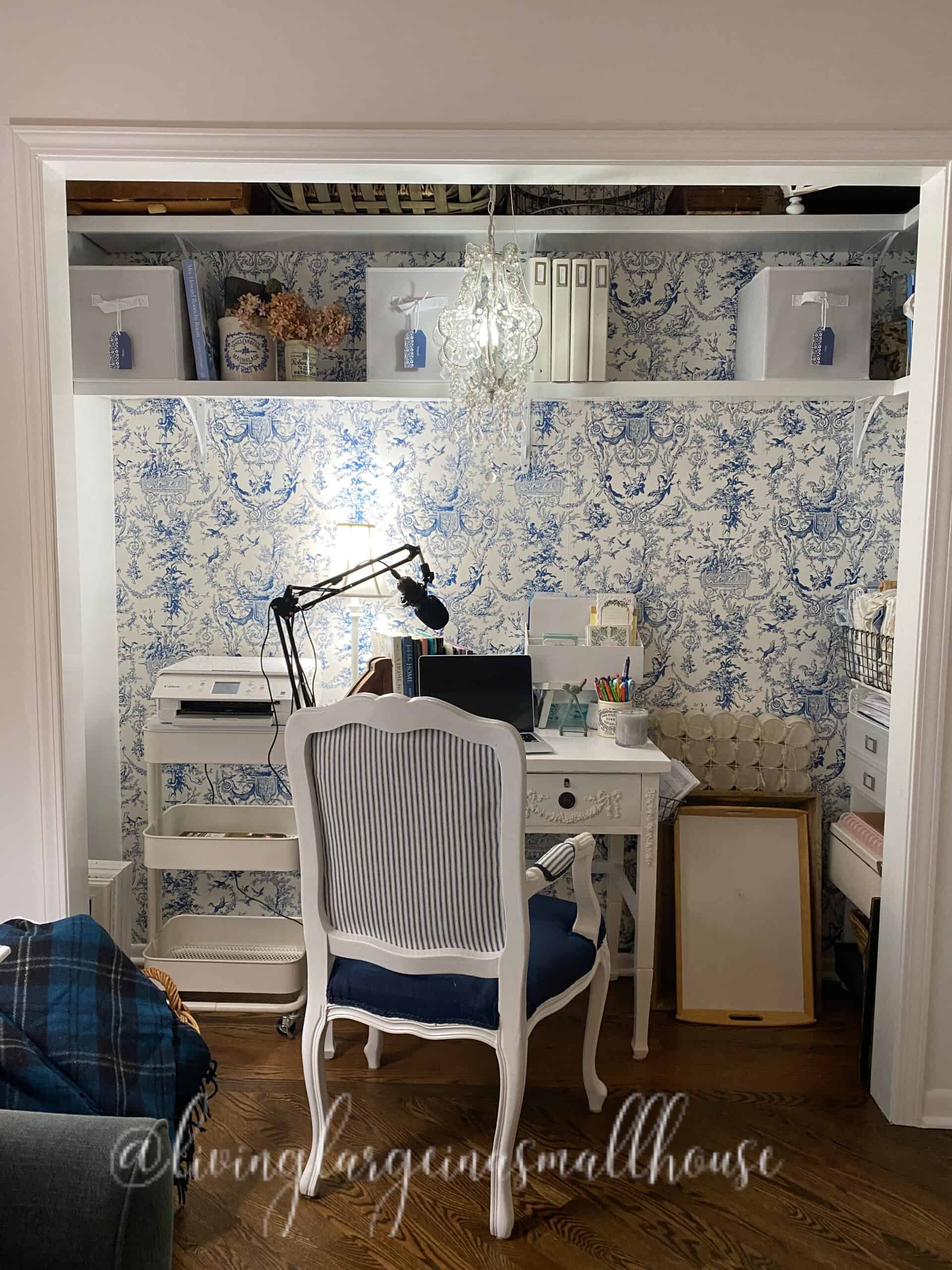 The wallpaper we wanted, had a lead time greater than 8 weeks so we decided to install vertical shiplap on one wall and paint the whole room white.
I did find wallpaper that I loved on Amazon and I wallpapered the inside of the closet. It was the old-fashioned paste wallpaper that I hadn't done in years but it was like riding a bike. It was so easy to hang.
Once we took out the old closet organizer unit and put up the paper, Handy made two shelves for the upper part of the closet to house all of the things that I use as a home decor blogger.
I found an old desk that I painted white and dresser that after living with it for a while, we fell in love with it just the way it was. I initially had the dresser in the closet and the desk in the main space in the room but I ended up flip-flopping them and I'm much happier with it.
My rug from Boutique Rugs is absolutely perfect. It's a white shag rug and it's so soft and believe it or not you can't see dirt and it vacuums up beautifully.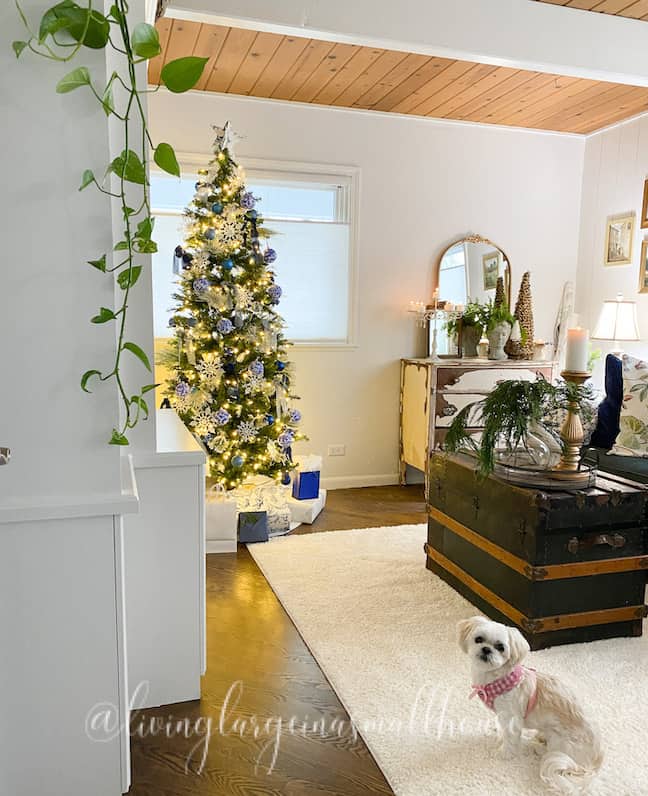 Being a small room in a small house, we have to use this room for not one or two purposes but three. This will is be our Den/Office/Guest Bedroom when now that we are finished.
We absolutely love it!
After getting a few bids on painting the bookshelves and then finding out they couldn't finish it in a timely manner, "Handy" and I tackled it ourselves. We sanded it and painted it and it actually only took about a week to finish. It was easier than we thought and a real plus to our budget.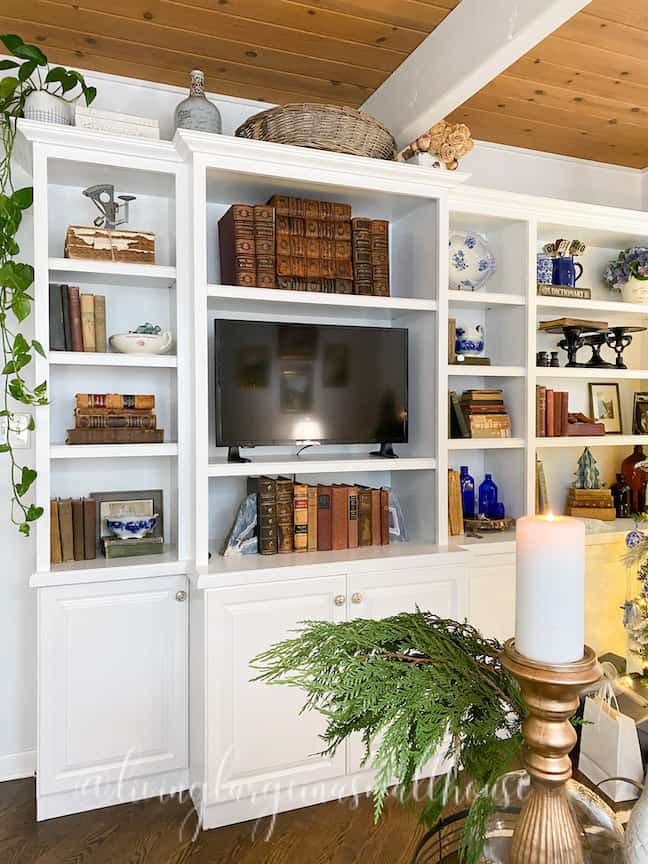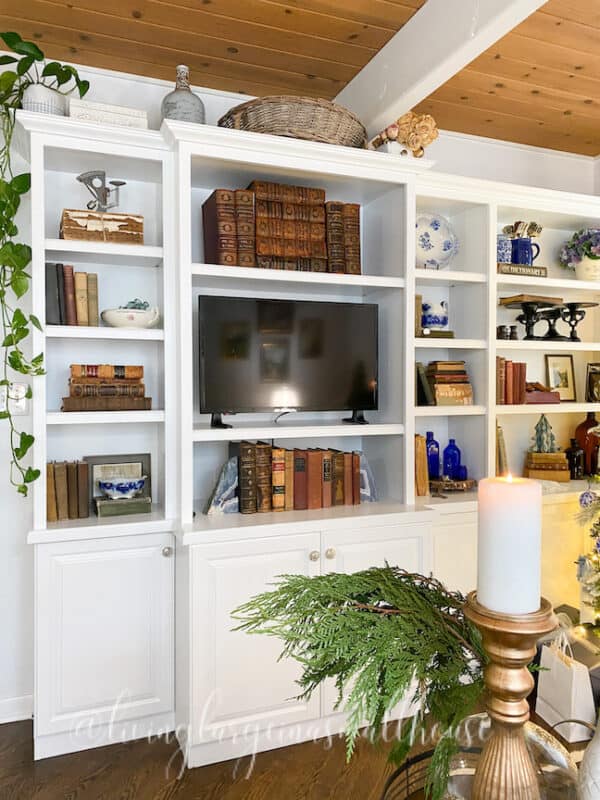 "Handy" was originally very opposed to painting the bookshelf white (What is it with men and wood?) He'll never admit it but I think he actually likes it just fine.
The only architectural details in this room are the beams and we painted them white to highlight them. Casement molding and a sill were also added to the window frames to give them a more polished look.
Once our blinds arrived and we hung them, we both thought that curtains might darken up the space again and accentuate the fact that the windows aren't centered on the walls.
I had a chair in our main living space that I've been wanting to recover for some time and when I couldn't find a chair that I loved at a reasonable price, I decided to recover the chair. I took a course from Kim @chairwhimsy and I couldn't be more proud of my beautiful chair.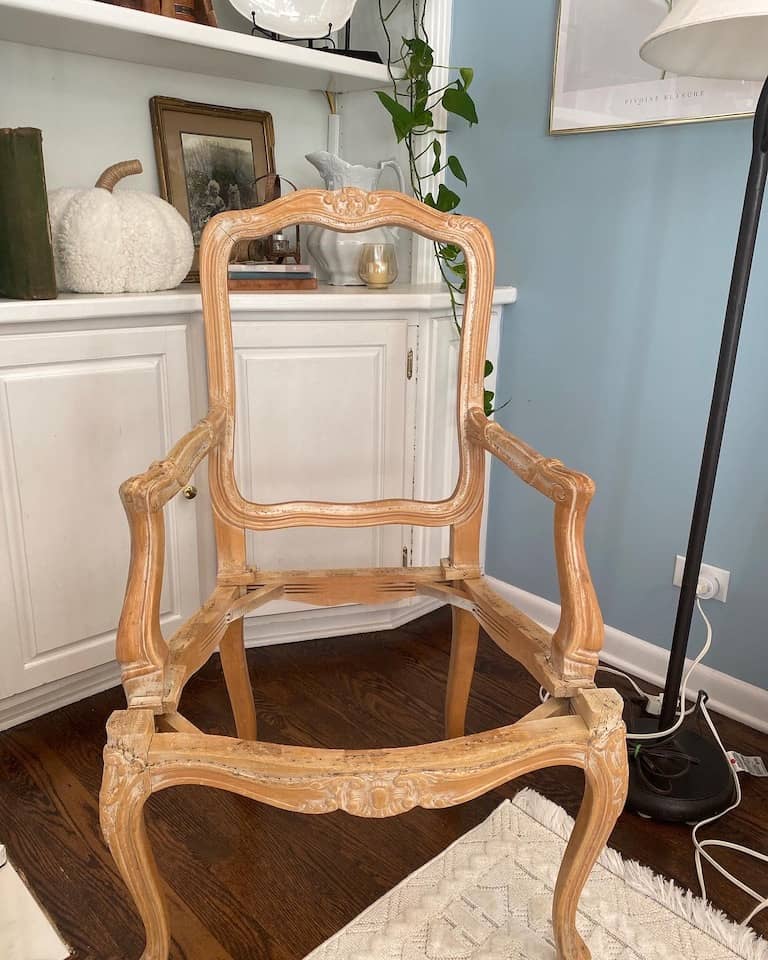 By the time the slipcover arrived we really loved the green sofa in the space. It is a nice contrast to all of the white. I returned the slipcover without even taking it out of the box.
Cleaning out the clutter of the space has allowed for better use of what we already had available. The cabinet part of the built-in bookshelves now houses sheets, pillows, and blankets for the pull-out sofa when guests stay with us.
Truth be told I still have a few things that I need to find a home for but I've donated so much to Goodwill and I've also sold some of the items on FB Marketplace.

The Accessories
I styled the bookshelves with only the books and vintage finds that I love and want to keep
Things I Bought
DIY Projects
I used rub n buff to transform an old mercury glass candle stick for the room
I sewed two pillows
I reupholstered a chair
I made decoupage ornaments for my Christmas Tree
Partnerships
I'm so lucky to have a partnership with Boutique Rugs. They provided me with the White Judy Rug for this room and also a rug for my living room. They are both light and bright and completely transform both spaces. I couldn't be happier with these rugs. You can enjoy an additional 5% off their already discounted prices by using code: LIVINGLARGE
King of Christmas gifted me a new Christmas Tree and it is in my One Room Challenge space. It definitely makes the space sparkle. The tree decor is inspired by my french country theme.
I'd like to thank these brands for helping make this room come alive. Thank you for supporting the brands that support Living Large in A Small House
A very Special Thanks to the One Room Challenge Team for keeping the guest participants motivated each week.
Also, thank you to Apartment Therapy for their support of this amazing event.
Recap
The room is bright and spacious. It's inviting as both a den and an office space. We are looking forward to having our Daughter and Son-in-Law home in a few weeks and they can have a much more functional space to stay in.
As a Lifestyle Blogger and Podcaster, my office looks different than most. I have items that I use to stage my home on my shelves, pillow covers, and a basket full of throw blankets. I also have storage for photography equipment and podcasting equipment.
As a Den this space is comfortable, light, and airy. The sofa is directly across from the TV and the additional chair gives another option for seating.

We hope you enjoyed following along with our One Room Challenge adventure
Like all remodeling projects, our plans changed, and we ran into issues but we were able to pivot and make it all work. What we did made a huge difference and we couldn't be happier.
Peace and Love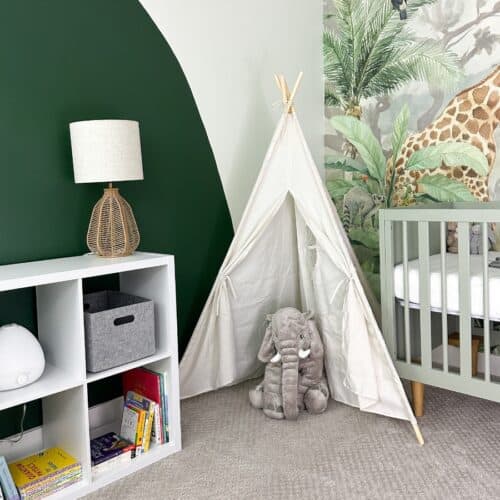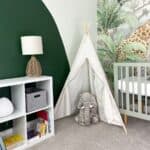 A great way to save this article is to save it to your Pinterest boards. You can find the pin button in the top left corner of the photo below. Also, don't forget to follow me on Pinterest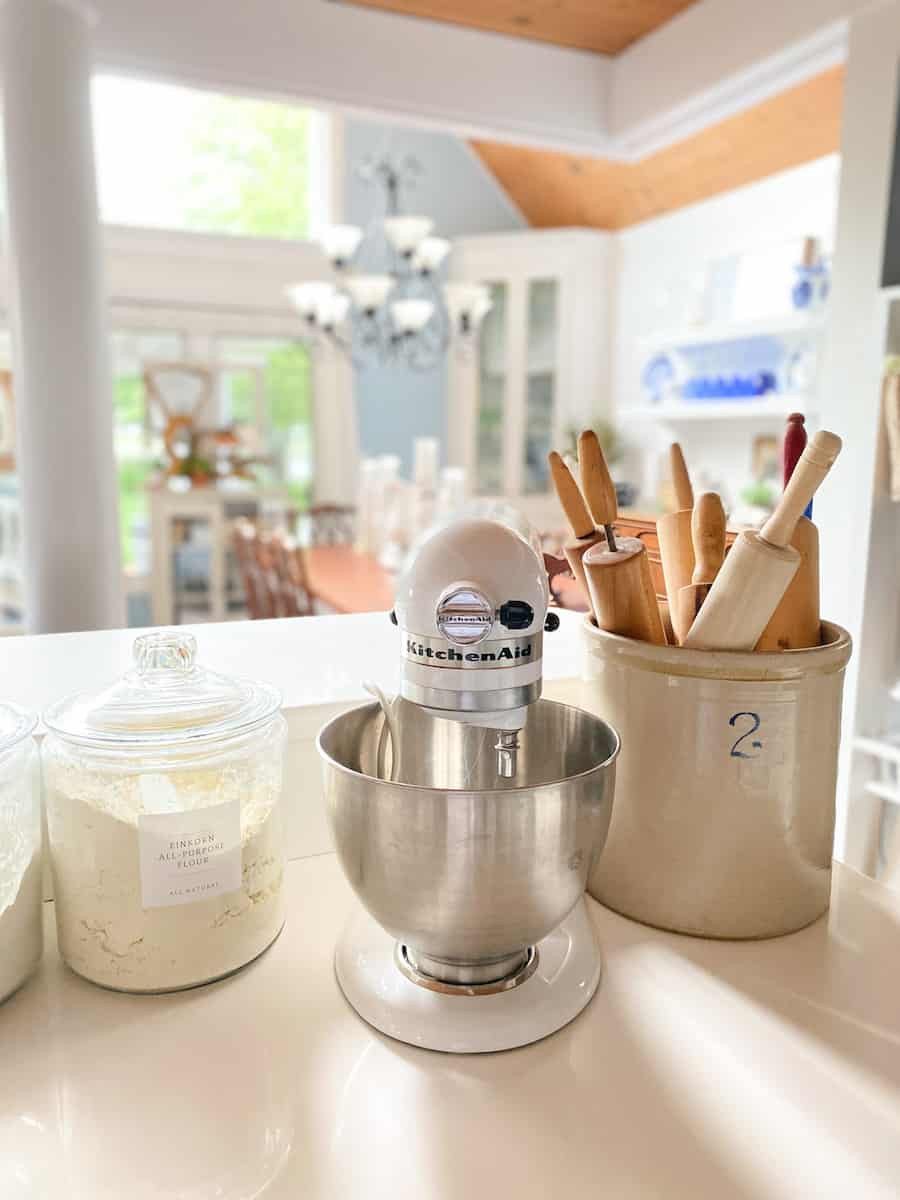 direct access to my amazon store
On Amazon
Did you know that you support my little business by purchasing through my links?? The price to you is the same but I receive a small commission on ALL the purchases you make when you shop through one of my links. I appreciate you helping Living Large in A Small House to grow!