Our Small Laundry Room Makeover Reveal
We are finally able to reveal to you our small laundry room makeover. Hiding an ugly breaker box, furnace and hot water tank that were in plain sight was my biggest challenge. But we did it, and the results are pretty great if we do say so ourselves.
Check out the before and after photos in the video below to see what we did with this small space. We hope you're as inspired as we were to makeover your laundry room, no matter how small it may be!
On my blog Living Large in A Small House, I may sometimes use affiliate links, which means a small commission is earned if you make a purchase via the link. The price will be the same whether you use the affiliate link or go directly to the vendor's website using a non-affiliate link. You can find my full Disclosure Policy HERE
Three Major Obstacles: An Ugly Breaker Box, A Furnace, and A Hot Water Tank
It all started with wanting to get rid of my front load stacked washer and dryer.
While the use of the vertical space was good, I was never a fan of the front-load machines. We purchased new appliances from Maytag.
Because we could no longer stack the washer and dryer, we had to reconfigure the entire space.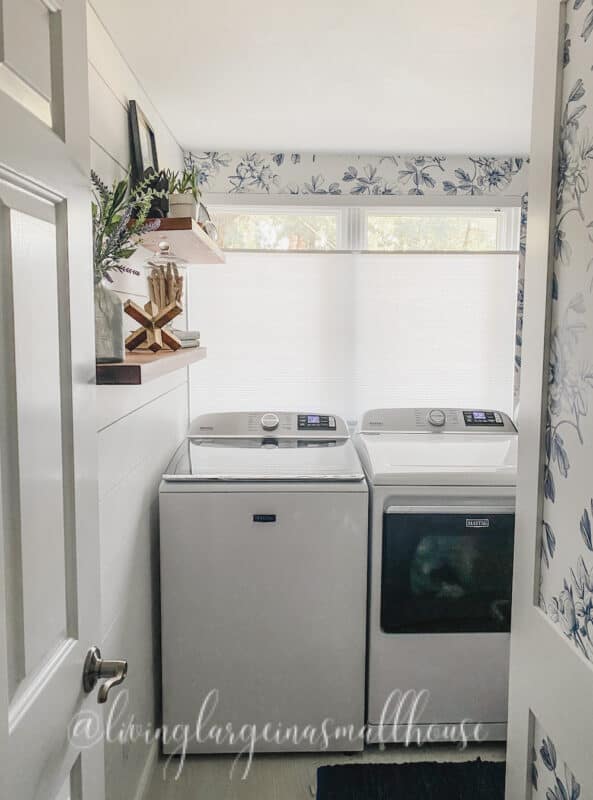 While we were at it, I desperately wanted to hide the three eye sores in the room. The breaker box, the furnace, and the hot water heater tank.

A closet was an obvious solution for the furnace and the hot water heater. We also relocated the utility sink into that area.
The sink we found was a small farmhouse sink that looks adorable in the space.
What is so interesting is that the walls and ceiling that were such eye sores for almost 30 years have been repaired and don't look bad at all behind the new closet doors.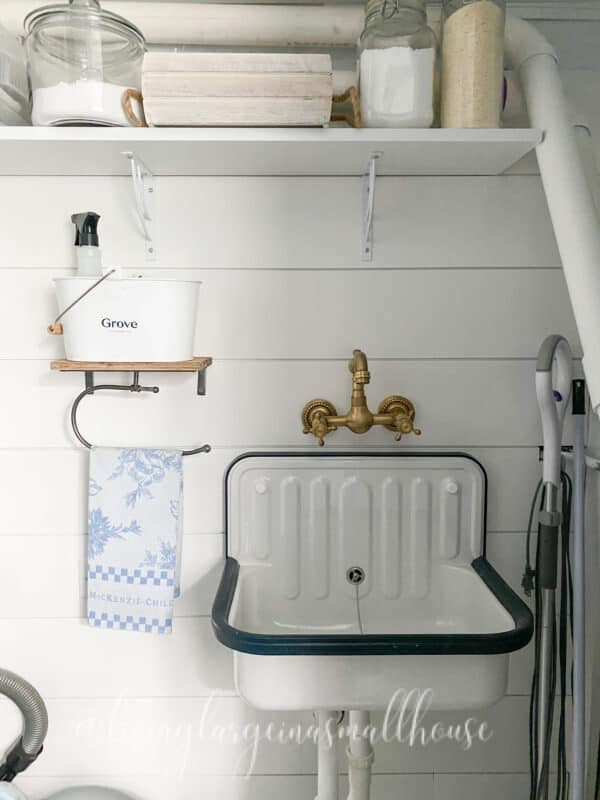 We also replaced the hot water tank with a Navien tankless water heater that takes up very little space. It works beautifully and I wish we had thought of it sooner.
One of my favorite things is the tall, narrow cabinet that we had made to cover the fuse box.
It takes up very little space on the countertop but the visual impact is amazing and hiding the fuse box AND the cable box was huge.
Laundry Room
A laundry room is a room where clothes are washed. In a modern home, a laundry room would be equipped with an automatic washing machine and clothes dryer, and often a large basin, called a laundry tub, for hand-washing delicate articles of clothing such as sweaters, and an ironing board. A typical laundry room is located in the basement of older homes, but in many modern homes, the laundry room might be found on the main floor near the kitchen or upstairs near the bedrooms. Another typical location is adjacent to the garage and the laundry room serves as a mudroom for the entrance from the garage. Laundry rooms may also include storage cabinets, countertops for folding clothes, and, space permitting, a small sewing machine. Many houses don't have laundry rooms. In those houses, the washing machine and dryer are typically located in the garage.
Storage Planning in the Laundry Room Remodel
Many things are stored in my laundry room.
I actually have less storage now but in some ways, it feels like an abundance.
The key was to better use our vertical space. Vertical space is typically an untapped resource in a laundry space. It is truly enough space and I actually have extra storage available.
Having custom cabinets that go all the way up to the ceiling gives us great vertical space for storage.
They aren't very deep and I like that because many of the things that I store in my laundry room are small items and within easy reach in the narrow cabinets.
You can find some great storage ideas in a previous post about dorm rooms that can be applied to most homes. It includes using vertical space.
Putting open shelves in the closet up to the ceiling great way to add storage space to this small space and it also hid some ugly pipes.
I still have plenty of space in the closet area and I'm thinking about a rolling cart for additional storage. I think it would be a great use of the space.
Pretty baskets for dirty clothes were also something that we included space for. An open cabinet works perfectly for this.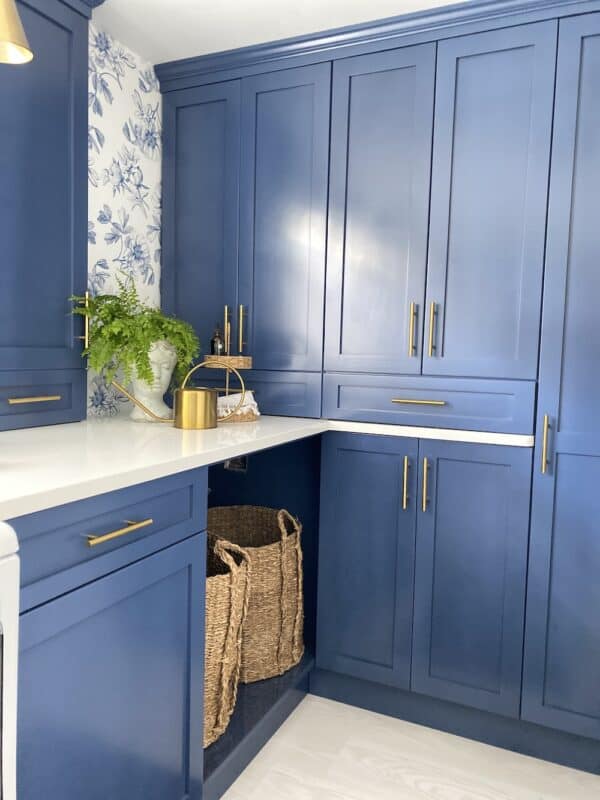 Organization of the Laundry Room
Getting rid of the things that I don't use and then using zones to store the things that we need were the key to having plenty of storage space for everything.
Having a dedicated space for each category is the key to good organization.
The old laundry room had become a catch-all for everything in the house that we didn't know what to do with. Purging all of the things we didn't need or use was the first step and then putting like items together made it easy to put them into zones in the laundry room.
I need a space for laundry products, cleaning products, craft supplies, vacuums, mops, brooms, etc. I also wanted space for quantity storage like paper towels and toilet paper.
Baskets and bins can be your best friend when it comes to storage and I used several to contain items in my zones.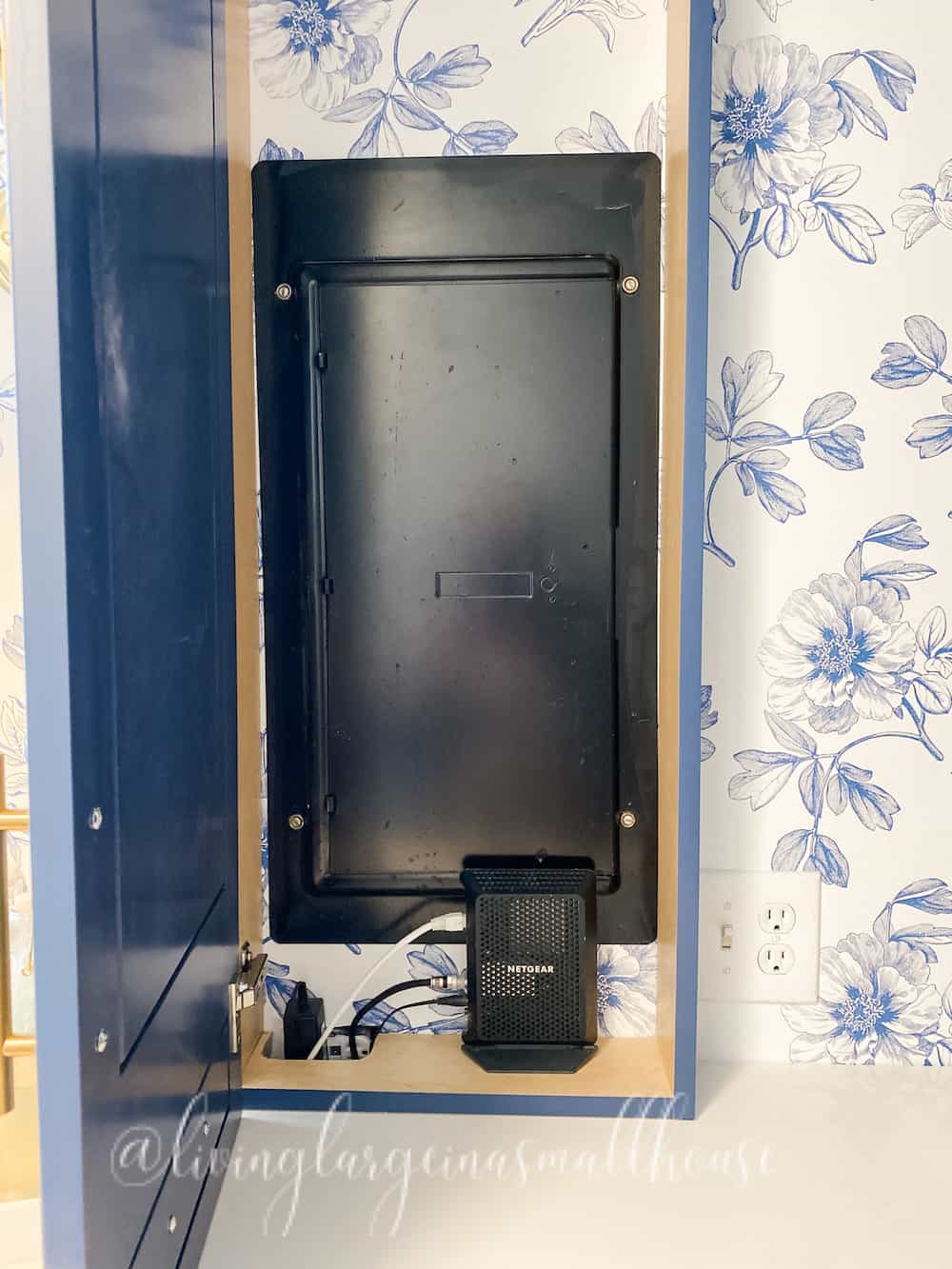 Laundry Room Decor Ideas
Wallpaper was something that I really wanted to incorporate into this small space.
I found Love vs Design and immediately fell in love with their peel-and-stick wallpaper selection.
Combine that with the option to custom color any design and it is one of my new favorite brands. They were gracious enough to gift this beautiful wallpaper to us for this remodel.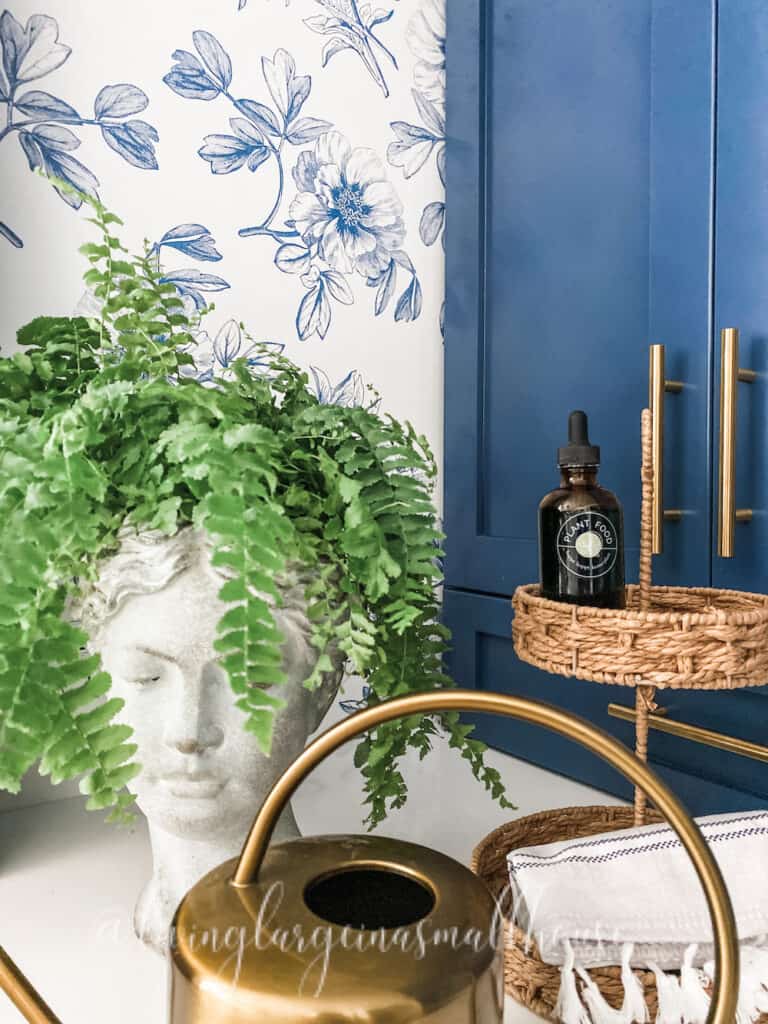 I chose "Vintage Peonies" in the color Aegean for this space.
Handling peel and stick wallpaper is not like I remember back in the glue days. It was relatively easy once we got the hang of it.
The rich wallpaper with the custom shaker cabinets painted in Sherwin Williams: SW7602 Indigo Batik really makes a statement.
Satin brass hardware against the blue cabinets, good lighting that is also in stain brass, and beautiful white quartz countertops added the glamour that this space now has.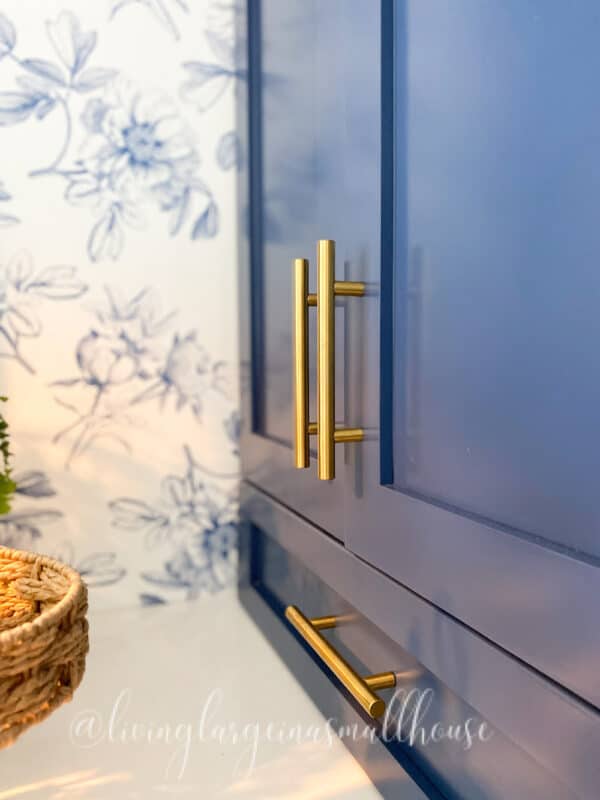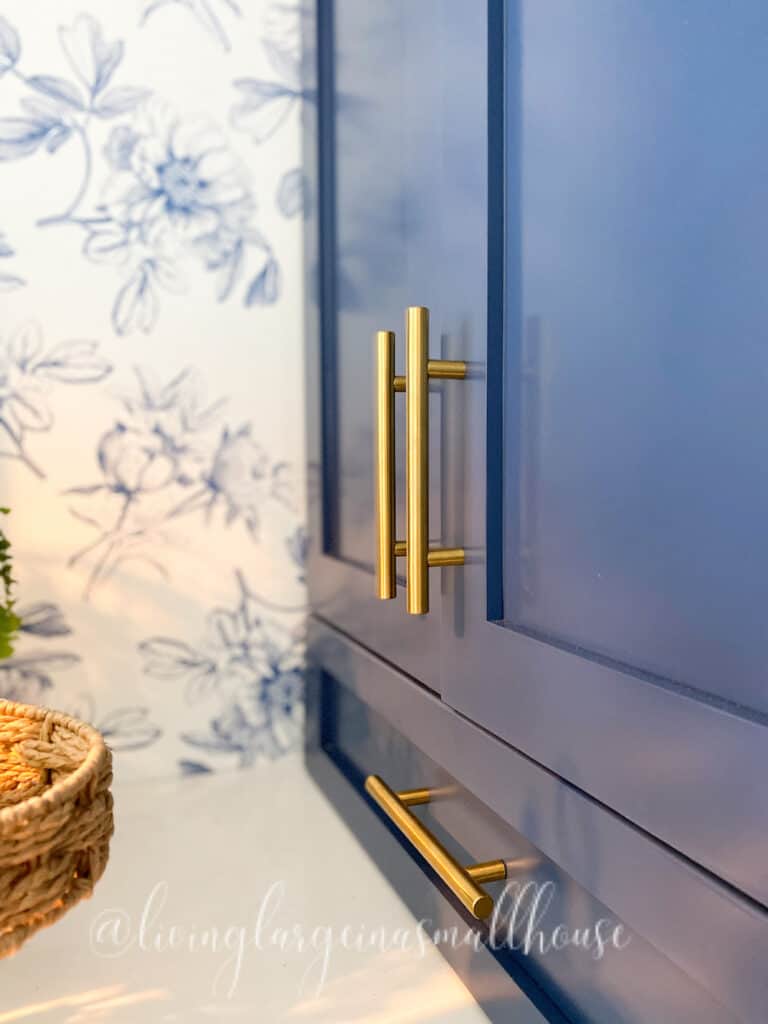 The broken ceramic tile floors were replaced by Lifeproof flooring in Driftwood Beach from Home Depot. It's waterproof and scratch resistant. A perfect choice for a new laundry room.
We added an accent wall with vertical shiplap, painted it white, and opened shelving. The white wall and new blinds allow for great natural light in this gorgeous laundry room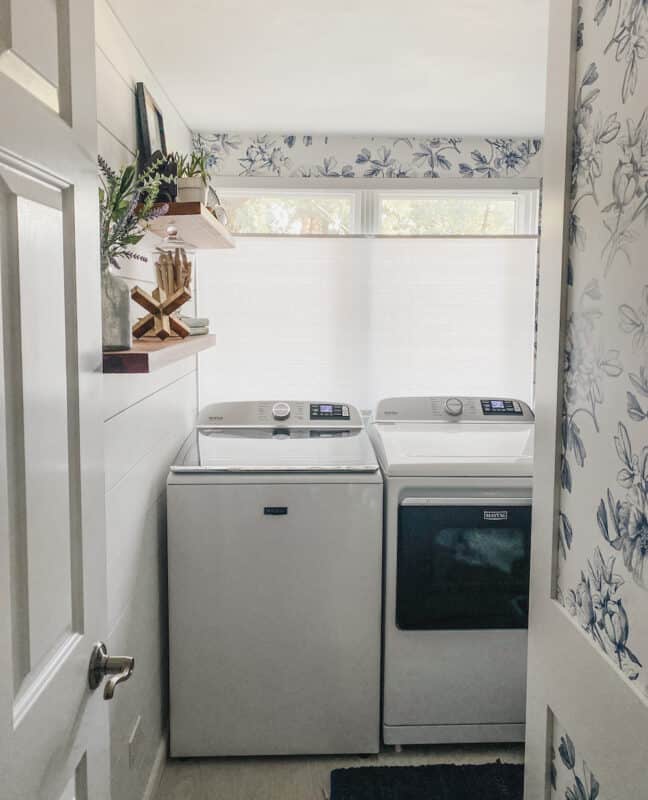 It's not typical for a laundry room to look sophisticated and glamorous but I believe we achieved that. Being in this space brings joy and doing laundry is now something I look forward to.
How Much Does a Laundry Room Renovation Cost?
This is a question that a lot of people want to know so I'm going to break it down for you.
"Handy" did all of the work in this space with the exception of the tankless water heater. He had a plumber friend who helped him with that.
I'll break down the costs for you the best that can. If you've been following along at Living Large in A Small House you know that "Handy" can do pretty much anything so we don't have to pay for labor and he is also the King of bartering.
Washer & Dryer $1600.00 *
Custom Cabinets $6,000.00 *
Hardware $29.00
Counter Top $1,200.00
Shiplap $400.00
Flooring $400.00
Floating Shelves $80.00
Sink $300.00
Faucet $80.00
Lighting $145.00
Closet Doors & Track $600.00 *
Paint $150.00
Wallpaper $210.00 *
Drywall $25.00
Plumbing & Electrical Supplies $400.00
Estimated Labor $6,000.00 * – $10,000 – We are guessing on this one since we did all the labor
* Things we bartered, collaborated or did ourselves
Total Cost: $17,619.00 +
Laundry room remodels can cost anywhere from $2,500 to $25,000 depending on the extent of the project. Our remodel was on the high end but all of our cabinets were custom so that makes the cost higher. We also switched out our appliances which added to the price tag.
You will notice that the paint, wallpaper, hardware, and lighting are relatively inexpensive. Painting cabinetry, switching out hardware and updating lighting are budget-friendly alternatives. This works in laundry rooms, bathrooms, and kitchens.
I have a great post about cosmetic reno ideas HERE.
Shop My Laundry Room

Other Small Laundry Room Ideas
When we first started this project, I turned to Pinterest, one of my favorite decorating tools. I did searches for a tiny laundry room, navy laundry room, laundry room storage, and more.
Then I started pinning away. Pinterest is a great place to store your great ideas. You can find my laundry room idea board HERE.
The things that caught my eye and are uniform in almost all the pins I have are adequate storage, open shelves, baskets, and hanging space.
I still haven't tackled the hanging space issue but I have a few ideas. One is to put a pulley system horizontal ladder over my washer and dryer or add a pole inside of the closet. That is something that I will tackle in the next few weeks.
Remodeling/Renovation Suggestions

When you're contemplating remodeling a room in your home, an important thing to do is write down how you want that space to function for you.
Be sure to list all the things that need to be housed in that space, and how much space you need for each item or activity. Another good idea is to outline how you want that space to feel.
If you don't have the vision and choose to work with a space planner or interior designer, they will be asking you all of these questions so they can get an idea of what you want and need so they can create the best design features for you.
"Handy" is a contractor and I have a degree in Interior Design so we plan out our projects ourselves but that isn't a typical situation.
Even we have asked other professionals for advice, especially on large projects. We worked with a kitchen designer to refine my kitchen design plans. You can read about that HERE and we hired an architect when we added a front porch to our house.
The Struggles with Remodeling are Real
We had a planned date of April 1st for this to be done and here it is at the end of July and we are finally finished.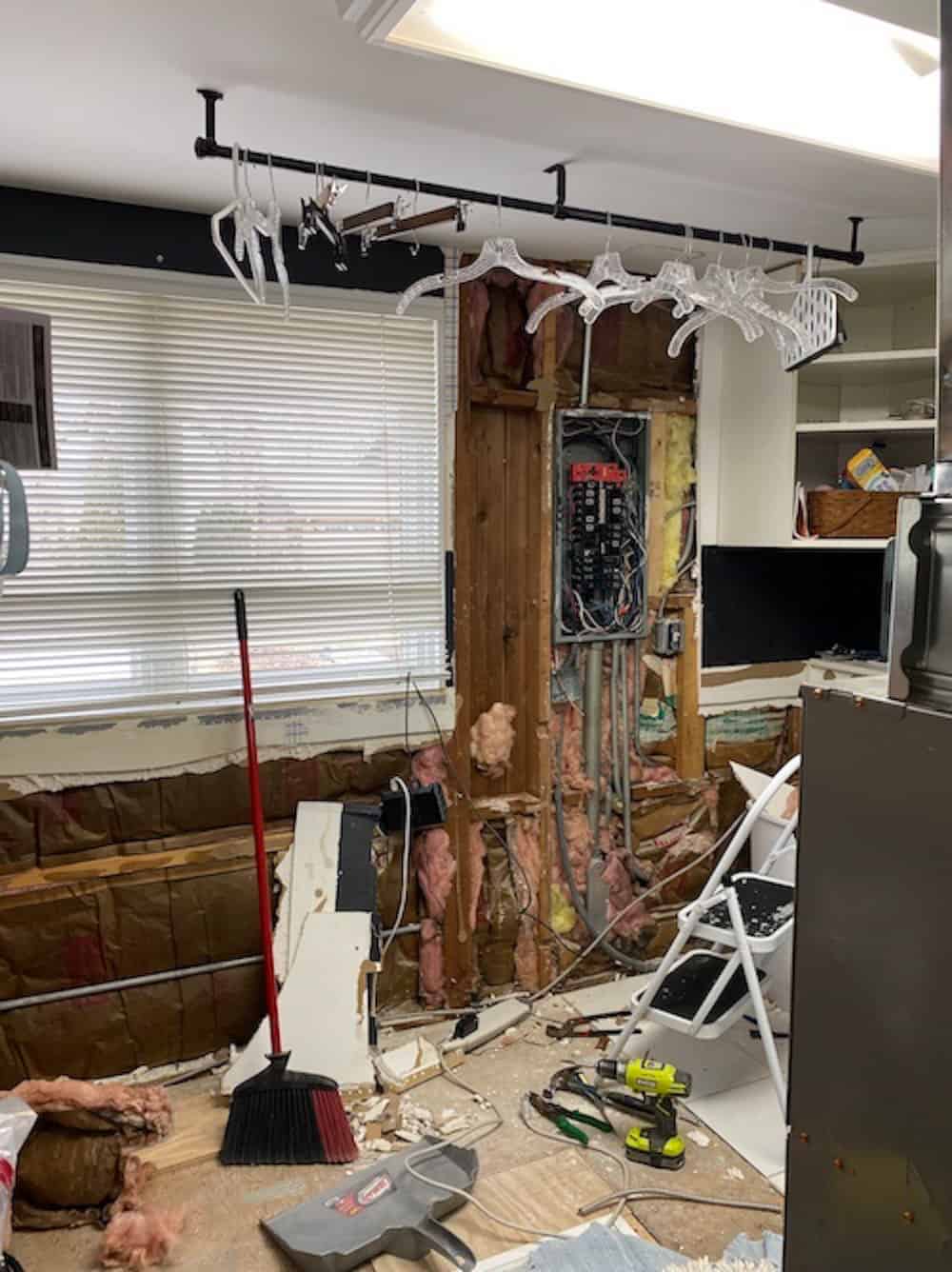 The struggles with remodeling are real! I shared with all of you my color mistake on the cabinets. You can read about that HERE.
Our cabinet maker just fabricates the boxes and orders the door and drawer front from a millwork company.
They took forever to get here and when they did come, two of them were broken. Once they arrived in his shop he still had to custom paint them and I believe it's three coats of paint with sanding in between, on each side, and then a coating on top. It's a time-consuming process.
Because we do the work ourselves, it's a night and weekend process which was fine early in the year.
However, things dragged on and we had other obligations. One daughter got married and another moved out of our house into an apartment the following weekend.
Our gardens also need quite a bit of tending to come summertime.
What's Up Next
I really want to dig into our den/office/guest room but I think that will have to wait until all my tomatoes are canned and we put the gardens to bed for this year. So much to do, So little time!
I'm so excited to share out small laundry room makeover. I hope you get some ideas and tips when you're in the market to spruce up your laundry room.
Peace,
Porch.com added some of my thoughts about laundry room design to this article.

A great way to save this article is to save it to your Pinterest boards. You can find the pin button in the top left corner of the photo below. Also, don't forget to follow me on Pinterest