What Do You Need for College Dorm Rooms?
Yes, this is about dorm room living but hold on everyone who isn't sending anyone off to college. If you're looking for storage ideas or live in small spaces like me; this has ideas for you too! I use almost all of these ideas in my home and life.
Dorm rooms are small. That's just a fact of college life.
You're not going to have a sprawling suite with its own living room, kitchen, and bathroom like you might see on TV.
You're going to have a small room with a bed, desk, and maybe a small table or dresser. And that's it.
Maybe you'll be lucky enough to have a dorm with a private bathroom, but chances are you're going to be sharing a bathroom with at least a few other people.
So what do you need for your college dorm room?
First, you'll need the basics like bedding, towels, and toiletries. Then you'll want to add some personal touches to make your dorm feel like home.
Here's a checklist of items to help you get started:
Bedding: sheets, blankets, pillows
Towels: bath towel, hand towel, washcloth
Toiletries: soap, shampoo, toothpaste/toothbrush
Electronics: laptop, TV (optional), alarm clock
Decorations: posters, pictures, plants (optional)
Storage
You can get my complete college dorm checklist in my FREE Resource Library. You will have access to all of my printables when you become a friend of Living Large in A Small House.

While all of our kids are finally done with college, it's pretty fresh in my memory of the things we needed to set up a college dorm and a college apartment.
Having brought three kids to college, we have knowledge of the process.
We always found it so amusing on move-in day to see loaded trucks pulling a U-Haul.
Clearly, they spent too much time on Pinterest and have no idea that dorm rooms are just slightly larger than prison cells.
We have seen very exasperated dads hauling a futon back out to their car. We've seen trucks with full-sized couches in the back in front of the dorms. Really!!
Here are my tips for dorm shopping and packing.
College Dorm
Only pack clothes for the next few months, given that your child will probably be coming home in October or November, and can swap out shorts and t-shirts for more sweaters and sweatshirts. If that isn't the case then you may have to pack more. Packing clothing in plastic bags is much easier to fit around things in your vehicle than in plastic bins.
Also, keep the decorating to a minimum. There isn't room for much. We limited our's to a fabric pinboard, fun string lights, decorative pillows, and a throw. We framed some favorite pictures and were done.
Have your students coordinate with their roommate(s) so that they each have one or two large items (mini-fridge, microwave, printer, Kuerig) that they can share.
Unless you're sending your child to college in "The Bush" of Alaska, I promise you there will be a Target and/or Wal-Mart in town and they are very well prepared for incoming students. Don't haul food, bottled water, or paper goods all the way from home.
Amazon Prime is amazing. We found that we couldn't get a few items including the right length USB cable anywhere. In two minutes the items we needed were purchased and scheduled for delivery on Monday (FREE Shipping) to her Dorm. In addition, your student can stream hundreds of movies and TV shows with your Amazon Prime membership.
For all of your bedding and bath supplies, Bed, Bath & Beyond has the most fabulous service. You can shop at your local store and then have all the items waiting for you at the store closest to your school.
Chances are that unless you are living on the first floor of a dorm, you will have to climb stairs with all of their stuff. This is incentive enough to keep things to a minimum.
In our case, our son was much easier than our daughters. He didn't care about what kind of bedding he had. Additionally having decorations was of no concern to him. However, he did want 30 pairs of socks and underwear so he didn't have to do laundry very often.
Get Creative in a Dorm Room
The key to successful dorm living is to get creative.
For instance, lofting your bed is the best way to create more floor space by using your vertical space.
Rolling Storage Carts – We found these to be very useful and they could work for both personal grooming supplies or they can be a coffee/snack station.
Stackable Plastic Drawers – My kids all had these either on the top shelve of their closet or on the floor for more drawer space.
Hanging closet organizers are another creative space idea. Again, use vertical space to give you more storage. We liked both the shoe organizer and the cube organizer. The cube was great for towels, extra sheets, and sweatshirt organizing.
Don't forget that valuable store on the back of the room or closet door! It can house more shoes, robes, and coats. I honestly use those shoe pocket organizers for all kinds of things.
On my blog Living Large in A Small House, I may sometimes use affiliate links, which means a small commission is earned if you make a purchase via the link. The price will be the same whether you use the affiliate link or go directly to the vendor's website using a non-affiliate link. You can find my full Disclosure Policy HERE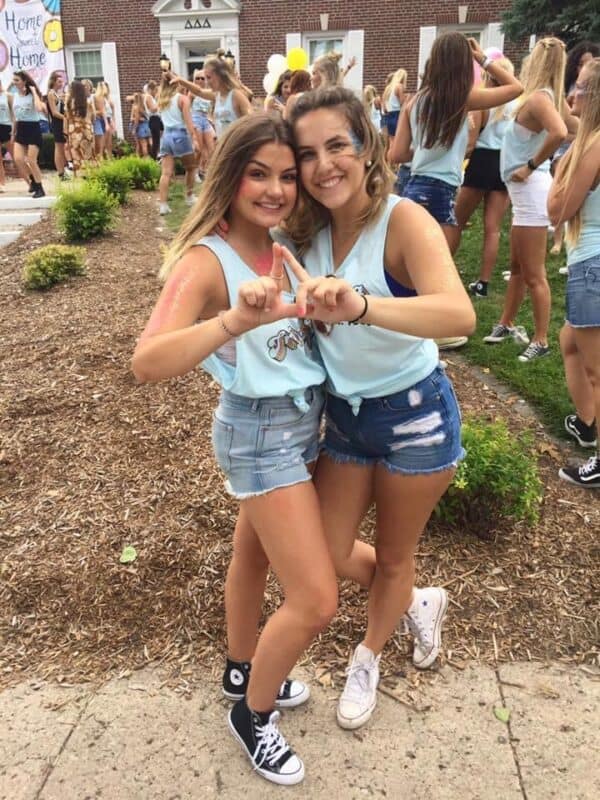 Again, if you would like my complete college dorm checklist for FREE, sign-up to be a Friend of Living Large in A Small House!
College Apartments
Many college apartments come furnished which is a huge plus. Then all you have to bring is your clothing and a few items to make it homey and your own. That however didn't happen with our kids. Our kids lived in apartments that needed furnishing.
Facebook Marketplace is your best friend. I guarantee that college furniture in the common living space will be junk by the time the year is over. Therefore, I wouldn't spend a lot of money on furniture.
I found a great $5 chair at Goodwill and deconstructed it and made it into a fun chair for our last daughter's college apartment. It was actually one of the few things that came back home with us.
"Handy" made pallet furniture for the TV Console and the coffee table. They also miraculously held up very well.
We did buy her a new mattress for her bed just because I can't stand the thought of sleeping on a used mattress and it is something that she can use in her apartment when she moves out on her own.
I love IKEA! Quite frankly, you just can't beat the prices. We purchased a lot of kitchen essentials from IKEA. None of them made it home so the minimal cost was a perk. They also have bedding, towels, storage items, and some decorative items all at a reasonable price. Their furniture is also reasonable but assembly isn't always fun. One of "Handy's" least favorite things is assembling IKEA furniture.
Dollar Tree can also be your friend for kitchen items, plates, and glassware. They also have great storage bins and totes that are perfect for bathroom necessities. Don't forget that you can order online and have it delivered to your local store for quick and easy pick-up.
New Adventures
Whether it's their first dorm room or their first apartment, it's always such a fun new life adventure. If you're a Mom like me, remember to step back a bit and let them create their own spaces. It never gets easier to let your kids spread their wings but take comfort in the thought that they typically end up back home for a bit after college.
We just moved our youngest into her first adult apartment. Therefore, we are now officially empty nesters. It was a much different experience than a college dorm or apartment. You can read all about that HERE.
I hope this is helpful to everyone moving someone into a dorm or apartment or if you're just looking for some small space organizing ideas!
Peace,
If you are going to have to move your student with a moving company, here is some great information from MarketWatch about how to save some money.

A great way to save this article is to save it to your Pinterest boards. You can find the pin button in the top left corner of the photo below. Also, don't forget to follow me on Pinterest