Choosing the Right White and Navy Area Rug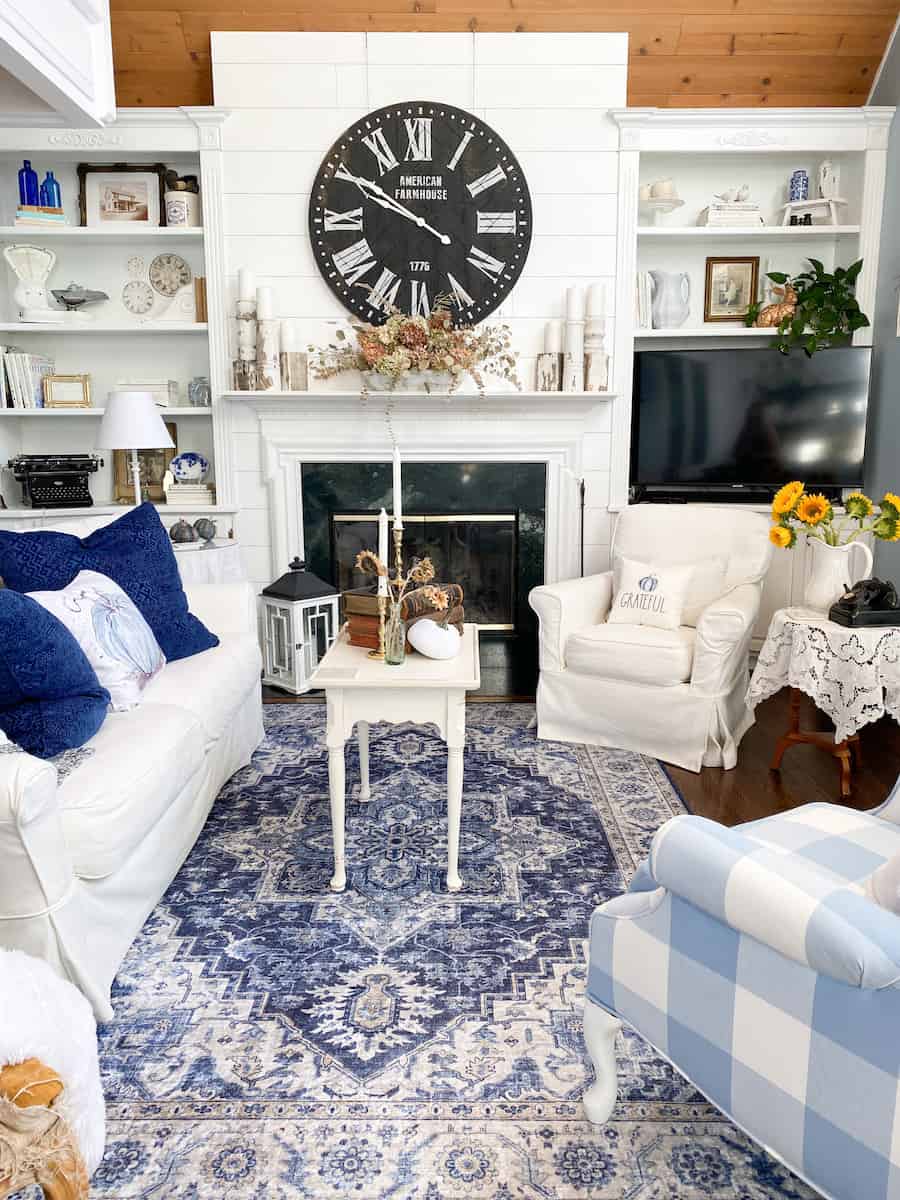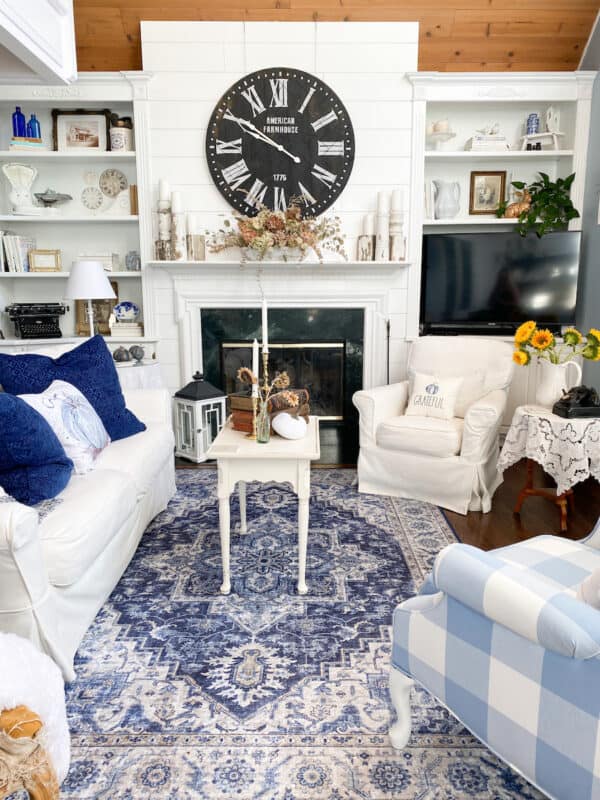 I was in the market for a new rug and choosing the right white and navy area rug was challenging. I looked only at Walmart because I knew they had a huge selection and their price point was going to be where I wanted to be. Below are the ones that I liked.

I wanted one that was primarily navy and I also didn't want to pay very much. Our little dog Molly is 13 years old and has accidents often so my rug needs to be replaceable.
The size was also another consideration. My current rug was about 5×7 and I wanted a rug that was larger but 8 x 10 would have been a little too large. I was looking for something around 7 x 9, which is not an easy size to find.
I also wanted something darker for the fall and winter seasons. Navy will go nicely with my Christmas plan.
If you've been following me for a while, you know that I don't like traditional colors for most seasons. My home is primarily blue and white and I like to work around that.
When my rug arrived, I switched around the furniture in my living room. The configuration is one that I've never done before. It doesn't offer the best flow from the kitchen into the living space and there is a chair that doesn't have a view of the TV; however, this set-up is the absolute best for photographing my space. It looks very traditional and cozy in this layout. I personally am in love with it. I'm not sure my family feels the same way???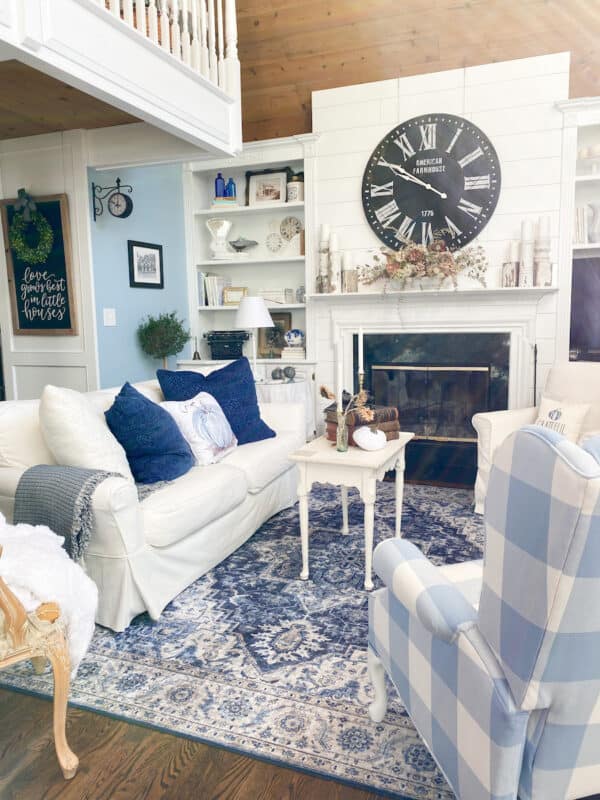 On my blog Living Large in A Small House, I may sometimes use affiliate links, which means a small commission is earned if you make a purchase via the link. The price will be the same whether you use the affiliate link or go directly to the vendor's website using a non-affiliate link. You can find my full Disclosure Policy HERE
"Handy" is going to kill me but with the new rug I'm really feeling like the paint color on the wall needs some tweaking!!!
Other Rugs in Our Living Room
I have a lighter blue and grey rug that I typically use in the spring and summer. I purchased it from Pier 1 and it is from the Magnolia collection. It doesn't appear that since Pier 1 went completely online that the collaboration with Joanna Gaines still exists. I did a little research and I couldn't find my rug available. Perhaps it's a collector's item now 🙂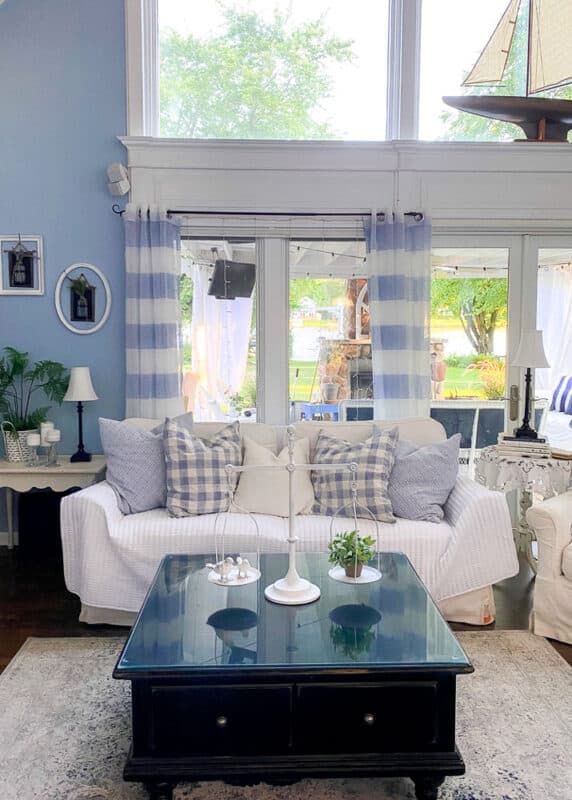 I also own a few other area rugs that I don't use anymore but I have a Persian rug that I've had for about 40 years. It is a beautiful hand-tied rug in blues, cranberries, and hunter green. It's a one-of-a-kind rug that occasionally is perfect for Christmas (depending on my theme). It currently is at home in our main bedroom but it has been in our living room before.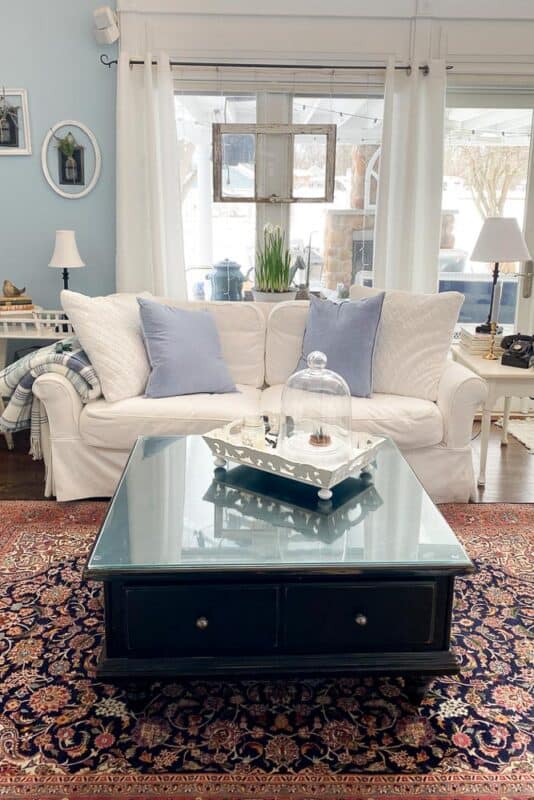 Rugs that Are Washable
I have a beautiful blue Ruggable rug in my kitchen, right in front of my stove. If you haven't heard of Ruggables, you have to try them out. They can get washed in your wash machine. Considering it's in my kitchen, under the stove and we have Molly, washing is a must. I absolutely am in love with this rug.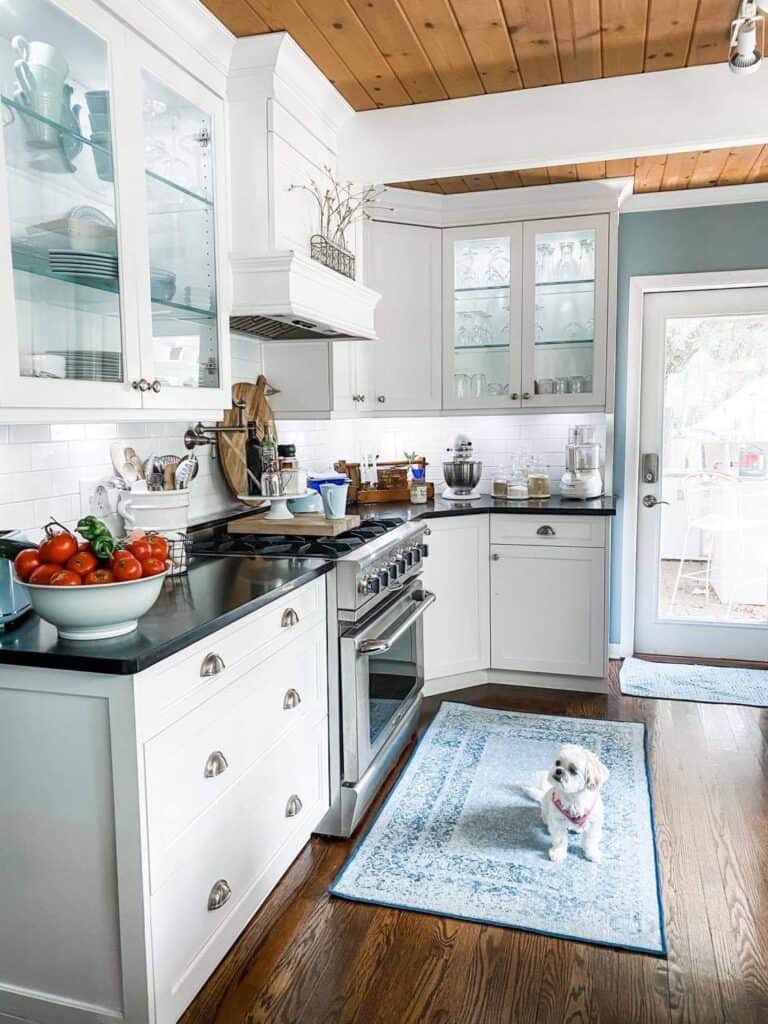 It wasn't easy choosing the right white and navy area rug for our living room, especially when you're doing it online and you have several factors that have to be taken into consideration. However, I couldn't be happier with my choice. You too can have this in your home for less than $120. You can find it HERE
Peace,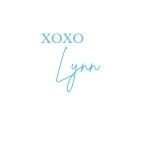 To read about my blue and white checked chair you'll want to pop over HERE