Sometimes in Life We Have to Compromise!
Sometimes in life, we have to compromise and I and "Handy" have both had to compromise on a new piece of furniture.
Here was our dilemma! In the middle of our family room sat a huge maroon LazyBoy chair that I just couldn't stand anymore. It is big and ugly and doesn't match anything in the room. I had my heart set on a blue & white buffalo check pattern and "Handy" had his heart set on another recliner. We visited several furniture stores and there were a few styles of recliners that I could have lived with but none came in a fabric that was even close to anything I could imagine in my house. We also were looking at lead times of up to 18 weeks. Everyone in the world must have been buying new furniture in September.
We finally settled on buying a used recliner and having it reupholstered in exactly the fabric that I wanted. Our search started on Facebook Marketplace and rather quickly we found a chair that I could live with that was in great shape for $25. We bought the chair on October 5th. I brought it to my upholsterer so that he could tell me how much fabric to order. I ordered the fabric from Decorative Fabrics Direct, on October 16th and got it on October 18th. Amazing turnaround time! The fabric and the chair went to the upholsterer shortly thereafter. Today, January 14th I got my chair. "Handy" missed the phone message that the chair was ready for pick-up a few weeks ago. So it took about 12 weeks to get our "not new" custom recliner chair.
I absolutely love the fabric but do I absolutely love the chair? Not so much. But sometimes in life, we have to compromise. The good news is, the big ugly maroon chair is no longer in my house. I also love the fact that this "new" chair only cost me $500 total; including the chair, fabric, and labor. There is also something appealing to me about repurposing a used chair that otherwise might end up in a landfill. The maroon monster has found its way to one of "Handy's" employee's homes; so it too has a new life.
My concern now is that "Handy" will ruin this chair in no time at all. This is a fabric that really should be seen and not sat on; therefore defeating the purpose of his recliner. What to do? I'm sure that I will run out a buy a white throw that I can drape over the chair for family use and remove it just like the throws on my white sofa and chair when we have company. Small price to pay for keeping the beautiful blue & white buffalo check chair clean.
I can finally take pictures of my entire family room. I've always had to take photo's around the other chair. In the end, choosing custom old over custom new was the compromise we made and it has given us the best of both worlds.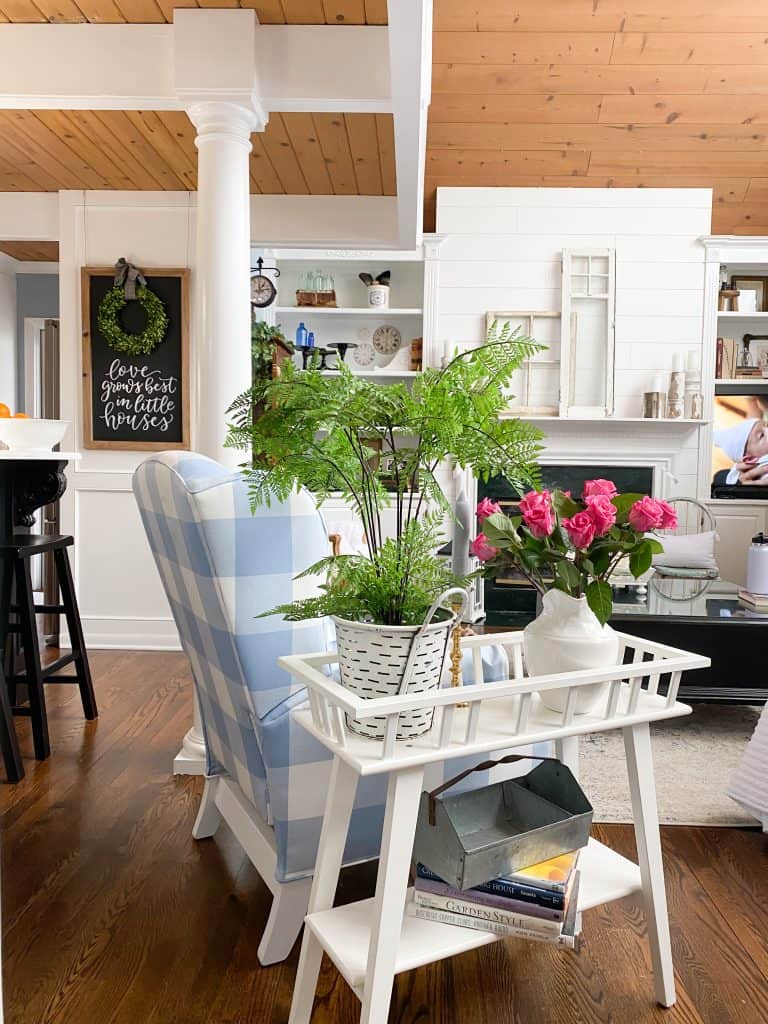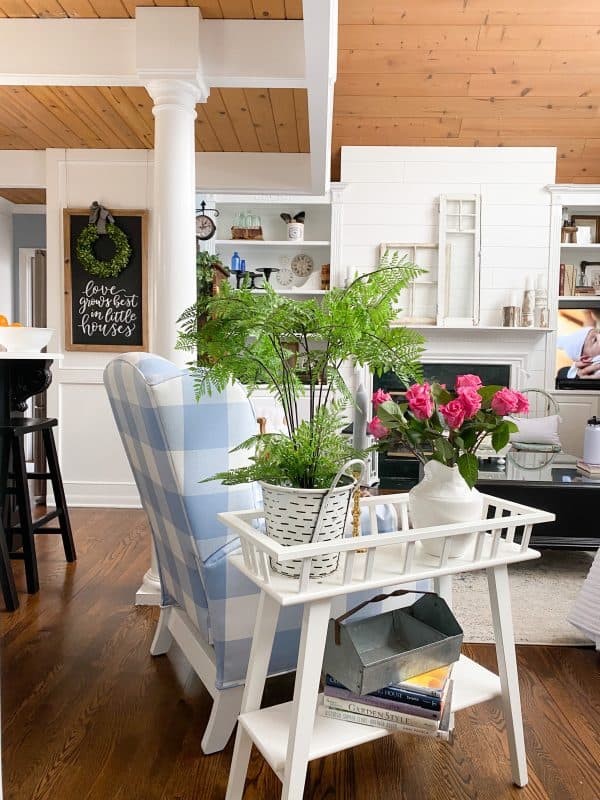 I hope you have a great weekend and I'll chat with you next week. I'm going to share the goals I set for myself for 2020 and how that worked out and what I have planned for 2021.
Peace,