How to Give Your Kitchen a Refresh
Today I'm going to share with you how I gave my original kitchen a refresh. I lived with my original 9′ x 9′ kitchen for 20 years with just some inexpensive cosmetic work. It originally had very ugly dark wood cabinets. The countertops on part of the cabinets were a yellowish laminate and on the opposite wall were 6″ beige tiles with grout. I have sketches of a new kitchen that date back all the way to the first year I moved into this house. Unfortunately, my dreams and our budget were not going to line up for quite some time. I needed to figure out how to live with what I had. I feel like the kitchen is the heart of the home so almost immediately I set about, making changes to this space.
Your #1 Friend
By far your best friend in any home refresh, on the cheap, is paint. I painted just about everything. I started with the cabinets and painted them white. For two of the cabinets, I was able to pop out the front panels and put glass in them so the insides of those cabinets were also painted. Another option would have been to completely remove those cabinets and replace them with open shelving. I did that in a previous home and I loved it.
Once the cabinets were painted, I changed out the hardware and it was amazing what a difference it made. Back then Sherwin Williams didn't have self-leveling paint but if I was doing cabinet now, I would be using ProClassic Interior paint.
Next, I painted the tile countertops and the tile backsplash white. This is where I probably should have done my homework and prepped the tile properly and used the right kind of paint. I could have also used a coat of sealer. This however was way before YouTube. I'm not 100% sure we even had a computer back then. Over the years, I would pull out my gallon of white paint and roller and give everything a once over every time we were having company or it just needed a touch-up. That counter and backsplash probably had 50 coats of paint on it.
They now make the most amazing peel-and-stick wallpaper that looks like subway tile. I saw in the kitchen of a very popular Instagram Influencer – who knew! If it was available back then, I would have definitely opted for that over the paint on my backsplash. I also might have considered ripping the tile out and attempting my own concrete countertop. It seems like the options now are limitless.
We did replace the laminate countertop but it was another laminate but in white. Again, it was what the budget allowed and it looked so much better to me. We also got a new sink and faucet. Neither were expensive. I found a picture of our original kitchen that I took when demolition started for my new kitchen. It was not beautiful but it was 1000% better than what I started with and it probably only cost me $500 total to refresh. You'll notice the yellow floor. That is one thing that I lived with the entire time. I just chose to ignore it! You'll also notice that somewhere along the line I painted the backsplash blue 🙂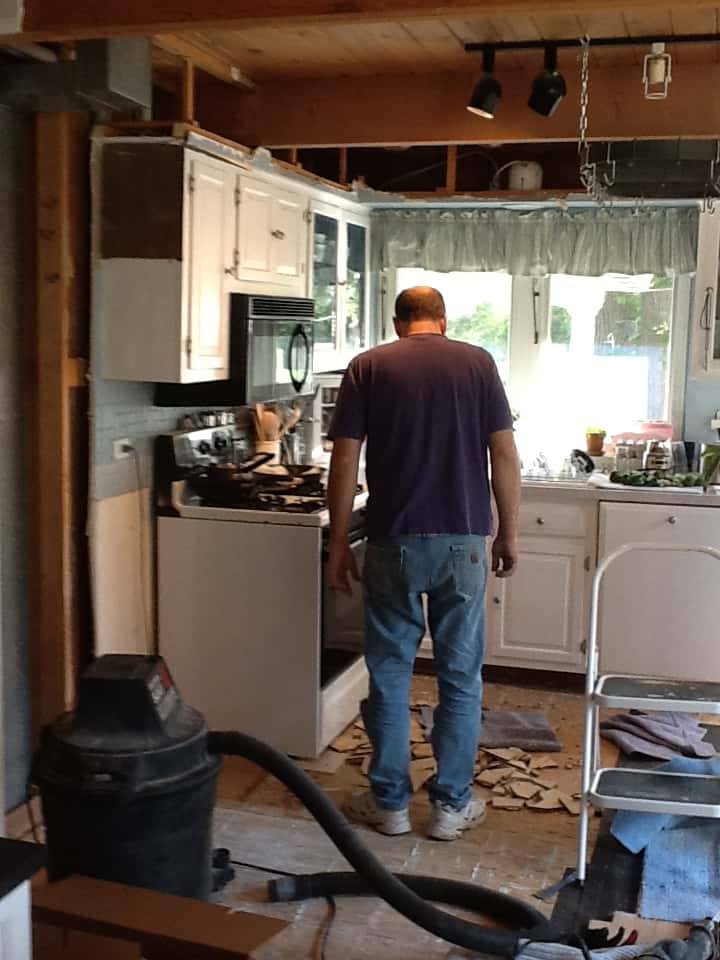 Our biggest splurge was a gas stove. The house had an electric stove but the ability to easily run a gas line and I really didn't like cooking on an electric stove so the first Christmas in this house "Handy" surprised me with a gas stove. As long as it was gas, I didn't care about any other features.
I originally wallpapered the walls but eventually stripped them off and over the years I changed the color of the walls several times. We added a small island in the middle of the kitchen. It took some getting used to moving around it but the extra counter space was so needed. I had a pot rack hanging over it for years to hang all my pots and pans. This of course freed up precious cabinet space for other things. I owned a few beautiful copper pots that added so much interest and fun to the pot rack. Depending on the season I would hang anything from dried flowers to herbs and onions for texture and fun.
Creating a Pantry
We converted the space under the stairs from a coat closet to a pantry and that literally saved my life in this small house. I now had a place to store all of my food items and some of my larger appliances. We still use that pantry to this day. The only cabinet in my kitchen that houses food items is my spice cabinet.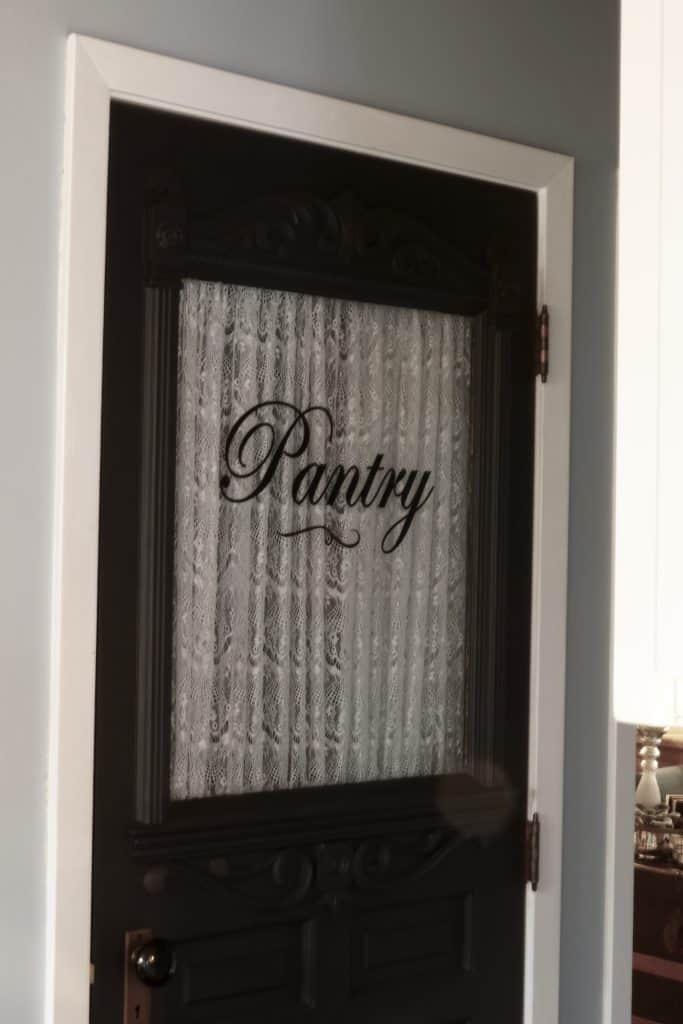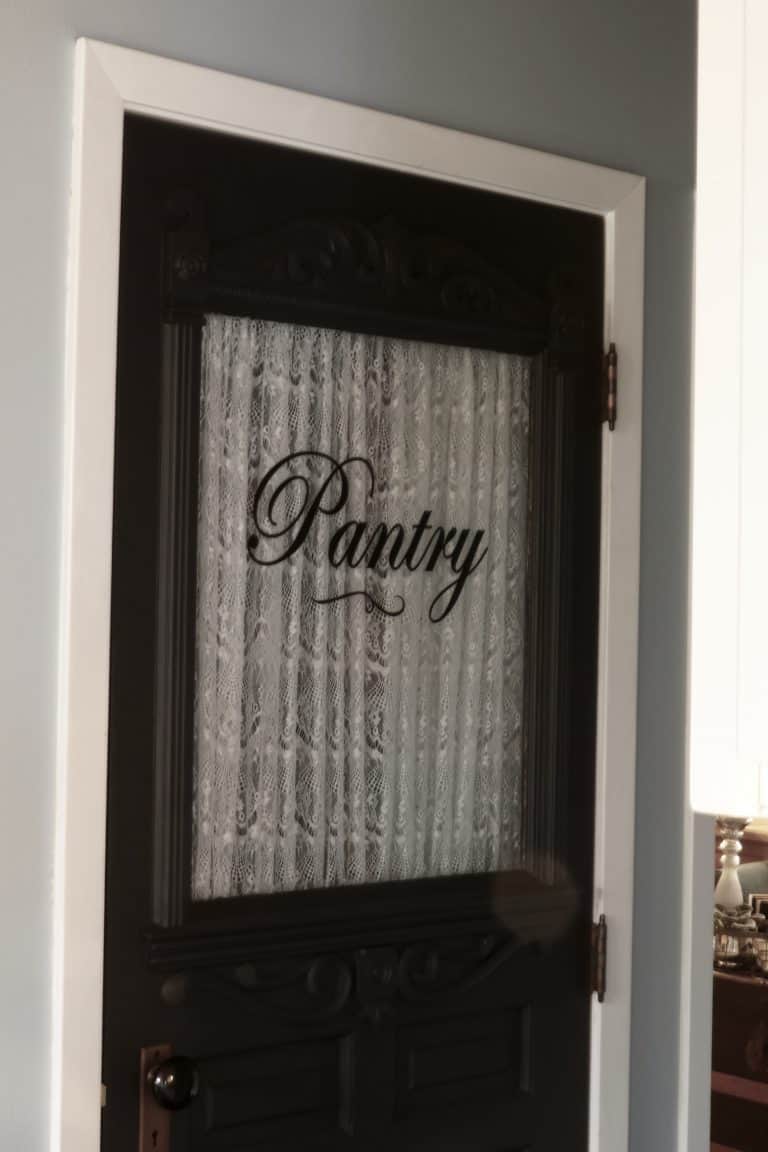 If you've read my earlier post on selling on Facebook Marketplace, you know about my love of it. Finding pieces to use as an island or cabinet in the kitchen is so easy and so inexpensive. Goodwill is also a great resource. I was picking up a wingback chair that I paid $10 for at Goodwill and there was a table also waiting to be picked up. It was beautiful and it had a price tag of $6 on it. Amazing! Keep your eye out for some fun accessories that you can add to your kitchen. Paint the ugly frame on an amazing print and voilà. Shop garage sales and estate sales. Shop your own home! Sometimes moving something from the living room into the kitchen or vice versa can give new life to an old piece.
Top 5 Ideas for a Kitchen Refresh
Paint is your inexpensive best friend
New Hardware
Open Shelves * Glass Doors
Let FB Marketplace, Goodwill, Garage & Estate Sales help you furnish and accessorize your new space.
DIY – Do as much as you can yourselves. With new Sherwin Williams ProClassic self-leveling paints, you don't have to be an expert to get a first-class finish on your cabinets.
Soon I will share my complete kitchen remodel as it was an amazing DIY feat that "Handy" executed. I only went one afternoon without a sink or a stove in my kitchen during the whole project.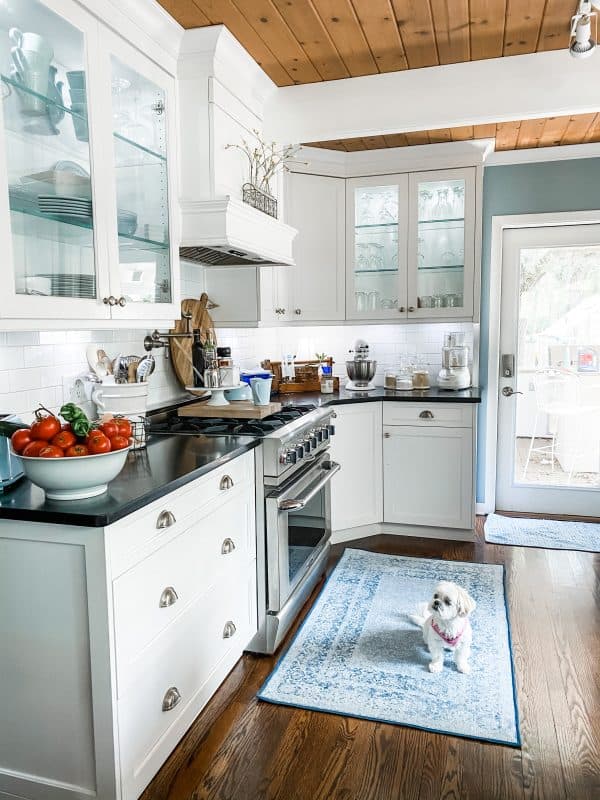 It's getting colder outside so time to bring the projects indoors. Is it time for a kitchen refresh at your house?
Peace,