We Made a Pantry Out of the Coat Closet Under our Stairs
Many years ago, we made a pantry out of the coat closet under our stairs. When you live in a small space, you have to maximize every square inch.
I've blogged about this before but with my 30 Day Organizing Challenge coming up, I thought this was worth reviving.
When we decided to use the space that we knew was behind the 18″ deep closet, we busted out the wall and exposed this buried treasure. We put up shelving (12″ wide) on one side and put hooks on the other side. When our kids were young, the hook side, served as a place to hang their small coats, backpacks, and lunchboxes. We later made a coat hanging wall in our entryway and we no longer used the hooks in the pantry. For a long time they mostly just held my aprons.
Last year "Handy" had an idea to redo the closet and instead of 12″ on one side, he installed white laminated shelves that are 8″ on both sides of the closet. It actually gives us so much more space and it visually is so much more appealing. It feels so good to have an organized pantry!
The pantry make-over was triggered by my desire to put most of my pantry staples into glass jars. I got all of my glass jars from Walmart and adorned them with some fun ETSY Labels. I found that Kim @ Paper and Pear Store had exactly what I wanted. She has now made labels for all of my pantry jars, my spice jars, and my vinegar & oils.
All of These Storage Items are Available at Walmart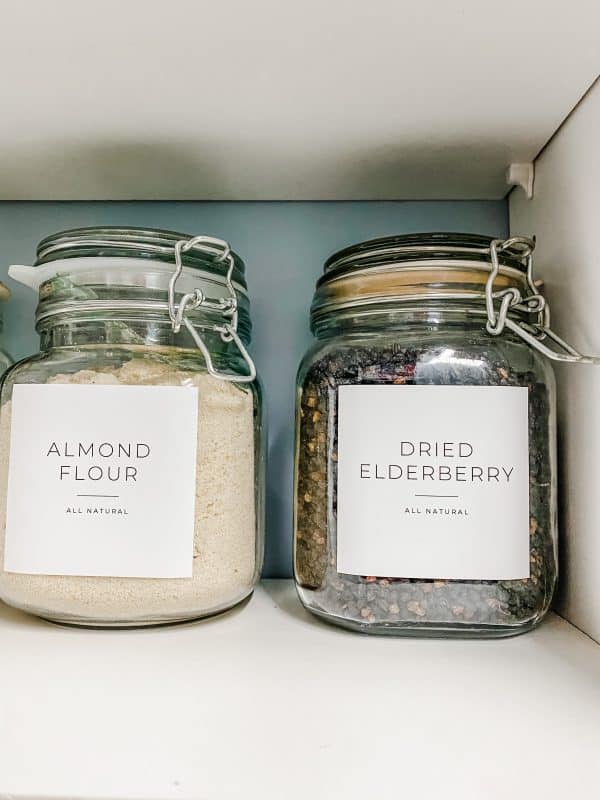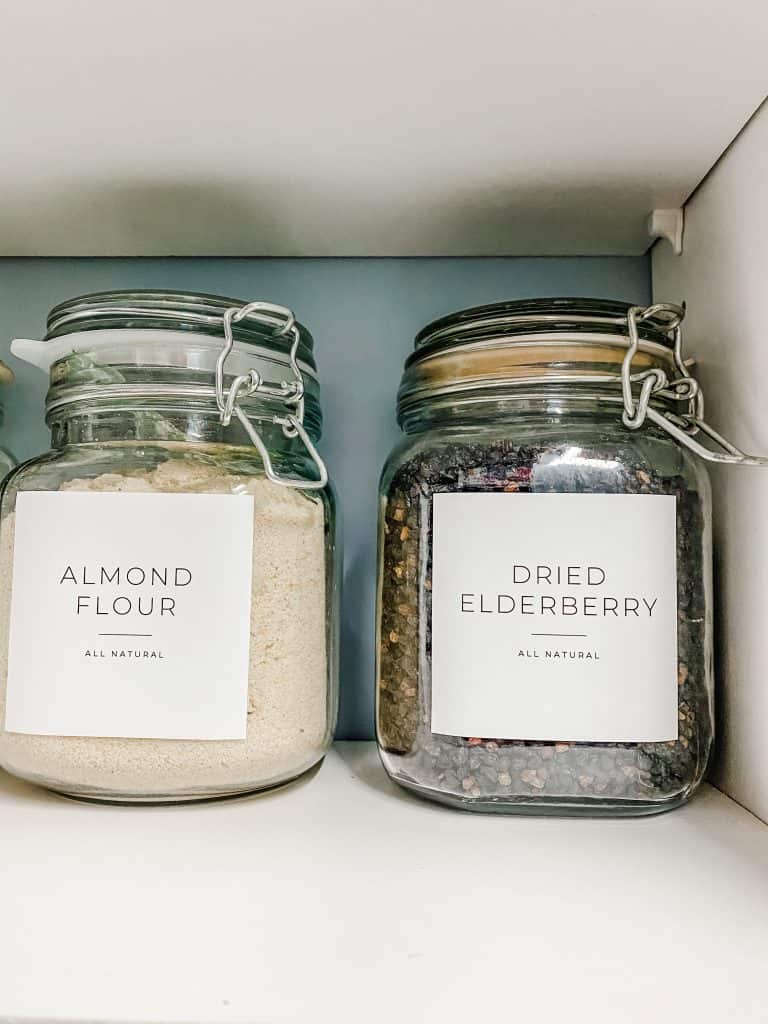 I love that my 8″ deep shelves not only hold everything that I need them to hold, but I can also find everything. When I had 12″ shelves, I was shuffling things around to find the items in the back, or worse, I wouldn't think I had something and buy more. Now I can see exactly what I have and what I need to buy.
Free Printable's
I have created a printable grocery list that I'm hanging on a clipboard in my pantry. Then I can mark off things as I use them and need to stock up.
If you've been following me, you know I'm a list person. I get great pleasure from making lists and crossing things out. You can find some of my lists in my FREE Resource Library. Sign-up to be a friend of Living Large in A Small House and you can have access to my printable's.
On Monday, January 31st, we are starting a 30 Day Cleaning & Organizing Challenge. I am so excited to start because while I'm pretty organized, there are a lot of spaces that need a refresh. Having my house organized is a liberating and cleansing process for me, both literally and emotionally.
You Can Still Join our 30 Day Organizing Challenge!
It's not too late to join us, if you want to begin the organizing journey. I will be working for 30 days organizing my whole house but the process is very flexible and you can make it work for you. Visit this post for more information.
I know that a lot of you have a coat closet and I hope this might give you the inspiration to think outside of the box to make more storage in your home. You too can make a pantry out of the coat closet under the stairs.
Peace,
More Organizing Blog Posts