Create a Pantry in the Space under your Stairs
Creating a pantry in the space under your stairs is a great way to add storage space to your home.
One of the benefits of creating a pantry space under your stairs is that it can be a great way to utilize unused space in your home.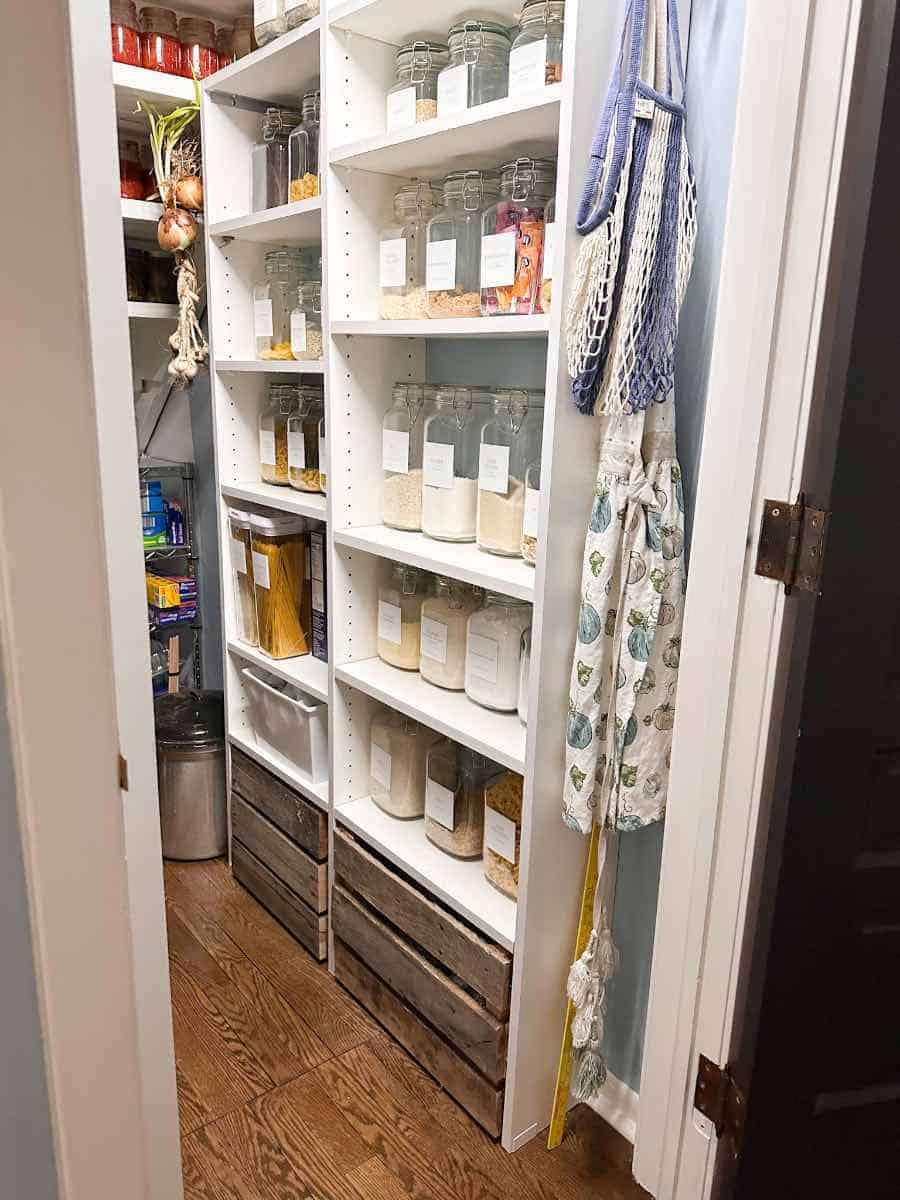 This can be especially helpful if you have a small kitchen or limited storage space. Plus, having a designated space for all of your food items can make meal prep and cooking much easier and more efficient.
When designing your pantry, it's important to consider your specific needs and preferences. You may want to include shelves, drawers, or baskets to keep items organized.
You can also add lighting to make it easier to see everything in your pantry. With a little creativity and planning, you can create a pantry that not only looks great but also makes your life easier.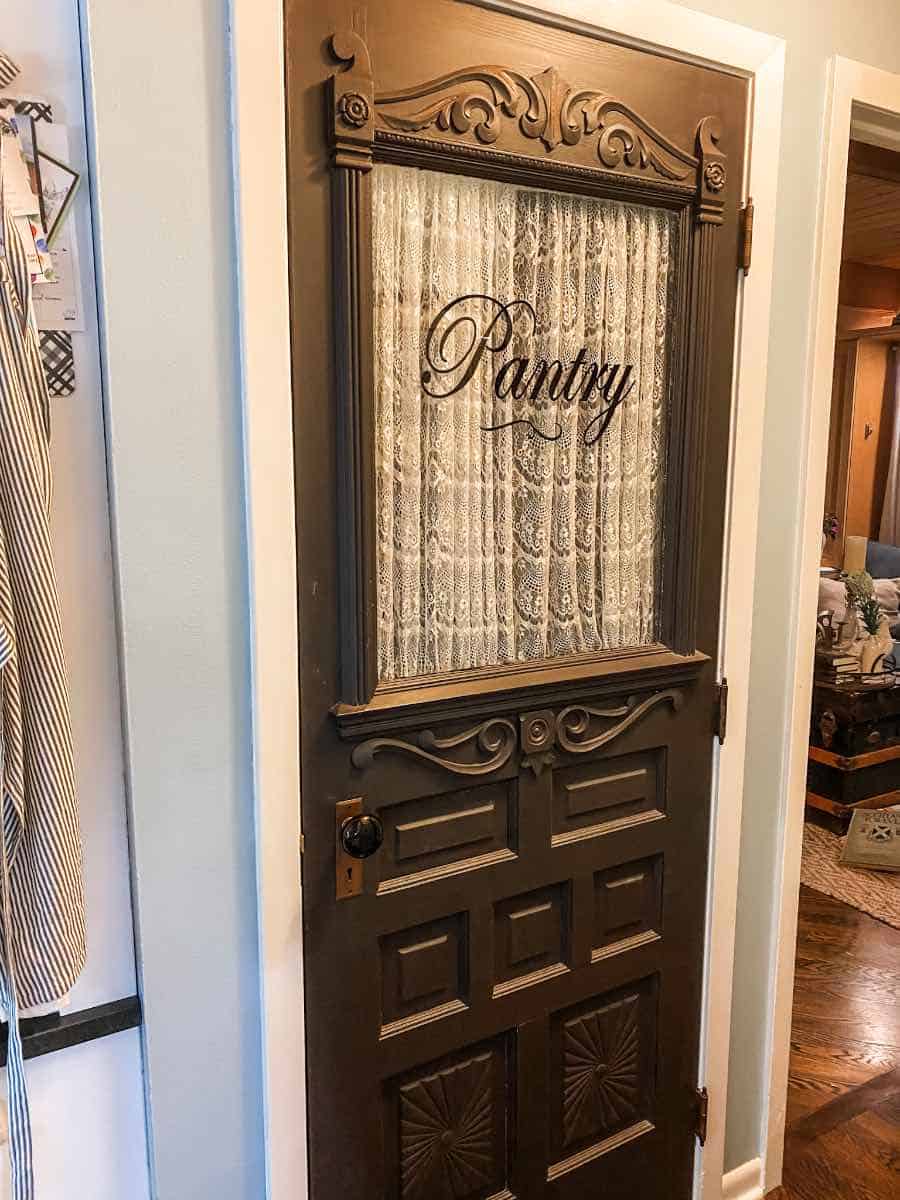 On my blog Living Large in A Small House, I may sometimes use affiliate links, which means a small commission is earned if you make a purchase via the link. The price will be the same whether you use the affiliate link or go directly to the vendor's website using a non-affiliate link. You can find my full Disclosure Policy HERE
Finding Extra Space Under Our Stairs
When it comes to finding extra storage space in our homes, we often overlook the area under our stairs. This space is often unused or underutilized, and with a little creativity, we can transform it into a functional and organized pantry.
When I realized that behind a small coat closet in the hall adjacent to our small kitchen there was untapped space, we didn't even have to think twice. Handy and I knew that this would be a great place to create a pantry.
Using the Extra Space under the Stairs
The first step in creating a pantry under your stairs is to measure the space and determine how much storage you can fit. This will help you decide what type of shelving or storage units to use. When you're creating under-stair storage you need to take into account the angled ceiling.
One option is to install custom-built shelves that fit the unique shape of your space. This will maximize the storage capacity and make the most of the available space. Another option is to use pre-made shelving units that can be easily adjusted to fit the space.
To keep your pantry organized, consider using clear containers and labels for easy visibility and identification. You can also use baskets or bins to corral smaller items and keep them from getting lost or cluttered.
Our space is 37″ wide and originally we put up built-in shelves (12″ wide) on one side and put hooks on the other side. When our kids were young, the hook side, served as a place to hang their small coats, backpacks, and lunchboxes.
We later made a coat hanging wall in our entryway and we no longer used the hooks in the pantry. For a long time they mostly just held my aprons.
Not long after we put those shelves up, I decided to put a 36″ x 31″ x 14″ wire rack at the end of the space for more storage. It actually is a perfect size and a great place for things like slow cookers or other small appliances. The bulky items that we don't use all the time.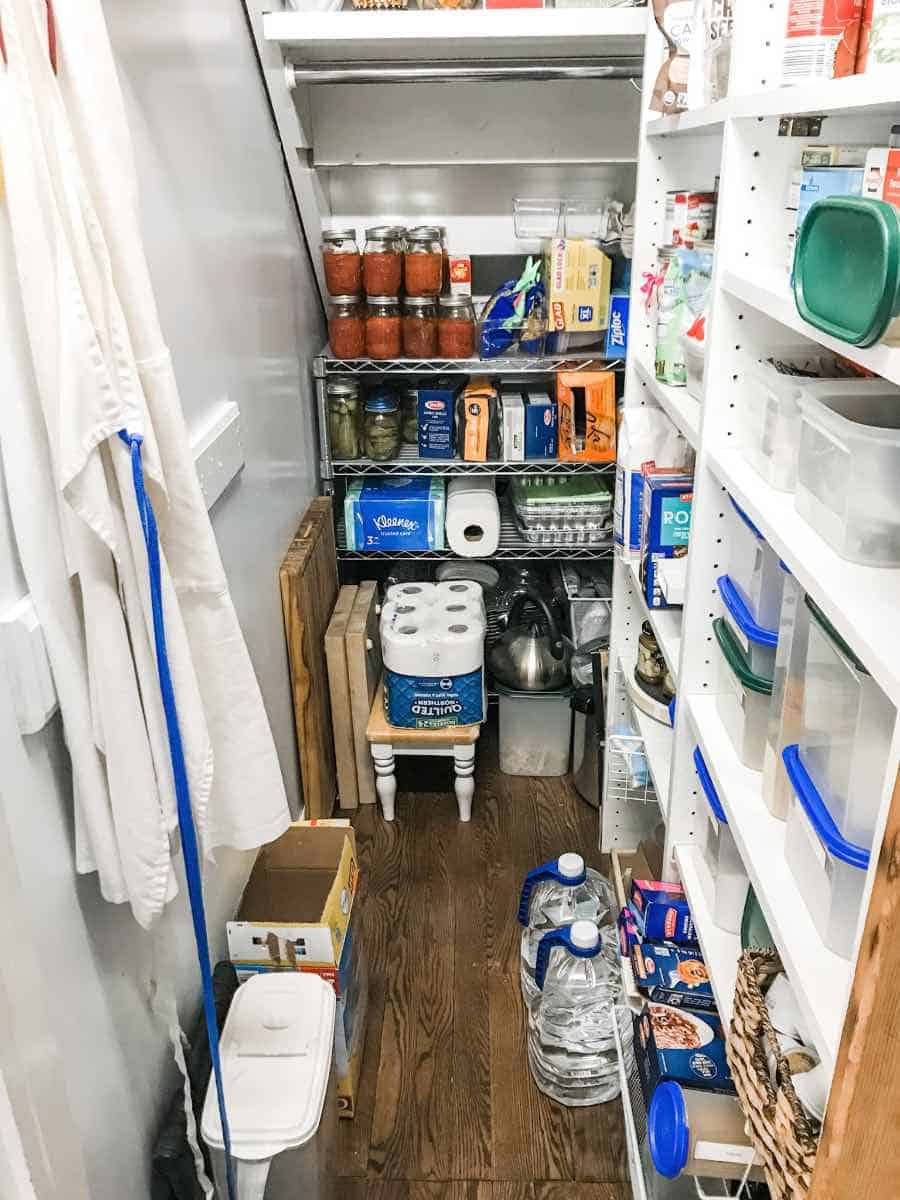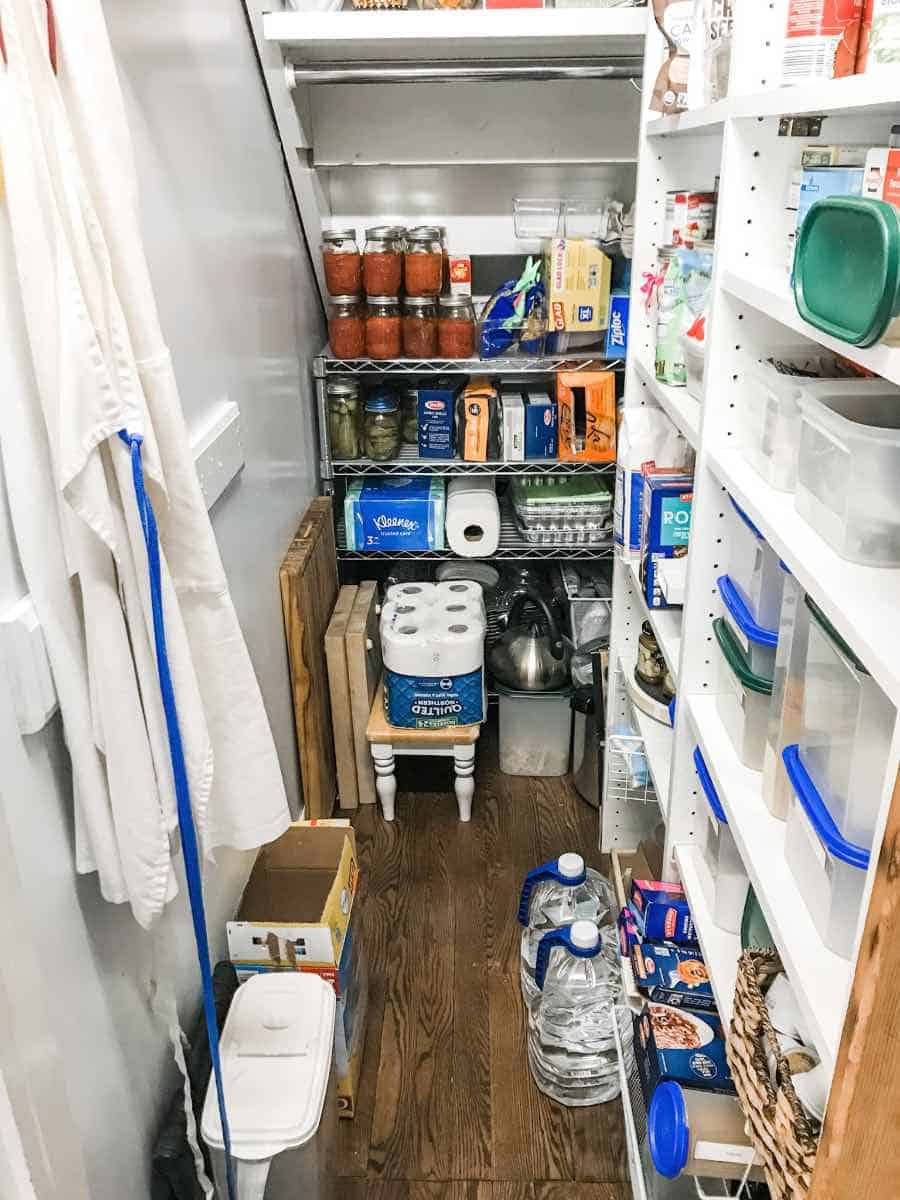 Identifying Potential Obstacles
Before you start building your pantry, it's important to identify any potential obstacles that may affect the design or functionality of your space. For example, if your stairs have a landing or turn, this may limit the amount of available space or require a custom design. We have this situation so behind the wire shelving unit at the end of our pantry there is a little space that we couldn't use. We have camping supplies back there because we never use them but we keep them just in case.
Another obstacle to consider is the location of your electrical panel or other utilities. Make sure you have easy access to these areas and that they are not obstructed by your pantry shelves.
By taking the time to plan and design your pantry, you can create a functional and organized storage space that maximizes the available space under your stairs.
After living with the 12″ shelves on one wall for several years, we decided that we could do 8″ on both walls which helped access the pantry much easier and ultimately gave us more storage space.
When we decided to cut down on the size of our shelving unit, the materials we needed were no longer in stock items and it went from a DIY project to a custom build.
"Handy" had to use a hole drilling press to create the proper shelve pin holes. He also had to use a table saw to cut down the 12″ laminated boards to 8″. However, the change is amazing.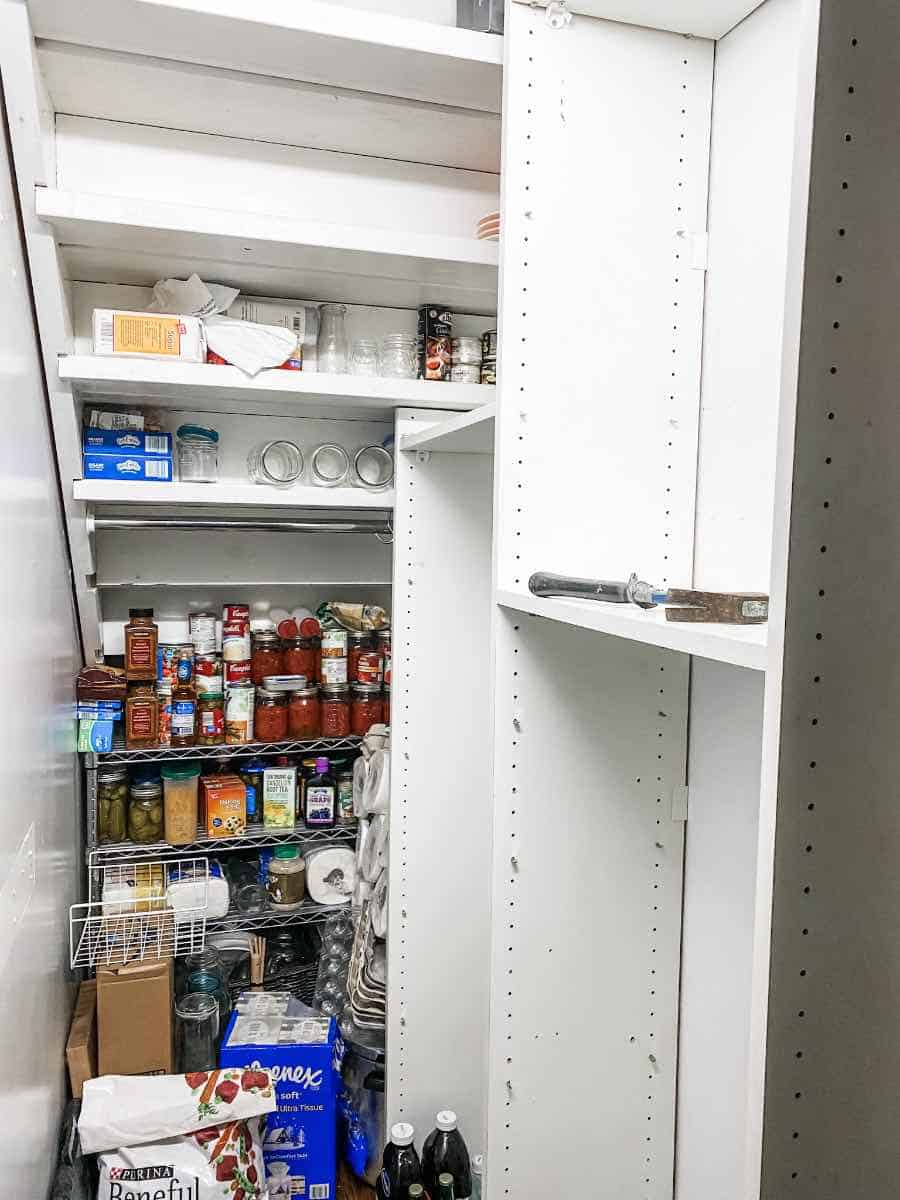 Planning Your Pantry
When it comes to creating a pantry in the space under your stairs, proper planning is key. Here are a few things to consider before diving into the project.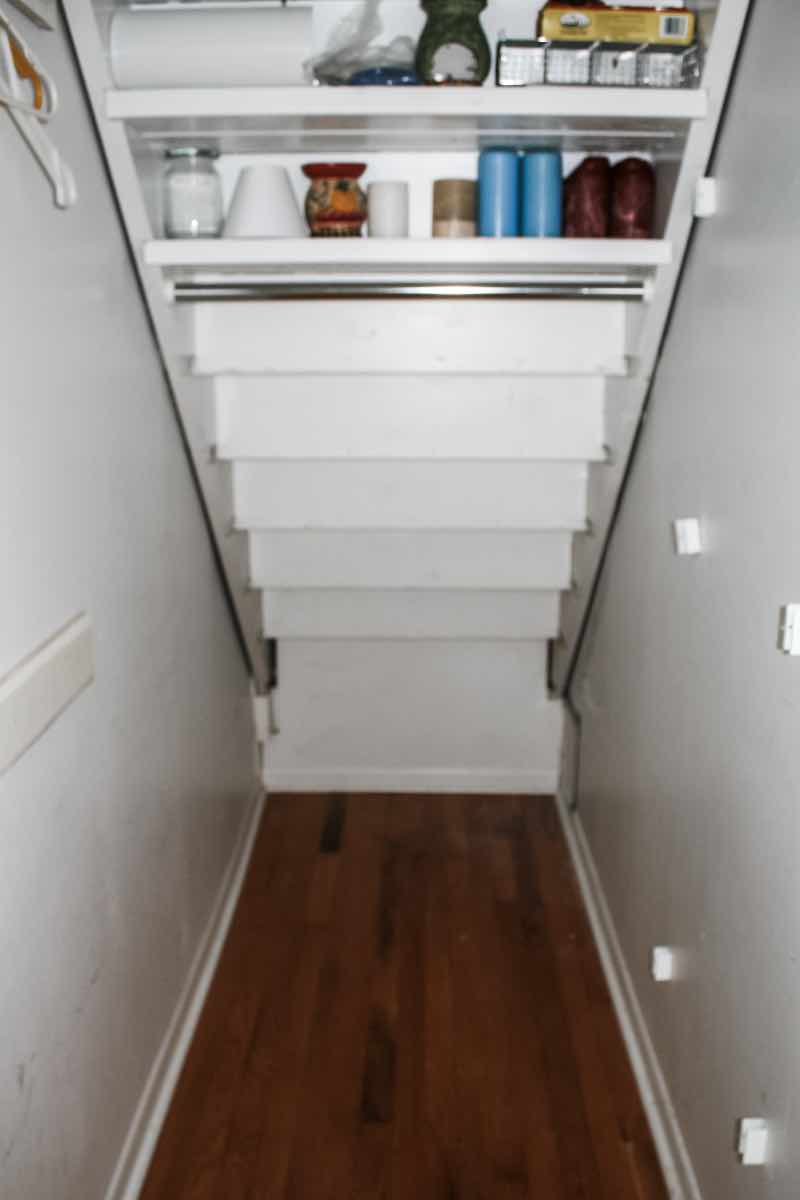 Deciding on the Layout
The first step in planning your pantry is deciding on the layout.
Consider the size and shape of the space, as well as your storage needs. Will you need room for larger items like kitchen appliances or bulk food items?
Do you want to include a countertop or workspace? Take measurements and create a rough sketch of the space to help visualize the layout. Had we taken more time to plan out our pantry originally, we might have saved ourselves from doing it twice.
We decided to build a U-shaped pantry the second time around with wood shelving on both sides, a metal shelving unit at the end, and a door at the entry.
Choosing the Shelving
Once you have a layout in mind, it's time to choose the shelving. There are many options to consider, including wire, wood, and plastic. Think about the weight capacity of each shelf, as well as the spacing between them.
You'll want to choose shelves that are sturdy enough to hold your items and adjustable to accommodate different sizes.
We decided to use the closet systems at our local Home Depot store and customized them to fit our space.
While we had a choice of wire or wood shelves we felt that the laminated wood shelves were more conducive to house pantry items and glass containers.
By taking the time to plan your pantry layout and choose the right shelving, you can create a functional and organized space under your stairs.
Gathering Materials
Before we start creating a pantry under our stairs, we need to gather all the necessary materials. Here is a list of items we will need:
Steel Wall Mount Rails
Shelve pins
Wood Screws
Paint or stain
Paintbrushes
Saw
We needed to measure the space under the stairs to determine the size of the pantry. Once we have the measurements, we can purchase the supplies accordingly.
Before we installed the shelving units, we patched all the prior holes and painted the walls, ceiling, and baseboards. The original closet had a pull chain light so electricity was run for a switch on the wall. On our second remodel "Handy" replaced the light switch with a motion sensor switch. To me, this is a huge game-changer. The light turns on when I walk into the pantry and turns off a few minutes after which is so convenient.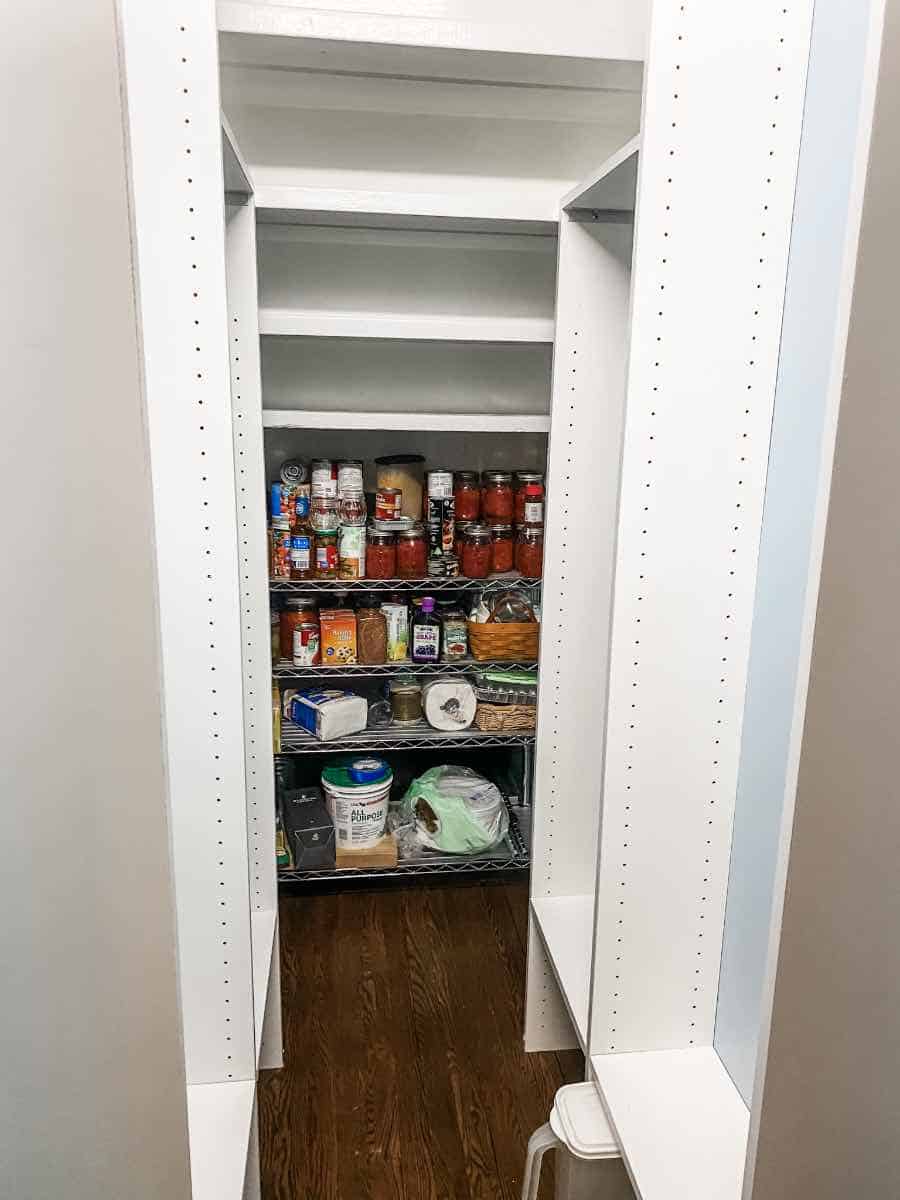 Building the Pantry
Installing the Framework
The first step in building our pantry was to install the framework. We measured out where the frame plates needed to be attached per the plan for the pantry.
To install the framework, we followed these steps:
Locate where your verticals are going to be installed.
Cut the verticals to the proper heights (make sure you don't cut the bottoms or your shelf holes won't line up)
Attached the verticals to the wall using the brackets (all manufacturers have different ways to attach the verticals)
Once the framework was installed, we were ready to move on to the next step.
Adding the Shelves
The second step in building our pantry was to add the shelves. We wanted the pantry to have plenty of storage space, so we planned to install shelves on two walls of the pantry.
To add the shelves, we followed these steps:
Install your shelves starting with the bottom shelves, and use the items you will be putting on the shelf to determine the heights you need for each shelf
Using shelf pins we continued to install shelves until the pantry was complete
By doing it this way you can maximize your space as some items don't require as much height as others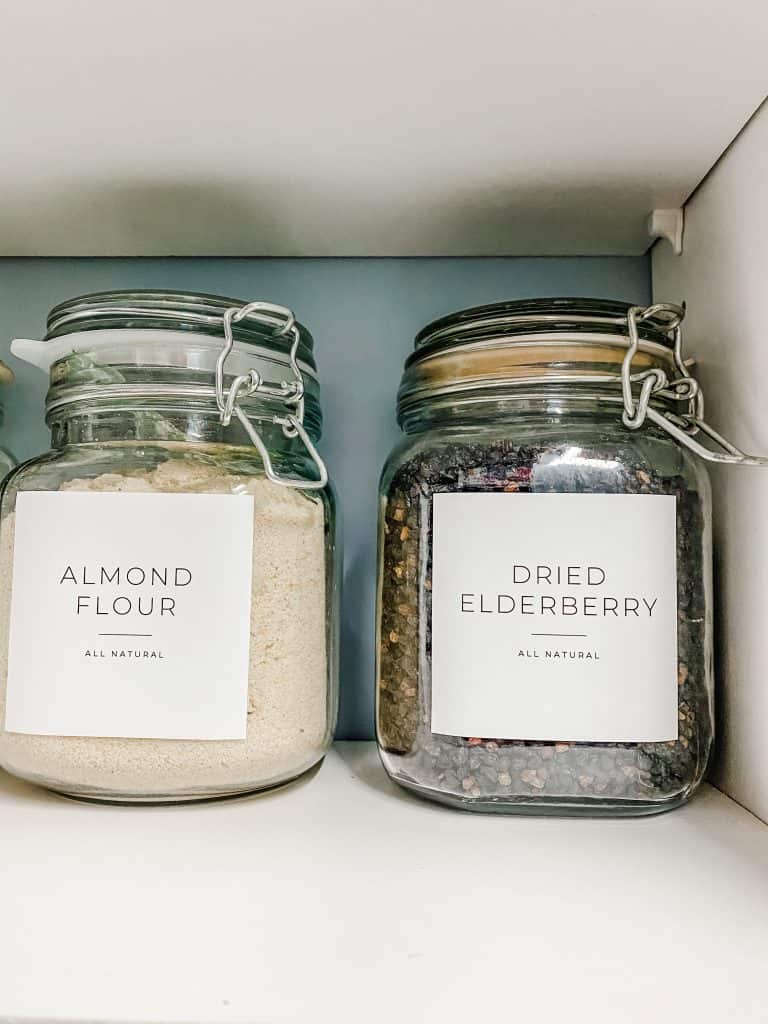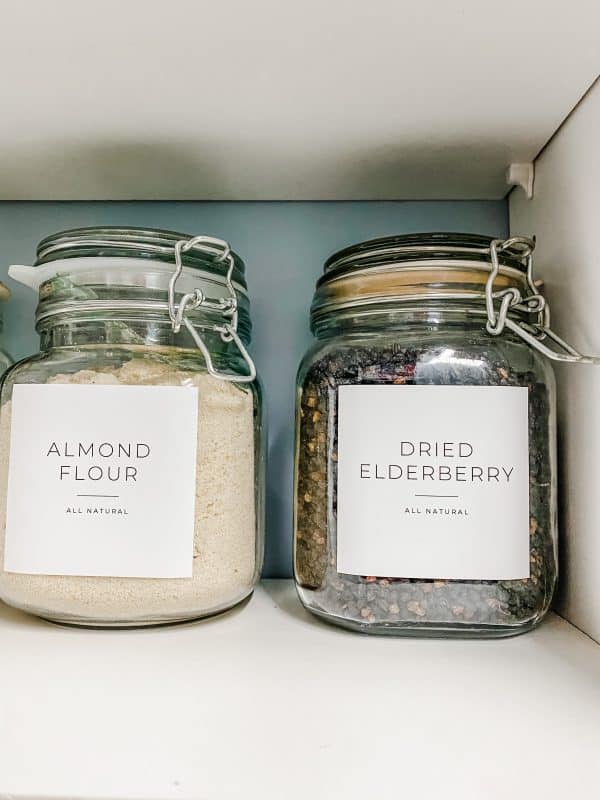 You can also add a few extra features to your pantry, such as a spice rack and a wine rack. These features would require some additional planning and work. Create a space that works well with your lifestyle
Building a pantry under the stairs requires some hard work and planning, but the end result is well worth it. By following these steps, we were able to create a functional and beautiful pantry that has plenty of storage space for all of our food and kitchen supplies.
Pantry Door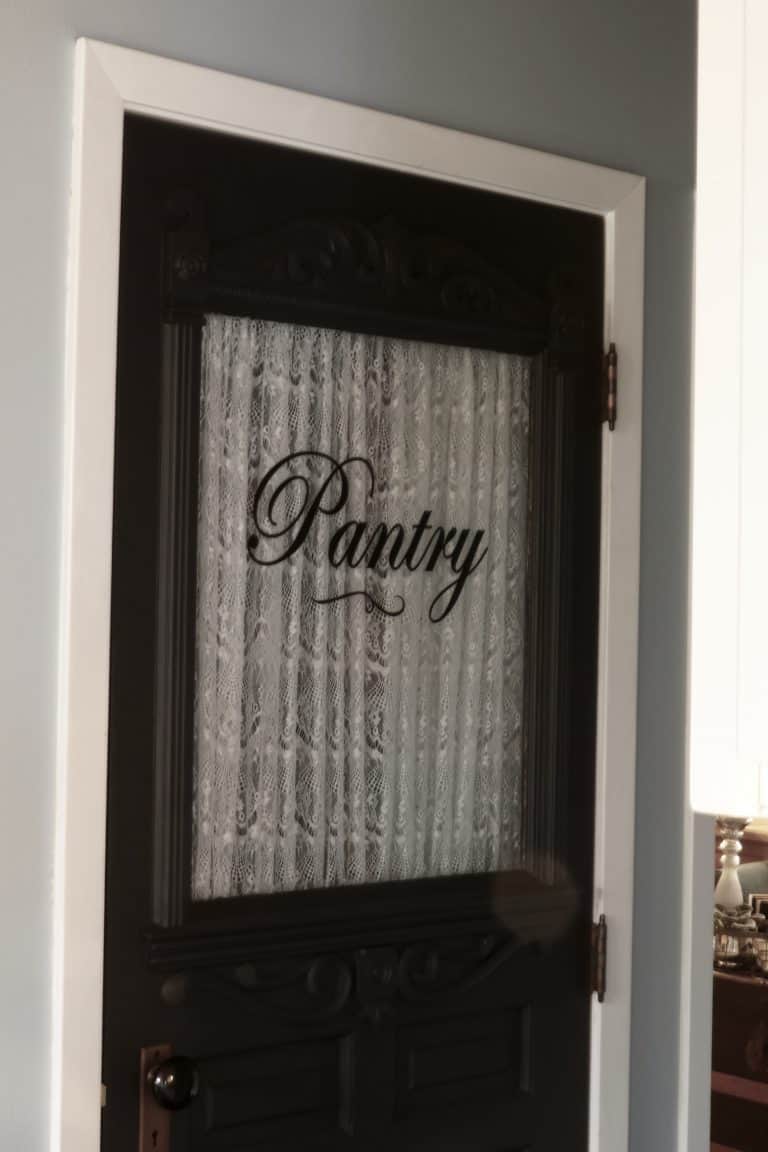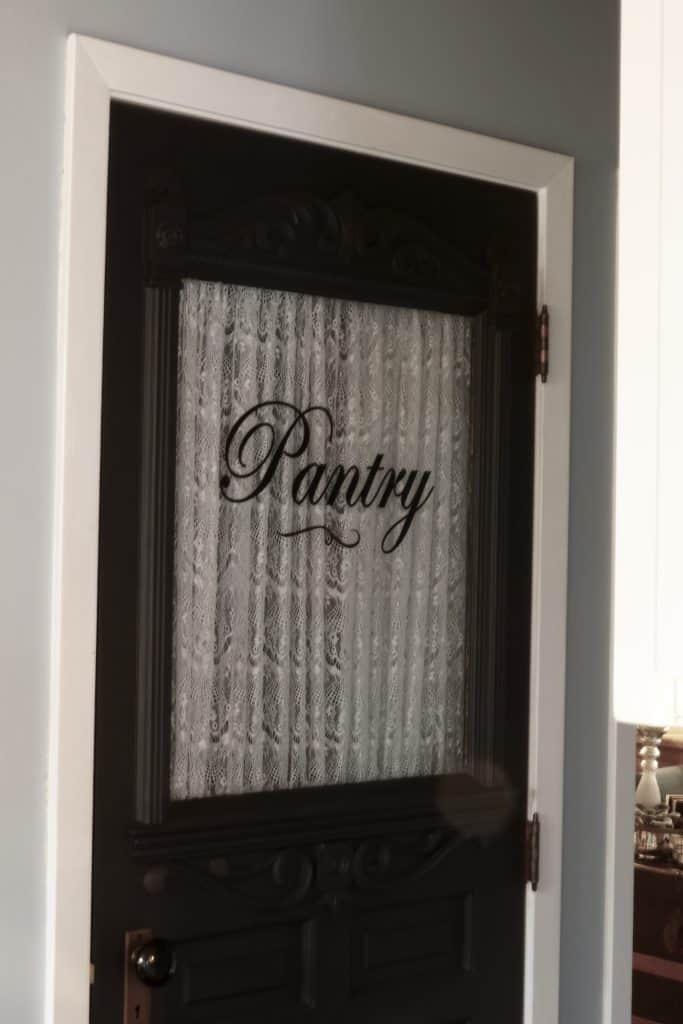 We opted to look for a vintage door for our pantry. We thought it would take us some time to find the right one and we were willing to wait for it to be perfect. However, we got really lucky and found the exact right antique door the first time went went looking.
Our new door has a glass window on the front but when we had a solid door, we made good use of the back of the door with the door rack from the Container Store. It's the perfect way to add more storage.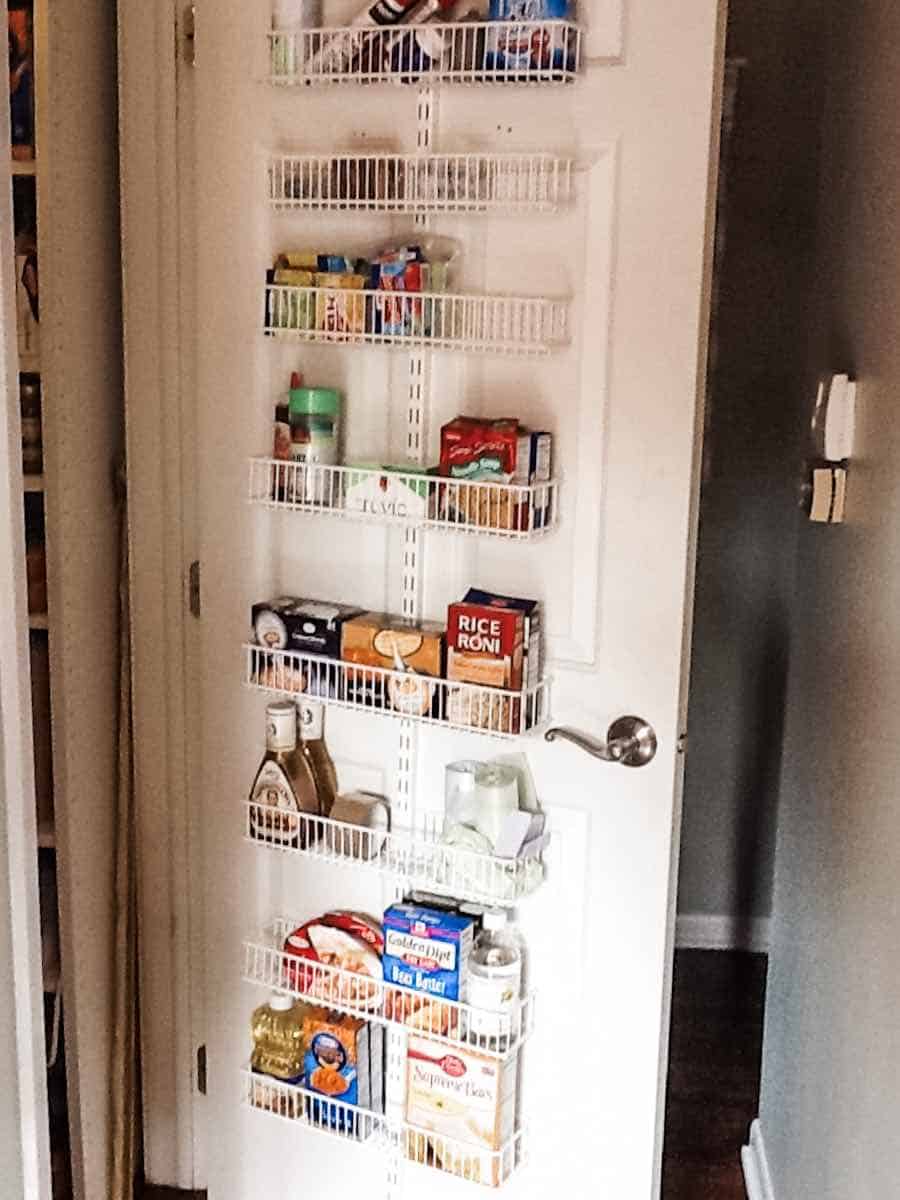 If you have the wall space next to your pantry opening then a barn door might be a good idea. In small spaces, this prevents the door from swinging either into the pantry or out into the living space.
Award Winning Pantry
My pantry was recently chosen in Taste of Home's Grand Prize Before and After Contest. No one was more shocked than me.
What made it stand out?
I decant all of my dry goods into glass containers that I got from Walmart and I used custom stickers from the ETSY shop Paper & Pear to identify what is in each of them. I just love the way it looks and it makes it so easy to keep it organized with these matching containers.
What are some other ways to use the space under your stairs?
If you're not interested in creating a pantry under your stairs, there are plenty of other ways to make use of the understairs space. Here are a few creative ways to use this dead space.
Storage: The space under your stairs can be used for general storage, such as for holiday season decorations or sports equipment. Consider installing shelves or cabinets to keep things organized.
Reading nook: If you're a bookworm, you can turn the space under your stairs into a cozy reading nook. Add some cushions, a lamp, and a bookshelf, and you'll have the perfect spot to curl up with a good book.
Home office: With more and more people working from home, creating a home office is becoming increasingly popular. The space under your stairs can be a great spot for a desk and work area.
Pet area: If you have pets, you can create a cozy spot for them under the stairs. Add a bed, some toys, and maybe even a litter box or food and water bowls.
Mini bar: If you like to entertain, you can turn the space under your stairs into a minibar. Install some shelves to store glasses and bottles, and add a small fridge to keep drinks cold.
Kids Play Space: How fun to have a secret room with a hidden door to play in.
Wine Cellar: My friend Leslie from My 100 Year old home created a wine cellar in a hallway but I could easily have been under a staircase.
Storage Drawers: I've seen the space under the stairs used as additional storage with pull-out drawers.
These are just a few ideas for making use of the space under your stairs. With a little creativity, the possibilities are endless! I have a whole article with under-stair ideas.
Related Posts: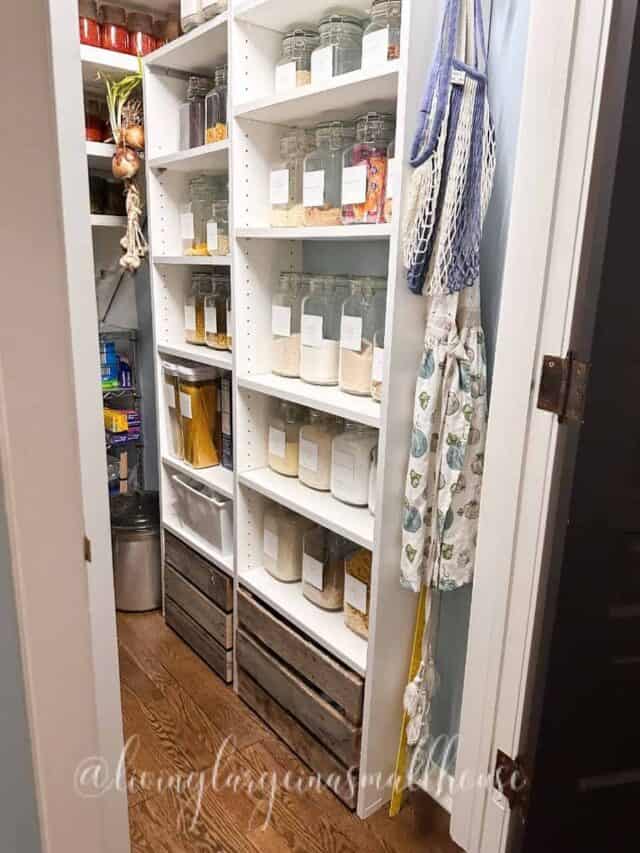 Conclusion
The added benefit of having a pantry in a small house is priceless, especially before we renovated our very small kitchen and made it a part of our open floor plan which now includes the living room, dining room, and kitchen.
I hope this gives you some ideas if you have open space under your stairs, turn it into much-needed storage space.
Peace and Love,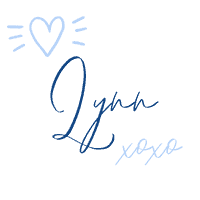 Thanks for Following Along
If you enjoyed this post I hope you sign up to be a friend of Living Large in A Small House! Then you won't miss any of the inspiration that is shared with you each week! You can also follow me on  Instagram, Facebook, and YouTube. I share even more inspiration on Pinterest! You can listen to me chat on my Podcast.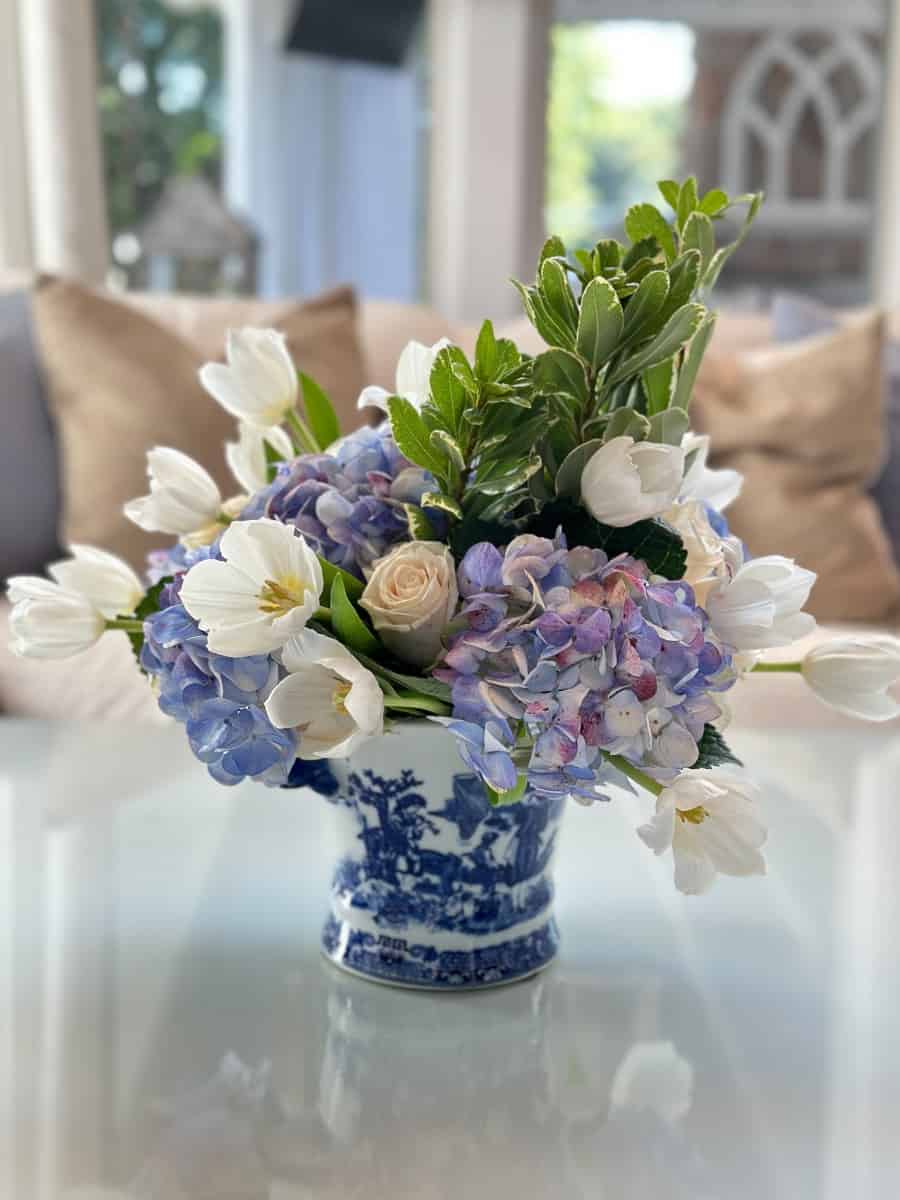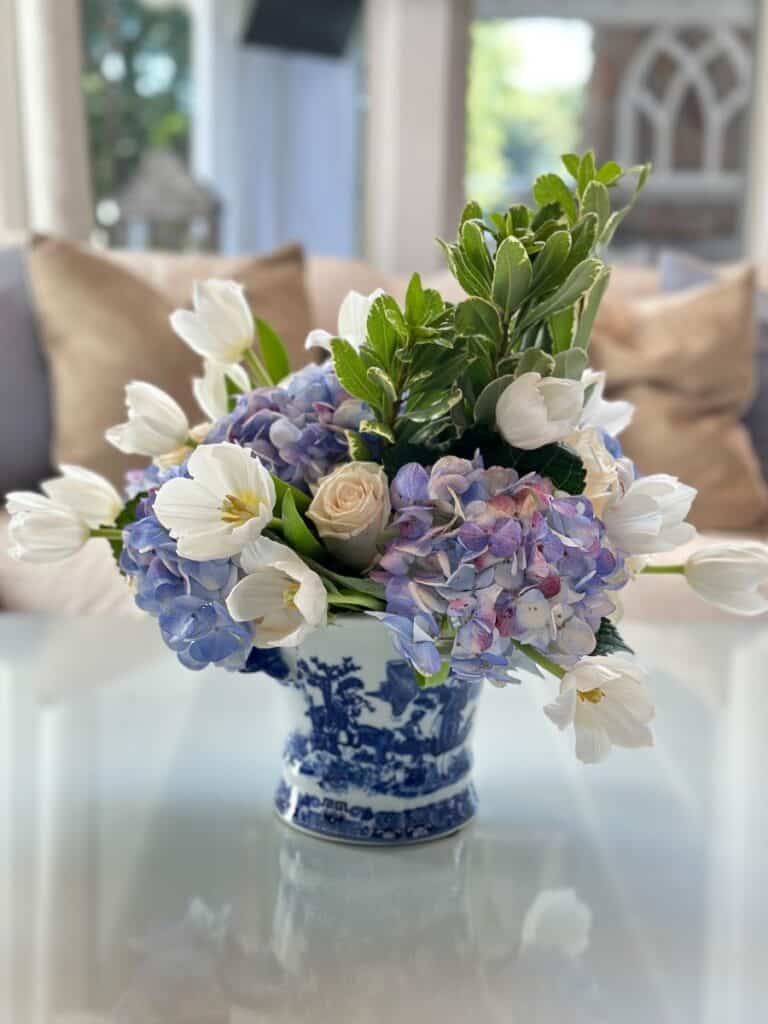 The best way to remember these tips is to save them on one of your Pinterest boards. You can find the pin button in the top right corner of the photo below. Also, don't forget to follow me on Pinterest