Dreaming of a New White Kitchen
How many of you have been dreaming of a new white kitchen?
Today I'm going to share with you my dream kitchen.  If you follow along with my blog you know that I shared a few weeks ago, my fix for making my old kitchen livable.  That fix and I was friends for many, many years.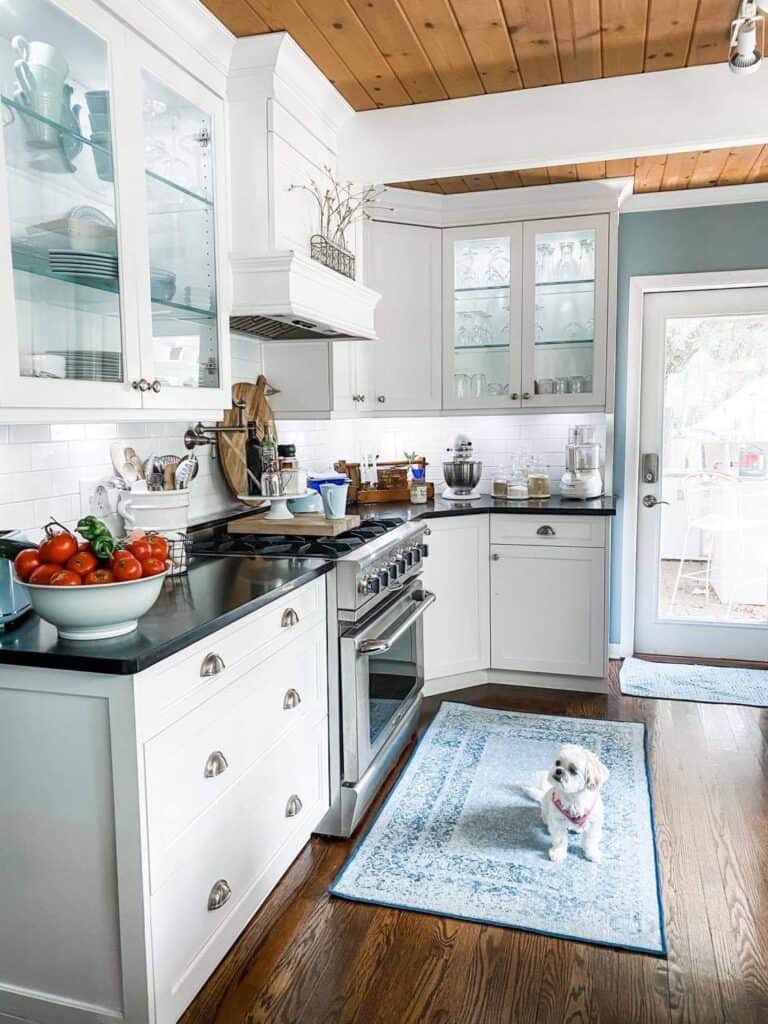 On my blog Living Large in A Small House, I may sometimes use affiliate links, which means a small commission is earned if you make a purchase via the link. The price will be the same whether you use the affiliate link or go directly to the vendor's website using a non-affiliate link. You can find my full Disclosure Policy HERE
The story of my new white kitchen is long so grab your favorite beverage and settle in for a bit! It was 20 years in the making.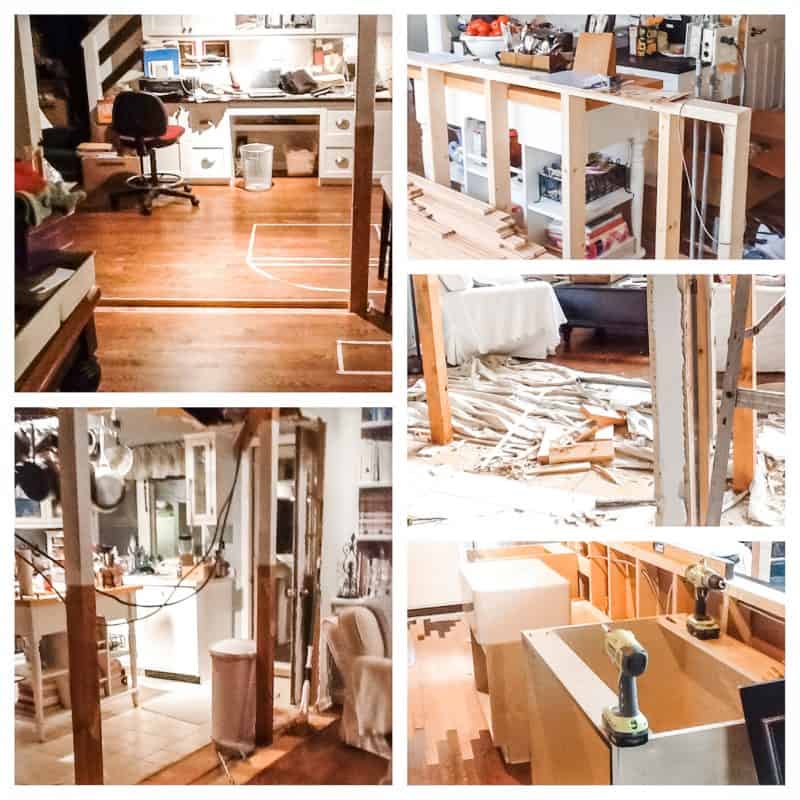 When I moved into this house I had every intention of convincing Handy that we needed to find a bigger house.  It was a tight space when I got here with all of my stuff including my 6-year-old son.  28 years and 2 more kids later – we are still here! Clearly, I need better negotiating skills.
The Beginning of the Dream
Once it was clear that we weren't going anywhere, anytime soon I started sketching my new dream kitchen. I held on to those drawings for over 20 years. Believe it or not, the actual kitchen I have today isn't too different from those original drawings.
The new plan involved changing everything.  Our home is a post and beam-built house so that in itself made each of the projects more difficult to solve. We had to demo the entire space and bring the kitchen down to the studs.
So Many Details
 A window was removed and we moved a door 3 feet.  We had to move water lines to a wall for my pot filler, another wall for our ice maker, and under the floor to where the island is for my sink.  Rewiring the entire new space was a must.  
We also had to put in a larger gas line for our commercial stove.  Figuring out how to vent our high-capacity commercial hood in a kitchen, once we eliminated our soffits, was extremely challenging.  
We moved ductwork that supplied our Master with heat/air.  The tile floor, which was installed by Handy, was laid to never be replaced.  That was the worst project.  However, it had to go as we were feathering in the hardwood to match the rest of the first floor.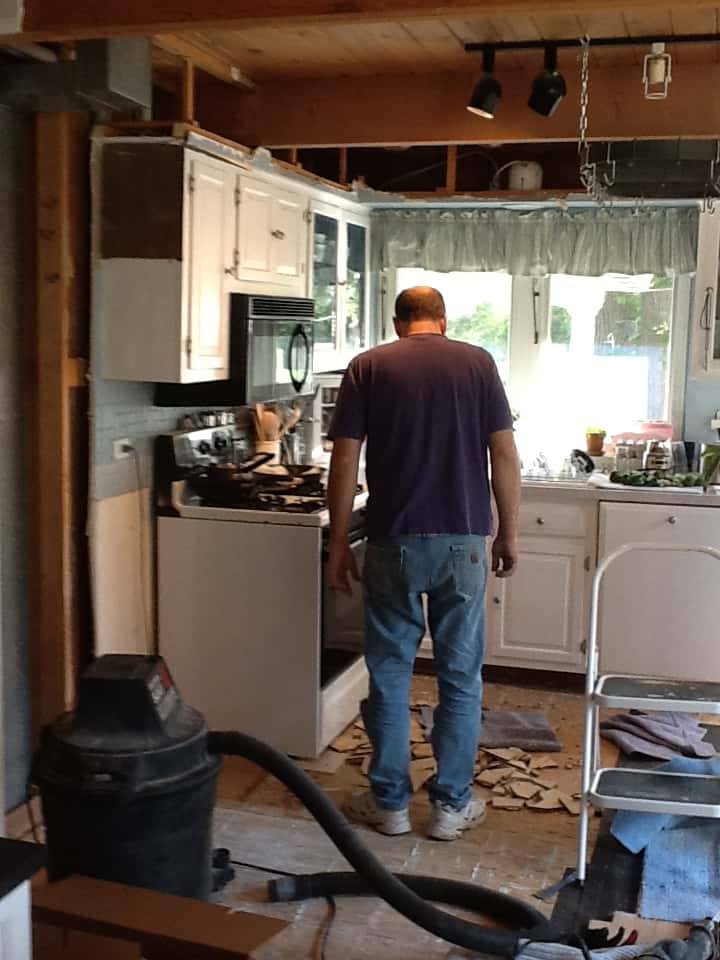 The stars finally aligned for us to create the new space that I love.  First and foremost, Handy was able to do most of the work himself.  
The beauty of that was that he did things very methodically so I always had a sink and the ability to cook.  I won't lie, there were plenty of frozen pizzas; some cooked on the grill. The grill is part of Handy's second outdoor kitchen.  Yes, a second outdoor kitchen!! That actually was kind of the straw that broke this camel's back!  
Where was my new kitchen?
Bartering is a Beautiful Thing
Our cabinets were bartered with the cabinet maker who rents space from Handy. We knew of an appliance salesman who needed to have his solarium rebuilt. We were able to barter appliances for his solarium. Lastly, Handy was able to do some shower door work for a tile store and they supplied our countertops. How lucky to have the three most expensive parts of a kitchen remodel covered. Bartering is a beautiful thing.
The only things that Handy didn't do by himself were the cabinets; the cabinet maker wanted to install all of the custom cabinets. Handy was just his right-hand man.  We hired a plumber for the kitchen sink.  The drain and vent lines on an island can be tricky.  We also hired someone to refinish the floors.  
One of the smartest things we did was to have a professional kitchen designer take a look at my 20-year-old dream plans. He was able to take my vision and tweak a few things to make it an even better design. I still love my kitchen as much as I did when it was brand new. I believe a white kitchen is timeless! One of my favorite bloggers, Leslie at My 100 Year old Home remodeled her white kitchen 20 years ago and she still loves her kitchen too!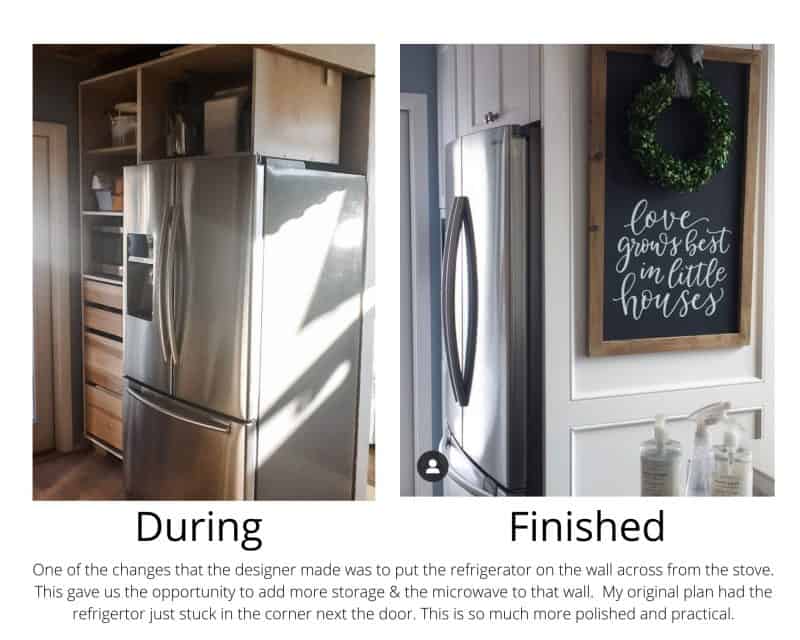 "Fixer Upper" came a little after our new kitchen and admittedly I have open-shelve envy. However, my practical "Handy" continues to remind me that cabinets hold much more. Additionally, I do have two beautiful glass door uppers, and those doors keep the dust down.
I'm surprised at how much I love the black-honed granite that tops the white cabinets as granite isn't my favorite. It doesn't really look like granite to me. The island in our new white kitchen is painted black with a slightly distressed finish. It really anchors the space. That was the other change that the designer made.
I had the island shifted to the left more and he centered it with our great room.  The countertop on the island is white quartz.  Marble throughout would have been my first choice. Again, my practical Handy reminded me how the marble looks on our bathroom vanity and those thoughts quickly disappeared.
The plan for the new white kitchen encroached into a space that was a large entry space.  Several years ago Handy built me office space in that area and we had to incorporate that into the design plan.  As we finished the kitchen it was clear that I no longer wanted to use this space as my work office.  Who wants to see that mess?  It has become an amazing space that serves as a refreshment counter and buffet when we entertain.
A complete kitchen remodel is not for the faint of heart. Our kids weren't little so it wasn't a struggle to work around them. We had everything thought through and very well planned out. Because Handy was our general contractor, we didn't have issues with workers not showing up but he did have to do plenty of it on nights and weekends. I think our entire process from start to finish was about three weeks.
Our kitchen is literally the center of our home and even if your kitchen is small, I'm sure you know that it's where everyone gathers. This kitchen remodel has really made the time spent in the space; whether with just the family or a whole group of folks, so much more enjoyable.
Thanks for tagging along as I shared my dream white kitchen remodel!
Peace,