How to Pick the Right Paint Color
In a world where there are hundreds of different shades of white paint, you might be wondering how to pick the right paint color for your cabinets. Or your walls for that matter.
Being in the process of remodeling a room in our home, I recently made the ultimate mistake with paint color. I picked the wrong paint color for my cabinets!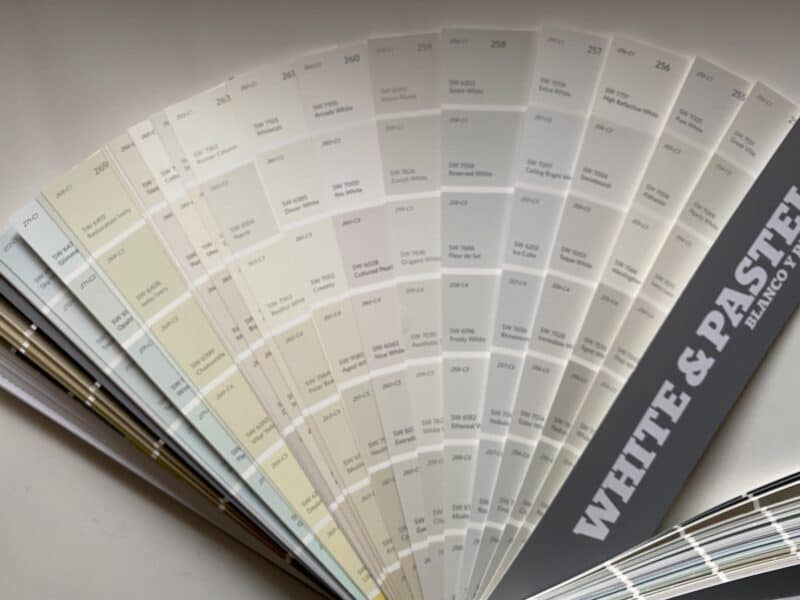 On my blog Living Large in A Small House, I may sometimes use affiliate links, which means a small commission is earned if you make a purchase via the link. The price will be the same whether you use the affiliate link or go directly to the vendor's website using a non-affiliate link. You can find my full Disclosure Policy HERE
How to Pick the Right Paint Color
I choose a paint color from a small sample swatch. This is the biggest no-no in choosing a paint color. Maybe it was my "I'm an Interior Designer – I know what I'm doing" mentality that got me in this jam but I made a snap decision and it was all wrong.
It looked great with the wallpaper that I was using from Love vs Design and I was sure that I didn't need to go through the trouble of getting some actual paint to put on the wall and look at it.
My cabinets came in and the vision that I had in my head and the reality of the cabinet were two entirely different things.
I wanted a rich deep navy blue and what I got was a "bottom of a built-in swimming pool" blue!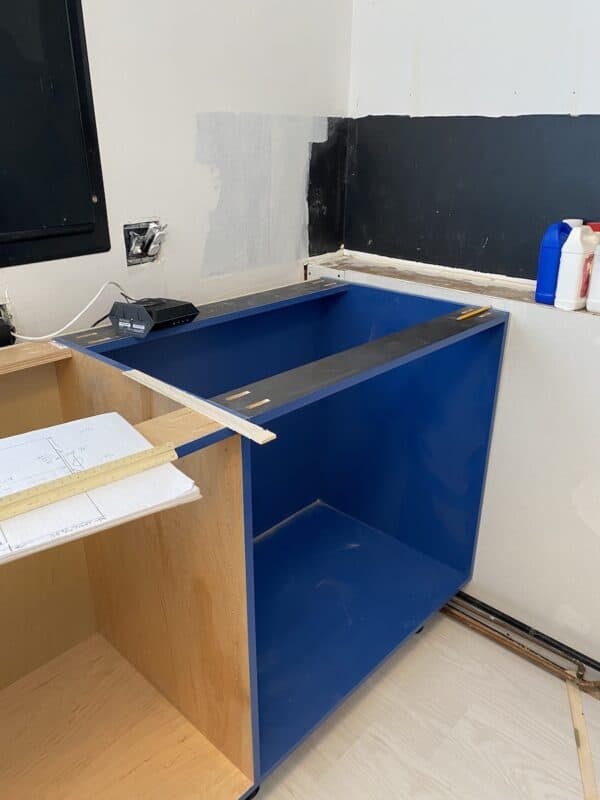 What do you do when you pick the wrong color?
If it's a color for a wall, you can paint over it which isn't ideal but it can be remedied pretty quickly. In my case, the custom cabinet had to go back to the cabinet maker and get repainted. Because of the current demands, my project got put at the back of the line and now I just wait.
It was a costly mistake and my project which I was hoping would be done by now is still in progress.
How can you avoid a paint color mistake?
Always, always, always buy samples and paint them on your wall or a large piece of wood. Not just a swipe, paint a large area, and if it's for a wall paint it on several walls so you can see the color from different directions. Then live with it for a few days. Get a good look at it in the morning, afternoon, and night. Hopefully, you will be able to evaluate it on sunny days as well as cloudy days. With natural light and artificial light.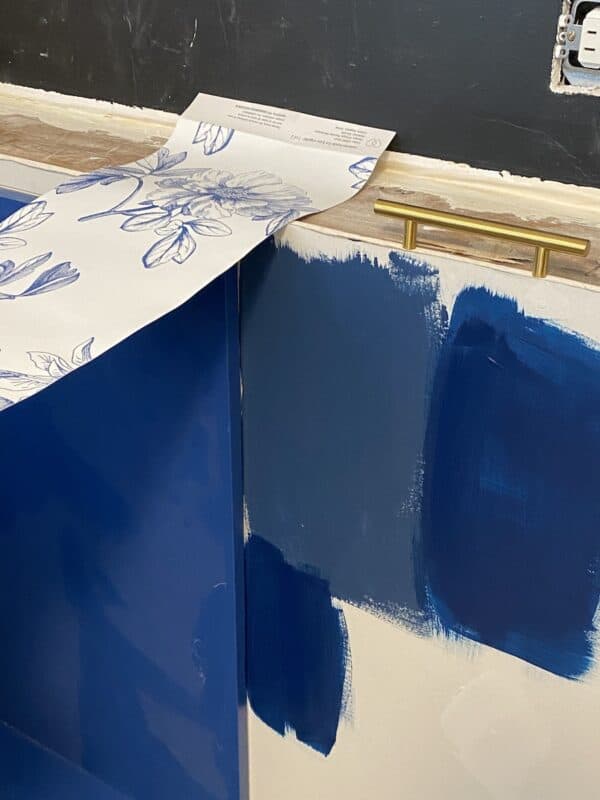 Colors also look different depending on the direction your room faces!
I have a friend who recently painted her cabinets in a bar/coffee area in her home and she went through 12 different samples before settling on the right color. It may seem like a lot but her project was painted once and she loves it. You can read all about it HERE.
"nothing will stop you from being creative so effectively as the fear of making a mistake"
Why is it so difficult to pick a paint color?
Because paints come in so many different colors and different tints and shades of that color, it makes choosing colors a challenge. Warm colors are oranges, yellows, and reds; while cool colors are greens, blues, and purples. You can also have warm and cool neutrals. What I mean by that is whites that lean toward yellow are warmer and whites that lean towards blue are cool. This is the case with grey as well.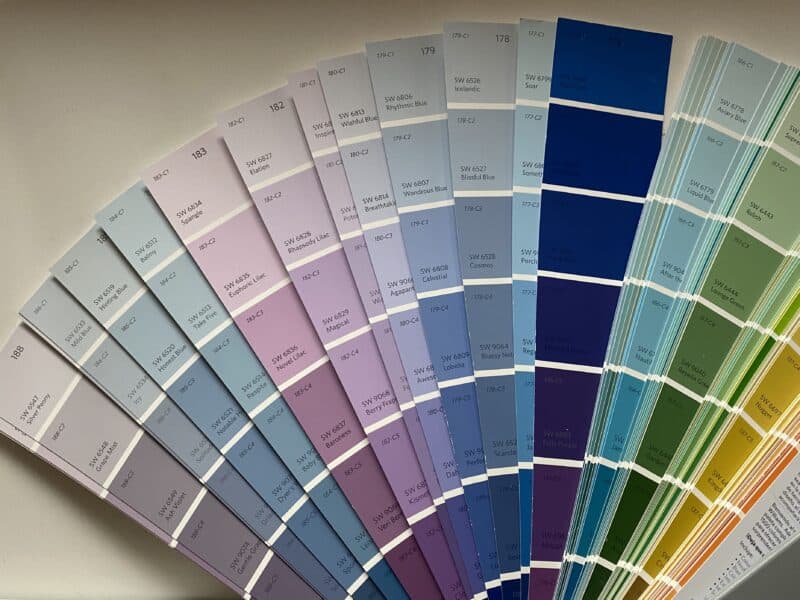 Warm colors typically evoke a feeling of happiness, sunshine, and positivity. Whereas cool colors evoke a feeling of calm, cozy, and relaxation.
I personally lean towards cool colors. I like that more calm, cozy vibe and my house is various shades of blues and blue/greys. I'm also someone who doesn't mind a cloudy day. Turning on a few lamps and lighting some candles are as soothing and comforting as it gets for me.

What are some Classic Paint Colors?
I have my own personal opinion about colors that are classic. When you are picking colors for cabinetry, I'm a believer in going with a classic. Replacing or repainting cabinetry can be a big expense.
I love white. Not beige or grey but white, pure white. It's classic and doesn't go out of style. I think it's even more classic than wood cabinets. There are people who would disagree with me but I don't think white kitchens are going anywhere.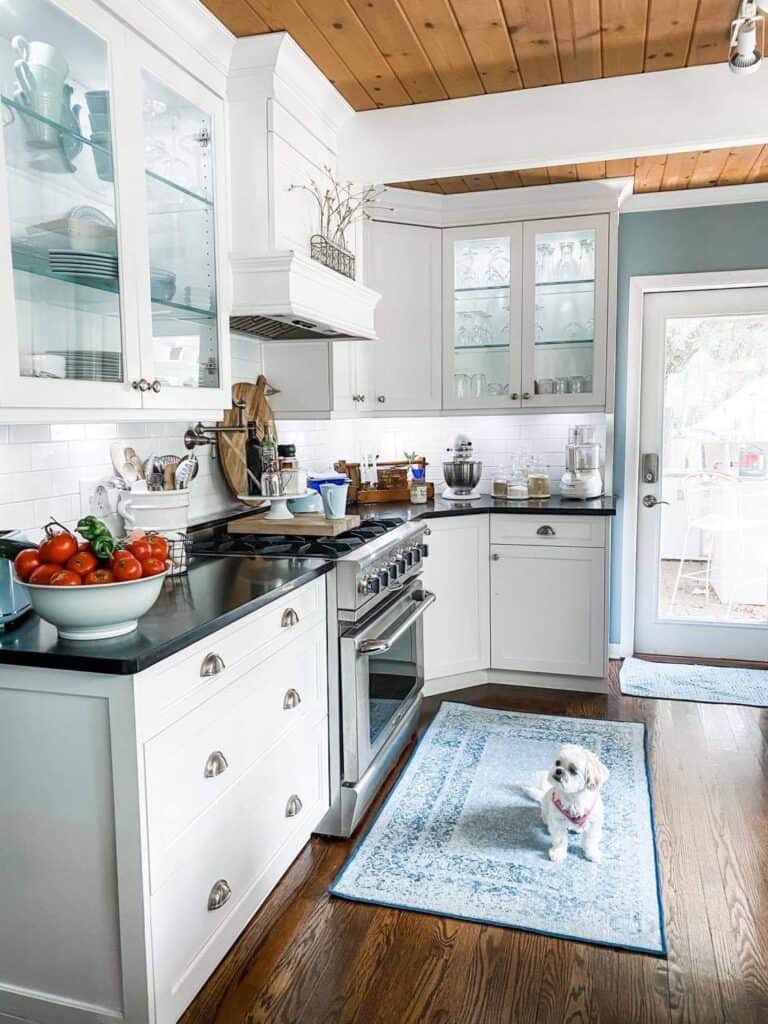 Do you remember when oak cabinets were the rage? They date a house just like avocado appliances. If you are a wood cabinet person, I think Ash might be a more classic choice and it looks rich without the grain of some woods.
Will light blue, mint green, hunter green, grey, and navy blue cabinets go out of style? I guarantee it but probably not anytime soon.
I have black cabinetry on my kitchen island. Now I have navy blue cabinets in my laundry room. Is this classic? Not really. It's what I love and there might be others who would hate it. While I think that almost everyone can live with white, people might have a hard time with navy blue or black. However, in my opinion, those colors have a better chance of staying current longer than more "colorful" colors.
Why I chose Blue!
The fact that I will never get "Handy" to move out of this house gives me comfort. My cabinet color will be someone else's issue and quite frankly it may change again before then. 🙂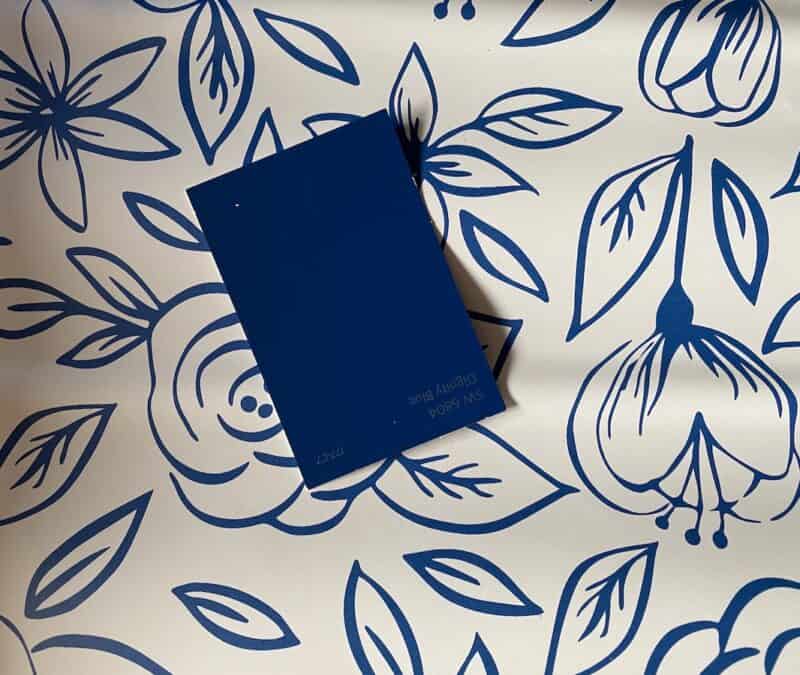 From the swatches above you can see why I thought the one on the left would look best with the color of the wallpaper but the other one also matches and is the right paint color for the cabinets. It's more sophisticated with a grey base to it.
When the project is complete, I will be revealing what it all looks like put together but for now, I'm just sharing the wall that is done!
Peace,