It's Time to Start Planning A Garden
When the seed catalogs start arriving, I know it's the best time to start planning a garden.
With 6 inches of snow on the ground, it's a great time of year to be inside and dream about all the vegetables and flowers my gardens will produce.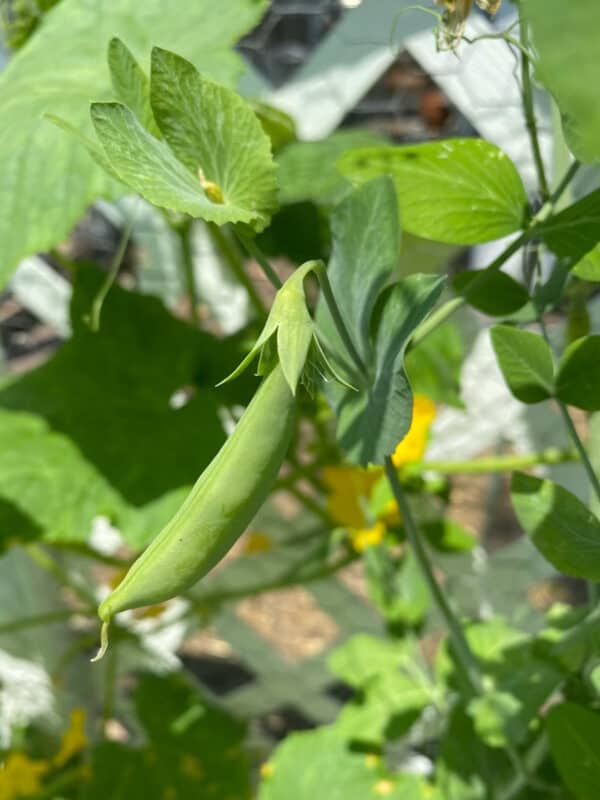 On my blog Living Large in A Small House, I may sometimes use affiliate links, which means a small commission is earned if you make a purchase via the link. The price will be the same whether you use the affiliate link or go directly to the vendor's website using a non-affiliate link. You can find my full Disclosure Policy HERE
Planning A Garden
"Handy" and I are old school in planning any project in our house. That is the same with the outdoor space. We bring out the graph paper and plot things out accordingly.
We take into consideration important things like the hours of sunlight a space gets, the type of plants we want, and when a plant will flower. We find all that detailed information by doing our homework about the plant's specific requirements.
I'm also a fan of learning how to do companion planting. This is something to consider both in the vegetable garden and the flower garden.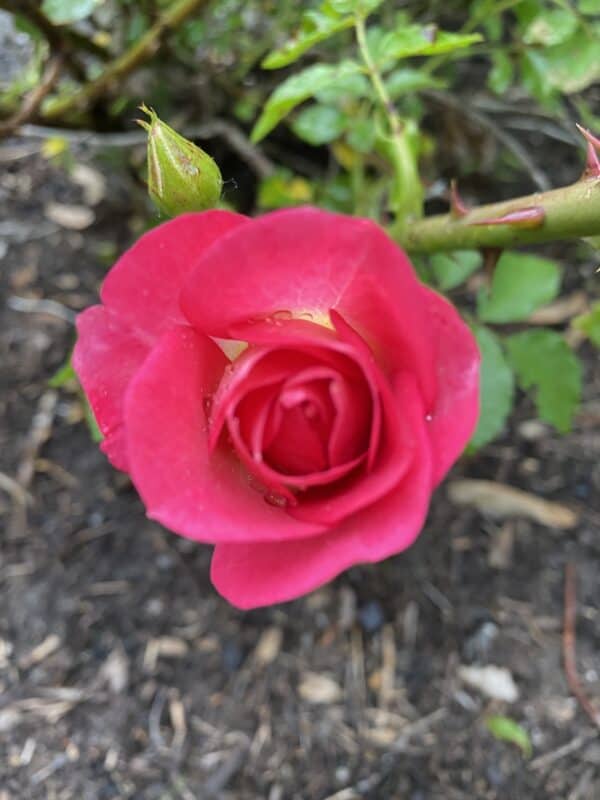 I love learning which type of plant works best with other plants.
Also learning which plants like full sun and which do well in partial shade is a big factor in planning a garden.
We did hire a garden designer when we went from a small garden to a much larger garden. She really helped us with foundation garden planning.
Fast forward a couple of years (30 to be exact) and we have a pretty good handle on how to create a successful garden.
Over the years we have created a raised bed design that includes soaker hoses in our vegetable garden.
We've brought a water source to all the parts of our yard and we can even pump water out of the river to water our gardens.

Our Growing Season
We can technically put plants out in our gardens after May 15th which is our last frost date. However, I've had a few years when I've had to cover plants as we still get some pretty cold nights.
Always check your frost dates before planning your garden.
Also check your hardiness zone when choosing trees, shrubs, and perennials.
We live in the 5B zone!
There are some things like basil that don't like to be in the ground until it's consistently 60 degrees at night. I keep them in my greenhouse until it's safe to put them out.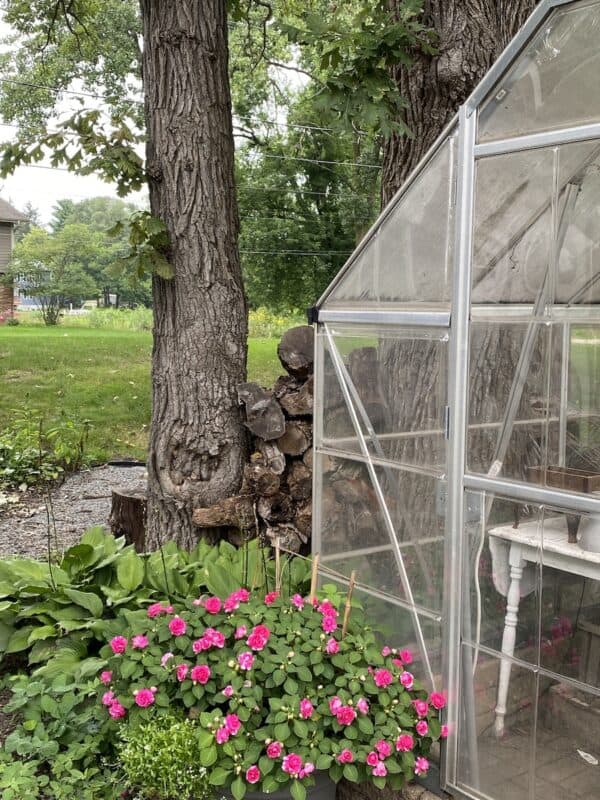 We typically harvest until mid-October sometimes we get lucky and don't get a frost until November.
Since I'm trying some new things this year, I'm going to play around with some cool-season vegetables (like leafy greens), and when they are done then move into the warm-season crops.
Evolution of my Gardens
I have some pretty large garden beds.
But it wasn't always that way.
At first, I just had two kidney-shaped gardens in each corner of our backyard. (We actually call it the front yard because it faces the water)
Those gardens have now connected and have expanded to be pretty much the perimeter of your yard.
The yard that faces the street is very shady because of the large trees and the northern direction. It has pretty crumby soil and is one big shade garden that I just kind of let go wild.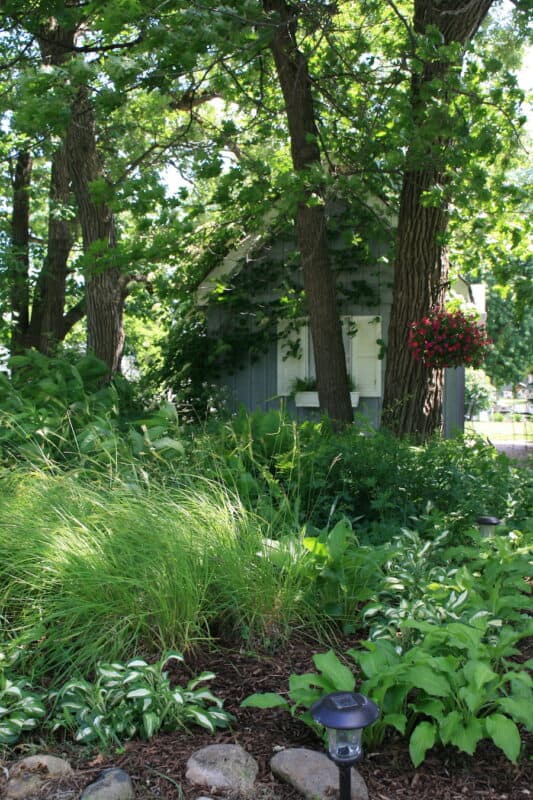 We also have a fenced vegetable garden with an herb garden right next to it.
This past year I added a cutting garden to one of the beds in my vegetable garden and I loved having flowers to cut and bring inside.

Vegetable Garden
This year my vegetable garden is going to be completely changed. I've been battling tomato blight for several years. You can read about that HERE.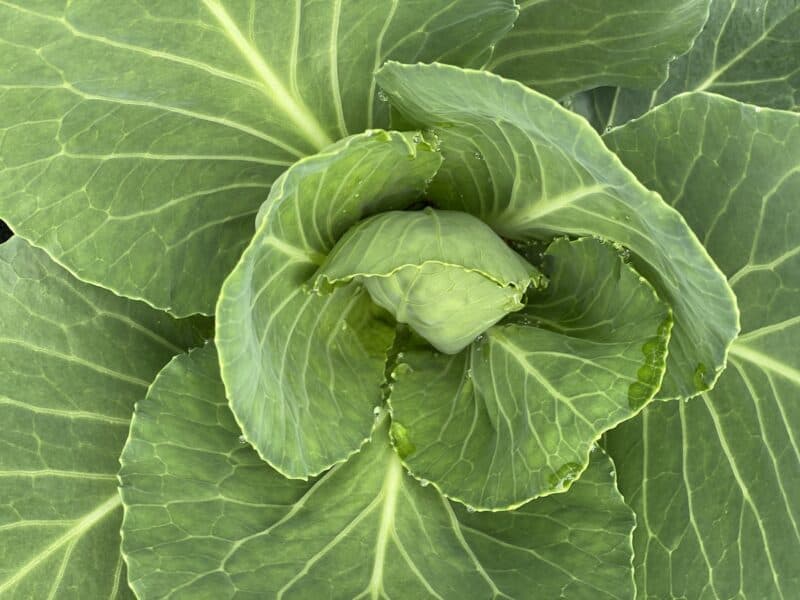 I honestly just need to give that soil a break from the tomatoes. We've tried crop rotation but that hasn't helped. I believe that all of the beds need a break to get rid of the fungus-like organisms that cause this disease.
We've talked about trying out some new vegetables in the garden and potentially growing a few tomato plants in the herb garden this year.
Gardening
If you want to be happy for a lifetime, plant a garden!
I've never tried to grow sweet corn or potatoes so this might be my year. We are also thinking about radishes, and some heirloom plant varieties and just making this summer of experimenting.
We finally don't have a wedding to plan so we can concentrate more on the yard.
I also planted a blackberry bush in the vegetable garden two summers ago and I had no idea how large it would become.
So that needs to come out and get moved somewhere else in my yard. I'm sure it will just become another snacking area for our local deer, birds, and squirrels.

Flower Garden
My flower gardens are pretty established with perennial flowers but I like to move things around in the spring and I make notes every fall of what needs to be moved and where.
They are easiest to move when they just start coming up. If I don't get them all done in the spring, early fall is also a good time to move perennial plants in your garden.
I have many different types of plants and I reevaluate my garden layout every year.
As trees in your yard grow, it changes the amount of sun some spots get. If you remove a tree that also affects your yard.
Each year, I lose some plants, and then I will access if they need to be replaced with something that works better in my soil.
I'm a cluster planter which means I plant in groups of 3, 6, and 9 depending on the plant to make statements.
I also keep my color palate pretty consistent. I use primarily pink, cranberry, and white with splashes of yellows and blues mixed into my yard.
I fill in the spaces between my perennials and ensure season-round color with annual plants.
Cutting Flower Garden
For the first time, I added a cutting garden to our yard last year. I used one of the raised beds in our vegetable garden.
I planted dahlias, clome, and snapdragons.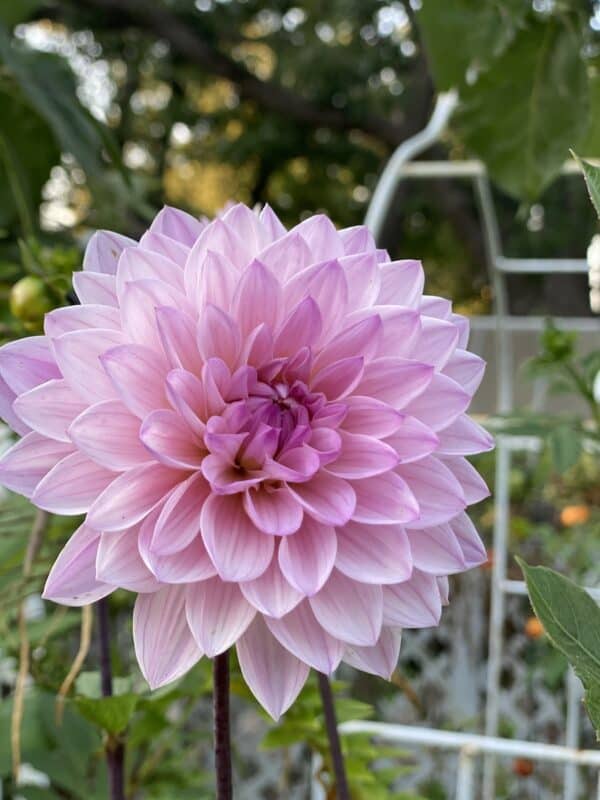 My dahlias were lovely and I will do them again. I may put clome in my garden but I will put it in the back of the regular beds as it took up a lot of space and wasn't quite as pretty as I imagined for cut flowers and the snapdragons were interesting.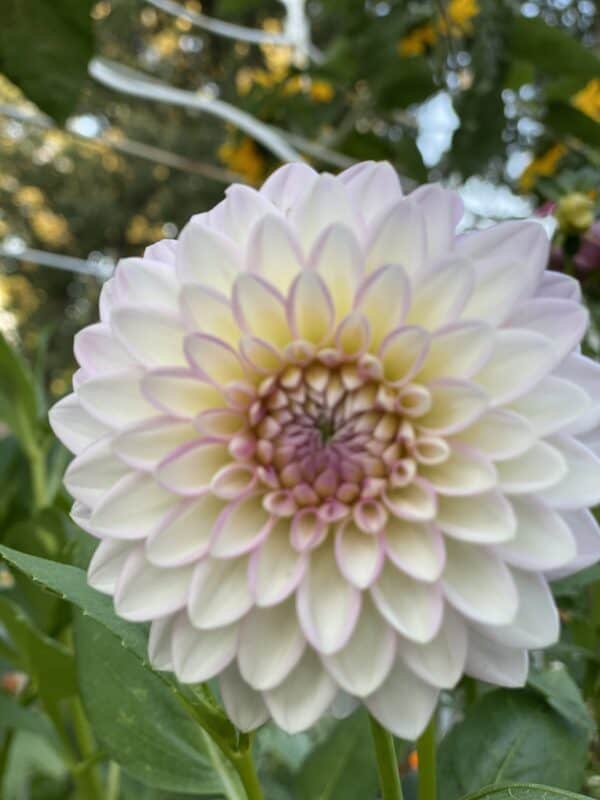 I did not know that some varieties of snapdragons grow close to the ground (not good for cut flowers) and some grow very tall. The latter was perfect for a cutting garden and I learned that I need to double-check the plant variety for next year's garden 😀
We also planted (for the first time) zinnias from seed in a small patch outside the vegetable garden area and they were definitely our sweet garden surprise this past year. They were tall, beautiful, and prolific.
Starting Plants from Seed
Every year I try to start plants from seed but I'm not very successful at it. Starting with the fact that I don't really have the space in my house for trays or much sunlight in the areas where I might be able to house them.
If I had enough space, I would love to start all of my plants from seed.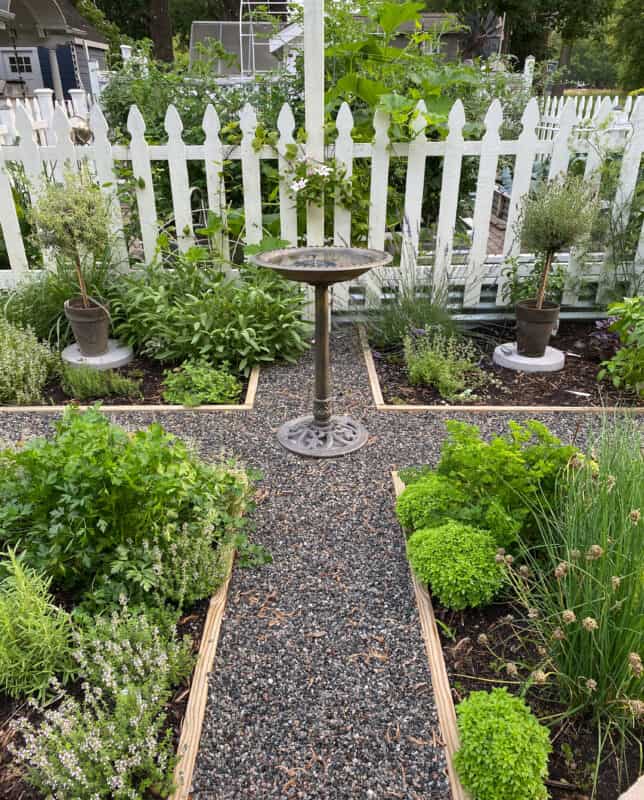 Mainly because even though I have large perennial beds, to keep color in the gardens throughout the growing season, I have to add lots of annuals to the mix.
I buy mine from the local garden center and it's not cheap.
You also have the advantage of trying out different types of plants that might not be readily available in your area.
I have bought some seed packets from Floret so I'm going to have to figure out some kind of small seed starter station.
Extension Programs

The University of Illinois Extension Program is an amazing resource that we have with satellite locations near us and I need to take advantage of that this year.
They will do soil testing and I would like to get the soil tested from my garden.
I would also like to get the soil from my front gardens which are well-draining sandy soil tested and then my street side gardens which are mostly clay tested.
Testing your soil can help you to know what kinds of organic matter you need to add to your garden beds to amend your soil.
Since I put in so much time and hard work in my garden beds, it only makes sense that I do my best to have good soil.
If I wasn't working full-time blogging, I would be taking classes at our local extension to become a master gardener. My brother has done that in his retirement. You can hear our Podcast about that HERE.
Chances are that you have an agriculture extension program near you.

Some Gardening Thought
For new gardeners, I suggest starting small until you see how much time you can devote to garden tasks.
Starting with pot gardens is a great way to get your feet wet and they can be prolific even in a small space.
As you get more comfortable you can expand your garden plot.
At our age, most people would be starting to rein it in again.
I will admit that keeping up with the weeding and garden tasks during the gardening season can be very time-consuming.
However, it's a great way to keep active and get some exercise.
It just seems overwhelming because we are both working full-time.
Our knees and back also aren't what they used to be 🙂
Urban Farmers
We also have chickens in our yard. I feel like they might be the first thing to go and be downsized from our space.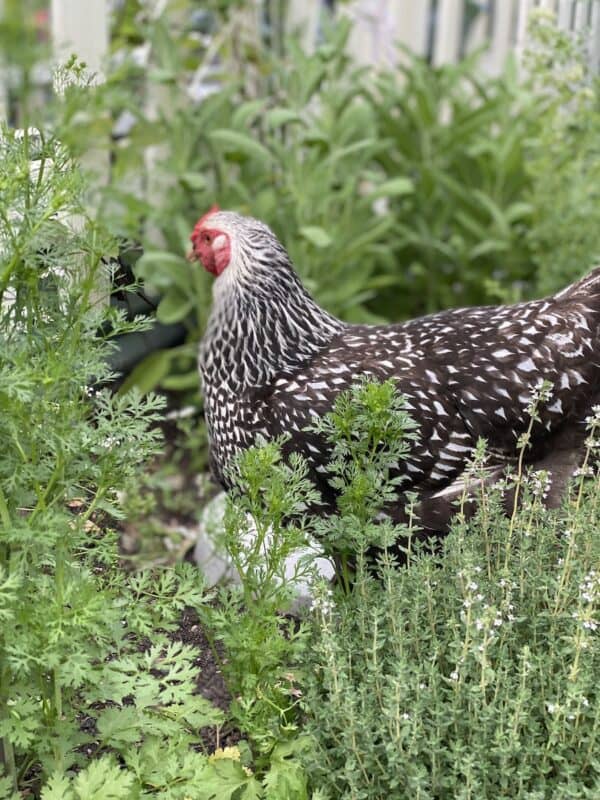 I think our ladies heard us discussing this because they haven't laid an egg since September and now in the dead of winter, they are starting to lay again. They are letting us know they still have some life in them.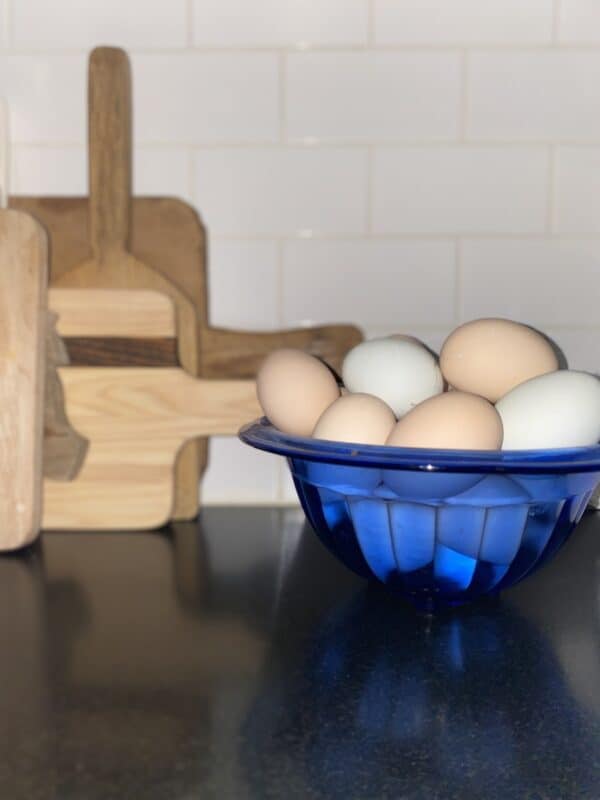 If you want to know more about backyard chickens, hop over to this post HERE to find out all about ours.
Gardening Mistakes
Making gardening mistakes is part of the learning process. I've made a lot over the years.
However last year I made some novice mistakes.
I participated in the 8-week One Room Challenge that started in October and ended on November 20th.
We were so busy inside the house working on our room that I never got my dahlia tubers out of the ground nor did I plant my garlic. I also didn't get some things moved that I really wanted to get done in the fall.
It still makes me so sad when I think about all the dahlia tubers I lost. I do have new ones coming my way in the spring from Sarah's Cottage Creations Flower Farm. I'm pretty excited about that.
In Conclusion

It may take a couple of years but with careful planning, proper care, love, and patience, you too can have a beautiful garden.
Peace and Love,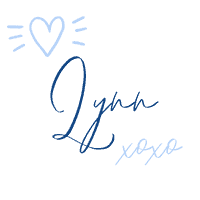 Thanks for Following Along
If you enjoyed this post I hope you sign-up to be a friend of Living Large in A Small House! Then you won't miss any of the inspiration that is shared with you each week! You can also follow me on Instagram, Facebook, and YouTube. I share even more inspiration on Pinterest! You can listen to me chat on my Podcast.


A great way to save this article is to save it to your Pinterest boards. You can find the pin button in the top right corner of the photo below. Also, don't forget to follow me on Pinterest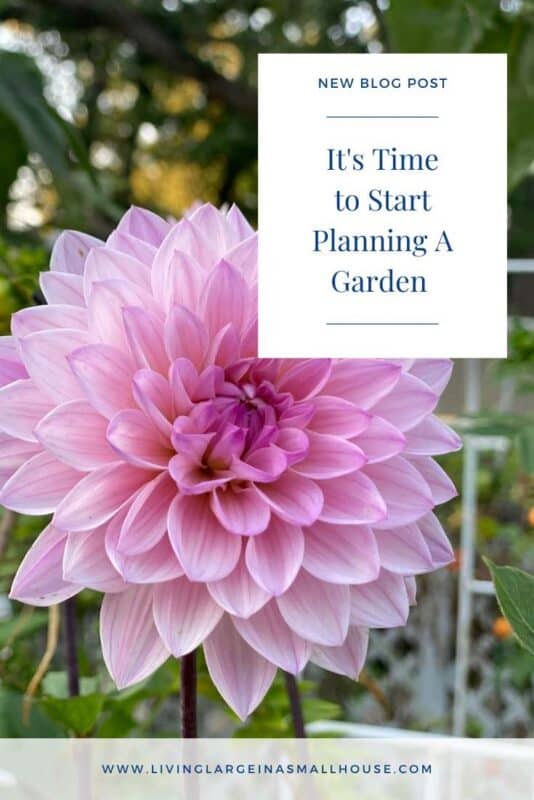 living large podcast
This a quick little Podcast where I share what is on my mind and what I'm up to lately.