The Secret to the Juiciest Whole Roasted Chicken
What is the secret to the juiciest whole roasted chicken? I have the answers for you!
A whole roasted chicken is easy to make and it can be dressed up for an elegant Sunday Dinner or taken apart and used for chicken salad sandwiches. Lately, I've been making broth with the bones.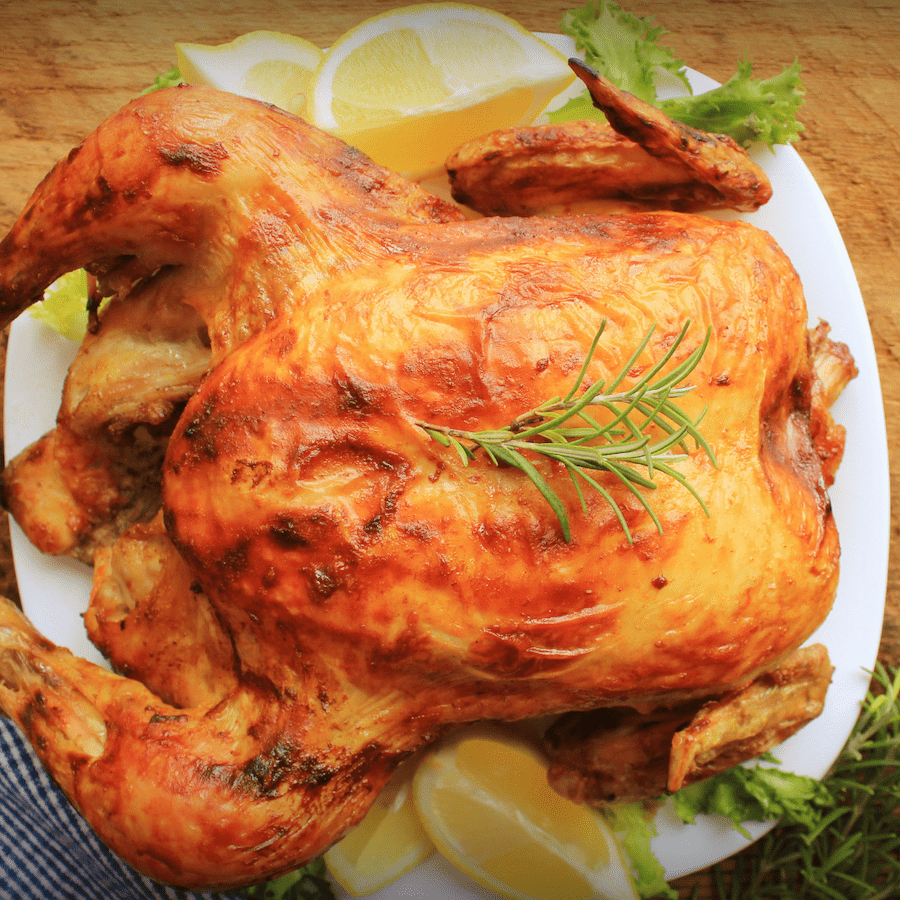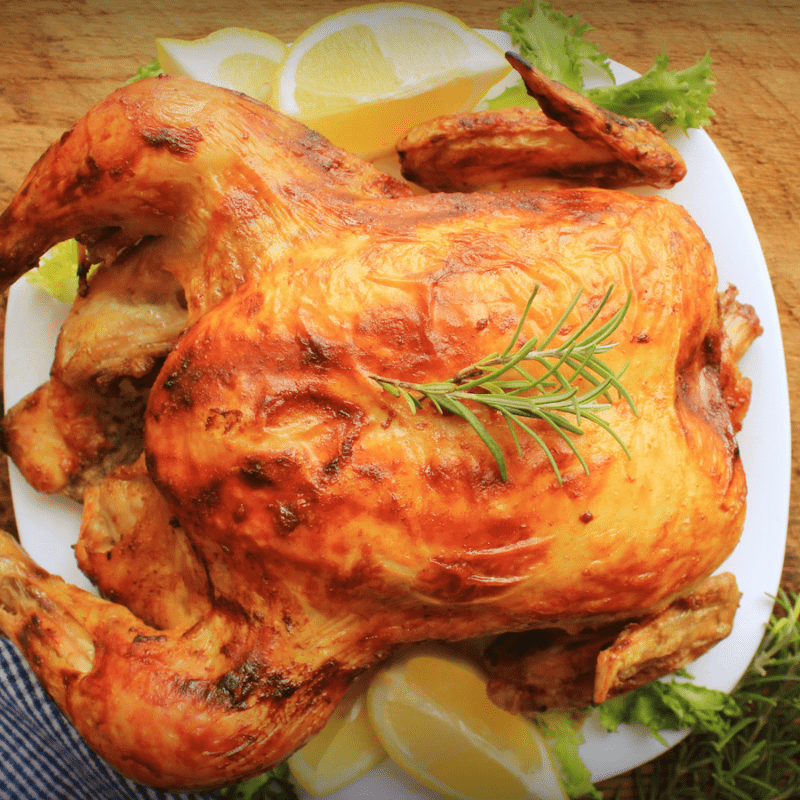 On my blog Living Large in A Small House, I may sometimes use affiliate links, which means a small commission is earned if you make a purchase via the link. The price will be the same whether you use the affiliate link or go directly to the vendor's website using a non-affiliate link. You can find my full Disclosure Policy HERE
Here's the Secret
The secret is brining! I'm such a fan of brining meat. I brine pork chops, chicken, and our Thanksgiving turkey. I understand that you can also brine shrimp and fish but I have yet to try it. It is now definitely on my to-try list.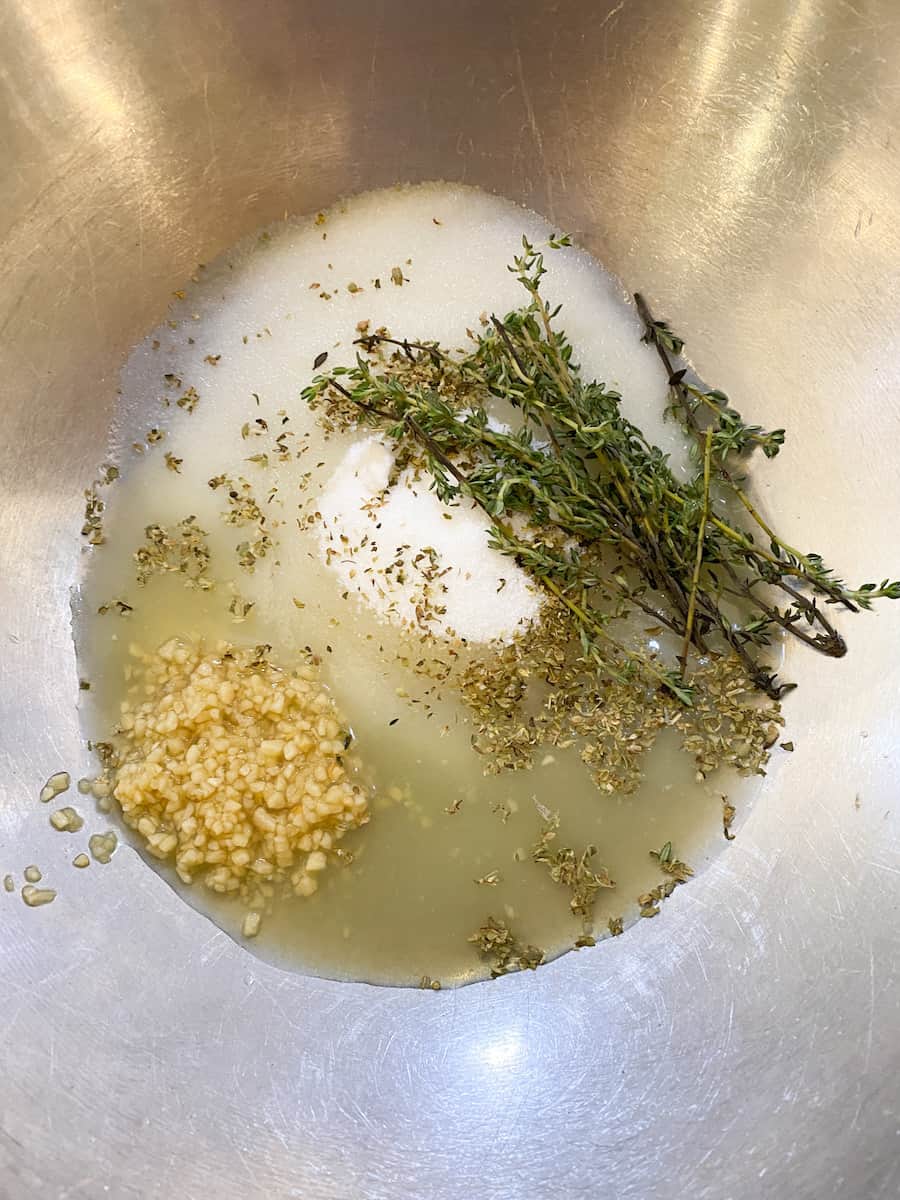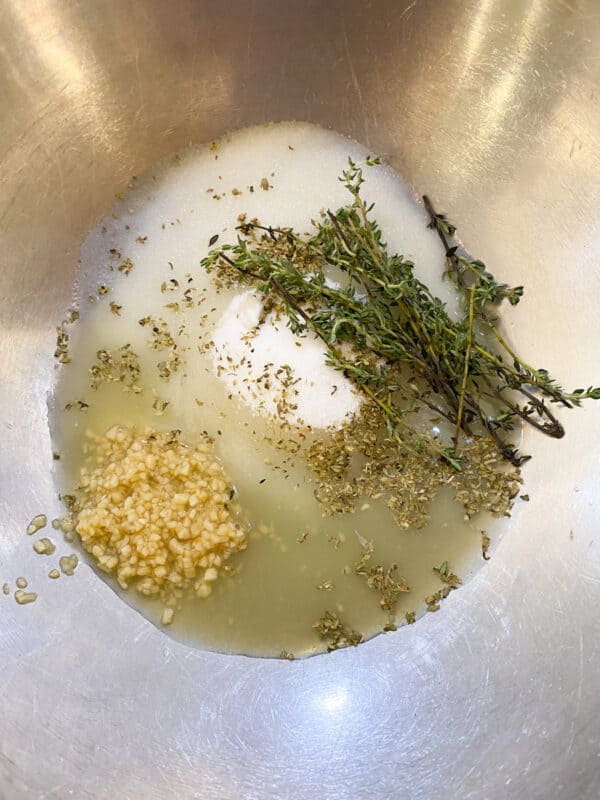 What is Brining?
Brining is when you soak your protein in a water, sugar, and salt mixture. I add a little bit more to mine as you will see in my recipe.
The brine breaks down the meat's muscle fiber and soaks in flavor all the way to the bone. It doesn't make it salty as some might imagine.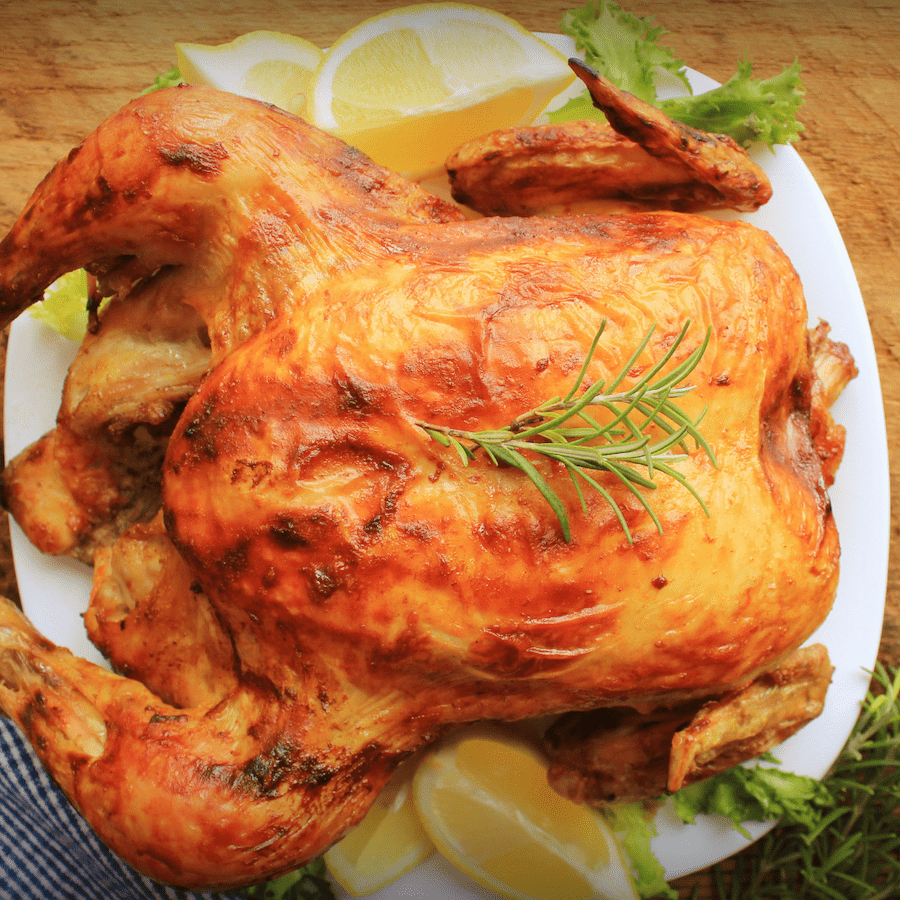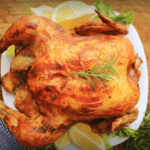 Print Recipe
Yum
Brined Roasted Whole Chicken
The juiciest whole roasted chicken ever
Ingredients
Brine
1

whole roasting chicken

3 lbs

1/2

cup

kosher salt

1/2

cup

sugar

1/2

cup

lemon juice

3

tblsp

crushed garlic

2

tblsp

fresh thyme

I just throw a handful of stalks into the brine

1

tbsp

oregano

water to cover the chicken
Seasoning Salt
1/3

cup

kosher salt

1

tblsp

paprika

1

tblsp

black pepper

1

tsp

garlic powder

1

tsp

onion powder

1/4

tsp

cayenne pepper

1/4

tsp

turmeric

1/4

tsp

celery salt
Chicken
softened butter or olive oil

seasoning salt
Instructions
Put about 4 cups of water into a bowl large enough to hold the chicken.

Add all the salt, sugar, lemon juice, garlic, and herbs to the water. Using a wooden spoon, stir until salt and sugar are dissolved.

Rinse your chicken well and don't forget to remove the bag in the cavity that has the giblets etc., I toss this.

Place the chicken, breast side down into the brine and then fill the bowl with more water to cover the chicken

Cover with plastic wrap and refrigerator for up to 24 hours
Seasoning Salt
Mix all the seasoning salt ingredients together in a small bowl. Save any remaining in an airtight container
Baking the Chicken
Take chicken out of the brine and place it on a rack in a baking pan

Pour about an inch of brine into the bottom of the pan.

Lightly butter or oil the chicken and sprinkle with seasoning salt on both sides.

With the chicken breast side down, place the pan into the oven and cook for 40 – 50 minutes or until the internal meat temperature is 170° (in the thickest part of the thigh – not touching the bone)
Notes
When my garden is in full bloom, I put other herbs into my brine. Rosemary, Thyme, Lemon Grass and  Oregano all pair well with poultry. 
Yum
How Long Do You Brine?
You can brine your protein for as little as 30 minutes and up to 24 hours. For a whole chicken or pork roast, my recommendation is closer to the 24-hour mark, however, when I'm making pork chops or chicken breast, I've found that 30 minutes works well.
There is nothing like roast chicken. It is helpful and agreeable, the perfect dish no matter what the circumstances. Elegant or homey, a dish for a dinner party or a family summer, it will not let you down.
-Laurie Colwin
Seasoning Salt
I triple the seasoning salt recipe and always have it on hand in my pantry. Seasoning salt is so versatile. You can use it on meat, vegetables, a salad, basically anything you want to enhance the flavor.
If you need to restrict salt, then there are other options available that are salt-free. My favorites are the Mrs. Dash varieties.
Cooking the Chicken
Investing in a good roasting pan with a rack will be something that will serve you well for years to come. You can use it for roasts, turkey as well as whole chickens. The beauty of a nice big roasting pan is that you can make this a one-pan dish by putting potatoes, carrots, and onions right into the bottom of the pan to cook along with your chicken.
A good digital meat thermometer is also a must in the kitchen. The one that we recently purchased was probably the least expensive and so far our favorite.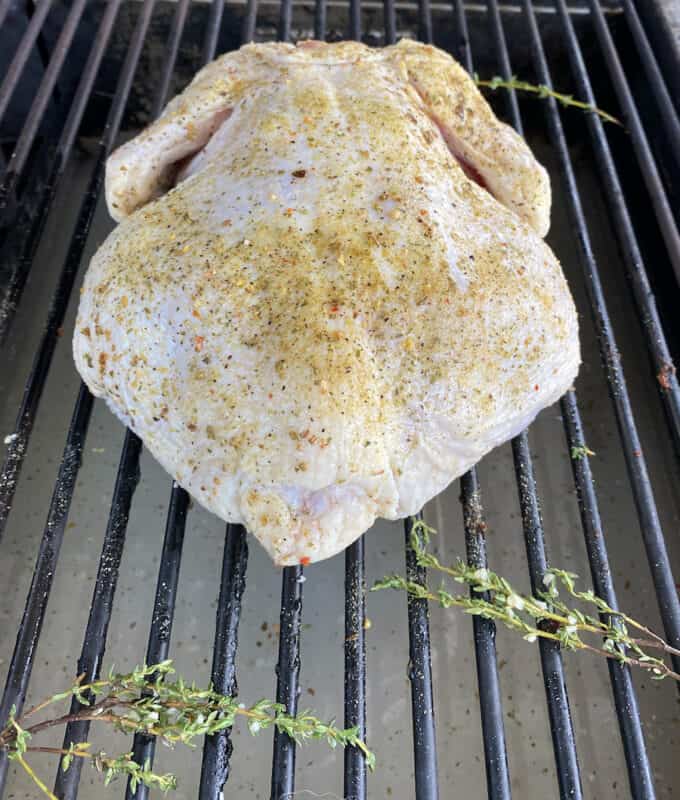 Amazon Prime Days
Next week is Amazon Prime Days. If you follow me HERE or on Instagram or Facebook, I will keep you updated about my favorite things that are on sale on Amazon. You must be a Prime Member so Sign-Up Today.
Cutting a Whole Chicken
The easiest way to cut up and serve a whole chicken is to cut off the legs, wings, and then thighs. Slice the breast meat off whole and then cut the breast meat into slices. In our house, no one eats thigh meat but it is very juicy and full of flavor. There is however a fight for the legs or drumsticks!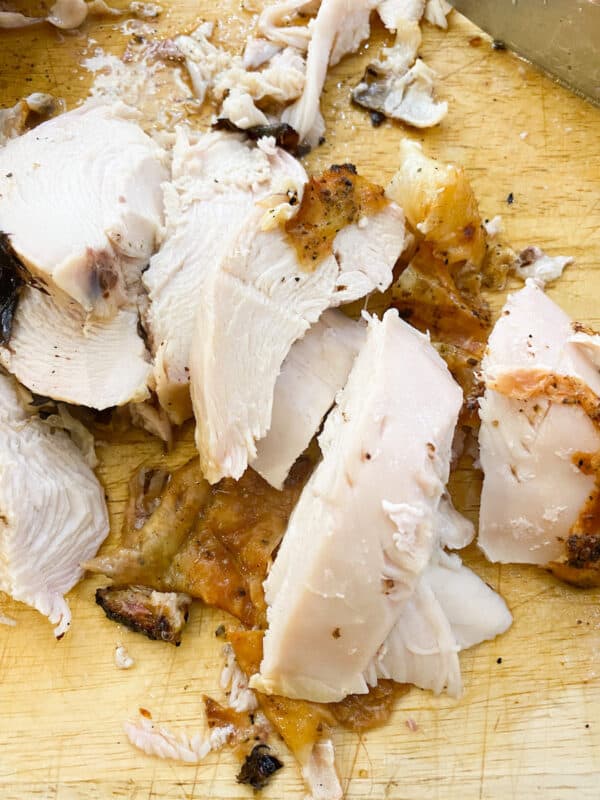 Roasting a whole chicken is pretty straightforward and easy. It's a great meal that is elegant enough for a Sunday dinner or easy enough for a weeknight meal. The hardest part is that it needs some pre-planning to brine the bird.
We do the exact same thing for our Thanksgiving turkey, we just double or triple the brine. We also use a turkey brining bag.
Now you know The Secret to the Juiciest Whole Roasted Chicken!
Peace,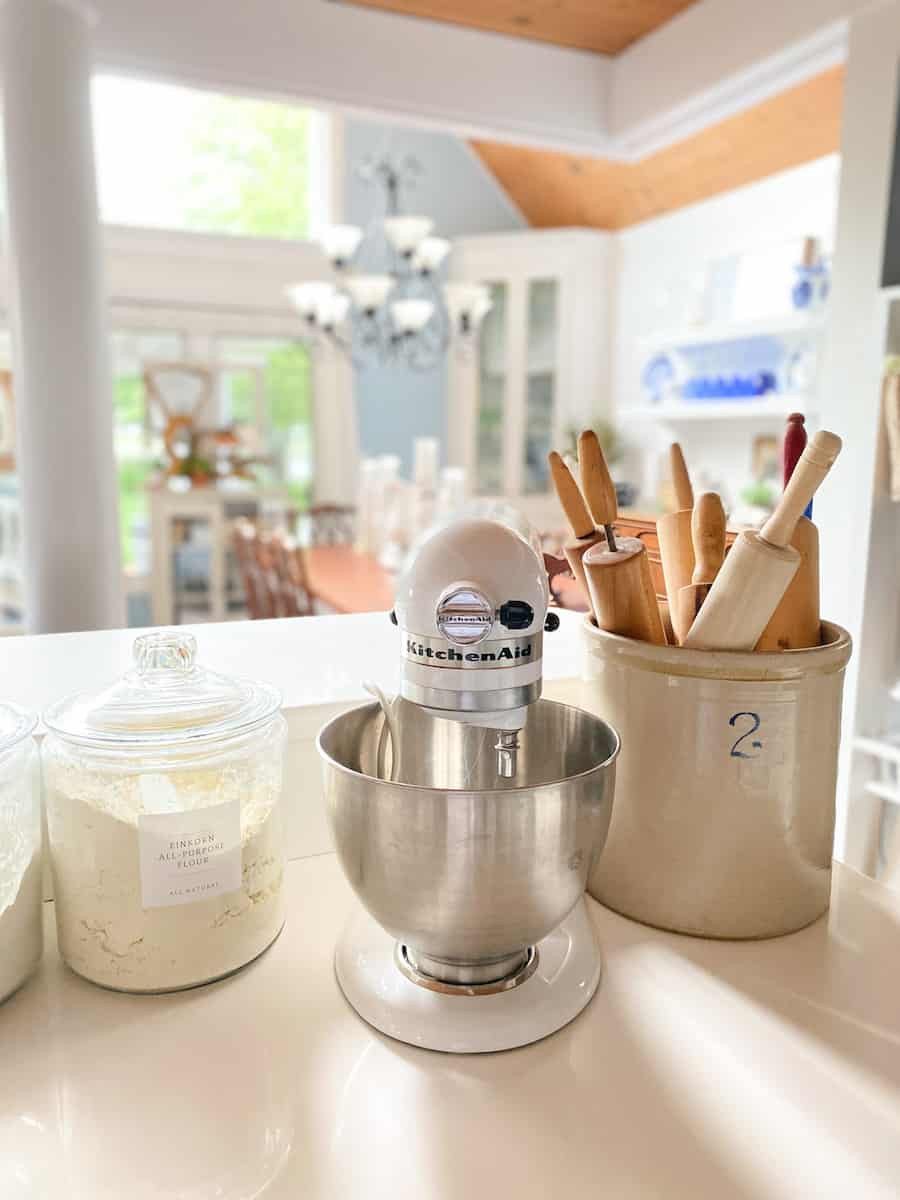 direct access to my amazon store
On Amazon
Did you know that you support my little business by purchasing through my links?? The price to you is the same but I receive a small commission on ALL the purchases you make when you shop through one of my links. I appreciate you helping Living Large in A Small House to grow!

A great way to save this article is to save it to your Pinterest boards. You can find the pin button in the top left corner of the photo below. Also, don't forget to follow me on Pinterest

Don't miss my conversation with Master Gardener Stacy Ling of Stacy Ling Bricks N' Blooms.