Your Home Decor in 2023 – Design Trends
Are you concerned about your home decor in 2023? Should you change things up because of design trends?
As an Interior Designer, my answer to that question is, you only need to follow new trends if you are ready for a change and you like the trends. Trends are just that trends and they come and go!
I'm more of a timeless gal!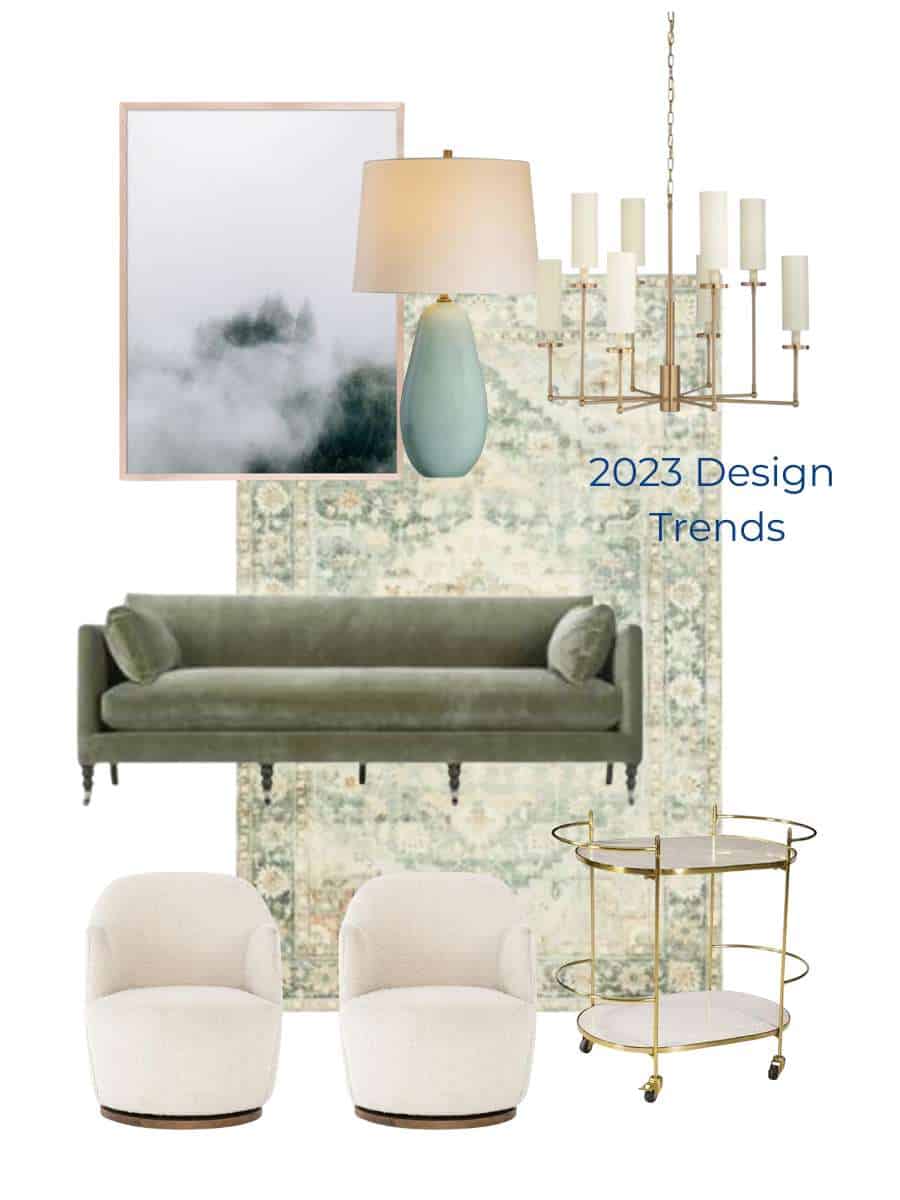 On my blog Living Large in A Small House, I may sometimes use affiliate links, which means a small commission is earned if you make a purchase via the link. The price will be the same whether you use the affiliate link or go directly to the vendor's website using a non-affiliate link. You can find my full Disclosure Policy HERE

Designing Women – Tell All
I have joined a group of 3 other talented ladies to share a monthly blog post all about interior design and home decor.
I'm so pleased to introduce to you Crystal from Sweet Valley Acres, Kristy from At Home with Kristy, and Sheri from Savvy in the Suburbs. We each will bring our own perspective on our monthly theme.
This month we are talking about design and home decor trends. Next month we will be talking about our Kitchens and that will be followed by our living room and living spaces.
Design Trends
First and foremost let me say that design trends are created by marketing firms for paint, furniture, and home decor companies.
Don't touch a thing if you love your white farmhouse chic home and white walls!
If however, you're wanting a change, then, by all means, take a look at what is trending in 2023.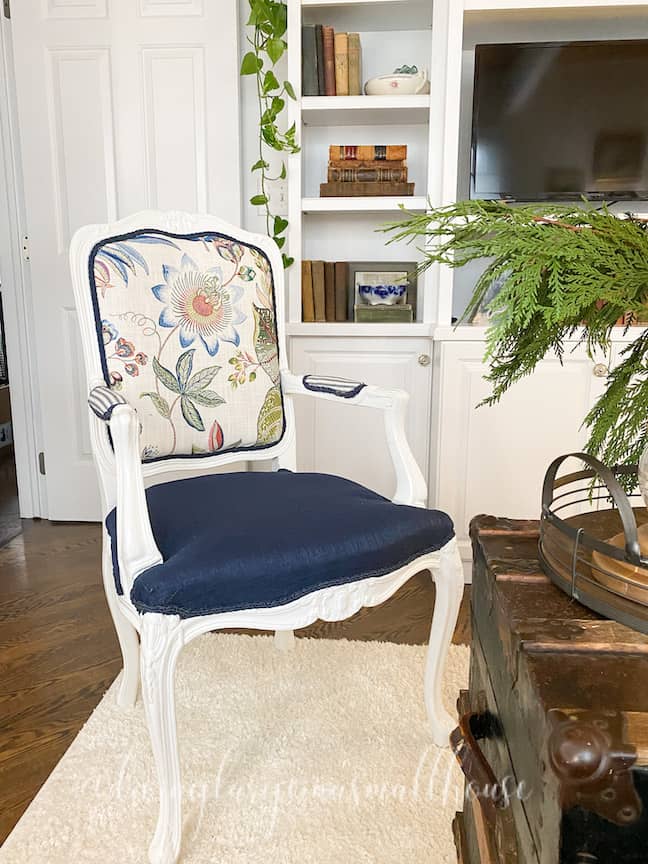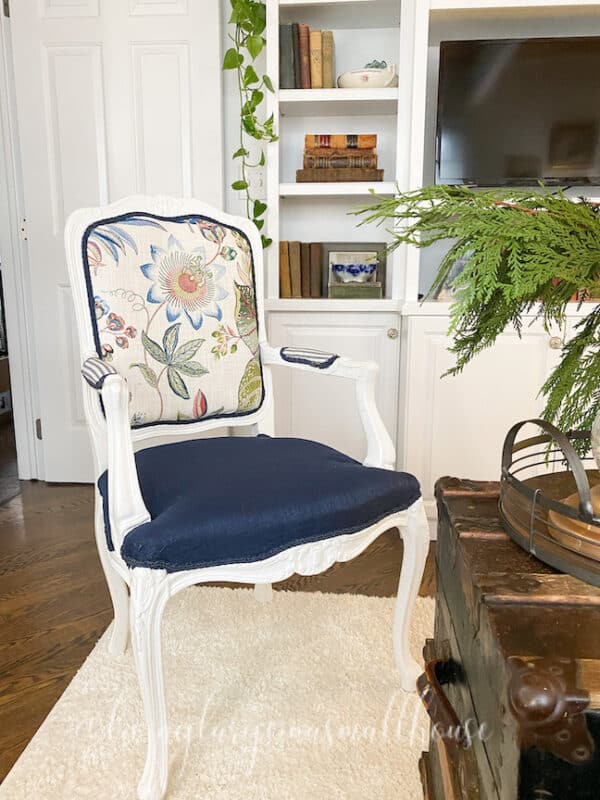 2023 Trends
Colors
Depending on who you follow 2023 is going to see a resurgence of deeper, jewel-toned colors as well as soft blush and coral colors. I think people are craving more color. A bold color is a bold move. Do we all need a bold move and pops of color?
Benjamin Moore's Color of the Year for 2023 is called Rasberry Blush

Sherwin William's Color of the Year for 2023 is Redend Point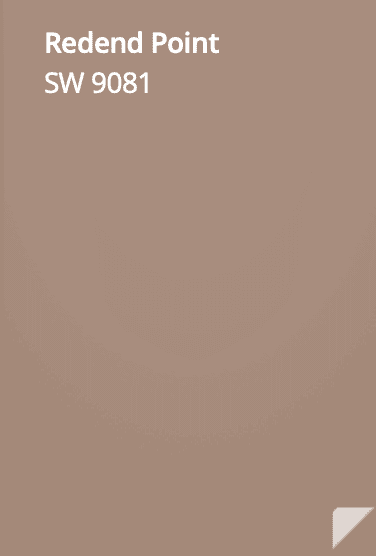 The one popular trend that I'm happy to see is that beige is replacing gray. In recent years gray has been the builder/flipper color of choice and I personally am so happy to see gray leave the building!
When it comes to color and especially paint color, there is one tip that I always share when it comes to design. Paint is an easy and relatively inexpensive way to change a space. If you decide you don't like it or you get tired of it, it's easy to change.
For all of you who haven't had the time or money to get rid of your textured walls, guess what, they are back. Plaster walls and textured paints are trending in the new year.
With this resurgence of color, you can imagine that fabrics and wallpapers are following suit. While wallpaper has made a huge comeback in the last couple of years, I'm sure it will continue in popularity. A dramatic wallpaper can create a very beautiful focal point in any space.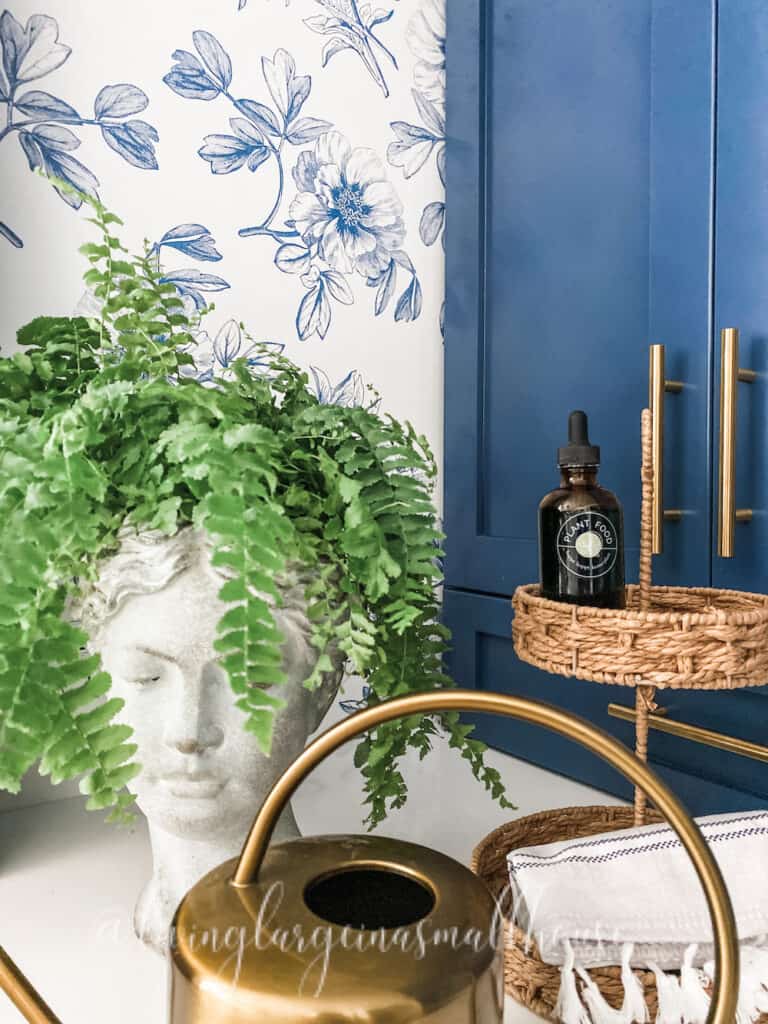 If you're a little uncomfortable with using bold wallpaper in one of the main rooms in your house, how about trying it in a powder room? It makes such a statement and visual interest in a small space.
Space
A more minimalistic approach to a space is definitely an interior trend.
Believe it or not, open floor plans are becoming so last year! However, you will never see me closing off my kitchen from the rest of our home. Living in a small home, our open concept makes our space feel much larger. Our kitchen is the heart of our home. It's where everyone gathers and I would never close it off from our living space.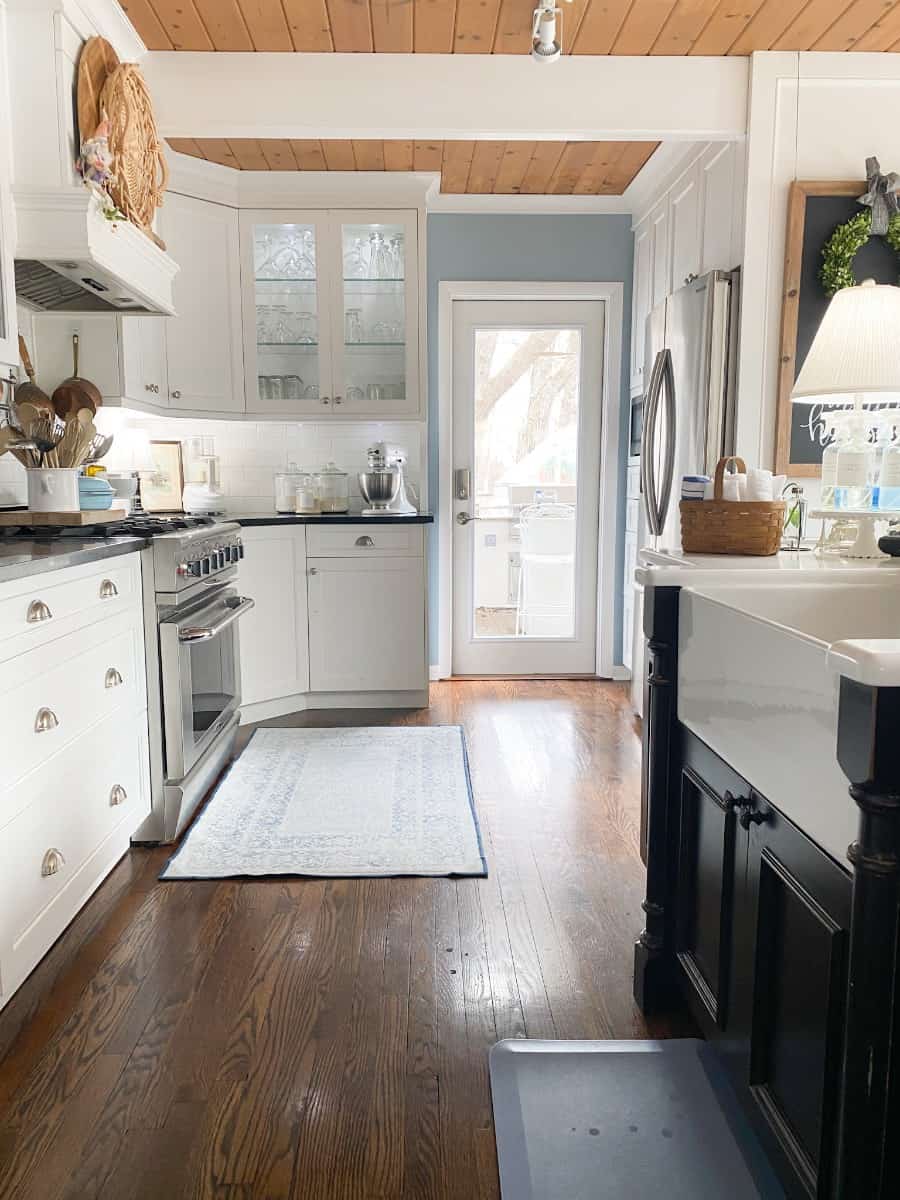 A home office or dedicated workspace continues as the pandemic has completely changed the culture and attitude about working from home.
The importance of a home office seems to be more important than ever.
Craft Rooms & Listening Rooms
After a couple of years of living and working in our homes, people are looking to carve out a place for relaxation and stress relief.
Adult craft rooms are a space where you can make jewelry, paint a picture, and/or spend time with family doing something creative.
Listening rooms are also a new trend. With vinyl back on the scene, a place to listen to your music is a great spot to decompress.
Furniture
Clean lines on furniture pieces and high-gloss finishes are making a comeback.
Warm wood tones are trending as well as sustainable, natural materials. Think cork, bamboo, and sisal.
Fixtures

Gold is back and I'm pretty happy about that. Changing out your brushed nickel hardware with brass is an easy way to update and upgrade a space.
The same is true with light fixtures. I'm really liking gold accessories to add a decorative element to a room.

What can you Change on a Small Budget?
You can add color with throw pillows, you can pare down your accessories for a more minimalistic look, and change out some wall art with something more trendy.
There are many creative ways to update your space on a budget. I'm a big fan of buying furniture on Facebook Marketplace. It's a great way to get well-made pieces of furniture for a bargain. Then you just need to paint them or strip them to give them an updated look.
Timeless Design Decisions
I think that white kitchens are timeless. Marble countertops and subway tile has been around forever. Classic pieces of furniture stand the test of time.
In every home I've lived in, hardwood floors were one of the first things I looked for. A large slab of marble will always be a luxury statement.
The modern farmhouse is a style that also seems to be timeless. Again, maybe it just needs an update with new fixtures or adding some natural elements to keep it fresh and current. I personally want a streamline my home a bit but when you love vintage, for some reason, it's just difficult.
Remember that trends come and go and your best bet over the long haul is to create a home that can be perennial. Even if you can afford it, no one likes the disruption of renovation so you want the improvements you make to your home to last.
My Design Styles
My design style has changed over the years. The one thing that has been constant with me has been the lean toward traditional. While this is my personal design style for my current home, I could happily have 10 homes with each having a different style. I would love them all. The one constant would be that there would be blue in each!
I wrote a blog post a while back about my design style over the years. You can read about that HERE.
In Conclusion
Don't let social media or the "top interior design trends" headlines dictate how you decorate your home interiors.
It's your home and it should not only reflect the style that you love, it should be a space that makes you feel happy and comfortable. Your personal style is the best home design you should embrace in 2023.
Don't forget to visit my designer friends below and read about their take on the 2023 Trends.
Peace and Love,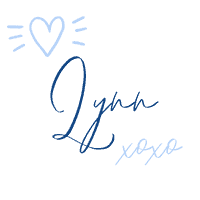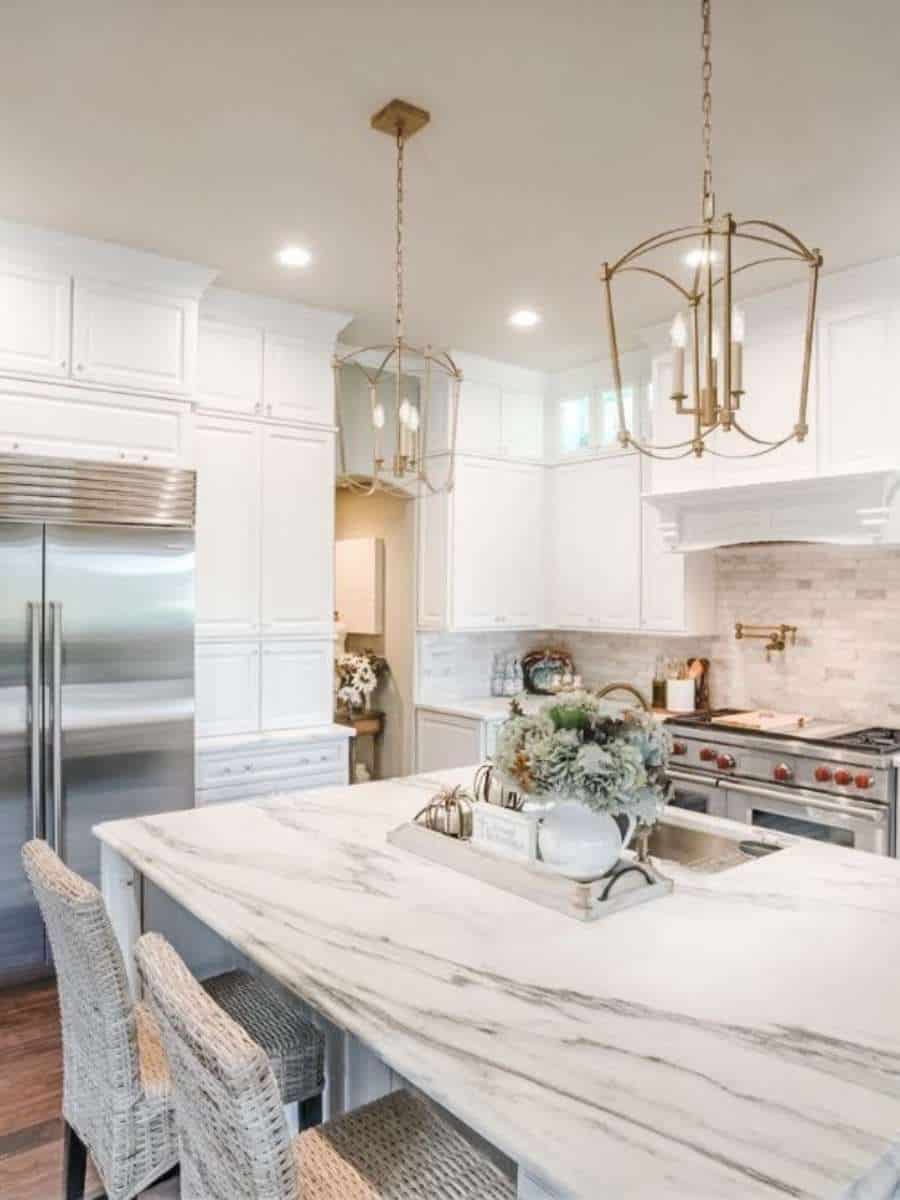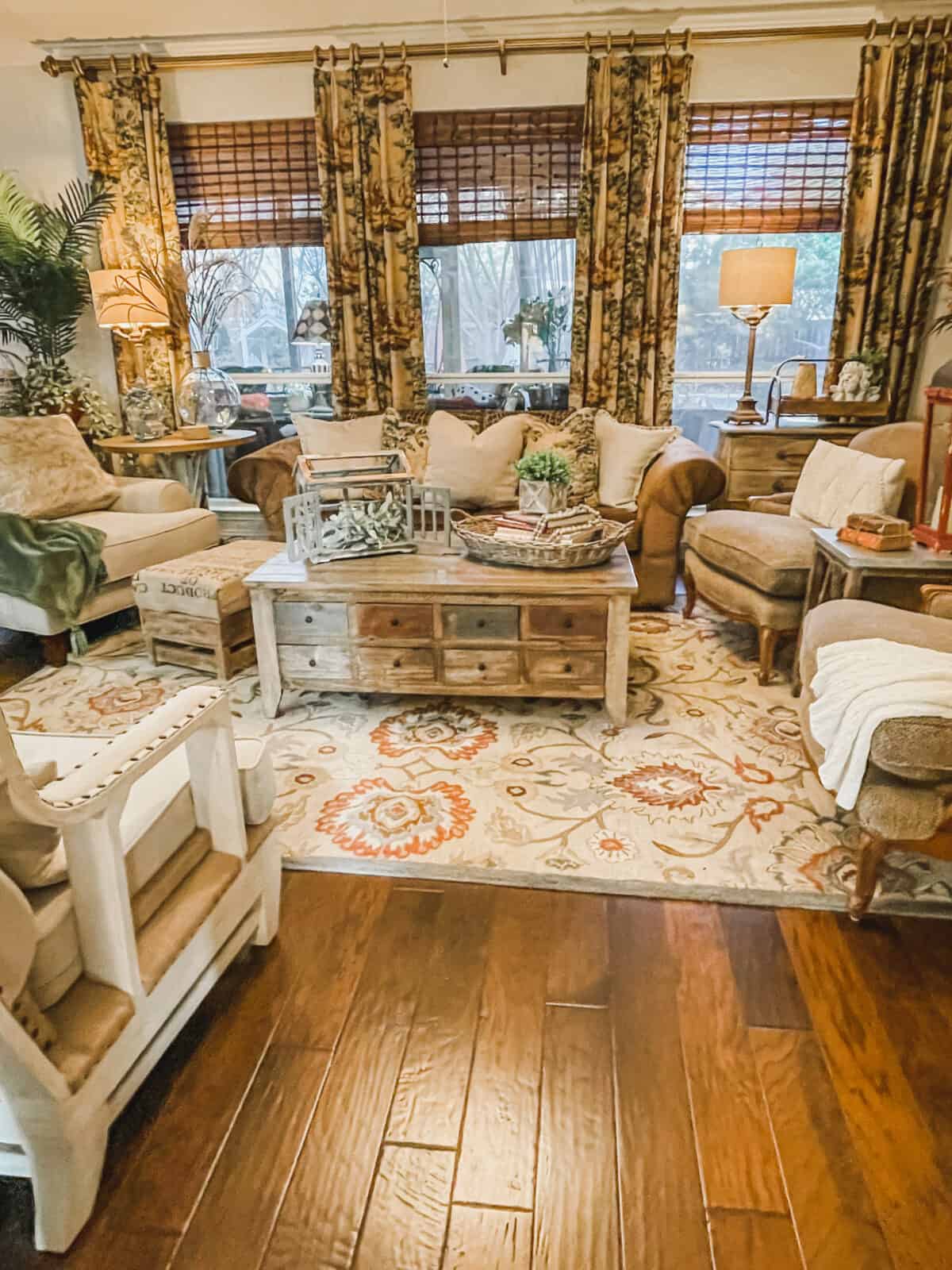 Thanks for Following Along
If you enjoyed this post I hope you sign-up to be a friend of Living Large in A Small House! Then you won't miss any of the inspiration that is shared with you each week! You can also follow me on Instagram, Facebook, and YouTube. I share even more inspiration on Pinterest! You can listen to me chat on my Podcast.


A great way to save this article is to save it to your Pinterest boards. You can find the pin button in the top right corner of the photo below. Also, don't forget to follow me on Pinterest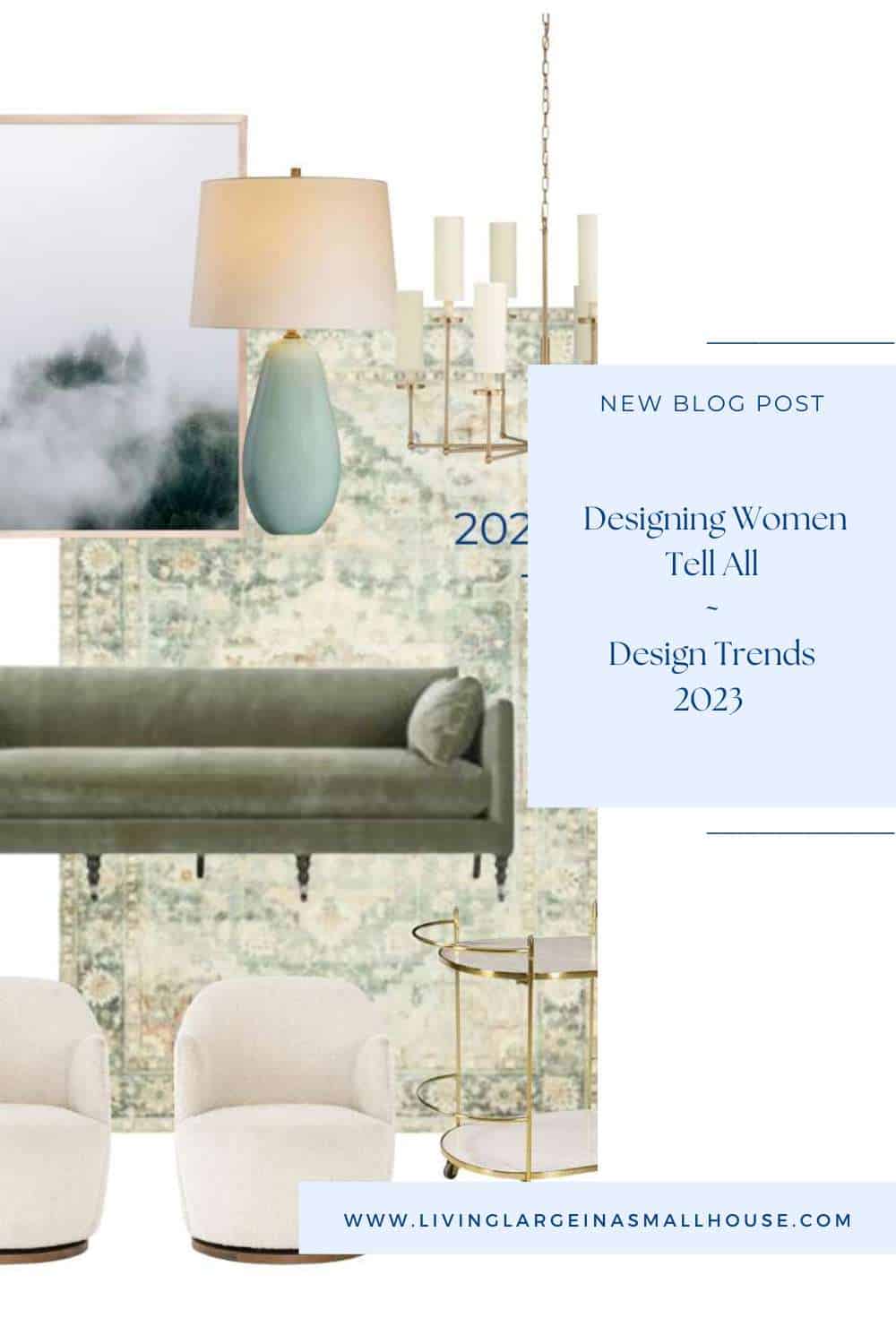 living large podcast
You don't want to miss my conversation with the delightful Nicolle from Our Tiny Nest