Home Renovations that Add Value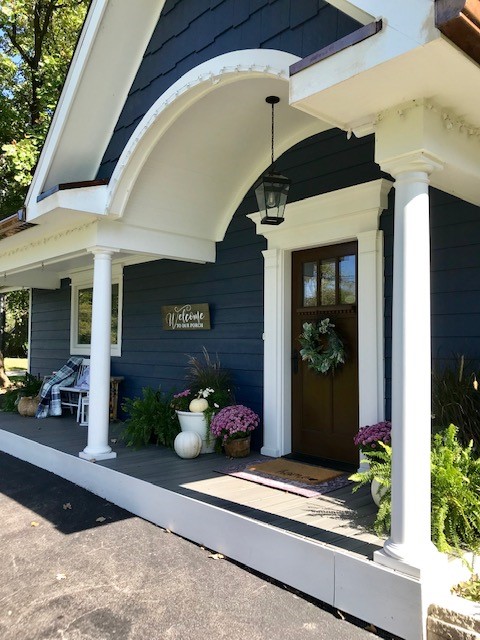 I can't wait to share with you our home renovations that will add value to our home.
After our youngest left for college, it got Handy and me thinking about retirement. We are hoping it won't be that far off, and we need a plan. Instead of whatever will we do with our time; we began thinking of what we DON'T want to do with our extra time. So the task at hand became, what do we need to do to make our house relatively stress-free.
The Outside
It all started with a huge priority, a new roof. Well, that quickly became a new front porch, new doors, and windows. This led to extra insulation, new siding, and new lighting. The project quickly became and fondly referred to as the "may as well" renovation.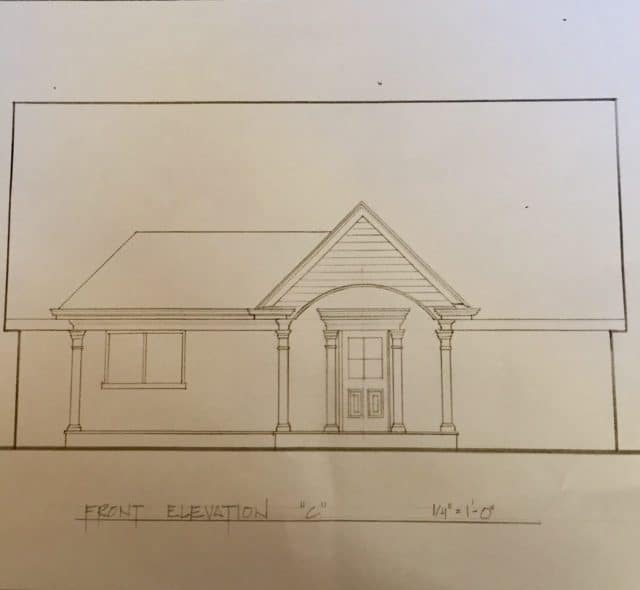 This project was started in September of 2017 and we got pretty far along until the snow began to fly and as luck would have it, our siding wasn't delivered until Christmas Eve. It's now the beginning of October 2018. There is still scaffolding in the front of our house. The crew is finally back on the job and it's conceivable that this project might be done by the end of the week. One whole year! Why is it that construction just never goes as planned?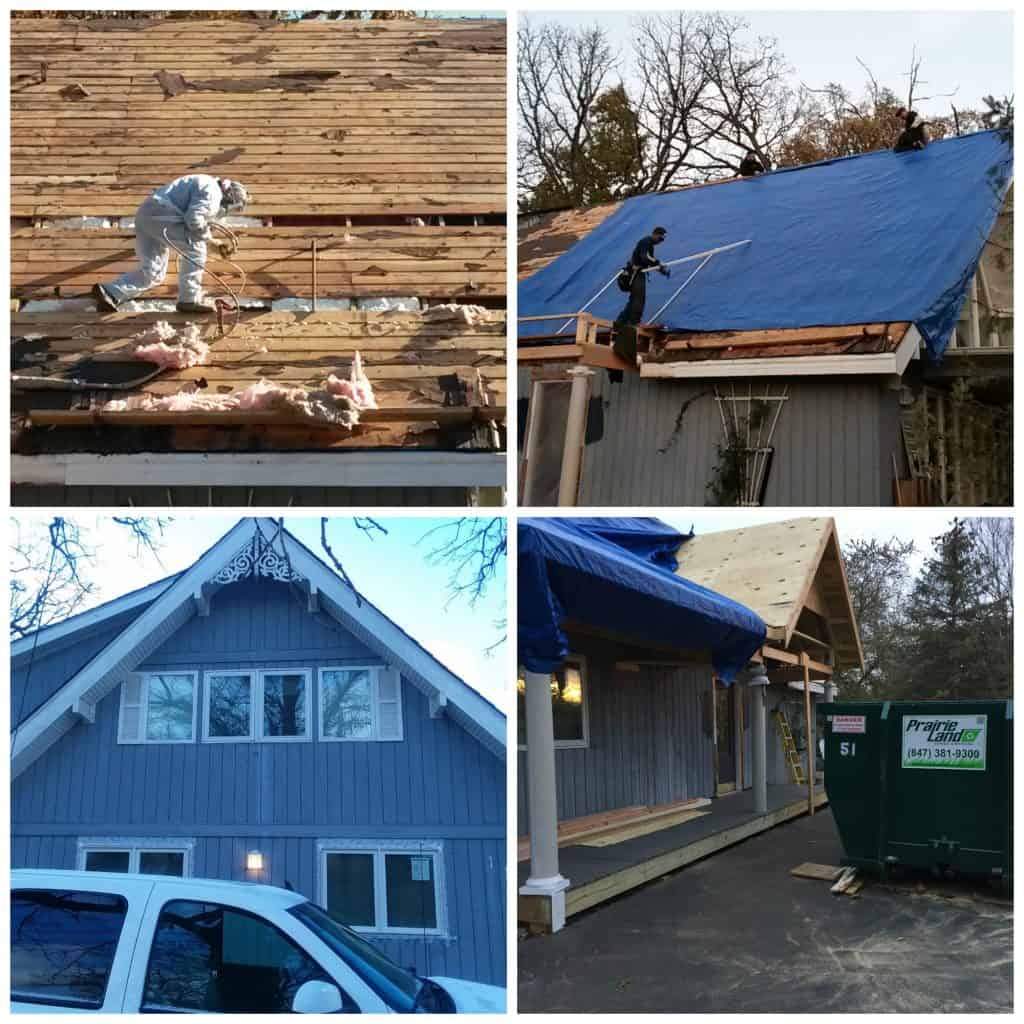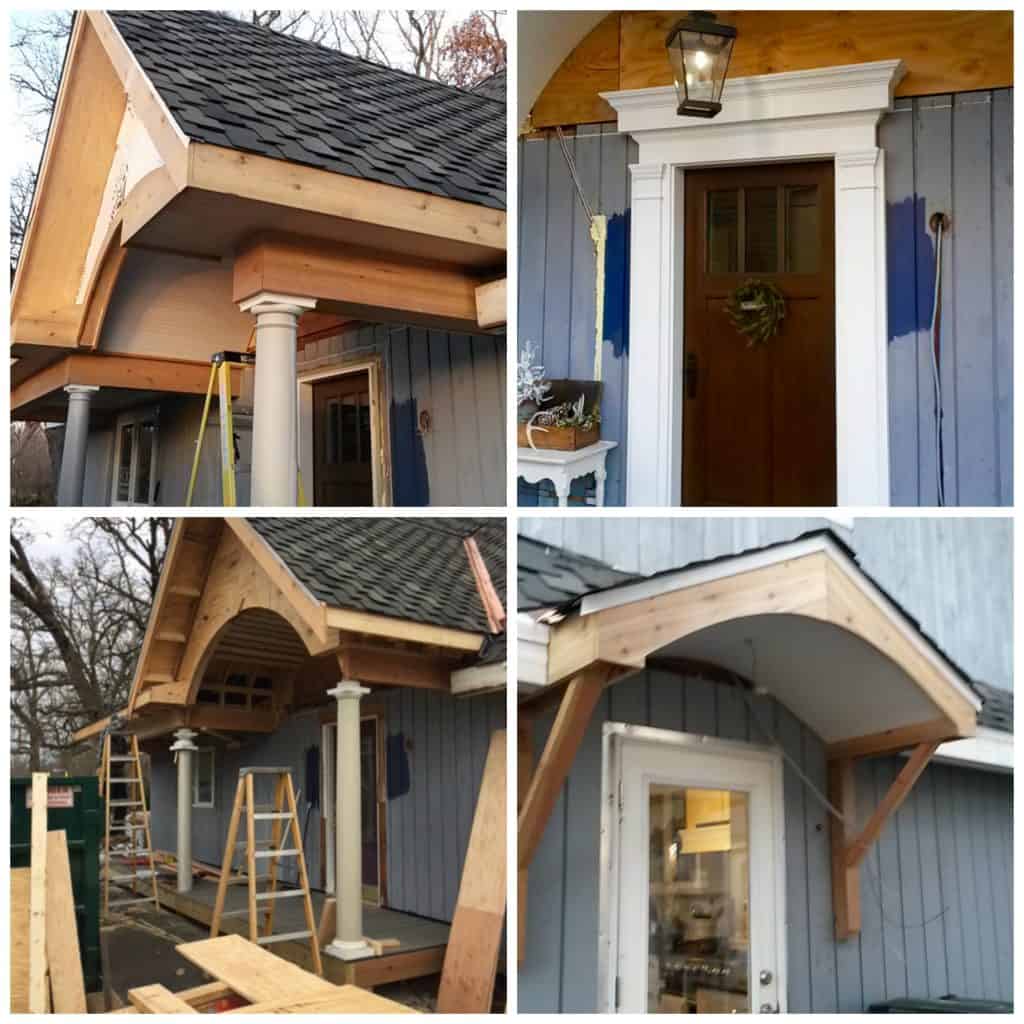 This is about where we were when construction came to a halt. The wood did get one coat of paint but we were waiting on our custom color siding to be delivered and so the crew pulled off the job. We saved some money by buying our custom color siding from Home Depot but it did cost us some time.
Sources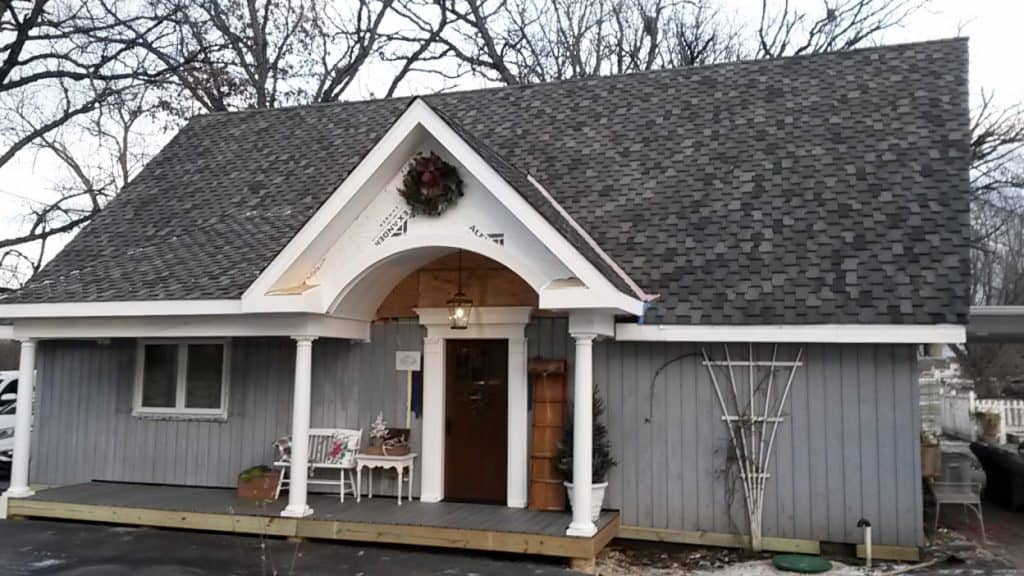 Trying to make the best of it, I still decorated my 1/2 done porch for Christmas.
We lived through another Chicago winter and come spring, we started counting the days until the crew would come back and start the siding. Handy got anxious and started to work on things himself and we lived in a semi-pink house for a very long time. Handy did the door trim himself. There are 61 individual wood pieces. He is very proud of that feature as well he should be.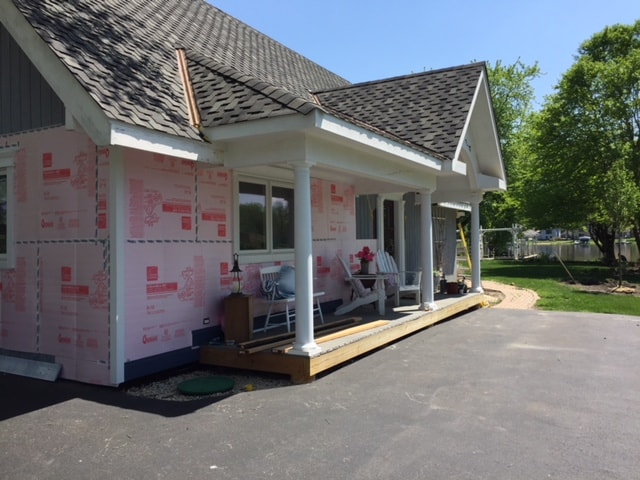 Days turned into weeks and then months. On September 18th – They were finally back. It's been a week and 1/2 and they have made great progress. Click HERE to see the amazing Before & After pictures

That's Not all that's New at this Small House
The inside of the house must have been feeling left out because during those cold snaps we started tackling indoor projects. We desperately needed a refresh of our bedroom. All of our projects start out small and then somehow turn into something on a larger scale. How does that always happen?
With our bedroom, we decided to take out two windows that were next to the french doors, which lead out onto our balcony. This would give us a nice long stretch of wall and we would finally be able to have regular-sized end tables. Yeah – No more juggling my books, flowers, water, etc., next to my side of the bed. Anyone who has had drywall projects in the house knows what a mess it makes in every room and every cabinet. Boy that drywall dust can sure travel.
So what was supposed to be a simple fresh coat of paint became a window removal and drywall mess before it could be painted. Since we were moving our bed to another wall we also needed to run new electricity and cable for our mounted TV placement. Yikes! Handy then decided that a new headboard and mattress were in order. I got busy picking out new end tables, lamps, and bedding!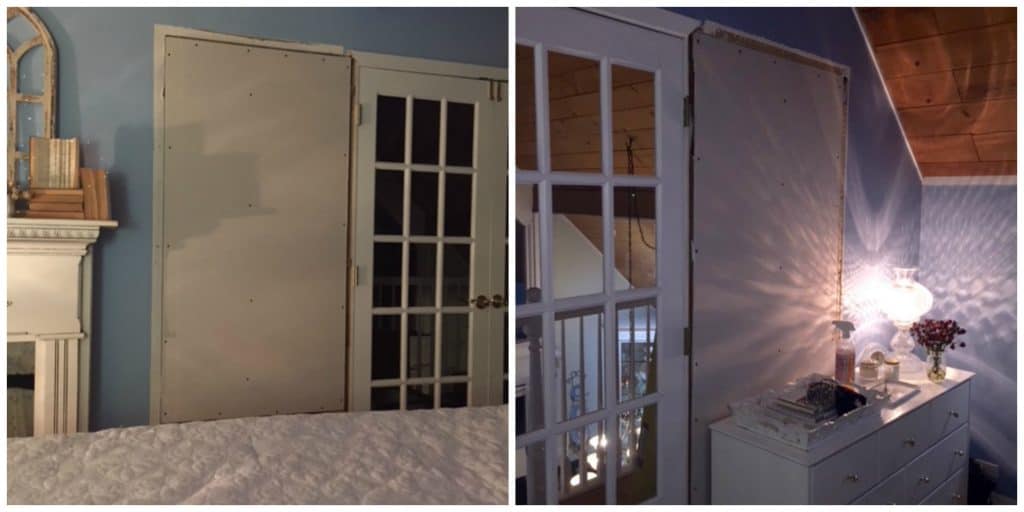 Eliminating the windows in our bedroom created more patching, drywalling and fresh paint not only on our balcony overlooking the great room but the entire great room. It was a soft grey/green color and now it is blue that matches our kitchen. It has become a much more cohesive space and I absolutely love it.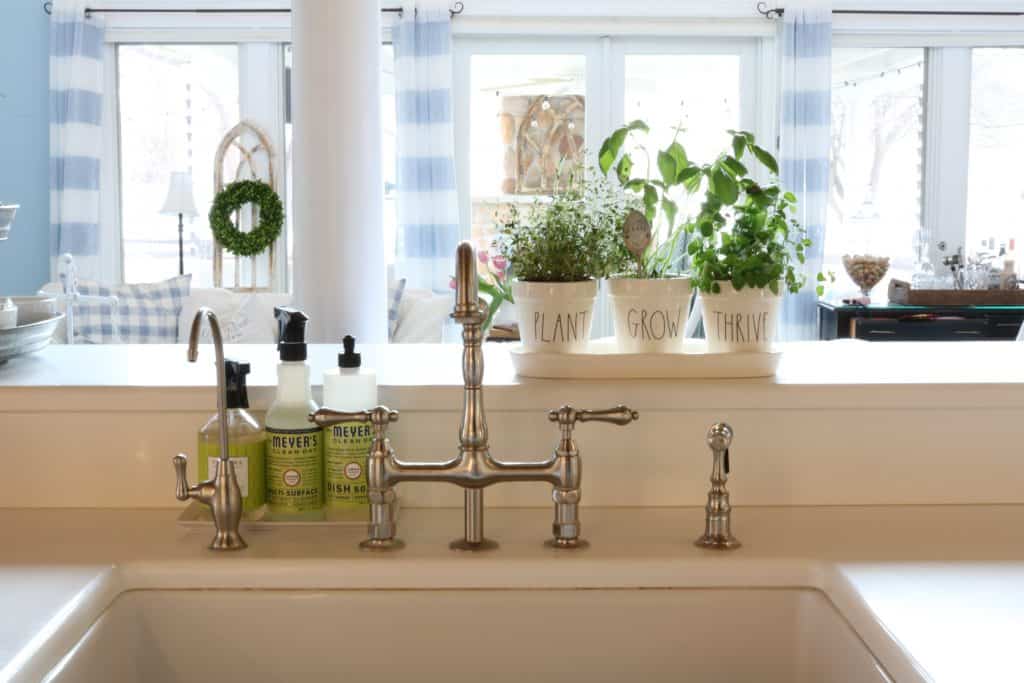 We also switched out the old cedar spindles on our balcony for a white traditional railing.
There's More that's Been Happening at This Small House
As if that wasn't enough, Shiplap is something I've been wanting on my great room walls so of course Handy went to work and created the most beautiful shiplap walls for me. I don't say it enough – I'm the luckiest girl in the world.

By the end of the week, our major project should be finished and I can't wait to share some finished project pictures!
Thanks so much for spending some time at "Living Large in a Small House". I hope you enjoyed all of the new things that are happening at this house. If you have any questions about our project, please feel free to ask questions in the comments.
If you're looking for a post about Home Renovation Management, you can find it HERE.
Have an awesome day!
Peace,