Simple Fall Porch Decor Ideas
While it's been in the 80's during the day I'm still planning some simple fall porch decor. It's that time of year
Most of these ideas add great curb appeal for the fall season and don't cost a lot of money.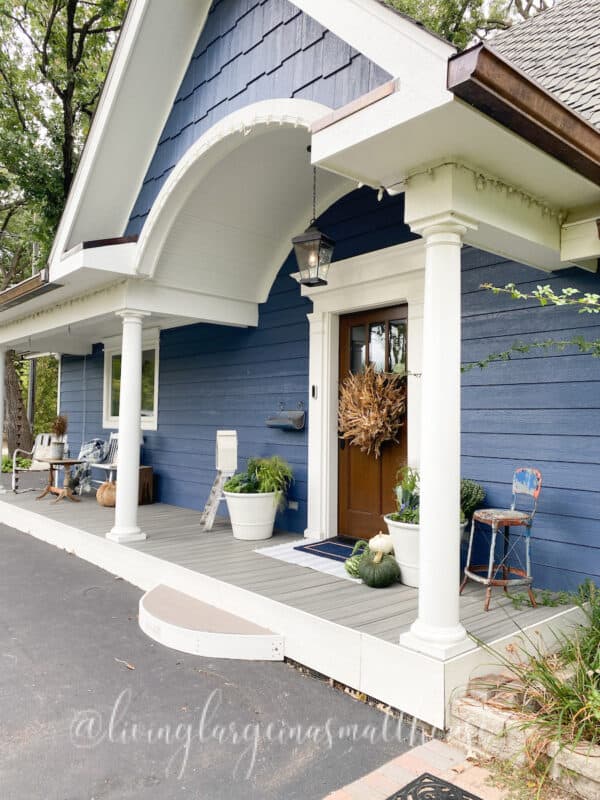 On my blog Living Large in A Small House, I may sometimes use affiliate links, which means a small commission is earned if you make a purchase via the link. The price will be the same whether you use the affiliate link or go directly to the vendor's website using a non-affiliate link. You can find my full Disclosure Policy HERE
Refreshing My Pots
The two large planters on the porch are looking kind of sad!
How about yours?
I've purchased a few things that I can plant in the place of leggy vines and annual flowers
Colorful Mums
Ornamental Kale
Ornamental Cabbage
Frosted Explosion Grass (Looks like corn stalks)
Pansies (a great fall flower)
Once I've replanted my pots, I will tuck a few small pumpkins into the new arrangements.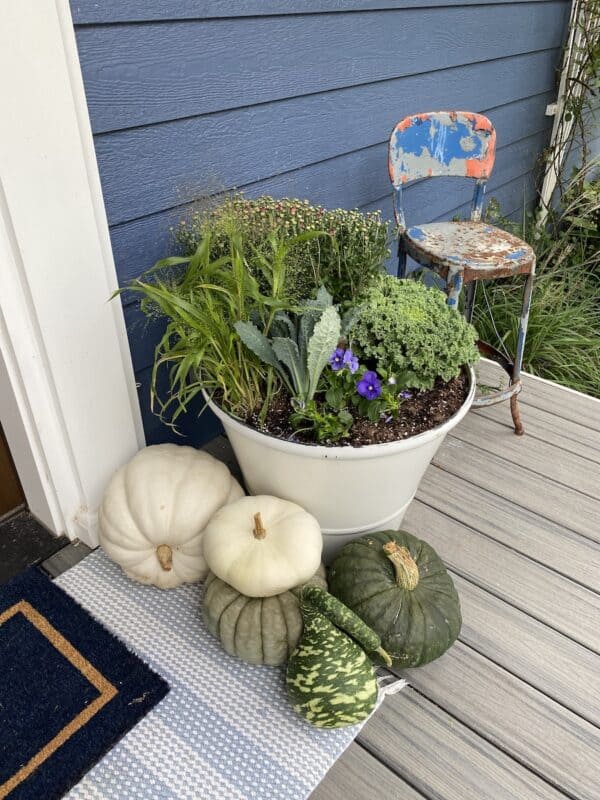 Classic Fall With A Twist
Traditional fall colors aren't really my things.
However, I still want a classic fall look but with a different color scheme.
Thanks to green and white pumpkins I'm able to get the classic look without orange and yellow.
I've chosen white, green, pink, and a touch of blue for my outdoor space.
Autumn Season
The season of the year between summer and winter during which temperatures gradually decrease. It is often called fall in the United States because leaves fall from the trees at that time. Autumn is usually defined in the Northern Hemisphere as the period between the autumnal equinox (day and night equal in length), September 22 or 23, and the winter solstice (year's shortest day), December 21 or 22
Cleaning & Rearranging
Before we can restyle the porch, everything needs to come off and it's the perfect time to sweep and hosed everything down.
When I'm working with a clean, clear canvas, I get great ideas.
The welcome sign will go back up but not until it gets a little refreshed. I'm going to whitewash it. It's an easy DIY project and will help tie it in better with the white farmhouse style that's in the house.
Once the sign is back up I'll add my vintage bench and a small table that I already own. A few autumn throw pillows and a throw blanket complete this area.

Natural Elements
Wrapping the columns in corn stalks is something that I would love to do but my past experience has taught me that it's not a good idea.
Squirrels love the corn cobs and can tear the stalks down in minutes.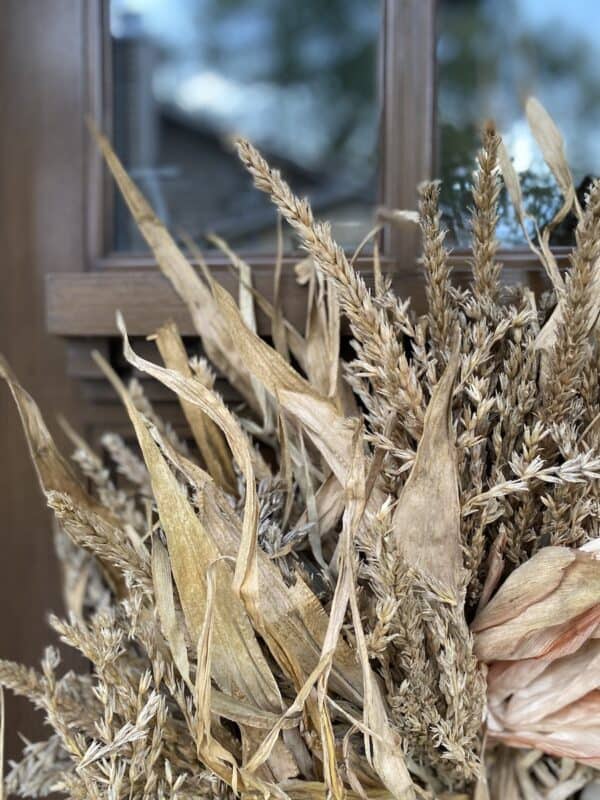 Adding a hay bale is also something that I like to do.
Hay bales can be a beautiful platform for piles of pumpkins.
Speaking of pumpkins and squirrels. The squirrels also love to eat pumpkins. Spraying your pumpkins with a matte finish with clear enamel spray paint will keep the kritters away!
Another great natural element that is FREE! I cut grasses and goldenrod from the side of the road and put them in a galvanized pot for a little centerpiece on my table. Cattails are another fall favorite that is growing right across the street from me.
Where to Find Pumpkins
I actually have good luck at our local grocery store, especially for little white pumpkins and gourds.
A trip to the pumpkin patch is also a great place to find lots of pumpkins in many sizes.
Our local nursery has stacks of pumpkins and that's where I find the more interesting varieties.
Faux pumpkins are also a great option. The best part is it's a one-time investment and the squirrels won't bother them.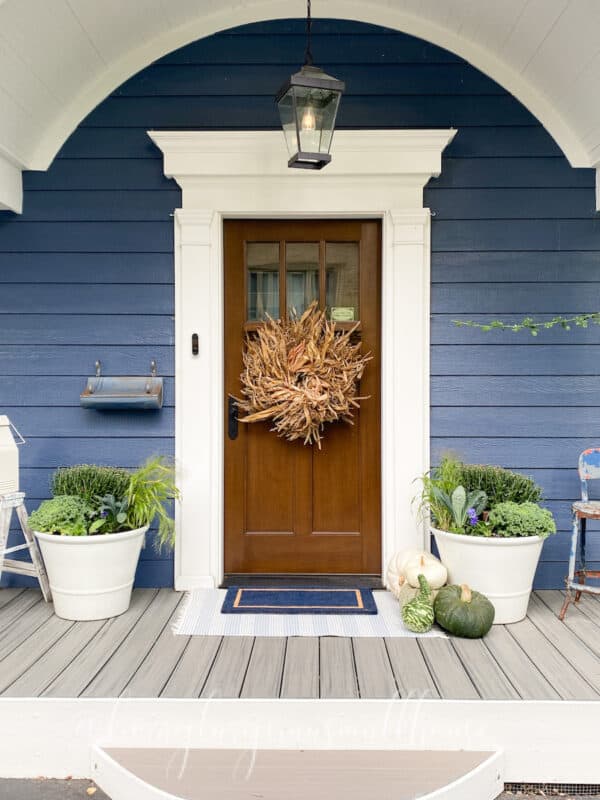 Other Decorating Ideas
Some other things that you can use for fall front porches
Bushel Baskets with large mums or colorful leaves – how pretty!
Wooden crates are also a simple idea for fall decor – A great way to display large fall mums.
A rocking chair – how cozy
A porch swing
If your porch is small you can take any one element of my porch and it will work perfectly in a smaller spot.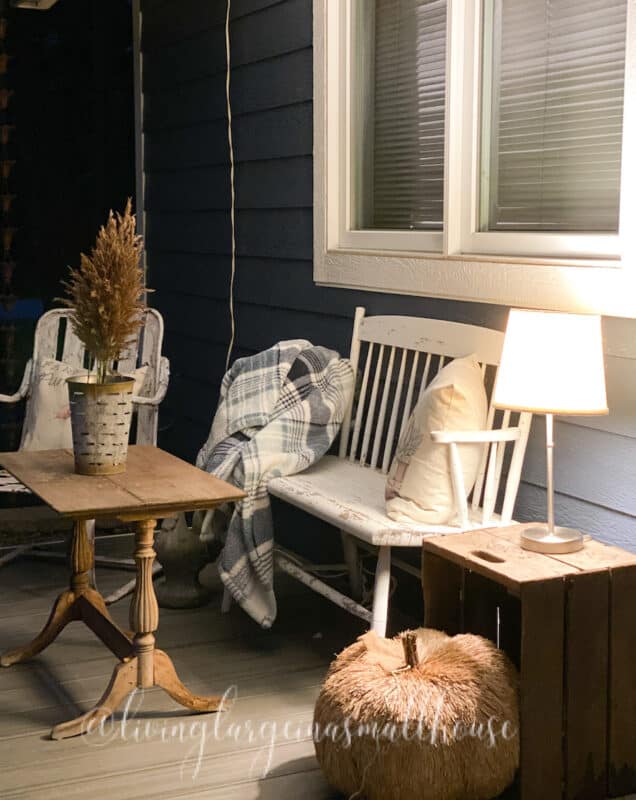 The Finishing Touch
A new welcome mat on top of a small blue and white area rug will be just perfect for that warm welcome every porch needs.
The finishing touch would be the amazing fall wreath that I bought at The Found Cottage Merchantile a few weeks ago.
Peace,

A great way to remember these ideas is to save it to your Pinterest boards. You can find the pin button in the top left corner of the photo below. Also, don't forget to follow me on Pinterest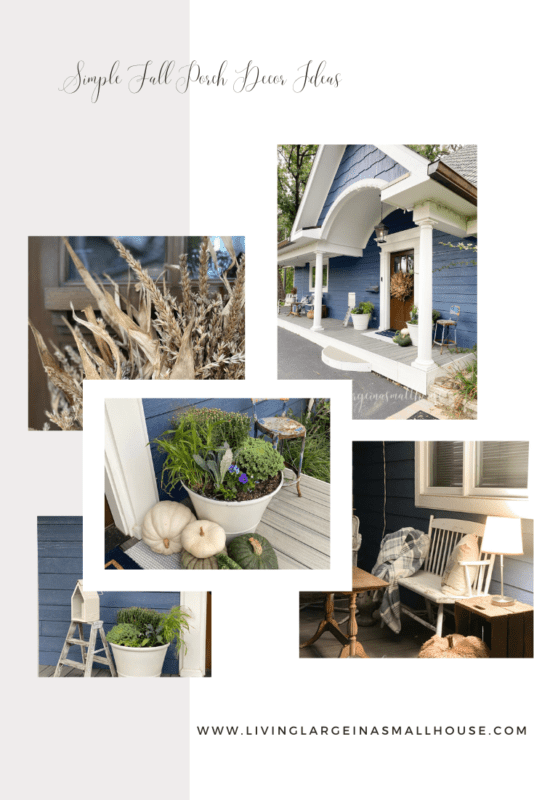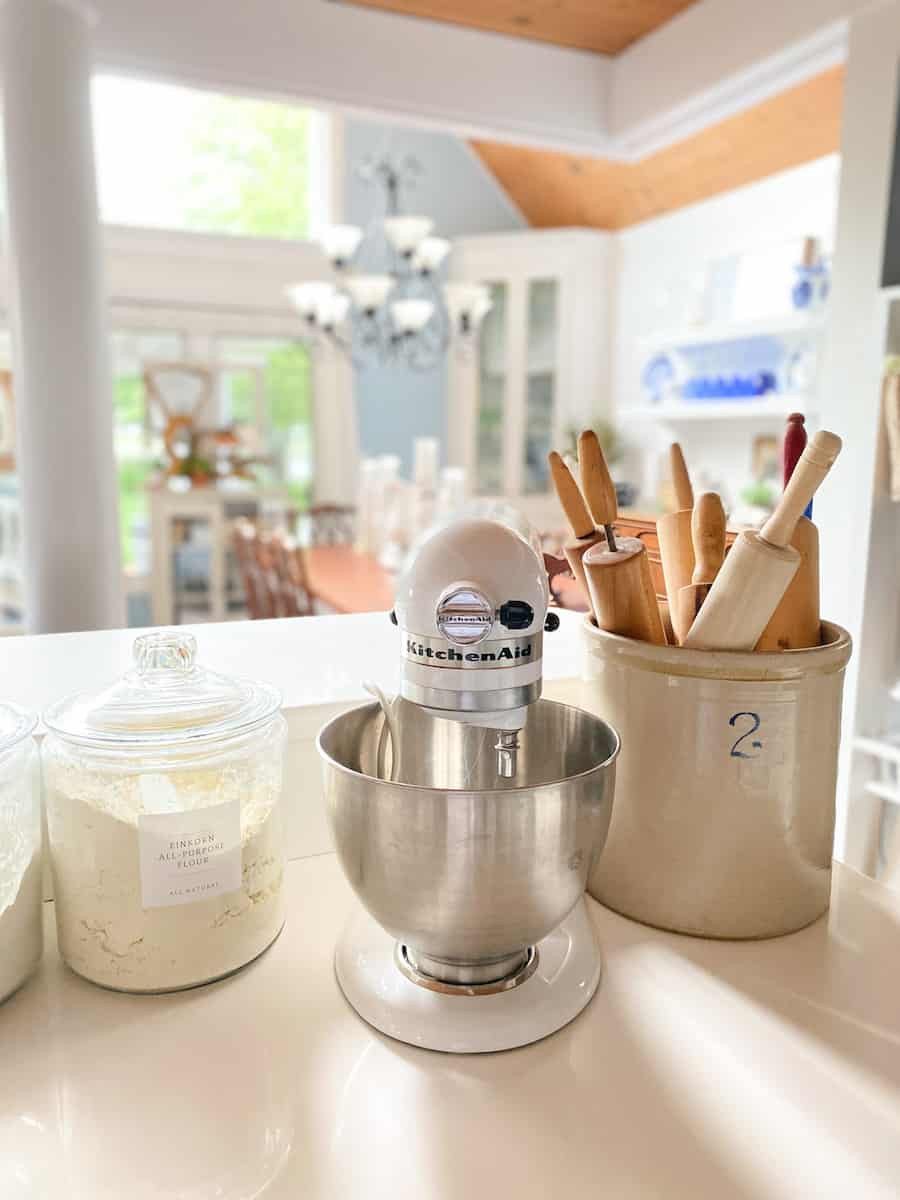 direct access to my amazon store
On Amazon
Did you know that you support my little business by purchasing through my links?? The price to you is the same but I receive a small commission on ALL the purchases you make when you shop through one of my links. I appreciate you helping Living Large in A Small House to grow!

living large podcast
Back by popular demant "Handy" was on my Podcast on Monday! It's a fun 20 minute listen.