Easy Neutral Halloween Decor
My kids are grown but I still want to decorate with easy neutral Halloween decor for the holiday.
I'm not a fan of the orange color palette so I will be using white and black neutrals. I will also work some of my tan and brown antique books into my decor.
If you are visiting from The Tattered Pew – Welcome! I hope you enjoyed the Easy Haunted House Silhouette Craft that Kelly created.
My sweet friend Carol from Bluesky at Home is the Host of this Blog Hop. I'm excited to be involved with this group of talented ladies!
On my blog Living Large in A Small House, I may sometimes use affiliate links, which means a small commission is earned if you make a purchase via the link. The price will be the same whether you use the affiliate link or go directly to the vendor's website using a non-affiliate link. You can find my full Disclosure Policy HERE
Is it too soon to be decorating for Halloween?
If you're a neutral Halloween decor person like me, then it's not too early.
My Halloween is very subtle and is really just a little extra addition to my fall decor.
If you are an all-out Halloween fan then I would say yes, it might be a little too early.
As a blogger, my job is to inspire you so Halloween is happening at this small house.
What is Neutral Halloween Decor
Neutral Halloween decor to me is just adding a few things to my already neutral fall decor.
Black 3-D Bats or Butterflies on your mantel or wall.
Witches hats hanging from the ceiling or adorning the top of a pumpkin or figurine.
Witches brooms are very neutral and can lay or hang in your home or on your front porch.
Pumpkins can go anywhere and scream fall, Halloween, and Thanksgiving.
I'm loving the white carved pumpkin look and if we still had kids at home; or even kids who trick-or-treated by us, I would have them adorning my porch.
Black candle sticks or candelabras make a fun addition to your dining table or mantel for Halloween.
Being a vintage collector, I have amber apothecary jars on my coffee table. I'm going to add a few vintage-like poison labels to the jars. How fun!
Vintage Books are also great items to use for fall/Halloween/harvest decor

What Halloween Looks Like at Our House
Our little village hosts a Halloween Trick-or-Treat event on the Sunday before the 21st. Children can trick-or-treat in the neighborhood from 1:00 – 4:00 pm.
It really is more of a family event and when my kids were little I loved it because Halloween night was typically cold & rainy here in Illinois. We've even had snow on the actual Halloween Date
We live on a long dead-end street and there are only 6 homes so we rarely have ever had kids come to our house.
That is another reason why I don't do much traditional Halloween decor.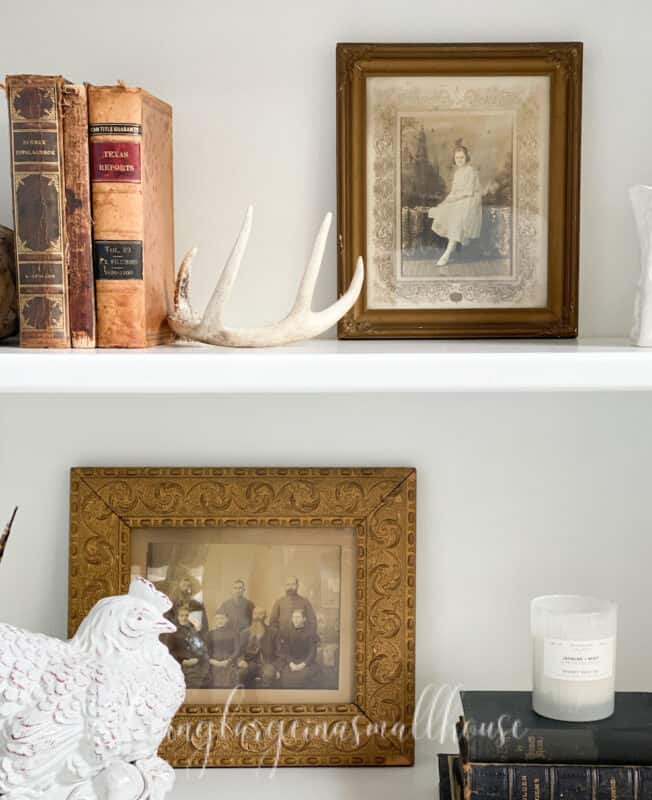 Easy Neutral Halloween Decor
Because I keep things neutral, I decorate for fall and then I just add in a few fun Halloween pieces during the last few weeks of October.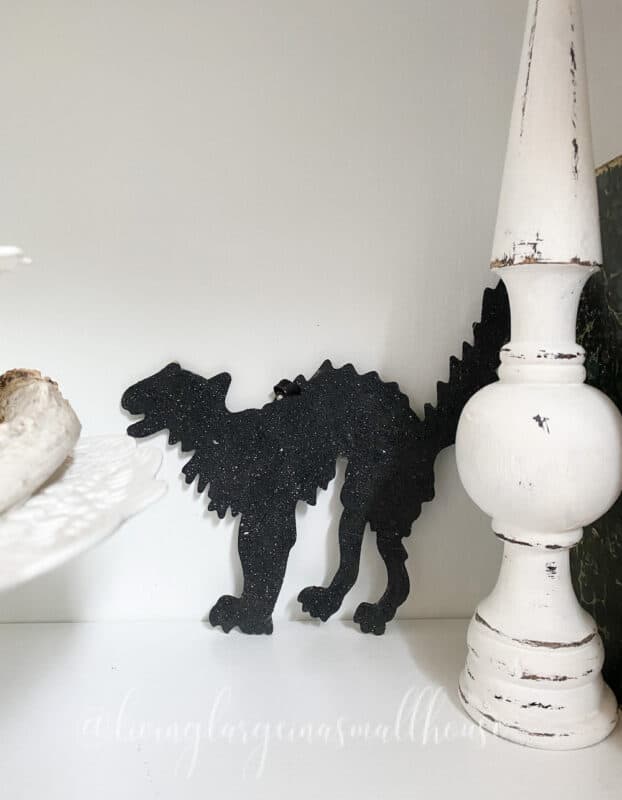 It then gets packed up and put away the day after Halloween.
Then I add just a little Thanksgiving decor to the neutral fall theme.
Still love Our Frame TV
I fall in love with our Frame TV all over again, every season. For $2.50 I bought Halloween Art on Etsy. I find the most beautiful art on Etsy for every season and holiday of the year.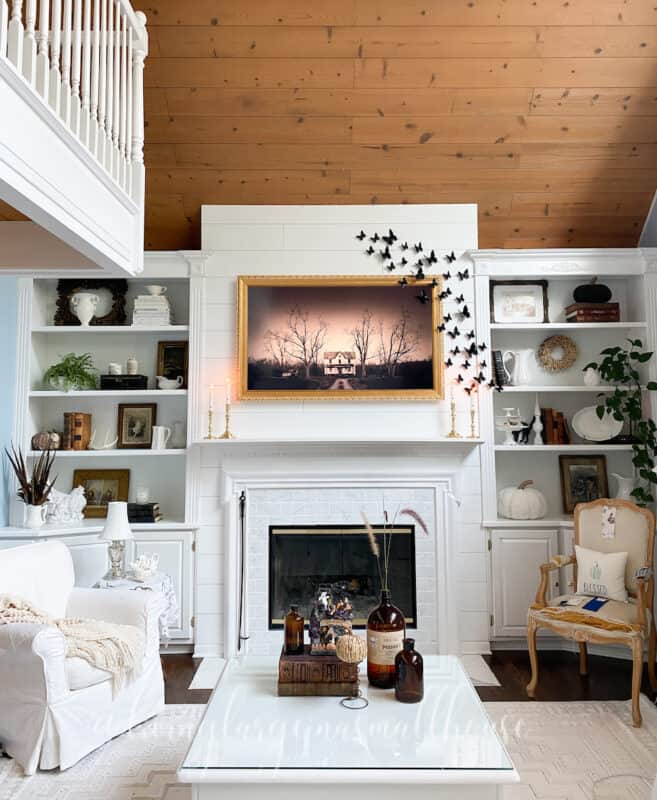 Next on the Hop
Up next on the hop is my friend Leslie from Feet Under My Table. Leslie is always cooking up something special and today is no different. She is sharing her Great Fall Popcorn Ball Recipe.
Enjoy,


A great way to save this article is to save it to your Pinterest boards. You can find the pin button in the top left corner of the photo below. Also, don't forget to follow me on Pinterest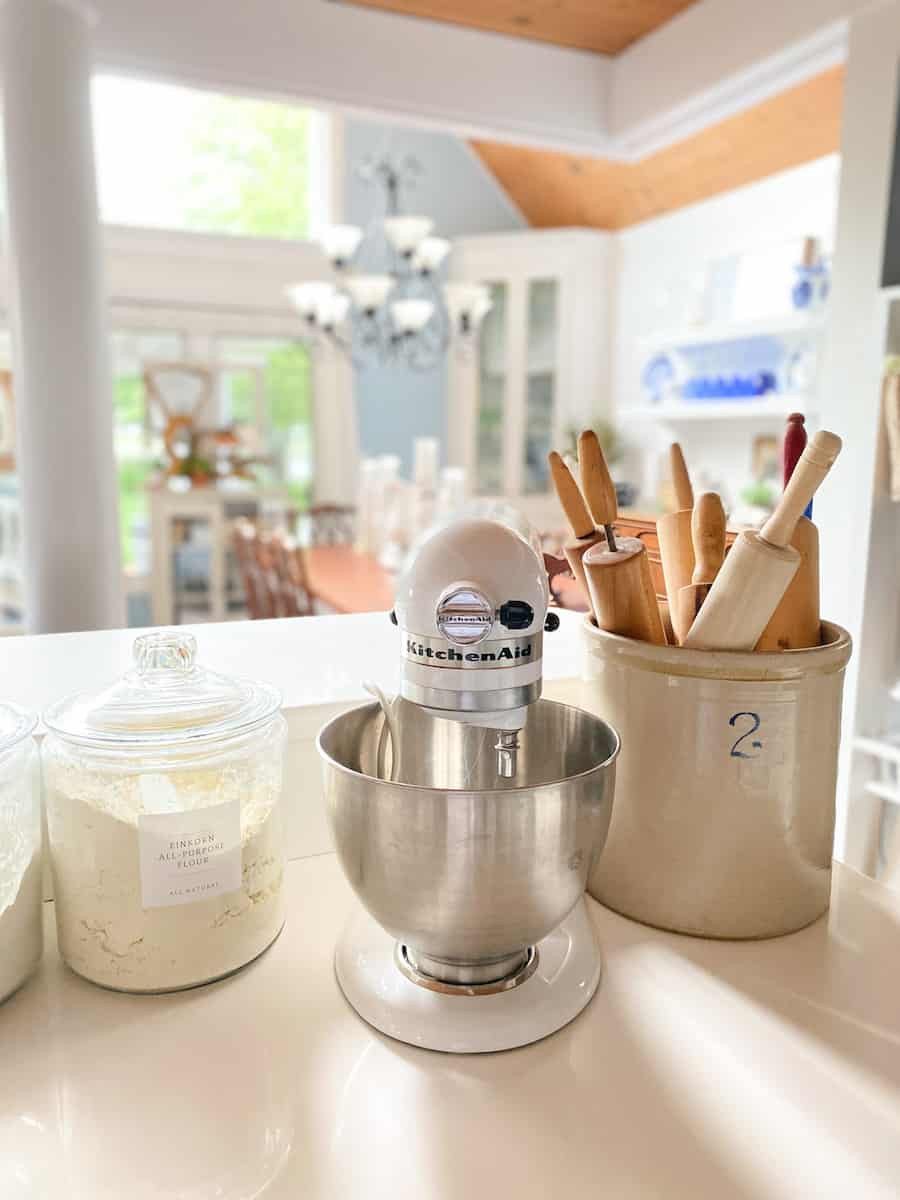 direct access to my amazon store
On Amazon
Did you know that you support my little business by purchasing through my links?? The price to you is the same but I receive a small commission on ALL the purchases you make when you shop through one of my links. I appreciate you helping Living Large in A Small House to grow!

Living Large Podcast
This week on the Podcast, I shared all the things that have been going on in this small house and shared some information about my 30-Day Cleaning & Organizing Challenge. It's not too late to join!