How to Make Your Outdoor Living Space Inviting for the Summer
Welcome to the Spring into Summer House Tour hosted by Kristi of French Creek Farmhouse; where I am sharing with you how to make your outdoor living space inviting for the summer. I along with some amazing home decor bloggers are sharing different areas of our homes; as we transition from spring into summer.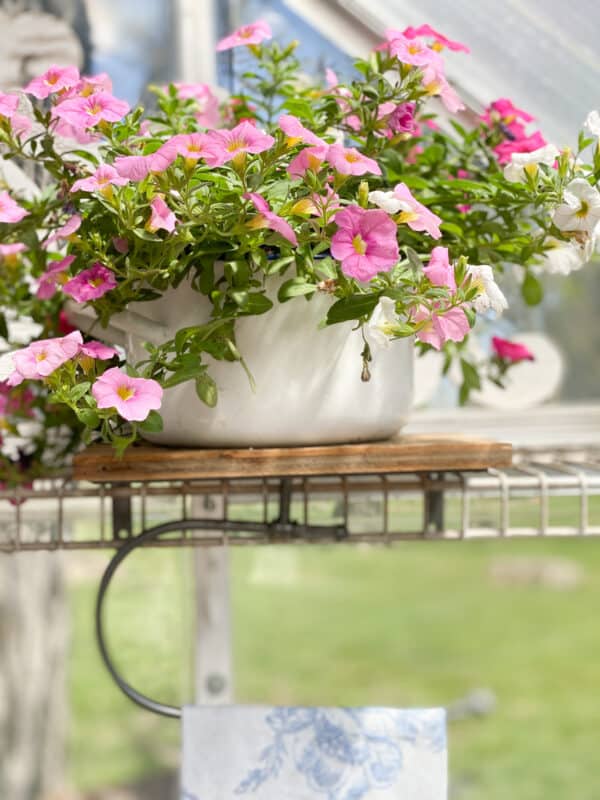 I chose to showcase some of our outdoor living spaces. Because we live in a very small home, we use our outdoor space as much as we possibly can. We also live on the water so it makes it all the more conducive to outdoor entertaining. We have an outdoor living area complete with a fireplace and TV. Our outdoor kitchen is amazing. It houses two different grills, a sink, an ice maker, an outdoor refrigerator and it even has an outdoor blender. Margarita's anyone?
Our outdoor urban farm area has a greenhouse, chicken coop, and a fenced-in vegetable garden. This year we have a new herb garden. The perimeter of our backyard is surrounded by perennial beds. Our front yard is basically one huge big shade garden.
If you are one of my loyal followers, you know that our daughter is getting married in our backyard on June 26th; therefore we are pulling out all the stops to make our yard beautiful. It's going to be a very small and intimate event. That being said, we still want it to be amazing!
Your Invited into the Greenhouse
Let's start in the greenhouse because that has always been one of my favorite places to decorate. It typically turns into a utilitarian space in the summer but not this year. This year, it's going to be the bar for the wedding. I have this picture in my mind of twinkly lights and all kinds of flowers. We will have a bar in the back along with a very fun bartender serving drinks. We have a few surprised up our sleeves to make this a very awesome cocktail lounge.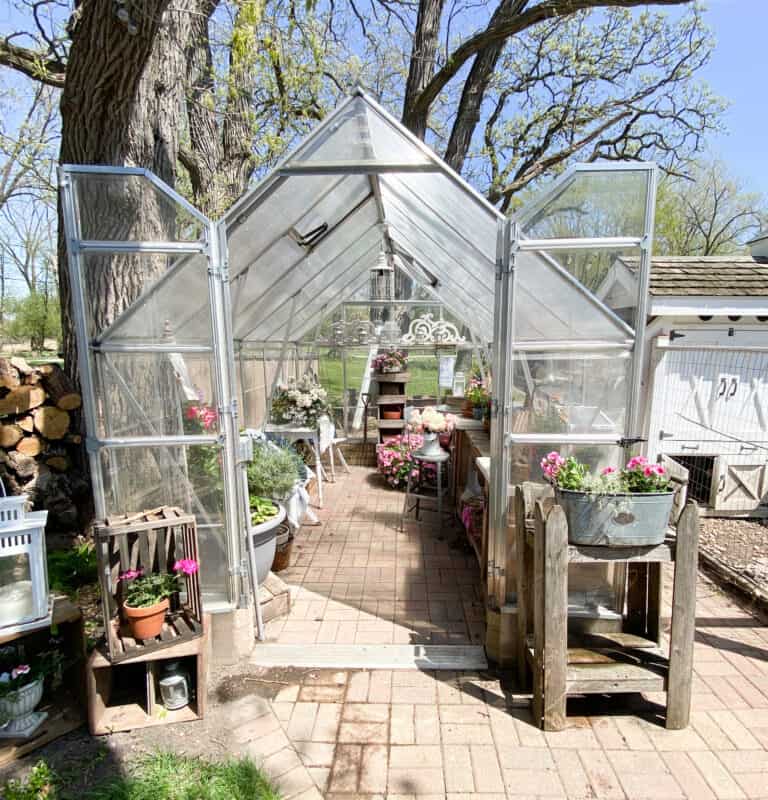 I'm sure it will be a very popular spot even after the wedding!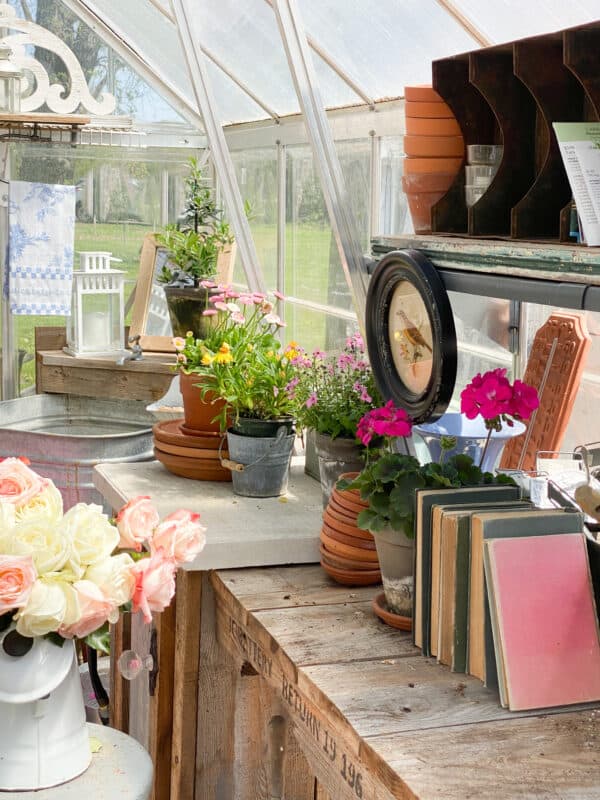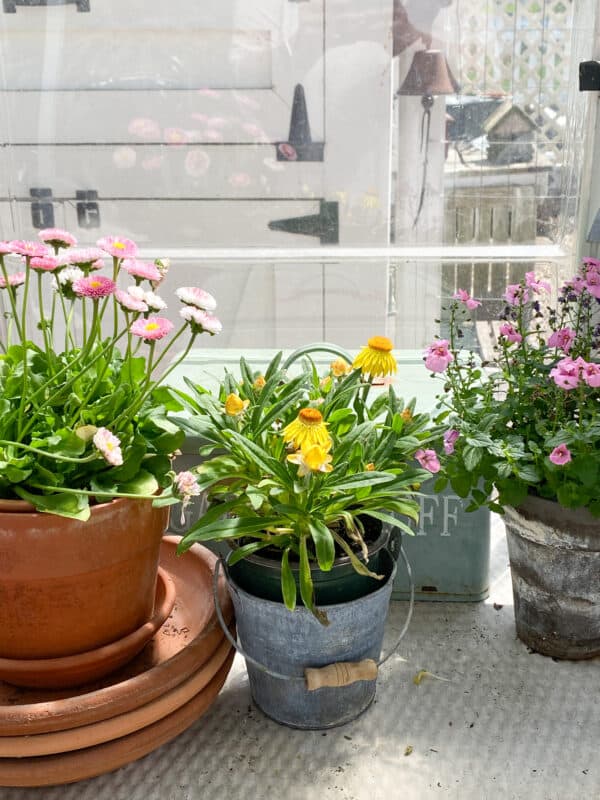 Right now my greenhouse has every square inch covered with flowers. We can't put them in the yard until May 15th but I wanted to be sure that I had the colors that I needed so I bought all of my plants two weeks ago. I had to pull them all out so you could see the brick floor.
Our Favorite Outdoor Space
Our outdoor living room gets used from April through November. With the help of a roaring fire and infrared heating lamps, we keep the space toasty even in cold weather. I change out the throw pillows depending on the season or occasion. When we re-did this space last summer, I chose navy and white as I knew that many colors can complement that color scheme. Some well-placed throw blankets also enhance the coziness of the space. Who doesn't love to have a soft blanket over your lap for coffee in the morning or a cocktail at night? Additionally, plants, candles, and cut flowers add so much to this space.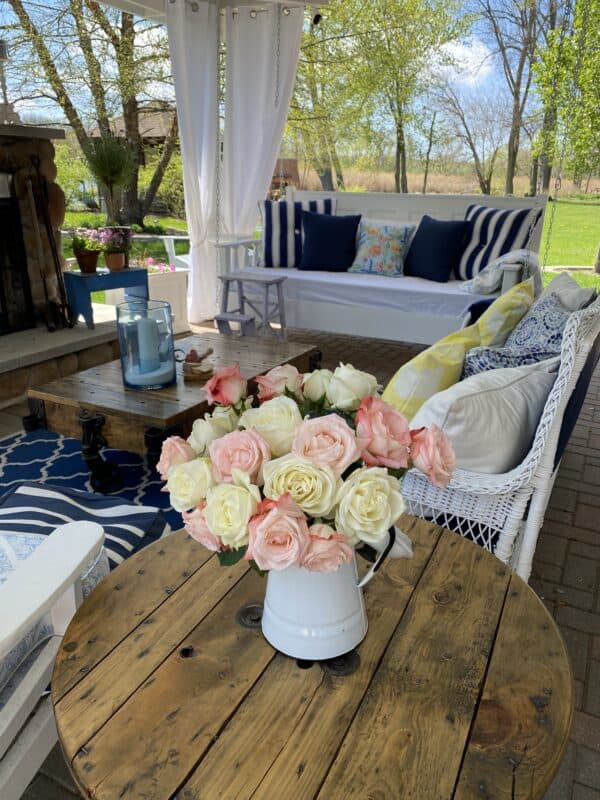 Outdoor Kitchen
Our outdoor kitchen is actually the second outdoor kitchen that "Handy" has built for our home. When the second outdoor kitchen turned out to be nicer than the kitchen I had inside the house; a complete indoor kitchen remodel happened shortly thereafter.
We use our outdoor kitchen all year long. Because the door from our indoor kitchen is just steps away, we can use our grills even in the snow. I believe "Handy's" record for grilling is 4 degrees below. Like the indoor kitchen, it seems to be a place where people gather. We have plenty of counter space and an island so serving food and pouring a drink is a breeze in this space.
I also use the outdoor kitchen for canning and preserving. We can blanch our veggies on the two-burner stove and I use the island for filling jars. Unlike inside, I just hose down the mess when I'm finished. How convenient is that?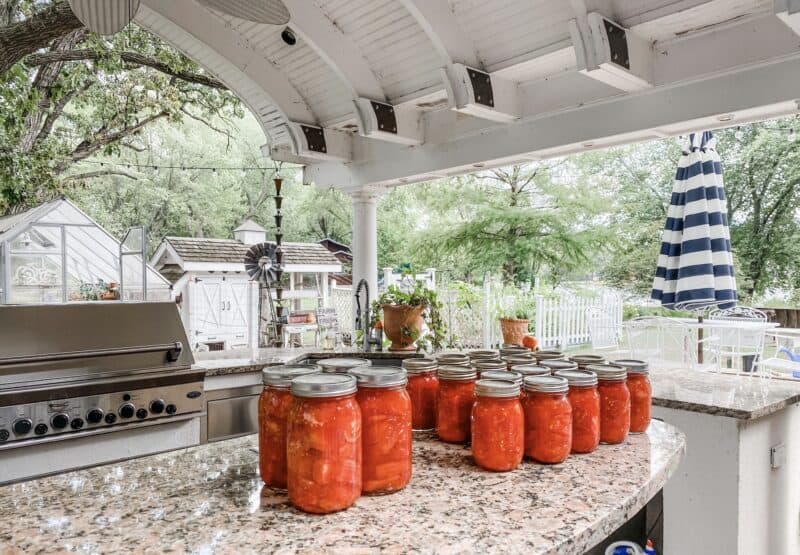 Watching My Garden Grow
Spending time tending to my gardens is not only fulfilling, but it's also therapeutic for me. The bounty we get from our veggie garden is healthy and organic. I know exactly how it was grown. There is something special about being able to feed your family with the fruits of your labor in the yard.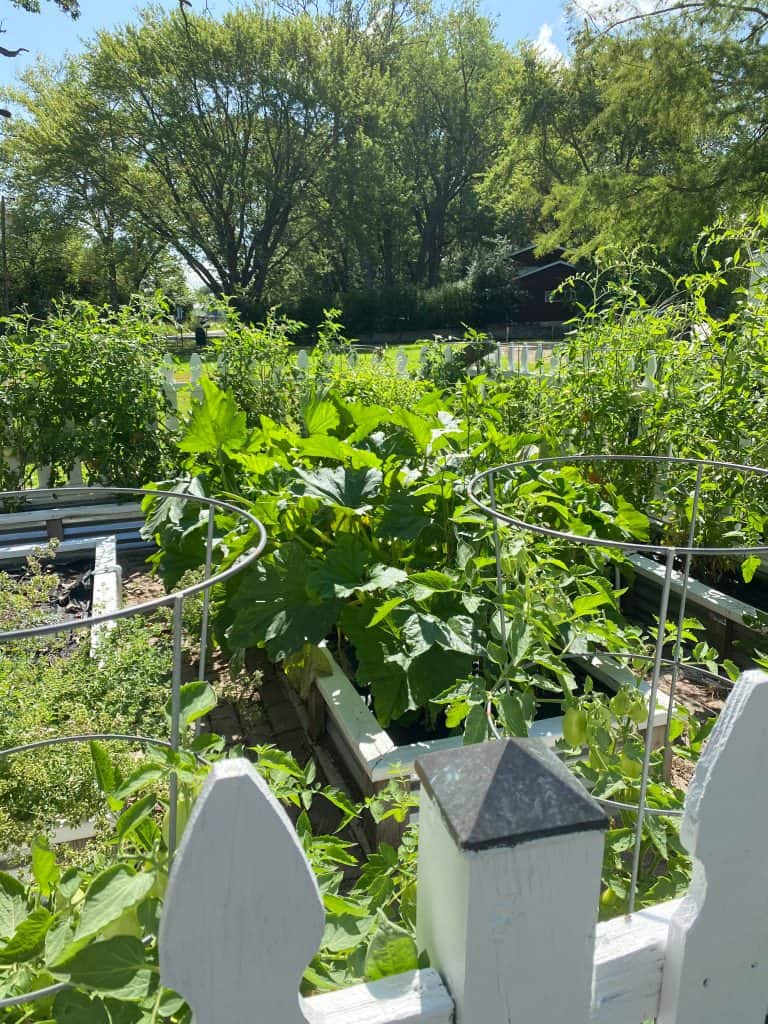 Living on the River
When you live on the water, there really isn't a bad place to be on a nice day. Whether it's having coffee on my swing in the morning or entertaining neighbors or friends who pull up by boat.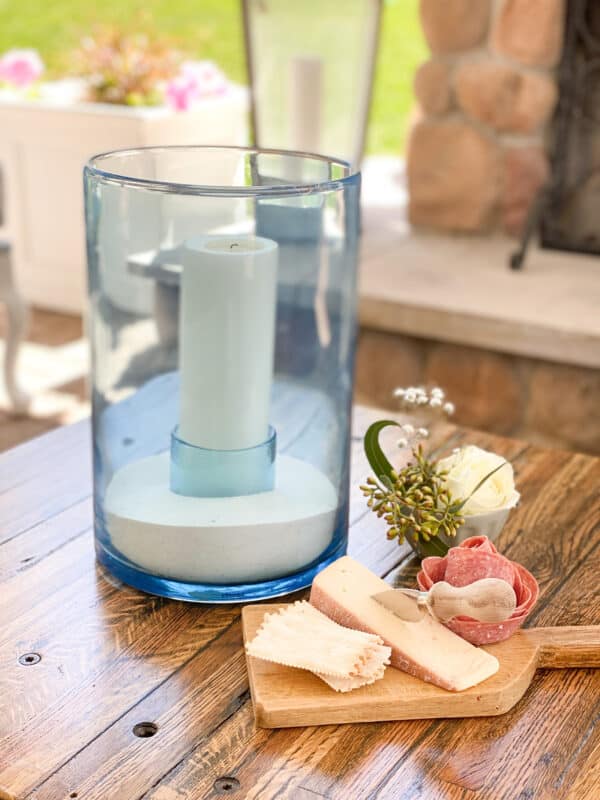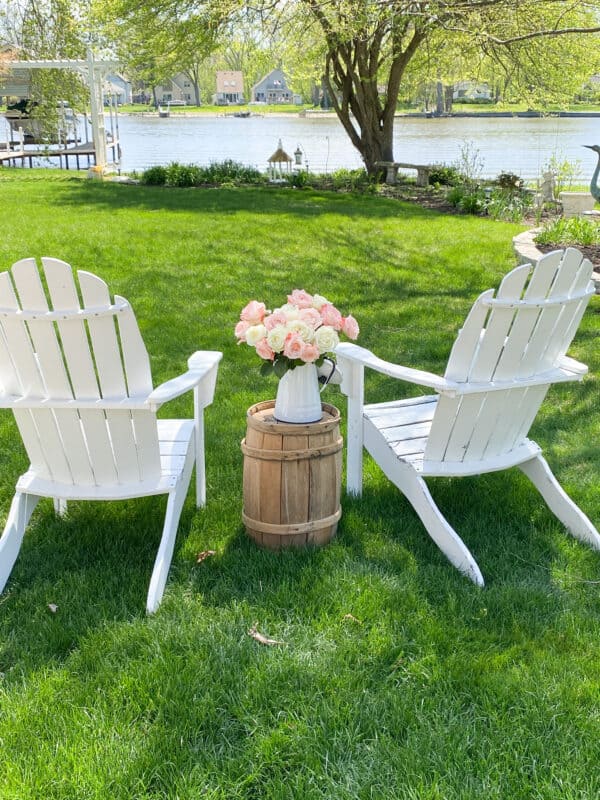 Thanks for coming to Living Large in a Small House and touring some of my outdoor spaces. I hope you enjoyed yourself. Please join all of the amazing bloggers below as they share with you their "Spring into Summer" Tour of their homes.
I'm thrilled to be joining in today as 29 talented bloggers bring you the best of all things home! Please continue along this inspiring Spring Into Summer tour, and visit the other participants in each of the following categories.
Peace,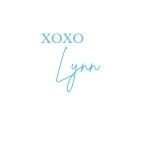 If you want to take a peek at what our outdoor living room used to look like, you can find that HERE