Create More Living Space Outdoors – Small House Living
How do you create more living space outdoors, especially when you live in a small house?
I have some answers for you.
On my blog Living Large in A Small House, I may sometimes use affiliate links, which means a small commission is earned if you make a purchase via the link. The price will be the same whether you use the affiliate link or go directly to the vendor's website using a non-affiliate link. You can find my full Disclosure Policy HERE

I have joined 3 talented Designing Women to share a monthly blog post all about interior design and home decor.
I'm so honored to be among these talented ladies. Crystal from Sweet Valley Acres, Kristy from At Home with Kristy, and Sheri from Savvy in the Suburbs. We each will bring our own perspective on our monthly theme.
This month we are talking about our Outdoor Living Spaces. Next month we will discuss our Gardens from an Interior Designer's perspective.
The Evolution of Our Outdoor Space

The first thing that we did to the outdoor space at the house was to take down a very large wrap-around deck that was in really bad shape and the home for raccoons and skunks.
We replaced it with a wrap-around brick patio. It's quite large and when it was originally installed, it also included a fire pit and seating area wall. Once we had young kids, the fire pit was taken out because I was so afraid of someone falling into it.
We also installed our first outdoor kitchen in this outdoor brick area.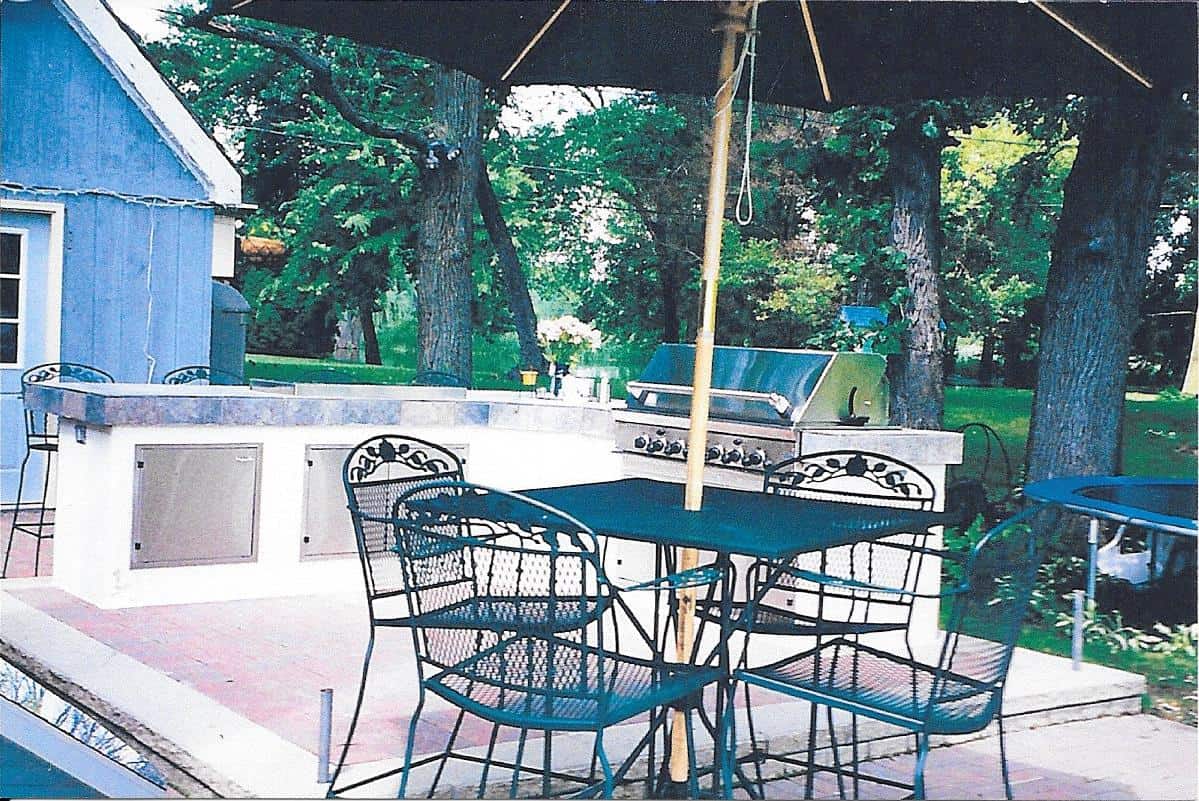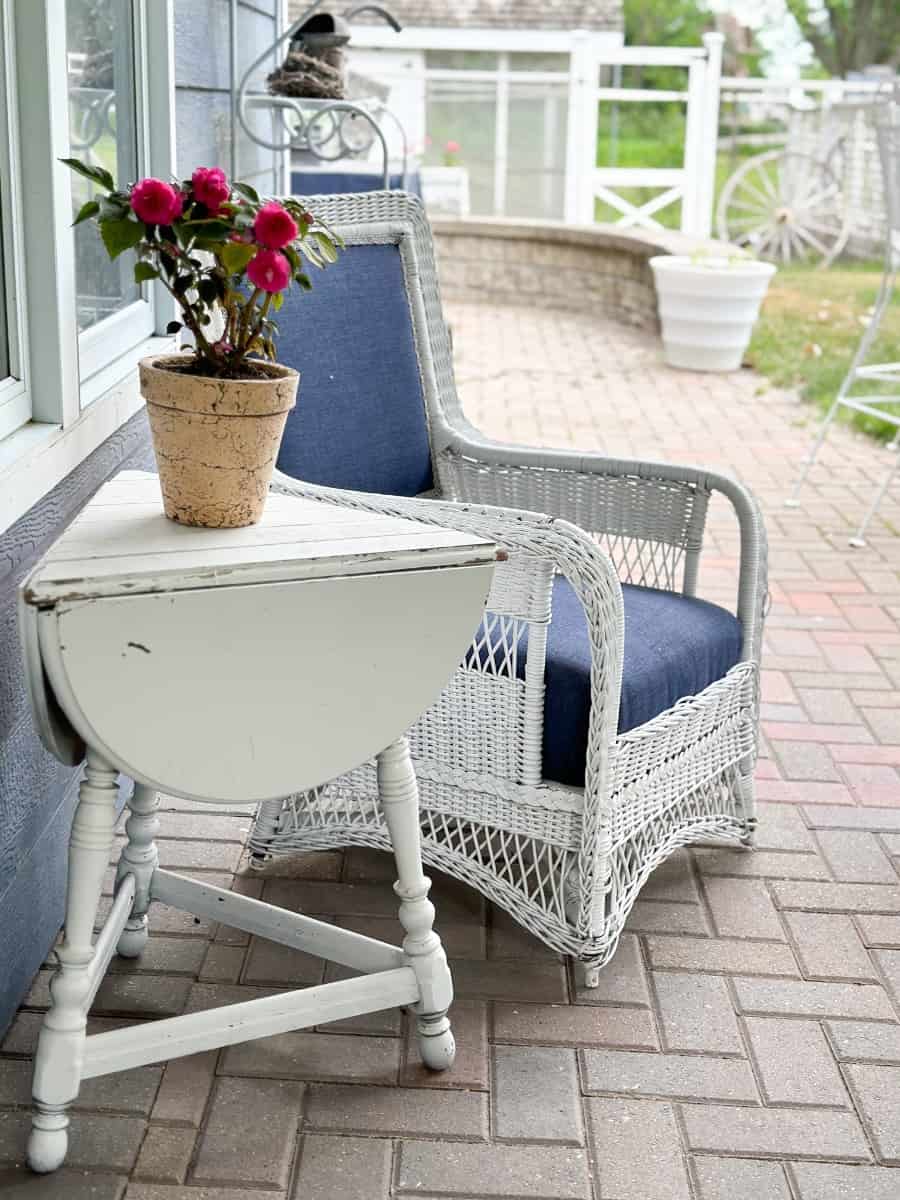 The Pergola
Not long after the brick patio was installed, we decided to add a pergola off the back of our house. Right off of our indoor living room. That part of our home faces south and is 22 ft. of glass. The sun beating into our small house was sometimes unbearable.
Adding the pergola was not only a great way to shade our house but had the added bonus of creating an outdoor living room.
It wasn't long after we had the pergola that we decided to roof the pergola so that our outdoor living area was a place we could enjoy even when it was raining. It further enhanced the shade factor inside our home.
Putting a roof on enabled us to add can lighting to have a light source in the outdoor living room.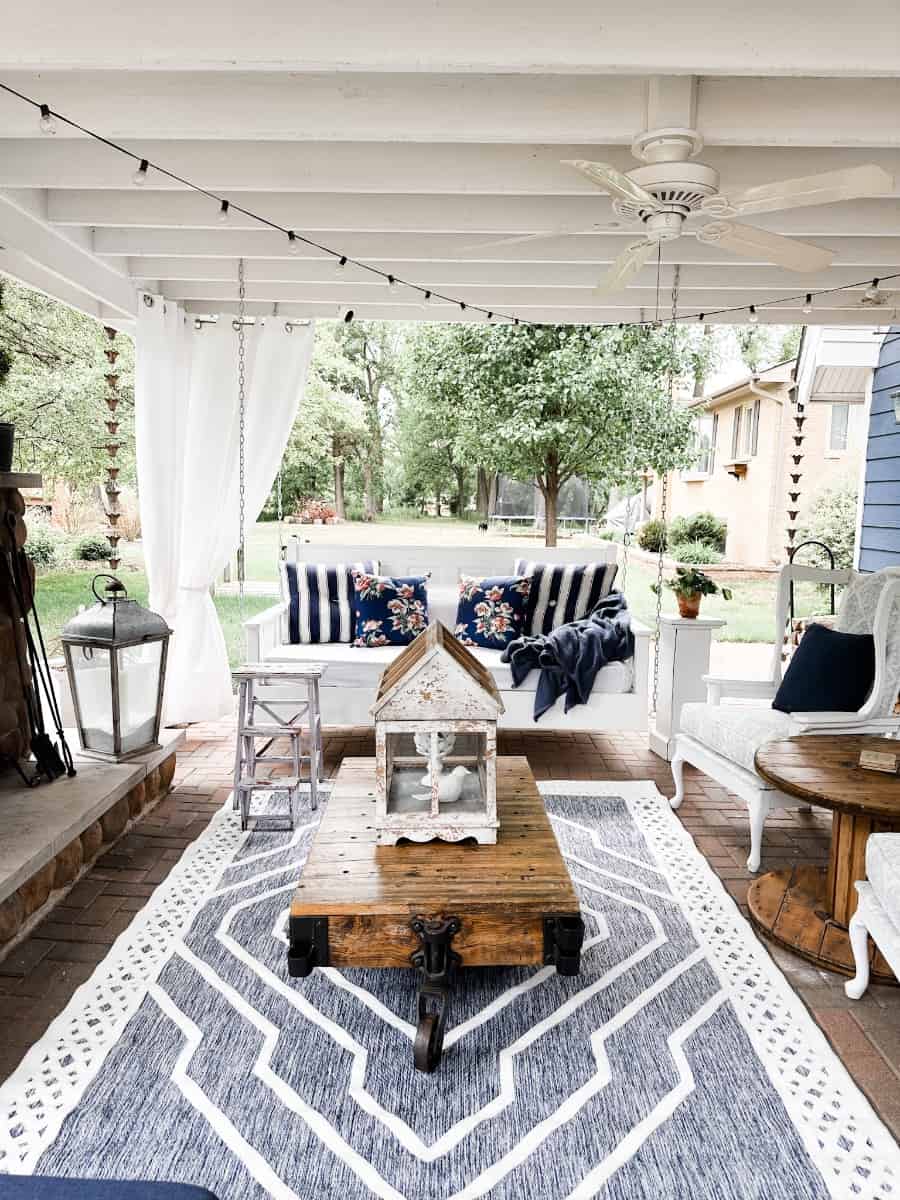 The Fireplace
When we roofed in the pergola we also decided it was a good time to add an outdoor fireplace to the room. It is now the focal point of the space.
It's a pre-fab wood-burning insert in a steel stud frame that sits on footings. Then it was sheeted in dura rock with a veneer stone applied to the box and chimney. The hearth and mantle are limestone. Handy custom-built the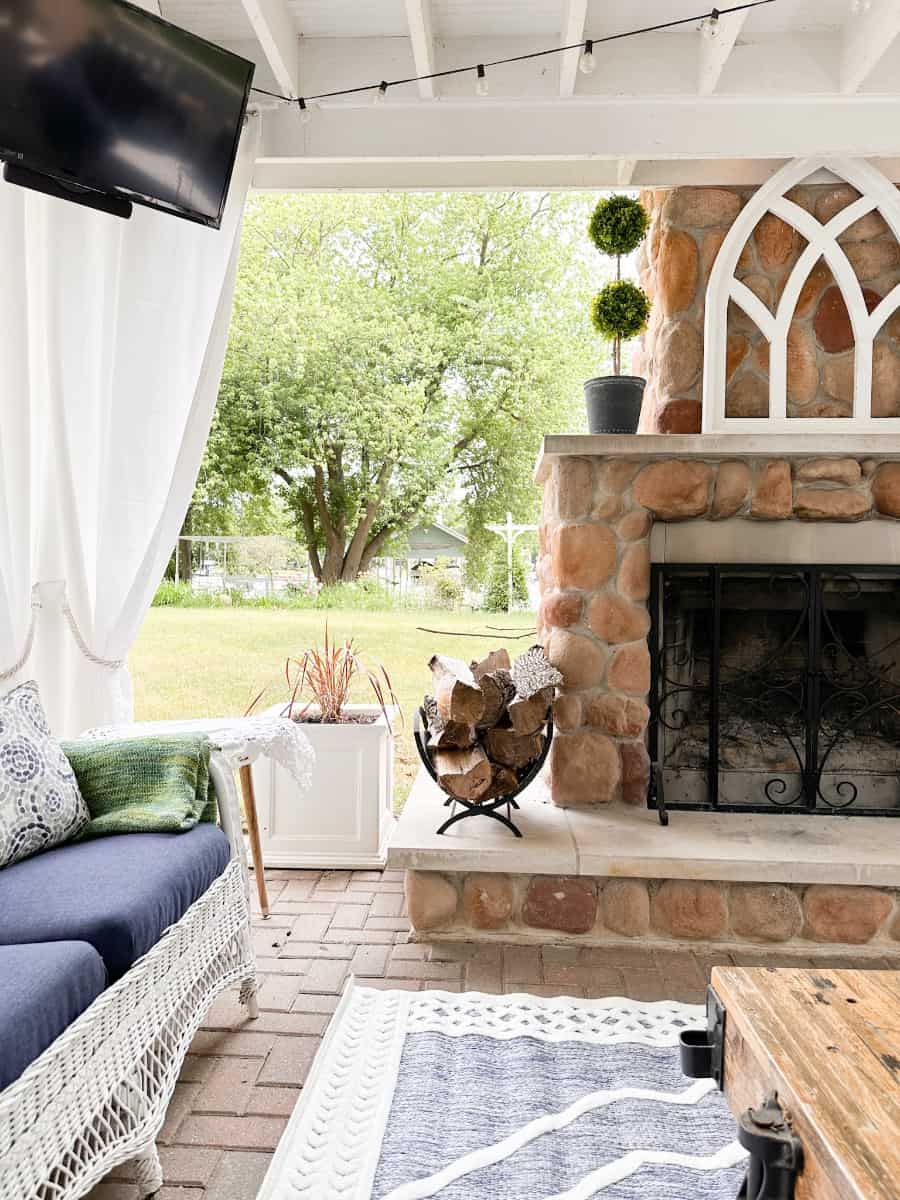 It keeps us pretty warm for three seasons of the year.
We do have infrared heaters that hang from the ceiling if we need more heat but we hardly ever have to use them.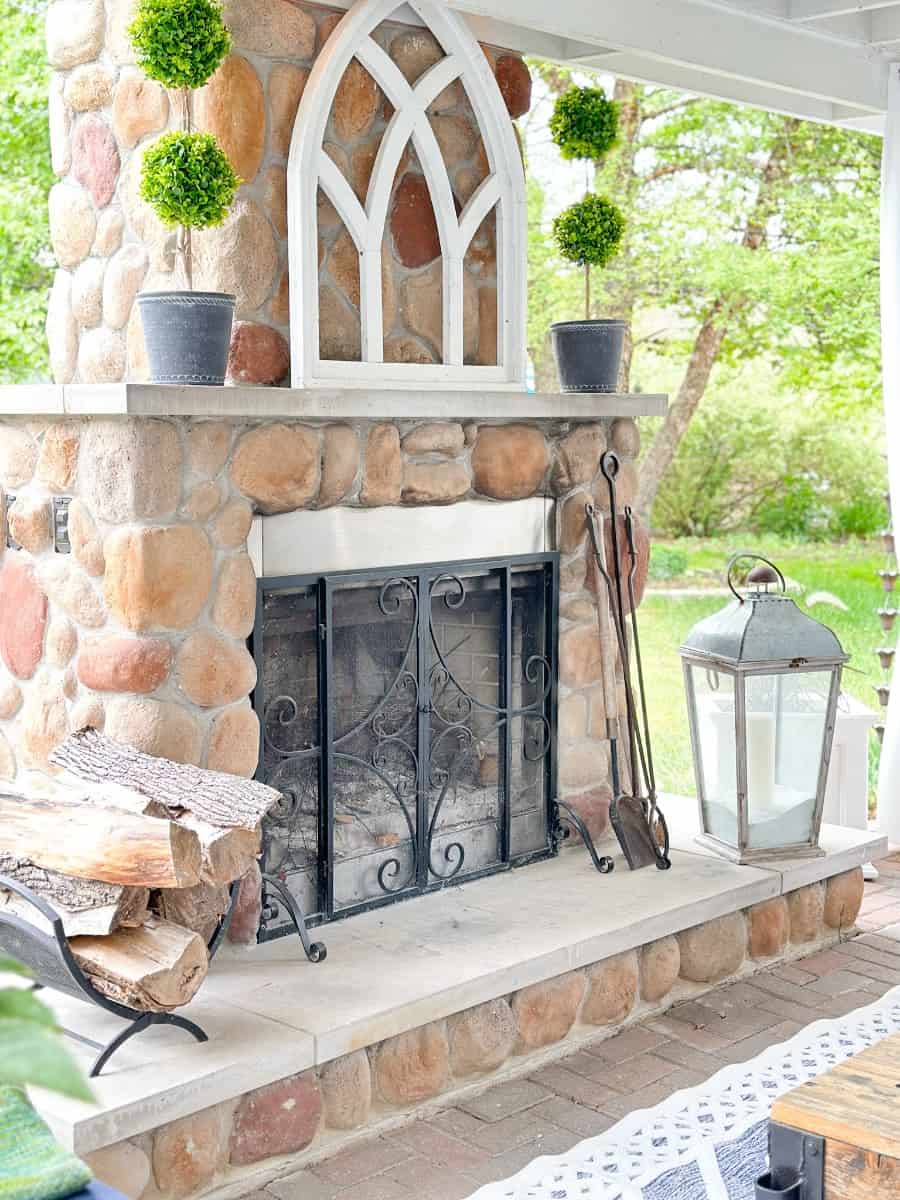 The Outdoor Living Room Design
Because the living space inside of our home is limited, when we open up our french doors our indoor-outdoor living spaces become one. It makes the space feel much larger and we can walk freely from one space to the other.
The interior space is really a great room that is our living room, dining area, and kitchen that is all open. When it's all open it actually seems grand.
When the weather doesn't cooperate or the bugs are too bad, they become two separate areas.
The outdoor living space is anchored by an outdoor rug that was gifted to me by Boutique Rugs. I have the Anja Blue Outdoor Rug (6'7″ x 9) and I just love it.
It's beautiful and can be cleaned easily with soap, water, and a hose. It's a really soft outdoor rug and for someone like me who likes to be barefoot, it's perfect.
The rug is navy blue and white (not off-white).
Use my discount code LIVINGLARGE to get 10% off sitewide on top of the already sales price. Use this Link to get directly to this rug.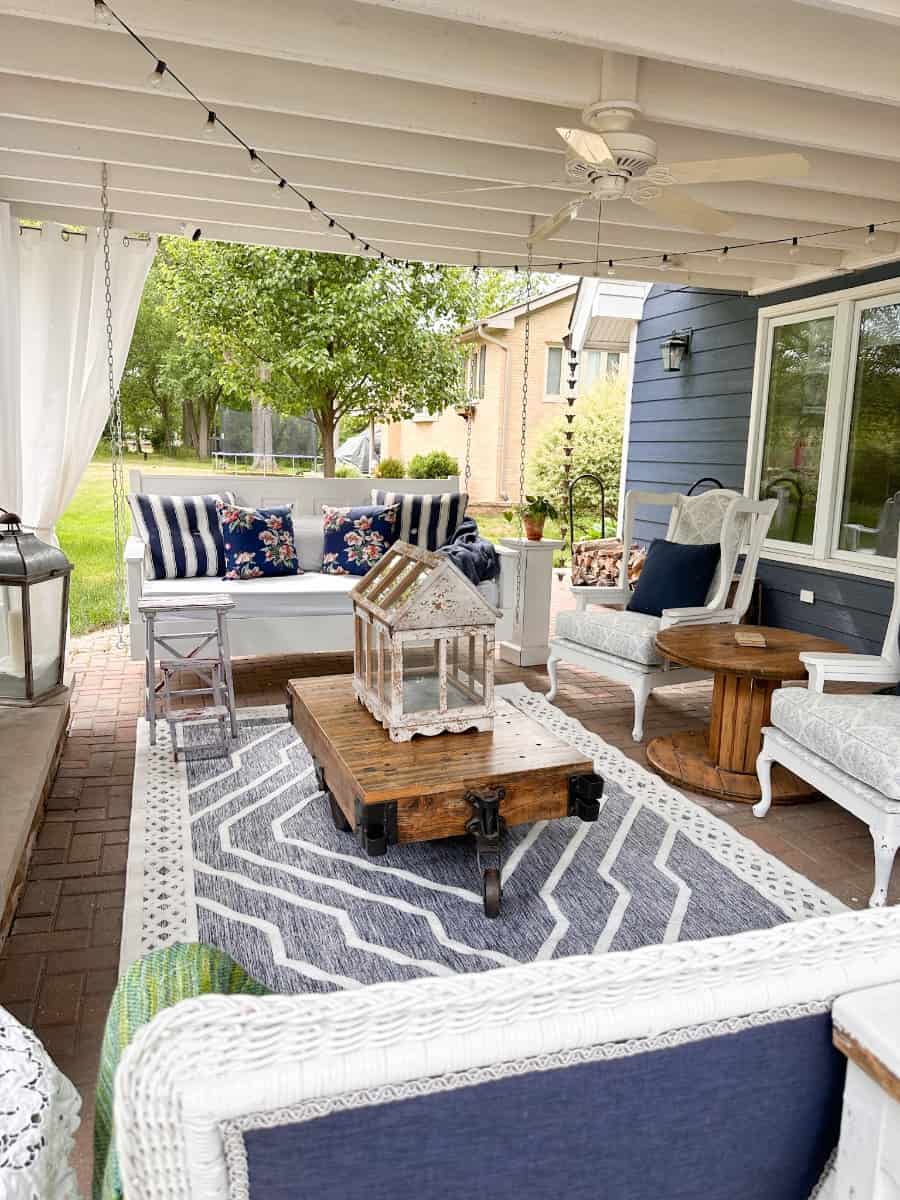 We have a sofa that is an antique. I bought it on Facebook Marketplace and drove from Illinois to Ohio to pick it and the matching chair up. We recovered it with an outdoor fabric that has held up really well.
Handy also made a bed swing out of a vintage door and it's everyone's favorite place to sit. It's the perfect spot to enjoy my morning cup of coffee.
We also have two deconstructed chairs that were wing-back chairs that I also purchased on Facebook Marketplace. We stripped everything off of them and made a new back and cushion also with outdoor fabric. They are comfortable and hold up well to the elements.
Design Details
My color scheme is blue and white to match the interior of our home. As an Interior Designer, I wanted an outdoor connection to the interior of our home.
Handy wanted some wood to add more natural elements to the space so he refurbished an old train cart that we use as our coffee table and an old wire spool that is a great side table between the two wingback chairs.
We have added some string lights to add ambiance. A few candles here and there along with a crackling fire makes for a perfect evening spot.
The entire space is so functional and cozy and we spend a lot of time outside; not just in the summer months but also in the spring and fall.
When we entertain it is definitely the extra space we need.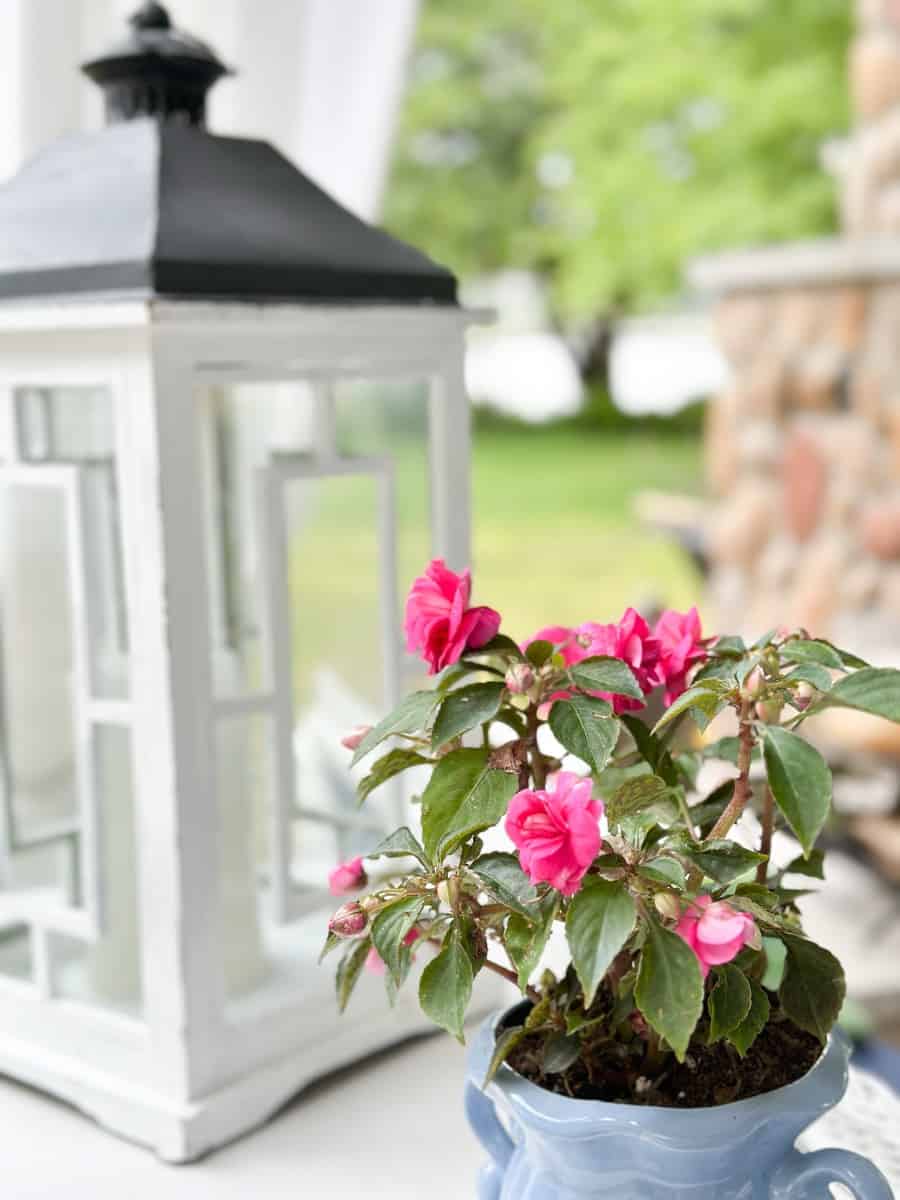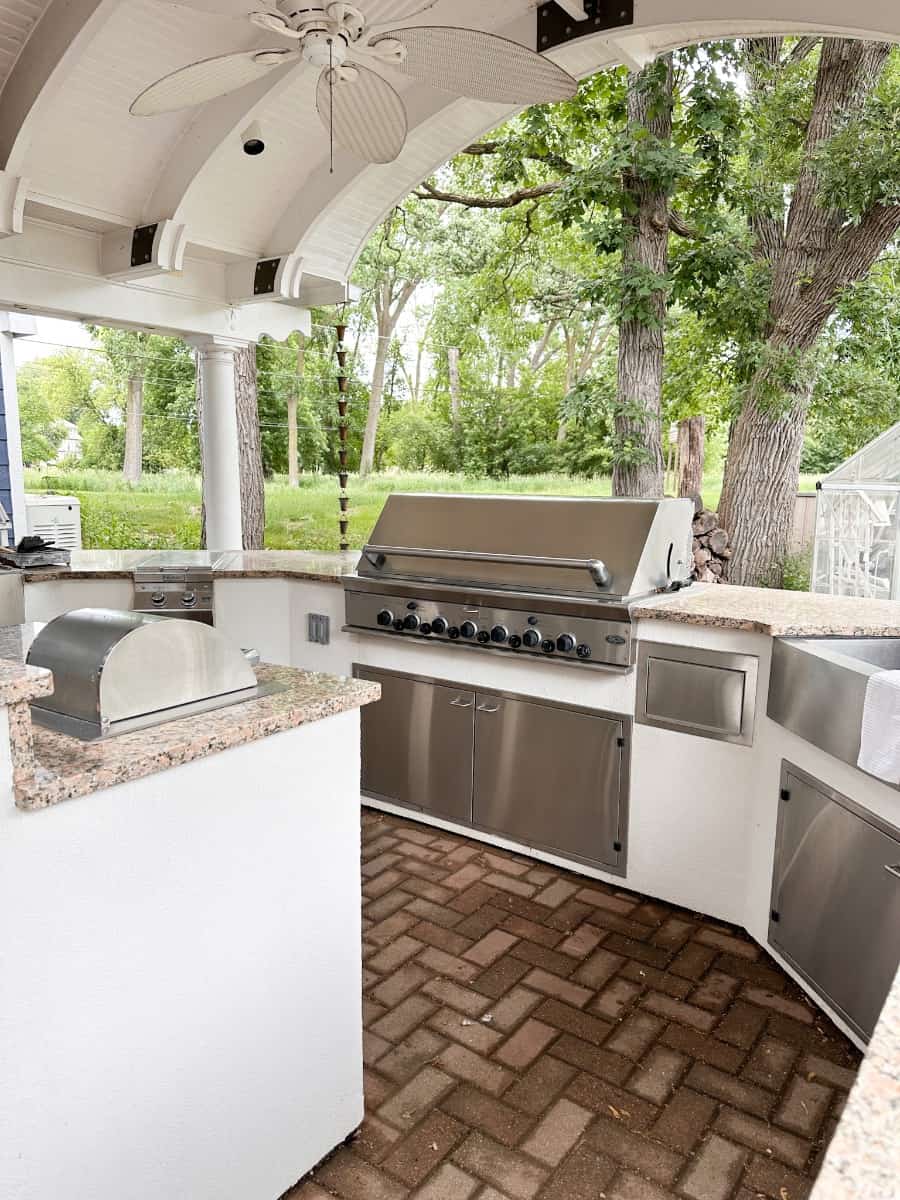 The Outdoor Kitchen
Right around the corner from the outdoor room is our outdoor kitchen.
This is now the 2nd kitchen that we have had outside and when Handy started building it there was a little dissension in the house as I was still cooking three meals a day out of my 9′ x 9′ kitchen inside. It was a very small space.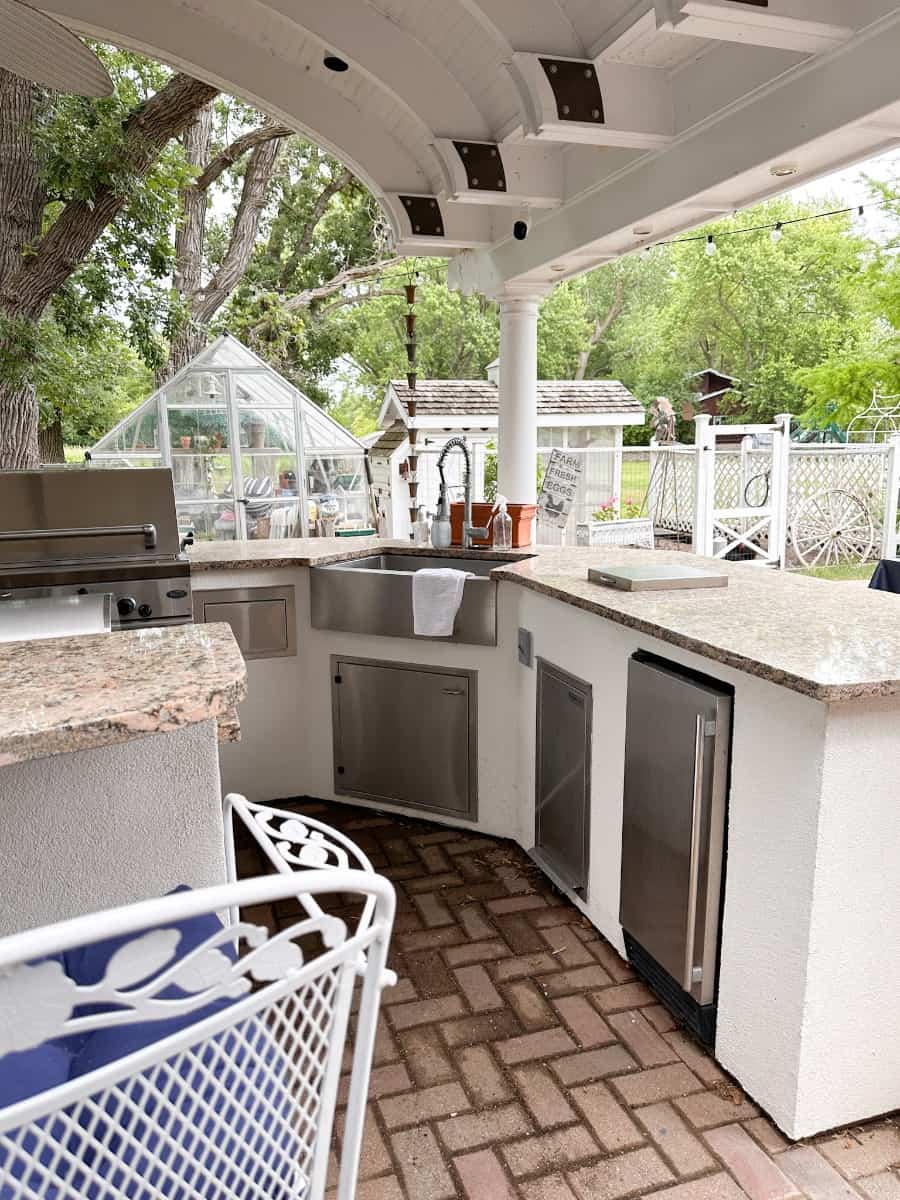 I'm happy to report that it wasn't long after that outdoor kitchen was built that we started our major kitchen renovation inside.
Our outdoor kitchen is pretty amazing with its two grills, double gas burners, a sink with running hot and cold water, an ice maker, refrigerator, and outdoor blender, we don't really have to go inside to cook if we don't want to.
The outdoor kitchen has a domed roof design that is quite impressive and we mimicked it when we renovated the exterior of our home and added a large front porch. The portico over the front door has a roofline that closely copies the roof of the outdoor kitchen.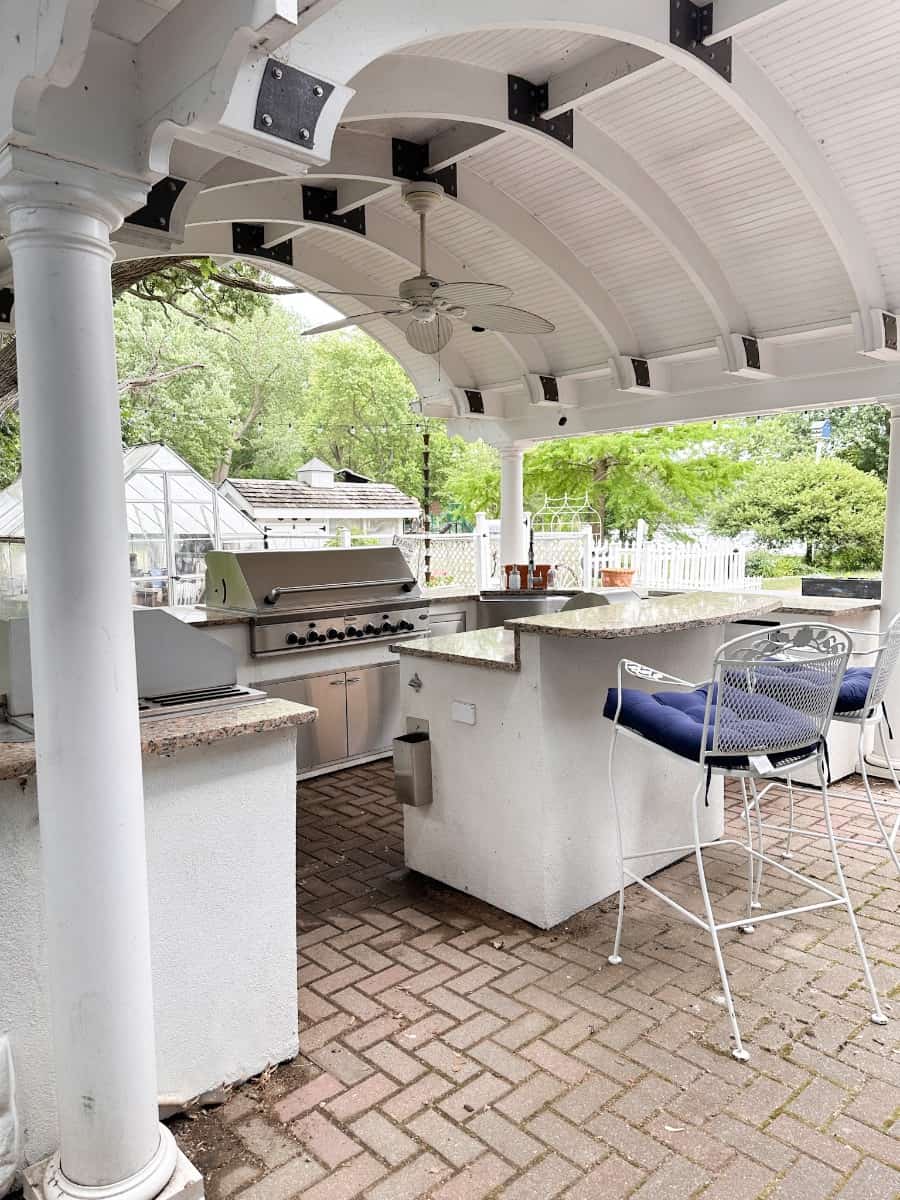 Because the outdoor kitchen is just steps away from our indoor kitchen door, we use it all year long. When we get snow in the winter, there is always a path shoveled to the grill.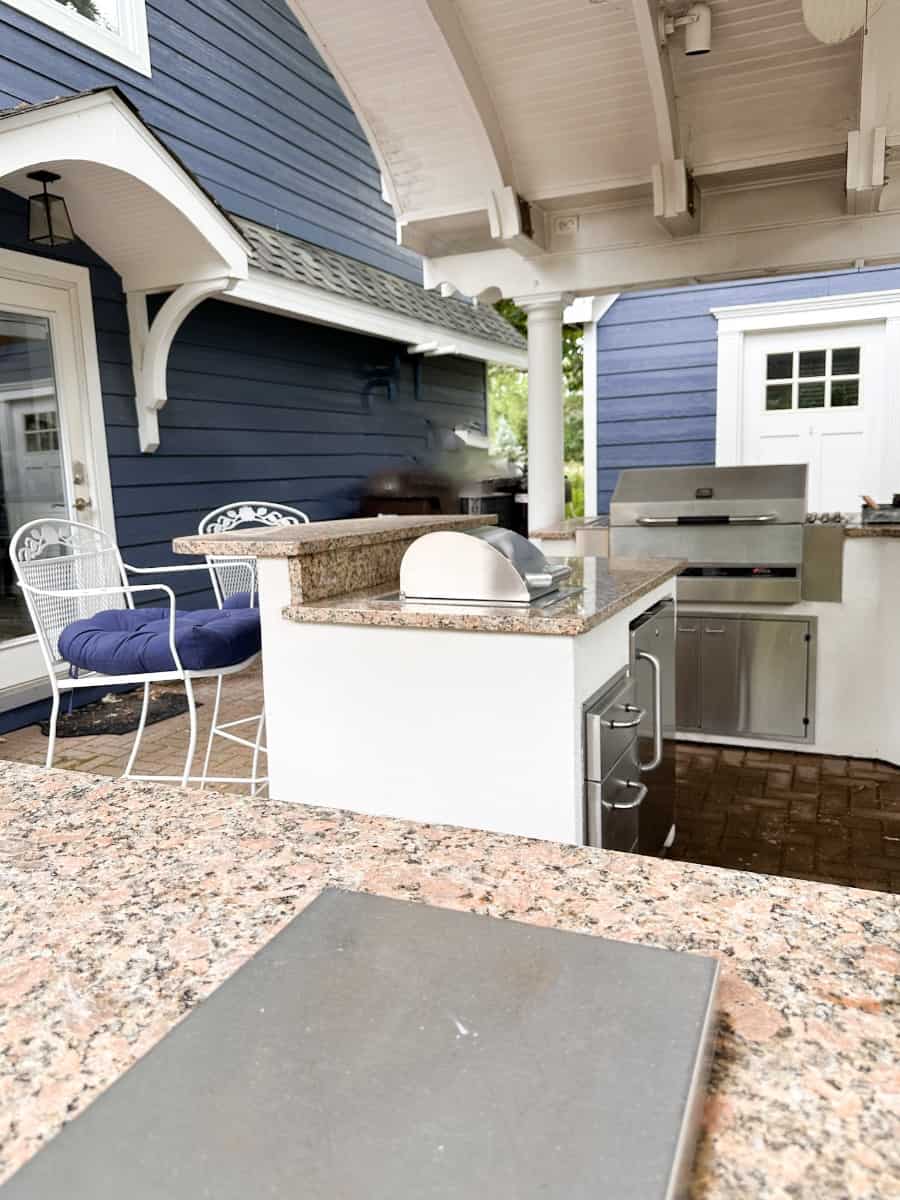 Outdoor Entertaining
Because our home is small, we do a lot of outdoor entertaining. We've hosted some rather large events at our home including a few weddings, anniversary parties, birthdays, graduations, and just summer get-togethers.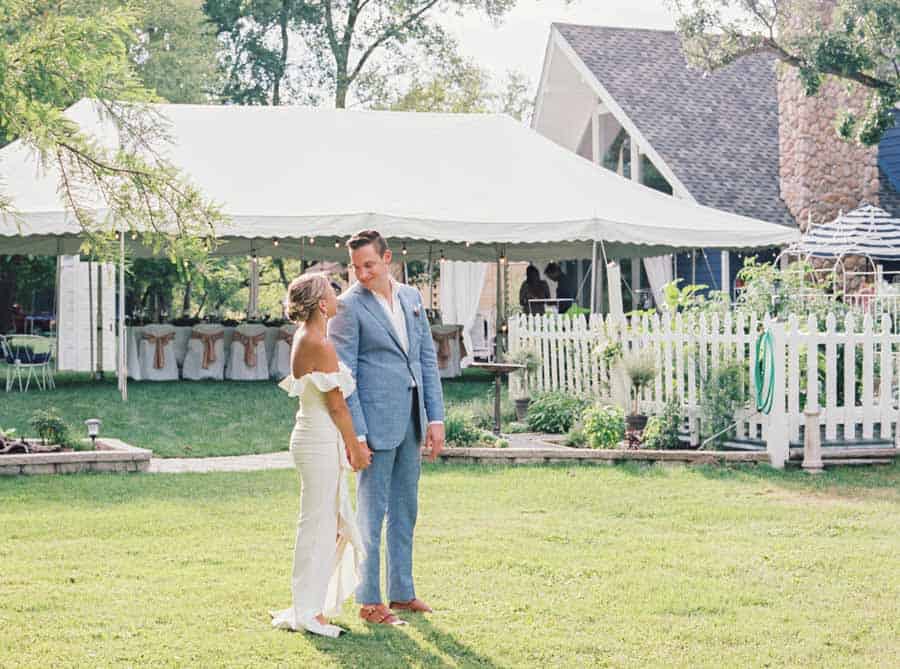 We also enjoy it when it's just the neighbors who mozy over on a Friday night for a beer or glass of wine.
Other things in our Great Outdoors
We also have extensive flower beds in our backyard along with a white picket-fenced vegetable garden, a rather fancy chicken coop for our hens, and a greenhouse that we actually use for entertaining too!
Our gardens which were originally designed by a landscape designer, while beautiful are becoming increasingly harder for us to take care of now that we are getting older. I think reducing the size in the coming years might be a great idea.
I just love to garden and I will always have some garden space, I think the best option is to cut down on the amount of space that I devote to flowers.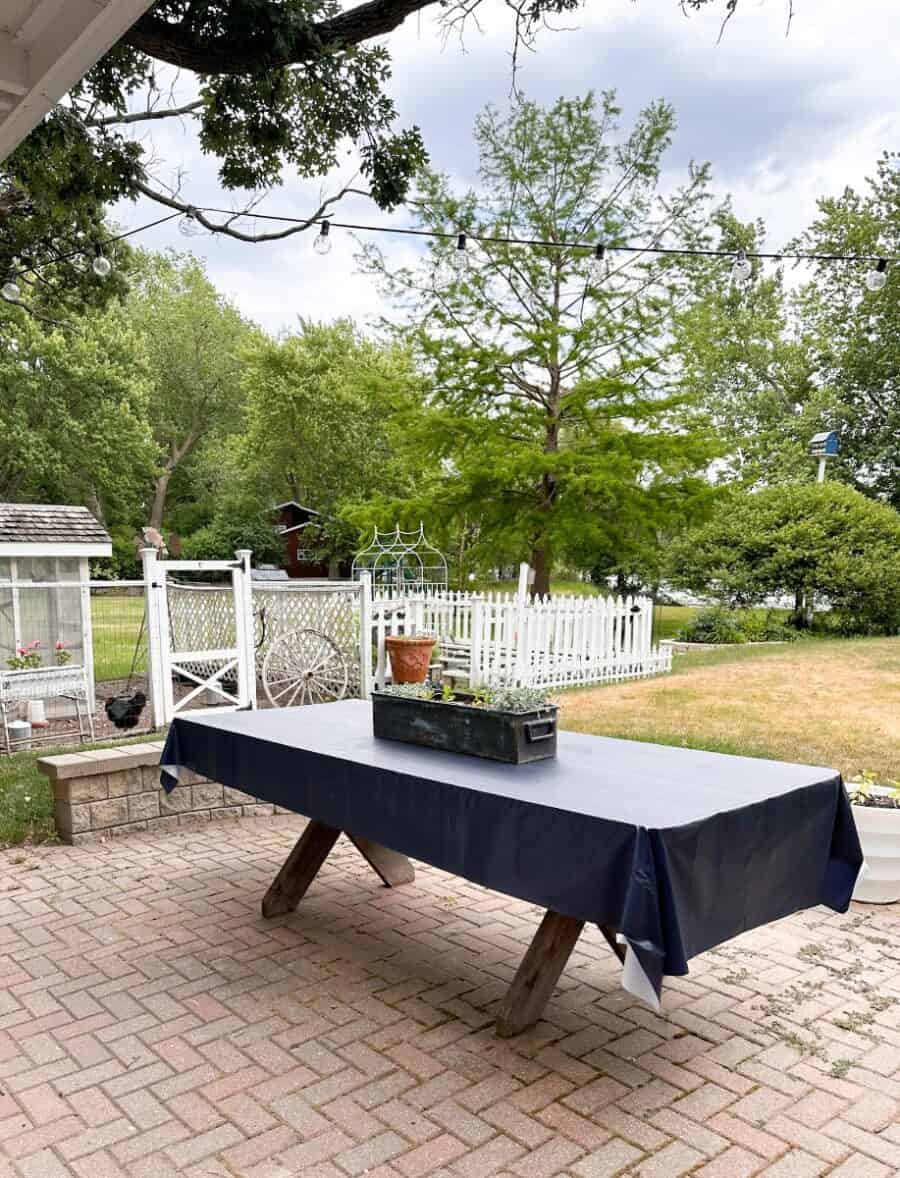 In Conclusion
The trend in building new, modern homes seems to be more simplified and minimalistic. I believe the McMansions are a thing of the past.
I also believe that the same people who want to minimize their interior footprint are also embracing the outdoor living trend.
Even if it's a tiny outdoor space where they can put a bistro table and a few chairs they are looking for spaces in nature to relax, enjoy and entertain.
We absolutely love our outdoor oasis and with a river as a water feature in our backyard, it just makes sense to take advantage of all of our outdoor space.
Designing Women – Next Month
Next month we are also going to be talking about gardening from an Interior Designers point of view so I'm going to share with you our greenhouse. It's a pre-fab kit greenhouse that we customized to make it
Don't forget to visit the blog posts of the other Designing Women. The links to their post are below.
Peace and Love,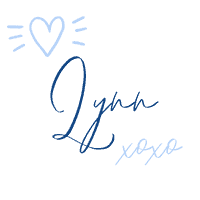 Crystal from Sweet Valley Acres who live in Canada is an artist and has been a dreamer since birth. Crystal loves creating beautiful spaces in her home and garden for her family and friends to enjoy. She also loves pushing her builder husband, Bentley to his very limits when it comes to building and renovating. After 33 years of marriage and taking on 11 homes that were the worst house on the block and turning them into show stoppers along with three new builds later, Crystal has a wealth of knowledge and experience. In addition, she has won many awards for garden design and used to own a home and garden decor store for many years. You will definitely want to visit her blog and see her amazing outdoor living space.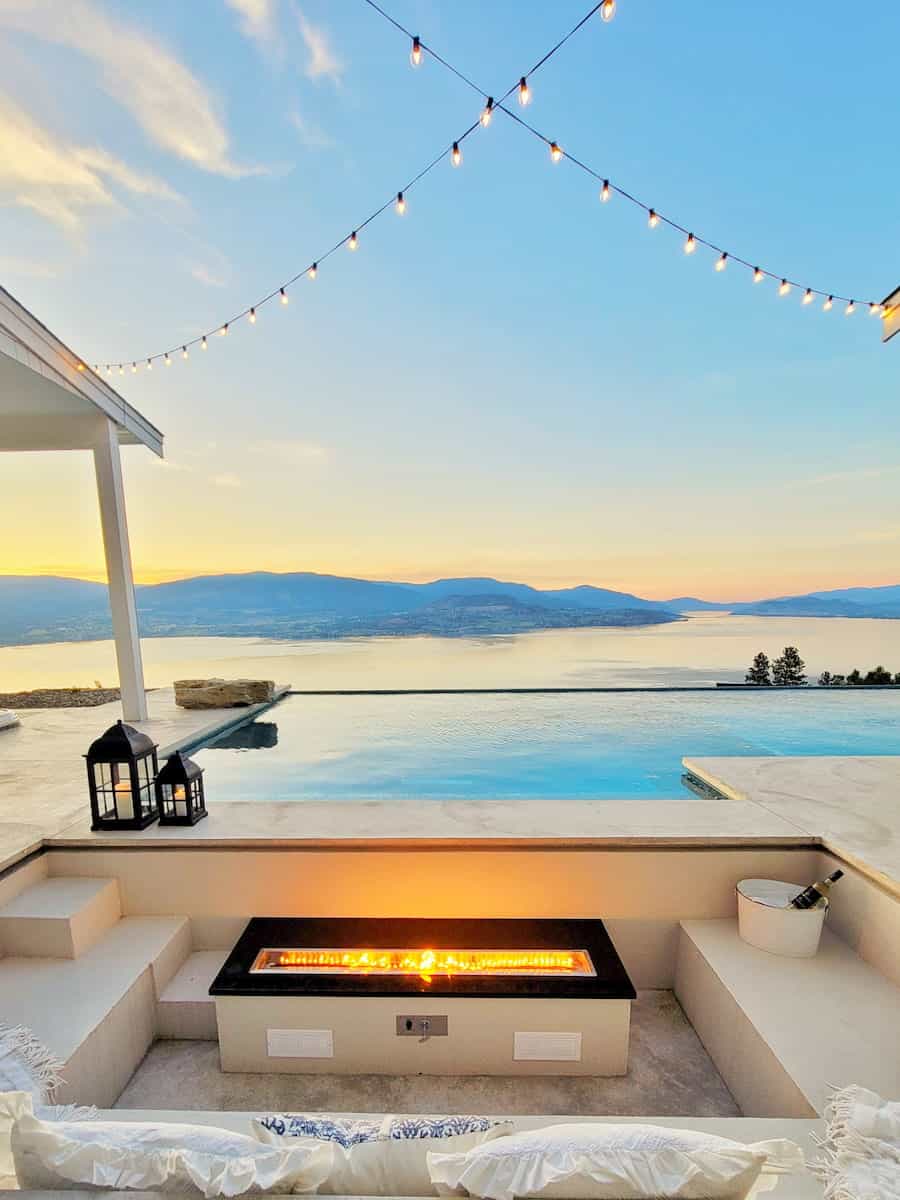 Kristy from At Home with Kristy lives in Texas. She's a homebody at heart and very passionate about creating a warm & welcoming home environment for family and friends. She is an Interior Designer with 35 years of experience specializing in Residential Interior Design. A self-proclaimed perfectionist, & big picture thinker, who also loves getting lost in the weeds and perfecting every detail. She loves sharing her knowledge and expertise to inspire, encourage and empower others. Visit Kristy's blog as she is sharing her outdoor living entertaining ideas.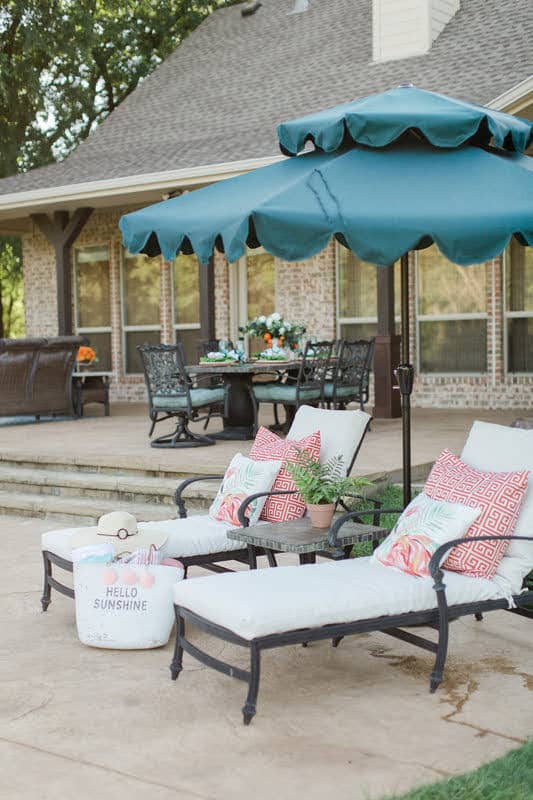 Sheri from Savvy in the Suburbs is also from Texas and she owned and operated a successful interior design business for most of her adult life. She now enjoys fluffing her own nest and spending time with her family. She has three married children and five grandchildren and is growing in her relationship with the Lord. As she joyfully enters the last season of my life Sheri relishes family time and believes in the old adage: God first, family second, all else third. She is enjoying the opportunity to share this truth and my years of design expertise and love of all things home. Visit Sheri's Blog where she is sharing some affordable ways to add charm to your outdoor space.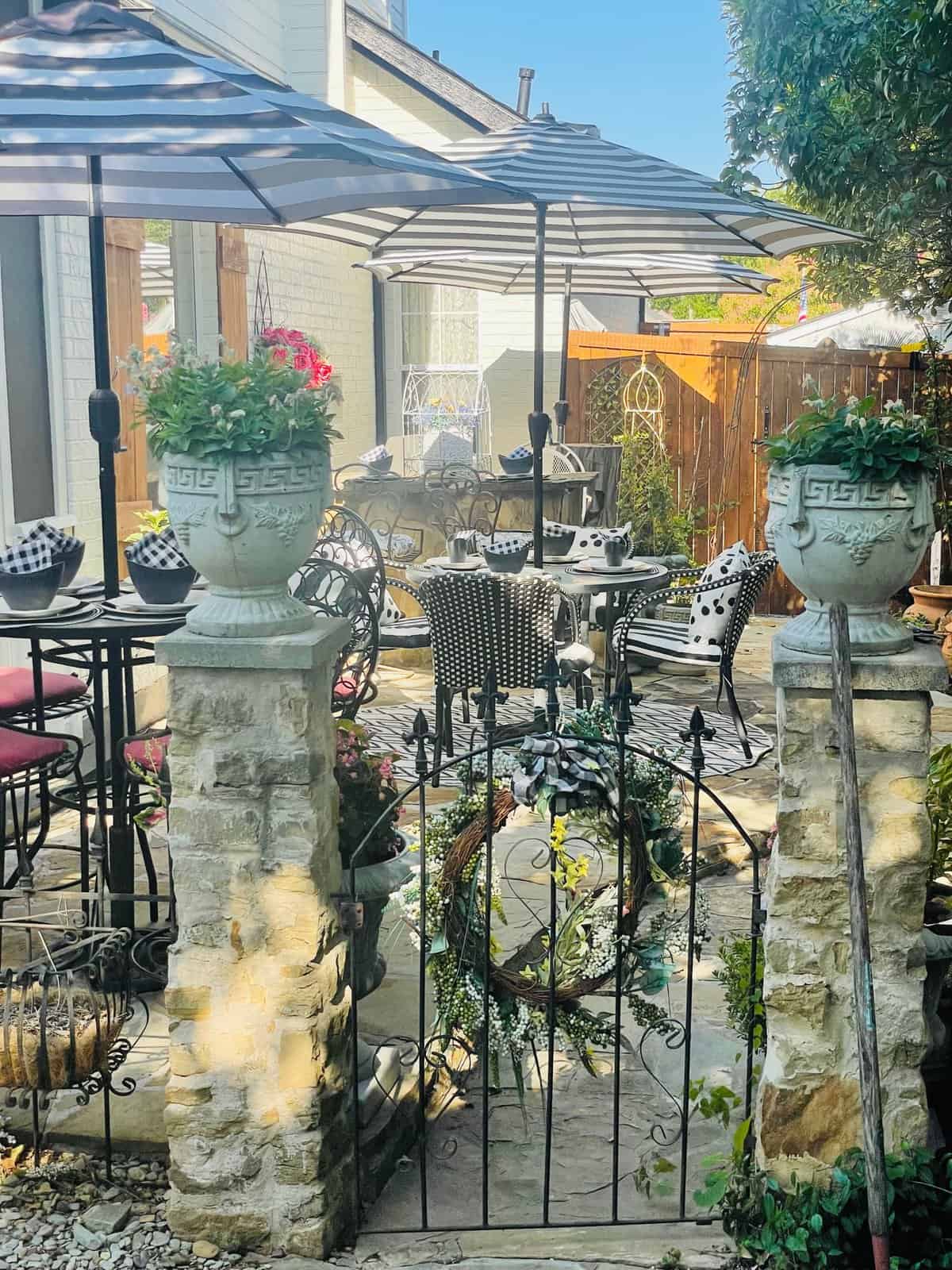 Thanks for Following Along
If you enjoyed this post I hope you sign up to be a friend of Living Large in A Small House! Then you won't miss any of the inspiration that is shared with you each week! You can also follow me on Instagram, Facebook, and YouTube. I share even more inspiration on Pinterest! You can listen to me chat on my Podcast.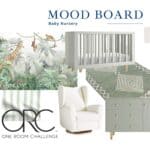 A great way to save this idea is to save it to your Pinterest boards. You can find the pin button in the top right corner of the photo below. Also, don't forget to follow me on Pinterest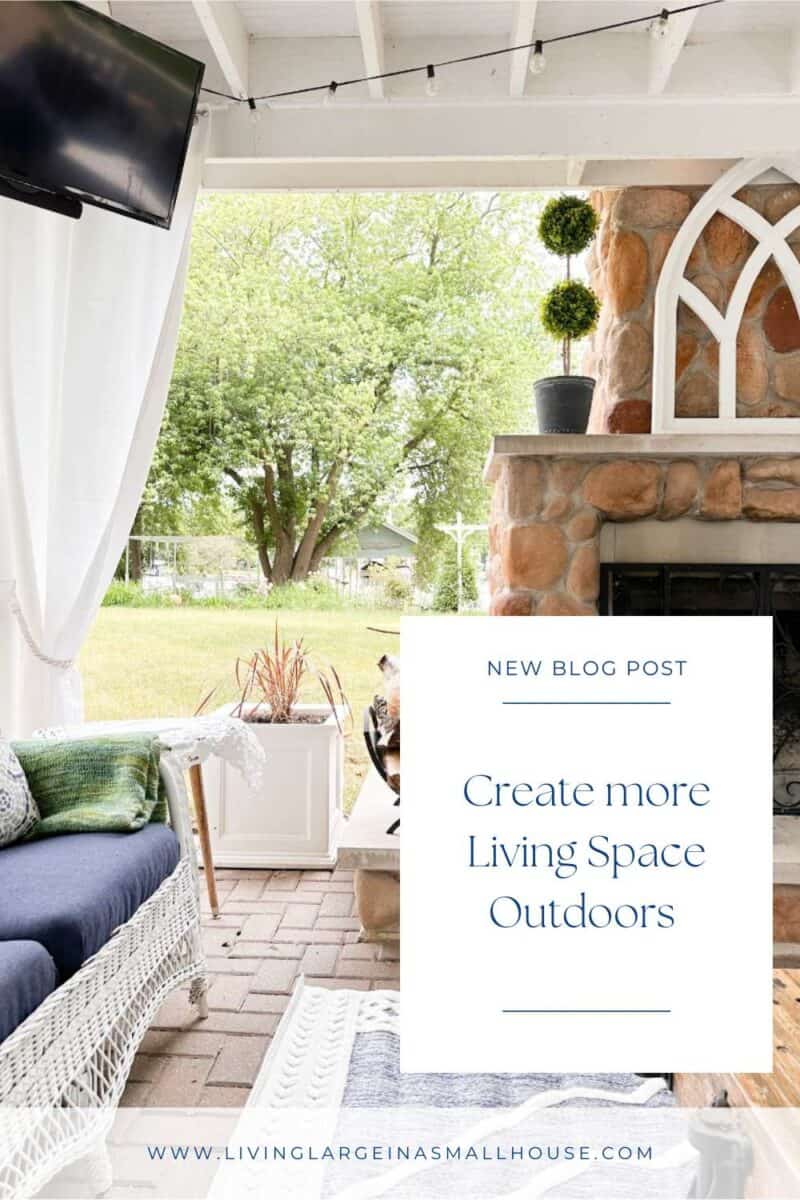 Are you ready to start organizing?
30-Day Cleaning & Organizing
Includes:
30 Page Guide
Tips & Tricks for Successful Organizing
Reproducible Charts, Calendars & Planners, and Worksheets