Spring has Sprung on My Front Porch
Has spring come to your house? Spring has sprung on my front porch. Last week was the Greenhouse Edition and this week is the Front Porch Edition.
Even though we had 3 days of snow last week, I'm not letting it deter me from bringing on all the spring. Because the greenhouse and porch are protected, I can add pillows, throws, and spring flowers to those spaces.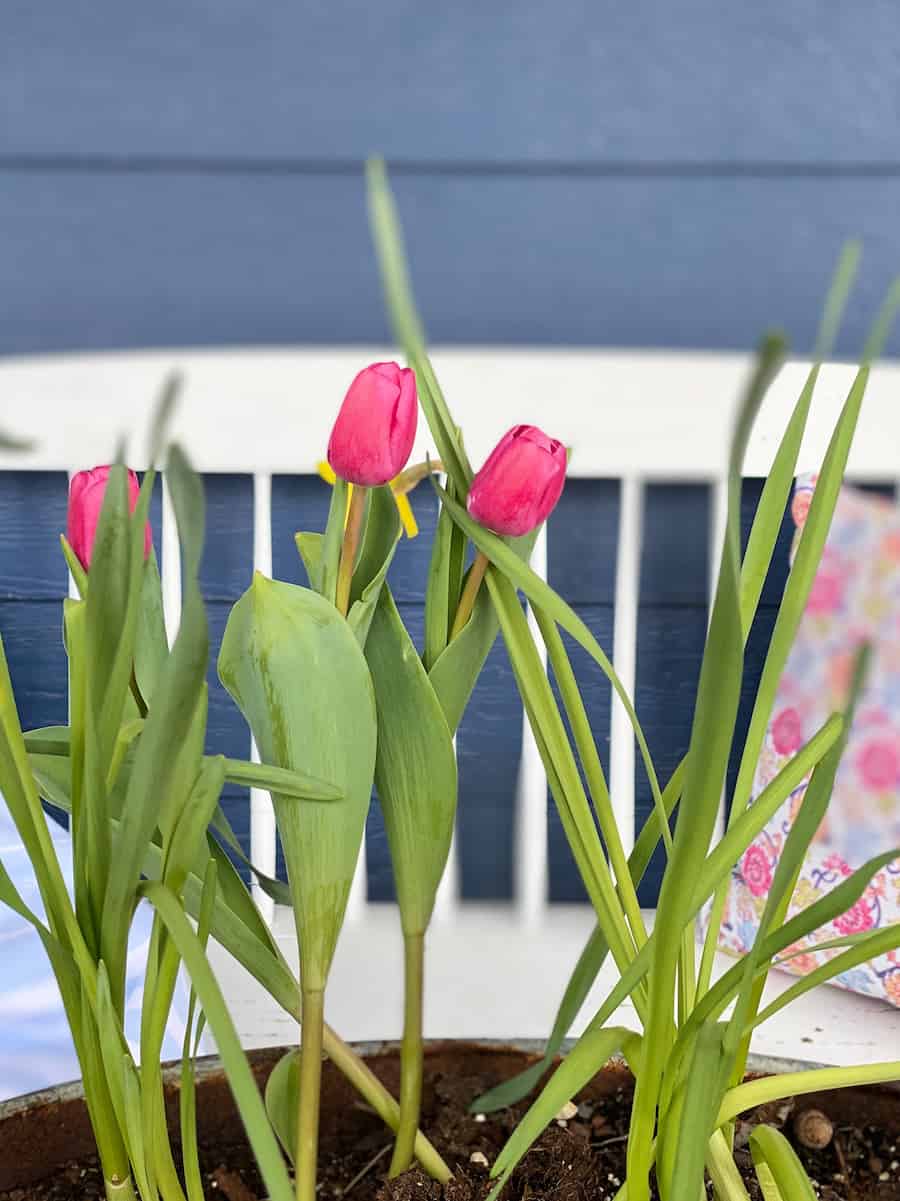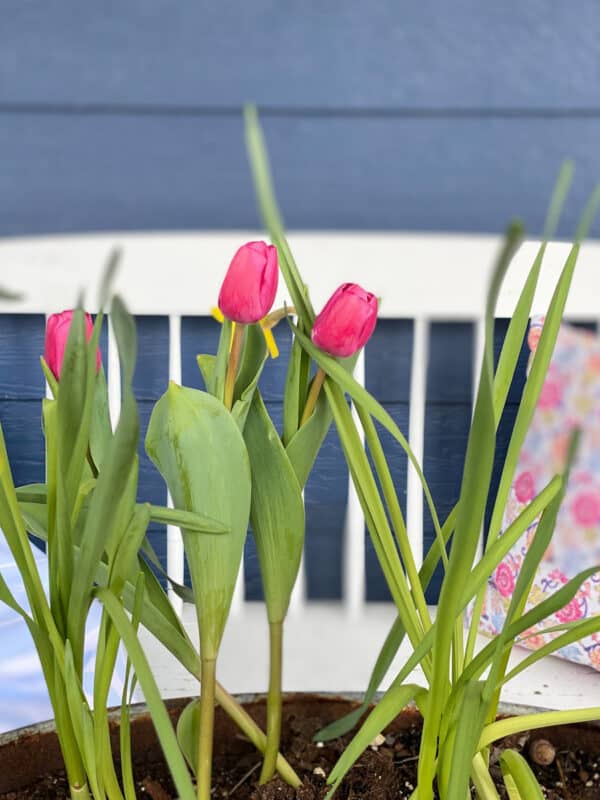 On my blog Living Large in A Small House, I may sometimes use affiliate links, which means a small commission is earned if you make a purchase via the link. The price will be the same whether you use the affiliate link or go directly to the vendor's website using a non-affiliate link. You can find my full Disclosure Policy HERE
Spring has Spring on My Front Porch
Taking down the last remnants of Christmas was the first order of business. The "Christmas Farmhouse" sign got replaced with the "Welcome to My Porch" sign. There were still some white winter twigs in my pots. Those also got removed and put away with the winter decor.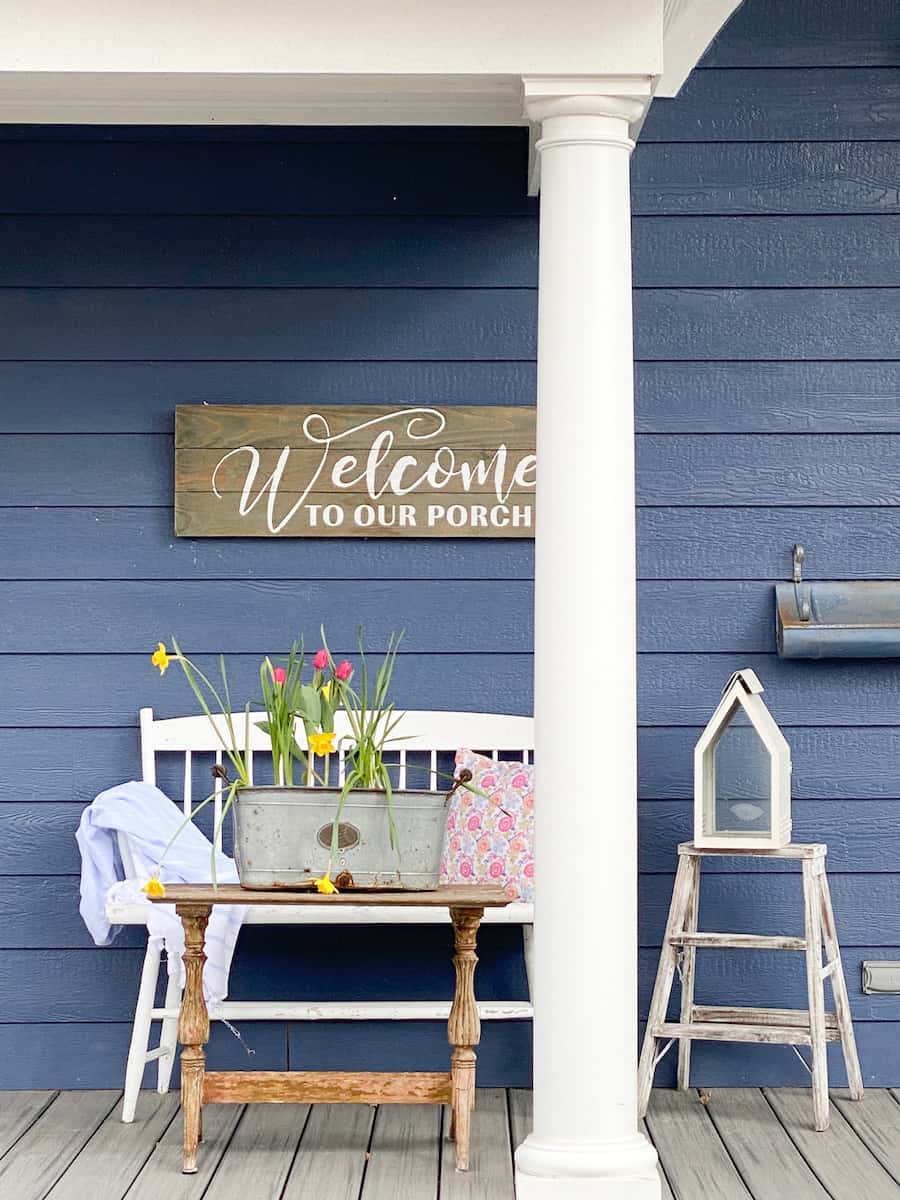 I washed my blue and white rag rug and bought a new front door mat! Places like HomeGoods or Tuesday Morning are perfect for these kinds of things. The prices are so reasonable that it makes replacing it every season a very affordable thing to do. This one cost me $10.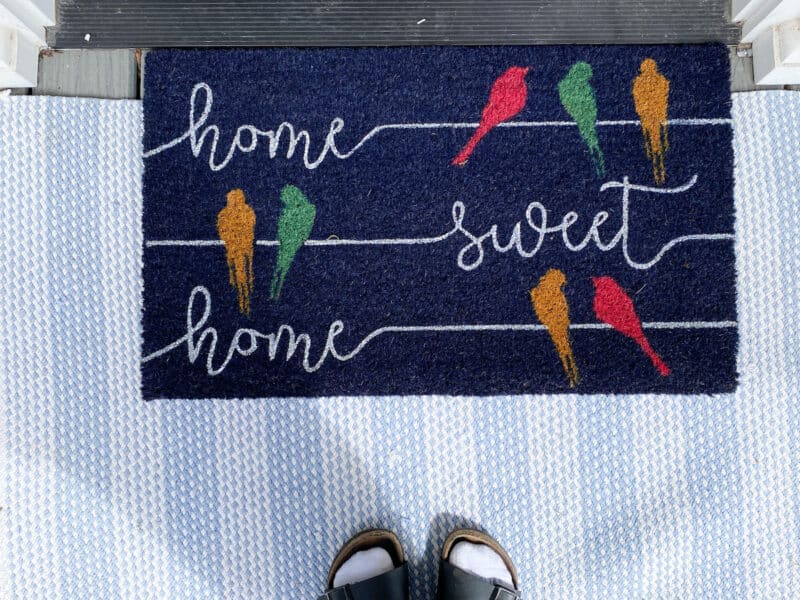 "The Story of Easter is the Story of God's Wonderful Window of Divine Surprise"
– Carl Knudsen
The Front Porch
A front porch is an entry to a home and it's where you say to your family and friends "Welcome! I'm so glad you're here". Making my porch a welcoming space is important to me. We didn't always have a porch. We needed a new roof back in 2017 and that new roof led to so many other things, including the front porch. You can read all about our "May as Well" remodel HERE.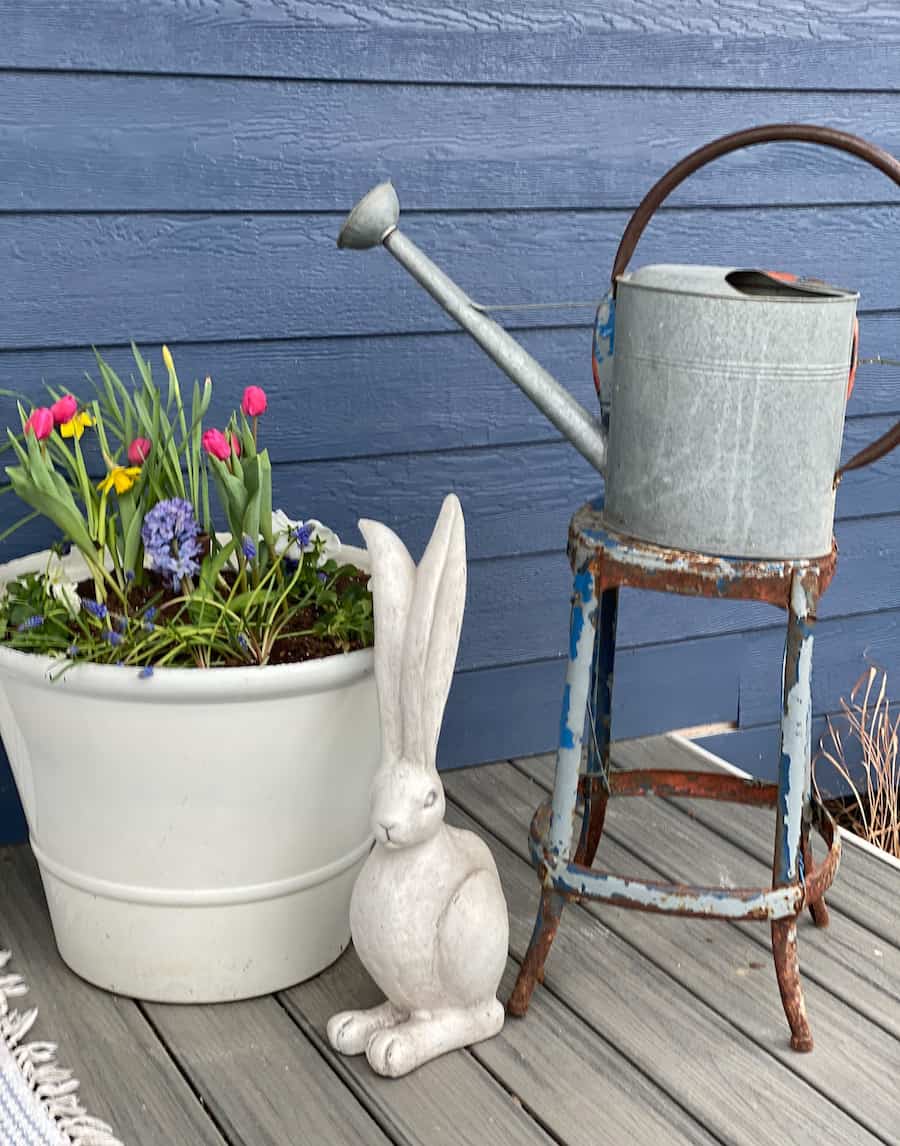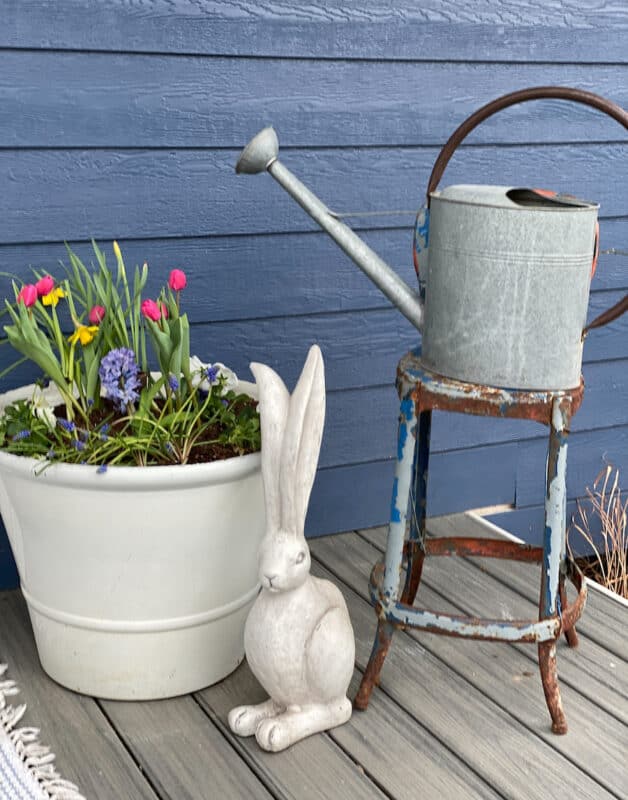 My Favorites for a Front Porch (or entryway)
Wreath on the Door
Flower Pot(s)
Some type of Statement

A cement urn or statue piece
A vintage basket
Vintage Watering Can
Lantern or Candle Holder
Welcoming Sign

Cheerful Door Mat
A Chair or Bench if possible
Good Lighting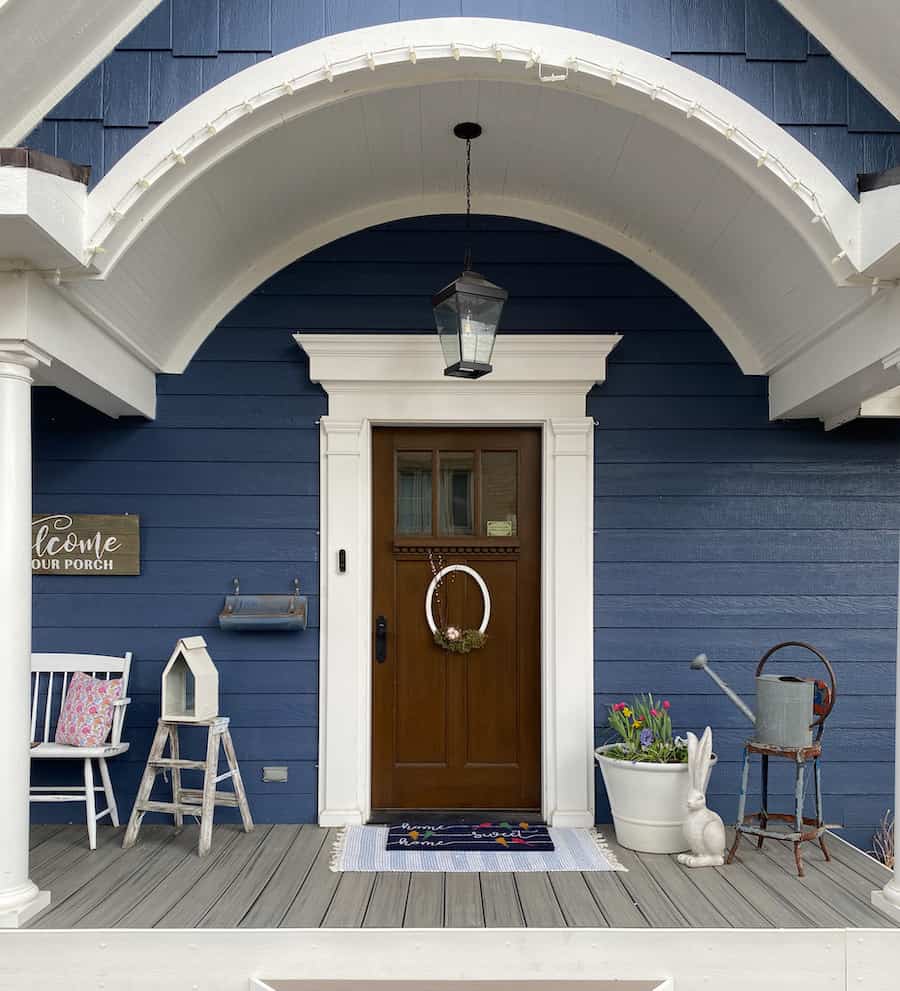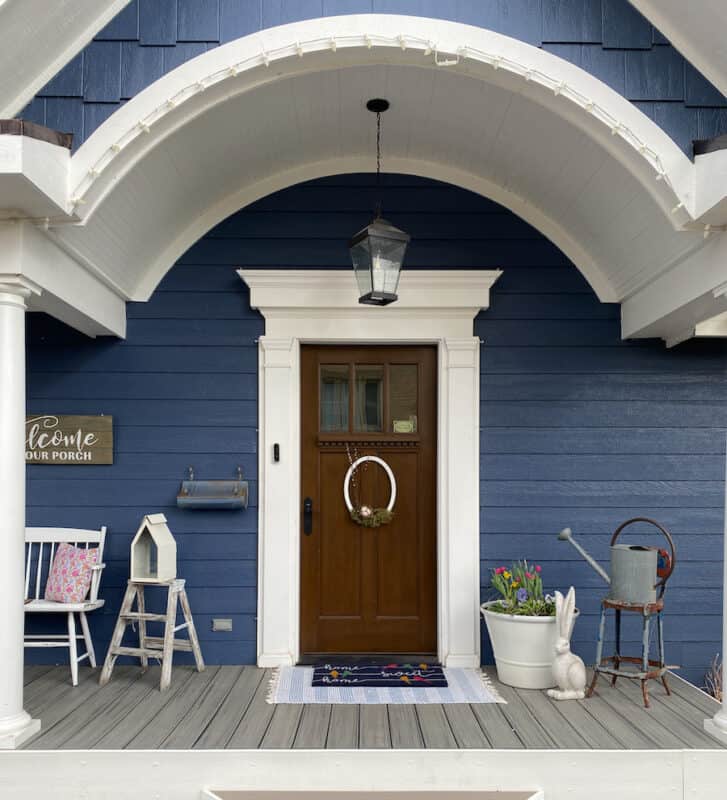 A Spring front porch is an awaking! It's the beginning of a season where the world is waking up again. Cleaning it up and planting beautiful spring bulbs is quite cathartic for me. Yes, spring has sprung on my front porch.
If you are celebrating a religious holiday this month, I share with you this time of reflection and reinforcement of our faith.
Peace,
If you want to read about where I buy my vintage, you can find it HERE