Simple Ideas for a Summer Front Porch Refresh
The dog days of summer are here and it's time for a front porch refresh at this small house.
My early spring flowers are looking pretty bad in my pots and in need of a refresh. That's why I've put together some simple ideas for a summer porch refresh that anyone can do.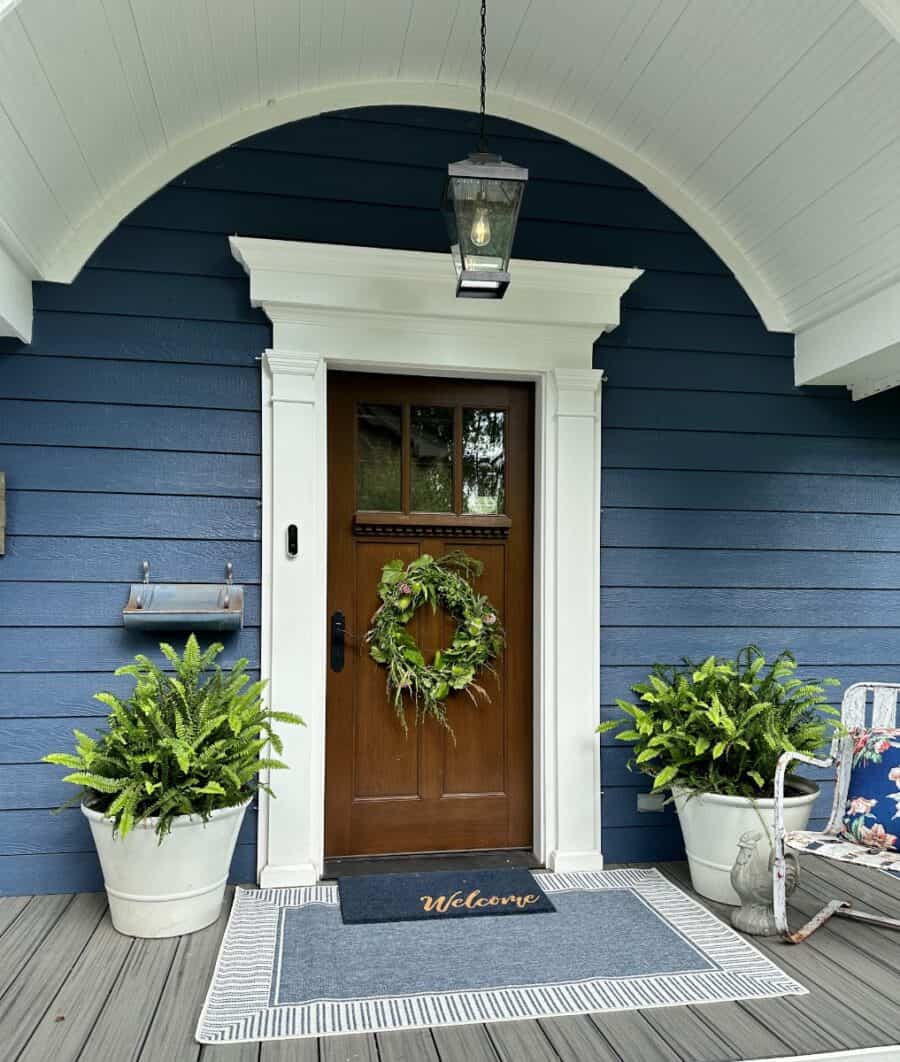 One of the easiest ways to give your front porch a fresh look is by adding some plants. Whether it's a few potted flowers or a hanging basket, plants can add color and life to your porch. Plus, they're a great way to bring a little bit of nature into your outdoor space.
Another idea is to switch out your doormat or add a new one. A fun and colorful doormat can instantly brighten up your porch and make it feel more welcoming.
Another way to refresh your front porch is by adding some new outdoor furniture. A couple of chairs or a bench can create a cozy seating area where you can enjoy your morning coffee or evening cocktail.
And if you're feeling creative, you can even make your own outdoor furniture using pallets or other reclaimed materials. With these simple ideas, you can give your front porch a summer refresh without breaking the bank.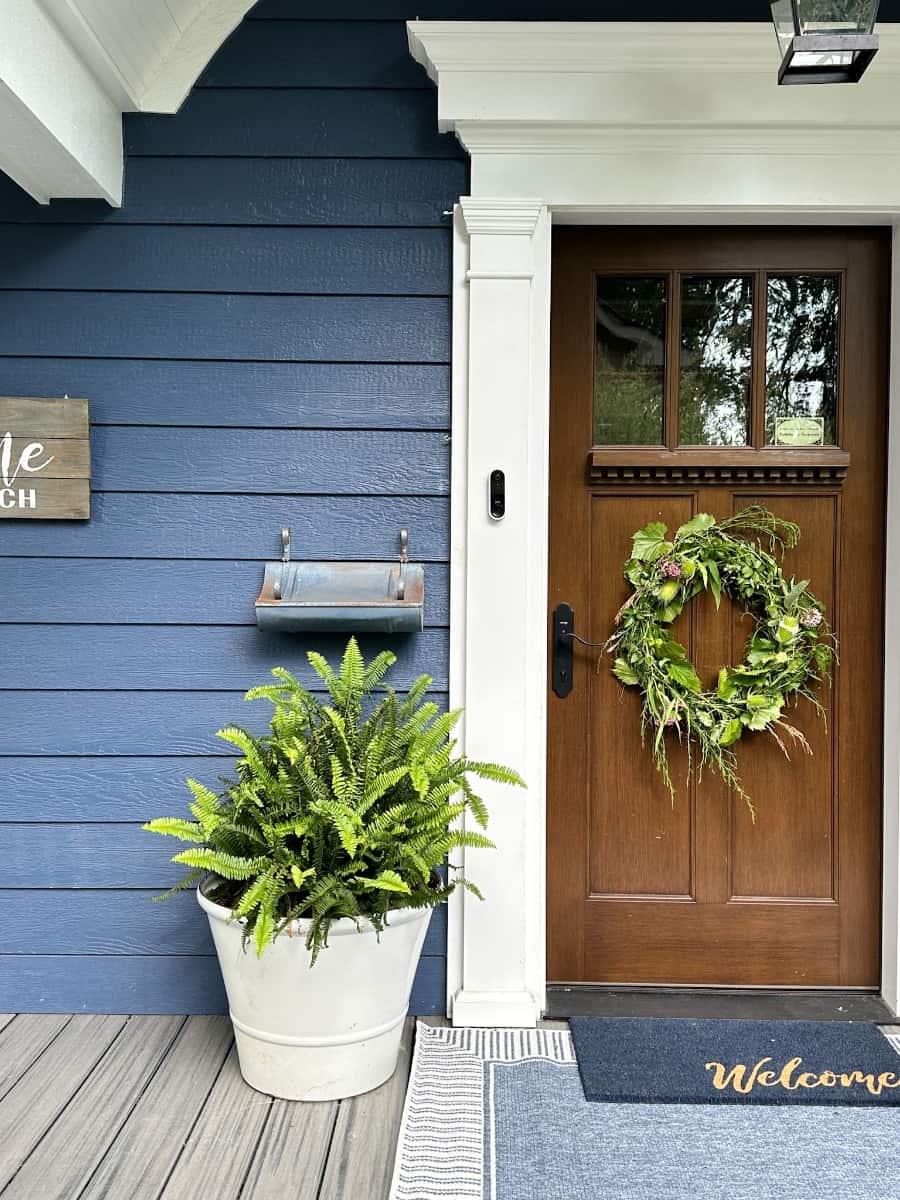 On my blog Living Large in A Small House, I may sometimes use affiliate links, which means a small commission is earned if you make a purchase via the link. The price will be the same whether you use the affiliate link or go directly to the vendor's website using a non-affiliate link. You can find my full Disclosure Policy HERE
Why Refresh Your Summer Front Porch?
As the summer heat rolls in, spending time outdoors becomes more and more appealing. And what better place to relax and enjoy the warm weather than your own front porch? However, after a long winter and spring, your porch may be in need of a refresh. Here are a few reasons why refreshing your summer front porch is a great idea:
Boost curb appeal: Your front porch is the first thing guests and passersby see when approaching your home. A refreshed porch can make a great first impression and give your home a boost in curb appeal. Since we are having a few events coming up so this is a great time to make a few simple changes that will make my front porch look inviting.
Create a welcoming space: A well-decorated front porch can create a warm and inviting atmosphere for your family and guests. It's the perfect place to enjoy a cup of coffee in the morning or relax with a book in the afternoon.
Increase home value: A refreshed front porch can add value to your home. It's a relatively inexpensive way to improve your home's overall appearance and functionality.
Enjoy the outdoors: With a refreshed front porch, you'll have a comfortable and stylish space to enjoy the outdoors. Whether you're entertaining guests or just relaxing with your family, a well-decorated front porch can enhance your outdoor experience.
Overall, refreshing your summer front porch is a simple and effective way to improve your home's appearance, functionality, and value. So, grab a cold drink and get started on your front porch refresh today!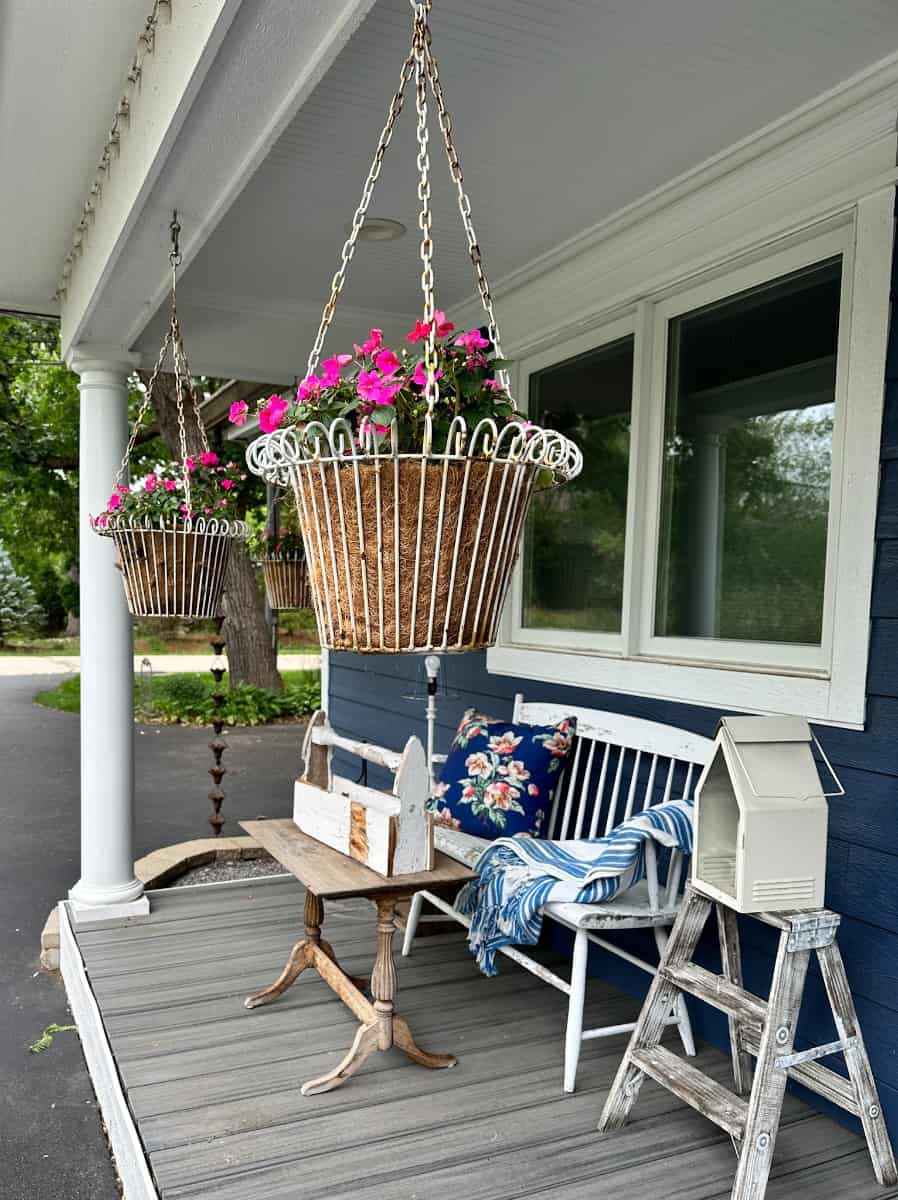 Choosing the Right Color Palette
When refreshing your front porch for summer, choosing the right color palette is key to creating a welcoming and inviting space. Here are two color palettes to consider: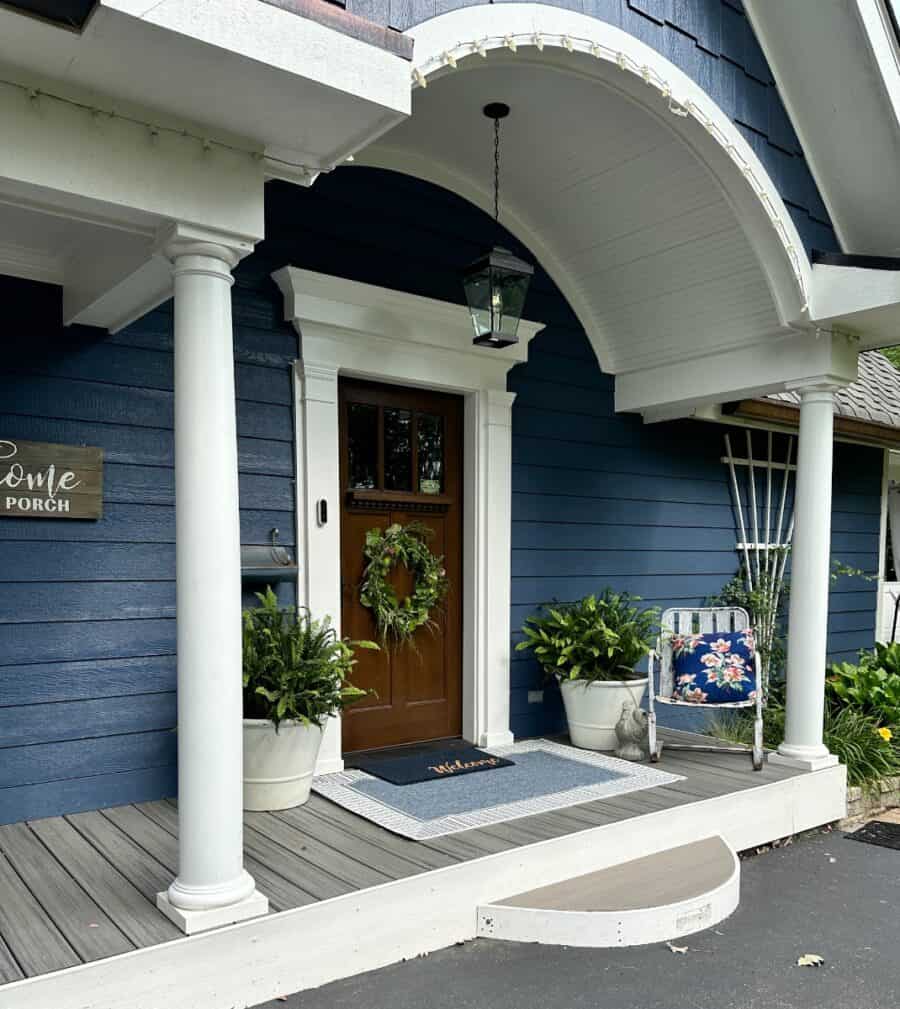 Bright and Bold
If you want your porch to make a statement, consider a bright and bold color palette. Think about using colors like yellow, orange, and pink to add energy and excitement to your space. Pair these colors with neutrals like white or gray to balance out the boldness.
Cool and Calm
If you prefer a more relaxing and peaceful atmosphere, a cool and calm color palette might be the way to go. Consider using shades of blue or green to create a serene and tranquil space. You can also add in some white or beige to keep the space feeling light and airy.
No matter which color palette you choose, make sure to incorporate it throughout your porch decor. From your furniture to your accessories, a cohesive color scheme will tie everything together and create a polished look.

Selecting Summer Furniture
When refreshing your front porch for summer, selecting the right furniture is key. Here are a few things to keep in mind when choosing your pieces.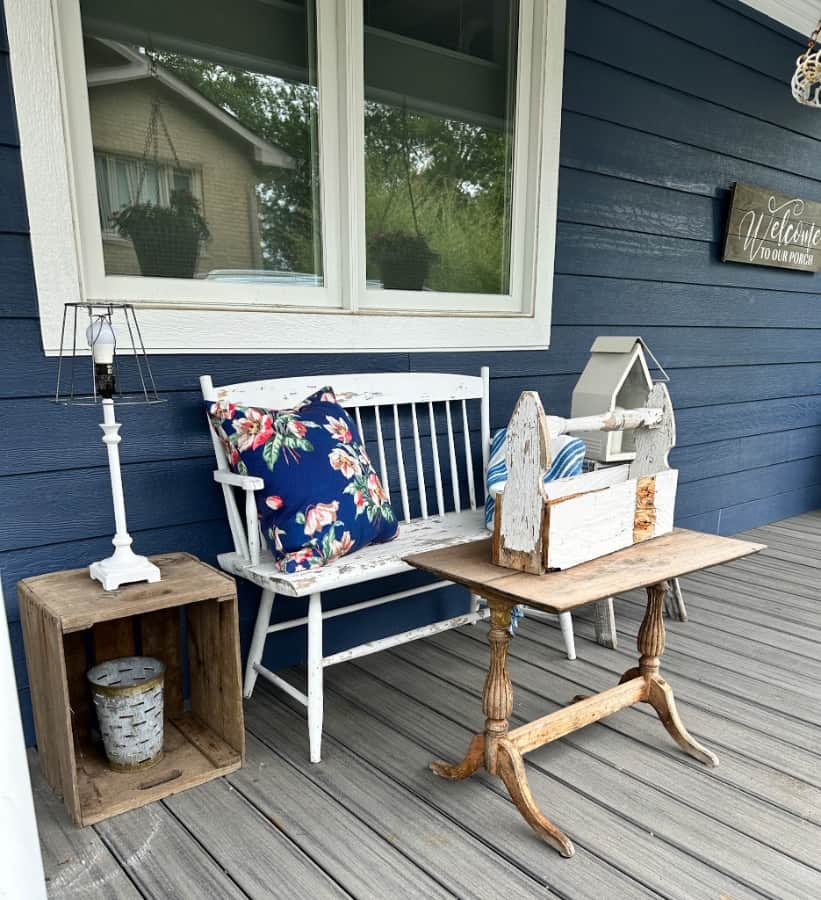 Comfortable Seating Options
First and foremost, you want your porch furniture to be comfortable. After all, you'll be spending plenty of time out here enjoying the summer weather. Look for chairs and sofas with plush cushions and supportive frames. Wicker and rattan are popular materials for outdoor furniture that are both comfortable and stylish. I have a vintage wooden bench on my front porch and I love it. I'm able to get away with things that aren't outdoor furniture because we have a covered porch. I don't know that it would be that practical without it.
I have considered a whole new look with a front porch swing but once you do that then you are limited with what you can do creatively with moving things around like I tend to do. But I do love the look.
Functional Tables
Tables are another important element of your front porch setup. Look for options that are both functional and stylish. A coffee table or side table is perfect for holding drinks and snacks, while a console table can provide extra storage space for outdoor essentials. Consider materials like metal or wood that are durable enough to withstand the elements.
That's it for selecting summer furniture! Keep these tips in mind when shopping for your front porch makeover and you'll be sure to create a comfortable and stylish outdoor oasis.
Incorporating Greenery
Adding some greenery to your front porch is an easy way to refresh its look and feel. Here are a few ideas: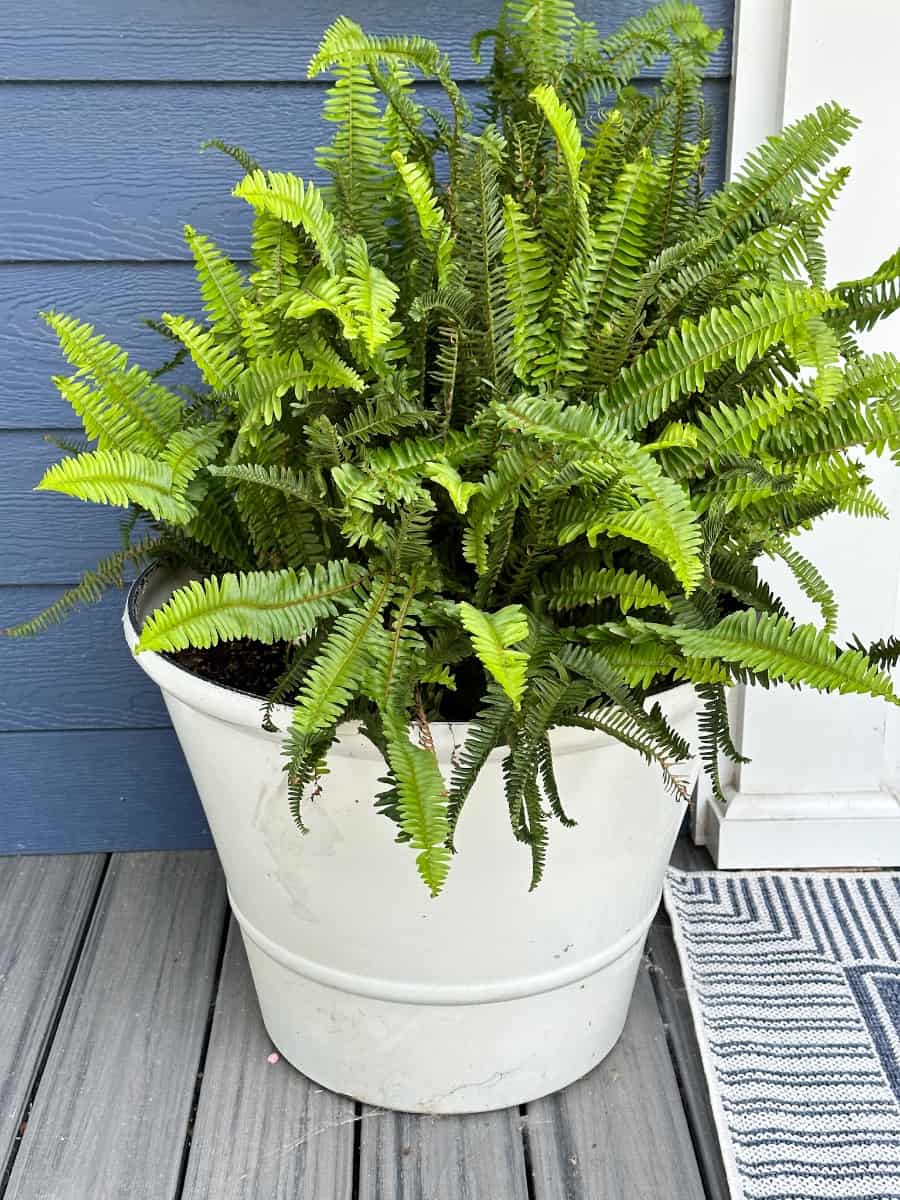 Potted Plants
I love using potted plants to decorate my front porch. They are easy to care for and come in so many different varieties. I like to mix and match different types of plants to create a visually interesting display.
This year I'm not filling my two pots that flank my door with flowers, I'm putting in ferns for a change.
When choosing plants for your porch, make sure to consider how much sunlight and water they need. You can also use different-sized pots to create depth and dimension.
Hanging Baskets
Another way to incorporate greenery is by using hanging baskets. These are perfect for adding height and texture to your porch. Some good options include:
Fuchsia: These plants have beautiful, bright flowers that hang down from the basket.
Boston Fern: These ferns have long, flowing fronds that look great in a hanging basket.
Geraniums: These flowers come in many different colors and are easy to care for.
Last year I had baskets of ferns hanging on my front porch. This year I found some vintage wire baskets and filled those with flowers to change things up. We don't get much sun on our front porch so I used impatiens in my baskets.
When choosing the type of plants you want for your front porch, make sure to consider how much sunlight they need and how often they need to be watered.
By incorporating greenery into your front porch refresh, you can create a welcoming and inviting space that is the perfect spot for enjoying the summer weather.
Adding Decorative Elements
As I was refreshing my front porch for the summer, I found that adding some decorative elements can really transform the space. Here are a few ideas that worked well for me: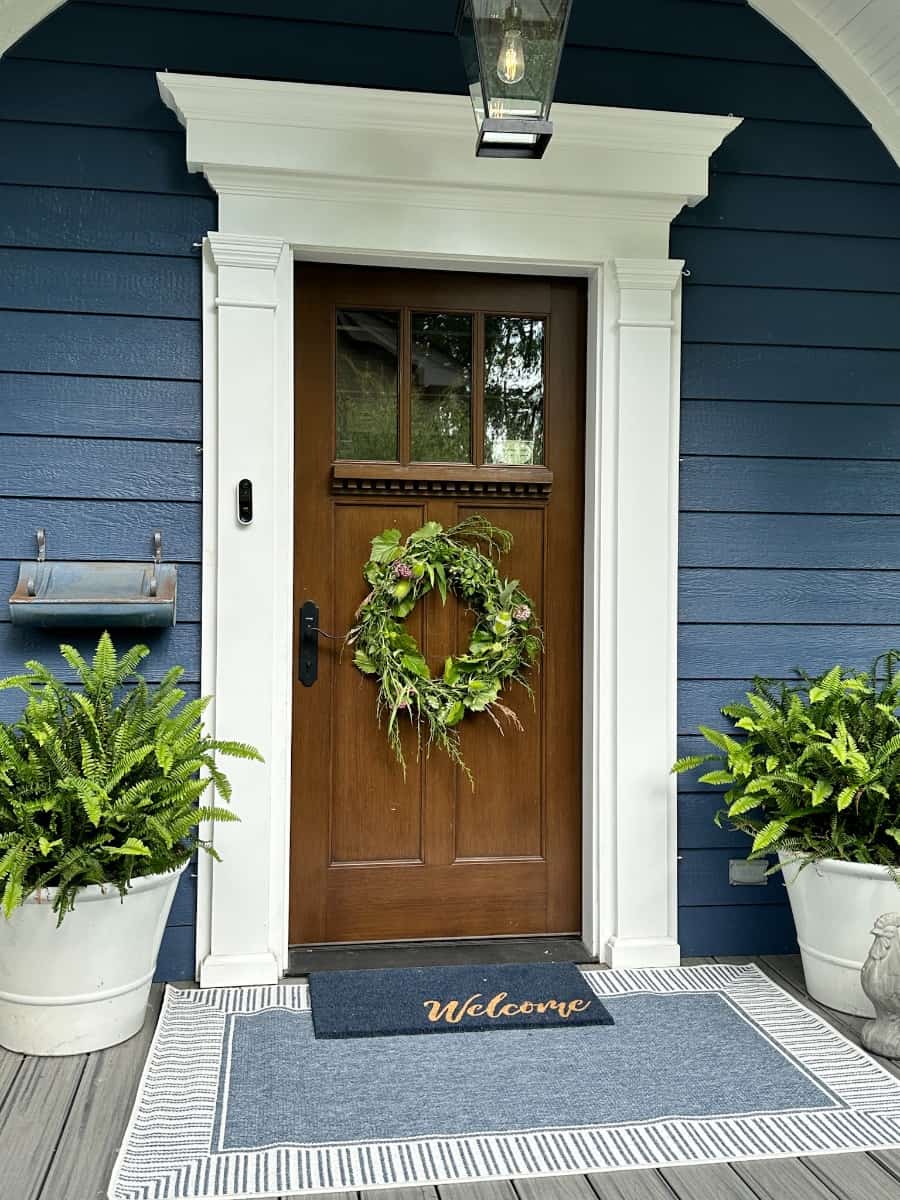 Outdoor Rugs
One of the easiest ways to give a fresh new look to your front porch is by adding an outdoor rug. Not only does it make the space feel cozy, but it can also help define the seating area or highlight the front door. I'm in love with the Hettick 5 x 7 rug that was gifted to me by Boutique Rugs. I topped it with a fun welcome mat for a great layered look.
Right now you can get an additional 10% off their already discounted prices by using my coupon code LIVINGLARGE
Cushions and Throws
To make my front porch feel more inviting, I added some cushions and throws to my seating area. I chose cushions in bright colors and patterns to add some visual interest, and I found a lightweight throw that is perfect for those cooler summer evenings. Not only do they add some extra comfort, but they also make the space feel cozy and welcoming.
Front Door Wreaths
​I like to have a seasonal wreath on my front door. I've been really enjoying cutting weeds from the side of the road so I decided to take a wire wreath frame that I got from the Dollar Tree and make it a living wreath with all my side-of-the-road cuttings. I'm actually very pleased with the way it turned out.
However, the live plants only lasted a few days so I'll be taking it down and adding summer season faux flowers to the wire frame.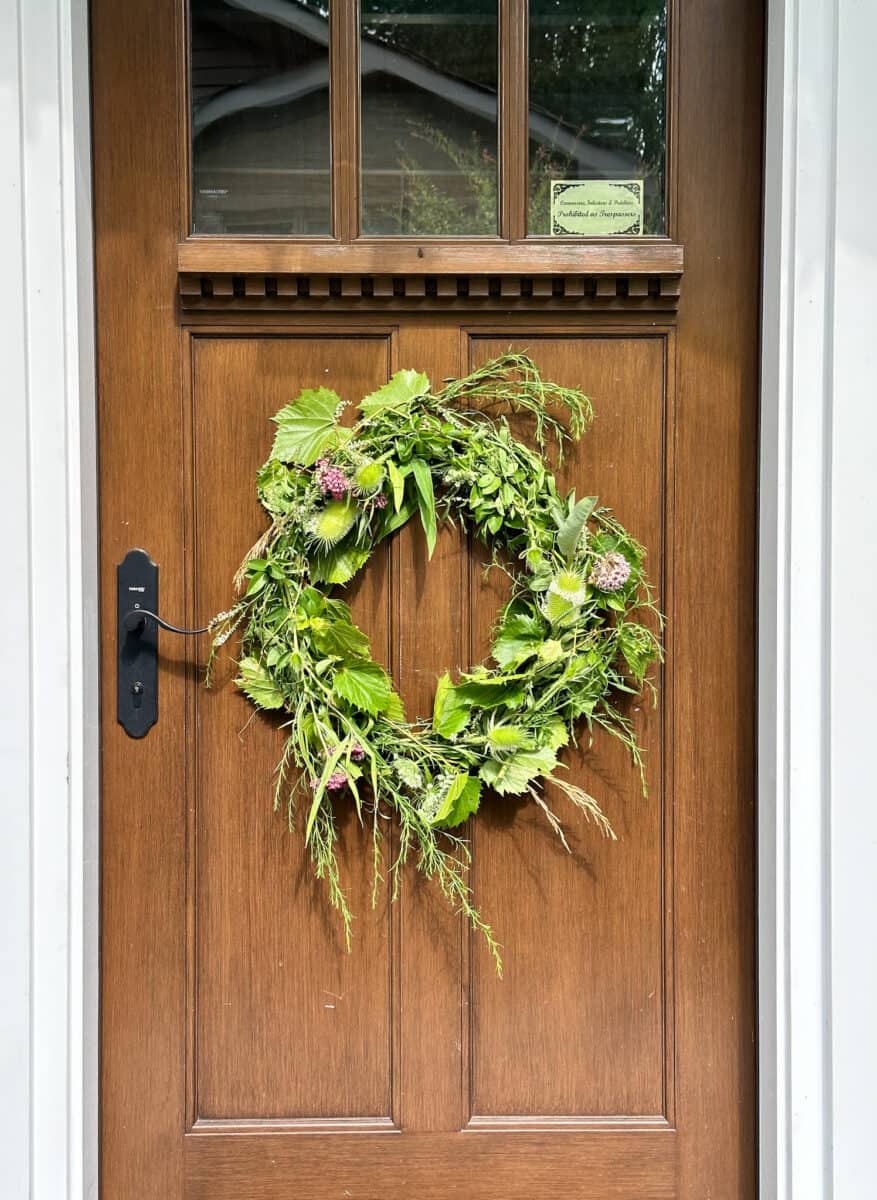 Lighting
Finally, I added some lighting to my front porch to create a warm and inviting atmosphere.
I had an old lamp that I wasn't using and topped it with a deconstructed wire lamp shade so that I wouldn't have to worry about it getting dirty.
You can also add some string lights or fairy lights to your front porch but the lamp and our porch light fixtures give our space enough lighting. We have string lights right around the corner on our back porch (outdoor living room) and you can see them shining from the front porch.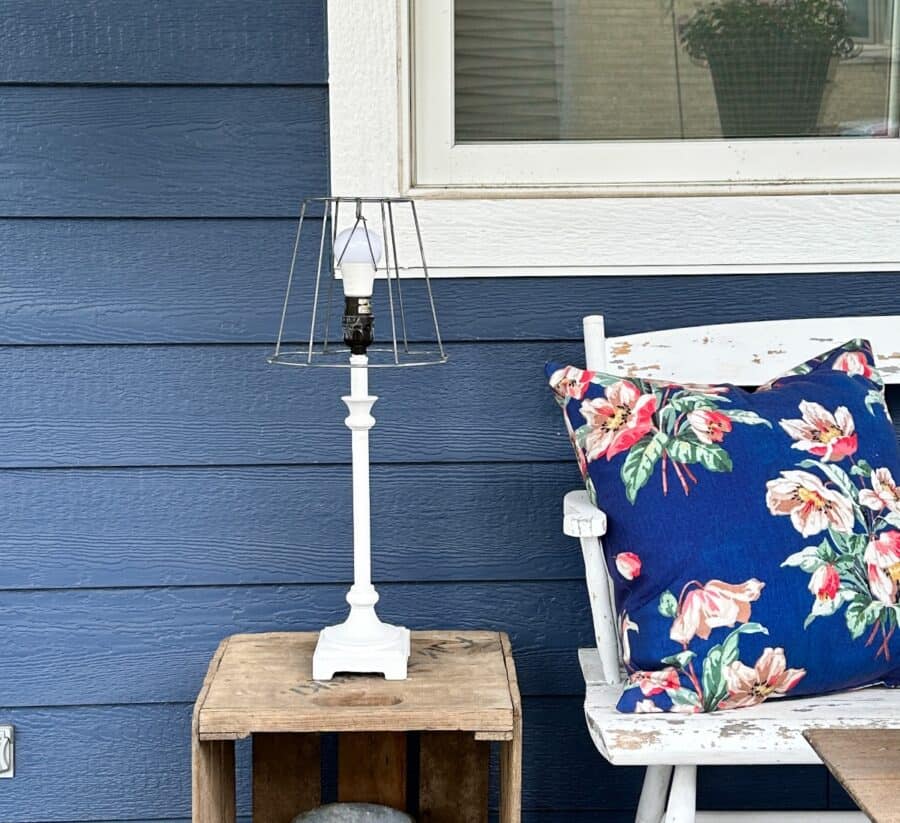 I have also added a few lanterns with candles to add a soft glow when I want a really cozy vibe.
Overall, adding some decorative elements to your front porch can really transform the space and make it feel more inviting. Whether you choose to add an outdoor rug, some cushions and throws, or some lighting, these simple front porch ideas can help you create a cozy and welcoming space that you'll love spending time in all summer long.
Maintaining Your Summer Front Porch
As much as I love spending time on my front porch during the summer, it's important to keep it maintained and looking its best. Here are a few simple tips for maintaining your summer front porch:
Sweep regularly: With all the foot traffic and summer breezes, my front porch can quickly accumulate dirt, dust, and debris. I make it a point to sweep it at least once a week to keep it looking tidy.
Water plants often: I love having plants on my front porch, but they need regular watering during the summer months. I make sure to water them every other day, or more frequently if it's particularly hot and dry outside.
Wipe down furniture: My front porch furniture can get dusty and dirty, especially if it's been sitting unused for a few days. I wipe it down with a damp cloth every few days to keep it looking fresh.
Replace burnt-out light bulbs: I like to keep my front porch well-lit, especially when I have guests over in the evening. If any of my light bulbs burn out, I replace them right away so that my porch stays bright and welcoming.
Check for damage: Summer storms can sometimes cause damage to my front porch, such as broken or loose boards. I make sure to check for any damage after a storm and fix it as soon as possible to prevent further problems.
By following these simple tips, I can keep my summer front porch looking beautiful and welcoming all season long.
Peace and Love,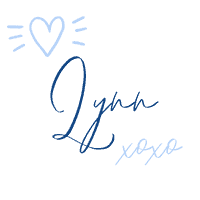 Frequently Asked Questions
What are some affordable ways to refresh my front porch for summer?
If you're looking for affordable ways to refresh your front porch for summer, there are a few simple things you can do. First, consider adding some colorful outdoor pillows or cushions to your seating area. You can also add a new outdoor rug and fun welcome mats. Have you considered a fresh coat of paint on your front door? What a difference that can make. Another idea is to add some hanging baskets or potted plants to your porch for a pop of color and greenery.
How can I create a cozy atmosphere on my front porch?
Creating a cozy atmosphere on your front porch is easy with a few simple touches. First, add some comfortable seating, such as a rocking chair or a porch swing. You can also add some soft lighting, such as string lights or lanterns, to create a warm and inviting atmosphere. Finally, consider adding some cozy textiles, such as throw blankets or outdoor curtains, to your porch to make it feel even more inviting. I have great luck at Home Goods with throw pillows and blankets.
What are some ways to incorporate plants into my front porch decor?
Incorporating plants into your front porch decor is a great way to add some natural beauty and color to your space. Consider adding some hanging baskets or potted plants to your porch, or even creating a vertical garden using a trellis or wall-mounted planters. You can also add some fresh herbs to your porch for a functional and beautiful touch. Just be sure to choose plants that are appropriate for your climate and the amount of sunlight your porch receives.
What if I have a small front porch?
​If your front porch is small you can still make it really cute with a new front door wreath, a welcome mat, and perhaps one pot filled with colorful flowers.
You could also give your home an update with a front door makeover. new hardware and new house numbers. What a difference that would make!

Thanks for Following Along
If you enjoyed this post I hope you sign-up to be a friend of Living Large in A Small House! Then you won't miss any of the inspiration that is shared with you each week! You can also follow me on Instagram, Facebook, and YouTube. I share even more inspiration on Pinterest! You can listen to me chat on my Podcast.


A great way to save this article is to save it to your Pinterest boards. You can find the pin button in the top right corner of the photo below. Also, don't forget to follow me on Pinterest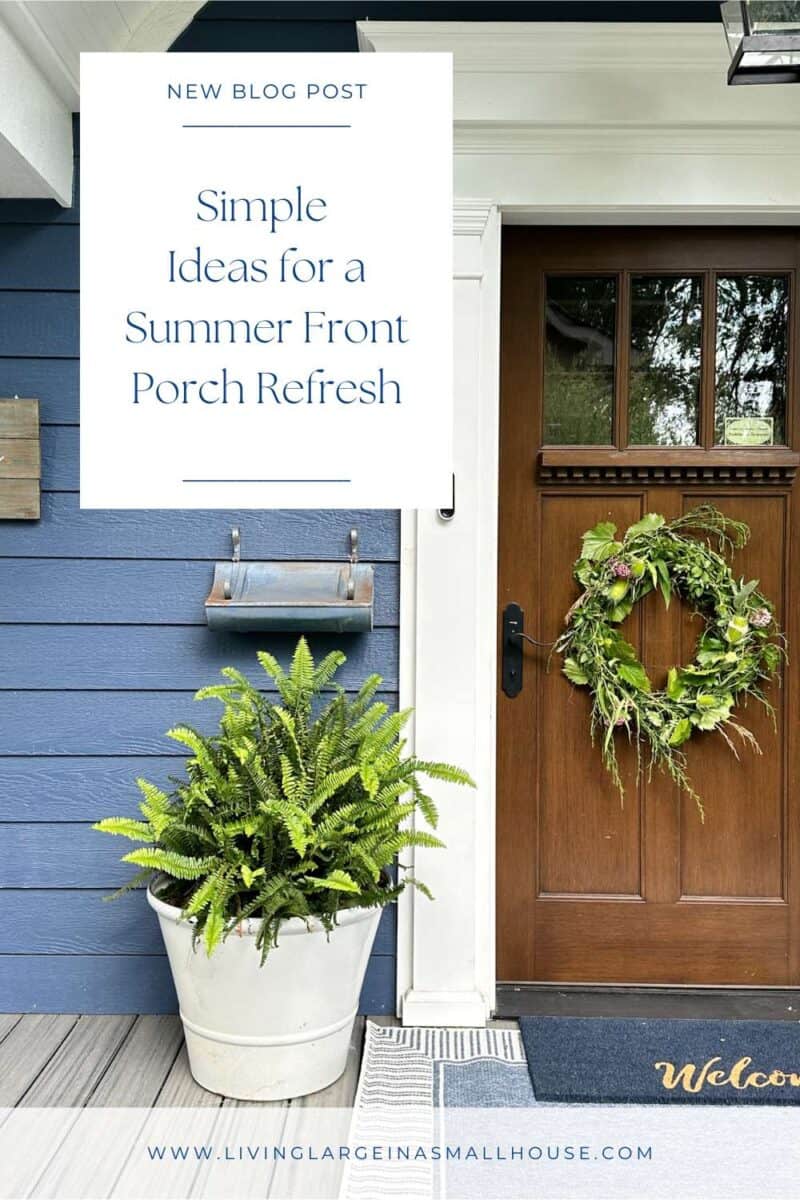 living large podcast
This weekend on my podcast I'm chatting with Katherine from Fancy Flower Girls. During Covid, she started planting flowers in her yard and it has now turned into a little business.

Are you ready to start organizing?
30-Day Cleaning & Organizing
Includes:
30 Page Guide
Tips & Tricks for Successful Organizing
Reproducible Charts, Calendars & Planners, and Worksheets