Design Style over the Years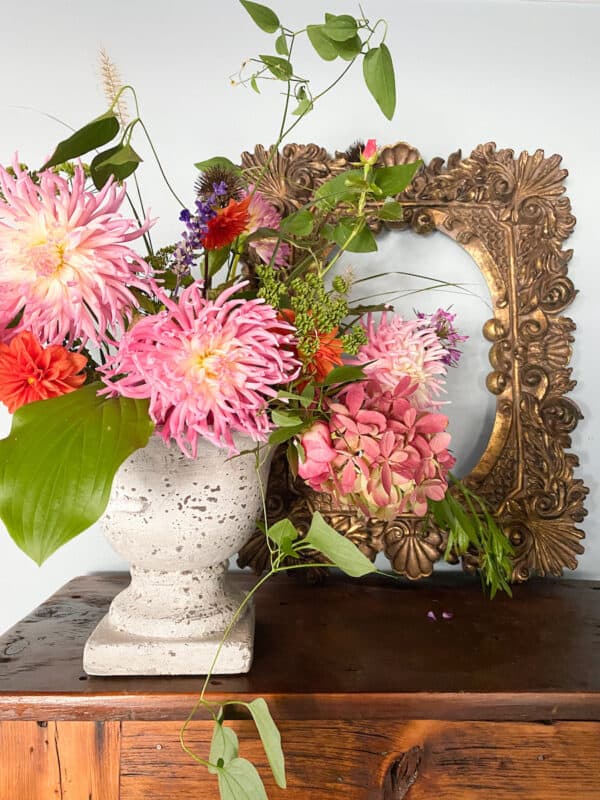 Today I wanted to share my design style over the years and how they have changed. While the change hasn't been drastic and it's kind of come back around from when I was younger, it has definitely evolved. It has always had a traditional lean. In my early 20's my style was primitive country and it has circled back to eclectic modern farmhouse (that's what I call it). As I've gotten older, my taste has become more refined. I'm also not afraid to just do me. I use things that I love and I don't really care if the "style" is perfect or correct. I want my home to be cozy, comfortable, and inviting.
Early 80's Style
When I got married the first time in 1981, we bought a typical suburban tri-level home (not my choice at all). Our furniture was a combination of victorian pieces that were inherited from my ex-husband's grandmother along with an oak dining room table that was one of the first pieces of furniture we bought together.
When we move into our second home, a cute Cape Cod which was much more my style, I went down the country path. Printer boxes on the wall. Braided rugs on the hardwood floors along with blue, green, and red plaid furniture. Let's not forget the ruffled country curtains in all the windows. The company that I bought them from doesn't appear to still be in business but at the time they were famous for their floor-length ruffled curtains. I was able to find some that are very similar on ETSY.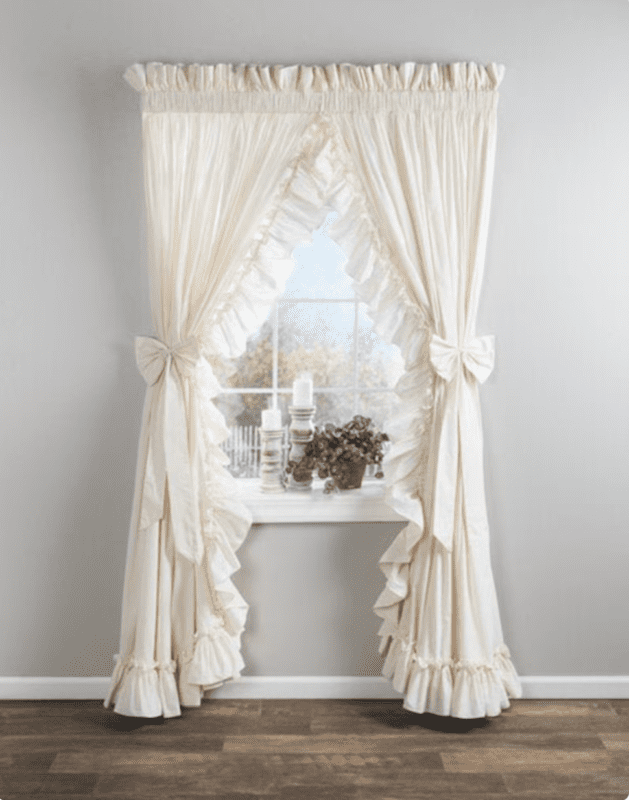 I also painted everything colonial blue. All the windows blue, some wood furniture, and even my fireplace mantel were painted in colonial blue.
We were only in the Cape Cod for about 18 months. Once I had Kenny, we thought it was too small. ( It was 150 more sq. ft., than what I live in now). We moved to a big 5 bedroom two-story colonial. I thought that I would fill the rooms up with kids but life had another plan for me.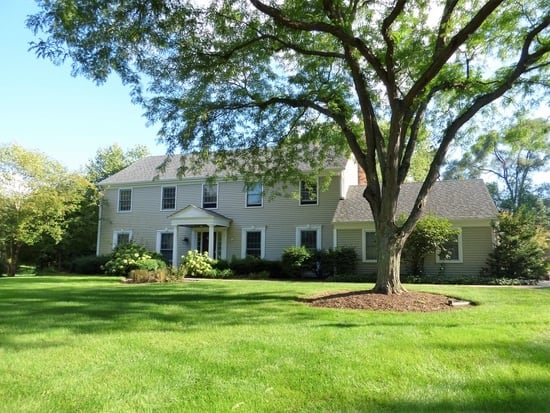 The picture below isn't mine but it sure could have been. It's uncanny how close to what my family room looked like in our third house.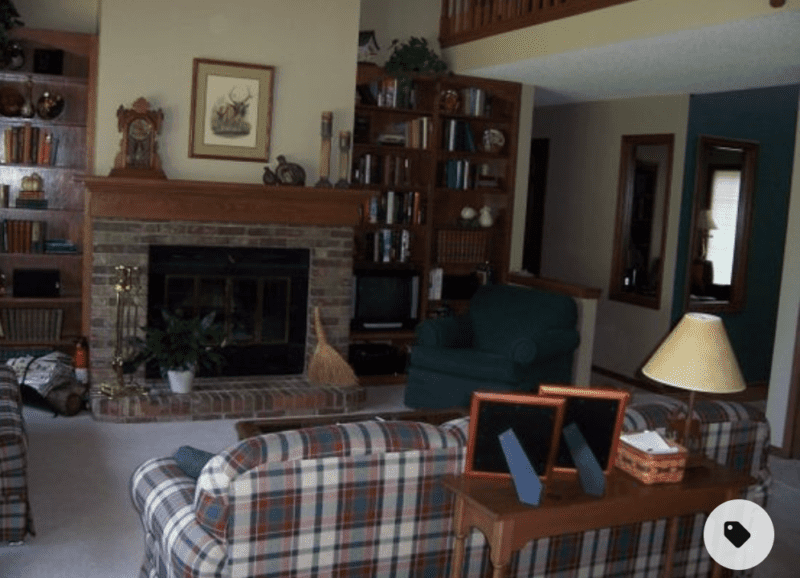 Early 90's Style
When I left our third house, I left with just my clothes and my son. At the time I was finishing my degree in Interior Design and my style had changed and I didn't want anything from my old life. Kenny and I moved into a historical old farmhouse that was built in 1900. It needed a ton of work and I learned how to do everything from electrical, plumbing, and woodworking.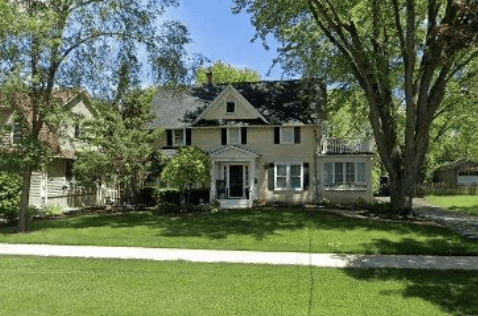 This house was all Laura Ashley, Waverly, and Chintz. While my style was very traditional, it had a fun element of beautiful, bright color. My dining room had periwinkle walls above the white wainscotting. My living room was painted a creamy, buttery yellow and my fabrics were yellow, white, blue, and pinks. The hallway in between the two rooms was wallpapered in a colorful stripe that tied both rooms together beautifully. My bedroom was white and pink with a hint of blue. Kenny's room was periwinkle blue and the guest bedroom was also pinks and blues. Poor Kenny! He was definitely living in a single mom's house!
Because I was living in a real-life project. My home became my senior design project. Below are my boards that are 30+ years old. You can tell that they are old. Back in the day, everything was drawn by hand. There weren't even computers let alone CAD. I had them in a portfolio with plastic sleeves and a lot of my architecture tape stuck to the plastic and didn't fare well when I took them out.
It brought back a flood of memories. I loved this house! It was filled with my blood, sweat, and tears. Plus a little ghost who lived with us!
Living with "Handy"
And then I met "Handy"….. I moved into his bachelor pad when we got married and If you've been here before, you know that I had no intentions of staying here. I've shared that HERE, HERE, and HERE. 🙂
I've lived here for 28 years. Prior to this home, I had not lived in a house (in my adult life) for more than 3 years. Consequently, this house has gone through a lot of changes. There isn't anything that is original to the house except for the cedar plank ceilings. Honestly, if I had my way, even those would have been changed.
The walls in the family/dining area have been white, cranberry, light sage green and now a grey/blue which I'm going to be changing soon to a different blue to match my new rug. (I'm obsessed with my rug and you can find it HERE)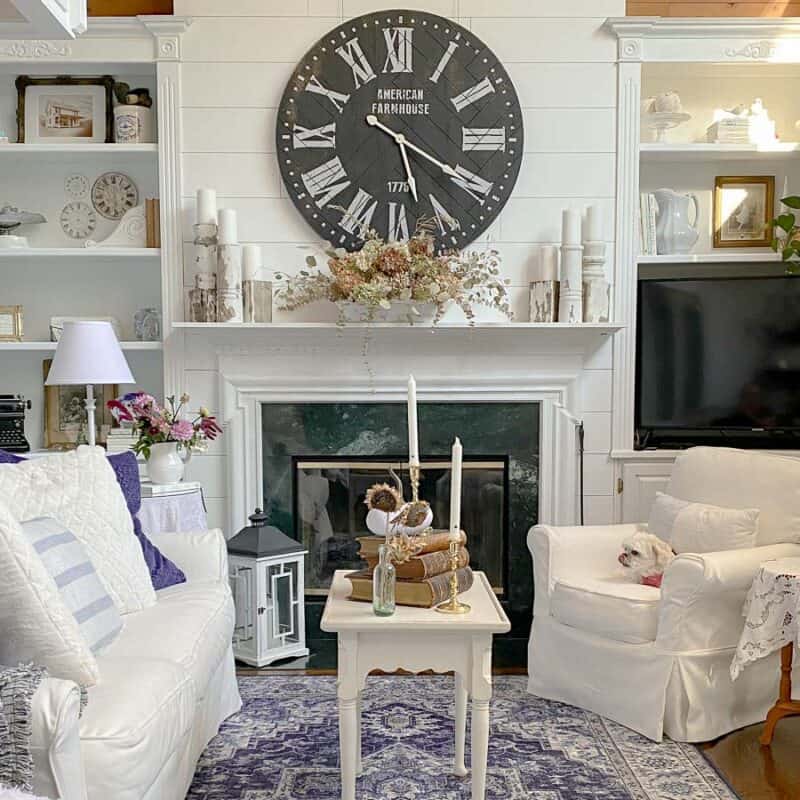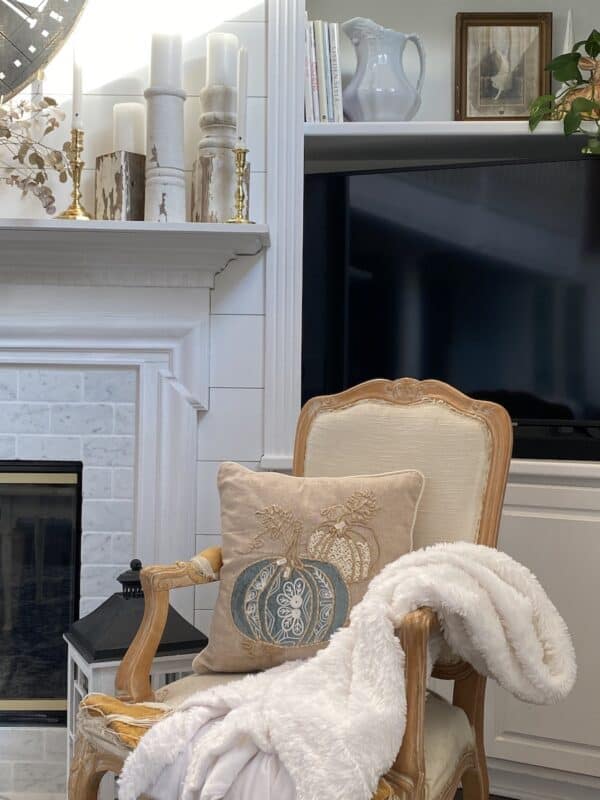 Nothing stays the same and in my trip around this world, I love that I can change things up as my taste evolve, as the mood strikes, and as the season change. I'm so lucky that I have "Handy" who puts up with all the things that make me who I am!
Special Announcement
I'm so excited to share that next week I'm partnering with Diane from South House Designs (the Christmas Stocking Queen) to bring you
12 DAYS OF CHRISTMAS
Decorating Edition (Diane) and Entertaining Edition (Lynn). Monday – Saturday for the first two weeks in November we will be trading days to fill you with 12 days of Christmas Ideas. Be sure to sign up for our newsletters so you don't miss anything.